Labour rules violations & penalties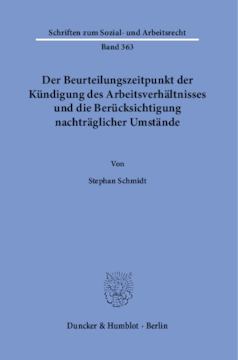 Additional Information
Book Details
ISBN

978-3-428-58173-3
978-3-428-18173-5 (print edition)

DOI

https://doi.org/10.3790/978-3-428-58173-3

Edition

1

Language

German

Pages

319

Collections

Subjects
Pricing
Institution

€ 104.00 (incl. local VAT if applicable)

Individual

€ 79.90 (incl. local VAT if applicable)
About The Author
Stephan Schmidt studierte Rechtswissenschaften in Bochum mit dem Schwerpunkt Arbeits- und Sozialrecht. Die Erste Juristische Prüfung absolvierte er 2018 als Jahrgangsbester der Ruhr-Universität. Von 2018 bis 2020 arbeitete er an seiner Dissertation im Arbeitsrecht. Währenddessen war er als Wissenschaftlicher Mitarbeiter am Lehrstuhl für Bürgerliches Recht, Deutsches und Europäisches Arbeits- und Sozialrecht von Prof. Dr. Jacob Joussen tätig. Im Herbst 2020 begann er seinen juristischen Vorbereitungsdienst in Essen.
Stephan Schmidt studied law in Bochum with a specialisation in employment and social law. He passed his first legal state exam in 2018 as the valedictorian at the Legal Faculty of the Ruhr-University. From 2018 to 2020 he worked on his doctoral thesis in the field of employment law. Simultaneously, he was a research assistant at the Chair for Civil Law, German and European Employment and Social Law of Prof. Dr. Jacob Joussen. In autumn 2020 he started his legal traineeship in Essen.
Abstract
Die Kündigung des Arbeitsverhältnisses wird idealiter rechtmäßiger Weise ausgesprochen, weil der Kündigende alle Umstände des Sachverhalts kennt und richtig würdigt. Doch nicht selten gibt es die Situation, dass Umstände, die nach Ausspruch der Kündigung auftreten, eine eigene Relevanz entwickeln: Der Verdacht, der Grundlage der Kündigung war, stellt sich als falsch heraus. Die Krankheit, die die Kündigung auslöste, ist ausgeheilt. Der Arbeitnehmer, dem gekündigt wurde, entschuldigt sich oder leugnet die Tat.

Können solche Umstände bei der Rechtmäßigkeit der Kündigung eine Rolle spielen? Und wenn ja, auf welche Weise? Welche zeitlichen Grenzen gibt es für die Beurteilung der Kündigung? Diesen Desideraten widmet sich die Arbeit. Sie versucht, eine dogmatische Schneise zu schlagen, und zum einen zu begründen, welcher Zeitpunkt der überzeugende ist, zum anderen aber deutlich werden zu lassen, warum die Ausnahmen, die von Rechtsprechung und Literatur gemacht werden, viel zu weit geraten sind. »The Relevant Point in Time for the Assessment of the Employment Relationship's Termination and the Significance of Subsequent Circumstances«

Upon the termination of an employment relationship, a situation often presents itself where circumstances that arise after the termination, gain their own significance. Can such circumstances play a role in the legality of the termination? Which time limits are there for the assessment of the termination? These questions are the focus of this work. It provides the dogmatic foundation to the relevant point in time for the assessment of the termination and, subsequently, justifies whether exceptions thereto are permissible.
Table of Contents
Section Title
Page
Action
Price

Vorwort

5

Inhaltsverzeichnis

9

Abkürzungsverzeichnis

18

Erstes Kapitel: Einleitung

23

A. Untersuchungsgegenstand

23

I. Beurteilungszeitpunkt der Kündigung

23

II. Entwicklung nach dem Beurteilungszeitpunkt

24

B. Gang der Untersuchung

26

Zweites Kapitel: Beurteilungszeitpunkt der Kündigung des Arbeitsverhältnisses

29

A. Darstellung der Rechtsprechung und Literatur

30

I. Abgabe

30

II. Zugang der Kündigungserklärung

31

1. Wirksamwerden von Willenserklärungen

31

2. Kündigung als Gestaltungsrecht

32

a) Gestaltungswirkung

32

b) Bedingungsfeindlichkeit

32

c) Konsumtiver Charakter

33

d) Einseitiges Rechtsgeschäft

34

3. Rechtssicherheit

34

a) Vorhersehbarkeit gerichtlicher Entscheidungen

34

b) Prozessrisiken

35

c) Faktische Folgen

36

d) Klagefrist

36

4. Punktuelle Streitgegenstandslehre

37

5. Weitere Argumente

37

III. Ablauf der Kündigungsfrist

38

1. Begründung

38

a) Wirksamwerden mit Ablauf der Kündigungsfrist

38

b) Verbindung zwischen Kündigungsgrund und -frist

39

c) Materieller Streitgegenstand

39

d) Praktikabilität und Rechtssicherheit

39

2. Ausgestaltung

40

a) Sachlich

40

b) Personell

41

c) Zeitlich

42

IV. Letzte mündliche Verhandlung in der Tatsacheninstanz

42

1. Begründung

43

a) Gerechtigkeitserwägungen

43

b) Vergleich zum Wiedereinstellungsanspruch

43

c) Bestandsrechtlicher Streitgegenstandsbegriff

44

d) Risiko einer Fehlprognose

44

e) Vergleich zum Verwaltungs- und Baurecht

45

f) Weitere Argumente

46

2. Ausgestaltung

46

a) Sachlich

46

aa) Berücksichtigungsfähiger Sachverhalt

46

bb) Art der Berücksichtigung

48

b) Personell

49

B. Einordnung und Bewertung

50

I. Historischer Hintergrund

51

1. Betriebsrätegesetz

51

a) Zeitpunkt der Kündigung

52

b) Zeitpunkt der Entlassung

55

c) Spätere Zeitpunkte

56

2. Gesetz zur Ordnung der nationalen Arbeit

56

a) Zeitpunkt der Kündigung

56

b) Zeitpunkt der Entlassung

57

3. Kontrollratsgesetz Nr. 40

58

4. Zusammenfassung

58

II. Analyse gesetzlicher Regelungen

59

1. § 626 Abs. 1 BGB und § 1 Abs. 2 Satz 1 KSchG

59

2. §§ 130 Abs. 2, 164 Abs. 1 BGB

60

3. § 130 Abs. 1 Satz 1 BGB

61

4. Zwischenergebnis

63

III. Einordnung des Beurteilungszeitpunktes in die zivilrechtliche Dogmatik der Beendigung von Dauerschuldverhältnissen

63

1. Arbeitsverhältnis als Dauerschuldverhältnis

63

a) Begriff

63

b) Interessenlage

65

c) Schlussfolgerung

67

d) Zwischenergebnis

68

2. Kündigung als Gestaltungsrecht

68

a) Gestaltungs- und Rechtswirkung

71

b) Bedingungsfeindlichkeit

74

aa) Gestaltungsrechte im Allgemeinen

75

bb) Kündigung des Arbeitsverhältnisses

78

cc) Bedeutung für den Beurteilungszeitpunkt

79

dd) Ausnahmen

80

(1) Potestativbedingung

81

(2) Begünstigung

83

(a) Wegfallen von Kündigungsgründen

83

(b) Entstehung von Kündigungsgründen

86

(3) Kenntnis vom Bedingungseintritt

86

ee) Zwischenergebnis

90

c) Bedingte Kündigung de lege ferenda?

91

aa) Problem

91

bb) Harmonisierung von Kündigungsgrund und -frist

92

(1) Zweck der Kündigungsfrist

92

(2) Zweck der Kündigungsgründe des § 1 Abs. 2 KSchG

93

(3) Schlussfolgerung

94

cc) Wertung von § 15 Abs. 4 KSchG

95

dd) Zwischenergebnis

96

d) Konsumtion des Kündigungsrechts

96

aa) Begründung

97

bb) Voraussetzungen

98

cc) Zeitpunkt

99

dd) Bedeutung für den Beurteilungszeitpunkt

100

3. Zwischenergebnis

100

IV. Prognoseprinzip

101

1. Begriffsbestimmung

102

2. Zukunftsbezogenheit der Kündigungsgründe

102

3. Einzelne Kündigungsgründe

104

a) Personenbedingte Kündigung

104

b) Betriebsbedingte Kündigung

105

c) Verhaltensbedingte Kündigung

105

4. Kontrolle rechtlicher Prognosen

106

a) Prognoseentscheidungen im Recht

107

b) Ex ante Kontrolle

108

5. Schlussfolgerung für den Beurteilungszeitpunkt

109

6. Rückschaufehler

110

a) Psychologisches Phänomen

110

b) Rechtswissenschaftliche Diskussion

111

c) Bedeutung für die Kündigung des Arbeitsverhältnisses

113

d) Schlussfolgerung

114

7. Zwischenergebnis

114

V. Einfluss des prozessualen Streitgegenstandsbegriffs

115

1. Ausgangspunkt

115

a) Punktueller Streitgegenstand

115

b) Bestandsrechtlicher Streitgegenstand

116

c) Erweiterter punktueller Streitgegenstand

117

2. Bedeutung für den Beurteilungszeitpunkt

119

a) Keine Auswirkungen des Antrags

120

b) Kern des Lebenssachverhalts der Kündigungsschutzklage

123

c) Vergleich zu § 79 VwGO

125

3. Zwischenergebnis

125

VI. Aspekte der Rechtssicherheit

126

1. Vorhersehbarkeit gerichtlicher Entscheidungen

126

a) Umstände zwischen Abgabe und Zugang der Kündigungserklärung

127

b) Nachschieben von Kündigungsgründen

128

c) Einschränkungen des Nachschiebens

129

aa) Grundsatz

129

bb) Verpflichtende Angabe von Kündigungsgründen

130

cc) Zustimmungspflichtige Kündigungen

132

d) Zwischenergebnis

133

2. Widerspruchsfreiheit

133

3. Gerechte Verteilung von Risiken

134

4. Zwischenergebnis

136

VII. Historische Bewertung

136

VIII. Vergleich zu anderen (nicht-)‌arbeitsrechtlichen Fragestellungen

139

1. Befristungsrecht

139

2. Direktionsrecht

140

3. Mietrecht

142

a) Beurteilungszeitpunkt

143

aa) Kündigungen im allgemeinen Mietrecht

144

bb) Außerordentliche Kündigung des Wohnraummietverhältnisses

144

cc) Ordentliche Vermieterkündigung des Wohnraummietverhältnisses

145

(1) Nachschieben von Kündigungsgründen

146

(2) Berücksichtigung späterer Umstände

146

dd) Zusammenfassung

151

ee) Schlussfolgerung

151

b) Besonderheiten bei außerordentlicher Kündigung wegen Zahlungsverzugs

152

aa) Allgemeines Mietrecht

153

bb) Wohnraummietrecht – Schonfristzahlung

153

cc) Schlussfolgerung

154

c) Zwischenergebnis

155

4. Verwaltungsrechtliche Argumentation

155

a) Vergleichbarkeit zwischen Verwaltungsakt und Kündigung des Arbeitsverhältnisses

155

b) Prozessrechtlicher Beurteilungszeitpunkt

156

c) Materiellrechtlicher Beurteilungszeitpunkt

157

d) Ausnahmen

158

aa) Dauerverwaltungsakte

158

(1) Wesen der Dauerverwaltungsakte

158

(2) Übertragbarkeit auf die Kündigung des Arbeitsverhältnisses

160

bb) Noch nicht vollzogene Verwaltungsakte

161

cc) Gewerbeuntersagung (§ 35 GewO)

163

e) Zwischenergebnis

165

5. Vollstreckungsrecht (§ 717 Abs. 2 Satz 1 ZPO)

166

a) Berücksichtigung nachträglich entstandener Einwendungen

166

b) Bereits vorhandene Risikoverteilung

168

c) Konstruktive Unterschiede

169

d) Zwischenergebnis

169

6. Zwischenergebnis

169

IX. Zusammenfassung

170

Drittes Kapitel: Berücksichtigung nachträglicher Umstände

173

A. Erhellung des kündigungsrechtlichen Sachverhalts

174

I. Bestandsaufnahme und Analyse der Rechtsprechung

174

1. Formel

174

2. Kündigungsart

175

3. Art der Berücksichtigung

175

a) An sich wichtiger Grund

175

b) Interessenabwägung

177

4. Art des Verhaltens

179

a) Äußerungen

179

aa) Schlichtes Leugnen

179

bb) Wechselhaftes Einlassen im Prozess

180

cc) Weitergehendes Angriffs- und Verteidigungsvorbringen

182

dd) Entschuldigung

182

b) Sonstiges Verhalten

183

aa) Gleichartiges Verhalten

183

bb) Ungleichartiges Verhalten

184

5. Systematisierung

185

6. Zwischenergebnis

187

II. Einordnung und Bewertung

187

1. Historischer Hintergrund

188

a) Ausgangsentscheidung des Reichsgerichts zum ALR

188

b) Auswirkungen auf die Rechtslage des BGB, HGB und der GewO

190

aa) Ex tunc Berücksichtigung

191

bb) Ex nunc Berücksichtigung

193

cc) Keine Berücksichtigung

194

dd) (Miss-)‌Geburt der Erhellungsrechtsprechung

195

c) Zwischenergebnis

197

2. Dogmatische Begründung

197

a) Resonanz in der Literatur

198

b) Unselbständigkeit der Berücksichtigung späteren Verhaltens

199

aa) Stringenz der Rechtsprechung

200

bb) Gewinnung nachträglicher Erkenntnisse

202

cc) Hilfsfunktion späteren Verhaltens

204

dd) Zwischenergebnis

205

c) Prognosecharakter

205

d) Argumentation zur Bestimmung des Beurteilungszeitpunktes

207

aa) Dauerschuldverhältnischarakter des Arbeitsverhältnisses

207

bb) Gestaltungsrechtscharakter der Kündigung

208

cc) Rechtssicherheit

208

dd) Prozessuale Einflüsse

209

ee) Zwischenergebnis

211

e) Trennung der Beurteilungszeitpunkte von Kündigungsgrund und Interessenabwägung

211

f) Vergleich zu Ausnahmekonstellationen anderer Rechtsgebiete

212

aa) Kündigung privater Krankenversicherung

213

bb) Mietrecht – "Milderes Licht"

213

(1) Bestandsaufnahme

214

(2) Bewertung

217

cc) Verwaltungsrecht – Gewerbeuntersagung

218

(1) Bestandsaufnahme

218

(2) Bewertung

219

dd) Sozialrecht – Zulassungsentziehung

220

(1) Bestandsaufnahme

220

(2) Bewertung

221

g) Zwischenergebnis

222

3. Mitbestimmung des Betriebsrats

222

a) Grundsätze

222

b) Auswirkungen

224

4. Zwischenergebnis

225

III. Ausblick

225

1. "Ob" der Berücksichtigung

226

2. "Wie" der Berücksichtigung

227

a) Prüfungsort

227

b) Art des Verhaltens

228

aa) Gleichartige Pflichtverletzungen

228

bb) Äußerungen

228

(1) Entschuldigung

228

(2) Weitergehendes Angriffs- und Verteidigungsvorbringen

229

(3) Wechselhaftes Einlassen im Prozess

229

(4) Sonstige Umstände

231

c) Qualitativer Einfluss

231

aa) Positives Verhalten

232

bb) Negatives Verhalten

233

3. Zwischenergebnis

236

IV. Zusammenfassung

236

B. Prognosebestätigung und -widerlegung

237

I. Betriebsbedingte Kündigung

238

1. Grundsatz der Darlegungs- und Beweislast

238

2. Einfluss der späteren Entwicklung

239

a) Widerlegung der Prognose

240

aa) Tatsächliche Vermutung

240

(1) Erscheinungsform

240

(2) Rechtsfolgen

242

bb) Bedeutung im Rahmen betriebsbedingter Kündigungen

244

b) Bestätigung der Prognose

246

c) Schlussfolgerung

246

3. Haltbarkeit der tatsächlichen Vermutung

248

a) Vereinbarkeit mit dem Beurteilungszeitpunkt

248

b) Empirische Haltbarkeit

248

c) Kündigung durch den Insolvenzverwalter

249

aa) Gesetzliche Vermutungen

249

bb) Insolvenzrechtliche Besonderheiten

251

d) Zwischenergebnis

253

4. Berücksichtigung der tatsächlichen Vermutung im Rahmen des Beweismaßes

253

a) Beweismaß im Allgemeinen

254

b) Beweismaß für die negative Prognose

255

aa) Formulierungen aus der Rechtsprechung

255

bb) Einordnung der Literatur

256

cc) Bewertung

257

c) Beweismaßabsenkung durch Prognosebestätigung

259

5. Zwischenergebnis

261

II. Krankheitsbedingte Kündigung

262

1. Verabschiedung von der Bestätigung und Korrektur der negativen Prognose?

262

2. Neue Berücksichtigungsformen

263

3. Bestätigung der Gesundheitsprognose

263

a) Bestandsaufnahme

263

b) Einfluss der späteren Entwicklung

265

aa) Keine materiellrechtliche Bedeutung

266

bb) Bedeutung einer tatsächlichen Vermutung als Anscheinsbeweis

266

cc) Tatsächliche Vermutung als einfacher Erfahrungssatz (Indizwirkung)

269

dd) Beweismaßreduzierung

270

(1) Allgemein

271

(2) Prognosebestätigung

273

4. Zwischenergebnis

274

III. Verhaltensbedingte Kündigung

274

1. Beweismaßreduzierung

274

2. Beweiswürdigung

275

IV. Zusammenfassung

276

C. Berücksichtigung im Rahmen zivilrechtlicher Generalklauseln

277

I. Rechtsmissbrauch wegen Wegfalls des Kündigungsgrundes

277

1. Vorlagen im Mietrecht

278

a) Voraussetzungen

278

b) Rechtsfolgen

278

2. Bedeutung für die Kündigung des Arbeitsverhältnisses

281

II. Äußere Grenzen der §§ 138, 242 BGB

282

1. Treuwidrigkeit

282

2. Sittenwidrigkeit

283

III. Zusammenfassung

288

Viertes Kapitel: Ergebnisse

289

Literaturverzeichnis

293

Personen- und Sachwortverzeichnis

316