Criminal law: procedure & offences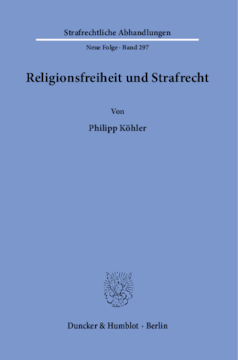 Additional Information
Book Details
ISBN

978-3-428-58210-5
978-3-428-18210-7 (print edition)

DOI

https://doi.org/10.3790/978-3-428-58210-5

Edition

1

Language

German

Pages

367

Collections

Subjects
Pricing
Institution

€ 104.00 (incl. local VAT if applicable)

Individual

€ 79.90 (incl. local VAT if applicable)
About The Author
Philipp Köhler studierte Rechtswissenschaften an der Friedrich-Schiller-Universität Jena. Nach dem Abschluss des 1. Staatsexamens im Jahr 2017 arbeitete er bis 2019 als wissenschaftlicher Mitarbeiter am Lehrstuhl für Strafrecht, Kriminologie, Strafvollzugsrecht und Jugendstrafrecht von Prof. Dr. Florian Knauer an der Friedrich-Schiller-Universität Jena. Im November 2019 nahm er seinen Vorbereitungsdienst im Bezirk des Landgerichts Erfurt auf.
Philipp Köhler has studied jurisprudence at the Friedrich-Schiller-Univerity in Jena. After completing his first state exam in the year 2017, he was insolved in the research work till the end of 2019 in the position of a research assistant, in the professorship for criminal law, criminology, enforcement of sentence as well as criminal law relating to young offenders under the guidance of Professor Dr. Florian Knauer at the Friedrich-Schiller-Univerity in Jena. In November 2019 he commenced with preliminary services in the sector oft he regional court of Erfurt.
Abstract
In einer durch Mobilität und Globalisierung geprägten Gesellschaft kommt es zu einer immer größeren Vielfalt der Religionen und zu einem individuelleren Ausleben des Glaubens. Das Verhältnis von Religion und Strafrecht ist dabei enger und konfliktreicher, als es auf den ersten Blick scheint und wirft eine Reihe bedeutsamer Fragen auf, die sich im Kern um die Auswirkungen der verfassungsrechtlichen Gewährleistung aus Art. 4 Abs. 1 und 2 GG auf die Strafrechtsdogmatik drehen. So stellen sich unter anderem die Fragen: Ob die Religionsfreiheit ein anerkanntes Rechtsgut innerhalb des Strafgesetzbuches ist? Ob religiöse Vorstellungen des Täters bei der Auslegung normativer Tatbestandsmerkmale Beachtung finden können? Oder ob die Religionsfreiheit im Rahmen der bestehenden Rechtfertigungs- und Entschuldigungsgründe berücksichtigt werden kann? Die vorliegende Arbeit versucht diese aufgeworfenen Fragen zu beantworten und untersucht die Bedeutung der Religionsfreiheit für das materielle Strafrecht. »Freedom of Faith and Criminal Law«

The paper under consideration analyses the significance of the fundamental right of religions of freedom in the case of criminal law. Taking into consideration a viewing of the historical development of penal law, in connection to religion, and in addition to the relevance of influence which the freedom of faith has in context to the effective criminal order system. The question arises whether the unclaimed penal order system in the problem-focused coping with religions conflicts can really cope with such problems, or partial reform requirements have to be taken into consideration.
Table of Contents
Section Title
Page
Action
Price

Vorwort

5

Inhaltsübersicht

7

Inhaltsverzeichnis

9

Abkürzungsverzeichnis

16

Einführung

19

I. Anlass der Arbeit

19

II. Gegenstand der Arbeit

24

1. Begrifflichkeit

24

a) Religion und Religionsfreiheit

24

b) Strafrecht

29

2. Abgrenzung

30

III. Ziel der Arbeit

33

A. Verfassungsrechtliche Grundlagen

35

I. Abwehrfunktion der Religionsfreiheit

35

1. Schutzbereich

35

a) Sachlicher Schutzbereich

35

aa) Kulturadäquanzformel

37

bb) Kultus- und Glaubenshandlungen i. e. S.

38

cc) Ausschluss sozialschädlicher Handlungen

39

dd) Stellungnahme

40

b) Persönlicher Schutzbereich

43

2. Eingriff

44

3. Grundrechtsschranken

45

a) Verfassungsimmanente Schranken

46

b) Allgemeiner Gesetzesvorbehalt gem. Art. 140 GG i. V. m. Art. 136 Abs. 1 WRV

46

c) Stellungnahme

47

II. Schutzpflichtfunktion der Religionsfreiheit

49

III. Gesamtbetrachtung

52

B. Historische Entwicklung

54

I. Entwicklung der Gesetzgebung bis 1871

54

II. Entwicklung der Gesetzgebung von 1871 bis 1945

60

III. Entwicklung der Gesetzgebung von 1945 bis heute

61

IV. Gesamtbetrachtung

69

C. Geltendes Recht

75

I. Die Religionsfreiheit als Angriffsziel strafrechtlichen Verhaltens

75

1. Religionsdelikte im engeren Sinne

77

a) Bekenntnisbeschimpfung (§ 166 StGB)

77

aa) Allgemeines

77

bb) Schutzgut von § 166 StGB

79

(1) Bisheriger Diskussionsstand

79

(a) Religion als Schutzgut

79

(b) Religiöse Gefühle als Schutzgut

81

(c) Identitätsschutz als Schutzgut

82

(d) Öffentlicher Frieden als Schutzgut

83

(e) Religionsfreiheit als Schutzgut

84

(f) Fehlen eines Schutzguts

85

(2) Stellungnahme

86

cc) Folgen der Schutzgutbestimmung für die Auslegung von § 166 StGB

93

b) Störung der Religionsausübung (§ 167 StGB)

95

aa) Allgemeines

95

bb) Störung des Gottesdienstes oder einer gottesdienstlichen Handlung (§ 167 Abs. 1 Nr. 1 StGB)

96

cc) Verübung beschimpfenden Unfugs (§ 167 Abs. 1 Nr. 2 StGB)

99

c) Störung einer Bestattungsfeier (§ 167a StGB) und Störung der Totenruhe (168 StGB)

101

d) Zwischenergebnis

104

2. Religionsdelikte im weiteren Sinne

105

a) Straftatbestände aus dem StGB

105

aa) Volksverhetzung (§ 130 Abs. 1 und 2 StGB)

105

(1) Allgemeines

105

(2) Schutzgut von § 130 StGB

107

(a) Bisheriger Diskussionsstand

107

(aa) Öffentlicher Frieden als Rechtsgut

107

(bb) Menschenwürde als Rechtsgut

108

(cc) Individualrechtsgüter als Rechtsgut

109

(b) Stellungnahme

110

bb) Kirchendiebstahl (§ 243 Abs. 1 S. 2 Nr. 4 StGB)

113

cc) Gemeinschädliche Sachbeschädigung an Gegenständen religiöser Verehrung (§ 304 Abs. 1 Var. 1 und 2 StGB)

116

dd) Schwere Brandstiftung an der Religionsausübung dienenden Gebäuden (§ 306a Abs. 1 Nr. 2 StGB)

118

(1) Allgemeines

118

(2) Schutzgut von § 306a Abs. 1 Nr. 2 StGB

119

(a) Bisheriger Diskussionsstand

119

(aa) Leib und Leben als Rechtsgüter

119

(bb) Religion als Rechtsgut

120

(b) Eigene Stellungnahme

121

b) Straftatbestände aus dem VStGB

123

aa) Völkermord (§ 6 VStGB)

123

bb) Verbrechen gegen die Menschlichkeit (§ 7 Abs. 1 Nr. 10 VStGB)

128

cc) Kriegsverbrechen des Einsatzes verbotener Methoden der Kriegsführung (§ 11 Abs. 1 Nr. 2 VStGB)

131

3. Zusammenfassung und Folgerungen

132

II. Die Religionsfreiheit als Angriffsgrund strafrechtlichen Verhaltens

136

1. Religionsfreiheit und Tatbestandsmäßigkeit

137

a) Straftatbestände mit einem generellen Bezug zur Religionsfreiheit (ethnisch-kulturell motivierte Delikte)

138

aa) Verstümmelung weiblicher Genitalien (§ 226a StGB)

138

(1) Allgemeines

138

(2) Bezüge der Vorschrift zur Religionsfreiheit

140

(3) Verfassungsmäßigkeit der Vorschrift

143

(a) Verstoß gegen Art. 4 Abs. 1 und 2 GG

143

(b) Verstoß gegen Art. 3 Abs. 3 S. 1 Var. 1 GG

145

(4) Rechtspolitische Würdigung

147

bb) Zwangsheirat (§ 237 StGB)

150

b) Straftatbestände mit Bezügen zur Religionsfreiheit bei der Gesetzesanwendung im Einzelfall

151

aa) Äußerungsdelikte (§§ 130, 185 ff. StGB)

151

(1) Bisheriger Diskussionsstand zur Berücksichtigung der Religionsfreiheit

152

(2) Stellungnahme

154

bb) Mord aus niedrigen Beweggründen (§ 211 Abs. 1 Gruppe 1 Var. 4 StGB)

156

(1) Bezüge des Tatbestandsmerkmals der niedrigen Beweggründe zur Religionsfreiheit

157

(2) Bisheriger Diskussionsstand zur Berücksichtigung der Religionsfreiheit

161

(a) Berücksichtigung auf der objektiven Tatseite

161

(b) Berücksichtigung auf der subjektiven Tatseite

163

(c) Normative Konkretisierung der niedrigen Beweggründe

165

(3) Stellungnahme

166

cc) Unterlassene Hilfeleistung (§ 323c StGB)

171

(1) Bezüge des Tatbestandsmerkmals der Zumutbarkeit zur Religionsfreiheit

171

(2) Bisheriger Diskussionsstand zur Berücksichtigung der Religionsfreiheit

174

(3) Stellungnahme

175

c) Zusammenfassung und Folgerungen

179

2. Religionsfreiheit und Rechtswidrigkeit

181

a) Allgemeines

181

b) Rechtfertigungsgründe mit spezifischen Bezügen zur Religionsfreiheit

184

aa) Geistlichenprivileg bei der Nichtanzeige geplanter Straftaten (§ 139 Abs. 2 StGB)

184

(1) Bezüge der Vorschrift zur Religionsfreiheit

185

(2) Gesetzgeberische Reaktion

186

bb) Ausnahmegenehmigung vom Verbot des Schächtens aus religiösen Gründen (§ 4a Abs. 2 Nr. 2 TierSchG)

191

(1) Bezüge der Vorschrift zur Religionsfreiheit

192

2) Gesetzgeberische Reaktion

194

cc) Rechtfertigende Einwilligung der Eltern in die religiöse Knabenbeschneidung (§ 1631d BGB)

197

(1) Allgemeines

197

(2) Bezüge der Vorschrift zur Religionsfreiheit

200

(3) Gesetzgeberische Reaktion

203

c) Religionsfreiheit selbst als Rechtfertigungsgrund

209

aa) Grundsätzliche Möglichkeit einer rechtfertigenden Wirkung der Religionsfreiheit

209

(1) Bisheriger Diskussionsstand

209

(2) Stellungnahme

213

bb) Methodische Überlegungen zur Berücksichtigung der Religionsfreiheit in der Rechtswidrigkeitsprüfung

217

(1) Bisheriger Diskussionsstand

218

(a) Unmittelbare Anwendbarkeit von Art. 4 Abs. 1 und 2 GG als verfassungsrechtlicher Rechtfertigungsgrund

218

(b) Berücksichtigung von Art. 4 Abs. 1 und 2 GG bei der Anwendung des rechtfertigenden Notstands gem. § 34 StGB

220

(2) Stellungnahme

221

(3) An der Religionsfreiheit orientierte Auslegung des rechtfertigenden Notstands gem. § 34 StGB

224

(a) Notstandslage

225

(aa) Notstandsfähiges Rechtsgut

225

(bb) Gegenwärtige Gefahr

226

(b) Notstandshandlung

227

(aa) Erforderlichkeit

228

(bb) Interessenabwägung

229

d) Zusammenfassung und Folgerungen

235

3. Religionsfreiheit und Schuld

238

a) Religionsfreiheit und Schuldfähigkeit

239

aa) Bisheriger Diskussionsstand

239

(1) Fehlende Steuerungsfähigkeit des Gewissenstäters

239

(2) Rechtsprechung des BGH zum "Motivationsbeherrschungspotenzial" beim Mordmerkmal der niedrigen Beweggründe

240

bb) Stellungnahme

241

(1) Fehlende Steuerungsfähigkeit des Gewissenstäters

241

(2) Rechtsprechung des BGH zum "Motivationsbeherrschungspotenzial" beim Mordmerkmal der niedrigen Beweggründe

243

b) Religionsfreiheit und Entschuldigung

244

aa) Bisheriger Diskussionsstand

245

(1) Analoge Anwendung von § 35 StGB auf die Religionsfreiheit

245

(2) Religionsfreiheit gem. Art. 4 Abs. 1 und 2 GG als eigenständiger Entschuldigungsgrund

246

bb) Stellungnahme

249

(1) Analoge Anwendung von § 35 StGB auf die Religionsfreiheit

249

(2) Religionsfreiheit gem. Art. 4 Abs. 1 und 2 GG als eigenständiger Entschuldigungsgrund

251

c) Religionsfreiheit und Unrechtsbewusstsein

252

aa) Allgemeine Voraussetzungen eines Verbotsirrtums

253

(1) Fehlen des Unrechtsbewusstseins

253

(2) Vermeidbarkeit des Verbotsirrtums

255

bb) Voraussetzungen eines Verbotsirrtums speziell bei religiös motivierten Tätern

256

(1) Direkter Verbotsirrtum

257

(2) Gültigkeitsirrtum

261

(3) Erlaubnisirrtum

262

d) Zusammenfassung und Folgerungen

264

4. Religionsfreiheit und Strafzumessung

265

a) Allgemeines

265

b) Bisheriger Diskussionsstand

266

aa) Rechtsprechung des BGH zum Einfluss fremdkultureller Wertvorstellungen auf die Strafzumessung

267

bb) Rechtsprechung des BVerfG zur Berücksichtigung der Gewissensfreiheit gem. Art. 4 Abs. 1 GG

269

c) Stellungnahme zur Berücksichtigung der Religionsfreiheit gem. Art. 4 Abs. 1 und 2 GG bei einzelnen Strafzumessungsumständen

270

aa) Religiöse Motive als Beweggründe und Ziele des Täters gem. § 46 Abs. 2 S. 2 StGB

271

bb) Vermindertes Unrechtsbewusstsein des Täters unterhalb der Schwelle des § 17 StGB

273

cc) Verminderte Steuerungsfähigkeit unterhalb der Schwelle des §§ 20, 21 StGB

276

dd) Erhöhter Motivationsdruck des Glaubenstäters unterhalb der Schwelle des § 35 StGB

277

ee) Höhere Strafempfindlichkeit religiöser Täter

282

ff) Strafschärfende Berücksichtigung der negativen Generalprävention

286

gg) Strafschärfende Berücksichtigung der negativen Spezialprävention

289

d) Zusammenfassung

290

III. Gesamtbetrachtung

291

D. Reformüberlegungen

297

I. Reformüberlegungen bezüglich der Religionsfreiheit als Angriffsziel strafrechtlich relevanten Verhaltens

298

1. Reform der Bekenntnisbeschimpfung gem. § 166 StGB

298

a) Bisheriger Diskussionstand

298

aa) Forderung nach einer Streichung von § 166 StGB

298

bb) Forderungen nach einer Ausweitung von § 166 StGB

301

b) Stellungnahme

302

2. Weiterführende Reformüberlegungen

306

a) Einführung eines Globaltatbestandes zum Schutz der Religionsfreiheit

306

aa) Bisheriger Diskussionsstand

306

bb) Stellungnahme

307

b) Änderungen der einzelnen Strafvorschriften zum Schutz der Religionsfreiheit

310

II. Reformüberlegungen bezüglich der Religionsfreiheit als Angriffsgrund strafrechtlich relevanten Verhaltens

312

1. Einführung eines Straftatbestandes der Vollverschleierung

312

a) Bisheriger Diskussionsstand

312

b) Stellungnahme

313

2. Einführung eines allgemeinen Rechtfertigungsgrundes für religiös motivierte Handlungen

315

a) Bisheriger Diskussionsstand

315

b) Stellungnahme

316

3. Einführung einer eigenen Strafzumessungsvorschrift für religiös motivierte Handlungen

317

a) Bisheriger Diskussionsstand

317

b) Stellungnahme

320

III. Gesamtbetrachtung

322

E. Zusammenfassung und Ausblick

323

I. Zusammenfassung

323

1. Ergebnisse zur historischen Entwicklung

323

2. Ergebnisse zum geltenden Recht

324

3. Ergebnisse zu den Reformüberlegungen

326

II. Ausblick

327

Literaturverzeichnis

333

Sachwortregister

364