Safety & police law, regulatory & weapons law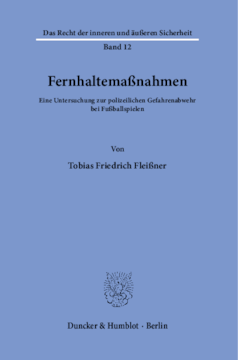 Additional Information
Book Details
ISBN

978-3-428-58193-1
978-3-428-18193-3 (print edition)

DOI

https://doi.org/10.3790/978-3-428-58193-1

Edition

1

Language

German

Pages

300

Collections

Subjects
Pricing
Institution

€ 104.00 (incl. local VAT if applicable)

Individual

€ 79.90 (incl. local VAT if applicable)
About The Author
Tobias Friedrich Fleißner studierte von 2006 bis 2012 Rechtswissenschaften in Bonn. Anschließend absolvierte er sein Referendariat am Landgericht Münster. Von 2014 bis 2017 war er wissenschaftlicher Mitarbeiter am Lehrstuhl für Staats- und Verwaltungsrecht an der LMU München bei seinem Doktorvater, Prof. Dr. Matthias Bäcker LL.M., und dessen Nachfolgerin, Prof. Dr. Ann-Katrin Kaufhold. Von 2015 bis 2016 war er zudem als wissenschaftlicher Mitarbeiter am Karlsruher Institut für Technologie tätig. Seit 2017 ist er Staatsanwalt bei der Staatsanwaltschaft München I und war von 2018 bis 2021 zur Beauftragten der Bundesregierung für Kultur und Medien abgeordnet.
Tobias Friedrich Fleißner studied law at the University of Bonn from 2006 to 2012 and subsequently passed his legal clerkship at the appellate court in Münster. In 2014 he began a doctorate with Prof. Dr. Matthias Bäcker LL.M. and worked for him and his successor, Prof. Dr. Ann-Kathrin Kaufhold, as research assistant at the Institute for Constitutional an Administrative Law of the LMU Munich until 2017. From 2015 to 2016 he also worked as research assistant at the Karlsruhe Institute of Technology. Since 2017 he works as public prosecutor in Munich. From 2018 to 2021 he passed a secondment at the Department of the German Minister of State for Culture and the Media.
Abstract
Die Arbeit befasst sich mit einem Bündel unterschiedlicher polizei- und ordnungsbehördlicher Maßnahmen der personenbezogenen Gefahrenabwehr (Gefährderansprache, Meldeauflage, Aufenthaltsverbot, pass- und ausweisrechtliche Maßnahmen), mit denen Personen schon vom Aufsuchen bestimmter Örtlichkeiten abgehalten werden sollen. Ausgerichtet an diesem Ziel werden die Maßnahmen unter dem Begriff Fernhaltemaßnahmen zusammengefasst und im Zusammenhang mit ihrem wohl bedeutsamsten Anwendungsbereich, der Durchführung von Fußballspielen, untersucht. Die Untersuchung ordnet die Maßnahmen in ihren sicherheitsrechtlichen Kontext ein und setzt sich mit ihrer Grundrechtsrelevanz, insbesondere in Bezug auf das Recht auf Freizügigkeit, auseinander. Darüber hinaus werden die tatbestandlichen Voraussetzungen der einzelnen Maßnahmen analysiert und typische Indizien, die im Rahmen der Gefahrenprognose eine erhöhte Praxisrelevanz aufweisen, dargestellt und hinsichtlich ihrer Belastbarkeit überprüft. »Keep Away Actions«

The thesis examines police actions, that are typically executed to keep people away from sensitive areas. Its focus lies on actions in beforehand of football games. The study illustrates the circumstances in which the actions are taken, investigates their legal basis and identifies their fundamental rights dimension. Furthermore, in referring to leading cases, the study analyses significant indications, that commonly induce police administration to execute keep away actions.
Table of Contents
Section Title
Page
Action
Price

Vorwort

7

Inhaltsverzeichnis

11

Abkürzungsverzeichnis

20

Einführung

25

Teil 1: Der Anwendungsbereich von Fernhaltemaßnahmen als Teil eines vielschichtigen Systems zur Abwehr von Gefahren im Rahmen von Fußballspielen

29

I. Die Gewährleistung der Sicherheit im Rahmen von Fußballspielen als hoheitliche Aufgabe

29

II. Verhaltensbezogene Störungen als spezifische Gefahr im Rahmen von Fußballspielen

30

1. Räumliche Ausdehnung verhaltensbezogener Störungen

30

2. Typologische Zuordnung verhaltensbezogener Störungen

31

3. Soziologische Zuordnung verhaltensbezogener Störungen – "Problematische Zuschauergruppen"

34

4. Zwischenfazit

35

III. Zuständigkeit der Polizei- und Ordnungsbehörden für die Abwehr von Gefahren im Rahmen von Fußballspielen

36

1. "Klassische" Gefahrenabwehr

36

a) Schutz der öffentlichen Sicherheit

36

b) Schutz der öffentlichen Ordnung

37

c) Vorbeugende Bekämpfung von Straftaten

38

2. Einschränkungen beim Schutz privater Rechte

40

3. Schutz von Fußballspielen als Aufgabe der Polizei- und Ordnungsbehörden?

41

4. Zwischenfazit

43

IV. Die Verantwortung nicht-hoheitlicher Akteure für die Sicherheit eines Fußballspiels

44

1. Staatliches Recht

44

a) Vertragliche Schutzpflichten gemäß § 241 Abs. 2 BGB

44

aa) Heimverein

44

bb) Gastverein

45

cc) Verbände, Träger und Betreiber von Fußballstadien

46

b) Verkehrssicherungspflichten gemäß § 823 Abs. 1 BGB

46

aa) Heimverein

46

bb) Gastverein

47

cc) Verbände

48

dd) Träger und Betreiber von Sportstätten

48

c) Öffentliches Recht

48

2. Verbandsrecht

49

3. Zwischenfazit

51

V. Maßnahmen nicht-hoheitlicher Akteure zur Gewährleistung der Sicherheit bei Fußballspielen

51

1. Maßnahmen der Vereine

51

a) Vor-Ort Maßnahmen

51

aa) Einsatz und Maßnahmen von Ordnungskräften

51

bb) Einsatz automatisierter Kontroll- und Überwachungssysteme

53

b) Privatrechtliche Fernhaltemaßnahmen

54

aa) Verkaufs- und Weitergabebeschränkungen

54

bb) Stadionverbot

56

(1) Charakter und rechtliche Grundlagen eines einfachen (örtlichen) Stadionverbots

56

(2) Bundesweites Stadionverbot

57

(3) Zeitliche Dimension eines Stadionverbots

58

(4) Einwendungen der Zuschauer

58

(5) Strafrechtliche Folgen bei Verstoß gegen ein Stadionverbot

59

2. Maßnahmen der Verbände

61

3. Maßnahmen der Träger und Betreiber von Sportstätten

61

4. Fanprojekte

61

5. Zwischenfazit

62

VI. Grenzen der Gefahrenabwehr im Rahmen von Fußballspielen als Ausgangspunkt für den Erlass hoheitlicher Fernhaltemaßnahmen

63

1. Grenzen der Gefahrenabwehr durch Vor-Ort-Maßnahmen hoheitlicher und nicht-hoheitlicher Akteure

63

2. Grenzen der Gefahrenabwehr durch Maßnahmen nicht-hoheitlicher Akteure im Vorfeld der Veranstaltung

64

3. Fernhaltemaßnahmen als wesentlicher Teil polizei- und ordnungsbehördlicher Handlungsoptionen

65

VII. Ergebnisse Teil 1

66

Teil 2: Grundrechtlicher Schutz des Besuchs von Fußballspielen

69

I. Versammlungsfreiheit, Art. 8 Abs. 1 GG

69

1. Der Zusammenschluss mehrerer Zuschauer als Versammlung?

69

2. Zwischenfazit

73

II. Informationsfreiheit, Art. 5 Abs. 1 S. 1 Alt. 2 GG

73

1. Der Stadionbesuch als Informationsquelle?

73

2. Zwischenfazit

75

III. Recht auf Freizügigkeit, Art. 11 Abs. 1 GG

76

1. Einführung

76

2. Der Schutzbereich des Freizügigkeitsrechts gemäß Art. 11 Abs. 1 GG

77

a) Das Freizügigkeitsrecht des Art. 11 GG im grundrechtlichen Gefüge

77

b) Überblick über das Meinungsspektrum zum Schutzbereich des Art. 11 GG

79

aa) Aufenthaltsort

80

bb) Aufenthalt

82

cc) Eröffnung des Schutzbereichs des Art. 11 GG auf Grundlage einer Gesamtbetrachtung

84

c) Eigene Stellungnahme

84

aa) Enge Auslegung des Schutzbereichs von Art. 11 GG als Folge historischer Kontinuität

84

(1) Entwicklung des Freizügigkeitsrechts in Deutschland

84

(2) Folgen für die Auslegung des Schutzbereichs des Art. 11 Abs. 1 GG

88

bb) Gemeinschaftsrecht als Grund für einen Bruch mit der historischen Kontinuität des Freizügigkeitsrechts?

89

cc) Zum Bruch mit der historischen Kontinuität des Freizügigkeitsrechts in Bezug auf den Ortsbegriff

90

(1) Veränderte rechtliche und tatsächliche Umstände als Grund für einen veränderten Ortsbegriff?

90

(2) Weitere Argumente für einen veränderten Ortsbegriff

94

(a) Art. 11 GG als Ausdruck individueller Selbstentfaltung

94

(b) Lebenskreis als gerechterer Maßstab?

95

(c) Gründe für ein Festhalten am klassischen Ortsbegriff

96

(3) Teilergebnis

99

dd) Zum Bruch mit der historischen Kontinuität in Bezug auf den Aufenthaltsbegriff

99

(1) Überblick über die Kriterien zur Bestimmung eines Aufenthalts

99

(2) Einfluss veränderter Lebensbedingungen auf die Bestimmung des Aufenthalts

100

(3) Stellungnahme zu den einzelnen Kriterien

102

(a) Objektive Kriterien

102

(b) Subjektive Kriterien

102

(4) Teilergebnis und eigene Lösung

104

3. Zusammenfassung und eigene Lösung

105

4. Zwischenfazit

106

IV. Freiheit der Person, Art. 2 Abs. 2 S. 2 GG

106

1. Die Freiheit der Person als ein Recht der Fortbewegungsfreiheit?

106

2. Zwischenfazit

110

V. Allgemeines Persönlichkeitsrecht, Art. 2 Abs. 1 i.V.m. Art. 1 Abs. 1 GG

110

1. Einführung

110

2. Schutzbereich des Allgemeinen Persönlichkeitsrechts

111

3. Das "Fan-Sein" als Teil der Persönlichkeit

112

4. Abgrenzung des Allgemeinen Persönlichkeitsrechts zur allgemeinen Handlungsfreiheit

113

5. Zwischenfazit

114

VI. Ergebnisse Teil 2

115

Teil 3: Fernhaltemaßnahmen der Polizei- und Ordnungsbehörden

116

I. Gefährderansprache

116

1. Beschreibung der Maßnahme

116

2. Grundrechtliche Dimension

118

a) Klassischer Eingriffsbegriff

118

b) Moderner Eingriffsbegriff

120

c) Zwischenfazit

121

3. Ermächtigungsgrundlage

121

a) Verhältnis der Gefährderansprache zu den Standardmaßnahmen

121

b) Bedeutung der Wesentlichkeitstheorie für die Gefährderansprache

122

c) Zwischenfazit

125

4. Formelle Rechtmäßigkeit

125

5. Materielle Rechtmäßigkeit der Gefährderansprache

126

a) Tatbestandliche Voraussetzungen einer Gefährderansprache

126

aa) Konkrete Gefahr für die öffentliche Sicherheit

126

bb) Der bayerische Sonderweg: die "drohende Gefahr"

129

(1) Sinn und Zweck der Norm

130

(2) Die Anforderungen an die Wahrscheinlichkeit

131

(a) Der Prognosemaßstab der beiden Varianten

131

(b) Die Abgrenzung zur konkreten Gefahr – Bedeutung der Norm

133

cc) Verantwortlichkeit des Betroffenen

136

b) Rechtsfolgen

137

aa) Inhaltliche Grenzen der Gefährderansprache

137

bb) Ermessen und Verhältnismäßigkeit der Maßnahme

137

(1) Geeignetheit und Erforderlichkeit von Gefährderansprachen

138

(2) Angemessenheit

138

6. Zwischenfazit

140

II. Aufenthaltsverbot

140

1. Beschreibung

140

2. Grundrechtliche Dimension

141

3. Ermächtigungsgrundlage

142

a) Standardermächtigung

142

b) Generalklausel

143

4. Formelle Rechtmäßigkeit

143

a) Zuständigkeit

143

b) Verfahren

144

c) Form

144

5. Materielle Rechtmäßigkeit

145

a) Tatbestandliche Voraussetzungen

145

b) Rechtsfolgen

148

aa) Auswahlermessen

148

bb) Intensität des Aufenthaltsverbotes

148

cc) Räumliche Dimension des Aufenthaltsverbots

149

dd) Zeitliche Dimension des Aufenthaltsverbots

150

6. Zwischenfazit

151

III. Ausreisebeschränkende Maßnahmen des Pass- und Personalausweisrechts

152

1. Beschreibung und Abgrenzung der Maßnahmen

152

2. Die verfassungsrechtliche Einordnung pass- und ausweisrechtlicher Maßnahmen

153

a) Grundrechtlicher Schutz der Ausreisefreiheit

153

b) Eingriff in die Ausreisefreiheit durch das Pass- und Ausweisrecht

153

c) Verfassungsmäßige Rechtfertigung von pass- und ausweisrechtlichen Regelungen

155

3. Anforderungen an den Erlass passrechtlicher Maßnahmen nach dem PaßG

156

a) Formelle Rechtmäßigkeit

156

b) Materielle Rechtmäßigkeit

157

aa) Passversagung

157

(1) "Bestimmte Tatsachen"

157

(2) "Annahme einer Gefährdung"

159

(3) "Gefährdung sonstiger erheblicher Belange der Bundesrepublik Deutschland"

161

(a) Ansehen der Bundesrepublik Deutschland

162

(b) Schutz der auswärtigen Beziehungen und Einhaltung völkerrechtlicher Pflichten

164

(c) Abwehr von Straftaten im Ausland als eigener Belang

164

(d) Stellungnahme

164

(aa) Ansehen als sonstiger erheblicher Belang

165

(bb) Schutz der auswärtigen Beziehungen und Einhaltung völkerrechtlicher Pflichten

166

(cc) Verhindern von Straftaten im Ausland

168

bb) Entziehen des Passes sowie Passbeschränkungen

172

c) Rechtsfolgen

172

aa) Passversagung (§ 7 Abs. 1 PaßG)

172

bb) Entziehen des Passes (§ 8 PaßG)

173

cc) Räumliche und zeitliche Beschränkung des Passes (§ 7 Abs. 2 PaßG)

173

4. Voraussetzungen für den Erlass ausweisrechtlicher Maßnahmen nach dem PAuswG

174

a) Formelle Rechtmäßigkeit

174

b) Materielle Rechtmäßigkeit

174

aa) Ausweisbeschränkungen (§ 6 Abs. 7 PAuswG)

174

bb) Ausweisversagung und Entziehung (§ 6a PAuswG)

175

c) Rechtsfolgen

175

aa) Ausweisbeschränkungen

175

bb) Versagen und Entziehen des Personalausweises

176

5. Ausreiseuntersagung, grenzpolizeiliche Kontrolle und strafrechtliche Sanktionen

176

6. Zwischenfazit

178

IV. Meldeauflage

178

1. Beschreibung und Abgrenzung der Maßnahme

178

2. Grundrechtliche Dimension

179

a) Freizügigkeit, Art. 11 GG

180

aa) Die Pflicht zum Erscheinen und Melden auf einer Dienststelle

180

bb) Die faktische Beschränkung der Fortbewegungsfreiheit

182

cc) Zwischenfazit

184

b) Freiheit der Person, Art. 2 Abs. 2 S. 2 GG

184

aa) Die Pflicht zum Erscheinen und Melden auf einer Dienststelle

184

bb) Die Beschränkung der Fortbewegungsfreiheit als Folge der Erscheinenspflicht

184

(1) Anforderungen an einen Eingriff in den Schutzbereich des Art. 2 Abs. 2 S. 2 GG

185

(2) Freiheitsentziehung

186

(a) Entzug der Bewegungsfreiheit bei mehreren Meldepflichten

186

(b) Entzug der Bewegungsfreiheit während der Meldung

186

(3) Freiheitsbeschränkung

187

cc) Zwischenfazit

189

c) Informationelle Selbstbestimmung, Art. 2 Abs. 1 i.V.m. Art. 1 Abs. 1 GG

189

d) Zwischenfazit

189

3. Ermächtigungsgrundlage

189

a) Standardermächtigung über den Erlass von Meldeauflagen

189

b) Generalklausel

190

aa) Vorrang einer sonstigen Standardermächtigung

190

(1) Vorladung

190

(2) Aufenthaltsbeschränkende Maßnahmen

191

(3) Passgesetz

191

bb) Sperrwirkung durch Maßnahmen gleicher Wirkung

192

(1) Vorladung

192

(2) Aufenthaltsbeschränkende Maßnahmen

194

(3) Zwischenfazit

195

cc) Verfassungsrechtliche Einwände

195

(1) Fehlende Kompetenz der Länder

195

(a) Ausschließliche Kompetenz des Bundes über die Freizügigkeit

196

(b) Ausschließliche Kompetenz des Bundes über das Pass- und Ausweiswesen

197

(2) Vorbehalt des Gesetzes, Art. 20 Abs. 3 GG und Wesentlichkeitstheorie

199

(3) Art. 11 Abs. 2 GG

201

c) Zwischenfazit

202

4. Formelle Rechtmäßigkeit

202

a) Zuständigkeit

202

b) Form der Meldeauflage

203

c) Verfahren

203

5. Materielle Rechtmäßigkeit

204

a) Tatbestandliche Voraussetzungen

204

aa) § 12a POG RhlPf.

204

bb) Generalklausel

205

(1) Minusmaßnahme zum Gewahrsam

205

(2) Abwehr von Gefahren für die öffentliche Sicherheit oder Ordnung

206

b) Rechtsfolge

207

aa) Ermessen

207

(1) Subsidiarität der Meldeauflage

207

(2) Inhalt und Umfang der Meldeauflage

208

bb) Besonderheiten im Rahmen des § 12a POG RhlPf.

210

6. Rechtsvergleichende Betrachtung, § 49c SPG (Österreich)

210

a) Zuständigkeit und Form

211

b) Tatbestand

211

c) Rechtsfolgen

212

d) Erkenntnisse

212

7. Übertragung der Erkenntnisse in einen eigenen Gesetzesentwurf

214

8. Zwischenfazit

214

V. Ergebnisse Teil 3

215

Teil 4: Die Negativprognose als Ausgangspunkt für den Erlass von Fernhaltemaßnahmen in der Praxis

217

I. Einführung

217

II. Die Ermittlung des Sachverhalts als Voraussetzung der Prognose

218

1. Umfang der Sachverhaltsermittlung

219

2. Erkenntnisquellen der Behörde bei der Sachverhaltsermittlung

221

a) Befragung des potentiellen Adressaten einer Fernhaltemaßnahme

221

b) Zentrale Informationsstelle Sporteinsätze (ZIS)

222

c) Örtlicher Ausschuss für Sport und Sicherheit (ÖASS)

223

d) Rückgriff auf Dateien

226

aa) Die Datei Gewalttäter Sport

228

bb) SKB-Dateien

230

3. Würdigung der Ermittlungsergebnisse durch die Behörde

234

4. Folgen einer fehlerhaften Sachverhaltsermittlung in der Praxis

236

5. Zwischenfazit

237

III. Die (Gefahren-)‌Prognose

238

1. Inhalt und Maßstab der Prognose

238

2. Indizien zur Begründung einer Negativprognose

241

a) Szene- oder Gruppenzugehörigkeit des Betroffenen

242

aa) Szenen und Gruppen mit erhöhtem Gefahrenpotential

242

bb) Bestimmung der Zugehörigkeit der Person

244

cc) Erforderliche Intensität der Gruppen- bzw. Szenenzugehörigkeit

245

dd) Zwischenfazit

248

b) Vorstrafen und Strafverfahren

249

aa) Vorstrafen

249

bb) Strafverfahren

250

(1) Freispruch

252

(2) Einstellung des Strafverfahrens

253

(a) Einstellung gemäß § 153 StPO

254

(b) Einstellung gemäß § 153a StPO

255

(c) Verweisung auf den Privatklageweg gemäß §§ 374, 376 StPO

256

(d) Einstellung gemäß § 170 Abs. 2 StPO

257

(e) Sonderfall: Kein Anfangsverdacht, § 152 Abs. 2 StPO

259

cc) Zwischenfazit

259

c) Stadionverbot

259

aa) Einfluss der Stadionverbotsrichtlinie auf den indiziellen Wert des Stadionverbots

260

bb) Stadionverbot als Gegenindiz?

265

cc) Zwischenfazit

265

d) Eintragungen in einer polizeilichen Datensammlung

266

aa) Datei Gewalttäter Sport

267

bb) Ausblick: Eintragungen im Informationssystem gemäß § 13 BAKG

270

cc) SKB-Dateien

270

dd) Zwischenfazit

271

IV. Ergebnisse Teil 4

272

Schlussteil: Zusammenfassung der Ergebnisse

275

Literaturverzeichnis

280

Sachwortverzeichnis

298