Local government law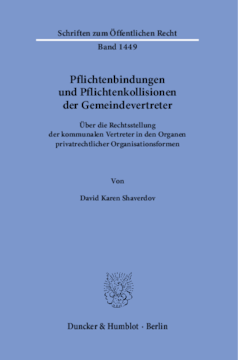 BOOK
Pflichtenbindungen und Pflichtenkollisionen der Gemeindevertreter
Über die Rechtsstellung der kommunalen Vertreter in den Organen privatrechtlicher Organisationsformen
Schriften zum Öffentlichen Recht, Vol. 1449
(2021)
Additional Information
Book Details
ISBN

978-3-428-58192-4
978-3-428-18192-6 (print edition)

DOI

https://doi.org/10.3790/978-3-428-58192-4

Edition

1

Language

German

Pages

446

Collections

Subjects
Pricing
Institution

€ 116.00 (incl. local VAT if applicable)

Individual

€ 89.90 (incl. local VAT if applicable)
About The Author
David K. Shaverdov studierte Rechtswissenschaften an der Heinrich-Heine-Universität Düsseldorf. Nach seinem 1. Staatsexamen war er als wissenschaftlicher Mitarbeiter am Lehrstuhl von Herrn Prof. Dr. Johannes Dietlein tätig. Anschließend absolvierte er sein Referendariat im OLG Bezirk Düsseldorf u.a. mit Stationen an der Deutschen Universität für Verwaltungswissenschaften Speyer. Im Anschluss hieran nahm er einen Lehrauftrag der Hochschule für Polizei und öffentliche Verwaltung NRW (vormals FHöV) in Köln wahr und war sodann als Rechtsanwalt in einer internationalen Sozietät tätig. David K. Shaverdov ist Rechtsanwalt in Berlin und berät zu sämtlichen Fragen des Gesundheitsrechts.
David K. Shaverdov studied law at Heinrich-Heine-University Düsseldorf. Following his first state examination, he was a research assistant at the chair of public and administrative law (Prof. Dr. Johannes Dietlein). During his legal clerkship he completed stages amongst others at the German University of Administrative Sciences in Speyer and the German embassy in Moscow. Subsequently, he accepted a teaching assignment at the University of Police and Public Administration NRW in Cologne (formerly FHöV). David K. Shaverdov is a lawyer in Berlin and advises on all aspects of healthcare law.
Abstract
Vermehrt gehen Kommunen dazu über, Verwaltungsaufgaben in privatrechtlichen Organisationsformen zu erfüllen. Die Gemeindeordnungen sehen allerdings vor, dass sie hierbei einen angemessenen Einfluss auf diese Unternehmen sicherstellen (sog. Ingerenz). Häufig führt dies insbesondere bei gemischtwirtschaftlichen Unternehmen mit kommunaler Mehrheitsbeteiligung zu Konflikten mit spezifisch gesellschaftsrechtlichen Logiken. Dadurch kommt es sowohl im Gründungsstadium als auch während der Unternehmensführung zu Regimekollisionen. In diesem Spannungsfeld untersucht der Autor die Rechtsstellung der Gemeindevertreter in den Organen privatrechtlicher Gesellschaftsformen. Er stellt dar, dass die Pflicht zur Wahrung des Wohls der von ihnen vertretenen Kommunen vielfach den Gesellschaftsinteressen entgegensteht, und entwickelt unter Rückgriff auf das Urteil des BVerfG vom 07.11.2017 (Az.: 2 BvE 2/11) ein »modifiziertes Verwaltungsgesellschaftsrecht« zur Lösung ingerenzbedingter Regimekollisionen. »Obligations and Conflicts of Duties of Municipal Representatives. About the Legal Status of Municipal Representatives in the Bodies of Forms of Organization under Private Law«

If municipalities perform administrative tasks in forms of organization under private law, they are obliged under municipal law to ensure comprehensive rights of influence and control over these companies. This often leads to frictions with corporate law, which is oriented towards private autonomy. In this context, the position of municipal representatives in the organs of private law corporate forms is particularly conflict prone. The author develops a solution for these regime collisions.
Table of Contents
Section Title
Page
Action
Price

Vorwort

7

Inhaltsübersicht

9

Inhaltsverzeichnis

11

Abkürzungsverzeichnis

18

1. Teil: Einführung in die Problematik

23

A. Problemstellung

23

B. Gang der Untersuchung

33

2. Teil: Wirtschaftliche Betätigung der Kommune

35

A. Die Gemeinde als Wirtschaftsakteur

35

B. Organisationsformen gemeindewirtschaftlicher Betätigung

36

I. Die grundsätzliche Zulässigkeit der wirtschaftlichen Betätigung der Gemeinde

36

1. Die Vorgaben nach dem Grundgesetz

36

2. Die Vorgaben nach der Gemeindeordnung Nordrhein-Westfalen

40

3. Grundrechte privater Konkurrenten als Grenze wirtschaftlicher Betätigung?

45

4. Wettbewerbsrechtliche Grenzen

47

5. Zwischenergebnis

48

II. Öffentlich-rechtliche Ausgestaltung öffentlicher Aufgaben

48

1. Regiebetrieb

49

2. Eigenbetrieb

50

3. Rechtsfähige Anstalt des öffentlichen Rechts

51

4. Rechtsfähige Stiftung des öffentlichen Rechts

53

5. Zweckverbände

54

III. Zwischenergebnis: Vergleich der öffentlich-rechtlichen Organisationsformen

55

IV. Die privatrechtliche Ausgestaltung öffentlicher Aufgaben

57

1. Verfassungsrechtliche Begrenzung der organisatorischen Wahlfreiheit

58

2. Einfachgesetzliche Beschränkungen der organisatorischen Wahlfreiheit jenseits der Gemeindeordnung

59

3. Schrankenregelungen der Gemeindeordnung NRW

61

a) Das Merkmal "wichtiges Interesse"

62

b) "Wichtiges Interesse" als Rechtfertigungsgrund?

63

V. Zwischenergebnis: Grundsätzliche Zulässigkeit privatrechtlicher Ausgestaltung öffentlicher Aufgaben

66

C. Uneingeschränkte Vorteile kommunaler Aufgabenerfüllung in Privatrechtsform?

67

I. Motive für die Wahl privatrechtlicher Organisationsformen

68

1. Unternehmensgründung und Liquidation

70

2. Unternehmenstätigkeit

72

a) Personalpolitik und Mitbestimmungsrecht

73

b) Haushaltsrechtliche Gründe

78

c) Kreditvergabe und Kreditwürdigkeit

79

d) Steuerbegünstigung und Steuerlast

80

e) Kooperationsfähigkeit und kooperative Grenzen

82

II. Zwischenergebnis

89

D. Maßgebliche privatrechtliche Organisationsformen

91

I. Gesellschaft des bürgerlichen Rechts (GbR)

92

II. Offene Handelsgesellschaft (OHG)

93

III. Kommanditgesellschaft (KG) und GmbH & Co. KG

94

IV. Nichtrechtsfähiger Verein und rechtsfähiger Verein

94

V. Eingetragene Genossenschaft (eG)

97

VI. Rechtsfähige Stiftung des bürgerlichen Rechts

98

VII. Gesellschaft mit beschränkter Haftung

99

VIII. Aktiengesellschaft

100

IX. Zwischenergebnis

103

E. Ergebnis

105

3. Teil: Kontrollpflichten und Pflichtenbindungen

107

A. Die kontrollierte Betätigung kommunaler Unternehmen

107

B. Die Entwicklung gemeindlicher Einwirkungs- und Kontrollpflichten

108

I. Der Begriff der Ingerenz im Kontext kommunaler Wirtschaftstätigkeit

109

1. Kommunalverwaltungsrechtliche Ingerenz

109

2. Abgrenzung der Ingerenz zum Begriff der "Aufsicht" und "Wirtschaftsaufsicht"

111

II. Herleitung der Ingerenzverpflichtung

112

1. Erforderlichkeit des Rückgriffs auf das Institut der Garantenpflicht?

113

2. Kommunale Ingerenzverpflichtung und verfassungsrechtliche Vorgaben

115

a) Kommunale Aufgabenerfüllung als Ingerenzgrundlage

117

b) Kommunale Aufgabenverantwortung als Verfassungsauftrag

118

aa) Rechtsstaatsprinzip

119

bb) Sozialstaatsprinzip

120

cc) Demokratieprinzip

121

dd) Pflicht zur Einflussnahme aus dem Funktionsvorbehalt des Art. 33 Abs. 4 GG

123

ee) Ingerenzverpflichtung aus etwaiger Pflicht gemeindlicher Selbstverwaltung?

128

ff) Ingerenzverpflichtung aus den Grundrechten

131

gg) Pflicht zur gegenseitigen Rücksichtnahme

133

c) Zusammenfassung

135

C. Pflichtenbindung gemeindlicher Vertreter

136

I. Beschränkbarkeit des freien Mandats der Gemeindevertreter

137

II. Begründung für die Notwendigkeit der Bindung an den Ratsbeschluss

139

III. Zusammenfassung

142

D. Pflicht zur Vertretung der Gemeinde – Kontrollbegehren und Konfliktquelle

143

I. Maßgebliche Vertretungsregelungen der DGO

144

II. Gemeindliche Vertretungsregelungen im Kontext der Nachkriegspolitik

145

III. Vertretungsmechanismen im Geltungsbereich der GO NRW

145

1. Vertretungsregelungen im Zeichen gesellschaftsrechtlicher Verknüpfungen

146

2. Charakterisierung der zentralen Vertretungsnorm

154

3. Vertretungspflicht als Konfliktgrundlage

159

E. Ergebnis

161

4. Teil: Regimekollisionen

162

A. Ingerenzbedingte Kollision von Gesellschafts- und Kommunalrecht

162

B. Grundlegend problematisches Verhältnis der kommunalen Körperschaft gegenüber ihren privatrechtlich organisierten Gesellschaften

163

I. Systembedingte Konfliktimmanenz

165

II. "Regimekollision" zwischen Freiheit und Pflicht

166

III. Normative Relationsbestimmung der Rechtsmaterien – eine Gegenüberstellung

168

C. "Typologie der Konfliktsituationen"

172

I. Ingerenzbedingte Konflikte im Gründungsstadium

172

1. Konfliktquellen im Gründungsstadium einer (mehrheitlich) kommunalen GmbH

173

a) Permanenter Beirat / fakultativer Aufsichtsrat

175

b) Zielvereinbarungen

176

c) Gemeindliche Unterbeteiligung

178

d) Ausgestaltung der Entsendungsrechte in den Aufsichtsrat

178

e) Gesellschaftsvertragliche Bindung der Geschäftsführung an Weisungen sowie Geschäftsordnung

179

f) Weisungsbindung der Aufsichtsratsmitglieder in fakultativen Aufsichtsräten

181

g) Aspekte des Landesgleichstellungsgesetzes und Verschriftlichung des Unternehmenszwecks

183

2. Zwischenergebnis

184

II. Konfliktquellen im Gründungsstadium einer (mehrheitlich) kommunalen AG

186

1. Satzungsverbürgte Entsenderechte

186

2. Ausgestaltung der Satzung

188

3. Aufsichtsrechtliche Zustimmungsvorbehalte

189

4. Zwischenergebnis

190

III. Weitere ingerenzbedingte Konfliktfelder

191

1. Konsortialabsprachen

191

2. Beherrschungsvertrag

192

a) Zulässigkeit des Vertragskonzerns

193

b) Unzulässigkeit des Vertragskonzerns

193

c) Streitentscheidung

194

3. Faktische Konzernverhältnisse

195

4. Zielvereinbarungen

196

5. Konzessionsverträge

196

6. Zwischenergebnis

197

IV. Ingerenzbedingte Konflikte im Stadium der Unternehmensführung

198

1. Gemeindliche Ingerenzausübung gegenüber kommunaler GmbH und konfliktverursachende Verpflichtungen ihrer Vertreter

201

a) Organkonflikte zwischen Gesellschafterversammlung und (fakultativem) Aufsichtsrat

204

b) Konfliktpotential von Weisungen an Vertreter in kommunaler GmbH

206

c) Weisungen gegenüber Aufsichtsratsmitgliedern einer GmbH

207

aa) Weisungsfreiheit der Mitglieder des fakultativen Aufsichtsrates einer GmbH

208

bb) Eingeschränkte Weisungsfreiheit der Mitglieder des fakultativen Aufsichtsrates einer GmbH

211

cc) Stellungnahme

217

d) Zwischenergebnis

220

2. Gemeindliche Ingerenzausübung gegenüber kommunaler AG und konfliktverursachende Verpflichtungen ihrer Vertreter

220

a) Weisungen gegenüber Aufsichtsratsmitgliedern einer AG

221

aa) Weisungsrecht im historischen Kontext des Handelsgesetzbuches (HGB)

221

bb) Das Weisungsrecht im Lichte der Deutschen Gemeindeordnung 1935 und des Aktiengesetzes 1937

225

cc) Weisungsfreiheit von kommunalen Aufsichtsrastmitgliedern – Meinungsstand

229

(1) Weisungsfreiheit kommunaler Aufsichtsratsmitglieder

229

(2) Bedingungslose Weisungsbindung kommunaler Aufsichtsratsmitglieder

234

(3) Vermittelnde Lösung

235

(4) Stellungnahme

236

dd) Zwischenergebnis

239

b) Weisungen gegenüber dem Vorstand einer AG

240

c) Weisungen gegenüber der Hauptversammlung der AG

241

d) Zwischenergebnis

242

3. Weisungsrecht aus dem Haushaltsrecht

243

4. Exkurs: Beamtenrechtliche Weisungsbindungen?

245

V. Ergebnis bezüglich Rechtsnatur und Konfliktpotential von Weisungen an Vertreter in kommunaler Aktiengesellschaft

249

D. Weisungsbindung als Konfliktquelle

251

E. Ergebnis

252

5. Teil: Informationshaushalt und weitere Konfliktquellen

255

A. Weitere Einwirkungsinstrumente und Regimekonflikte

255

I. Stimmbindung von Aufsichtsratsmitgliedern

256

II. Staatlicher Informationshaushalt im Spannungsfeld zwischen Auskunfts-, Berichts- und Verschwiegenheitspflichten

257

1. Rechtsquellen für Auskunftsbegehren

258

a) Auskunftsrechte hergeleitet aus Grundrechten

258

b) Anspruch aus allgemeinen Transparenzpflichten

260

c) Anspruch aus dem Landespressegesetz NRW (LPresseG NRW)

261

d) Der Informationszugangsanspruch der Öffentlichkeit

263

e) Auskunfts- und Unterrichtungsansprüche nach der Gemeindeordnung

267

aa) Auskunftsbegehren im Zusammenhang mit Geschäftsabläufen einer GmbH

272

(1) Auskunftsanspruch bei GmbH mit fakultativem Aufsichtsrat

278

(a) Unzulässigkeit von Auskunftserteilungen und Berichten

287

(b) Öffentlichkeit von Ratssitzungen – Berichtsverbot wegen Vertraulichkeitsdefizits?

291

(c) Zulässigkeit von Auskunftserteilungen und Berichten

294

(d) Stellungnahme

298

(2) Auskunftsanspruch bei GmbH mit obligatorischem Aufsichtsrat

306

bb) Auskunftsanspruch bei mehrheitlich kommunaler AG

308

2. Informationsrechte im Rahmen der Abschlussprüfung

311

III. Ergebnis

312

B. Rückumwandlung in öffentlich-rechtliche Organisationsformen oder Auflösung und Liquidation der Gesellschaft

316

6. Teil: Lösungsansätze

319

A. Lösung ingerenzbedingter Regimekollisionen

319

B. Kollision regimespezifischer Anforderungen – die Entwicklung der Vorrangdiskussion

320

I. Streng öffentlich-rechtliche Konfliktlösung

321

II. Streng zivilrechtliche Konfliktlösung

325

III. Kompromissmöglichkeiten und -grenzen beider Rechtsregime

330

1. Kein zivilrechtlicher Vorrangautomatismus

330

2. Konfliktlösung durch Entwicklung einer Kollisionsdogmatik

339

a) Verflechtungen und Überschneidungen

340

b) Entwicklung einer Kollisionsdogmatik

343

aa) Vorrang zwingenden öffentlichen Rechts vor dispositiven Normen des Gesellschaftsrechts

344

bb) Aufeinandertreffen zwingender Normen beider Rechtsregime

344

cc) Kollisionskonzept im Sinne einer praktische Konkordanz

345

c) Zwischenergebnis

349

3. Verwaltungsgesellschaftsrecht

350

a) Dogmatische Konzeption und historischer Kontext

350

b) Ablehnung des Instruments Verwaltungsgesellschaftsrecht

356

c) Stellungnahme

360

C. Ergebnis

369

7. Teil: Lösungsvorschlag

371

A. Abschließender Vorschlag zur Lösung ingerenzbedingter Regimekollisionen

371

B. Entwurf eines modifizierten Verwaltungsgesellschaftsrechts

371

I. Die wesentlichen Aussagen des Bundesverfassungsgerichts

372

1. Das Urteil des Bundesverfassungsgerichts und seine Bedeutung

373

2. Übertragbarkeit der Kernaussagen des Bundesverfassungsgerichts auf "Kommunalparlamente"

376

a) Keine Beschränkung auf Informationsansprüche

382

b) Keine kommunalrechtliche Subsidiarität gegenüber dem Gesellschaftsrecht

383

3. Mechanismus eines modifizierten Verwaltungsgesellschaftsrechts

384

II. Ergebnis

397

C. Erforderlichkeit weiterer Lösungsansätze?

399

I. Erforderlichkeit einer "öffentlich-rechtlichen Gesellschaft" de lege ferenda?

399

II. Konfliktlösung durch Ausgestaltung einer zwischengeschalteten Holding-GmbH?

401

III. Statuarische Verankerung eines Rangverhältnisses

402

IV. Ergebnis

403

8. Teil: Zusammenfassung

404

A. Zusammenfassung der wesentlichen Ergebnisse

404

B. Zur Zulässigkeit und Motivation der wirtschaftlichen Betätigung der Gemeinde

404

C. Zur Einflussnahme- und Kontrollverpflichtung der Gemeinde

405

D. Zur ingerenzbedingten Kollision von Gesellschafts- und Kommunalrecht

406

E. Zu den ingerenzbedingten Regimekollisionen jenseits von Weisungen

409

F. Zur Lösung ingerenzbedingter Regimekollisionen

411

G. Zum Entwurf eines modifizierten Verwaltungsgesellschaftsrecht

412

Literaturverzeichnis

414