Employee-ownership & co-operatives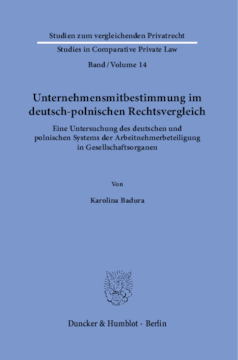 Additional Information
Book Details
ISBN

978-3-428-58148-1
978-3-428-18148-3 (print edition)

DOI

https://doi.org/10.3790/978-3-428-58148-1

Edition

1

Language

German

Pages

805

Collections

Subjects
Pricing
Institution

€ 172.00 (incl. local VAT if applicable)

Individual

€ 134.90 (incl. local VAT if applicable)
About The Author
Karolina Badura wurde in Nikolai (Polen) geboren. Sie studierte Rechtswissenschaften an der Humboldt-Universität zu Berlin sowie am King's College London. Das Rechtsreferendariat absolvierte sie am Oberlandesgericht München. Sie promovierte an der Ludwig-Maximilians-Universität München und arbeitet als Rechtsanwältin in München.
Karolina Badura was born in Mikołów (Poland) in 1986. She studied law at Humboldt University of Berlin and at King's College London and completed her legal clerkship at the Higher Regional Court of Munich. She holds a doctorate from the Ludwig Maximilian University of Munich and works as a lawyer in Munich.
Abstract
»Board-Level Co-Determination in a Comparison of German and Polish Law. A Comparative Analysis of the German and Polish System of Board-Level Employee Involvement«

The author undertakes a comprehensive and profound comparative study of board-level co-determination in Germany and Poland. The portrayal of the historical and ideological backgrounds is followed by a detailed analysis of the co-determination arising out of national and European regulations. The board-level co-determination is further examined in the context of the respective collective labour law system and corporate governance structures. Finally, the author deals with the reform debates. Karolina Badura unternimmt eine umfassende und tiefgründige rechtsvergleichende Untersuchung der Unternehmensmitbestimmung in Deutschland und Polen. Nach ausführlicher Erörterung der prägenden historischen und ideologischen Hintergründe werden die nationalen Regelungen zur Arbeitnehmerbeteiligung im Aufsichtsrat und Vorstand detailliert analysiert und gegenübergestellt. Die Autorin untersucht zudem die jeweilige nationale Umsetzung der europäischen Vorgaben zur Arbeitnehmerbeteiligung in der SE, SCE und bei grenzüberschreitenden Verschmelzungen. Anschließend wird die Unternehmensmitbestimmung sowohl im Kontext des nationalen kollektivarbeitsrechtlichen Systems als auch der jeweiligen Corporate-Governance-Strukturen beleuchtet. Nach einer Darstellung der Reform- und Gesetzesvorschläge in Deutschland und Polen hinterfragt die Autorin schließlich kritisch die geltenden nationalen Regelungen und setzt Denkanstöße für die Reformdiskussion.
Table of Contents
Section Title
Page
Action
Price

Vorwort

5

Inhaltsübersicht

7

Inhaltsverzeichnis

11

Abkürzungsverzeichnis

22

Kapitel 1: Einführung

29

A. Leitgedanken

29

B. Ziel und Gang der Untersuchung

32

C. Begriffsbestimmungen

34

Kapitel 2: Entwicklung und Grundlagen der Arbeitnehmerbeteiligung in Deutschland und Polen

37

A. Geschichtlicher Hintergrund

37

I. Entstehung des deutschen Mitbestimmungssystems

37

1. Geschichte der Mitbestimmungsidee in Deutschland bis 1945

38

a) Erste Ansätze der Arbeitnehmerbeteiligung im 19. Jahrhundert

38

b) Gesetzesnovellen im deutschen Kaiserreich

44

c) Die Arbeitnehmerbeteiligung in der Weimarer Republik

46

d) Einbruch der Mitbestimmung unter dem NS-Regime

52

2. Entwicklung der Mitbestimmung in der Bundesrepublik Deutschland nach 1945

53

a) Einführung einer Unternehmensmitbestimmung in der Montanindustrie

54

b) Das Betriebsverfassungsgesetz 1952

64

c) Gesetze zur Sicherung der Montanmitbestimmung

66

d) Kampf der Gewerkschaften um das MitbestG 1976

68

e) Wesentliche Gesetzesänderungen und neue Gesetzgebung

79

II. Entwicklung der Arbeitnehmerpartizipation in Polen

82

1. Die Arbeitnehmerpartizipation in den Jahren 1918–1939

82

2. Arbeitnehmerpartizipation in der Volksrepublik Polen (bis 1980)

90

a) Die letzten Kriegsmonate und das Dekret über Betriebsräte von 1945

93

b) Arbeitnehmerselbstverwaltung in den Jahren 1956–1958

100

c) Das Gesetz über die Arbeiterselbstverwaltung von 1958 und das Ende der Selbstverwaltung

106

3. Arbeitnehmerselbstverwaltung in der Krise der 1980er Jahre

110

a) Wirtschaftskrise als Treiber des Partizipationsgedankens

110

b) Die Gesetze vom 25. September 1981 über Staatsunternehmen und über die Selbstverwaltung der Belegschaft

115

c) Einführung des Kriegsrechts und die Tätigkeit der Selbstverwaltungsorgane in den 1980er Jahren

118

d) Die Vereinbarungen des "Runden Tisches" im Jahre 1989

122

4. Entwicklung der Arbeitnehmerpartizipation während der Transformationsphase der 1990er Jahre

125

a) Beginn der Wirtschaftsreform und Einleitung des Privatisierungsprozesses

126

b) Das Privatisierungsgesetz von 1990 und die Abschaffung der Belegschaftsräte

130

c) Der Pakt über das Staatsunternehmen von 1993 und die Entstehung des Kommerzialisierungs- und Privatisierungsgesetzes von 1996

137

d) Entwicklung kollektivarbeitsrechtlicher Regelungen und des sozialen Dialogs

147

5. Die Integration Polens in die EU

155

B. Ideologische Grundlagen der Arbeitnehmerpartizipation

157

I. Die Sozialtheorien des Vormärz

157

II. Marxismus und Sozialismus

159

III. Katholische und evangelische Soziallehre

163

IV. Liberalismus

171

V. Selbstverwaltungskonzepte

172

VI. Wirtschaftsdemokratie

173

C. Rechtliche Rahmenbedingungen und Grundstrukturen der Arbeitnehmerbeteiligung und des sozialen Dialogs

175

I. Verfassungsrechtlicher Rahmen

175

1. Deutschland

175

2. Polen

178

II. Europäische Garantien der Arbeitnehmerbeteiligung

182

III. Kollektivarbeitsrechtliche Grundstrukturen und Grundprinzipien

184

1. Deutschland

184

2. Polen

186

a) Der soziale Dialog als Pfeiler der sozialen Marktwirtschaft

186

b) Koalitionsfreiheit, Tarifautonomie und Streikrecht

190

c) Die Arbeitnehmerpartizipation

195

D. Zusammenfassung

200

Kapitel 3: Unternehmensmitbestimmung auf nationaler Ebene

207

A. Rechtsgrundlagen, Ziel und Rechtfertigung der Unternehmensmitbestimmung

207

I. Rechtsgrundlagen der Unternehmensmitbestimmung

207

1. Deutschland

207

a) Unternehmensmitbestimmungsgesetze

207

b) Tarifvertragliche und sonstige Mitbestimmungsvereinbarungen

208

2. Polen

212

a) Zwingende gesetzliche Mitbestimmungsvorgaben für die Gesellschaftsorgane

212

b) Tarifvertragliche und sonstige Mitbestimmungsvereinbarungen

213

c) Sozialvereinbarungen zur Privatisierung

217

3. Vergleich

220

II. Ziel und Rechtfertigung der zwingenden Mitbestimmung auf Unternehmensebene

221

1. Deutschland

221

a) Menschenwürde und Humanisierung

224

b) Wirtschaftsdemokratie

225

c) Gleichgewicht von Kapital und Arbeit

226

d) Kontrolle wirtschaftlicher Macht

227

e) Soziale Unternehmenspolitik

229

f) Integrationswirkung

229

2. Polen

230

a) Förderung der Wirtschaftsreform

231

b) Kontinuität der Arbeitnehmerselbstverwaltung

233

c) Integrationswirkung

234

d) Sozialethische Aspekte

235

e) Steigerung der Wirtschaftlichkeit und Effizienz

236

f) Beschränkung der Arbeitnehmerrechte?

237

3. Vergleich

238

B. Geltungsbereich der Mitbestimmungsgesetze

239

I. Deutschland

239

1. Montanmitbestimmungsgesetze

239

2. MitbestG

240

3. DrittelbG

242

4. Mitbestimmungserhaltungsregeln

243

5. Sonderregelungen und Spezialgesetze

244

II. Polen

244

1. Kommerzialisierungsgesetz vom 30. September 1996

244

a) Die Kommerzialisierung als Voraussetzung der Arbeitnehmerbeteiligung

246

b) Arbeitnehmerbeteiligung auch in teilweise privatisierten Unternehmen

247

aa) Bisherige Unterscheidung zwischen mittelbarer und unmittelbarer Privatisierung

247

bb) Neue Rechtslage seit 1.1.2017

250

c) Zwingende Arbeitnehmerbeteiligung auch bei vollständig privatisierten Unternehmen?

251

d) Die kommerzialisierte Gesellschaft mit beschränkter Haftung ("sp. z o.o.")

259

2. Spezielle Privatisierungsgesetze

260

3. Die Gesetze vom 25. September 1981 über Staatsunternehmen und über die Selbstverwaltung der Belegschaft

262

4. Gesetz über die kommunale Wirtschaft vom 20. Dezember 1996

264

5. Fehlende gesetzliche Vorgaben zur Unternehmensmitbestimmung in Unternehmen der Privatwirtschaft

266

III. Reichweite der Mitbestimmung

268

1. Deutschland

268

2. Polen

270

IV. Vergleich

272

C. Mitbestimmung in der Aktiengesellschaft

275

I. Organisationsstruktur einer Aktiengesellschaft – Überblick

276

II. Mitbestimmung im Aufsichtsrat einer Aktiengesellschaft

278

1. Aufgaben und Funktionen des Aufsichtsrats

278

a) Gesetzliche Zuständigkeiten des Aufsichtsrats

278

aa) Überwachung der Geschäftsführung

280

(1) Überwachungsgegenstand und -maßstab

280

(2) Überwachungsmittel

281

(a) Berichtspflichten und Auskunftsrecht

281

(b) Meinungsäußerung und Beratung

283

(c) Einsichts- und Prüfrecht

284

(d) Zustimmungsvorbehalte

285

bb) Personalkompetenzen

288

cc) Vorstandsorganisation

294

dd) Weitere Zuständigkeiten

295

b) Möglichkeiten der unternehmerischen Mitbeteiligung

297

c) Schutzfunktion zugunsten verschiedener Interessen und Interessengruppen?

300

2. Zusammensetzung des mitbestimmten Aufsichtsrats

302

a) Größe des Aufsichtsrats

302

aa) Deutschland

302

bb) Polen

304

b) Zahl der Arbeitnehmervertreter

306

aa) Deutschland

306

bb) Polen

308

(1) Kommerzialisierungsgesetz von 1996

308

(a) Erster Aufsichtsrat

309

(b) Alleinaktionärsstellung des Staates

309

(c) Mehrheits- oder Minderheitsbeteiligung des Staates

310

(2) Spezialgesetze

312

(3) Erfahrungen aus der Praxis

314

c) Wahlverfahren

314

aa) Wahl der Anteilseignervertreter

314

bb) Wahl der Arbeitnehmervertreter

317

(1) Deutschland

317

(2) Polen

319

(a) Kommerzialisierungsgesetz von 1996

319

(b) Spezialgesetze

325

(c) Erfahrungen aus der Praxis

325

cc) Wahl sonstiger und neutraler Aufsichtsratsmitglieder

326

d) Aktives und passives Wahlrecht

327

aa) Wahlberechtigung

327

bb) Wählbarer Personenkreis

330

(1) Arbeitnehmereigenschaft

330

(2) Gewerkschaftsvertreter und Gewerkschaftstätigkeit

333

(3) Ausschluss bestimmter Personengruppen

343

(4) Besondere persönliche Anforderungen

347

(5) Frauenquote

352

(6) Ergänzende Satzungsbestimmungen

354

e) Amtsperiode und Abberufung von Aufsichtsratsmitgliedern

356

3. Auswirkungen der Mitbestimmung auf die innere Ordnung des Aufsichtsrats

360

a) Vorsitzender und stellvertretender Vorsitzender

360

b) Arbeitsorganisation und Ausschüsse

363

c) Aufsichtsratssitzungen, Beschlussfähigkeit und Beschlussfassung

368

4. Rechtsfolgen einer fehlenden oder fehlerhaften Wahl von Arbeitnehmervertretern

374

a) Nichtigkeit bzw. Anfechtbarkeit der Wahl

375

b) Funktionsunfähigkeit des Aufsichtsrats

381

c) Eintragungsfähigkeit ins Handels- bzw. Unternehmerregister

388

5. Rechte und Pflichten der Arbeitnehmervertreter im Aufsichtsrat

391

a) Allgemeine Rechte und Pflichten der Aufsichtsratsmitglieder

391

aa) Persönliche und weisungsfreie Amtsausübung

392

bb) Kontroll- und Informationsrechte

393

cc) Pflicht zur Wahrung des Unternehmensinteresses

395

dd) Sorgfaltspflichten und Haftung

401

(1) Sorgfaltsmaßstab

401

(2) Allgemeine Sorgfaltspflichten

402

(3) Loyalitäts- und Verschwiegenheitspflicht

403

(4) Haftung

407

ee) Recht auf Vergütung und Aufwendungsersatz

410

b) Besondere Schutzvorschriften zugunsten der Arbeitnehmervertreter

416

aa) Behinderungs- und Benachteiligungsverbot

417

bb) Freistellung und Entgeltfortzahlung

418

cc) Kündigungsschutz

419

6. Funktion, Rolle und Bedeutung der Arbeitnehmervertreter im Aufsichtsrat

420

a) Informationsvermittlung

423

aa) Informationsvermittlung an den Aufsichtsrat ("nach oben")

423

bb) Informationsvermittlung an die Belegschaft ("nach unten")

426

b) Einfluss auf den Meinungsbildungsprozess im Aufsichtsrat

427

c) Einfluss auf unternehmenspolitische Entscheidungen?

429

d) Besondere Bedeutung während der Privatisierungsprozesse

433

III. Mitbestimmung im Vorstand einer Aktiengesellschaft

434

1. Bestellung und Abberufung des Arbeitsdirektors/Arbeitnehmervertreters

435

2. Funktion und Bedeutung des Arbeitsdirektors/Arbeitnehmervertreters

442

D. Sonderformen unternehmerischer Mitbestimmung in Polen

446

I. Die Arbeitnehmerbeteiligung in sog. "Arbeitnehmergesellschaften" ("spółki pracownicze")

447

II. Die Arbeitnehmerbeteiligung in polnischen Staatsunternehmen als Relikt aus dem Sozialismus

453

1. Das Staatsunternehmen als Rechtsform sui generis

454

2. Das Modell der Arbeitnehmerselbstverwaltung nach den Gesetzen von 1981

456

a) Organisationsverfassung des Staatsunternehmens

456

aa) Der Direktor

456

bb) Der Belegschaftsrat

457

cc) Die Arbeitnehmer- bzw. Delegiertenversammlung

459

b) Kompetenzen der Selbstverwaltungsorgane

459

c) Vergleich mit der Arbeitnehmerbeteiligung in Kapitalgesellschaften

463

3. Arbeitnehmerbeteiligung bei Fremdverwaltung des Staatsunternehmens

465

III. Mitbestimmung in kommunalen Gesellschaften

466

E. Zusammenfassung

467

Kapitel 4: Unternehmensmitbestimmung auf europäischer Ebene

472

A. Die Bedeutung europäischer Entwicklungen für das deutsche und polnische Arbeits- und Gesellschaftsrecht

472

B. Unternehmensmitbestimmung in supranationalen Gesellschaftsformen

474

I. Die Europäische Aktiengesellschaft (SE)

474

1. Regelungskonzept der SE-RL zur Arbeitnehmerbeteiligung

476

a) Zielsetzung der SE-RL

476

b) Vorrang der Vereinbarung

476

c) Subsidiäre Auffangregelung

478

2. Umsetzung der europäischen Vorgaben in Deutschland und Polen

479

a) Gegenstand, Zielsetzung und räumlicher Geltungsbereich

481

b) Bildung des besonderen Verhandlungsgremiums

482

aa) Einleitung des Einberufungsverfahrens und Information

482

bb) Sitzverteilung auf Mitgliedstaaten und Gesellschaften

484

cc) Persönliche Voraussetzungen der Mitglieder

486

dd) Wahlverfahren

489

(1) Zuständigkeit, Wahlgremium und Urwahl

489

(2) Quorums- und Mehrheitserfordernisse

493

c) Arbeitnehmerbeteiligung kraft Vereinbarung

494

aa) Verhandlungsverfahren

494

bb) Inhalt der Vereinbarung

499

d) Arbeitnehmerbeteiligung kraft Gesetzes

503

aa) Geltung der Auffangregelung

504

bb) Zusammensetzung und Befugnisse des Vertretungsorgans

505

(1) Wahlverfahren und Mitgliedschaft

506

(2) Innere Ordnung

508

(3) Zuständigkeiten des Vertretungsorgans

509

(4) Sachverständige, Kosten und Fortbildung

511

cc) Regeln für die Mitbestimmung in den Gesellschaftsorganen

513

(1) Verteilung der Sitze auf die Mitgliedstaaten

514

(2) Ermittlung der inländischen Arbeitnehmervertreter

515

(3) Persönliche Voraussetzungen der Mitglieder

518

e) Geheimhaltungspflicht und Tendenzschutz

519

f) Schutzvorschriften zugunsten der Arbeitnehmervertreter

521

g) Missbrauchsverbot, Straf- und Bußgeldvorschriften

524

3. Praktische Bedeutung und Akzeptanz der SE in Deutschland und Polen

526

II. Die Europäische Genossenschaft ("spółdzielnia europejska")

530

1. Regelungskonzept der SCE-RL zur Arbeitnehmerbeteiligung

531

2. Umsetzung ins nationale Recht

531

C. Grenzüberschreitende Verschmelzungen

533

I. Die Richtlinie 2005/56 über grenzüberschreitende Verschmelzungen

533

II. Umsetzung der Richtlinie in Deutschland und Polen

534

D. Zusammenfassung

541

Kapitel 5: Unternehmensmitbestimmung im System der kollektiven Arbeitsbeziehungen

543

A. Verhältnis zur gewerkschaftlichen Interessenvertretung

544

I. Funktion, Rolle und Bedeutung der Gewerkschaften

544

1. Gesetzliche Rahmenbedingungen und Kompetenzen der Gewerkschaften

545

a) Gewerkschaftsbegriff und -merkmale

546

b) Gründung, Organisationsstruktur und Repräsentativität

549

aa) Gründung und Binnenorganisation

549

bb) Aufbau des Gewerkschaftssystems

550

cc) Repräsentativität

555

c) Kompetenzen der Gewerkschaften

558

aa) Einfluss auf die Arbeits- und Sozialpolitik

560

bb) Tarifvertragsverhandlungen und -abschlüsse

561

cc) Streikrecht

565

dd) Zuständigkeiten auf Betriebsebene

565

ee) Sonstige Befugnisse und Einflussmöglichkeiten

572

d) Rechte und Schutz von Gewerkschaftsmitgliedern

574

2. Bedeutung der Gewerkschaften

576

a) Deutschland

576

b) Polen

577

aa) Rolle der Gewerkschaften während der Transformationsprozesse

577

bb) Gegenwärtige Bedeutung der Gewerkschaften

581

II. Gewerkschaften und die Unternehmensmitbestimmung

588

1. Abgrenzungen und Überschneidungen

588

a) Überschneidungen in sachlicher Hinsicht

588

b) Personelle Verflechtungen

590

2. Konkurrenz oder Einfluss?

592

a) Die Gewerkschaften – friend or foe der Unternehmensmitbestimmung?

592

b) Einfluss der Gewerkschaften im Zusammenhang mit der Unternehmensmitbestimmung

600

B. Verhältnis zur nicht-gewerkschaftlichen Arbeitnehmerbeteiligung auf Betriebsebene

606

I. Gesetzliche Rahmenbedingungen

607

1. Die betriebliche Mitbestimmung in Deutschland

607

2. Die Arbeitnehmerräte in Polen

608

a) Geltungsbereich

609

b) Zusammensetzung und Wahlverfahren

612

c) Kompetenzen des Arbeitnehmerrates

615

d) Kosten, Verschwiegenheit und sonstige Rechte bzw. Pflichten

618

e) Vereinbarungen zwischen Arbeitnehmerrat und Arbeitgeber

619

3. Betriebliche Ad-hoc-Repräsentationen

619

4. Arbeitnehmervertretung bei Arbeitssicherheit und -hygiene

621

5. Europäische Betriebsräte

622

II. Bedeutung der nicht-gewerkschaftlichen Arbeitnehmervertretung

623

III. Verhältnis zwischen der Arbeitnehmerbeteiligung auf Organebene und nicht-gewerkschaftlichen Arbeitnehmervertretungen

629

1. Deutschland

629

2. Polen

632

C. Verhältnis zu sonstigen Formen der Arbeitnehmerbeteiligung

635

I. Arbeitnehmerbeteiligung am Kapital ("partycypacja kapitałowa")

635

II. Rat des sozialen Dialogs

639

D. Zusammenfassung

641

Kapitel 6: Unternehmensmitbestimmung und Corporate Governance

643

A. Grundzüge des Corporate-Governance-Systems

644

I. Begriff, Zweck und Charakteristika

644

II. Corporate-Governance-Regelwerke als Steuerungs- und Kontrollinstrument

651

B. Unternehmensmitbestimmung im Corporate-Governance-System

659

I. Stellung der Arbeitnehmerinteressen und der Arbeitnehmervertreter in den Corporate-Governance-Regelwerken

661

1. Berücksichtigung von Arbeitnehmerinteressen bei der Definition des Unternehmensinteresses

661

2. Unabhängigkeit der Aufsichtsratsmitglieder

664

a) Empfehlung der Europäischen Kommission 2005

664

b) Unabhängigkeit im DCGK

665

c) Unabhängigkeit in polnischen Corporate-Governance-Regelwerken

670

II. Beeinträchtigung der Aufsichtsratstätigkeit

677

1. Verzögerte Entscheidungsprozesse und mangelnde Handlungsfähigkeit

678

2. Aufsichtsrat als Forum der Interessenvertretung

679

3. Mangelnde Professionalität und Fachkompetenz

687

4. Eingeschränkte Information und Marginalisierung des Aufsichtsrats durch den Vorstand

689

C. Zusammenfassung

690

Kapitel 7: Zukunft der Unternehmensmitbestimmung?

692

A. Reformansätze, Tendenzen und Diskussionen in Deutschland

693

I. Kritik am deutschen Mitbestimmungssystem

695

II. Reformvorschläge

700

1. Abschaffung der Arbeitnehmerbeteiligung im Aufsichtsrat

700

2. Vereinbarungslösung

702

3. Mäßigung des gesetzlichen Modells

705

4. Ausweitung der Mitbestimmung

706

III. Ausblick

709

B. Perspektiven der Arbeitnehmerpartizipation in Polen

710

I. Einstellung zur Arbeitnehmerpartizipation im Allgemeinen

710

II. Arbeitnehmervertreter im Aufsichtsrat – eine nur vorübergehende Lösung?

717

1. Tendenzen in Rechtswissenschaft und Praxis

718

a) Generelle Zurückhaltung gegenüber der Unternehmensmitbestimmung

720

b) Arbeitnehmerräte als vorzugswürdiges Mittel der Arbeitnehmerpartizipation

725

c) Andere Formen der Interessenvertretung

728

2. Gesetzesinitiativen

732

a) Gesetzesprojekt 2006/2007 über ein Kollektivarbeitsgesetzbuch und die weitgehende Einführung von Unternehmensmitbestimmung in allen Aktiengesellschaften

732

b) Reformvorhaben 2010/2011 zur Abschaffung der gesetzlichen Vorgaben zur Unternehmensmitbestimmung in kommerzialisierten Unternehmen

735

c) Gesetzesänderung zum 1. Januar 2017

740

d) Vorschläge der Kommission zur Kodifizierung des Arbeitsrechts vom 14. März 2018

741

Kapitel 8: Zusammenfassung der wesentlichen Erkenntnisse

749

A. Bedeutung des historischen und ideologischen Hintergrunds für die Unternehmensmitbestimmung

749

B. Gemeinsamkeiten und Unterschiede der Unternehmensmitbestimmung in der Aktiengesellschaft

756

C. Unternehmensmitbestimmung in supranationalen Rechtsformen

763

D. Unternehmensmitbestimmung im Kontext des kollektivarbeitsrechtlichen Systems

764

E. Unternehmensmitbestimmung im Lichte der Corporate-Governance-Debatte

766

F. Aktuelle Tendenzen und Reformvorschläge

767

Kapitel 9: Quo vadis, Unternehmensmitbestimmung?

769

Literaturverzeichnis

778

Stichwortverzeichnis

797