Social law & Medical law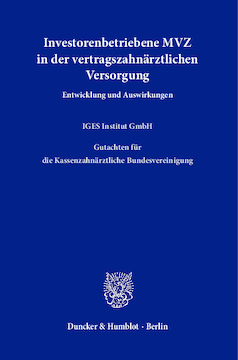 BOOK
Investorenbetriebene MVZ in der vertragszahnärztlichen Versorgung
Entwicklung und Auswirkungen. Gutachten für die Kassenzahnärztliche Bundesvereinigung
(2021)
Additional Information
Book Details
ISBN

978-3-428-58274-7
978-3-428-18274-9 (print edition)

DOI

https://doi.org/10.3790/978-3-428-58274-7

Edition

1

Language

German

Pages

136

Collections

Subjects
Pricing
Institution

€ 52.00 (incl. local VAT if applicable)

Individual

€ 39.90 (incl. local VAT if applicable)
About The Author
IGES ist ein unabhängiges, privatwirtschaftliches Forschungs- und Beratungsinstitut. Es wurde 1980 von Wissenschaftlern der Technischen Universität Berlin gegründet. Es beschäftigt mehr als 150 Expertinnen und Experten aus zahlreichen akademischen Disziplinen. IGES arbeitet interdisziplinär und themenbezogen in optimal zusammengestellten Projektteams. Das Institut bietet Studien, Gutachten, Publikationen, Evaluationen, Konzepte und Strategien an und hat seit seiner Gründung mehr als 4.000 Forschungs- und Beratungsprojekte für verschiedenste Auftraggeber realisiert. IGES befindet sich im Eigentum von Wissenschaftlern, die im Institut tätig sind. Weitere Informationen unter www.iges.com.
Abstract
Seit Zulassung fachgruppengleicher Medizinischer Versorgungszentren (MVZ) im Jahr 2015 ist die Zahl zahnärztlicher MVZ stark gestiegen. Ein wachsender Anteil befindet sich (indirekt über Krankenhäuser) im Eigentum von Finanzinvestoren (i-MVZ). Das Gutachten untersucht diese Entwicklung und ihre Auswirkungen.
Analysen zur regionalen Verteilung zeigen eine Konzentration von i-MVZ auf Großstädte mit einer einkommensstarken und jüngeren Bevölkerung. Analysen von Abrechnungen zeigen, dass i-MVZ höhere Umsätze generieren, die im Bereich der konservierenden/chirurgischen Leistungen aus Mengenausweitungen in fast allen Kategorien und bei Zahnersatz aus einer Umsatzausweitung bei Neuversorgungen resultieren. Ähnliche Ergebnisse treffen für MVZ zu.
Die Entwicklung von i-MVZ in der zahnärztlichen Versorgung sollte weiter beobachtet werden; hierzu ist mehr Transparenz notwendig. Mögliche regulatorische Weiterentwicklungen sollten erwogen werden, um negative Auswirkungen zu verhindern. »Private equity-owned dental practices in Germany – trend and implications«

Since 2015, an increasing number of dental practices in Germany have used a new organizational model, in which larger numbers of dentists work as employees. Private equity firms and other financial investors own an increasing share of these practices. The report analyzes this trend and its implications.
Table of Contents
Section Title
Page
Action
Price

Inhalt

5

Abbildungen

7

Tabellen

11

Abkürzungsverzeichnis\r

12

Zusammenfassung

13

1. Kontext und Ziele

17

1.1 Kontext

17

1.2 Ziele

22

2. Methodik

23

2.1 Auswertungen zu Versorgungsstrukturen

23

2.2 Auswertungen zur regionalen Verteilung

24

2.3 Analyse der wettbewerbsökonomischen Rahmenbedingungen

25

2.4 Auswertungen zum Leistungsgeschehen

25

3. Ergebnisse

27

3.1 Entwicklung der zahnärztlichen Versorgungsstrukturen

27

3.1.1 Anteil der Praxisformen an der Versorgung

27

3.1.2 Unterschiede zwischen den Praxisformen

31

3.1.3 Charakteristika von i-MVZ und MVZ

36

3.2 Unterschiede in der regionalen Verteilung der Praxisformen

42

3.2.1 Regionale Verteilung der Zahnarztstellen

42

3.2.2 Verteilung nach soziodemografischen und -ökonomischen Merkmalen der Planungsbereiche

48

3.2.3 Regelungen des TSVG für Krankenhaus-MVZ

54

3.2.4 Zwischenfazit

59

3.3 Wettbewerbsökonomische Rahmenbedingungen der Praxisformen

61

3.4 Unterschiede im Leistungsgeschehen zwischen den Praxisformen

64

3.4.1 Charakterisierung der Vergleichsgruppen

67

3.4.2 Stellenwert der Leistungsbereiche

77

3.4.3 Leistungsbereich KCH

80

3.4.4 Leistungsbereich ZE

103

4. Schlussfolgerungen, Diskussion und Empfehlungen

128

4.1 Schlussfolgerungen

128

4.2 Ausblick und Empfehlungen

131

4.3 Limitationen

133

5. Anhang

135

A1 MVZ-Kettenverbünde

135