Private or civil law: general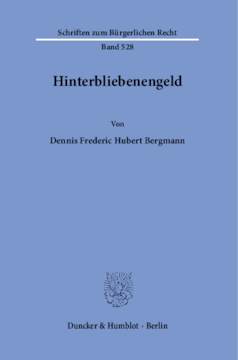 Additional Information
Book Details
ISBN

978-3-428-58228-0
978-3-428-18228-2 (print edition)

DOI

https://doi.org/10.3790/978-3-428-58228-0

Edition

1

Language

German

Pages

269

Collections

Subjects
Pricing
Institution

€ 92.00 (incl. local VAT if applicable)

Individual

€ 71.90 (incl. local VAT if applicable)
About The Author
Dennis Bergmann studierte Rechtswissenschaften in Würzburg und legte dort die Erste Juristische Prüfung 2016 ab. Anschließend war er bis 2020 Wissenschaftlicher Mitarbeiter bei Prof. Dr. Michael Sonnentag an der Universität Würzburg. Seit Oktober 2020 ist er Rechtsreferendar im OLG Bezirk Bamberg.
Dennis Bergmann studied law in Würzburg and passed the First Legal Examination there in 2016. He was then a research assistant to Prof. Dr. Michael Sonnentag at the University of Würzburg until 2020. Since October 2020, he has been a legal trainee at the Higher Regional Court of Bamberg.
Abstract
Die Einführung des Hinterbliebenengeldes brachte viele Fragen mit sich, die sich im Hinblick auf dessen Ausgestaltung de lege lata sowie dessen Fortentwicklung de lege ferenda stellen. Denn ein Ersatzanspruch, der das seelische Leid Hinterbliebener zum Gegenstand hat, betrifft eine äußerst sensible Thematik und kann bei inkorrekter Ausgestaltung zu einer Vertiefung des seelischen Leids führen. Nachdem im 1. Teil der Arbeit die Grundlagen erörtert werden und eine rechtsgeschichtliche sowie eine rechtsvergleichende Darstellung erfolgen, widmet sich der 2. Teil der Untersuchung den Voraussetzungen und Rechtsfolgen des Anspruchs. Im 3. Teil erfolgt eine Untersuchung zur Fortentwicklung des Hinterbliebenengeldes de lege ferenda, bevor die Arbeit im 4. Teil mit einer abschließenden Bewertung und einer Zusammenfassung der Ergebnisse endet.
Table of Contents
Section Title
Page
Action
Price

Vorwort

7

Inhaltsverzeichnis

11

Abkürzungsverzeichnis

21

§ 1 Einführung

25

Erster Teil: Grundlagen

27

§ 2 Inhalt, Zweck und Begriff des "Hinterbliebenengeldes"

27

A. Inhalt und Zweck des Hinterbliebenengeldes

28

B. Hinterbliebenengeld in Abgrenzung zu Trauergeld, Trauerschmerzensgeld und Angehörigenschmerzensgeld

28

I. Abgrenzung zu Trauergeld und Trauerschmerzensgeld

28

II. Abgrenzung zu Angehörigenschmerzensgeld

29

1. Durch das Angehörigenschmerzensgeld erfasste Schäden

29

a) Jegliche Schmerzensgeldansprüche Angehöriger

29

b) Jegliche immaterielle Schäden Angehöriger

30

c) Nur immaterielle Schäden Angehöriger, die unterhalb der Schwelle einer Gesundheitsverletzung im Sinne des § 823 Abs. 1 BGB liegen

30

2. Personenkreise bei Angehörigen und Hinterbliebenen

31

C. Zusammenfassung und Ergebnis

31

§ 3 Funktion des Hinterbliebenengeldes

33

A. Meinungsstand

33

B. Stellungnahme

35

I. Ausgleichsfunktion

35

II. Genugtuungsfunktion

37

III. Anerkennungsfunktion

38

IV. Ergebnis

39

§ 4 Historie des Hinterbliebenengeldes

40

§ 5 Rechtsvergleichender Überblick

42

A. Der erforderliche Verletzungsgrad

43

I. Rechtsordnungen mit einer Begrenzung auf Todesfälle

43

II. Rechtsordnungen mit einer Einbeziehung von Fällen bloßer Verletzung ohne Todesfolge

46

B. Die Bestimmung der anspruchsberechtigten Personen

50

I. Rechtsordnungen mit gesetzlicher Beschränkung auf bestimmte Personengruppen

50

II. Rechtsordnungen ohne Beschränkung auf bestimmte Personengruppen

52

III. Sonderfälle

55

1. Griechenland

55

2. Polen

55

C. Die Bestimmung des Ersatzbetrags

56

I. Rechtsordnungen mit im Ermessen der Gerichte liegendem Ersatzbetrag

56

II. Rechtsordnungen mit gesetzlich vorgegebenem Ersatzbetrag

59

III. Rechtsordnungen mit Mischsystemen

61

D. Zusammenfassung

63

§ 6 Grundlagen außervertraglicher Haftung

65

A. Grund der Haftung

65

I. Ersatzfähiger Schaden

65

1. Eigenverantwortung versus Schädigungsverbot

66

2. Das Tatbestandsprinzip

67

3. Keine unmittelbaren haftungsrechtlichen Konsequenzen bei Tötung

68

II. Zurechenbarkeit des Schadens an eine andere Person

69

B. Folge der Haftung

70

I. Art des Schadensersatzes: Naturalrestitution und Schadenskompensation

71

II. Umfang des Schadensersatzes

72

1. Totalreparation

72

2. Vorteilsausgleichung aufgrund Bereicherungsverbots

72

C. Zusammenfassung

73

§ 7 Erforderlichkeit der Einführung des Hinterbliebenengeldes – Eine Lücke im deutschen Haftungsrecht?

74

A. Ersatzansprüche Hinterbliebener vor Einführung des Hinterbliebenengeldes

74

I. Ersatzansprüche für Schäden, die unmittelbar bei den Hinterbliebenen entstehen können

75

1. Beerdigungskosten gemäß § 844 Abs. 1 BGB

75

a) Voraussetzungen

75

aa) Der Tod des unmittelbar Geschädigten als Folge einer unerlaubten Handlung

75

bb) Kreis der Ersatzberechtigten

76

b) Umfang des Ersatzes

76

c) Berücksichtigung des Mitverschuldens des Getöteten

77

2. Unterhaltsschaden gemäß § 844 Abs. 2 BGB

77

a) Voraussetzungen

77

aa) Der Tod des unmittelbar Geschädigten als Folge einer unerlaubten Handlung

77

bb) Bestehen einer gesetzlichen Unterhaltsverpflichtung im Zeitpunkt der Verletzung

78

cc) Kreis der Ersatzberechtigten

78

b) Umfang des Ersatzes

79

c) Berücksichtigung des Mitverschuldens des Getöteten

79

3. Entgangene Dienste gemäß § 845 BGB

79

a) Voraussetzungen

79

aa) Verletzung eines der in § 845 S. 1 BGB genannten Rechtsgüter des Dienstverpflichteten

79

bb) Beeinträchtigung einer gesetzlichen Dienstverpflichtung im Zeitpunkt der Verletzung

80

b) Umfang des Ersatzes

81

c) Berücksichtigung des Mitverschuldens des Getöteten

81

4. Schockschaden

81

a) Voraussetzungen

82

aa) Gesundheitsschädigung im Sinne des § 823 Abs. 1 BGB

82

bb) Nachvollziehbarer Anlass

83

cc) Hinreichendes Näheverhältnis oder unmittelbare Beteiligung

83

b) Umfang des Ersatzes

85

c) Berücksichtigung des Mitverschuldens des unmittelbar Geschädigten

86

II. Ersatzansprüche für Schäden des Getöteten, die im Wege der Erbfolge auf die Hinterbliebenen übergehen

86

1. Heilbehandlungskosten

86

a) Voraussetzungen

86

b) Umfang des Ersatzes

87

2. Vor dem Tod entstandene Besuchskosten

87

a) Voraussetzungen

87

b) Umfang des Ersatzes

89

3. Vermehrte Bedürfnisse gemäß § 843 BGB

89

a) Voraussetzungen

89

b) Umfang des Ersatzes

90

4. Schmerzensgeld

90

a) Voraussetzungen

91

b) Umfang des Ersatzes

92

B. Die Lücke im deutschen Haftungsrecht und deren Folgen

93

I. Die Lücke im deutschen Haftungsrecht

93

II. Unbillige Benachteiligung psychisch starker Angehöriger sowie unbillige Entscheidungen aufgrund unterschiedlicher Verarbeitungsprozesse

93

III. Wertungswidersprüche zum Ersatz materieller und sonstiger immaterieller Schäden

94

IV. Finanzieller Anreiz zur Schadensvertiefung

95

V. Gefahr des forum shopping

96

C. Zusammenfassung und Ergebnis

97

Zweiter Teil: Das Hinterbliebenengeld de lege lata

99

§ 8 Anspruchsgrundlagen

100

A. Verschuldens- und Gefährdungshaftung im Deliktsrecht

100

B. Spezialgesetzliche Gefährdungshaftung

100

I. Spezialgesetze mit ausdrücklicher Aufnahme des Anspruchs auf Hinterbliebenengeld

100

II. Anwendbarkeit des Anspruchs auf Hinterbliebenengeld bei Verweisung

101

III. Die Möglichkeit einer analogen Anwendung im Rahmen der Gefährdungshaftung

101

C. Vertragliche Haftung

102

I. Verletzung von Schutzpflichten des Dienstberechtigten gemäß § 618 Abs. 3 BGB und des Prinzipals gemäß § 62 Abs. 3 HGB

102

II. Passagierschadenshaftung im Luftverkehrsrecht

102

III. Passagierschadenshaftung im Eisenbahn-‍, Schienen- und Seeverkehr

104

D. Zusammenfassung

105

§ 9 Die Voraussetzungen des Anspruchs auf Hinterbliebenengeld

106

A. Erforderlicher Verletzungsgrad

106

I. Der Tod des unmittelbar Geschädigten

106

II. Sonderproblem: Ersatz bei Tötung des Nasciturus?

107

1. Meinungsstand

107

2. Stellungnahme

107

III. Zeitpunkt der Primärschädigung – Keine Rückwirkung des Anspruchs

108

1. Anwendbarkeit ab dem 23. Juli 2017 gemäß Art. 229 § 43 EGBGB

109

2. Anwendbarkeit ab dem 22. Juli 2017 gemäß § 72 Abs. 6 LuftVG

109

IV. Kausalität zwischen der Handlung des Schädigers und dem Tod des unmittelbar Geschädigten

110

V. Zusammenfassung

111

B. Anspruchsberechtigter Personenkreis

112

I. Der Hinterbliebene

113

1. Drei-Personen-Verhältnis

114

2. Keine Auswirkungen auf die Anspruchsberechtigung bei Vorhandensein mehrerer Hinterbliebener

114

II. Das besondere persönliche Näheverhältnis

115

1. Kein Abstellen auf den Begriffsinhalt in anderen Regelungen

115

2. Wechselseitigkeit der emotionalen Beziehung

116

a) Ausreichen einer gerechtfertigten Vorstellung von Wechselseitigkeit

116

b) Ausnahme vom Erfordernis der Wechselseitigkeit

117

3. Zeitpunkt des besonderen persönlichen Näheverhältnisses

118

4. Die gesetzliche Vermutung des besonderen persönlichen Näheverhältnisses

119

a) Zweck der gesetzlichen Vermutung

119

b) Widerlegbarkeit der gesetzlichen Vermutung

120

c) Zeitpunkt des Familienstatus zur Anwendbarkeit der Vermutungsregelung

121

5. Anforderungen an das besondere persönliche Näheverhältnis

122

a) Allgemeine Anforderungen

123

b) Konkrete Betrachtung einzelner Personengruppen

125

aa) Von der Vermutungsregelung umfasste Personengruppen

125

(1) Ehegatten und eingetragene Lebenspartner

125

(a) Ausgestaltung typischer Ehen und eingetragener Lebenspartnerschaften

125

(b) Widerlegbarkeit der Vermutungsregelung

126

(c) (Beziehungs-)‌Partner neben Ehe oder eingetragener Lebenspartnerschaft

130

(aa) Vorübergehende Liebschaft und "einmaliger Ehebruch"

130

(bb) Dauerhafte Partnerschaft

131

(cc) Anspruchsberechtigung mehrerer Partner des Getöteten

131

(2) Eltern und Kinder

133

(a) Ausgestaltung typischer Eltern-Kind-Verhältnisse

133

(b) Widerlegbarkeit der Vermutungsregelung

134

(c) Der Nasciturus

136

(aa) Meinungsstand

137

(bb) Stellungnahme

137

bb) Personengruppen außerhalb der Vermutungsregelung

139

(1) Keine Berücksichtigung rechtlicher Beziehungen außerhalb der Vermutungsregelung

140

(2) Einzelne Personengruppen

141

(a) Eheähnliche und lebenspartnerschaftsähnliche Gemeinschaften

141

(b) Verlobte

143

(c) Geschwister

144

(d) Großeltern und Enkelkinder

146

(e) Patchwork-‍, Pflege- und Stieffamilien

148

(f) Freunde, Kollegen und sonstige Personen

149

6. Der Nachweis des besonderen persönlichen Näheverhältnisses

151

a) Grundsätzliche Kriterien und objektive Indizien

151

b) Schwierigkeit des Nachweises

154

III. Zusammenfassung

155

C. Seelisches Leid aufgrund der Tötung

156

I. Tatsächliches Verspüren von seelischem Leid

157

1. Meinungsstand

157

2. Stellungnahme

158

II. Indizierung des seelischen Leids durch das besondere persönliche Näheverhältnis

158

III. Kein seelisches Leid trotz eines besonderen persönlichen Näheverhältnisses

159

1. Nicht als Verlust empfundener Tod

159

a) Mangelndes Empfindungsvermögen

159

b) Der Tod als "Erlösung"

161

2. Fehlende innere Beziehung zwischen Hinterbliebenem und Getötetem

161

IV. Kausalität zwischen dem Tod des unmittelbar Geschädigten und dem seelischen Leid des Hinterbliebenen

162

1. Ursächlichkeit des Todes für das seelische Leid

162

2. Abbruch der Kausalität bei Entfallen des besonderen persönlichen Näheverhältnisses zwischen Primärschädigung und erst später eintretendem Tod?

162

V. Zusammenfassung

163

D. Konkurrenz zum Schockschadensersatz – Subsidiarität des Hinterbliebenengeldes

164

§ 10 Die Rechtsfolgen des Anspruchs auf Hinterbliebenengeld

166

A. Die Entschädigungshöhe im Ermessen der Gerichte

166

I. Die Grundlage der Bemessung: seelisches Leid aufgrund des Verlusts

167

1. Kein Ersatz des verlorenen Lebens und des Verlusts der besonders nahestehenden Person an sich

168

2. Kein Ersatz von über das seelische Leid hinausgehenden und materiellen Schäden

168

3. Kein Ersatz von vor dem Tod verspürtem seelischen Leid

170

II. Die Bemessung der Entschädigungshöhe

171

1. Die Funktion des Hinterbliebenengeldes

171

2. Einordnung in Personengruppen in Abhängigkeit von typischen Umständen innerhalb von Nähebeziehungen sowie Berücksichtigung ausgewählter Umstände in Fallgruppen

172

a) Kategorie 1: Ehepartner, eingetragene Lebenspartner, Eltern und Kinder

174

b) Kategorie 2: Geschwister, Großeltern und Enkelkinder

177

c) Kategorie 3: Nichteheliche und nicht eingetragene Lebenspartner sowie Mitglieder von Patchwork-‍, Pflege- und Stieffamilien

178

d) Kategorie 4: Sonstige Personen

178

3. Übertragung der Kriterien zur Schmerzensgeldbemessung

179

4. Wirtschaftliche Auswirkungen

181

5. "Erlösung" des unmittelbar Geschädigten von seinem Leid

182

6. Mitverantwortung und Mitverschulden

183

a) Gesamtbetrachtung oder schlichte Addition der Mitverschuldensanteile bei gleichzeitigem Mitverschulden von Getötetem und Hinterbliebenem?

185

aa) Meinungsstand

185

bb) Stellungnahme

185

b) Gesonderte Behandlung von Schadensausweitungen, die den Tod des unmittelbar Geschädigten zur Folge haben?

186

aa) Meinungsstand

186

bb) Stellungnahme

187

7. Höchstbeträge im Rahmen der Gefährdungshaftung

188

8. Untaugliche Kriterien zur Bemessung

188

a) Orientierung an den Schmerzensgeldbeträgen in Schockschadensfällen

188

aa) Keine zwingende Reduzierung des Hinterbliebenengeldes im Vergleich zum Schockschadens-Schmerzensgeld

190

bb) Keine Vergleichbarkeit ganzer Fälle, sondern nur einzelner Verletzungsfolgen

191

cc) Problematik der Vergleichbarkeit aufgrund unzureichender Urteilsbegründungen und untauglichen Vorbringens der Geschädigten

193

dd) Ergebnis

193

b) Der eigene Schmerzensgeldanspruch des Getöteten

194

aa) Meinungsstand

194

bb) Stellungnahme

195

c) Die Anzahl der Hinterbliebenen

196

III. Die Höhe eines angemessenen Hinterbliebenengeldes

196

1. Angaben des Gesetzgebers: 10.000 Euro im Durchschnitt?

197

2. Ersatzbeträge in der Rechtsprechung

198

3. Angaben und Forderungen der Literatur

201

4. Eigene Auffassung

202

B. Pfändbarkeit und Übertragbarkeit

203

C. Vererblichkeit

204

I. Grundsätzliche Vererblichkeit

204

1. Meinungsstand

204

2. Stellungnahme

204

II. Keine Geltendmachung von ererbten Ansprüchen auf Hinterbliebenengeld bei Zusammentreffen mit originären Ansprüchen in einer Person?

205

1. Meinungsstand

205

2. Stellungnahme

206

D. Fälligkeit und Verjährung

207

E. Zusammenfassung

208

Dritter Teil: Das Hinterbliebenengeld de lege ferenda

210

§ 11 Anspruchsgrundlagen

210

A. Außervertragliche Haftung

210

B. Vertragliche Haftung

211

I. Umfassende Anwendbarkeit in Fällen der vertraglich begründeten Haftung

211

II. Grundsätzliche Beschränkung der Anwendbarkeit auf die außervertragliche Haftung

213

III. Stellungnahme

214

IV. Ergebnis

218

§ 12 Erforderlicher Verletzungsgrad

219

A. Beschränkung auf Todesfälle

219

B. Einbeziehung von Fällen der schwer‍(st)‌en Verletzung

220

C. Stellungnahme

221

D. Ergebnis

223

§ 13 Anspruchsberechtigung

224

A. Bestimmung der Anspruchsberechtigung

224

I. Abschließende Festlegung potenzieller Anspruchsberechtigter und Vorschläge der in diesem Fall Anspruchsberechtigten

224

1. Abschließende Festlegung potenzieller Anspruchsberechtigter

224

2. Vorschläge der Beschränkung auf bestimmte Personengruppen

225

a) Ehepartner, eingetragene Lebenspartner, Partner einer nichtehelichen Lebensgemeinschaft, Eltern, Kinder und Geschwister

226

b) Ehepartner, Verlobte, Eltern und Kinder

226

c) Ehe und Familie gemäß Art. 6 Abs. 1 GG

226

II. Anspruchsberechtigung in Abhängigkeit von den konkreten Umständen des Einzelfalls

227

III. Stellungnahme

227

IV. Ergebnis

229

B. Die Vermutungsregelung des § 844 Abs. 3 S. 2 BGB

230

I. Gerechtfertigte Privilegierung von Ehepartnern, eingetragenen Lebenspartnern, Eltern und Kindern?

230

1. Meinungsstand

230

2. Stellungnahme

231

II. Erweiterung der Vermutungsregelung um Geschwister mit einem gemeinsamen Haushalt

232

§ 14 Konkurrenz zwischen Hinterbliebenengeld und Schockschadensersatz

234

A. Kumulation von Hinterbliebenengeld und Schockschadensersatz

234

B. Subsidiarität des Hinterbliebenengeldes gegenüber dem Schockschadensersatz

235

C. Stellungnahme

236

D. Ergebnis

237

§ 15 Bestimmung der Entschädigungshöhe

238

A. Bemessung des Ersatzbetrags im Ermessen der Gerichte

238

B. Festlegung eines pauschalen Ersatzbetrags

239

C. Festlegung einer Schmerzensgeldspanne oder eines Regelbetrags

240

D. Stellungnahme

240

I. Bemessungsschwierigkeiten

240

II. Hochspielen von seelischem Leid

242

III. Rechtsunsicherheit

242

IV. Einzelfallgerechtigkeit und Wertungswidersprüche

243

V. Anpassungsbedürftigkeit des Ersatzbetrags

243

VI. Zweifellose Verkürzung der Verfahrensdauer?

244

VII. Zusammenfassung und Ergebnis

245

Vierter Teil: Schluss

247

§ 16 Abschließende Bewertung

247

§ 17 Zusammenfassung der Ergebnisse

249

A. Grundlagen

249

I. Inhalt, Zweck und Begriff des Hinterbliebenengeldes

249

II. Funktion des Hinterbliebenengeldes

249

III. Erforderlichkeit der Einführung des Hinterbliebenengeldes

249

B. Das Hinterbliebenengeld de lege lata

250

I. Die Voraussetzungen des Anspruchs auf Hinterbliebenengeld

250

1. Der Tod des unmittelbar Geschädigten

250

2. Die Anspruchsberechtigung

250

3. Verspüren von seelischem Leid aufgrund der Tötung

251

4. Kein Anspruch auf Schockschadensersatz

252

II. Die Rechtsfolgen des Hinterbliebenengeldes

252

1. Die Entschädigungshöhe im Ermessen der Gerichte

252

2. Pfändbarkeit, Übertragbarkeit, Fälligkeit, Verjährung und Vererblichkeit

253

C. Das Hinterbliebenengeld de lege ferenda

253

I. Umfassende Anwendbarkeit des Hinterbliebenengeldes in Fällen vertraglicher Haftung

253

II. Einbeziehung von Fällen der schwer‍(st)‌en Verletzung des unmittelbar Geschädigten

254

III. Bestimmung des anspruchsberechtigten Personenkreises

254

1. Anspruchsberechtigung in Abhängigkeit von den konkreten Umständen des Einzelfalls

254

2. Beibehaltung und Erweiterung der Vermutungsregelung des § 844 Abs. 3 S. 2 BGB

254

IV. Konkurrenz zwischen Hinterbliebenengeld und Schockschadensersatz

255

V. Bemessung des Ersatzbetrags im Ermessen der Gerichte

255

Literaturverzeichnis

256

Sachwortverzeichnis

267