Private or civil law: general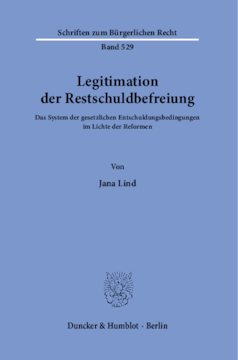 BOOK
Legitimation der Restschuldbefreiung
Das System der gesetzlichen Entschuldungsbedingungen im Lichte der Reformen
Schriften zum Bürgerlichen Recht, Vol. 529
(2021)
Additional Information
Book Details
ISBN

978-3-428-58159-7
978-3-428-18159-9 (print edition)

DOI

https://doi.org/10.3790/978-3-428-58159-7

Edition

1

Language

German

Pages

370

Collections

Subjects
Pricing
Institution

€ 116.00 (incl. local VAT if applicable)

Individual

€ 89.90 (incl. local VAT if applicable)
About The Author
Jana Lind studierte Rechtswissenschaften mit dem Schwerpunkt Deutsches und Internationales Privat- und Verfahrensrecht an der Heinrich-Heine-Universität Düsseldorf. Dabei wurde sie durch ein Deutschlandstipendium der Bundesregierung gefördert. Die Erste Juristische Prüfung legte sie 2015 ab. Anschließend setzte sie ihre als studentische Hilfskraft begonnene Beschäftigung an der Professur für Bürgerliches Recht, Zivilverfahrensrecht und Handelsrecht von Frau Prof. Dr. Nicola Preuß als wissenschaftliche Mitarbeiterin fort. Im Jahr 2020 wurde Jana Lind zum Dr. jur. promoviert. Derzeit absolviert sie den juristischen Vorbereitungsdienst im Bezirk des Oberlandesgerichts Düsseldorf.
Jana Lind studied law at Heinrich-Heine-University in Düsseldorf. For her merits, she was granted a scholarship by the Federal Government of Germany (»Deutschland-Stipendium«). After passing the first state examination in 2015, she worked as a research assistant at the Chair of Civil Law, Civil Procedure Law and Commercial Law held by Prof. Dr. Nicola Preuß. In 2020, Jana Lind was awarded the degree of iuris doctor (Dr. jur.). She is currently undergoing her legal clerkship in the district of the Higher Regional Court of Düsseldorf.
Abstract
Welcher Schuldner »verdient« eine gesetzliche Restschuldbefreiung? Aufschluss darüber, welche Voraussetzungen ein Schuldner erfüllen muss, um einen finanziellen Neustart zu erhalten, geben die §§ 286 ff. InsO. Die darin vorgesehenen Anforderungen sind die Grundlage für die Legitimation der Restschuldbefreiung im konkreten Entschuldungsfall. Seit Einführung der Insolvenzordnung im Jahr 1999 hat der Gesetzgeber einige, teils grundlegende Modifikationen im System der Entschuldungsbedingungen vorgenommen. Die bevorstehende Umsetzung der EU-Restrukturierungsrichtlinie 2019/1023 lässt erkennen, dass sich das System auch in Zukunft verändern und weiter von den Ursprungsgedanken der InsO-Ausgangsfassung entfernen wird. Die vorliegende Arbeit nimmt diese Ausgangslage zum Anlass, die vergangenen und voraussichtlich zukünftigen Entwicklungen der gesetzlichen Entschuldungsbedingungen einer kritischen Untersuchung zu unterziehen. Ausgehend von den Grundsätzen aus dem Jahr 1999 werden die Hintergründe für die Veränderungen und deren Umsetzung analysiert, um zu bestimmen, ob das Anforderungssystem der §§ 286 ff. InsO unter Berücksichtigung der einstigen Prämissen noch schlüssig oder nicht vielmehr in eine Schieflage geraten ist, die es zu korrigieren gilt. Dabei setzt sich die Arbeit insbesondere mit den Auswirkungen der Restrukturierungsrichtlinie auseinander. Anhand der Ergebnisse werden abschließend Reformansätze aufgezeigt. »The Legitimation of Residual Debt Discharge. The System of Legal Conditions of Debt Relief in Light of the Reforms«

Under German insolvency law, which debtor »deserves« a residual debt discharge is determined in accordance with §§ 286 ff. InsO. Since the introduction of the InsO, the legislator has made fundamental modifications to the conditions of debt relief. The upcoming implementation of the EU Restructuring Directive indicates that the system will continue to change and move away from its original ideas in the near future. This gives rise to a critical examination of past and likely future developments.
Table of Contents
Section Title
Page
Action
Price

Vorwort

7

Inhaltsverzeichnis

11

Abkürzungsverzeichnis

20

Einleitung

25

A. Problemaufriss und Gegenstand der Untersuchung

25

B. Gang der Untersuchung

32

Erster Teil: Grundlagen

34

A. Das Institut der Restschuldbefreiung im Kontext des privatrechtlichen Schuld- und Haftungssystems

34

B. Hintergründe der Einführung der Restschuldbefreiung in Deutschland

37

I. Die rechtliche Ausgangslage vor Einführung der Insolvenzordnung

37

II. Bedarf eines gesetzlich gewährten Neuanfangs nach finanziellem Scheitern

40

III. Der Weg hin zur finalen Gesetzesfassung innerhalb der Insolvenzrechtsreform

45

1. Die Vorschläge der Kommission für Insolvenzrecht und des Bundesjustizministeriums – Restschuldbefreiung auf freiwilliger oder zwingend-gesetzlicher Basis?

45

2. Das förmliche Gesetzgebungsverfahren

47

C. Die gesetzliche Restschuldbefreiung im Spannungsfeld der involvierten Interessen und die Konsequenzen für ihre Legitimation

49

I. Interessen der von einer Entschuldung Betroffenen

49

1. Interessen des Schuldners

49

2. Interessen der Gläubiger

50

3. Interessen des allgemeinen Wirtschafts- und Geschäftsverkehrs

50

4. Interessen des Staates und der Gesellschaft

51

II. Interessenkonflikt zwischen Gläubiger und Schuldner

51

III. Gebot eines gesetzlichen Kompromisses in Gestalt des Postulats "Verdienenmüssen der Restschuldbefreiung"

52

1. Verfassungsrechtlicher Hintergrund

52

a) Restschuldbefreiung als Eingriff in das Eigentumsrecht der Gläubiger aus Art. 14 GG

52

b) Schutz der Gläubigerinteressen als Voraussetzung für einen verhältnismäßigen Eingriff

53

2. Haftungsrechtliche Gesichtspunkte

55

3. Prinzipielle Anforderungen an den Schuldner

56

a) Zugangsvoraussetzung zur Restschuldbefreiung ("Verdienenmüssen" eines Zugangs zum Restschuldbefreiungsverfahren)

57

b) Entschuldungsbedingungen auf Tatbestandsseite ("Verdienenmüssen" der Restschuldbefreiung)

58

aa) Anstrengungen des Schuldners

58

bb) Schutzwürdigkeit des Schuldners

61

c) Anforderungen an die Rechtsfolgenseite ("Verdienenmüssen" einer umfassenden Restschuldbefreiung)

63

IV. Ergebnis

64

Zweiter Teil: Die ursprünglichen gesetzlichen Anforderungen an den Schuldner hinsichtlich des "Verdienenmüssens" der Restschuldbefreiung

65

A. Die Rolle des § 1 InsO

66

I. Einfluss auf die Schuldner-Anforderungen

66

II. Verhältnis der Zielbestimmungen des § 1 S. 1 und 2 InsO

68

B. Finanzielle Anstrengungen des Schuldners

70

I. Verwertung des schuldnerischen Vermögens während eines Insolvenzverfahrens

70

1. Eröffnung eines Insolvenzverfahrens

71

a) Stellung eines eigenen Insolvenzantrags

71

b) Vorliegen eines Insolvenzgrunds ("Bedürftigkeit" des Schuldners)

71

c) Begleichung der Verfahrenskosten

73

2. Durchlaufen eines Insolvenzverfahrens

75

a) Insolvenzbeschlag und Verlust der Verwaltungs- und Verfügungsbefugnis

76

b) Verwertung und Verteilung des schuldnerischen Vermögens zwecks Gläubigerbefriedigung

77

II. Einkommensabtretung in der Wohlverhaltensperiode

78

1. Hintergrund

79

2. Die konkrete Ausgestaltung der Anforderung "Einkommensabtretung"

79

a) Abtretungserklärung des Schuldners

79

b) Abtretungsgegenstand

80

c) Umfang und Wirkung der Gegenleistung "Abtretung"

81

aa) Erfolgsunabhängigkeit der Abtretung

81

bb) Bedeutung der Dauer der Wohlverhaltensperiode

84

cc) Begrenzende Faktoren

85

(1) Der Einfluss des "Motivationsrabatts" i.S.d. § 292 Abs. 1 S. 3 InsO a.F.

86

(2) Die Rolle des § 114 InsO a.F.

86

3. Bewertung der gesetzgeberischen Konzeption im Hinblick auf die Legitimation der Restschuldbefreiung

87

a) Haftungsrechtliche Seite

88

b) Verfassungsrechtliche Seite

89

III. Zusammenfassung

93

C. Redlichkeit des Schuldners

95

I. Das System der Redlichkeitsvoraussetzungen

95

1. Absage an eine Generalklausel und Entscheidung für festgelegte Ausnahmevorschriften

95

a) Abschließende Regelung der Versagungs- und Widerrufsgründe

95

b) Vermutung der Redlichkeit

97

2. Gläubigerautonome Überwachung und Geltendmachung der Unredlichkeit

97

3. Das System der Redlichkeitsvoraussetzungen innerhalb der Konzeption der §§ 286ff. InsO

99

a) Zeitliche Anwendbarkeit der einzelnen Redlichkeitsvoraussetzungen und Folgen der verfahrensrechtlichen Geltendmachung eines Verstoßes

99

b) Abgestuftes Versagungs- und Widerrufssystem

103

c) Beweisrechtliche Grundsätze

104

d) Pflichten und Obliegenheiten

105

II. Übersicht über den Inhalt und Zweck der einzelnen Vorschriften

106

1. Verurteilung wegen einer Insolvenzstraftat (§ 290 Abs. 1 Nr. 1 InsO und § 297 InsO)

106

2. Unrichtige und unvollständige Angaben über wirtschaftliche Verhältnisse (§ 290 Abs. 1 Nr. 2 InsO)

108

3. Früherer Antrag auf Restschuldbefreiung (§ 290 Abs. 1 Nr. 3 InsO a.F.)

109

4. Gläubigerschädigung durch Begründung unangemessener Verbindlichkeiten, Vermögensverschwendung oder Antragsverzögerung (§ 290 Abs. 1 Nr. 4 InsO)

110

5. Verletzung von Auskunfts- und Mitwirkungspflichten (§ 290 Abs. 1 Nr. 5 InsO)

111

6. Fehlerhafte Verzeichnisse (§ 290 Abs. 1 Nr. 6 InsO a.F. bzw. § 290 Abs. 1 Nr. 6 Var. 2 InsO n.F.)

113

7. Erwerbs- bzw. Abführungsobliegenheit (§§ 295 Abs. 1 Nr. 1 bzw. § 295 Abs. 2 InsO)

114

8. Herausgabe des hälftigen Erbanteils (§ 295 Abs. 1 Nr. 2 InsO)

118

9. Anzeige-‍, Auskunfts- und Mitteilungsobliegenheiten (§ 295 Abs. 1 Nr. 3 InsO)

119

10. Gleichbehandlung der Gläubiger (§ 295 Abs. 1 Nr. 4 InsO)

121

11. Verfahrensobliegenheiten (§ 296 Abs. 2 S. 2, 3 InsO)

122

12. Deckung der Mindestvergütung des Treuhänders (§ 298 InsO)

123

13. Nachträgliches Herausstellen einer Obliegenheitsverletzung (§ 303 InsO a.F. bzw. § 303 Abs. 1 Nr. 1 InsO n.F.)

124

III. Systematisierung der Redlichkeitskriterien

125

1. Sachliche Struktur der Tatbestände

125

a) Struktur des § 290 InsO

125

b) Struktur der §§ 295, 296 InsO und des § 298 InsO

126

c) Struktur des § 297 InsO und § 303 InsO a.F.

128

2. Facetten der Redlichkeit

128

a) Missbrauchsaspekte

128

aa) Schädigung bzw. Gefährdung der (Insolvenz-)Gläubiger

128

bb) Missbräuchliche Inanspruchnahme des Verfahrens

130

cc) Nichtbeachtung des Grundsatzes der gleichmäßigen Befriedigung der Insolvenzgläubiger

131

b) Anstrengungsaspekte

132

aa) Förderung des Verfahrens

132

bb) Mitarbeit in Form der Zahlung der Mindestvergütung des Treuhänders

133

cc) Bemühung um die bestmögliche Gläubigerbefriedigung

134

3. Gemeinsame Prämissen der Redlichkeitskriterien

135

a) Wahrung der Gläubigerinteressen

135

b) Irrelevanz der Insolvenzursachen

135

c) Der Grundsatz des "Sich-Bewährens"

137

IV. Untersuchung der gesetzgeberischen Konzeption im Hinblick auf die Legitimation der Restschuldbefreiung

138

1. Verfassungsrechtliche Seite

139

a) Schutzwürdigkeit und Schutzbedürftigkeit

139

b) Anstrengungen des Schuldners

141

c) Effektive Kontrollmöglichkeiten

144

aa) Informationsdefizit der Gläubiger

145

bb) Formale Hürden

147

cc) Beweisschwierigkeiten

148

d) Rechtsmittel gegen die Entscheidung des Gerichts

151

e) Ergebnis

151

2. Haftungsrechtliche Seite

153

V. Zusammenfassung Redlichkeitsvoraussetzungen

158

D. Anforderungen an eine umfassende Restschuldbefreiung (§ 302 InsO)

159

I. Übersicht über den Regelungsinhalt und -zweck

160

II. Bewertung des § 302 InsO unter Legitimationsgesichtspunkten

161

E. Ergebnis Zweiter Teil

163

Dritter Teil: Untersuchung der legislativen Veränderungen im System der Schuldneranforderungen seit Einführung der Insolvenzordnung

166

A. Änderungen der finanziellen Anforderungen

166

I. Einführung der Kostenstundungsmöglichkeit

166

1. Hintergrund

166

2. Überblick über den Regelungsgehalt

168

a) Voraussetzungen der Stundung und ihre Konsequenzen für den Schuldner

168

b) Versagung der Verfahrenskostenstundung

171

3. Auswirkungen der Kostenstundung auf die Interessen des Schuldners, der Gläubiger und des Staates

172

a) Eröffnung eines breiten Zugangs zum gesetzlichen Schuldenschnitt bei gleichzeitiger Verzögerung des Neuanfangs

173

b) Befriedigungsaussichten der Gläubiger

173

aa) Im Insolvenzverfahren

174

bb) Während der Wohlverhaltensperiode

175

c) Belastung der öffentlichen Kassen

177

d) Zunahme des Drehtüreffekts

178

4. Änderungen wesentlicher Grundsätze im Anforderungssystem der §§ 286ff. InsO

178

a) Keine "Entschuldung zum Nulltarif"

178

b) Keine Restschuldbefreiung auf Kosten des Staates?

180

c) Bestmögliche Gläubigerbefriedigung während der Wohlverhaltensperiode

181

5. Untersuchung der Grundsatzänderungen unter Legitimationsgesichtspunkten

182

6. Reaktionen des Gesetzgebers nach Einführung der Verfahrenskostenstundung: Der RegE 2007

187

II. Verfahrensdauer

190

1. Änderung des Beginns und der Länge der Laufzeit der Abtretungserklärung (Abtretungsfrist)

190

2. Einführung der Möglichkeit einer vorzeitigen Restschuldbefreiung – das Stufenmodell des § 300 Abs. 1 S. 2 InsO

193

a) Hintergrund und Überblick über den Regelungsgehalt sowie das Regelungsziel

193

b) Untersuchung unter Legitimationsgesichtspunkten

196

aa) Die Bedeutung der Verfahrenskosten für die Verkürzungsmöglichkeiten

196

bb) § 300 InsO im System der finanziellen Anforderungen

198

cc) Die Rolle der Interessen von Schuldner und Gläubiger im Gesetzgebungsverfahren

199

dd) Die Auswirkungen des Modells auf die Gläubigerinteressen

202

(1) Vor- und Nachteile des Modells aus Gläubigersicht

202

(a) Vorteile

202

(b) Nachteile

204

(aa) Schwächung bereits bestehender Anreizsysteme

204

(bb) Kappung der Rückzahlungsquote im eröffneten Verfahren

207

(cc) Missbrauchsförderung

210

(2) Praktische Erfahrungen hinsichtlich der Erreichbarkeit der Quote bzw. der Verfahrenskostendeckung

212

(a) Prognosen betreffend die Erreichbarkeit der Verkürzungsmöglichkeiten im Schrifttum

213

(b) Der Evaluationsbericht der Bundesregierung und weitere Erfahrungswerte

214

(aa) Verkürzung der Restschuldbefreiung auf drei Jahre

214

(bb) Verkürzung der Restschuldbefreiung auf fünf Jahre

216

(cc) Entwicklung der Gesamtbefriedigungsquote

217

(3) Fazit

217

ee) Abschließende Würdigung

219

(1) Verfahrensverkürzung in Abhängigkeit von der Zahlung einer Mindestbefriedigungsquote (§ 300 Abs. 1 S. 2 Nr. 2 InsO)

219

(2) Verfahrensverkürzung in Abhängigkeit von einer Verfahrenskostendeckung (§ 300 Abs. 1 S. 2 Nr. 3 InsO)

224

III. Ergebnis Änderungen der finanziellen Anforderungen

226

B. Änderungen der Redlichkeitsvoraussetzungen

228

I. Redlichkeit im Kostenstundungsrecht

228

1. Vorgezogene gerichtsautonome Redlichkeitsprüfung

228

a) Die gesetzliche Regelung des § 4a Abs. 1 S. 4 InsO

228

b) Die erweiternde Rechtsprechung des Bundesgerichtshofs

230

2. Etablierung eigener Stundungsredlichkeitsanforderungen

231

a) Die gesetzliche Regelung des § 4c InsO

231

b) Die Ausweitung des § 4c Nr. 5 InsO durch den Bundesgerichtshof

232

II. Einführung von Sperrfristen (§ 287a InsO)

234

1. Die Nachwirkungsrechtsprechung des Bundesgerichtshofs

235

2. § 287a InsO im System der Redlichkeitsvoraussetzungen

236

a) Konzeption des § 287a InsO

236

b) Nichteingreifen von Sperrfristen als Redlichkeitsvoraussetzung

237

aa) Facetten der Redlichkeit

237

bb) Bedeutung der Ausgestaltung als Zulässigkeitsvoraussetzung für die Systematik der Redlichkeitsvoraussetzungen

238

cc) Das Fristensystem des § 287a Abs. 2 S. 1 InsO

239

3. Bewertung der gesetzgeberischen Konzeption unter Legitimationsgesichtspunkten

241

a) Notwendigkeit der Einführung weiterer Sperrfristen und der Ausgestaltung als Zulässigkeitsschranke

241

b) Bewertung des Umfangs der Kodifikation

243

aa) Weitere Anwendbarkeit der Sperrfristrechtsprechung in Form einer Analogie?

244

(1) Methodische Vorüberlegungen

244

(2) Grundsätzliche Möglichkeit einer analogen Anwendung des § 287a Abs. 2 S. 1 InsO

245

(3) Einzelfallabhängige Prüfung

247

(4) Versagung der Stundung?

251

bb) Systemkonformität und Schlüssigkeit der getroffenen Abgrenzungsentscheidung

252

cc) Ergebnis

256

4. Fortgeltung der Vorwirkungsrechtsprechung

256

a) Anwendbarkeit im Kostenstundungsrecht

256

b) Begründetheitsprüfung im Rahmen des § 287a Abs. 1 InsO?

258

c) Ergebnis

260

5. Zusammenfassung

261

III. Sonstige Änderungen

261

1. Veränderung der in § 290 InsO maßgeblichen Zeiträume

261

2. Einführung einer Mindeststrafe in § 290 Abs. 1 Nr. 1 InsO und § 297 InsO

263

3. Versagungsmöglichkeit aufgrund fehlerhafter Erklärung nach § 287 Abs. 1 S. 3 InsO

264

4. Vorverlagerung der Erwerbsobliegenheit auf das Insolvenzverfahren und Ausdehnung der Sanktionsmöglichkeiten

264

5. Möglichkeit der Geltendmachung nachträglich bekannt gewordener Versagungsgründe

265

6. Ausweitung der Widerrufsmöglichkeiten

268

7. Absenkung der Antragsvoraussetzungen für Versagungsgründe i.S.d. § 290 InsO

269

IV. Ergebnis

270

C. Änderungen der Anforderungen an eine umfassende Restschuldbefreiung

271

I. Erweiterung des Katalogs des § 302 InsO

271

1. Verbindlichkeiten aus zinslosen Darlehen zur Deckung der Verfahrenskosten

271

2. Verbindlichkeiten aus vorsätzlicher Verletzung gesetzlicher Unterhaltspflichten

272

3. Verbindlichkeiten aus Steuerstraftaten

274

4. Zwischenergebnis

275

II. Anmeldeerfordernis nach § 302 Nr. 1 i.V.m. § 174 Abs. 2 InsO

276

III. Abschließende Würdigung der Änderungen der Anforderungen an eine umfassende Restschuldbefreiung

277

D. Gesamtwirkungen der Änderungen

278

I. Stärkung der Gläubigerrechte durch ein "Mehr an Redlichkeit"?

279

II. Systematische Schieflage im Verhältnis Gläubigerbefriedigung, Redlichkeitskontrolle und Gläubigerautonomie

280

III. Ergebnis

282

Vierter Teil: Perspektiven: Die Restrukturierungsrichtlinie

283

A. Einführung

284

I. Regelungshintergrund und Verfahren zur Richtliniensetzung

284

II. Regelungsziel und -konzept

287

III. Überblick über den Regelungsinhalt des Titel III

289

B. Umsetzungserfordernisse

290

I. Volle, automatische Entschuldung nach drei Jahren

291

1. Volle Entschuldung

291

2. Nach drei Jahren

292

a) Grundsatz

292

b) Ausnahmen

293

aa) Verlängerungsmöglichkeiten

293

(1) Verlängerungsoption bei Nichterreichen einer Mindestbefriedigungsquote

293

(2) Verlängerungsmöglichkeit nach Art. 23 Abs. 2 lit. e RL

294

bb) Verkürzungsmöglichkeiten

297

3. Ohne zusätzlichen Antrag

298

II. Einschränkungen im Falle von Unredlichkeit oder Bösgläubigkeit gem. Art. 23 RL

299

1. Vereinbarkeit der Versagungs- und Widerrufsgründe mit der Richtlinie

300

2. Vereinbarkeit der Sperrfristen i.S.d. § 287a InsO mit der Richtlinie

302

III. Ausnahme bestimmter Schuldenkategorien

302

C. Die Vorgaben der Richtlinie im Kontext des Anforderungssystems der §§ 286ff. InsO

304

I. Auswirkungen auf das Anforderungssystem

304

II. Konsequenzen in Bezug auf das Befriedigungsinteresse der Gläubiger

306

1. Vorteile

307

2. Nachteile

309

III. Würdigung unter Legitimationsgesichtspunkten

310

1. Bewertung unter verfassungsrechtlichen Gesichtspunkten

310

2. Bewertung unter haftungsrechtlichen Gesichtspunkten

315

D. Mögliche Reformansätze

317

I. Verbesserung der Befriedigungsaussichten der Gläubiger

318

1. Längere Laufzeit für Verbraucherschuldner

318

2. Mindestbefriedigungsquote

320

3. Verschärfung der Obliegenheiten und der Redlichkeitskontrolle

322

a) Stärkere Einbeziehung des "gegenleistungslosen Neuerwerbs"

322

b) Einführung einer Rechenschaftsobliegenheit

323

c) Implementierung weiterer amtswegiger Versagungselemente

325

4. Senkung der Verfahrenskosten

330

II. Zurückdrängung der Fiskusprivilegien und stärkere Berücksichtigung von unfreiwilligen Gläubigern

331

III. Unterbindung falscher Anreize

332

IV. Maßnahmen gegen den Drehtüreffekt

333

E. Zusammenfassung Vierter Teil

335

Zusammenfassung der wesentlichen Ergebnisse in Thesen

338

A. Thesen zum ersten Teil der Arbeit

338

B. Thesen zum zweiten Teil der Arbeit

338

C. Thesen zum dritten Teil der Arbeit

340

D. Thesen zum vierten Teil der Arbeit

341

Literaturverzeichnis

343

Sachwortverzeichnis

366