Constitution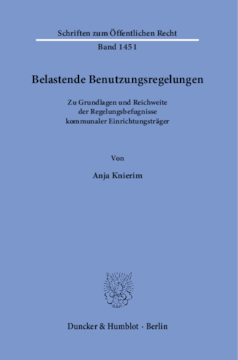 BOOK
Belastende Benutzungsregelungen
Zu Grundlagen und Reichweite der Regelungsbefugnisse kommunaler Einrichtungsträger
Schriften zum Öffentlichen Recht, Vol. 1451
(2021)
Additional Information
Book Details
ISBN

978-3-428-58152-8
978-3-428-18152-0 (print edition)

DOI

https://doi.org/10.3790/978-3-428-58152-8

Edition

1

Language

German

Pages

301

Collections

Subjects
Pricing
Institution

€ 104.00 (incl. local VAT if applicable)

Individual

€ 79.90 (incl. local VAT if applicable)
About The Author
Anja Knierim studierte Rechtswissenschaften in Düsseldorf von 2011 bis 2016. Von 2016 bis 2019 war sie am Lehrstuhl für Öffentliches Recht und Verwaltungslehre von Herrn Univ.-Prof. Dr. Johannes Dietlein als wissenschaftliche Beschäftigte an der Juristischen Fakultät der Heinrich-Heine-Universität Düsseldorf tätig. Seit 2019 ist sie Rechtsreferendarin am Kammergericht Berlin. Die Promotion erfolgte im Sommersemester 2020.
Anja Knierim studied law in Düsseldorf from 2011 to 2016. Afterwards, she was a PhD Student and a Teaching and Research Assistant at the Institute of Public Law and Administrative Science of the Heinrich-Heine-University Düsseldorf from 2016 to 2019. Since 2019 she has been a legal trainee at the Court of Appeals in Berlin including stages at the Federal Ministry of Justice and Consumer Protection and the Higher Administrative Court Berlin-Brandenburg.
Abstract
Regelungsbefugnisse kommunaler Einrichtungsträger zur Steuerung der Nutzung öffentlicher Einrichtungen bergen, insbesondere bei der Beschränkung individueller Nutzungsmöglichkeiten, Konfliktpotential mit dem Grundsatz vom Vorbehalt des Gesetzes. In diesem Spannungsfeld untersucht die Autorin die bisherigen Argumentationsmuster, namentlich die sog. Anstaltsgewalt sowie den »Anstaltszweck« und die »Funktionsfähigkeit der Anstalt«, welche die Rechtsprechung und die Literatur zur Auflösung etwaiger Nutzungskonflikte im Zusammenhang mit solchen sog. belastenden Benutzungsregelungen bislang heranziehen. Dabei stellt sie dar, dass und wie sich die inhaltlichen Grenzen der Nutzungssteuerung durch eigene Regelungsakte des kommunalen Einrichtungsträgers in die Dogmatik der Widmung öffentlicher Einrichtungen einpassen lassen und arbeitet mögliche Grenzen der Ausgestaltungsbefugnis des kommunalen Einrichtungsträgers in Form eines kommunalrechtlich zulässigen »Widmungsermessens« heraus. »Burden Effects of User Regulations within Municipal Institutions«

User regulation within municipal institutions by municipal administrations faces potential for conflict with the principle of the reservation of law. This is particularly the case if the municipal regulation act concerns individual use restriction. Within this area of conflict the author analyses previous argumentation patterns in case law and literature and develops her own parameters for an admissible legal limitation of municipal user regulation acts.
Table of Contents
Section Title
Page
Action
Price

Vorwort

5

Inhaltsverzeichnis

7

Abkürzungsverzeichnis

13

Einleitung

15

A. Problemstellung

15

B. Ziel der Untersuchung

20

C. Gang der Untersuchung

21

1. Kapitel: Belastungswirkungen im Benutzungsverhältnis

23

A. Differenzierungsebenen im Benutzungsverhältnis

24

I. Die Widmung als Voraussetzung des Benutzungsverhältnisses

24

II. Die Entstehung des Benutzungsverhältnisses

30

III. Die Ausgestaltung des Benutzungsverhältnisses

33

1. Abgrenzung zwischen Widmung und Benutzungsordnung

34

2. Wahlfreiheiten im Rahmen der Benutzungsordnung

37

a) Wahlfreiheit des Rechtsregimes

38

b) Wahlfreiheit bezüglich der Handlungsform

39

aa) Die Satzung als typische Handlungsform der Benutzungsordnung

41

bb) Zur Möglichkeit der Rechtsverordnung als Handlungsform

44

cc) Die Benutzungsordnung in Form der Allgemeinverfügung

45

dd) Der Verwaltungsvertrag als Handlungsform der Benutzungsordnung

48

ee) Die Verwaltungsvorschrift

49

ff) Die "schlichte" Anstaltsordnung

50

gg) Die sog. Sonderverordnung

51

IV. Störungsabwehr

54

V. Ergebnis: Interdependenzen der Ebenen

55

B. Das Benutzungsverhältnis als Untersuchungsgegenstand

56

I. Das Benutzungsverhältnis als eigenständige Denkkategorie?

56

1. Rechtsverhältnisse als Strukturrahmen

56

2. Das Benutzungsverhältnis als verwaltungsrechtliches Schuldverhältnis

58

II. Spezifische Sachverhaltsstrukturen im Benutzungsverhältnis

60

1. Benutzung und Leistung

60

2. Rechtswirkungen im Rahmen der Benutzung

62

3. Der Benutzungsvorgang

63

III. Systematisierungsansätze für Benutzungsverhältnisse

64

1. Arten des Benutzungsverhältnisses

64

2. Beteiligte des Benutzungsverhältnisses

65

a) Der Einrichtungsträger

66

b) Benutzer

67

c) Dritte im Benutzungsverhältnis

69

aa) Dritte als Teil der Einrichtung

70

bb) Benutzungsinteressenten

71

cc) Benutzungsvermittler

74

d) Besucher

74

C. Belastungswirkungen

75

I. Der schillernde Begriff der Belastungswirkung

75

II. Benutzungsrelevante Konfliktlagen

76

D. Ergebnis

80

2. Kapitel: Verfassungsrechtliche Anforderungen an Benutzungsregelungen

81

A. Der Vorbehalt des Gesetzes als Untersuchungsmaßstab

81

I. Zum aktuellen Stand der Vorbehaltslehre(n)

82

1. Begriffliche Vorklärung

82

a) Vorbehalt des Gesetzes und Gesetzesvorbehalt

83

b) Der Parlamentsvorbehalt

84

c) Die Formel des eingriffszentrierten Vorbehalts des Gesetzes

87

d) Der institutionelle Vorbehalt des Gesetzes

88

2. Herleitung und Funktionen der Vorbehaltstypisierung

88

3. Differenzierte Vorbehaltstypisierung anhand der Sachbereichsspezifika

91

II. Der "Wesentlichkeitsgedanke" als Zuordnungsmechanismus

92

1. Zum Aussagegehalt des Wesentlichkeitsgedankens

93

2. Kritik

97

3. Der "Wesentlichkeitsmaßstab"

101

a) Grundrechtliche Maßstabsbildung

102

b) Demokratieprinzipielle Maßstabsbildung

105

c) Rechtsstaatsprinzipielle Maßstabsbildung

107

d) Maßstabsbildung durch Negativabgrenzung

107

e) Fazit

109

III. Ergebnis

109

B. Systematisierung der Sachbereichsspezifika im Benutzungsverhältnis

110

I. "Anstaltsrecht" als Sachbereichsspezifikum im Benutzungsverhältnis

110

1. Existenz eines "Anstaltsrechts" als selbständiger Teilrechtsbereich

111

a) Konturierungsversuche eines Anstaltsrechts

111

b) Terminologische Eingrenzung

112

c) Die rein organisationsrechtliche Begriffsdeutung

115

aa) Überschneidungen mit dem Einrichtungsrecht

116

bb) Überschneidung mit dem Recht der öffentlichen Unternehmen

119

d) Zwischenergebnis

120

2. Eigenständige Relevanz eines "Anstaltsrechts" als Teilrechtsbereich

121

3. Sachbereichsspezifische Erkenntnisse des Anstaltsrechts für den Vorbehalt des Gesetzes bei Benutzungsregelungen

122

II. Das Recht der öffentlichen Sachen als materiell-rechtliches Sachbereichsspezifikum

123

1. Benutzungsverhältnisse im "Recht der öffentlichen Sachen"

124

a) Einrichtungen als öffentliche Sache?

126

b) Funktionale Parallelität zwischen Einrichtung und Sache

128

2. Der Vorbehalt des Gesetzes im Recht der öffentlichen Sachen

130

a) Zur dinglichen Widmungswirkung

130

b) Dingliche Widmungswirkung als Auslösungsmoment des Vorbehalts des Gesetzes

133

c) Die "schuldrechtliche" Widmungswirkung

137

3. Sachbereichsspezifische Erkenntnisse eines "öffentlichen Sachenrechts"

138

III. Leistungsverwaltungsrechtliche Sachbereichsspezifika

139

1. Anwendbarkeit der Vorbehaltslehre im Bereich der Leistungsverwaltung

140

2. Sachbereichsspezifische Besonderheiten

142

IV. Kommunalrechtliche Sachbereichsspezifika

143

1. Zum Wesen der kommunalrechtlichen Rechtsetzungstätigkeit als Voraussetzung der Anwendbarkeit der Vorbehaltslehre

143

2. Das Spannungsfeld zwischen dem Vorbehalt des Gesetzes und der kommunalen Rechtsetzungstätigkeit

145

3. Zur Auflösung des Spannungsfelds anhand des Wesentlichkeitsmaßstabs

146

a) Rechtsstaatsfunktion

146

b) Demokratiefunktion

147

c) Grundrechtsfunktion

151

d) Negativabgrenzung: Der spezifisch örtliche Bezug

153

4. Sachspezifische Besonderheiten der Vorbehaltslehre im Kommunalrecht

154

V. Ergebnis

156

3. Kapitel: Die grundrechtliche Determination der Benutzung

157

A. Die Einrichtungsnutzung aus der grundrechtlichen Perspektive

157

I. Unterscheidung anhand der Nutzungsform

161

II. Benutzung als Perspektivwechsel der Grundrechtsdimension

163

B. Grundrechtsrelevanz in den Benutzungsebenen

163

I. Grundrechtsrelevanz der Widmung

164

1. Die Widmung als Kreationsakt

164

2. Grundrechtsrelevanz der Widmung als Herrschafts- bzw. Statusakt

167

3. Zur Widmung als Determinationsakt der Benutzungsregelungen

167

a) Widmungserweiterung

168

b) Widmungsverkürzung

169

c) Fazit: "Widmungsbeschränkung" als untechnischer Begriff

170

II. Grundrechtsrelevanz der Zulassung

171

III. Typisierbare Grundrechtsrelevanz der Benutzungsregelungen

172

1. Zulassungsvorbehalt versus Benutzungsregelung

173

2. Benutzungsausgestaltende Rechtswirkungen

174

3. Benutzungsbezogene Rechtswirkungen

175

4. Fazit

181

IV. Störungsabwehr als widmungsexterne Rechtswirkung

182

C. Ergebnis

183

4. Kapitel: Rationalitätsmuster der Zulässigkeit von belastenden Benutzungsregelungen

184

A. Die Anstaltsgewalt

184

I. Die Begründung der "Anstaltsgewalt" aus rechtshistorischer Perspektive

186

II. Rezeption der Anstaltsgewalt

189

1. Kritik

189

a) Fehlende Abgrenzbarkeit als Rechtsbegriff

190

b) Verfassungswidrigkeit wegen Verletzung des Rechtsstaatsprinzips

191

2. Anerkennung

192

III. Inhalt und Grenzen der Anstaltsgewalt

195

1. Die Anstaltsgewalt als Konsequenz des besonderen Gewaltverhältnisses

196

a) Zur Lehre vom besonderen Gewaltverhältnis

196

b) Das "Anstaltsnutzungsverhältnis" als besonderes Gewaltverhältnis

198

c) Die Anstaltsgewalt im Gewand der Sonderstatusverhältnisse

200

d) Fazit

202

2. Die Anstaltsgewalt als ein vom Staat verliehenes Hoheitsrecht

203

3. Die Anstaltsgewalt als nutzungsspezifisches Hausrecht bzw. nutzungsbezogene Ordnungsgewalt

203

a) Wesensverwandtschaft mit dem Hausrecht

204

b) Wesensverwandtschaft mit der Ordnungsgewalt

207

c) Die Anstaltsgewalt als eigenständiger, nutzungsbezogener Gewohnheitsrechtssatz

209

aa) Erfordernis einer normativen Ermächtigungsgrundlage

209

bb) Gewohnheitsrechtliche Begründung

213

cc) Analogie zu spezialgesetzlich geregelten Ordnungsbefugnissen

216

dd) Existenz kraft allgemeiner Grundsätze des Verwaltungsrechts

216

d) Stellungnahme

217

4. Die Anstaltsgewalt als Handlungsformbefugnis

218

IV. Fazit: Das Potential der "Anstaltsgewalt" als moderner Rechtsbegriff

221

B. Anstaltszweck und Funktionsfähigkeit

222

I. Der "Anstaltszweck" als Rationalitätsmuster

222

1. Anwendungsbereiche des Einrichtungszwecks

223

a) Der Einrichtungszweck als Befugnisgrenze

223

b) Der Einrichtungszweck als auslegungsleitendes Kriterium

225

c) Der Einrichtungszweck als legitimer Zweck des Übermaßverbots

226

d) Der Einrichtungszweck als Differenzierungskriterium

228

2. Rechtliche Einordnung

229

a) Der "Anstaltszweck" als Grund und Grenze der Anstaltsgewalt

229

b) Der Einrichtungszweck aus der Perspektive der Rechtsverhältnislehre

231

c) Der Einrichtungszweck als "sachgesetzliches" Fundament der Benutzung

232

d) Der Einrichtungszweck als "grundrechtliches" Fundament der Nutzung

233

e) Der Einrichtungszweck als immanenter Bestandteil der Widmung

234

3. Grenzen des Einrichtungszwecks

235

4. Ergebnis

236

II. Die Funktionsfähigkeit der Einrichtung als Rationalitätsmuster

236

1. Die Funktionsfähigkeit: ein allgemeiner Verfassungsgrundsatz?

237

a) Die Funktionsfähigkeit als Ausdruck der Anstaltsgewalt

238

b) Die Funktionsfähigkeit als Plausibilitätsgarantie einer Übergangslösung

239

2. Begriffsverständnis im kommunalen Einrichtungswesen

240

a) Die Funktionsfähigkeit der Einrichtung als Bestandteil der öffentlichen Sicherheit

240

b) Funktionsfähigkeit als leistungsverwaltungsrechtlicher Grundsatz

241

c) Der Funktionsfähigkeitsgedanke als institutionelle Absicherung

242

3. Ergebnis

243

C. Widmungsermessen

244

I. Das Widmungsermessen in der verwaltungsrechtlichen Ermessenslehre

246

II. Bezugspunkte des Widmungsermessens

248

III. Ermessensgrenzen

249

1. Äußere Ermessensgrenzen

249

a) Formelle Grenzziehung durch die Verbandskompetenz

250

b) Materielle Grenzziehung durch das Gesetzmäßigkeitsprinzip

253

aa) Der Sperrwirkungsgedanke

253

bb) Der Vorbehaltsgedanke

254

2. Innere Ermessensgrenzen

255

a) Zwecksetzungskompetenz

255

b) Zweckkonkretisierungskompetenz

257

c) Zweckpluralität

258

d) Auslegung der Zweckbestimmung

259

e) Aufladung des Einrichtungszwecks mit widmungsexternem Inhalt

259

aa) Gefahrenabwehrrechtliche Aufladung

260

bb) Haushaltsrechtliche Aufladung

262

cc) Aufladung mit ästhetischen Vorstellungen

262

dd) Aufladung mit moralischen und ethischen Vorstellungen

264

D. Ergebnis

266

5. Kapitel: Gesamtergebnis

267

Literaturverzeichnis

271

Sachwortverzeichnis

297