International law: communications, telecommunications & media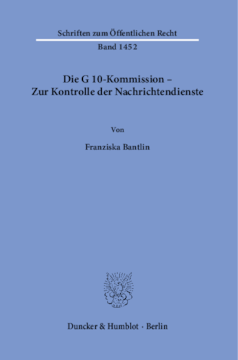 Additional Information
Book Details
ISBN

978-3-428-58254-9
978-3-428-18254-1 (print edition)

DOI

https://doi.org/10.3790/978-3-428-58254-9

Edition

1

Language

German

Pages

274

Collections

Subjects
Pricing
Institution

€ 92.00 (incl. local VAT if applicable)

Individual

€ 71.90 (incl. local VAT if applicable)
About The Author
Franziska Bantlin studierte von 2009 bis 2015 Rechtswissenschaften an der Albert-Ludwigs-Universität Freiburg i. Br. und an der University of Aberdeen (UK). Anschließend war sie Doktorandin und wissenschaftliche Mitarbeiterin am Institut für Staatswissenschaft und Rechtsphilosophie (Direktor: Präsident des BVerfG a.D. Prof. Dr. Dres. h.c. Andreas Voßkuhle). Ihre Promotion wurde durch ein Promotionsstipendium der Studienstiftung des deutschen Volkes gefördert. Von 2019 bis 2020 absolvierte Frau Bantlin ein LL.M.-Studium an der Yale Law School (USA). Seit Februar 2021 ist sie Rechtsreferendarin am Kammergericht Berlin.
Franziska Bantlin is a graduate of Freiburg Law School (First State Exam 2015) and the Yale Law School (LL.M. 2020). In 2020, she completed her Ph.D. thesis on Intelligence Oversight in Germany and the United States. From 2010 to 2019, she worked as a research assistant for the President of the German Federal Constitutional Court, Professor Andreas Voßkuhle, at the Institute for State Theory and Legal Philosophy. Currently, she is a legal traineeship program (Rechtsreferendariat) candidate in Berlin.
Abstract
Spätestens die Enthüllungen durch Edward Snowden im Jahr 2013 verdeutlichen, dass Nachrichtendienste, auch in Deutschland, über weitreichende Befugnisse verfügen. Insbesondere im Bereich der Telekommunikation können die Auswirkungen staatlicher Überwachungsmaßnahmen gravierend sein. Umso wichtiger ist die Überprüfung ihrer Rechtmäßigkeit, die jedoch weitgehend von gerichtlicher Kontrolle ausgeschlossen und stattdessen der G 10-Kommission zugewiesen ist. Die Arbeit zeigt auf, dass das Gremium insbesondere im Hinblick auf die rasanten Entwicklungen in der Informationstechnologie nicht den von der Verfassung vorgegebenen Maßstäben genügt. Rechtsvergleichend wird zudem der U.S.-amerikanische Foreign Intelligence Surveillance Court betrachtet. Die Erkenntnisse aus beiden Rechtsordnungen führt die Autorin in einem Reformvorschlag zusammen, der die Kontrolle der Überwachungsmaßnahmen bei den Gerichten ansiedelt und das Verfahren um einen mit eigenen Verfahrensbefugnissen ausgestatteten Bürgerrechtsanwalt ergänzt. »The G 10 Commission – Intelligence Oversight in Germany and the U.S.«

Effective legal oversight is essential to the legitimate exercise of the vast authorities intelligence agencies possess, particularly in the area of telecommunications surveillance. This book argues that the G 10 Commission is not capable to provide the oversight required by the German constitution. It also analyzes the U.S. model and offers a reform proposal that is based on a court procedure involving a public advocate with standing.
Table of Contents
Section Title
Page
Action
Price

Vorwort

7

Inhaltsverzeichnis

9

§ 1 Einführung

19

A. Gegenstand der Untersuchung

20

B. Rechtsschutzqualitäten im nachrichtendienstlichen Aktionsfeld

21

Teil 1: Geheimnis und Kontrolle

24

§ 2 Standortbestimmung des Nachrichtendienstwesens

24

A. Das Nachrichtendienstwesen als wesentlicher Bestandteil der deutschen Sicherheitsarchitektur

24

I. Zum Begriff "innere Sicherheit"

25

1. Innere Sicherheit als Staatsaufgabe

26

2. Innere Sicherheit im Unterschied zur äußeren Sicherheit

27

3. Innere Sicherheit als eigenständiges Schutzgut

28

4. Keine Gleichsetzung von innerer und öffentlicher Sicherheit

28

5. Staat und Verfassung als spezifische Schutzgüter

29

6. Fazit

31

II. Recht der inneren Sicherheit

32

III. Die deutsche Sicherheitsarchitektur

33

1. Sicherheitsarchitektur statt Sicherheitssystem

33

2. Sicherheitsbehörden

34

3. Zwei Säulen

35

a) Polizeien

35

b) Nachrichtendienste

38

aa) Der Bundesnachrichtendienst

38

bb) Das Bundesamt für Verfassungsschutz

40

cc) Der Militärische Abschirmdienst

40

4. Zusammenarbeit innerhalb der Sicherheitsarchitektur

41

B. Nachrichtendienste als untypische Verwaltungsbehörden

41

I. Eigentümlichkeiten in der Entstehungsgeschichte

42

II. Andersartigkeit der nachrichtendienstlichen Aufgabenerfüllung

44

1. Ausgangspunkt: Trennungsgebot

45

2. Spezifische Schutzgüter

46

3. Zeitpunkt des Tätigwerdens

46

4. Vollendung – Beendigung – Never ending

47

5. (Un)mittelbarkeit der Befugnisse

48

C. Zusammenfassung

49

§ 3 Kontrollbedürfnis

49

A. Nachrichtendienstliche Befugnisse

50

I. Befugnisse nach den Fachgesetzen

50

1. Informationsbeschaffung aus allgemein zugänglichen Quellen

51

2. Befugnisse zum Einsatz nachrichtendienstlicher Mittel

51

3. Befugnisse für besondere Auskunftsverlangen

52

II. Befugnisse nach dem G 10-Gesetz

53

1. Der Anwendungsbereich des G 10-Gesetzes

54

a) Offener Schutzbereich

54

b) Problem der territorialen Reichweite

55

2. Beschränkungsmaßnahmen

56

a) Beschränkungen in Einzelfällen

57

b) Strategische Beschränkungen

58

aa) § 5 G 10

59

bb) § 8 G 10

62

c) Übertragung auf das Brief- und Postgeheimnis

63

3. Übermittlungsbefugnisse

64

4. Befugnisse zur Ausland-Ausland-Fernmeldeaufklärung

64

III. Zusammenfassung

66

B. Nachrichtendienste als Fremdkörper im Rechtsstaat?

67

I. Grundrechtseingriffe als gewöhnliches Handlungsinstrument der Exekutive

68

II. Grundrechtssensibler Modus Operandi

69

1. Heimlichkeit

69

2. Legislativer Minimalismus

72

3. Vorfeldmaßnahmen ohne Anknüpfung an illegales Verhalten

75

4. Streubreite

76

III. Zwischenergebnis

77

C. Verfassungsrechtliche Rechtfertigung

77

I. Legitimationsgrundlage: Streitbare Demokratie

78

1. Normative und institutionelle Umsetzung

79

2. Kritik

80

3. Verklammerung von Abwehrbereitschaft und Freiheitlichkeit durch praktische Konkordanz

80

4. Zwischenergebnis

81

II. Nur bestärkende Legitimationswirkung des entsprechenden Kompetenztitels

81

III. Verbleibende Legitimationsdefizite

83

IV. Kompensationsmöglichkeiten

84

1. Gesetzesbindung

85

2. Verfahrensregelungen

85

3. Kontrolle

86

V. Fazit

87

§ 4 Kontrolle

88

A. Dogmatischer Hintergrund: Kontrolle als Soll-Ist-Vergleich

88

B. Praktische Umsetzung durch eine Vielzahl an Kontrollformen

89

I. Kontrollformen als Modus für die Ausübung des Vergleichs

89

II. Grundtypen der Verwaltungskontrolle

90

1. Gerichtliche Kontrolle

90

2. Aufsicht

91

3. Kontrolle durch Öffentlichkeit

91

C. Kontrollprobleme in Bezug auf das nachrichtendienstliche Handeln

91

I. Die Suche nach der Nadel im Heuhaufen

91

1. Informationen als zentrale Ressource von Kontrolle

92

2. Ressourcenknappheit aufgrund Informationsasymmetrie

92

a) Informationsasymmetrie als Kernproblem

93

b) Verstärkung der Problematik durch das Informationsmonopol der Dienste

93

c) Abhilfe durch Whistleblowing

94

3. Auswirkung auf den Ist-Wert

96

II. Ungeeignetheit herkömmlicher Kontrollformen

96

1. Faktische Unmöglichkeit der gerichtlichen Kontrolle

96

2. Misstrauensforcierung bei behördeninterner Eigenkontrolle

97

3. Kontrolle durch Öffentlichkeit als contradictio in adiecto

98

III. Zwischenergebnis

98

D. Leitende Parameter für die Kontrolle von Nachrichtendiensten

99

I. Kontrolle vor Vollzug

99

II. Externalisierung der Kontrolle

99

III. Förderung der Erlangung interner Informationen

100

IV. Kontrolle mit Konsequenzen

100

1. Notwendigkeit einer unmittelbaren Auswirkung

101

2. Keine Substitution der Entscheidung

102

Teil 2: Die G 10-Kommission als besondere Form der Kontrolle

104

§ 5 Grundlagen

104

A. Einordnung in die gegenwärtige Kontrolllandschaft

104

I. Generelle Kontrollinstrumente für exekutives Handeln

105

1. Parlamentarische Kontrolle

105

2. Exekutive Kontrolle

105

3. Justizielle Kontrolle

106

4. Uninstitutionalisierte Kontrolle

106

II. Spezielle Kontrollinstitutionen für nachrichtendienstliches Handeln

107

1. Das Parlamentarische Kontrollgremium

107

a) Geschichtlicher Aufriss

108

b) Politische Kontrolle

109

c) Parlamentarische Besetzung und geheimer Zusammentritt

110

d) Informationsrechte und Unterrichtungspflichten als komplementäre Kontrollgrundlage

112

e) Berichtspflicht als schwaches Sanktionsinstrument

114

2. Das Unabhängige Gremium

116

B. Die G 10-Kommission – Bestandsaufnahme

118

I. Mitgliedschaft und Zusammentritt

118

II. Aufgaben der G 10-Kommission

119

1. Kontrolltätigkeit

119

2. Mitteilungsentscheidungen

121

3. Sonstige Pflichten

121

III. Befugnisse

121

IV. Prüfungsmaßstab

122

V. Verhältnis zur gerichtlichen Kontrolle

123

1. Grundsätzliche Benachrichtigungspflicht

123

2. Partieller Rechtswegausschluss

124

§ 6 Verfassungsrechtliche Maßstäbe

125

A. Art. 10 Abs. 2 S. 2 GG als Hauptmaßstab

126

I. Die Notstandsverfassung als Trojanisches Pferd für Art. 10 Abs. 2 S. 2 GG

127

1. Vorbehaltsrechte der Alliierten

127

2. Der vermeintliche Schlüssel zur Souveränität

129

3. Die Hypothek deutschen Besatzungsrechts

130

4. Bedeutung für die Analyse der gesetzlichen Bestimmungen

131

II. Normstruktur

131

1. Spezifische Schutzgüter

132

2. Verfahrensrechtliche Modifizierungen

132

a) Ausschluss der Benachrichtigung

132

b) Ersetzung des Rechtsweges

133

III. Verfassungsrechtliche Bewertung

135

1. Menschenwürde (Art. 1 GG)

135

2. Grundsatz der Gewaltenteilung (Art. 20 Abs. 2 GG)

136

3. Rechtsstaatsprinzip (Art. 20 Abs. 3 GG)

137

IV. Zwischenergebnis

137

B. Der gerichtliche Rechtsschutz als Komplementärmaßstab

137

I. Art. 19 Abs. 4 GG und der Rechtsweg

138

1. Gewährleistungsgehalt des Art. 19 Abs. 4 S. 1 GG

138

2. Rechtsschutzgarantie oder Rechtsweggarantie?

140

a) Die Doppelfunktion von Art. 19 Abs. 4 S. 1 GG

140

b) Begriffliche Abbildung der Doppelfunktion

140

c) Die Janusköpfigkeit des Rechtsschutzbegriffs

141

d) Fazit

141

II. Die institutionelle Dimension des gerichtlichen Rechtsschutzes

142

1. Besondere Bedeutung der rechtsprechenden Gewalt

142

2. Rechtsprechungsmonopol der Richter

143

3. Medialfunktion des Gerichts

146

III. Rechtliches Gehör als Ausprägung der Menschenwürde

147

IV. Zusammenfassung

148

§ 7 Defizitäre einfachrechtliche Umsetzung durch § 15 G 10

148

A. Aliud oder Minus zur gerichtlichen Kontrolle?

149

I. Materielle Dimension

149

1. Einordnung in das Gewaltenteilungsgefüge

150

a) Keine Zugehörigkeit zur Legislative

151

b) Keine Zugehörigkeit zur Exekutive

153

c) Unvollständige Imitation der Judikative

154

d) Ergebnis: Kontrollorgan sui generis

156

2. Leistungsfähigkeit der G 10-Kommission

156

a) Prüfungsmaßstab und Kontrollreichweite

157

b) Sanktionspotential

157

c) Personelle Aufstellung

158

d) Ergebnis

160

II. Verfahrensrechtliche Dimension

160

1. Wesentliche Unterschiede des G 10-Verfahrens zum gerichtlichen Verfahren

160

2. Die Achillesferse des G 10-Verfahrens

161

3. Zusätzliche Relativierungen der Qualität

163

a) Zeitnot

163

b) Anwesenheit von Angehörigen der Dienste und Bundesbehörden

164

B. Veränderung der Rahmenbedingungen

164

I. Sicherheitspolitischer Kontext

164

1. Nachkriegszeit ab 1945

165

2. Vereintes Deutschland im 21. Jahrhundert

166

II. Befugniserweiterung

166

1. Gesetz zur Beschränkung des Brief- Post- und Fernmeldegeheimnisses (1968)

167

2. Verbrechensbekämpfungsgesetz (1994)

167

3. Gesetz zur Neuregelung von Beschränkungen des Brief-, Post- und Fernmeldegeheimnisses (2001)

169

4. Weitere Änderungen

170

5. Zusammenfassung

170

III. Informationstechnologische Weiterentwicklungen

170

1. Verändertes Kommunikationsverhalten im Informationszeitalter

171

a) Shift zur Telekommunikation

171

b) Zunahme des Kommunikationsvolumens

172

c) Erhöhte Attraktivität der Telekommunikationsüberwachung

172

2. Reichweite der Überwachungsmaßnahmen

173

3. Zwischenfazit

174

IV. Auswirkungen auf die Verfassungsmäßigkeit der G 10-Kommission

175

C. Ergebnis

175

Teil 3: Alternativen

177

§ 8 Das U. S.-amerikanische Kontrollmodell

177

A. Der Rechtsvergleich als Orientierungsfolie

177

I. Rechtsschutzqualität als tertium comparationis

179

II. Umgang mit der Sprachproblematik

180

B. Das Nachrichtendienstwesen in den USA und seine Kontrolle

182

I. Nachrichtendienste unter dem FISA-Regime

183

1. Die National Security Agency

183

2. Das Federal Bureau of Investigation

184

II. Kontrolleinrichtungen

185

1. Parlamentarische Kontrolle

185

2. Exekutive Kontrolle

186

3. Judikative Kontrolle

186

4. Weitere Kontrollformen

187

C. Rechtlicher Rahmen: Der Foreign Intelligence Surveillance Act

187

I. Entstehungsgeschichte

188

1. Legislatorische Folge des Watergate-Skandals

188

2. Richtungsänderung in der Rechtsprechung des U. S. Supreme Court zum Vierten Verfassungszusatz

189

a) Warrant-Erfordernis für elektronische Überwachungsmaßnahmen

190

b) Warrant-Erfordernis in national security-Fällen

192

3. Zusammenfassung

194

II. Regelungsgegenstand

195

1. Informationserhebungen zum Zwecke der Auslandsaufklärung

195

2. Unterscheidung zwischen U. S.-Personen und Nicht-U. S.-Personen

196

3. Overseas Surveillance

197

4. Zusammenspiel mit der Executive Order 12333

197

III. Befugnisse zur Telekommunikationsüberwachung

199

1. Der Begriff der electronic surveillance

199

2. "Klassische" Telekommunikationsüberwachung nach Titel I

200

a) Grundprinzip: Antrag und Anordnung

200

b) Der Schutzstandard des FISA

201

aa) Zustimmung des Attorney General

201

bb) Minimization procedures

202

cc) Probable Cause

202

3. Überwachung auf der Grundlage von Section 702

203

4. Überwachung auf der Grundlage von Section 703

205

5. Überwachung auf der Grundlage von Section 704

206

6. Ehemaliges Telefon-Metadaten-Programm – Section 215

206

D. Kontrolle durch den Foreign Intelligence Surveillance Court

207

I. Institutioneller Rahmen

207

1. Sondergericht in Washington D. C.

207

2. Amici Curiae

209

II. Grundsätze des Verfahrens

210

1. Ablauf

211

2. Ex parte Charakter

212

3. FISCR als "Berufungsgericht"

213

4. Benachrichtigungspflicht nur für Anschlussverfahren

213

III. Kritische Aspekte

214

1. Ruf als "Rubber Stamp Court"

214

2. Ex parte Verfahren

216

3. Politisierbarkeit durch den Ernennungsmodus

218

4. Leistungsfähigkeit vor dem Hintergrund veränderter Rahmenbedingungen

219

5. Gewaltenteilung

220

E. Ergebnis des Rechtsvergleichs

221

I. Institutionelle Dimension

221

II. Verfahrensrechtliche Dimension

222

III. Tatsächliche Dimension

223

IV. Entwicklungsdimension

223

§ 9 Judikativmodell mit alternativem Gerichtszugang

224

A. Bisherige Reformvorschläge

224

I. Die öffentliche Debatte in den USA nach Snowden

225

1. Die Idee des Special Advocate

225

2. Amici-Curiae-Pool als 'Special Advocate light'

227

II. Reformansätze in Deutschland

227

1. Bürgerrechtsanwalt für die G 10-Kommission

228

2. Altruistisches Parlamentsklagerecht

229

3. Zwischenfazit

231

B. Die G 10-Kommission als Bürgerrechtsanwältin

231

I. Die Einbindung der rechtsprechenden Gewalt

232

II. Die G 10-Kommission als Bürgerrechtsanwältin mit altruistischem Klagerecht

234

1. Die G 10-Kommission als Bürgerrechtsanwältin

234

2. Altruistisches Klagerecht

236

III. Zusammenfassung

237

C. Rechtliche Zulässigkeit des Alternativmodells

237

I. Gesetzgeberischer Spielraum

238

II. Reichweite der Ersetzungsbefugnis

238

1. G 10-Kommission als Ersatz-Rechtsschutz

238

2. G 10-Kommission als Ersatz-Gerichtszugang

239

a) Der Rechtsweg als Möglichkeit des Gerichtszugangs

239

b) Das Verhältnis des Rechtsweges zum gerichtlichen Rechtsschutz

241

c) Veränderung der Ersetzungsbefugnis

241

d) Systematische Untermauerung des Auslegungsergebnisses

242

aa) Binnensystematik

242

bb) Gesamtsystematik

242

III. Ergebnis

243

D. Konkrete Ausgestaltung des Alternativmodells

243

I. Hilfsorgan mit veränderter Aufgabenzuweisung

244

II. Einbindung eines Gerichts

244

§ 10 Zusammenfassung

245

Literaturverzeichnis

249

Sachwortverzeichnis

271