Juvenile criminal law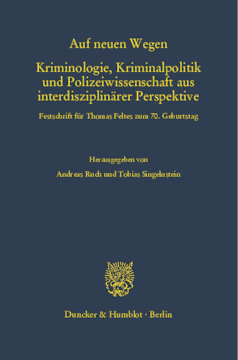 BOOK
Cite BOOK
Style
---
Singelnstein, T. Ruch, A. (Eds.) (2021). Auf neuen Wegen. Kriminologie, Kriminalpolitik und Polizeiwissenschaft aus interdisziplinärer Perspektive. Festschrift für Thomas Feltes zum 70. Geburtstag. Duncker & Humblot. https://doi.org/10.3790/978-3-428-55773-8
; Singelnstein, Tobias and Ruch, Andreas. Auf neuen Wegen. Kriminologie, Kriminalpolitik und Polizeiwissenschaft aus interdisziplinärer Perspektive: Festschrift für Thomas Feltes zum 70. Geburtstag. Duncker & Humblot, 2021. Book. https://doi.org/10.3790/978-3-428-55773-8
Singelnstein, T, Ruch, A (eds.) (2021): Auf neuen Wegen. Kriminologie, Kriminalpolitik und Polizeiwissenschaft aus interdisziplinärer Perspektive: Festschrift für Thomas Feltes zum 70. Geburtstag, Duncker & Humblot, [online] https://doi.org/10.3790/978-3-428-55773-8
---
Format
---
Auf neuen Wegen. Kriminologie, Kriminalpolitik und Polizeiwissenschaft aus interdisziplinärer Perspektive
Festschrift für Thomas Feltes zum 70. Geburtstag
Editors: Singelnstein, Tobias | Ruch, Andreas
Schriften zum Strafrecht, Vol. 366
(2021)
Additional Information
Book Details
ISBN

978-3-428-55773-8
978-3-428-15773-0 (print edition)

DOI

https://doi.org/10.3790/978-3-428-55773-8

Edition

1

Language

German

Pages

729

Collections

Subjects
Pricing
Institution

€ 184.00 (incl. local VAT if applicable)

Individual

€ 143.90 (incl. local VAT if applicable)
About The Author
Tobias Singelnstein, Studium der Rechtswissenschaft an der Freien Universität Berlin und Promotion ebendort, Referendariat beim Kammergericht Berlin, Juniorprofessor für Strafrecht und Strafverfahrensrecht an der Freien Universität Berlin, Habilitation ebendort (Erteilung der Lehrbefugnis für die Fächer Strafrecht, Strafprozessrecht, Kriminologie, Wirtschaftsstrafrecht und Rechtstheorie). Seit 2017 Inhaber des Lehrstuhls für Kriminologie an der Ruhr-Universität Bochum. Seine Arbeitsschwerpunkte liegen in der Kriminologie sowie im Strafrecht und Strafprozessrecht. Tobias Singelnstein ist Mitherausgeber der Fachzeitschriften »Neue Kriminalpolitik« und »Kriminologisches Journal«. Andreas Ruch, Studium der Rechtswissenschaften und Promotion an der Ruhr-Universität Bochum. Referendariat beim Landgericht Dortmund. Im Anschluss wissenschaftlicher Mitarbeiter bei Prof. Dr. Thomas Feltes M.A. und selbständiger Rechtsanwalt. Seit 2018 Inhaber einer Professur für Strafrecht, Strafprozessrecht und Eingriffsrecht an der Hochschule für Polizei und öffentliche Verwaltung Nordrhein-Westfalen.
Abstract
Mit der Festschrift zum 70. Geburtstag von Thomas Feltes am 16. Februar 2021 würdigen seine Kolleginnen und Weggefährten den Jubilar als herausragende Persönlichkeit der deutschsprachigen Kriminologie und Polizeiwissenschaft. Thomas Feltes hat mit seinem wissenschaftlichen Œuvre maßgeblich zur Schärfung und Profilierung seines Faches beigetragen. Zugleich ist er eine wirkmächtige Stimme, die wesentliche kriminalpolitische Akzente in der öffentlichen Debatte setzt. Die in dem Band versammelten Aufsätze bearbeiten grundlegende und aktuelle Fragen der Kriminologie, der Polizeiwissenschaft, des Straf- und Strafverfahrensrechts einschließlich des Jugendstrafrechts sowie des Straf- und Maßregelvollzugs und des Sanktionenrechts aus der Perspektive verschiedener Disziplinen. Die Beiträge zeugen von der großen Wertschätzung, die Thomas Feltes über Fach- und Landesgrenzen hinaus erfährt. »Breaking New Ground. Criminology, Criminal Policy and Police Science From an Interdisciplinary Perspective. Anniversary Publication for Thomas Feltes on his 70th birthday«

With this anniversary publication celebrating Thomas Feltes' 70th birthday on February 16, 2021, his colleagues and companions honor the jubilarian as a leading figure in German-speaking criminology and police science. The authors brought together here engage fundamental and current issues in criminology, police science, criminal law and criminal procedure, including juvenile criminal law as well as the penal system and sanctions law.
Table of Contents
Section Title
Page
Action
Price

Vorwort

5

Inhaltsverzeichnis

11

I. Kriminologie

17

Von Oliver Bidlo: Narratologische Perspektiven für die Kriminologie

19

I. Einleitung

19

II. Narratologie – Narrationen – Narrative – Narr

20

III. Narrationen in der Kriminologie

24

IV. Fazit

27

Von Thomas Bliesener, Merten Neumann, Christoffer Glaubitz und Dominic Kudlacek: Videobeobachtung zwischen Skepsis und Akzeptanz

29

I. Einleitung

29

1. Wirkungen und Akzeptanz der VB/VÜ

30

a) Reduktion der Kriminalität

30

b) Subjektives Sicherheitsempfinden

32

c) Akzeptanz

32

2. Ziel der Untersuchung

34

II. Methode

34

1. Vorgehen

34

2. Interviewfragen

34

3. Stichprobe

35

4. Umgang mit fehlenden Werten

36

III. Statistische Analyse und Ergebnisse

36

IV. Diskussion

40

Von Dieter Dölling, Harald Dreßing und Barbara Horten: Über die Täter des sexuellen Missbrauchs von Minderjährigen in der katholischen Kirche

43

I. Einleitung

43

II. Methoden

43

III. Befunde

45

IV. Resümee

57

Von Ulrich Eisenberg: Zum Tod von Alexander S. Puschkin

59

I. Zur Biographie

59

II. Kriminologische Akzente im Werk Puschkins

61

1. Die "Räuberbrüder" (братья разбойники), Auszug

61

2. Vermeidung tödlicher Duelle

63

a) Der Schuss (выстрел), Auszug

63

b) Eugen Onegin, Auszug

64

III. Entstehungszusammenhänge des tödlich endenden Duells

65

1. Inszenierung durch die Geheimpolizei

66

2. Intrigen

66

3. Suizid durch dritte Hand

67

IV. Ausklang

68

Von Wolfgang Heinz: Die Aufklärungsquote

69

I. Vorbemerkung

69

II. Die Aufklärungsquote – ein missverständlicher, regelmäßig fehlinterpretierter und nicht mit "hinreichendem", für eine Anklageerhebung ausreichendem Tatverdacht zu verwechselnder Begriff

71

III. Der Einfluss der AQ auf Struktur und Entwicklung der aufgeklärten Delikte und ermittelten Tatverdächtigen

76

1. Strukturelle Veränderungen zwischen registrierten und aufgeklärten Fällen sowie mit Einfluss auf die Tatverdächtigenstrukturen

76

2. Der Einfluss von Veränderungen der AQ auf Umfang und Struktur der aufgeklärten Fälle

81

a) Aufgeklärte Fälle und ermittelte Tatverdächtige sind in hohem und in unterschiedlichem Maße eine Auslese aus einem doppelten Dunkelfeld

81

b) Umfang und Struktur der aufgeklärten Fälle und der ermittelten Tatverdächtigen werden durch Veränderungen der AQ beeinflusst

84

IV. Der Einfluss der AQ im regionalen Querschnittsvergleich

86

V. Zusammenfassung und Ausblick

90

Von Dieter Hermann: Die Moral korrupter Manager

95

I. Einleitung

95

II. Theorien und Hypothesen

96

III. Forschungsstand

100

IV. Untersuchungsdesign, Deskription und Operationalisierungen

102

V. Ergebnisse: Hypothese 1

103

VI. Ergebnisse: Hypothese 2

105

VII. Zusammenfassung und Folgerungen

107

Von Robin Hofmann: Populismus und Kriminalpolitik

109

I. Einleitung

109

1. Das hessische Verfassungsreferendum und die Landtagswahl

111

2. Die Todesstrafe in der Demokratie

113

II. Das Verhältnis von Kapitalstrafe und Populismus

114

III. Das Konzept des penal populism

115

IV. Die Kontroverse um den Abschreckungseffekt

117

V. Die Todesstrafe aus globaler Sicht

119

VI. Schlussbetrachtung

120

Von Ralf Kölbel: Transparenz und Lobbyismus in der wissenschaftlichen Strafrechtspolitik

123

I. Einführung

123

II. Auffälligkeiten bei der Implementierung der neuen §§ 299a ff. StGB

124

1. Geringe Strafverfolgungsrelevanz

124

2. Eingeschränkte Verhaltensrelevanz

126

3. Daraus resultierende Fragen

127

III. Die Einführung der §§ 299a ff. StGB aus kriminologischer Sicht

128

1. Kriminalisierungsbereitschaft und Pfadabhängigkeit

128

2. Lobbyismus und Sachverstand

130

IV. Abschließende Bemerkungen

134

By Miklós Lévay: Criminalization of Homelessness in Hungary and Related Decisions of the Constitutional Court

137

I. Public order and criminal policy in Hungary since the 2010 general election in Hungary

137

II. Declaration of homelessness as petty offence in 2011, 2012 and the response of the Constitutional Court

138

III. Amendments to the Fundamental Law affecting homelessness in 2013 and 2018

142

IV. Art. 178/B of the Act on Petty Offences and the 19/2019. (VI. 18.) CC decision

143

V. Conclusion

147

Von Karlhans Liebl: Sanktionsforderungen im Vergleich

149

I. Einführung

149

II. Untersuchungsgrundlagen

150

III. Zusammenfassung der Ergebnisse

152

IV. Die Beurteilungen der verschiedenen Befragtengruppen in einer Gegenüberstellung

155

V. Vergleich der Bewertungen in den verschiedenen Deliktsgruppen

158

1. Gruppe der Sexualdelikte

158

2. Gruppe der Eigentumsdelikte und Sachbeschädigung

158

3. Gruppe der Körperverletzungsdelikte und Delikte aus dem Polizeialltag

160

4. Gruppe der Delikte mit Wirtschaftsbezug

160

5. Gruppe der Verkehrsdelikte

161

6. Gruppe der "sonstigen Delikte"

161

VI. Hart strafende Bevölkerung und Polizei und milde Richter?

165

Von Michael Lindemann, Janita Menke und Sandra Schwark: Psychisch kranke Gewaltopfer vor den Toren der Strafjustiz

167

I. Einführung

167

1. Psychisch Erkrankte und polizeilicher Erstkontakt

168

II. Qualitative Forschung

170

1. Methodik

170

a) Zielgruppenauswahl

170

b) Datenerhebung und -auswertung

171

2. Ergebnisse

171

III. Quantitative Forschung

176

1. Methodik

176

2. Erste Ergebnisse der quantitativen Erhebung

176

IV. Zwischenfazit

181

V. Präventionskonzept – ein erster Ausblick

182

VI. Schlusswort

185

Von Bernd-Dieter Meier: Ausstiegsbegleitung und Deradikalisierung in Deutschland

187

I. Hintergrund

187

II. Ziele und Methoden

190

III. Ergebnisse

191

1. Falldefinitionen und Fallzahlen

191

2. Konzeptioneller Rahmen

193

IV. Fazit

196

Von Frank Neubacher und Esther Viviane Arendes: Das "Böse", das "Gute" und vor allem das dazwischen

197

I. Jenseits von Gut und Böse

197

II. Milgram und die Frage nach den Ungehorsamen

199

III. Ergebnisse der Retterforschung

200

1. Rettungsbemühungen und Art der Hilfeleistung

200

2. Quellen und methodisches Vorgehen

201

3. Hauptbefunde

202

IV. Folgerungen für die Kriminologie

204

Von Holger Plank: "Neues" Polizei- bzw. "Sicherheitsrecht" in Deutschland

207

I. Vorbemerkung

207

II. Gesellschaftliche/Statistische "Konstruktion" von (Un-)‌Sicherheit

212

III. Risiko als kriminalpolitischer Impetus

214

IV. Evidenzbasierte sicherheitsrechtliche Grenzziehungen

216

V. Epilog

218

Von Jo Reichertz: Automatisierung der Sicherheit in Fußballstadien durch Kamerasysteme?

223

I. Emotion. Eskalation. Gewalt.

223

II. Das Zum-Fußball-Gehen als Trajectory

224

III. Typen von grundlegenden Prozessen im Rahmen von Eskalationen

227

IV. Situationsübergreifende Faktoren und Polytexturalität

230

V. Kampf um (mediale) Sichtbarkeit und Macht

232

VI. Fazit und Ausblick

233

Von Nahlah Saimeh: Zur Behandlung von Sexualstraftätern

235

I. Einleitung

235

II. Die Diagnostik

236

III. Die Bedeutung der richtigen Delikthypothese

237

IV. Die Behandlung

240

V. Das Setting

241

VI. Fazit

241

Von Jan-Volker Schwind und Hans-Dieter Schwind: Ergebnisse der Bochumer Dunkelfeldforschung und ihre kriminalpolitische Relevanz

243

I. Methodische Hinweise

244

1. Anzeigeverhalten und Dunkelziffer-Relationen

244

a) Anzeigeverhalten

245

b) Dunkelziffer-Relationen

246

2. Kriminalitätsfurcht im Zeitvergleich

248

a) Folgen der Kriminalitätsfurcht

248

b) Kriminalitätsfurcht kann man messen

248

c) Spezielle Phänomene

252

3. Ansehen der Polizei

253

a) Vermuteter "Ruf" der Polizei

253

b) Der Polizist als "Respektsperson"?

255

II. Kurze Zusammenfassung und Anschlussüberlegungen

256

1. Trend-Resultate

256

2. Maßnahmen der Gegensteuerung

256

3. Statistikbegleitende Dunkelfeldforschung auf Bundesebene?

256

By Philip Stenning and Marleen Easton: Ports as Sites of Geo-political (In)‌security

259

I. Introduction

259

II. Gating of Communities

260

III. Ports and Security Strategies

262

IV. Managing Geopolitical Flows

263

V. Recent Developments

264

VI. Conclusion and Reflection

266

Von Christian Walburg: Fünf Jahre "Flüchtlingskrise"

269

I. Einleitung

269

II. Rechtsbrüche, wohin man blickt (oder eben nicht)

271

III. Kriminalität von Geflüchteten

274

1. Entwicklung des Flüchtlingszuzugs

275

2. Entwicklung der polizeilich erfassten "Zuwanderer"-Kriminalität

276

3. Differenzierungen und theoretische Zusammenhänge

278

4. Sanktionierung und Strafvollzug

282

IV. Fazit

285

Von Andreas Zick, Beate Küpper und Arin Ayanian: In extremen Zeiten

289

I. Vorwort bzw. warum der Fokus in diesem Text

289

II. Verunsicherungen der vermeintlichen Sicherheit

290

III. Dekonsolidierungen in der Mitte

292

IV. Hintergründe rechtsextremer Orientierungen

297

V. Zivile Sicherheit

299

II. Polizeiwissenschaft

301

Von Hartmut Aden: Problemfelder an den Schnittstellen zwischen Polizei und privaten Sicherheitsfirmen

303

I. Einleitung

303

II. Wachsende Bedeutung privater Sicherheitsunternehmen und staatliches Gewaltmonopol

304

III. Schnittstellen zwischen Polizei und privaten Sicherheitsdienstleistern

306

1. Großveranstaltungen – Risiken unklarer Verantwortungsstrukturen

306

2. Öffentliche Verkehrsmittel

309

3. Halb-öffentliche Räume: Einkaufzentren

311

4. Bewachung öffentlicher Gebäude

312

5. Systembruch: Private Sicherheitsfirmen als Beliehene

313

IV. Kooperations- und Konfliktlösungsmechanismen

314

V. Schlussfolgerungen

317

Von Clemens Arzt und Stephanie Schmidt: Bodycam als Objekt staatlichen Sehens und Zeigens

319

I. Zur Genese eines neuen Polizeitools

319

II. Rechtliche Einordnung

320

1. Grundrechtseingriff

320

2. Gesetzgebungskompetenz

321

3. Allgemeine Anforderungen an die Zulässigkeit

322

4. Prerecording und Tonaufnahmen

322

5. Technik und offene Durchführung

323

6. Entscheidung über Bild- und Tonaufzeichnungen

325

7. Löschung und Zweckänderung – Zugriffsrecht auf Aufnahmen für Betroffene

326

III. Eskalation und Deeskalation

327

IV. Bodycams als Objekte staatlichen Sehens und Zeigens

329

V. Fazit

330

Von Rafael Behr: "Dem Guten verpflichtet, vom Bösen bedroht"

333

I. "Anständige Bürger", "linke Zecken", "bescheidene Helden"

333

II. Selbstbilder von Studierenden für den Polizeivollzugsdienst

335

1. In das Organisationsinnere gerichtete Werte

337

2. Gegenüber "untypischer" Klientel

338

3. In polizeilich relevanten Situationen

338

4. Erkenntnisse aus dem "off"

339

III. Polizei als hochmoralische Organisation

341

IV. Weitermachen und auf das Gute vertrauen

342

Von Martin Herrnkind: Cop Culture meets Bourdieu

345

I. Entrée – acht Szenen aus dem Polizeialltag

345

II. Entstehung polizeilicher Kulturforschung

346

III. Kritik

348

IV. Bourdieu-Rezeption und Polizeiforschung

351

V. Der soziale Raum Polizei – Feld und Habitus: Ein Modellentwurf

354

1. Gender

354

2. Gewalt

355

3. Macht

355

4. Risiko

356

5. Argwohn

357

6. Insularität

357

7. Konservatismus

358

8. Bürokratie

358

9. Hierarchie

359

VI. Einsichten

360

VII. Ausblick

362

Von Reinhard Kreissl: Polizeiforschung zwischen den (Lehr-)‌Stühlen

363

By Jeffrey Ian Ross: Reversing the Gains

371

I. Introduction

371

II. Resuming the Transfer of Military Weapons to Police Departments

373

III. Rolling back Consent Decrees

374

IV. Policing the Pandemic

375

V. Responding to the George Floyd Protests and Riots, Including Proposals for Abolishing or Defunding the Police

375

VI. Conclusion

377

Von Tobias Singelnstein: Rassismus in der Polizei

379

I. Rassismus als soziales Verhältnis

379

II. Polizei und Rassismus

381

1. Forschungsstand

381

a) Einstellungen in der Polizei

382

b) Erklärungsansätze

384

c) Forschungslücken

385

2. Problematische Praxen

386

III. Umgang der Polizei mit Rassismus

388

IV. Kriminalität, Rassismus und Gesellschaft

390

V. Schluss

392

By Elrena van der Spuy: Continuities and Discontinuities in Security Deliberations in Contemporary South Africa

393

I. Introduction

393

II. Part 1: Commissions of Inquiry into Police, 1910–1994: an Archival Overview

394

III. Case 1: Not Expected: Police Shootings at Sharpeville, 21 March 1960

397

IV. Part 2: Re-thinking Security After 1994

399

1. Whose Security? What Security? – What About the Urban Poor?

400

2. Whose Security? What Security? – Mining Capital, Striking Workers and the State

402

3. Whose Security? What Security? The Theatrics of State Capture

403

V. Conclusion

404

By David Weisburd and Charlotte Gill: Assessing Crime Outcomes in Community Policing

407

III. Strafrecht, Jugendstrafrecht, Strafverfahrensrecht

413

Von Adam Ahmed: Die Öffentlichkeit unter Quarantäne

415

I. Einleitung

415

II. Grundrechtseingriffe

418

1. Grundrecht auf Leben und körperliche Unversehrtheit

418

2. Recht auf ein faires Verfahren

420

3. Öffentlichkeitsgrundsatz

421

III. Keine Rechtfertigung durch kollidierendes Verfassungsrecht

422

1. Funktionstüchtigkeit der Strafrechtspflege

423

2. Beschleunigungsgebot

424

a) Interesse des Beschuldigten an beschleunigter Durchführung des Prozesses

424

b) Durchsetzung des Strafanspruchs innerhalb angemessener Zeit

425

IV. Ergebnis

426

Von Maren Borg und Sabine Swoboda: Videoaufzeichnung von Vernehmungen und notwendige Verteidigung bei jungen Beschuldigten

429

I. Einleitung

429

II. Die Vorgaben der Richtlinie zu der audiovisuellen Aufzeichnung

429

1. Das Abwägungskriterium der Anwesenheit eines Rechtsbeistandes

430

a) Abwägungskriterien für eine notwendige Verteidigerbestellung

431

b) Abwägungskriterium bezüglich Videoaufzeichnungen von Vernehmungen

432

2. Das Abwägungskriterium des Freiheitsentzugs

432

3. Das Abwägungskriterium des Kindeswohls

433

III. Die Lösung des deutschen Gesetzgebers

434

1. Die Regelung des § 70c JGG

434

a) Die Grundregelung in § 70c Abs. 2 S. 1 JGG

434

b) Die Muss-Aufzeichnung nach § 70c Abs. 2 S. 2 JGG

435

2. Gedanken zur früher geplanten Regelung der Videoaufzeichnung in § 136 Abs. 4 StPO

436

IV. Folgen dieser gesetzlichen Irreleitung für die Verwertbarkeit einer nichtrichterlichen Vernehmung

437

1. Beweisverwertungsverbote infolge eines Verstoßes gegen Art. 9 der Kinder-Richtlinie

437

a) Die Herleitung von Beweisverwertungsverboten

437

aa) Die Abwägungslehre

438

bb) Die verschiedenen Schutzzwecklehren

439

b) Beweisverwertungsverbote bei Fehlern bezogen auf die audiovisuelle Vernehmung – auf Basis der Schutzzwecklehre

441

aa) Beispielsfall 1

441

bb) Beispielsfall 2

442

cc) Beispielsfall 3

442

2. Ergebnis

443

Von Ken Eckstein: Verständigungsgesetz und unverbindliche Erörterungen

445

I. Ausgangsfall

446

II. Rechtliche Würdigung durch den BGH

446

III. Plädoyer für einen weiten Begriff der Verständigung und des Verständigungsbezugs

450

IV. Zur Formalisierung des Informellen

453

1. Verständigungsgesetz und schützende Formen des Prozessrechts

454

2. Grenzen der Formalisierung

455

3. Zu den Wurzeln informeller Lösungsstrategien

457

V. Fazit

457

Von Sophie Marie Faustmann und Pedro Michael Faustmann: Zur Frage der Persönlichkeitsstörung und Persönlichkeitsakzentuierung im Rahmen der schweren anderen seelischen Abartigkeit

459

I. Gegenstand der Schuldfähigkeitsbeurteilung

459

II. Die schwere andere seelische Abartigkeit

460

1. Allgemein

460

2. Persönlichkeitsstörung und Persönlichkeitsakzentuierung

461

III. Die medizinischen Klassifikationssysteme

463

1. Allgemein

463

2. Persönlichkeitsstörungen in der ICD-10

464

3. Zur Problematik der narzisstischen Persönlichkeitsstörung

465

4. Persönlichkeitsakzentuierungen

466

IV. Dimensionale Betrachtung der Persönlichkeit

468

V. Zusammenfassung

469

Von Ingke Goeckenjan: Über Prognosen, die nicht die Zukunft betreffen

471

I. Einführung

471

II. Prognosen in den Kriminalwissenschaften

472

III. Rückblickende Prognosen im Strafrecht

474

IV. Ein aktuelles Beispiel aus der Rechtsprechung

476

1. Der zugrundeliegende Sachverhalt

476

2. Erstinstanzliche Verurteilung der Vollzugsbediensteten

479

3. Freispruch der Vollzugsbediensteten vor dem Bundesgerichtshof

480

4. Lehren aus dem Strafverfahren gegen die Vollzugsbediensteten

482

V. Fazit und Ausblick

484

Von Heribert Ostendorf: Gegen die justizielle Ausweitung der Höchststrafe von 15 Jahren Jugendstrafe bei Mord wegen der besonderen Schwere der Schuld gem. § 105 Abs. 3 S. 2 JGG!

487

I.

487

II.

488

III.

489

IV.

490

V.

491

VI.

493

Von Holm Putzke: Die Einziehung von Vermögen im Jugendstrafrecht – oder: Was hat der Gesetzgeber sich da bloß gedacht?

495

I. Einleitung

495

II. Beschreibung und Analyse der Problemfelder

496

1. Anwendbarkeit der Einziehungsvorschriften im Jugendstrafrecht

496

2. Obligatorische Anordnung oder Ermessensentscheidung

499

3. Wertersatzeinziehung

502

III. Resümee

503

Von Andreas Ruch: Die strafprozessuale Pflicht zur umfassenden Sachaufklärung

505

I. Einleitung

505

II. Polizeilicher Opferschutz im Strafverfahren

507

1. Informationsrechte und Belehrungspflichten

507

2. Zeugenschutz

509

III. Anforderungen an die polizeiliche Sachaufklärung bei Sexualstraftaten

511

1. Allgemeine Anforderungen an die Sachaufklärung im Ermittlungsverfahren

511

2. Besondere Ermittlungspflichten beim Verdacht einer Sexualstraftat

512

IV. Diskussion

514

V. Schlussfolgerungen

516

Von Franz Streng: Freiwilliger Rücktritt vom Versuch trotz innerpsychischer Tathemmung?

519

I. Grundlagen

519

II. Das Problem: Unfreiwilligkeit infolge psychischer Hemmungen?

520

1. Innere Hemmungen und Willensfreiheit

520

2. Die Qual der Wahl – die freiwillige Entscheidung mit Zwangsfolgen

523

a) Übergang zu einer anderen Straftat

523

b) Übergang zu einer als vorrangig eingestuften Rettungshandlung

524

3. Angst als innere Hemmung

525

III. Konsequenzen für die Normativierungsfrage

526

IV. Straf- und Maßregelvollzug, Sanktionenrecht

529

Von Michael Alex: Aktuelle Entwicklungen im Justizvollzug

531

I. Einleitung

531

II. Untersuchungshaft

531

III. Abschiebungshaft

535

IV. Vollzugsöffnende Maßnahmen/Vollzugslockerungen

537

V. Zugang zu neuen Medien

540

VI. Fazit

542

Von Frieder Dünkel: Ehe- und familienfreundliche Gestaltung des Strafvollzugs

545

I. Vorbemerkung

545

II. Problemaufriss – Resozialisierung und Desistance: Die Bedeutung sozialer Bindungen in der Evaluationsforschung zum Strafvollzug

545

III. "Drittfolgen" des Strafvollzugs auf das soziale Umfeld der Gefangenen und die Verpflichtung des Staats, negative Folgen der Haft allgemein und insbesondere auch für Dritte zu minimieren

548

IV. Rechtliche Rahmenbedingungen einer familienfreundlichen Vollzugsgestaltung, insbesondere durch entsprechende Besuchsregelungen

550

V. Die länderspezifische Praxis einer ehe- und familienfreundlichen Vollzugsgestaltung

553

VI. Sonstige Maßnahmen einer familienfreundlichen Vollzugsgestaltung und spezifische ehe- und familienfördernde Maßnahmen in den Bundesländern

555

VII. Ausblick

558

Von Jörg Kinzig: Die nachträgliche Sicherungsverwahrung für Jugendliche und Heranwachsende vor dem Europäischen Gerichtshof für Menschenrechte: letztes Wort aus Straßburg?

561

I. Einleitung: Thomas Feltes, das internationale Recht und die Sicherungsverwahrung

561

II. Die Fakten des Falles I. gegen Deutschland

562

III. Kernpunkte des Urteils des EGMR im Verfahren I. gegen Deutschland

564

1. Möglicher Verstoß gegen Art. 5 Abs. 1 EMRK

564

2. Möglicher Verstoß gegen Art. 7 Abs. 1 S. 2 EMRK

566

3. Weitere in diesem Verfahren erhobene Rügen

568

IV. Die "dissenting opinion" des Richters Paulo Pinto de Albuquerque

569

V. I. gegen Deutschland: letztes Wort aus Straßburg in Sachen nachträglicher Sicherungsverwahrung?

573

Von Helmut Kury: Zu den Folgeschäden von Freiheitsstrafen

575

I. Einleitung

575

II. Vernachlässigung des sozialen Umfeldes bei Kriminalstrafen

578

III. Bisherige Untersuchungen

582

1. Diskussion und Untersuchungen in Deutschland

582

2. Internationale Studien

589

IV. Diskussion

593

Von Gereon Wolters: Neues zum strafgesetzlichen Fahrverbot

597

I. Ein kurzer Rückblick auf die Genese und die Geburt der neuen Vorschrift

598

II. Die Neufassung des § 44 Abs. 1 StGB

599

1. Die Ausgestaltung des Fahrverbots (auch weiterhin) als Nebenstrafe

601

2. Ein Aufriss der eingewandten Bedenken

601

3. Die Erweiterung des Anordnungsrahmens

603

4. Die gesetzgeberische "Leitlinie"

604

a) Spezialpräventive Aspekte

607

b) Generalpräventive Aspekte

608

c) Das Zusammenspiel der Strafzwecke bei der Strafartwahl bzw. bei der Strafartfolgenentscheidung

608

III. Ein Blick in die Zukunft

611

IV. Zu guter Letzt

613

V. Varia

615

Von Leif Artkämper, Astrid Klukkert, Julian Koch und Marvin Weigert: Der Masterstudiengang "Kriminologie, Kriminalistik und Polizeiwissenschaft"

617

I. Einleitung

617

II. Wandel durch institutionelles/organisationales Lernen am Beispiel der Zielgruppe Polizei

619

1. Fehler als Chance?!

620

2. Institutionelle/organisationale Lerntheorien

622

3. Status Quo bei der Polizei

624

4. Notwendige Änderungen

625

III. Einflussmöglichkeit des Masterstudiengangs "Kriminologie, Kriminalistik und Polizeiwissenschaft"

626

1. Inter- und Intradisziplinarität – Voneinander lernen?!

627

2. Curriculum

628

3. Mit der Zeit gehen!

629

4. Institutionelles Lernen durch den Masterstudiengang?!

629

IV. Ausblick und Fazit

631

Von Eckhard Bieger: Wurzelwerk des Verbrechens

633

I. Eifersucht und Begehren sind die nie versiegende Quelle des Bösen

634

1. Das Begehren

634

2. Das Gelingen

634

3. Der Sündenbock

634

II. Wie lösen die Religionen die Aufgabe

635

III. Noch einmal die Medien

636

Von Pieke Biermann: Deutsch-Amerikanische Fremdheit

637

Von Ulrich Blum: Planbarkeit und Vorhersehbarkeit der Wirtschaftspolitik als öffentliche Güter in Zeiten von Extremereignissen

649

I. Wie lernfähig ist der Staat?

649

II. Soziale Marktwirtschaft – eine Inhaltsbestimmung

651

III. Vorhersehbarkeit

653

IV. Bewertung und wirtschaftspolitische Folgerungen

655

Von Micha Brumlik: Die neue Unterschicht, das Prekariat als Herausforderung praktischer Gerechtigkeit

659

I. Ein altes Problem entsteht neu

659

1. Die neue Diskussion

660

2. Soziologische Skizze der neuen "underclass"

662

II. Pädagogische Konsequenzen

667

Von Marco Mona: Prävention zum Schutze der Menschenrechte

671

I. Die Idee

671

II. Das Instrument

672

III. Der Abstecher nach Europa

673

IV. Aber nun zurück zum universellen Instrument

675

V. Die Grundzüge der Konvention

676

VI. Was haben wir jetzt?

679

VII. Nachtrag: Ein Besuch des SPT in Nauru

680

VIII. Vielfalt der Monitoring-Instanzen; Nachteile?

681

Von Uli Rothfuss: Thomas Feltes: Förderer. Freund. Nonkonformist.

683

I. Vorrede

683

II. Thomas Feltes – Ein Mann für das Unkonventionelle

683

III. Reisen, gemeinsam

684

IV. Wissenschaftler, leidenschaftlicher Lehrender und nonkonformer Netzwerker

685

V. Chef

686

VI. Ästhet

687

VII. Mensch

687

By Istvan Szikinger: Slinking Total Power

689

I. Ideology and Politics

689

1. Police State and Beyond

689

2. On Totalitarianism

691

3. The Present Situation

692

II. Origins of Totalitarian Perspectives in the Mirror of Legislation on Police

694

III. Conclusion

697

Schriftenverzeichnis von Thomas Feltes

699

2020

699

2019

700

2018

701

2017

701

2016

702

2015

703

2014

704

2013

705

2012

706

2011

706

2010

707

2009

708

2008

709

2007

710

2006

710

2005

711

2004

711

2003

712

2002

712

2001

713

2000

713

1999

714

1998

714

1997

715

1996

715

1995

716

1994

717

1993

717

1992

718

1991

718

1990

719

1989

719

1988

720

1987

720

1986

720

1985

721

1984

721

1983

721

1982

722

1981

722

1980

722

1979

722

1978

723

1977

723

Verzeichnis der Autorinnen und Autoren

725