Public international law: human rights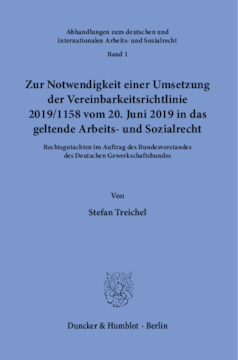 Additional Information
Book Details
ISBN

978-3-428-58269-3
978-3-428-18269-5 (print edition)

DOI

https://doi.org/10.3790/978-3-428-58269-3

Edition

1

Language

German

Pages

144

Collections

Subjects
Pricing
Institution

€ 46.00 (incl. local VAT if applicable)

Individual

€ 35.90 (incl. local VAT if applicable)
About The Author
Stefan Treichel studierte Rechtswissenschaften an der Georg-August-Universität Göttingen (1996-2001). Danach war er Wissenschaftlicher Mitarbeiter am dortigen Institut für Arbeitsrecht (2001-2006). 2007 legte er das Zweite Staatsexamen ab. Es folgten Tätigkeiten als Rechtsanwalt mit dem Schwerpunkt Arbeitsrecht (2008-2009) sowie als Klagesachbearbeiter in der Sozialverwaltung (2010-2015). Nach der Promotion (2010) lehrte er nebenberuflich an der Universität Bremen sowie an der Verwaltungsschule Bremen, später dann hauptberuflich an der Verwaltungsakademie Schleswig-Holstein (2015-2016). Seit 2016 ist er Professor für Recht in Sozial- und Gesundheitsberufen an der Hochschule Emden/Leer.
Stefan Treichel studied law at the University of Göttingen (1996-2001). Then he worked there as a research assistant at the Institute of Labor Law (2001-2006). In 2007 he passed the second state examination. This was followed by activities as a lawyer with a focus on labor law (2008-2009) and as an attorney in social administration (2010-2015). After receiving his doctorate (2010), he taught part-time at the University of Bremen and at the School of Administration Bremen and later full-time at the Schleswig-Holstein Administrative Academy (2015-2016). Since 2016 he has been professor of law of the social and health professions at the University of Emden/Leer.
Abstract
Die im Sommer 2019 erlassene »Richtlinie (EU) 2019/1158 zur Vereinbarkeit von Beruf und Privatleben für Eltern und pflegende Angehörige und zur Aufhebung der Richtlinie 2010/18/EU« ist von den Mitgliedstaaten der Europäischen Union bis zum 2.8.2022 durch Rechts- und Verwaltungsvorschriften in innerstaatliches Recht umzusetzen. Das vorliegende Rechtsgutachten will einen Beitrag dazu leisten, die Vereinbarkeitsrichtlinie in das deutsche Arbeits- und Sozialrecht zu implementieren. Die in der Richtlinie enthaltenen Rechte werden analysiert und mit den gesetzlichen Regelungen des deutschen Arbeits- und Sozialrechts verglichen. Dabei zeigt sich nicht nur, dass die deutsche Rechtslage mit Blick auf den bisher ungeregelten Vaterschaftsurlaub überdacht werden muss. Die Richtlinie fordert eine Ergänzung des deutschen Rechts insbesondere in den Bereichen ein, in denen es den Schutz vor Diskriminierung und Kündigung sowie die Sanktionen zur Sicherstellung der genannten individuellen Rechte bisher nur unzureichend ausgestaltet. »On the Need to Transpose Directive 2019/1158 of June 20, 2019 into Applicable Labor and Social Law«

Directive (EU) 2019/1158 on the work-life balance for parents and family carers and on the repeal of Directive 2010/18 / EU is to be implemented by the member states of the European Union through legal and administrative provisions by August 2, 2022. The present legal opinion aims to contribute to the implementation of the compatibility guideline in German labor and social law. The rights contained in the directive are analyzed and compared with the statutory provisions of German labor and social law.
Table of Contents
Section Title
Page
Action
Price

Vorwort

5

Inhaltsverzeichnis

7

Abkürzungsverzeichnis

11

A. Einleitung

13

B. Überblick und Gang der Untersuchung

14

C. Entstehungsgeschichte

15

I. Die Europäische Säule Sozialer Rechte (ESSR)

15

II. Der Richtlinienvorschlag der Europäischen Kommission

16

III. Europäischer Wirtschafts- und Sozialausschuss, Ausschuss der Regionen

18

IV. Europäisches Parlament und Rat der Europäischen Union

18

D. Wirkungen der Charta der Grundrechte der Europäischen Union

21

I. Familien- und Berufsleben (Art. 33 GrCh)

21

1. Art. 33 Abs. 1 GrCh

21

2. Art. 33 Abs. 2 GrCh

23

II. Gleichheit von Frauen und Männern (Art. 23 GrCh)

26

1. Art. 23 Abs. 1 GrCh

26

2. Art. 23 Abs. 2 GrCh

29

III. Bindung der Mitgliedsstaaten gem. Art. 51 Abs. 1 GrCh

29

1. Bindung auch an Grundsätze

29

2. Bindung des Gesetzgebers

30

3. Bindung der Gerichte

31

4. Zur mittelbaren bzw. unmittelbaren Drittwirkung der Art. 23 GrCh und Art. 33 GrCh unter Privaten ("horizontale Wirkung")

32

5. Zum Verhältnis Chartagrundrechte – Grundrechte des Grundgesetzes

36

E. Verfassungsrechtliche Einordnung

38

F. Zur Notwendigkeit der Umsetzung der Vereinbarkeitsrichtlinie

41

I. Vaterschaftsurlaub

42

1. Richtlinie

42

a) Freistellung (Art. 4 V-RL)

42

b) Bezahlung oder Vergütung (Art. 8 Abs. 1 und 2 V-RL)

44

c) Beschäftigungsansprüche (Art. 10 V-RL)

45

d) Diskriminierungsverbot, Kündigungsschutz, Sanktionen, Benachteiligungsschutz (Art. 11, 12, 13, 14 V-RL)

46

2. Geltende Rechtslage und Vergleich

46

a) Zum Freistellungsanspruch aus Anlass der Geburt

46

b) Vergütung bei Freistellung aus Anlass der Geburt

50

c) Beschäftigungsansprüche

54

d) Kündigungsschutz

58

e) Diskriminierungsverbot

60

f) Sanktionsregelungen

60

g) Benachteiligungsschutz

63

3. Ergebnisse

64

II. Elternurlaub

65

1. Richtlinie

65

a) Freistellung (Art. 5 V-RL)

65

b) Vergütung (Art. 8 Abs. 1 und 3 V-RL)

66

c) Beschäftigungsansprüche (Art. 10 V-RL)

67

d) Kündigungsschutz, Diskriminierungsverbot, Sanktionen, Benachteiligungsschutz (Art. 11, 12, 13, 14 V-RL)

67

2. Geltende Rechtslage und Vergleich

67

a) Freistellung

67

b) Vergütung

69

c) Beschäftigungsansprüche

71

d) Kündigungsschutz

74

e) Diskriminierungsverbot

76

f) Sanktionsregelungen

77

g) Benachteiligungsschutz

78

3. Ergebnisse

78

III. Urlaub für pflegende Angehörige

79

1. Richtlinie

79

a) Freistellung (Art. 6 V-RL)

79

b) Vergütung?

80

c) Beschäftigungsansprüche (Art. 10 V-RL)

80

d) Kündigungsschutz, Diskriminierungsverbot, Sanktionen, Benachteiligungsschutz (Art. 11, 12, 13, 14 V-RL)

81

2. Geltende Rechtslage und Vergleich

81

a) Freistellung

81

b) Vergütung

85

c) Beschäftigungsansprüche

86

d) Kündigungsschutz

87

e) Diskriminierungsverbot

88

f) Sanktionsregelungen

88

g) Benachteiligungsschutz

89

3. Ergebnisse

89

IV. Arbeitsfreistellung aufgrund höherer Gewalt

90

1. Richtlinie

90

a) Freistellung (Art. 7 V-RL)

90

b) Vergütung?

91

c) Beschäftigungsansprüche (Art. 10 Abs. 1, Abs. 3 V-RL)

91

d) Diskriminierungsverbot, Sanktionen, Benachteiligungsschutz (Art. 11, 13, 14 V-RL)

92

2. Geltende Rechtslage und Vergleich

92

a) Freistellung wegen höherer Gewalt

92

b) Vergütung?

95

c) Beschäftigungsansprüche

95

d) Diskriminierungsverbot

96

e) Sanktionsregelungen

97

f) Benachteiligungsschutz

98

3. Ergebnisse

99

V. Recht auf Beantragung flexibler Arbeitsregelungen

100

1. Richtlinie

100

a) Anspruch auf Beantragung, flexible Arbeitsregelungen (Art. 9 V-RL)

100

b) Vergütung?

101

c) Beschäftigungsansprüche (Art. 10 V-RL)

101

d) Diskriminierungsverbot, Kündigungsschutz, Sanktionen, Benachteiligungsschutz (Art. 11, 12, 13, 14 V-RL)

101

2. Geltende Rechtslage und Vergleich

102

a) Flexible Arbeitsregelungen

102

b) Vergütung?

109

c) Beschäftigungsansprüche?

109

d) Kündigungsschutz

109

e) Diskriminierungsverbot

110

f) Sanktionsregelungen

110

g) Benachteiligungsschutz

111

3. Ergebnisse

111

G. Umsetzungsbedarfe

114

Literaturverzeichnis

119

Anhang: RL (EU) 2019/1158

125

Sachwortverzeichnis

141