Criminal law: procedure & offences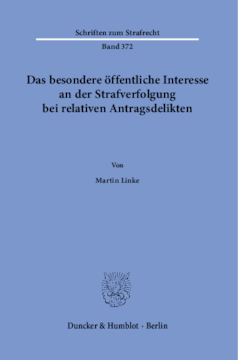 BOOK
Das besondere öffentliche Interesse an der Strafverfolgung bei relativen Antragsdelikten
Schriften zum Strafrecht, Vol. 372
(2021)
Additional Information
Book Details
ISBN

978-3-428-58281-5
978-3-428-18281-7 (print edition)

DOI

https://doi.org/10.3790/978-3-428-58281-5

Edition

1

Language

German

Pages

320

Collections

Subjects
Pricing
Institution

€ 92.00 (incl. local VAT if applicable)

Individual

€ 71.90 (incl. local VAT if applicable)
About The Author
Martin Linke studierte von 2011 bis 2016 Rechtswissenschaft an der Universität Potsdam und legte im September 2016 das 1. Staatsexamen ab. Anschließend fertigte er im Rahmen eines Promotionsstudiums seine Dissertation an. Von Mai 2017 bis April 2020 war er zudem als wissenschaftliche Hilfskraft am Lehrstuhl für Strafrecht mit Jugendstrafrecht und Kriminologie (Prof. Dr. Wolfgang Mitsch) angestellt, von Oktober 2017 bis Juli 2018 zudem bei der Juniorprofessur für Strafrecht (Prof. Dr. Anna H. Albrecht). Von Februar 2019 bis Februar 2021 absolvierte er den juristischen Vorbereitungsdienst in Potsdam und legte im Februar 2021 das 2. Staatsexamen ab.
Martin Linke studied law at the University of Potsdam from 2011 to 2016 and passed the 1st state examination in September 2016. He then began to write his thesis. From May 2017 to April 2020 he was also employed as a research assistant at the Chair for criminal law including juvenile criminal law and criminology (Prof. Dr. Wolfgang Mitsch), while also working for the junior professorship for criminal law (Prof. Dr. Anna H. Albrecht) from October 2017 to July 2018. From February 2019 to February 2021 he completed the legal preparatory service in Potsdam and passed the 2nd state examination in February 2021.
Abstract
Die Arbeit beleuchtet das besondere öffentliche Interesse an der Strafverfolgung in seiner Gesamtheit. Im ersten Teil der Arbeit werden insbesondere die formellen Aspekte rund um das besondere öffentliche Interesse untersucht. Im Zentrum stehen hierbei die besonders problematischen Aspekte der Frage nach der Prozessvoraussetzung und der gerichtlichen Überprüfbarkeit. Aufgezeigt wird, dass das besondere öffentliche Interesse tatsächlich vorliegen und dessen Vorliegen vom mit der Sache befassten Gericht vollständig überprüft werden muss. Im zweiten Teil geht es um die inhaltliche Auslegung des besonderen öffentlichen Interesses. Nachdem kurz der derzeitige Forschungsstand aufgezeigt wird, wird zunächst die Frage erörtert, ob das besondere öffentliche als ein gegenüber dem öffentlichen Interesse gesteigerter Begriff anzusehen ist, was verneint wird. Anschließend wird der eigene Auslegungsansatz erarbeitet, der das besondere öffentliche Interesse als Ergebnis einer Abwägung begreift. »The Particular Public Interest in Prosecuting Limited Application Offenses«

The thesis deals with the particular public interest in prosecuting limited application offenses. In addition to controversial formal questions such as those of the process requirements and judici-al verifiability, the primary concern is to examine the content-related meaning. For this purpose, the relationship to the public interest is examined and an independent approach to the defi-nition of the term is developed, focusing the interpretation on the criminal complaint.
Table of Contents
Section Title
Page
Action
Price

Vorwort

7

Inhaltsverzeichnis

9

Abkürzungsverzeichnis

24

1. Kapitel: Einleitende Ausführungen

29

§ 1 Einleitung und Schwerpunkte der Dissertation

29

A. Einleitung

29

B. Schwerpunkte und Gang der Untersuchung

31

I. Eingrenzung

31

II. Zum Aufbau der Untersuchung

31

III. Methodisches Vorgehen

35

C. Die zu untersuchenden Fragen

36

I. Bedarf es überhaupt einer Beschäftigung mit den inhaltlichen Kriterien des besonderen öffentlichen Interesses an der Strafverfolgung?

36

II. Ist der herrschende methodische Ansatz geeignet, den Begriff des besonderen öffentlichen Interesses auszulegen?

36

IV. In welchem Verhältnis steht das relative Antragsdelikt zur Verfahrenseinstellung aus Opportunitätsgründen?

37

§ 2 Das relative Antragsdelikt

37

A. Die Systematik des relativen Antragsdelikts

37

B. Das "besondere öffentliche Interesse an der Strafverfolgung"

39

I. Die Entstehung der Norm

39

1. Die Vorgängerregelung

39

2. Probleme der bis zur VO geltenden gesetzlichen Normierung

40

a) Der Streit um den Begriff des "Berufsfahrers"

40

aa) Die extensive Auslegung des Begriffs "Berufsfahrer" durch das Reichsgericht

41

bb) Widerstand durch Rechtslehre und die unteren Gerichte

42

b) Hinderliches Antragserfordernis

43

c) Fazit

45

3. Die Neufassung des § 232 I StGB a. F.

45

4. Die Terminologie der relativen Antragsdelikte heute

46

II. Fazit

46

C. Relative Antragsdelikte im deutschen Strafrecht

46

2. Kapitel: Das besondere öffentliche Interesse an der Strafverfolgung in der heutigen Rechtspraxis nebst Kritik

49

§ 3 Handhabung durch Staatsanwaltschaft und Rechtsprechung

49

A. Die staatsanwaltschaftliche Erklärung über das besondere öffentliche Interesse oder das Verfolgungsinteresse

49

I. Inhaltliche Auslegung des Begriffs "besonderes öffentliches Interesse"

50

II. Form der Erklärung über das besondere öffentliche Interesse

51

1. Allgemeines

51

2. Konkludente Annahme eines besonderen öffentlichen Interesses durch Anklageerhebung wegen eines Offizialdelikts?

52

3. Maßgeblich: Das Vorstellungsbild des Staatsanwalts

53

III. Frist der Erklärung über das besondere öffentliche Interesse

54

IV. Bindung an eine einmal abgegebene Erklärung

54

V. Rechtsfolgen nachträglicher Verneinung

55

VI. Kontrolle der staatsanwaltschaftlichen Entscheidung

56

B. Handhabung durch die Rechtsprechung

57

C. Ergebnis

59

§ 4 Kritik

60

A. Die Prozessvoraussetzung

60

B. Form der Erklärung

60

C. Frist der Erklärung

61

D. Nachträgliche Verneinung des besonderen öffentlichen Interesses

62

E. Inhaltliche Auslegung des Begriffs

62

F. Gerichtliche Überprüfbarkeit

63

I. Zustimmung zur Versagung gerichtlicher Kontrolle

63

II. Anerkennung gerichtlicher Kontrolle

63

III. Umfang der gerichtlichen Kontrolle

63

1. Volle gerichtliche Kontrolle

63

2. Willkürkontrolle

66

IV. Rechtsweg

67

1. Kontrolle im Verfahren nach den §§ 23 ff. EGGVG

67

2. Durch das mit der Sache befasste Gericht

67

3. Ergebnis

68

G. Der maßgebliche Ausgangspunkt der Kritik

68

H. Fazit

68

3. Kapitel: Die Auslegung des Allgemeinen Teils de lege lata

69

§ 5 Die Charakterisierung des besonderen öffentlichen Interesses an der Strafverfolgung

69

A. Die Prozessvoraussetzung

69

I. Meinungsstand

69

1. Die Staatsanwaltschaftliche Erklärung über das Verfolgungsinteresse

69

2. Das besondere öffentliche Interesse selbst als Prozessvoraussetzung

70

II. Eigene Auffassung

70

1. Das Problem

70

2. Der Begriff der Prozessvoraussetzung

71

3. Theoretische Varianten der Prozessvoraussetzungen

71

4. Keine Abhängigkeit von der gerichtlichen Überprüfbarkeit

72

5. Zum Ansatz Vogels

72

6. Die "wirksame" Erklärung der Staatsanwaltschaft als Prozessvoraussetzung

73

a) Gegenstand der staatsanwaltschaftlichen Erklärung

73

b) Wirksamkeit der staatsanwaltschaftlichen Erklärung

74

aa) Einigkeit hinsichtlich eines formellen Aktes

74

bb) Erfordernis eines tatsächlich bestehenden besonderen öffentlichen Interesses an der Strafverfolgung?

74

(1) Einstufige oder zweistufige Struktur der Verfolgungsregelung?

75

(2) Die Funktion des besonderen öffentlichen Interesses

77

(a) Ermöglichung amtlicher Strafverfolgung

77

(b) Begrenzung der amtlichen Strafverfolgung

78

(c) Schutz vor Strafverfolgung?

80

(d) Schutz des Verletzten

81

(e) Fazit

81

(3) Die innergesetzliche Systematik des relativen Antragsdelikts

82

(4) Möglichkeit, dass ein unbestimmter Rechtsbegriff maßgeblich ist

82

cc) Ergebnis zum materiellen Gehalt

83

c) Ergebnis

83

B. Die Rechtsnatur des besonderen öffentlichen Interesses an der Strafverfolgung

84

I. Meinungsstand

84

1. Die Bejahung des besonderen öffentlichen Interesses als Ermessensentscheidung der Staatsanwaltschaft

84

2. Das besondere öffentliche Interesse als unbestimmter Rechtsbegriff

85

II. Eigene Auffassung

86

1. Prämisse: grundsätzliche Geltung der verwaltungsrechtlichen Rechtsinstitute

86

2. Das besondere öffentliche Interesse als Ermessensbegriff oder als unbestimmter Rechtsbegriff

87

a) Bedeutung der Unterscheidung

87

b) Voraussetzungen des Ermessens

88

c) Tatbestandsermessen?

89

d) Vergleich mit der besonderen Bedeutung des Falls im Rahmen des § 24 I Ziff. 3 GVG

90

III. Ergebnis

91

§ 6 Zur Frage der gerichtlichen Nachprüfbarkeit der Entscheidung der Staatsanwaltschaft, wegen des besonderen öffentlichen Interesses sei ein Einschreiten von Amts wegen geboten

91

A. Zur Unüberprüfbarkeit des besonderen öffentlichen Interesses an der Strafverfolgung

91

I. Das Problem

92

II. Zur Unüberprüfbarkeit

92

1. BGHSt 16, 225

92

2. Weitere Gründe

95

a) Der systematische Vergleich mit §§ 153, 153a StPO

95

b) Der Wille des Gesetzgebers

96

III. Ergebnis

99

B. Die gerichtliche Kontrolle des besonderen öffentlichen Interesses an der Strafverfolgung

100

I. Überblick über die gerichtliche Kontrolle unbestimmter Rechtsbegriffe im Verwaltungsrecht

100

1. Grundsatz: volle gerichtliche Kontrolle

100

2. Ausnahmen

100

a) Unbestimmte Rechtsbegriffe mit Beurteilungsspielraum

101

b) Koppelungsvorschriften

101

II. Die Verfolgungsregelung des relativen Antragsdelikts unter dem Blickwinkel verwaltungsrechtlicher Kontrollmaßstäbe

102

1. Das besondere öffentliche Interesse als unbestimmter Rechtsbegriff mit Beurteilungsspielraum

102

a) Allgemeines

102

b) Fallgruppen

103

c) Der Beurteilungsspielraum im Strafverfahren

104

aa) Anerkennung von Beurteilungsspielräumen durch die Rechtsprechung und einen Teil der Literatur

104

bb) Einwände gegen Beurteilungsspielräume im Strafverfahren

106

cc) Bewertung

106

dd) Das besondere öffentliche Interesse als unbestimmter Rechtsbegriff mit Beurteilungsspielraum?

107

(1) Zur Begründung des BGH

108

(2) Überprüfung anhand der anerkannten Fallgruppen

109

(a) Kein Automatismus zwischen unbestimmtem Rechtsbegriff und Beurteilungsspielraum

109

(b) Letztentscheidungskompetenz der Behörde

109

(c) Besonderer Beurteilungssachverstand und unwiederholbare Handlung

110

(d) Bindungswirkung der RiStBV?

110

ee) Ergebnis zum Bestehen eines Beurteilungsspielraums

112

d) Fazit zur Anerkennung von Beurteilungsspielräumen im Strafverfahren

112

2. Die Koppelungsvorschrift

113

a) Die Struktur der Koppelungsvorschrift

113

b) Die Verfolgungsregelung relativer Antragsdelikte als Koppelungsvorschrift

113

c) Konsequenz dieser Struktur im Hinblick auf die gerichtliche Überprüfbarkeit

113

d) Ergebnis

115

3. Zwischenergebnis für die Kontrolle nach verwaltungsrechtlichen Maßstäben

115

III. Strafrechtsautonome eingeschränkte Kontrollkompetenz

115

IV. Ergebnis zur gerichtlichen Kontrolle des besonderen öffentlichen Interesses

117

C. Zur gerichtlichen Kontrolle der staatsanwaltschaftlichen Entscheidung

117

I. Verfolgungspflicht oder Einräumung von Verfolgungsermessen bei einem bestehenden besonderen öffentlichen Interesse an der Strafverfolgung?

117

1. Meinungsstand

118

2. Eigene Auffassung

118

a) Wortlautauslegung

118

b) Systematische Vergleiche

119

aa) Systematischer Vergleich mit §§ 153, 153a StPO

119

bb) Systematischer Vergleich mit § 376 StPO

120

cc) Ergebnis

122

c) Offizial- und Legalitätsprinzip

122

aa) Relative Antragsdelikte und das Offizialprinzip

122

bb) Relative Antragsdelikte und das Legalitätsprinzip

123

(1) Grundsatz

123

(2) Ausnahmen vom Verfolgungszwang (Opportunitätsprinzip)

123

(3) Relative Antragsdelikte als Ausprägung des Opportunitätsprinzips?

124

(4) Zwischenergebnis

125

d) Das besondere öffentliche Interesse als bereits alle relevante Umstände umfassender Begriff

125

e) zur verfassungskonformen Auslegung

125

II. Ergebnis

126

D. Das mit der Kontrolle befasste Gericht

126

E. Die Kontrolle des besonderen öffentlichen Interesses in den einzelnen Verfahrensstadien

127

I. Das staatsanwaltschaftliche Verfahren – Das Ermittlungsverfahren

127

II. Das gerichtliche Verfahren

129

1. Das Zwischenverfahren

129

2. Das Hauptverfahren

130

3. Das Rechtsmittelverfahren

130

a) Berufung

130

b) Revision

131

III. Fazit

131

§ 7 Konsequenz für weitere Umstände des Allgemeinen Teils

132

A. Keine "Erklärung über das besondere öffentliche Interesse"

132

B. Formfragen

132

C. Frist

133

D. Die Teilbarkeit der amtsseitigen Strafverfolgung

135

§ 8 Folgen des Wegfalls der Prozessvoraussetzung

135

A. Zur Bedeutung des § 156 StPO

135

B. Freispruch oder Einstellung?

136

§ 9 Zur Reichweite des besonderen öffentlichen Interesses an der Strafverfolgung

137

A. Konstellationen

138

B. Die Reichweite des Strafantrags

138

C. Grundsätzliche Übertragbarkeit auf das besondere öffentliche Interesse

139

D. Besonderheiten hinsichtlich des besonderen öffentlichen Interesses

139

E. Ergebnis

140

§ 10 Das Verhältnis zum gestellten Strafantrag

140

A. Meinungsstand

140

B. Eigene Auffassung

141

I. Bedeutung der Frage

141

II. Stellungnahme

142

III. Ergebnis

143

4. Kapitel: Der Besondere Teil des besonderen öffentlichen Interesses

144

§ 11 Die Notwendigkeit einer begrifflichen Auslegung

144

§ 12 Darstellung der Methode der derzeitigen Auslegung des besonderen öffentlichen Interesses

145

A. Rechtsquellen der Auslegung

145

B. Ansätze zur Auslegung des besonderen öffentlichen Interesses

146

I. Definitionsversuch von H. Fischer

146

II. Das Verständnis nach H. Vogel

146

III. Der Ansatz Homanns

147

IV. Die materielle Auslegung im heutigen Schrifttum

148

V. Kritik

152

§ 13 Überprüfung der Tauglichkeit des "öffentlichen Interesses" als Auslegungsbasis für das besondere öffentliche Interesse

154

A. Exkurs: Entstehung der Frage nach dem Verhältnis der Begriffe zueinander

154

B. Ableitung eines Stufenverhältnisses

156

I. "besonderes"

156

II. Kritik

156

C. Überprüfung des Verhältnisses der Begriffe zueinander

157

I. Überprüfung anhand der Zielrichtung der jeweiligen Begriffe

157

1. Zielrichtung des besonderen öffentlichen Interesses

157

2. Zielrichtung des öffentlichen Interesses bei §§ 153, 153a StPO

158

3. Zielrichtung des öffentlichen Interesses in § 376 StPO

159

4. Ergebnis

159

II. Anhand des Bezugspunktes der jeweiligen Norm

160

1. Bezugspunkt des besonderen öffentlichen Interesses

160

2. Bezugspunkt des öffentlichen Interesses im Sinne der §§ 153, 153a StPO

160

3. Der Bezugspunkt des öffentlichen Interesses im Sinne des § 376 StPO

161

4. Ergebnis

162

III. Anhand des Anwendungsbereichs der jeweiligen Norm

162

1. Anwendungsbereich des besonderen öffentlichen Interesses

162

2. Anwendungsbereich des öffentlichen Interesses in §§ 153, 153a StPO

163

3. Anwendungsbereich des öffentlichen Interesses in § 376 StPO

163

a) die einzelnen Privatklagedelikte, die zugleich relative Antragsdelikte sind

164

b) Erste Bemerkungen

165

4. Ergebnis

166

IV. Anhand der inhaltlichen Auslegung

166

1. Das besondere öffentliche Interesse an der Strafverfolgung

166

a) Das besondere öffentliche Interesse im Rahmen des § 182 StGB

166

b) Das besondere öffentliche Interesse im Rahmen des § 183 StGB

167

c) Das besondere öffentliche Interesse im Rahmen des § 184i StGB

168

d) Das besondere öffentliche Interesse an der Strafverfolgung im Rahmen der §§ 201a I, II, 202a, 202b, 202d StGB

169

e) Das besondere öffentliche Interesse im Rahmen der §§ 223, 229 StGB

169

aa) Kriterien zur Körperverletzung allgemein

169

bb) spezielle Anwendungsfelder

171

(1) Gewalt in der Familie, insb. Kindesmissbrauch

171

(2) Das besondere öffentliche Interesse an der Strafverfolgung von Körperverletzungen im Straßenverkehr

172

(3) Das besondere öffentliche Interesse an der Strafverfolgung von Körperverletzungen im Sport

174

(4) Das besondere öffentliche Interesse an der Strafverfolgung im Arztstrafrecht

175

f) Das besondere öffentliche Interesse im Rahmen des § 235 StGB

176

g) Das besondere öffentliche Interesse im Rahmen des § 238 StGB

177

h) §§ 242, 246, 248c, 257, 259, 263, 263a, 265a, 266, 266b jeweils i. V. m. § 248a StGB

178

aa) Aspekte speziell bezüglich §§ 242, 246 i. V. m. 248a StGB

178

bb) deliktsspezifische Aspekte der auf § 248a StGB verweisenden Delikte

180

(1) § 248c StGB

180

(2) § 257 StGB

180

(3) § 259 StGB

181

(4) § 263 StGB

181

(5) 263a StGB

181

(6) § 265a StGB

181

(7) § 266 StGB

182

(8) 266b StGB

182

i) Das besondere öffentliche Interesse im Rahmen des § 299 StGB

182

aa) Nr. 242a RiStBV

182

bb) weitere Aspekte nach Auffassung der Literatur

183

j) Das besondere öffentliche Interesse bei §§ 303, 303a I, 303a II, 303b I–III StGB

184

k) Das besondere öffentliche Interesse bei den Delikten des Nebenstrafrechts

186

aa) Das besondere öffentliche Interesse im Rahmen der §§ 17, 18, 19 UWG a. F., § 23 GeschGehG

186

(1) Hinweis

186

(2) Nr. 260a RiStBV

186

(3) Auffassungen in der Literatur

187

bb) Das besondere öffentliche Interesse im Rahmen der §§ 142 IV PatentG, 25 IV GebrMG, 10 IV HalblSchG, 39 IV SortenSchG, 143 IV, 143a II i. V. m. 143 IV MarkenG, 51 IV, 65 II DesignG, 106, 107, 108 UrhG

188

(1) Nr. 261a RiStBV

188

(2) Weitere Auffassungen zu den Strafvorschriften des UrhG

189

(a) Das besondere öffentliche Interesse nach Heghmanns

189

(b) Das besondere öffentliche Interesse nach Heinrich

190

(c) Das besondere öffentliche Interesse nach Hildebrandt

191

l) Zusammenfassung

191

2. Das öffentliche Interesse in §§ 153, 153a StPO

192

a) gleiches Begriffsverständnis in §§ 153, 153a StPO

192

b) inhaltliche Auslegung

193

aa) Eigenständige Bedeutung des Merkmals "öffentliches Interesse"

193

bb) Das Verhältnis des Schuldmerkmals zum öffentlichen Interesse

193

cc) Zum Inhalt

194

(1) Die Strafzwecke als Auslegungsaspekte

195

(a) Einzelheiten zum Strafzweck der Spezialprävention

196

(b) Einzelheiten zum Strafzweck der Generalprävention

197

(2) Außerhalb der Strafzwecke liegende Umstände

199

(a) Interesse an der Herbeiführung einer gerichtlichen Entscheidung

200

(b) Das Interesse der Allgemeinheit an der Klärung der konkreten Straftat

201

(c) Die Tat erregt Aufmerksamkeit

201

(d) Die Beachtlichkeit von Verletzteninteressen

202

(3) Das öffentliche Interesse nach Ansicht der Autoren, die es nicht mit den Strafzwecken gleichsetzen bzw. das Merkmal ablehnen

203

(4) Umstände, die das öffentliche Interesse entfallen lassen können

203

c) Zusammenfassung

204

3. Das öffentliche Interesse in § 376 StPO

204

a) Begriffsidentität in §§ 153, 153a StPO und § 376 StPO?

204

b) Das öffentliche Interesse nach Maßgabe der RiStBV

205

aa) Das öffentliche Interesse nach Maßgabe der Nr. 86 RiStBV

205

bb) Das öffentliche Interesse nach Nr. 233 RiStBV

207

cc) Das öffentliche Interesse nach Nr. 260 RiStBV

208

dd) Das öffentliche Interesse nach Nr. 261 RiStBV

208

c) Allgemeine Kriterien unabhängig von den RiStBV

210

d) Das öffentliche Interesse nach Maßgabe des § 376 StPO bei Privatklagedelikten, die nicht in den RiStBV genannt werden

211

e) Fazit zu den RiStBV

211

4. Vergleichende Betrachtung

212

a) Das Verhältnis des öffentlichen Interesses im Sinne der §§ 153, 153a StPO zu dem des § 376 StPO

212

b) Das besondere öffentliche Interesse im Verhältnis zum öffentlichen Interesse nach § 153, 153a StPO

213

c) Das besondere öffentliche Interesse im Verhältnis zum öffentlichen Interesse nach § 376 StPO

215

5. Ablehnung der einen Unterschied verneinenden Auffassung

217

D. Ergebnis zur Überprüfung des herrschenden Verständnisses

218

§ 14 Eigener Lösungsvorschlag zur inhaltlichen Auslegung des besonderen öffentlichen Interesses an der Strafverfolgung

219

A. Rahmenbedingungen für die Auslegung des besonderen öffentlichen Interesses

220

I. Der Wortlaut

220

1. "öffentliches Interesse"

220

2. "besonderes"

222

3. "an der Strafverfolgung"

223

4. Ergebnis

225

II. Der eigenständige Anwendungsbereich des besonderen öffentlichen Interesses bei relativen Antragsdelikten

225

1. § 182 StGB

225

2. § 183 StGB

226

3. § 184i StGB

226

4. §§ 201, 202a, 202b, 202d StGB

226

5. § 230 StGB

226

6. § 235 StGB

227

7. § 238 StGB

227

8. § 248a StGB und die auf diese Norm verweisenden Delikte

228

a) § 248a StGB

228

b) §§ 248c II, 248a III StGB

228

c) §§ 257 IV 2, 248a StGB

228

d) §§ 259 II, 248a StGB

229

e) §§ 263 IV, 248a StGB

229

f) §§ 266 II, 248a StGB

230

g) §§ 266b II, 248a StGB

230

h) Das Merkmal der Geringwertigkeit

230

9. § 299 StGB

231

10. §§ 303, 303a, 303b StGB

232

11. §§ 17, 18, 19 UWG a. F., § 23 GeschGehG

233

12. § 142 IV PatentG, § 25 IV GebrauchsMG, \n§ 10 IV HalbleiterSchG, § 39 IV SortenSchG

233

13. §§ 51, 65 DesignG

233

14. §§ 143, 143a MarkenG

234

16. §§ 106, 107, 108, 108b UrhG

234

17. Ergebnis

234

18. Folgerungen

235

III. Die Systematik des relativen Antragsdelikts

236

1. Der Wortlaut der Norm

236

2. Das Verständnis des besonderen öffentlichen Interesses als Ausnahme

237

3. Vorrang übergeordneter Interessen gegenüber Individualinteressen im deutschen Recht

238

4. These: Das besondere öffentliche Interesse als Überwindung des Antragserfordernisses

239

IV. Schlussfolgerung

239

B. Der Strafantrag als Verständnisgrundlage für die inhaltliche Auslegung des besonderen öffentlichen Interesses an der Strafverfolgung

239

I. Vorzüge eines solchen Ansatzes

239

II. Die Kritik an der Konstruktion des relativen Antragsdelikts

241

1. Der Kritikpunkt

241

2. Bemerkungen zur Kritik

241

3. Die prozessuale Situation des aussagepflichtigen Verletzten de lege lata

241

4. Alternativen zur Ausgestaltung als relatives Antragsdelikt?

242

a) Umwandlung in ein absolutes Antragsdelikt

242

b) Zeugnisverweigerungsrecht für Verletzte

243

c) Einführung eines Widerspruchsrechts

243

aa) Bereits existierendes Widerspruchsrecht

244

bb) Sachgrund für das Widerspruchsrecht

244

cc) Möglichkeit einer Einführung eines Widerspruchsrechts

244

dd) Kritik an der Konstruktion des Widerspruchsrechts

245

ee) Konsequenz des Widerspruchsrechts

246

5. Ergebnis

247

C. Das Strafantragerfordernis

247

I. Überwiegende Akzeptanz des Strafantrags

248

II. Die Sachgründe für das Antragserfordernis

248

1. Einheitliche Zweckbestimmung

248

a) Versöhnung und Verzeihung

248

b) Rechtsfrieden

249

c) Kritik

249

d) Folgerung

251

2. Die einzelnen Sachgründe

251

a) Die Tat berührt die Allgemeinheit nicht oder nur wenig

251

b) Schutz der Familie sowie Rücksichtnahme auf Intimsphäre und Geheimhaltungsinteresse des Verletzten

252

c) Schutz des Geheimhaltungsinteresses im wirtschaftlichen Bereich sowie Filterfunktion

254

d) Fazit zu den Zwecken

255

e) Probleme

257

f) Folgerungen

258

III. Das Strafantragserfordernis als Recht des Verletzten

258

D. Die Überwindung des Strafantragserfordernisses

259

I. Historische Stütze

259

II. Folgerungen aus der Existenz absoluter Antragsdelikte

259

III. Die Auswirkungen der gesetzgeberischen Entscheidung, grundsätzlich am Strafantragserfordernis festzuhalten

260

1. Die Beachtlichkeit des Willens des Strafantragsberechtigten

260

2. Kein besonderes öffentliches Interesse anhand der §§ 77 ff. StGB

260

IV. Der Aussagegehalt des Strafantrags und des besonderen öffentlichen Interesses

261

1. Der Aussagegehalt des gestellten Strafantrags

262

2. Der Aussagegehalt des unterbliebenen Strafantrags

262

a) "Unterlassen" der Stellung eines Strafantrags

262

b) der unbeeinflusst unterlassene Strafantrag

263

c) Unterlassene Strafantragstellung infolge willensbeugender Einwirkung

263

3. Der Aussagegehalt des besonderen öffentlichen Interesses

264

4. Fazit

264

5. Folgerung

264

V. Die Auswirkungen der Tatbestandsbezogenheit des Strafantrags

265

VI. Die Überwindung der einzelnen Sachgründe des Strafantragserfordernisses

265

1. Mangelndes Interesse der Allgemeinheit an der Strafverfolgung

265

a) Die Tat verliert ihren Charakter als Bagatelle

266

b) Die Bagatelldelikte

266

c) Umstände, die eine Tat zur Bagatelle machen

266

d) Überwindung des Bagatellcharakters

268

aa) Orientierung an den strafzumessungsrelevanten Umständen

268

bb) Erfolgsunrecht

268

cc) Handlungsunrecht

270

dd) Schuld

271

ee) Die Verwirklichung besonders schwerer Fälle

272

e) Fazit

273

2. Zur Überwindung des Schutzzwecks

273

3. Wegfall der ratio des Antragserfordernisses

274

4. Fazit

275

VII. Die Begründung des besonderen öffentlichen Interesses anhand einschüchternder Einwirkung

275

VIII. Notwendigkeit der Verknüpfung der tauglichen Aspekte mit dem Willen des Verletzten

276

E. Die Ermittlung des besonderen öffentlichen Interesses an der Strafverfolgung anhand einer Abwägung

276

I. Vorzüge eines solchen Vorgehens

276

II. Ermittlung des Abwägungsmaterials

277

III. Die Gewichtung der einzelnen Aspekte innerhalb des Abwägungsmaterials

278

1. Die Gewichtung der Belange des Verletzten

278

a) Grundsatz

278

b) Spezielle Parameter für die Beurteilung

279

aa) willensbeugende Beeinflussung

279

bb) Verzeihung

280

(1) Verzeihung und Rechtsfrieden

280

(2) Rechtsfrieden und Körperverletzungen im Sport

282

2. Die Gewichtung der Belange der Strafverfolgung

283

3. Fazit

285

4. Keine Kongruenz zwischen Strafzumessungsaspekten und besonderem öffentlichen Interesse

285

5. Abwägungsbeispiele

285

a) Beispiel 1

286

b) Beispiel 2

286

c) Beispiel 3

286

d) Beispiel 4

287

6. Ergebnis

287

F. Überprüfung der Methode in Hinblick auf ihre Vereinbarkeit mit dem Gesetz

288

G. Verallgemeinerungsfähigkeit des Ansatzes

288

H. Weiterer Vorteil

288

5. Kapitel: Relatives Antragsdelikt und Verfahrenseinstellung aus Opportunitätsgründen

290

§ 15 Relatives Antragsdelikt und Einstellung des Verfahrens aus Opportunitätsgründen

290

A. Die Entscheidung des OLG Düsseldorf vom 16.10.1970 als Verbildlichung der Problemhaftigkeit

290

B. Meinungsstand zur Verfahrenseinstellung bei bestehendem besonderem öffentlichem Interesse an der Strafverfolgung

291

I. Sowohl § 153 StPO als auch § 153a StPO ist anwendbar

291

II. §§ 153, 153a StPO sind unanwendbar

291

III. § 153 StPO ist nicht anwendbar, § 153a StPO ist anwendbar

291

C. Eigene Auffassung

292

I. Der Wortlaut der Normen

292

II. Das relative Antragsdelikt im System des staatlichen Strafverfolgungsinteresses

293

III. Kriminalpolitische Betrachtung

294

IV. Verfahrenseinstellung bei Vorliegen eines Strafantrags

295

V. Entscheidung zugunsten der vermittelnden Auffassung

295

1. Rechtfertigung

295

2. Grundsätzliche Anwendbarkeit und Einzelfallentscheidung

295

VI. Ergebnis

296

6. Kapitel: Zusammenfassung und Ausblick

297

§ 16 Zusammenfassung der wesentlichen Ergebnisse

297

A. Zusammenfassung des allgemeinen Teils

297

B. Zusammenfassung des Besonderen Teils

299

§ 17 Ausblick

300

§ 18 Die Ausgestaltung de lege ferenda – Festlegung auf das tatsächliche Bestehen eines besonderen öffentlichen Interesses

301

Literaturverzeichnis

303

Stichwortverzeichnis

317