Company law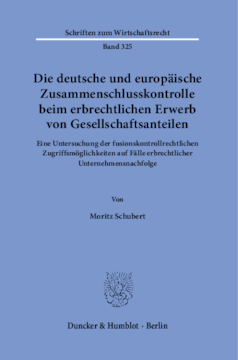 BOOK
Die deutsche und europäische Zusammenschlusskontrolle beim erbrechtlichen Erwerb von Gesellschaftsanteilen
Eine Untersuchung der fusionskontrollrechtlichen Zugriffsmöglichkeiten auf Fälle erbrechtlicher Unternehmensnachfolge
Schriften zum Wirtschaftsrecht, Vol. 325
(2021)
Additional Information
Book Details
ISBN

978-3-428-58240-2
978-3-428-18240-4 (print edition)

DOI

https://doi.org/10.3790/978-3-428-58240-2

Edition

1

Language

German

Pages

235

Collections

Subjects
Pricing
Institution

€ 80.00 (incl. local VAT if applicable)

Individual

€ 62.90 (incl. local VAT if applicable)
About The Author
Moritz B. Schubert studierte Rechtswissenschaften an der Universität Passau mit Schwerpunkt im Gesellschafts- und Kartellrecht. Im Frühjahr 2018 legte er sein erstes Staatsexamen ab und begann seine Promotion an der Universität Regensburg, welche von der Friedrich-Naumann-Stiftung für die Freiheit mit einem Promotionsstipendium gefördert wurde. Während dieser Zeit arbeite Moritz B. Schubert bei mehreren internationalen Kanzleien. Seit 2020 befindet er sich im juristischen Vorbereitungsdienst am Hanseatischen Oberlandesgericht in Hamburg.
Moritz B. Schubert studied law at the University of Passau with a focus on corporate and antitrust law. In early 2018, he passed his first state examination and began his doctoral studies at the University of Regensburg, which were supported by a doctoral scholarship from the Friedrich Naumann Foundation for Freedom. During this time, Moritz B. Schubert worked for several international law firms. Since 2020 he is in legal traineeship at the Hanseatic Higher Regional Court in Hamburg.
Abstract
Insbesondere bei Familienunternehmen nimmt die Unternehmensnachfolge eine zentrale Rolle der unternehmerischen Planungen ein. Bisher ungeklärt war dabei, ob die erbrechtliche Unternehmensnachfolge der kartellrechtlichen Zusammenschlusskontrolle unterfällt und wie diese in solchen Fällen anzuwenden ist. Die vorliegende Arbeit zeigt auf, dass die erbrechtliche Unternehmensnachfolge in den Anwendungsbereich der kartellrechtlichen Zusammenschlusskontrolle fällt, wenn der dadurch bewirkte Zusammenschluss die jeweiligen Aufgreifkriterien erfüllt. Auf viele Formen der erbrechtlichen Unternehmensnachfolge ist dabei das bestehende System der präventiven Zusammenschlusskontrolle unverändert anwendbar. Jedoch gibt es Konstellationen, wie insbesondere die Alleinerbschaft oder die Erbschaft von Personengesellschaftsanteilen bei mehreren Erben, in denen das bestehende System an seine Grenzen gerät. Für diese Fälle entwickelt die Arbeit individuelle Lösungsansätze auf Grundlage des bestehenden Rechts. »German and European Merger Control in the Acquisition of Company Shares under Inheritance Law«

This dissertation examines the hitherto unresolved question of the applicability of antitrust merger control to succession under inheritance law. In this respect, it shows that succession under inheritance law is in principle subject to merger control and clarifies how the preventive merger control procedure is to be applied. In those constellations in which these principles are not compatible with each other, the dissertation presents possible solutions.
Table of Contents
Section Title
Page
Action
Price

Vorwort

7

Inhaltsübersicht

9

Inhaltsverzeichnis

11

A. Einleitung

19

I. Problemaufriss und Relevanz

19

II. Gang der Untersuchung

22

B. Voraussetzungen und Ablauf der erbrechtlichen Nachfolge in Gesellschaftsanteile

24

I. Erbschaft

24

1. Alleinerbschaft

25

a) Gesellschaft mit beschränkter Haftung (GmbH)/Unternehmergesellschaft (UG)

25

b) Aktiengesellschaft (AG)

26

c) Gesellschaft bürgerlichen Rechts (GbR)

27

aa) Einfache Nachfolgeklausel

27

bb) Qualifizierte Nachfolgeklausel

28

cc) Eintrittsklausel

28

d) Offene Handelsgesellschaft (OHG)/Kommanditgesellschaft (KG)/Kommanditgesellschaft auf Aktien (KGaA)

29

2. Mehrheit von Erben

29

a) Anteile an Kapitalgesellschaften

30

b) Anteile an Personengesellschaften

33

3. Zusammenfassung

34

II. Vermächtnis

34

1. Verschiedene Ausgestaltungen des Vermächtnisses

35

a) Stückvermächtnis

35

b) Verschaffungsvermächtnis

36

c) Wahlvermächtnis

36

d) Gattungsvermächtnis

37

2. Ablauf und gesellschaftsrechtliche Voraussetzungen des Vermächtnisses von Gesellschaftsanteilen

37

a) Gesellschaft mit beschränkter Haftung (GmbH)

37

b) Aktiengesellschaft (AG)

38

c) Gesellschaft bürgerlichen Rechts (GbR)

39

aa) Einfache Nachfolgeklausel

39

bb) Qualifizierte Nachfolgeklausel

39

cc) Eintrittsklausel

39

dd) Erfüllung des Vermächtnisses

40

d) Offene Handelsgesellschaft (OHG)/Kommanditgesellschaft (KG)/KGaA

40

e) Zusammenfassung

41

C. Aufgreifkriterien nach dem GWB

42

I. Zusammenschluss im Sinne von § 37 Abs. 1 GWB

42

1. Unternehmenseigenschaft des Erwerbers und der Zielgesellschaft

42

2. Dauerhaftigkeit des Zusammenschlusses

44

3. Tatbestände des § 37 Abs. 1 GWB

45

a) Anteilserwerb (§ 37 Abs. 1 Nr. 3 GWB)

45

b) Kontrollerwerb (§ 37 Abs. 1 Nr. 2 GWB)

46

c) Vermögenserwerb (§ 37 Abs. 1 Nr. 1 GWB)

48

d) Wettbewerblich erheblicher Einfluss (§ 37 Abs. 1 Nr. 4 GWB)

48

II. Umsatzschwellen § 35 GWB

48

III. Zusammenfassung

49

D. Fusionskontrollverfahren

50

I. Anmeldepflicht/-fähigkeit

50

1. Anmeldepflicht oder Anmeldeobliegenheit

50

2. Kriterien für Anmeldefähigkeit

52

a) Objektive Konkretheit ("Wie")

53

aa) Beteiligte Unternehmen

53

bb) Form des Zusammenschlusses

54

cc) Ergebnis

54

b) Subjektive Konkretheit ("Ob")

56

c) Vollzug im Prognosezeitraum ("Wann")

59

3. Anmeldefähigkeit der erbrechtlichen Zusammenschlüsse

61

a) Errichtung des Testaments/Abschluss des Erbvertrags

61

aa) Objektives Kriterium

62

(1) Beteiligte Unternehmen und Form des Zusammenschlusses

62

(2) Höhe der Beteiligung

62

(3) Veränderungen nach Anmeldung

64

(4) Zwischenergebnis

65

bb) Subjektives Kriterium

65

(1) Alleinerbe an Kapital- und Personengesellschaftsanteilen/Mehrheit von Erben an Personengesellschaftsanteilen

65

(2) Mehrheit von Erben an Kapitalgesellschaftsanteil

66

(3) Zwischenergebnis

67

cc) Vollzug im Prognosezeitraum

67

dd) Zwischenergebnis

71

ee) Endergebnis

71

b) Anfall der Erbschaft bei Alleinerbschaft/Mehrheit von Erben an Personengesellschaftsanteilen

72

aa) Vor dem Vollzug?

72

(1) Vollzugsbegriff

72

(2) Dauerhaftigkeit des Vollzugs

73

(3) Ausnahme vom Vollzugsbegriff

73

(4) Übertragung der Ausnahme?

74

bb) Ergebnis

76

c) Bei Erbengemeinschaft: Auseinandersetzung

76

aa) Vor dem Vollzug? (Erwerb der Erbengemeinschaft)

77

(1) Unternehmenseigenschaft der Erbengemeinschaft

77

(2) Erwerb mittelbarer Kontrolle eines oder mehrerer Erben (§ 37 Abs. 1 Nr. 2 GWB)

79

(a) AG als Zielgesellschaft

80

(b) GmbH als Zielgesellschaft

81

(3) Dauerhaftigkeit des Kontrollerwerbs

82

(4) Testamentsvollstreckung

84

(5) Ergebnis

85

bb) Verlangen nach Auseinandersetzung

86

(1) Vor dem Vollzug? (Auseinandersetzungsverlangen)

87

(2) Objektive Konkretheit

87

(3) Subjektive Konkretheit

89

(4) Ergebnis

89

cc) Abschluss eines Auseinandersetzungsvertrags

90

(1) Vor dem Vollzug? (Abschluss des Auseinandersetzungsvertrags)

90

(2) Objektive Konkretheit

91

(3) Subjektive Konkretheit

92

(4) Vollzug im Prognosezeitraum

93

(5) Ergebnis

94

dd) Gesetzliche Auseinandersetzung/Teilungsanordnung

94

(1) Vor dem Vollzug? (gesetzliche Auseinandersetzung; Teilungsanordnung)

96

(2) Objektive Konkretheit

97

(3) Subjektive Konkretheit

98

(4) Vollzug im Prognosezeitraum

101

(5) Ergebnis

102

ee) Auseinandersetzungsplan/Testamentsvollstreckung

102

(1) Vor dem Vollzug? (Aufstellung des Auseinandersetzungsplans)

104

(2) Objektive Konkretheit

105

(3) Subjektive Konkretheit

106

(4) Vollzug im Prognosezeitraum

109

(5) Ergebnis

109

d) Bei Erbengemeinschaft: Bestellung zum gemeinsamen Vertreter der Erbengemeinschaft

110

aa) Vor dem Vollzug?

112

bb) Objektive Konkretheit

112

cc) Subjektive Konkretheit

113

(1) Vor der Beschlussfassung

113

(2) Nach der Beschlussfassung

113

dd) Vollzug im Prognosezeitraum

114

ee) Ergebnis

114

e) Bei Vermächtnis: Entstehen des Vermächtnisanspruchs

115

aa) Vor dem Vollzug?

115

bb) Objektive Konkretheit

115

(1) Stückvermächtnis

115

(2) Verschaffungsvermächtnis

116

(3) Wahlvermächtnis

117

(4) Gattungsvermächtnis

117

(5) Zwischenergebnis

118

cc) Subjektives Kriterium

118

(1) Stückvermächtnis

118

(2) Verschaffungsvermächtnis

120

(3) Wahlvermächtnis

120

(4) Gattungsvermächtnis

121

(5) Zwischenergebnis

122

dd) Vollzug im Prognosezeitraum

123

ee) Ergebnis

123

4. Ergebnis zur Anmeldefähigkeit der erbrechtlichen Zusammenschlüsse

124

II. Anmeldeberechtigte/-verpflichtete

124

1. Beteiligte Unternehmen (§ 39 Abs. 2 Nr. 1 GWB)

125

2. Veräußerer (§ 39 Abs. 2 Nr. 2 GWB)

125

3. Ergebnis

126

III. Vollzugsverbot/Untersagungsentscheidung

126

1. Auswirkung des Vollzugsverbots bzw. einer Untersagungsentscheidung und Handlungsmöglichkeiten

127

a) Beschwerde, Ministererlaubnis, erneute Anmeldung

128

b) Auswirkungen auf den Auseinandersetzungsvertrag

129

aa) Handlungsmöglichkeiten vor dem Vertragsschluss

130

(1) Veränderung des Auseinandersetzungsvertrags

130

(2) Ausschlagung der Erbschaft

130

bb) Handlungsmöglichkeiten bei aufschiebend bedingtem Vertragsschluss

131

cc) Handlungsmöglichkeiten nach dem Vertragsschluss

131

(1) Verkauf des Anspruchs

133

(2) Erbteilsverkauf

137

(3) Aufhebungsvertrag, Erlassvertrag

138

(4) Wegfall der Geschäftsgrundlage

138

(5) Anfechtung nach § 119 Abs. 2 BGB

138

(6) Schadensersatzansprüche

139

(7) Entfallen der Gegenleistungspflicht; Rücktritt

139

c) Auswirkungen auf die gesetzliche Auseinandersetzung

140

d) Auswirkungen auf die Teilungsanordnung

142

e) Auswirkungen auf den Auseinandersetzungsplan des Testamentsvollstreckers

142

aa) Bei Vorliegen einer Teilungsanordnung

143

(1) Unwirksamkeit der Teilungsanordnung?

143

(2) § 2216 Abs. 2 S. 2 BGB analog?

143

(3) Ergebnis

144

bb) Ohne Teilungsanordnung

144

f) Auswirkungen auf die Bestellung zum gemeinsamen Vertreter

145

g) Auswirkungen auf das Vermächtnis

146

aa) Untersagung vor Annahme des Vermächtnisses

147

bb) Handlungsmöglichkeiten bei Untersagung nach Annahme des Vermächtnisses

147

(1) Verkauf und Abtretung des Vermächtnisanspruchs

148

(2) Testamentsauslegung

148

(3) Schadensersatzanspruch

149

cc) Annahme des Vermächtnisses nach Untersagung

149

dd) Wahlvermächtnis/Gattungsvermächtnis

149

ee) Verschaffungsvermächtnis

150

ff) Zwischenergebnis

150

2. Wirkung der Freigabe auf die Erbschaft/das Vermächtnis

151

3. Fälle, in denen Anmeldung vor dem Vollzug unmöglich ist

151

a) Wortlaut

152

b) Systematik

153

c) Entstehungsgeschichte

155

d) Telos

157

e) Ergebnis

158

IV. Pflicht zur Vollzugsanzeige

159

V. Endergebnis

160

E. Bewertung nach europäischer Fusionskontrollverordnung

162

I. Zusammenschlusstatbestand

162

1. Fusion

162

2. Kontrollerwerb

163

3. Folgerung für den erbrechtlichen Erwerb von Gesellschaftsanteilen

165

II. Anmeldepflicht

166

1. Anmeldefähigkeit

166

2. Exkurs: Anmeldepflicht oder Anmeldeobliegenheit

167

3. Anmeldung von Zusammenschlüssen, die nicht auf einem Vertragsschluss oder ein Übernahmeangebot zurückzuführen sind

168

a) Anwendung von Art. 4 Abs. 1 UAbs. 2 FKVO?

168

b) Auslegung des Erwerbs einer die Kontrolle begründenden Beteiligung (Art. 4 Abs. 1 UAbs. 1 Alt. 3 FKVO)

169

III. Anmeldefähigkeit der erbrechtlichen Zusammenschlüsse

171

1. Errichtung des Testaments/Abschluss des Erbvertrags

171

a) Testament

172

b) Erbvertrag

172

2. Anfall der Erbschaft

174

3. Bei der Erbengemeinschaft: Auseinandersetzung

175

a) Verlangen nach Auseinandersetzung

175

b) Abschluss eines Auseinandersetzungsvertrags

175

c) Gesetzliche Auseinandersetzung/Teilungsanordnung

176

d) Auseinandersetzungsplan

176

4. Bei der Erbengemeinschaft: Bevollmächtigung zum gemeinsamen Vertreter der Erbengemeinschaft

177

5. Beim Vermächtnis: Entstehen des Vermächtnisanspruchs

179

IV. Vollzugsverbot

180

1. Anwendbarkeit auf erbrechtliche Konstellationen, in denen eine Anmeldung vor dem Vollzug möglich ist

180

2. Anwendbarkeit auf erbrechtliche Konstellationen, in denen Anmeldung vor dem Vollzug nicht möglich ist

181

3. Folgen des Vollzugsverbots und einer Untersagungsentscheidung für Erbschaft und Vermächtnis

181

V. Ergebnis

182

F. Lösungsmöglichkeiten für die Fälle, in denen eine Anmeldung vor dem Vollzug unmöglich ist

184

I. Deutsches Recht

184

1. Analoge Anwendung von § 41 Abs. 1a GWB

184

2. Entflechtungsverfahren

187

a) Anwendbarkeit des Entflechtungsverfahrens (§ 41 Abs. 3 GWB)

187

aa) Wortlaut

188

bb) Systematik

188

cc) Telos

190

dd) Historie

191

ee) Ergebnis

191

b) Gebotene Modifikation des Entflechtungsverfahrens

192

aa) Verfahrensfristen

192

bb) Einstellung des Entflechtungsverfahrens

194

cc) Auflagen und Bedingungen

196

dd) Stimmrechtsausübungsverbot

197

c) Inhalt der Entflechtungsverfügung

199

3. Nachträgliche Anmeldung

201

II. Europäisches Recht

204

1. Analoge Anwendung von Art. 7 Abs. 2 FKVO

204

2. Nachträgliche Anmeldung/Vorheriges Untersagungsverfahren

205

a) Einleitung des Verfahrens

205

b) Fristbindung des Freigabe- bzw. Untersagungsverfahrens

206

c) Einstweilige Anordnungen

207

d) Ergebnis

208

3. Entflechtungsverfahren

208

a) Anwendbarkeit des Entflechtungsverfahrens (Art. 8 Abs. 4 FKVO)

208

b) Inhalt der Entflechtungsverfügung

209

c) Verfahrensfristen

211

G. Endergebnis in Thesen

213

Literaturverzeichnis

216

Stichwortverzeichnis

231