Legal systems: civil procedure, litigation & dispute resolution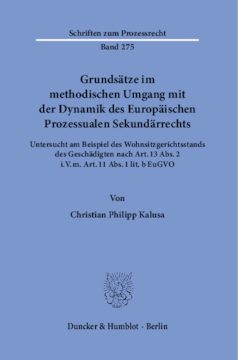 BOOK
Grundsätze im methodischen Umgang mit der Dynamik des Europäischen Prozessualen Sekundärrechts
Untersucht am Beispiel des Wohnsitzgerichtsstands des Geschädigten nach Art. 13 Abs. 2 i.V.m. Art. 11 Abs. 1 lit. b EuGVO
Schriften zum Prozessrecht, Vol. 275
(2021)
Additional Information
Book Details
ISBN

978-3-428-58194-8
978-3-428-18194-0 (print edition)

DOI

https://doi.org/10.3790/978-3-428-58194-8

Edition

1

Language

German

Pages

209

Collections

Subjects
Pricing
Institution

€ 80.00 (incl. local VAT if applicable)

Individual

€ 62.90 (incl. local VAT if applicable)
About The Author
Christian Kalusa studierte Rechtswissenschaften an der Universität Regensburg und wurde im Jahr 2011 zur Anwaltschaft in Deutschland zugelassen. Er ist auf den Bereich Venture Capital / M&A spezialisiert. Christian Kalusa ist bei der internationalen Rechtsanwaltskanzlei BEITEN BURKHARDT als Partner tätig.
Christian Kalusa studied law at the University of Regensburg and was admitted to the German bar in 2011. He specializes in the field of venture capital / M&A. Christian Kalusa is a partner at the international law firm BEITEN BURKHARDT.
Abstract
Durch die fortschreitende wirtschaftliche und politische Integration der Mitgliedstaaten befindet sich die Rechtsordnung der Europäischen Union im fortschreitenden Wandel. Insbesondere mit Blick auf das Europäische Sekundärrecht führt dieser Wandel zu einer stetigen Evolution des Rechts. Für den Rechtsanwender stellt sich daher die Frage, wie mit dem Wandel im systematischen Umfeld des bestehenden Unionsrechts methodisch umzugehen ist. Im Kern der Diskussion der Arbeit steht dabei die grundsätzliche Frage, ob das im Rahmen der fortschreitenden Evolution des Sekundärrechts neu erlassene oder abgeänderte Recht auch bei der Anwendung und Auslegung des bereits bestehenden, unverändert gebliebenen Sekundärrechts zu beachten ist. Diese bei der Anwendung des Sekundärrechts zu beachtende methodische Besonderheit, die auch als ›Evolutive Auslegung‹ des Rechts bezeichnet wird, wird anhand eines Beispiels, dem Wohnsitzgerichtsstand des Geschädigten nach Art. 13 Abs. 2 i.V.m. Art. 11 Abs. 1 lit. b EuGVO untersucht. »Principles in the Methodical Handling of the Dynamics of European Procedural Secondary Law«

Due to the progressive economic and political integration of the Member States, the le-gal order of the European Union is in a state of ongoing change. Especially with regard to European Secondary Law, this change leads to a constant evolution of the law. For the legal professional, the question therefore arises how to methodically deal with the change in the systematic environment of the existing European Union law. At the core of the discussion in this thesis is the fundamental question of whether the law that has been newly enacted or amended in the course of the progressive evolution of Second-ary Law must also be taken into account in the application and interpretation of existing Secondary Law that has remained unchanged. This methodological peculiarity to be observed in the application of Secondary Law, which can also be referred to as the evolutionary interpretation of the law, will be explained on the basis of an example, the domicile jurisdiction of the injured party according to Art. 13 para. 2 in conjunction with Art. 11 para. 1 lit. b of the Brussels Ia Regulation.
Table of Contents
Section Title
Page
Action
Price

Vorwort

7

Inhaltsverzeichnis

9

Teil 1: Einführung in das Thema

15

§ 1 Eigenständigkeit des Unionsrechts

15

§ 2 Problemaufriss

17

§ 3 Gang der Untersuchung

18

I. Die internationale Zuständigkeit für Direktklagen des Geschädigten nach der EuGVO

19

1. Sachverhalt der Rechtssache FBTO Schadeverzekeringen

19

2. Ergebnis: Eigener Wohnsitzgerichtsstand des Geschädigten

19

3. Entwicklung des heute herrschenden Auslegungsergebnisses

20

a) Internationale Zuständigkeit für Versicherungssachen nach Art. 11ff. EuGVO

20

b) Bislang herrschende Meinung und Entscheidung des Amtsgerichts Aachen

21

c) Wandel des Auslegungsergebnisses

23

d) Methodische Besonderheiten bei der Begründung des Ergebnisses

23

§ 4 Aufbau der Arbeit

27

Teil 2: Die Dynamik des Europäischen Sekundärrechts

28

§ 1 Dynamik als Grundprinzip der Europäischen Rechtsordnung

28

§ 2 Dynamische Entwicklung des Europäischen Zivilprozessrechts

32

I. Historischer Hintergrund

33

1. Der Vertrag von Amsterdam

34

2. Der Beschluss von Tampere

35

II. Nachfolgende Entwicklungen

37

§ 3 Exkurs: Der "Spillover-Effekt"

38

§ 4 Innere Ordnung des Europäischen Sekundärrechts

40

I. Relationsnormen des Unionsrechts

40

1. Die lex superior-Regel

41

2. Die lex posterior-Regel

41

3. Die lex specialis-Regel

42

4. Verhältnis der Relationsnormen untereinander

43

5. Zusammenfassung

43

II. Systemischer Zusammenhang der Unionsrechtsordnung

44

1. Vertikale Verknüpfung

45

2. Horizontale Verknüpfung

45

a) Verhältnis von neu geschaffenem zu bestehendem Unionsrecht

46

b) Verhältnis von bestehendem zu neu geschaffenem Unionsrecht

47

§ 5 Zusammenfassung

50

Teil 3: Die Methodik des Europäischen Sekundärrechts

52

§ 1 Einführung in die Methodik des Unionsrechts

53

I. Begriffsbestimmung

53

1. "Methode", "Methodenlehre" und "Methodik"

53

2. "Anwendung" und "Auslegung" des Rechts

53

II. Grundlagen der Methodenlehre

54

1. Notwendigkeit eines methodischen Vorgehens

54

a) Notwendigkeit einer Methodik im deutschen Recht

54

b) Notwendigkeit einer Methodik im Unionsrecht

56

2. Funktionen der Methodik

57

a) Allgemeine Funktionen der Methodik

57

b) Besondere Funktion der Methodik im Unionsrecht

58

aa) Einheitliche Rechtsanwendung durch den EuGH

59

bb) Einheitliche Rechtsanwendung durch die Methodik des Unionsrechts

60

II. Zusammenfassung

62

§ 2 Die Rechtsprechung des EuGH als Rechtsquelle des Unionsrechts

62

I. Bindungswirkung von EuGH-Entscheidungen

63

1. Vertikale Bindungswirkung von EuGH Entscheidungen

64

2. Horizontale Bindungswirkung von EuGH Entscheidungen

66

II. Bindungsgehalt der Entscheidungen des EuGH

69

III. Zusammenfassung

70

§ 3 Die Auslegung des europäischen Sekundärrechts

71

I. Die autonome Auslegung

72

II. Ziel der Auslegung

74

1. Subjektive Theorie

77

2. Objektive Theorie

78

3. Vereinigungslehre

78

4. Verhältnis von subjektiven und objektiven Elementen der Vereinigungslehre

81

III. Modifizierter Auslegungskanon

82

1. Grammatische Auslegung

83

a) Besonderheiten der grammatischen Auslegung auf Unionsebene

83

aa) Mehrsprachenauthentizität

83

bb) Grundsatz der Relativität der Rechtsbegriffe

86

b) Auswirkungen der Dynamik des Sekundärrechts

87

2. Systematische Auslegung

88

a) Besonderheiten auf Unionsebene

88

b) Auswirkungen der Dynamik des Sekundärrechts

90

3. Historische Auslegung

91

a) Besonderheiten auf Unionsebene

92

b) Auswirkungen der Dynamik des Sekundärrechts

93

4. Teleologische Auslegung

95

a) Besonderheiten auf Unionsebene

96

aa) Motor der Integration

96

bb) Effet Utile

97

b) Auswirkungen der Dynamik des Sekundärrechts

98

aa) Subjektiv-teleologische Auslegung

98

bb) Objektiv-teleologische Auslegung

99

5. Rechtsvergleichende Auslegung

99

IV. Zusammenfassung

100

Teil 4: Der eigene Wohnsitzgerichtsstand des Geschädigten

102

§ 1 Zeitliche Entwicklung

102

I. Entwicklung des Gerichtsstands des Geschädigten

102

1. Entwicklungen im systematischen Umfeld von Art. 11 Abs. 2 EuGVO

102

2. Bipolarität des Gerichtsstands

104

a) Vom EuGVÜ zur EuGVO

104

b) Zeitstrahl der Entwicklungen

106

II. Gang der Untersuchung

106

§ 2 Verkehrsopferschutz und Zuständigkeiten der angerufenen Gerichte

107

I. Das System des europäischen Verkehrsopferschutzes

107

1. Die außergerichtliche Schadensregulierung

109

2. Die Direktklage gegen den Versicherer

111

II. Zuständigkeiten für Versicherungssachen

112

1. Die Art. 10ff. EuGVO (Art. 8ff. EuGVO a.F.)

113

a) Ein Abschnitt basierend auf sozialpolitischen Erwägungen

115

b) Der systemfremde Art. 13 Abs. 2 EuGVO (Art. 11 Abs. 2 EuGVO a.F.)

116

c) Rechtsvergleich

117

aa) Schutz der Vertragspartei des Versicherers in der deutschen Rechtsordnung

117

bb) Schutz des Geschädigten in der deutschen Rechtsordnung

119

cc) Gegenüberstellung des Schutzes in der deutschen und europäischen Rechtsordnung

120

2. Exkurs: Die Rom II-VO

122

§ 3 Der Meinungsstreit in Literatur und Rechtsprechung

125

I. Die sich gegenüberstehenden Auslegungsergebnisse

126

1. Ehemals herrschende Meinung

127

2. Heute herrschende Meinung

129

3. Mindermeinung

130

II. Der gemeinsame Ausgangspunkt im EuGVÜ

130

1. Der Bericht von P. Jenard

131

2. Mindermeinung zur Zeit des EuGVÜ

133

3. Verhältnis von EuGVÜ zu EuGVO

134

4. Zwischenergebnis

136

III. Argumentation der sich gegenüberstehenden Meinungen

136

1. Die Mindermeinung

137

2. Die ehemals herrschende Meinung

139

a) Grammatische Auslegung

140

b) Systematische Auslegung

141

c) Historische Auslegung

143

d) Teleologische Auslegung

145

e) Zwischenergebnis

147

3. Die heute herrschende Meinung

148

a) Grammatische Auslegung

148

b) Systematische Auslegung

149

c) Historische Auslegung

152

d) Teleologische Auslegung

152

e) Erwägungsgrund 16a

156

f) Zwischenergebnis

157

4. Bewertung des Meinungsstreits

158

IV. Probleme und Vorteile der sich gegenüberstehenden Meinungen

159

1. Die ehemals herrschende Meinung

159

2. Die heute herrschende Meinung

160

V. Die Rechtssache FBTO Schadeverzekeringen

161

1. Der Instanzenzug in der Rechtssache FBTO Schadeverzekeringen

162

a) Erste Instanz: AG Aachen vom 27.04.2005 (Az.: 8 C 545/04)

162

b) Zweite Instanz: OLG Köln, 12.09.2005 (Az.: 16 U 36/05)

162

aa) Begründung

163

bb) Methodisches Vorgehen

165

cc) Reaktionen der Rechtsprechung

166

(1) LG Hamburg, 28.04.2006

166

(2) OLG Wien, 28.07.2006

167

(3) OLG Brandenburg, 13.09.2006

168

dd) Zwischenergebnis

169

c) Dritte Instanz: BGH, 26.09.2006

170

aa) Begründung

170

(1) Darstellung der ehemals herrschenden Meinung

170

(2) Erkenntnisweg des BGH

171

bb) Methodisches Vorgehen

172

cc) Zwischenergebnis

173

3. Entscheidung des EuGH, 13.12.2007

174

a) Argumentation in den eingereichten Erklärungen

174

b) Begründung des EuGH

175

c) Methodisches Vorgehen

178

d) Zwischenergebnis

178

4. Bewertung der dargestellten Entscheidungen

179

Teil 5: Grundsätze der dynamischen Auslegung des Sekundärrechts

182

§ 1 Ein Recht im Werden

182

§ 2 Abgrenzung von der dynamischen Auslegung des Primärrechts

183

§ 3 Methodischer Umgang mit der Dynamik

185

I. Probleme der dynamischen Auslegung

185

1. Ziel der Auslegung

186

2. Kriterien einer dynamischen Auslegung

189

a) Auslegungskorridor des historischen Gesetzgebers

190

b) Der Einfluss des aktuelleren Willen des Gesetzgebers

191

II. Ergebnis

192

Schlussbetrachtung

193

Abbildungsverzeichnis

194

Literaturverzeichnis

195

Sachwortverzeichnis

207