History of ideas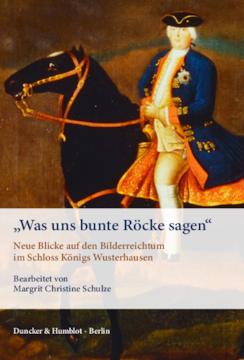 BOOK
»Was uns bunte Röcke sagen«
Neue Blicke auf den Bilderreichtum im Schloss Königs Wusterhausen
(2021)
Additional Information
Book Details
ISBN

978-3-428-58285-3
978-3-428-18285-5 (print edition)

DOI

https://doi.org/10.3790/978-3-428-58285-3

Edition

1

Language

German

Pages

213

Collections

Subjects
Pricing
Institution

€ 30.00 (incl. local VAT if applicable)

Individual

€ 22.90 (incl. local VAT if applicable)
About The Author
Margrit Christine Schulze, Kunsthistorikerin, seit 2011 Schlossbereichsleiterin für Schloss Königs Wusterhausen, Stiftung preußische Schlösser und Gärten Berlin-Brandenburg.
Abstract
Von allen Geschichten, die das Schloss Königs Wusterhausen vom historisch gewordenen Preußen und einem seiner seltsamsten Könige erzählt, sind die Bildergeschichten am besten zu begreifen. Sie berichten von jenen Jahren, in denen Friedrich Wilhelm I. (1688 – 1740) aus seiner maroden Monarchie durch einen Stück für Stück durchdachten und rigoros umgesetzten Modernisierungsprozess das Preußen des 18. Jahrhunderts formte, das Land und den Begriff. Die auf den Gemälden – auch von des Königs eigener Hand – dargestellten Personen und Szenen können durch heutige Betrachtungen wieder zum Leben erweckt werden. An diesem Punkt eröffnen sich Chancen, den Bilderreichtum in KW aus neuen Perspektiven zu beleuchten. Kostümkundlich und militärgeschichtlich geschulte Blicke auf die »bunten Röcke« erschließen Aspekte, die deren rein materielle Wahrnehmung bereichern. Detailanalysen der gemalten Oberflächen spüren hintergründig verschlüsselte Bildbotschaften auf, mit denen sich das Verständnis für die einst gemalten Intentionen steigern lässt. »What Colorful Coats tell us. A new Look at the Wealth of Images in Schloss Königs Wusterhausen«

Of all the stories that Schloss Königs Wusterhausen tells of Prussia and Friedrich Wilhelm I. (1688 - 1740), the picture stories are the best to understand. The paintings shown in the castle - many by the king's own hand - show people and scenes that are brought back to life through contemporary observations. Costume lore and military history glimpses of the »colorful coats« reveal aspects that enrich their purely material perception. A detailed analysis of the painted surfaces traces messages encrypted picture messages that can help to increase our understanding of the intentions that were once painted.
Table of Contents
Section Title
Page
Action
Price

Geschichte in Bildern – Bildergeschichten

5

Inhalt

7

Einleitung

9

1. Ein Schloss und sein Schmuck

9

2. In tormentis pinxit?

14

3. Bilderreiches Königs Wusterhausen

22

Bilder

27

1. Kur-, Kron- und andere Prinzen

27

2. Hochgestellte Damen

35

3. Repräsentanten der Regimentskultur

40

4. Idealisierte Lebenswelten

46

5. "FW Pinxit"

51

Bildbeschreibungen

57

1. Kur-, Kron- und andere Prinzen

57

1.1. Kur- oder Kronprinz? Friedrich Wilhelm [I.] in jungen Jahren, o. D. [ca. 1695 oder 1701]

57

1.2. Trommelbuben: Prinz Ludwig Karl und Prinz August Wilhelm, o. D. [ca. 1719, ca. 1727]

59

1.3. Kronprinz Friedrich [II.] in Gardemonturen, o. D. [ca. 1719/20, ca. 1721]

61

1.4. Treue Husaren: Prinz Heinrich und Prinz Ferdinand, o. D. [ca. 1732, ca. 1735

63

1.5. Brüderliche Eintracht – knisternde Uniformen, 1737

66

2. Hochgestellte Damen

68

2.1. Königin Sophie Dorothea in Preußen, 1728

68

2.2. Prinzessin Wilhelmine von Preußen als Kind, o. D. [ca. 1715]

72

2.3. Hofdame Dorothea Luise von Wittenhorst zu Sonsfeld, o. D. [ca. 1711]

75

2.4. Prinzessin Luise Ulrike von Preußen, o. D. [ca. 1740/vor 1744]

78

2.5. Erbprinzessin Philippine Charlotte von Braunschweig-Wolfenbüttel, o. D. [ca. 1734?]

81

3. Repräsentanten der Regimentskultur

85

3.1. Identität und Tradition im Spiegel der Offizierporträtgalerie des Regiments zu Fuß Kronprinz [Inf. Nr. 6], o. D. [ca. 1706/07 und 1708/12]

85

3.2. Feldprediger Simon Christoph Bolius, o. D. [1706]. Das Leitbild vom frommen Christen und tüchtigen Soldaten

91

3.3. Mehr als ein Konterfei: Das Offizierporträt des Oberst Christoph Wilhelm von Kalckstein [Inf. Nr. 1], o. D. [ca. 1718]

94

3.4. Bilder, "die es in sich haben". Die Großgrenadiere des Königsregiments \r[Inf. Nr. 6], o. D. [ca. 1723/26]

96

3.5. Der König zu Pferd, o. D. [ca. 1725/26 bis 1732/35]. Vier Nüsse für Hippo- und Knopfologen

101

4. Idealisierte Lebenswelten

105

4.1. Fürstliche Parforce-Freuden: Hirschhetze, o. D. [ca. 1727/29]

105

4.2. Gewinnbringendes Weidwerk: Wildschweinjagd, o. D. [ca. 1730/32]

110

4.3. Alltag am Potsdamer Jägertor, o. D. [ca. 1736]

114

4.4. Häuserbau in der Berliner Friedrichstadt, o. D. [ca. 1737]

118

4.5. Das Tabakskollegium als Sehnsuchtsort, o. D. [ca. 1736/37]

121

5. "Fridericus Wilhelmus pinxit"

126

5.1. Meleager, Atalante und – Susanna im Bade. Sagenheroen und Bibelheldin, 173[6] und 1736

126

5.2. Problematische Caesaren: Kaiser Caligula und Kaiser Vitellius, 1735

128

5.3. Ein "Bohnenkönig" zwischen Lust und Schmerz, 1736

132

5.4. "Mijnheer van Honslaerdyck" oder gekrönter Künstler?, 1737

134

5.5. "Leuchteprinz und König Griesegram", 1736

137

Anhang

139

1. Schloss-Inventare

139

1.1. 1799, 1802 - Inventar Schloss Königs Wusterhausen (Inventar des Prinzen Heinrich)

139

1.2. 1800, 1810, 1835, 1860/69 - Die Charlottenburger Inventare

141

1.3. 1816, 1824 - Die Möbelkammern-Inventare

169

2. Quellen- und Literaturverzeichnis

183

2.1. Archivalische Quellen

183

2.2. Primärliteratur und Editionen

184

2.3. Friedrich Wilhelm I. und seine Familie

188

2.4. Kunst- und Ortsgeschichte

191

2.5. Militärgeschichte und Heereskunde

196

2.6. Jagdgeschichte

199

2.7. Hilfsmittel

200

3. Abbildungsnachweise

201

4. Abkürzungsverzeichnis

203

5. Personenindex

204