Constitution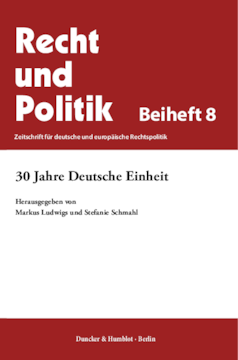 BOOK
Cite BOOK
Style
---
Ludwigs, M. Schmahl, S. (Eds.) (2021). 30 Jahre Deutsche Einheit. Duncker & Humblot. https://doi.org/10.3790/978-3-428-58361-4
; Ludwigs, Markus and Schmahl, Stefanie. 30 Jahre Deutsche Einheit. Duncker & Humblot, 2021. Book. https://doi.org/10.3790/978-3-428-58361-4
Ludwigs, M, Schmahl, S (eds.) (2021): 30 Jahre Deutsche Einheit, Duncker & Humblot, [online] https://doi.org/10.3790/978-3-428-58361-4
---
Format
---
30 Jahre Deutsche Einheit
Editors: Ludwigs, Markus | Schmahl, Stefanie
Recht und Politik. Beihefte, Vol. 8
(2021)
Additional Information
Book Details
ISBN

978-3-428-58361-4
978-3-428-18361-6 (print edition)

DOI

https://doi.org/10.3790/978-3-428-58361-4

Edition

1

Language

German

Pages

143

Collections

Subjects
Pricing
Institution

€ 80.00 (incl. local VAT if applicable)

Individual

€ 62.90 (incl. local VAT if applicable)
About The Author
Markus Ludwigs studierte Rechtswissenschaften in Osnabrück, Göttingen und Wien. Erstes und Zweites Staatsexamen in Niedersachsen (2000/2005). Promotion mit einer europarechtlichen Arbeit an der Universität Göttingen im Jahr 2004. Förderung des Habilitationsprojekts durch die Deutsche Forschungsgemeinschaft (2010/11). Im Sommersemester 2012 Habilitation an der Universität Bonn (Betreuer: Prof. Dr. M. Schmidt-Preuß) und Wahrnehmung einer Lehrstuhlvertretung an der FU Berlin. Seit dem Wintersemester 2012/13 Inhaber des Lehrstuhls für Öffentliches Recht und Europarecht an der Universität Würzburg. Seit 2016 Mitglied im Vorstand der Wissenschaftlichen Vereinigung für das gesamte Regulierungsrecht. Seit 2018 Mitglied des Wissenschaftlichen Arbeitskreises für Regulierungsfragen (WAR) bei der BNetzA. Stefanie Schmahl studierte Rechtswissenschaften an den Universitäten Mainz, Genf und Heidelberg; 1993 Erstes Juristisches Staatsexamen; 1993 Diplôme Supérieur de Droit Comparé, Straßburg; 1995 LL.M. an der Universidad Autónoma de Barcelona; 1996 Promotion an der Johannes-Gutenberg-Universität Mainz; 1997 Zweites Juristisches Staatsexamen; 2004 Habilitation an der Universität Potsdam. Seit 2007 Inhaberin des Lehrstuhls für deutsches und ausländisches öffentliches Recht, Völkerrecht und Europarecht an der Julius-Maximilians-Universität Würzburg; 2015 Visiting Fellow am Lauterpacht Centre for International Law der Universität Cambridge. 2011 und 2016-2017 Prozessvertretungen für die Bundesregierung in Verfahren vor dem Europäischen Gerichtshof für Menschenrechte und dem Bundesverfassungsgericht. Seit 2020 Stellvertretendes nichtberufsrichterliches Mitglied des Bayerischen Verfassungsgerichtshofs.
Abstract
Deutsche Einheit – Einigkeit und Einheitlichkeit Deutschlands? Die einstige Trennung in Bundesrepublik Deutschland und Deutsche Demokratische Republik wirkt sich in manchen Bereichen auch 30 Jahre nach der Wiedervereinigung noch spürbar aus. Das Jubiläumsjahr 2020 gab Anlass, sich sowohl innerdeutsche Angleichungsprozesse als auch fortbestehende Divergenzen vor Augen zu führen und aus juristischer, politikwissenschaftlicher sowie zeitgeschichtlicher Perspektive kritisch zu beleuchten. Die Referate der hierzu im Wintersemester 2020/21 von Markus Ludwigs und Stefanie Schmahl an der Juristischen Fakultät der Universität Würzburg veranstalteten interdisziplinären Ringvorlesung »30 Jahre Deutsche Einheit« werden im vorliegenden Sammelband dokumentiert. Sie umfassen ein breitgefächertes Themenspektrum und adressieren nicht nur die Hürden, sondern auch den Fortschritt auf dem langen Weg des Zusammenwachsens. »30 Years of German Unity«

30 years after reunification, the former division of Germany is still having a noticeable effect in some areas. The anniversary year 2020 offered impetus to address both internal German alignment processes as well as ongoing differences from an interdisciplinary perspective. The presentations of the interdisciplinary lecture series »30 Years of German Unity« organised at the University of Würzburg in the winter semester 2020/21 are documented in this compilation.
Table of Contents
Section Title
Page
Action
Price

Vorwort

5

Inhaltsverzeichnis

7

Markus Ludwigs und Stefanie Schmahl: 30 Jahre Deutsche Einheit – Eine Einführung

9

I. Einführung

9

II. Themenfelder

10

1. "Transitional Justice" nach 1945 und nach 1990: Gemeinsamkeiten, Unterschiede, Wirkungen?

10

2. Die Treuhandanstalt: Idee, Arbeitsweise, Wirkungen und Erbe

11

3. Debatten um die Regulierung des Schwangerschaftsabbruchs: kulturelle Differenzen oder westdeutsche Hegemonie?

13

4. Parteien im vereinigten Deutschland

15

5. Die Folgen der Wiedervereinigung für den unitarisch-kooperativen Föderalismus

17

6. Gemeinsame Kultur, getrennte Identitäten und demographischer Gleichklang in Ost und West?

19

7. (Teil-)‌Weitererhebung des Solidaritätszuschlags – verfassungswidrig?

20

8. Warschauer Vertrag und deutsch-polnischer Nachbarschaftsvertrag: Dennoch offene Vermögensfragen zwischen Deutschland und Polen?

22

III. Ausblick

24

Christoph Safferling: "Transitional Justice" nach 1945 und nach 1990: Gemeinsamkeiten, Unterschiede, Wirkungen

25

I. Was ist "Transitional Justice"?

26

1. Definitionsversuche

26

2. Historische Einordnung

26

3. Maßnahmenkatalog

27

4. Kritik

28

II. Die Maßnahmen nach 1945

29

1. Strafrechtliche Maßnahmen

29

2. Weitere Maßnahmen

31

III. Maßnahmen nach 1990

33

1. Ausgangsvoraussetzungen

33

2. Strafrechtliche Maßnahmen

34

3. Sonstige Maßnahmen

36

IV. Gemeinsamkeiten und Unterschiede

37

1. Ausgangszenarien und unmittelbare Reaktion

37

2. Transformationsmaßnahmen

38

3. Strafverfahren

39

V. Wirkungen der "Transitional Justice"-Versuche

40

Roland Czada: Die Treuhandanstalt

42

I. Aufgabe der Treuhandanstalt

43

II. Organisation, Rechtsform und Kontrollstrukturen

45

III. In den Netzwerken der Vereinigungspolitik

48

IV. Sektorale Variationen und Eigentumsrechte

51

V. Demokratische Legitimation der Treuhandanstalt

54

VI. Fazit und Nachwirkungen

56

Ulrike Lembke: Debatten um die Regulierung des Schwangerschaftsabbruchs 1990 bis 1993: kulturelle Differenzen oder westdeutsche Hegemonie?

58

I. Die Regelung des Schwangerschaftsabbruchs als Hindernis auf dem Weg zur "Deutschen Einheit"

58

1. Schwangerschaftsabbruch in DDR und BRD

59

2. Vom Runden Tisch zum Einigungsvertrag

61

3. Die gesamtdeutsche Fristenregelung von 1992

62

II. Der (westdeutsche) Rechtsdiskurs zum Schwangerschaftsabbruch: schutzlose Embryonen, gefährliche Mütter und Schwangerschaft als Normalzustand

64

1. Der Embryo jenseits des Rechts: philosophische Letztfragen

64

2. Die schwangere Frau im Rechtsdiskurs: (Gebär-)‌Mutter oder Gefahr

66

3. Leerstellen: Austragungspflicht und Menschenwürde

67

III. Kulturelle Differenzen oder westdeutsche Hegemonie?

69

1. Rechtsbewusstsein und Unrechtsstaat

69

2. Gleichberechtigung und "Deutsche Einheit"

71

Benjamin Höhne: Konvergenz oder Divergenz? Einstellungen von Parteimitgliedern und Partizipation bei Bundestagswahlen im Ost-West-Vergleich

73

I. Einleitung

73

II. Empirie und methodische Vorgehensweise

75

III. Forschungsstand

77

IV. Politische Wertvorstellungen von aktiven Parteimitgliedern

80

V. Partizipation bei Bundestagswahlen

83

1. Wahlbeteiligung und ungültiges Wählen

83

2. Gesellschaftliche Verankerung der Volksparteien

85

3. Elektorale Fragmentierung und Regierungskoalitionen

87

VI. Zusammenfassung und Schlussfolgerungen

89

Florian Meinel: Der unitarisch-kooperative Föderalismus seit der Wiedervereinigung

92

I. Einleitung

92

II. Einige Merkmale des unitarisch-kooperativen Föderalismus

93

III. Der Föderalismus im Einigungsprozess 1990

94

1. Föderalismus im Einigungsvertrag

95

2. Das Einigungsfolgenrecht als föderale Nebenverfassung

97

IV. Föderalismusreformen im wiedervereinigten Deutschland

99

V. Im Schatten der Kontinuität

100

Peter Fäßler: "Wir sind ein Volk!" – Sind wir ein Volk? Gesellschaftliche Befunde und zeitgeschichtliche Reflexionen

103

Wie erklärt sich die Herausbildung einer ausgeprägten Ost- und weniger profilierten West-Identität?

108

Warum vermögen das gemeinsame kulturelle Erbe bzw. die demographische Entwicklung nach 1990 eine wünschenswerte Konvergenz beider kollektiver Identitäten und damit den gesamtdeutschen gesellschaftlichen Zusammenhalt nur bedingt zu generieren?

111

Fazit

114

Rainer Wernsmann: (Teil-)‌Weitererhebung des Solidaritätszuschlags nach 30 Jahren Deutsche Einheit verfassungswidrig?

116

I. Einleitung

116

II. Kein freies Steuererfindungsrecht der Gesetzgeber – Numerus clausus des Art. 106 GG

117

III. Ergänzungsabgabe als Typusbegriff

118

1. Keine Aufkommensbindung und keine rechtfertigende Verknüpfung von Einnahmen und Ausgaben bei Steuern (§ 3 Abs. 1 AO)

119

2. "Ergänzung", keine Aushöhlung der Einkommen- und Körperschaftsteuer durch eine Bundeseinkommensteuer

120

3. Von der Normallage abweichender Finanzbedarf des Bundes

121

4. Reformnotwendigkeiten bei dauerhaft verändertem Finanzbedarf des Bundes im Verhältnis zu den Ländern

123

IV. Teilabschmelzung (Abschaffung nur für bestimmte Gruppen) verfassungskonform?

124

1. Veränderte rechtliche und tatsächliche Rahmenbedingungen

124

2. Kritik an der Gleichsetzung von teilweiser Erhebung einer Ergänzungsabgabe und Tariferhöhung bei der Einkommensteuer

124

3. Verstoß gegen den Gleichheitssatz (Art. 3 Abs. 1 GG)?

125

V. Fazit

126

Oliver Dörr: Offene Vermögensfragen zwischen Deutschland und Polen?

127

I. Einleitung

127

II. Völkerrechtliche Grundlagen

128

1. Die allgemeine Wiedergutmachungspflicht

128

2. Reparationen im Völkerrecht

131

3. Der Grundsatz intertemporalen Rechts

132

4. Die Verfügung über Entschädigungsansprüche

133

III. Mögliche Deliktsansprüche zwischen Deutschland und Polen

134

1. Ansprüche Polens wegen deutscher Rechtsverstöße

134

2. Ansprüche polnischer Staatsangehöriger

135

3. Wirksamer Verzicht Polens

135

4. Deutsche Ansprüche wegen polnischer Rechtsverstöße

137

5. Vertragliche Regelungen nach 1945

138

IV. Ausblick

139

Autorinnen und Autoren

140