Public international law, human rights: labour & social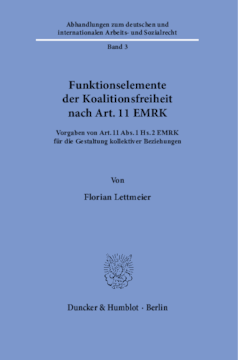 Additional Information
Book Details
ISBN

978-3-428-58339-3
978-3-428-18339-5 (print edition)

DOI

https://doi.org/10.3790/978-3-428-58339-3

Edition

1

Language

German

Pages

211

Collections

Subjects
Pricing
Institution

€ 86.00 (incl. local VAT if applicable)

Individual

€ 67.90 (incl. local VAT if applicable)
About The Author
Florian Lettmeier studierte von 2014 bis 2019 Rechtswissenschaft an der Ludwig-Maximilians-Universität München. Für seine Leistungen in der Juristischen Universitätsprüfung wurde er vom Alumni- und Förderverein der Juristischen Fakultät der LMU München e.V. mit dem Sylvester-Jordan-Preis ausgezeichnet. Nach der Ersten Juristischen Staatsprüfung im Januar 2019 verfasste er seine Dissertation unter Betreuung von Professor Dr. Richard Giesen, bei dem er als wissenschaftlicher Mitarbeiter am Zentrum für Arbeitsbeziehungen und Arbeitsrecht (ZAAR) in München tätig ist. Seit Oktober 2020 ist Florian Lettmeier zudem Rechtsreferendar am Oberlandesgericht München. Im Januar 2021 wurde er promoviert.
Florian Lettmeier studied law at the Ludwig Maximilian University of Munich from 2014-2019. He was awarded the Sylvester Jordan Prize by the »Alumni- und Förderverein der Juristischen Fakultät der LMU München e.V.« for his performance in the University Law Examination. After passing the First State Examination in January 2019, he wrote his doctoral thesis under the supervision of Professor Dr. Richard Giesen, with whom he works as a research assistant at the Centre for Labour Relations and Labour Law (ZAAR) in Munich. Florian Lettmeier has been a legal trainee at the Higher Regional Court of Munich since October 2020. He was granted his doctorate in law by the university of Munich in January 2021.
Abstract
Häufig werden im deutschen Schrifttum aus Entscheidungen des EGMR zu Art. 11 Abs. 1 Hs. 2 EMRK vermeintliche Strukturvorgaben abgeleitet. Die Praxis des EGMR ist jedoch eine andere. Die EMRK ist ein subsidiäres Auffangnetz: Sie sorgt dafür, dass die Mitgliedstaaten nicht nach unten abweichen, erlegt ihnen aber keine Matrixstruktur von oben auf. Der Gerichtshof entwickelt Vorgaben von Art. 11 EMRK für die Gestaltung kollektiver Beziehungen aus den funktionswesentlichen Elementen. Diese Funktionselemente geben wieder, was die Mitgliedstaaten als wesentlich für die Funktionsfähigkeit eines kollektiven Systems ansehen.

Eine Analyse der Rechtsprechung des EGMR zeigt, wie Vorgaben entwickelt werden können und welche Grenzen dabei zu beachten sind. Eine konkrete Vorgabe erwächst erst dann aus Art. 11 EMRK, wenn die effektive Verfolgung des Koalitionszwecks nicht mehr möglich ist. Dabei bestehen weite Spielräume für die Mitgliedstaaten, wie sie ihre Systeme ausgestalten. »Functional Elements of the Freedom of Association of Art. 11 ECHR«

The ECtHR develops the requirements of Art. 11 ECHR from the functional elements. Those elements reflect what Member States consider to be essential for the functioning of a collective system. An anal-ysis of the ECtHR case law demonstrates how requirements can be developed and what limits have to be observed. Art. 11 ECHR only contains specific requirements if the goal of the association cannot be pursuit effectively.
Table of Contents
Section Title
Page
Action
Price

Vorwort

5

Inhaltsverzeichnis

7

Abkürzungsverzeichnis

15

1. Teil: Gestaltung von kollektiven Beziehungen im Arbeitsrecht

19

A. Selektive Wahrnehmung von Art. 11 EMRK

19

B. Untersuchungsgegenstände

21

I. Kollektive Beziehungen

21

II. Akteure kollektiver Beziehungen

22

1. Wortlaut erfasst allein Gewerkschaften

22

2. Kein Schutz von rein betrieblichen Interessenvertretungen durch Art. 11 EMRK

23

III. Begriffe: Kollektivvertrag, Kollektivverhandlungen und Kollektivvertragssystem

24

C. Gestaltungsmöglichkeiten

25

I. Vorüberlegung

25

II. Vergleich der nationalen Systeme

26

1. Vergleich anhand wirtschaftlicher Parameter

26

a) Verwendete Parameter

26

b) Klassifikationsversuche

27

c) Beispiel 1: OECD

27

d) Beispiel 2: Rebhahn

28

e) Probleme dieser Klassifikationen

29

2. Anhand rechtlicher Parameter

30

a) Zahlreiche mögliche Vergleichspunkte

30

b) Schwierigkeiten der Rechtsvergleichung

31

aa) Keine Merkmale in Reinform

31

bb) Große Bedeutung außerrechtlicher Faktoren

31

c) Gemeinsame‍(r) Nenner

32

2. Teil: Spruchpraxis des EGMR zu Art. 11 Abs. 1 Hs. 2 EMRK

34

A. Übersicht der Spruchpraxis

34

I. Bedeutung des Gerichtshofs für die Vorgabenbildung

34

II. Kriterien zur Filterung der Aussagen

35

1. Verwendete Suchkriterien

35

2. Urteile an der Grenze von Koalitionsfreiheit und Versammlungsfreiheit

36

III. Zusammenstellung in einem Aussagenkatalog

37

IV. Erste Erkenntnisse

44

V. Weitere Vorgehensweise

44

B. Grenzen der Spruchpraxis

45

I. Begrenzte Aussagekraft von Urteilen des Gerichtshofs

45

1. Keine rechtliche Bindung über den konkreten Fall hinaus

45

2. Unklare Orientierungswirkung und Berücksichtigungspflicht

46

a) Orientierungswirkung

46

aa) Versuch der Herleitung aus Art. 1 EMRK

46

bb) Stare decisis?

47

cc) Stellungnahme

48

b) Berücksichtigungspflicht

48

aa) Brighton Declaration

48

bb) Position des BVerfG

49

c) Zwischenergebnis

50

3. Einzelfallcharakter der Entscheidungen

50

a) Strukturell bedingte Zurückhaltung mit abstrakten Aussagen

51

aa) Subsidiarität der Konvention

51

bb) Anlehnung an das common law

51

b) Durch Art. 11 EMRK bedingte Zurückhaltung mit übertragbaren Ausführungen

52

4. Zwischenergebnis

53

II. De-Kontextualisierung als weitere Abschwächung

53

1. Statistischer Befund: Große Unterschiede zwischen den einzelnen Mitgliedstaaten

54

a) Geringe und ungleich verteilte Beschwerdefrequenz

54

b) Sehr unterschiedliche Erfolgsquote

55

c) Mögliche Konsequenz: Two-track Europe

56

2. Lösung: Kontextualisierung

57

a) Ansatz und Begriff

57

b) Entwicklung eines Kontextualisierungsauftrages auf der nationalen Ebene

58

c) Vorgehensweise

59

d) Kritik und Entkräftung

60

3. Vorgabenbildung erfordert De-Kontextualisierung

60

a) Notwendigkeit der Abstrahierung

60

b) Gefahr der Verfremdung

61

c) Grundwertungen als Anknüpfungspunkt?

62

aa) Die Beamtenstreikverbot-Entscheidung des Bundesverfassungsgerichts

62

bb) Konzentration auf die Grundwertungen als Missachtung der Konvention?

62

cc) Abgrenzung durch nationale Gerichte?

63

(1) Keine zusätzliche Rechtsunsicherheit

63

(2) Untauglichkeit der diskutierten Abgrenzungsmerkmale

64

(3) Gerichtshof gibt Grundwertungen vor

65

III. Zwischenergebnis

65

3. Teil: Strukturmerkmale als Gestaltungsvorgaben

67

A. Explizite Bestimmung über den Kernbereich oder den Wesensgehalt

68

I. Ansatz

68

II. Rolle in der Spruchpraxis des Gerichtshofs

69

1. Bei der EMRK im Allgemeinen

69

2. Bei Art. 11 EMRK

70

a) Definition des Schutzbereichs

71

b) Grenzen der Einschränkbarkeit

72

aa) Wesensgehalt als Mindestschutz?

72

bb) Wesentliche Elemente als Ausformung des Wesensgehalts?

73

cc) Kein unantastbarer Bereich

74

dd) Zwischenergebnis

75

III. Zwischenergebnis

75

B. Implizite Bestimmung über die margin of appreciation

75

I. Ansatz in der Literatur

75

II. Rolle in der Spruchpraxis des Gerichtshofs

76

1. Begriff

76

2. Entstehung

77

3. Funktion

78

4. Begründung

79

5. Neuere Entwicklung

80

a) Betonung der Subsidiarität durch die Mitgliedstaaten

80

b) Betonung der Subsidiarität durch den Gerichtshof

81

c) Statistische Messbarkeit

83

d) Zwischenergebnis

84

III. Anwendung bei Art. 11 EMRK

84

1. Allgemeine Anwendungsfelder

84

a) Verhältnismäßigkeitsprüfung

84

b) Kein Ausschluss bei Eingriffen

85

2. Reichweite der margin of appreciation im Allgemeinen

85

a) Einflussfaktoren

85

b) Bestrebungen, die Faktoren zu reduzieren

87

c) Praxis des Gerichtshofs

88

3. Besonderheiten der Bestimmung bei Art. 11 EMRK

90

a) Die Betroffenheit eines besonderen Sachgebiets

90

aa) Koalitionsfreiheit als soziales Menschenrecht

91

(1) Soziale Menschenrechte

91

(2) EMRK und soziale Dimension

92

(3) Koalitionsfreiheit als soziales Menschenrecht

92

bb) Weiter Spielraum als Folge

94

b) Das Bestehen eines gemeinsamen europäischen Konsenses

94

aa) Ermittlung eines Konsenses

94

bb) Europäischer Konsens bei den kollektiven Systemen?

95

cc) Grundsätzlich weiter Spielraum als Folge

96

c) Die Art der Verpflichtung

97

aa) Entwicklung der positiven Pflichten

97

bb) Mittelbare Drittwirkung durch positive Pflichten

98

cc) Positive Pflichten und margin of appreciation

99

(1) Gleichstellung positiver und negativer Pflichten durch den Gerichtshof

99

(2) Mittelwahlspielraum als zusätzliche Größe

99

(3) Multipolare Beziehungen

101

dd) Positive Pflichten unter Art. 11 EMRK

101

(1) Schwerpunkt auf den positiven Pflichten

101

(2) Freie Mittelwahl zur Gewährleistung der effektiven Wahrnehmung

103

(3) Explizite Anerkennung eines weiten Spielraums?

104

ee) Zwischenergebnis

105

d) Die Betroffenheit des Kernbereichs des Rechts

105

aa) Einengung der margin of appreciation bei Betroffenheit des Kernbereichs

106

bb) Bestimmung des Kernbereichs

106

cc) Zwischenergebnis

107

e) Zwischenergebnis

108

aa) Keine Vereinfachung möglich

108

bb) Wechselwirkung der Faktoren

108

cc) Grundsätzlich weiter Spielraum bei der Koalitionsfreiheit

109

IV. Kritik an den Ansätzen in der Literatur

109

1. Am Ansatz von Mahoney

109

2. Am Ansatz von Hutchinson

110

a) Funktion der margin of appreciation

110

b) Bestätigung der Annahme durch die Rechtsprechung

110

aa) Manole und 'Romanian Farmers Directˋ ./. Rumänien

110

bb) Tek Gıda İş Sendikası ./. Türkei

111

cc) The National Union of Rail, Maritime and Transport Workers ./. Vereinigtes Königreich

112

dd) Zwischenergebnis

112

c) Fälle, in denen keine margin of appreciation gewährt wird

113

3. Zwischenergebnis

114

C. Absage an Strukturmerkmale als Gestaltungsvorgaben

114

I. Grundsatz: Allgemeiner Mindestschutz durch die Konvention

114

II. Keine Matrixstruktur

115

III. Keine Harmonisierung

115

4. Teil: Funktionselemente als Gestaltungsvorgaben

117

A. Wesentliche Elemente als Anknüpfungspunkt

117

I. Vorüberlegung

117

II. Die Figur der wesentlichen Elemente

118

1. Auflistung der wesentlichen Elemente in Demir und Baykara ./. Türkei

118

2. Keine Aufwertung der Intensität des Schutzes

119

III. Entwicklung einer Funktionselementenlehre

120

1. Funktionale Grundrechtskonzeption

120

a) Ausdruck der Verantwortung in einer demokratisch sozialen Einheit

120

b) Auswirkung dieser Konzeption auf die Koalitionsfreiheit

121

2. Der Koalitionszweck als Anknüpfungspunkt für die Funktionswesentlichkeit

122

a) Eine Ansicht: Redundanz des Koalitionszwecks

122

aa) Unzulässige Erweiterung des Schutzbereichs

122

bb) Gefahr der einschränkenden Wirkung

123

b) Andere Ansicht: Funktionale Auslegung

123

aa) Weite Auslegung in Bezug auf den Koalitionszweck

123

bb) Unverzichtbarkeitskriterium als Einschränkung

124

c) Stellungnahme

124

aa) Relevanz des Koalitionszwecks

124

bb) Weitgehende Fortführung der Argumentationslinie

125

3. Die Praxis der Mitgliedstaaten als Anknüpfungspunkt für die Funktionswesentlichkeit

125

a) Rechtsvergleich als Indikator für funktionswesentliche Elemente

125

b) Ausbrechender Rechtsakt?

126

aa) Zurückhaltung des Gerichtshofs

126

bb) Weiterentwicklung der Konvention

127

cc) Kein Durchschlagen im konkreten Fall

128

4. Zwischenergebnis: Funktionselementenlehre

128

IV. Auswirkung einer Funktionselementenlehre

129

1. Keine Funktionsbedingungen

129

a) Verzicht auf die Unverzichtbarkeit

129

b) Anknüpfung an die Praxis der Mitgliedstaaten und den Koalitionszweck

130

2. Keine Zweckerreichungsgarantie

131

a) Faktische Möglichkeit genügt

131

b) Weiterführende Beispiele aus der Spruchpraxis

131

aa) The National Union of Rail, Maritime and Transport Workers ./. Vereinigtes Königreich

131

(1) Sachverhalt

131

(2) Entscheidung

132

bb) Unite the Union ./. Vereinigtes Königreich

133

(1) Sachverhalt

133

(2) Entscheidung

133

cc) Association of Academics ./. Island

134

(1) Sachverhalt

134

(2) Entscheidung

134

dd) Hrvatski liječnički sindikat ./. Kroatien

135

(1) Sachverhalt

135

(2) Entscheidung

136

c) Zwischenergebnis

137

3. Anerkennung einer relativen Koalitionsmittelgarantie

138

a) Keine Koalitionsmittelgarantie zu Beginn

138

b) Relative Koalitionsmittelgarantie in Bezug auf das Recht, Tarifverhandlungen zu führen

138

4. Notwendigkeit der Gesamtbetrachtung

139

a) Zweckverfolgung muss insgesamt möglich sein

139

b) Weiterführende Beispiele aus der Rechtsprechung

140

aa) The National Union of Rail, Maritime and Transport Workers ./. Vereinigtes Königreich

140

bb) Young, James und Webster ./. Vereinigtes Königreich

140

cc) Şişman et al. ./. Türkei

141

V. Zwischenergebnis

142

1. Koalitionsfreiheit erfordert funktionale Auslegung

142

2. Vorgaben können allein am konkreten Fall entwickelt werden

143

B. Die einzelnen Funktionselemente von Art. 11 EMRK

144

I. Das Recht, Gewerkschaften zu gründen und ihnen beizutreten

144

1. Die Gewerkschaftsgründung und der Gewerkschaftsbeitritt

144

a) Persönlicher Schutzbereich

144

b) Gewerkschaften als Träger des Koalitionsrechts?

145

c) Arbeitgeberverbände als Träger des Koalitionsrechts?

146

2. Die Selbstverwaltung der Gewerkschaft

148

3. Keine Benachteiligung aufgrund der Gewerkschaftsmitgliedschaft

149

a) Die Rolle von Art. 14 EMRK

149

b) Die Spruchpraxis des Gerichtshofs

150

aa) Statistische Beobachtungen

150

bb) Kein schematisches Vorgehen des Gerichtshofs

150

cc) Sanktionierungen wegen unerlaubten Fernbleibens von der Arbeit

151

II. Das Verbot von Absperrklauseln

152

1. Closed shop-Regelungen

152

2. Weitere Zwangsmitgliedschaften

153

a) Closed shop pars pro toto für Zwangsmitgliedschaften besonderer Art

153

b) Vorgaben des Gerichtshofs

154

III. Das Recht einer Gewerkschaft, gehört zu werden

155

1. Oberbegriff für alle gewerkschaftlichen Betätigungsformen zu Beginn

155

2. Entwicklung zu einer Kompensationsmöglichkeit seit Demir und Baykara ./. Türkei

156

IV. Das Recht, Kollektivverhandlungen zu führen

157

1. Grundsätzliches

157

2. Kein Recht auf Abschluss eines Tarifvertrags

158

3. Begrenzung von Verhandlungspartnern

159

4. Wirkung von Tarifverträgen

160

5. Beamte

161

a) Keine Grundrechtsträger "light"

161

b) Loyalitätspflichten können Besonderheiten rechtfertigen

162

c) Funktionale Bestimmung der Beamteneigenschaft

162

6. Tarifautonomie

163

a) Keine Anerkennung einer umfassenden Tarifautonomie

163

b) Möglichkeit weitgehenden staatlichen Zugriffs

164

7. Zwischenergebnis

165

V. Das Streikrecht

166

1. Grundsätzliches

166

a) Entwicklung in der Spruchpraxis

166

b) Einstufung als wesentliches Element

167

c) Einschränkungsmöglichkeiten

168

2. Formen

169

a) Weitere Arbeitskampfformen der Gewerkschaft

169

b) Aussperrung

171

3. Streikziele

172

a) Bezug auf berufliche Interessen

172

aa) Kein Schutz von allgemeinen Interessen

172

bb) Schutz des nicht-tarifbezogenen Streiks

173

b) Kein politisches Streikrecht

174

aa) Teilnahme von Gewerkschaftsmitgliedern an Aktionen ohne Bezug zu beruflichen Interessen

174

bb) Versammlungsfreiheit als vorrangiger Prüfgegenstand

175

cc) Beamte als Beschwerdeführer

176

dd) Ergebnis: Kein politisches Streikrecht im engeren Sinn

177

4. Träger des Rechts

178

a) Keine Aussage des Gerichtshofs zum wilden Streikrecht

178

b) Bei Anerkennung jedenfalls großer Gestaltungsspielraum

179

5. Verfahrensvorgaben

180

a) Streikabstimmung

180

b) Schlichtung

181

C. Konkrete Vorgaben nur unter Berücksichtigung der Funktionsfähigkeit der nationalen Systeme

182

5. Teil: Zusammenfassung und Ergebnisse

184

Literaturverzeichnis

190

Internetquellenverzeichnis

203

Rechtsprechungsverzeichnis

205

Sachwortverzeichnis

209