Medical & healthcare law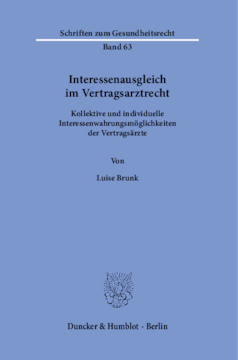 BOOK
Interessenausgleich im Vertragsarztrecht
Kollektive und individuelle Interessenwahrungsmöglichkeiten der Vertragsärzte
Schriften zum Gesundheitsrecht, Vol. 63
(2021)
Additional Information
Book Details
ISBN

978-3-428-58168-9
978-3-428-18168-1 (print edition)

DOI

https://doi.org/10.3790/978-3-428-58168-9

Edition

1

Language

German

Pages

225

Collections

Subjects
Pricing
Institution

€ 80.00 (incl. local VAT if applicable)

Individual

€ 62.90 (incl. local VAT if applicable)
About The Author
Luise Brunk (geb. Steinkröger) studierte Rechtswissenschaften an der Albert-Ludwigs-Universität in Freiburg i. Brsg. mit dem Schwerpunkt Arbeits- und Sozialrecht. Von 2012 bis 2013 studierte sie an der Université Paris-Est Créteil französisches und europäisches Recht. Nach Abschluss des ersten Staatsexamens promovierte sie bei Prof. Dr. Katharina von Koppenfels-Spies und war als akademische Mitarbeiterin am Institut für Wirtschaftsrecht, Arbeits- und Sozialrecht, Abt. III: Sozialrecht der Universität Freiburg tätig. Seit August 2019 ist sie Rechtsreferendarin am Kammergericht Berlin.
Luise Brunk (née Steinkröger) studied law at the Albert-Ludwig-University in Freiburg, Germany, where she specialised in labour and social law. From 2012 to 2013, she studied French and European law at the Université Paris-Est Créteil. After completing her first state examination, she obtained her doctorate under Prof. Dr. Katharina von Koppenfels-Spies and worked as an academic assistant at the Institute for Business Law, Labor and Social Law, Dept. III: Social Law at the Albert-Ludwig University. Since August 2019, she has been a legal trainee at the Berlin Superior Court of Justice.
Abstract
Die Realisierung eines Interessenausgleichs zwischen Ärzten und Krankenkassen ist maßgeblich für die Sicherstellung einer Gesundheitsversorgung zu angemessenen Bedingungen. Zu diesem Zweck hat der Gesetzgeber das Vertragsarztrecht als in sich geschlossenes System konzipiert, das Kooperationsinstrumente wie Kollektivverträge und die Zusammenarbeit in paritätischen Gremien vorsieht. Die Arbeit widmet sich der Position der Vertragsärzte in diesem System und untersucht aus ihrer Perspektive, inwiefern die Konzeption des Vertragsarztrechts effektive kollektive und individuelle Möglichkeiten zur Interessenwahrung bereithält. Anlässlich der Grundsatzentscheidung des BSG vom 30.11.2016 (Az.: B 6 KA 38/15 R) zum sog. »Ärztestreik« untersucht die Arbeit außerdem, welche Einflussmöglichkeiten Vertragsärzten abseits der kooperativen Instrumente zur Durchsetzung ihrer Interessen zur Verfügung stehen. Die Berufsfreiheit der Vertragsärzte aus Art. 12 Abs. 1 GG fungiert hierfür als Maßstab und äußere Grenze. »Balancing of Interests in the Law of Panel Doctors. Options of Collective and Individual Safeguarding of Interests for Panel Doctors«

The thesis deals with the position of panel doctors and examines from their perspective to what extent the conception of the law of panel doctors provides options of collective and individual safeguarding of interests for panel doctors. On the occasion of the decision of the Federal Social Court of 30.11.2016 (Az.: B 6 KA 38/15 R) on the so-called »doctors´strike«, the thesis also examines how panel doctors can exert influence beyond the cooperative instruments in order to enforce their interests.
Table of Contents
Section Title
Page
Action
Price

Vowort

7

Inhaltsverzeichnis

9

Einführung

19

A. Gegenstand der Arbeit

19

B. Gang der Untersuchung

21

1. Kapitel: Die Entwicklung des Kollektivvertragssystems

23

A. Der Beginn der kassenärztlichen Versorgung

23

B. Das Berliner Abkommen vom 23. 12. 1913

26

C. Die Verordnung über Ärzte und Krankenkassen vom 30. 10. 1923

28

D. Die Notverordnungen von 1931 und 1932

30

E. Das Gesetz über das Kassenarztrecht vom 17. 8. 1955

32

F. Die letzte Entwicklungsphase: Das Ende einer langen Streikära?

34

G. Zusammenfassung

36

2. Kapitel: Grundfragen der vertragsärztlichen Tätigkeit

37

A. Die Rechtsstellung des Vertragsarztes im Gesundheitssystem

37

I. Die Grundstrukturen des Vertragsarztsystems

37

II. Die Definition des Vertragsarztes

39

III. Die Einordnung des Vertragsarztes als freier Beruf

40

B. Der Vertragsarzt als Hauptleistungserbringer im System der GKV

43

I. Der Vertragsarzt als Mitglied der Kassenärztlichen Vereinigung

44

1. Aufgaben und Funktion der Kassenärztlichen Vereinigung

44

a) Die hoheitliche Funktion

45

aa) Der allgemeine und besondere Sicherstellungsauftrag

45

bb) Der Gewährleistungsauftrag und die Disziplinarbefugnis

46

b) Die gewerkschaftsähnliche Funktion

47

c) Zwischenergebnis

48

2. Die Rechtsbeziehung des Vertragsarztes zu seiner KV

48

a) Die Zulassung des Vertragsarztes gem. § 95 SGB V

49

b) Rechte und Pflichten der Teilnahme an der vertragsärztlichen Versorgung

50

c) Unterwerfung unter die Disziplinargewalt

52

II. Die Ausgestaltung der vertragsärztlichen Versorgung durch Kollektivverträge

53

III. Die Ausgestaltung der vertragsärztlichen Versorgung durch Selektivverträge

54

1. Motive für die Etablierung der Selektivverträge

55

2. Selektivverträge in der vertragsärztlichen Versorgung

56

3. Bedeutung der Selektivverträge für das Vertragsarztsystem

57

C. Zwischenergebnis

59

3. Kapitel: Die Möglichkeiten der ärztlichen Interessenwahrung nach der Konzeption des Vertragsarztrechts

61

A. Ausgangslage

61

B. Die Instrumente des Interessenausgleichs im Vertragsarztrecht

65

I. Die Kollektivverträge

66

1. Motive für die Entstehung des Kollektivvertragssystems

66

2. Die Kollektivverträge als Steuerungsebene des Zusammenwirkens

68

3. Der Einigungsprozess beim Abschluss der Kollektivverträge

71

a) Der Gestaltungsspielraum der gemeinsamen Selbstverwaltung

71

b) Der Bundesmantelvertrag-Ärzte

73

aa) Die rechtlichen Ausgestaltungsbefugnisse beim Abschluss des Bundesmantelvertrags

73

bb) Die Berücksichtigung der ärztlichen Interessen im Bundesmantelvertrag

75

c) Die Gesamtverträge

78

aa) Die rechtlichen Ausgestaltungsbefugnisse beim Abschluss der Gesamtverträge

78

bb) Die Berücksichtigung der ärztlichen Interessen am Beispiel der Anpassung der Gesamtvergütung

80

d) Individuelle Interessenwahrung durch gerichtliche Kontrolle

84

aa) Rechtsschutzmöglichkeiten des Vertragsarztes auf bundesmantelvertraglicher Ebene

84

bb) Rechtsschutzmöglichkeiten des Vertragsarztes auf gesamtvertraglicher Ebene

84

4. Zwischenergebnis: Ärztliche Interessenwahrung beim Abschluss der Kollektivverträge

86

II. Die paritätisch besetzten Ausschüsse

87

1. Motive für die Etablierung eines paritätischen Ausschusssystems

87

2. Die gemeinsamen Ausschüsse als Steuerungsebene des Zusammenwirkens

88

3. Der Bewertungsausschuss

89

a) Aufgaben, Organisation und Verfahren des Bewertungsausschusses

90

b) Die Berücksichtigung der ärztlichen Interessen im Bewertungsausschuss

92

aa) Die Festlegung des Orientierungswertes gem. § 87 Abs. 2e, 2g SGB V

92

bb) Die Leistungsbewertung, Erstellung und Anpassung des EBM

94

cc) Zwischenergebnis

97

c) Die Berücksichtigung der ärztlichen Interessen im erweiterten Bewertungsausschuss

98

d) Individuelle Interessenwahrung durch gerichtliche Kontrolle

101

aa) Klagemöglichkeiten gegen die Beschlüsse des Bewertungsausschusses

101

bb) Klagemöglichkeiten gegen die Beschlüsse des erweiterten Bewertungsausschusses

101

cc) Bewertung der nachträglichen Rechtsschutzmöglichkeiten

102

e) Zwischenergebnis: Ärztliche Interessenwahrung im einfachen und erweiterten Bewertungsausschuss

104

4. Die Zulassungs- und Berufungsausschüsse

105

a) Aufgaben, Organisation und Verfahren des Zulassungsausschusses

105

b) Die Berücksichtigung der ärztlichen Interessen im Zulassungsausschuss

107

c) Individuelle Interessenwahrung durch gerichtliche Kontrolle

110

aa) Die Berücksichtigung der ärztlichen Interessen im Berufungsausschuss

110

bb) Rechtsschutzmöglichkeiten gegen die Beschlüsse des Berufungsausschusses

113

d) Zwischenergebnis: Ärztliche Interessenwahrung in den Zulassungs- und Berufungsausschüssen

115

5. Die Prüfungsstellen und Beschwerdeausschüsse

116

a) Aufgaben, Organisation und Verfahren der Prüfungsstellen und Beschwerdeausschüsse

116

b) Die Berücksichtigung der ärztlichen Interessen in den gemeinsamen Prüfgremien

119

6. Die Landesausschüsse

120

a) Aufgaben, Organisation und Verfahren der Landesausschüsse

121

b) Die Berücksichtigung der ärztlichen Interessen in den Landesausschüssen

124

7. Der Gemeinsame Bundesausschuss

125

a) Aufgaben, Organisation und Verfahren des Gemeinsamen Bundesausschusses

125

b) Die Berücksichtigung der ärztlichen Interessen im GBA

130

8. Zwischenergebnis: Ärztliche Interessenwahrung in den paritätisch besetzten Ausschüssen

131

III. Die Schiedsämter

133

1. Motive für die Entstehung des Schiedswesens

133

2. Aufgaben, Organisation und Verfahren der Schiedsämter

135

3. Der Beurteilungs- und Gestaltungsspielraum der Schiedsämter

138

4. Die Berücksichtigung der ärztlichen Interessen im Schiedsamt

140

5. Individuelle Interessenwahrung durch gerichtliche Kontrolle

142

6. Zwischenergebnis: Ärztliche Interessenwahrung in den Schiedsämtern

144

C. Die Schlüsselfunktion von KBV und KV für die ärztliche Interessenwahrung

144

I. Rückbindung an die Basis der Ärzteschaft durch Wahlen

145

1. Autonome Legitimation des Vorstandes zur Führung der Kollektivvertragsverhandlungen

146

2. Autonome Legitimation der Vertreter zur Zusammenarbeit in den gemeinsamen Gremien

147

a) Die Auswahl der Ausschussvertreter

147

aa) Einfacher und erweiterter Bewertungsausschuss

147

bb) Zulassungs- und Berufungsausschüsse

148

cc) Prüfungsstellen und Beschwerdeausschüsse

149

dd) Landesausschuss

149

ee) GBA

150

ff) Schiedsämter

150

b) Autonome Legitimation der Gremienvertreter

151

c) Autonome Legitimation der unparteiischen Mitglieder

152

II. Zwischenergebnis

154

D. Fazit: Die Ausgleichsinstrumente des Kollektivvertragssystems als Mittel zur ärztlichen Interessenwahrung

155

4. Kapitel: Die Möglichkeiten der ärztlichen Interessenwahrung abseits der Kooperationsinstrumente des Vertragsarztrechts

158

A. Der Austritt des Vertragsarztes aus dem System

158

B. Öffentliche Meinungskundgabe und Demonstration

159

I. Interessenwahrung unter Berufung auf die Meinungsfreiheit aus Art. 5 Abs. 1 S. 1 GG

159

II. Interessenwahrung unter Berufung auf die Versammlungsfreiheit aus Art. 8 Abs. 1 GG

161

III. Exkurs: Ärztliche Interessenwahrung durch die Öffentlichkeitsarbeit der KVen

163

C. Streikähnliche "Kampfmaßnahmen" zur ärztlichen Interessenwahrung

164

I. Begriffliche Einordnung

165

1. Die Definition des "Ärztestreiks"

165

2. Anpassung der Definition

167

3. Kritik

168

II. Fachgesetzliche Verankerung streikähnlicher "Kampfmaßnahmen"?

170

1. §§ 24 Abs. 2, 32 Abs. 1 S. 2 Ärzte-ZV

170

2. § 95b SGB V

171

3. Systemimmanentes "Streikverbot"

173

III. Verfassungsrechtliche Grenzen des systemimmanenten Ausschlusses von streikähnlichen "Kampfmaßnahmen"

177

1. Die Koalitionsfreiheit aus Art. 9 Abs. 3 GG

177

a) Persönlicher Schutzbereich

177

b) Sachlicher Schutzbereich

179

c) Ergebnismodifikation auf Grundlage von Art. 11 EMRK

181

2. Die Berufsfreiheit aus Art. 12 Abs. 1 GG

182

a) Das Grundrecht der Vertragsärzte

183

b) Hinreichende Berücksichtigung der ärztlichen Interessen durch die Konzeption des Vertragsarztrechts

186

aa) Die kollidierenden Verfassungsgüter

187

bb) Geeignetheit des Ausschlusses streikähnlicher "Kampfmaßnahmen"

188

cc) Erforderlichkeit des Ausschlusses streikähnlicher "Kampfmaßnahmen"

189

dd) Zumutbarkeit des Ausschlusses streikähnlicher "Kampfmaßnahmen"

190

(1)\tDie Möglichkeiten der Interesseneinbringung und -durchsetzung

190

(2)\tStrukturelle Parität

192

(3)\t"Störung" des ausgewogenen Machtverhältnisses

192

(4)\tFaktische Unterlegenheit

193

(5)\tAuflösung der Kollisionslage?

196

(6)\tAnzeichen für eine Verschiebung des Systemrahmens

197

IV. Lösungsansätze

199

5. Kapitel: Zusammenfassung der Ergebnisse

203

Literaturverzeichnis

206

Sachwortverzeichnis

222