Criminal law: procedure & offences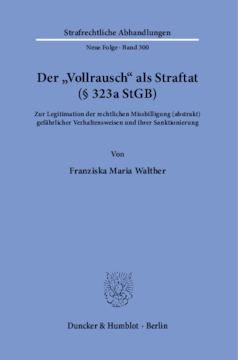 BOOK
Der »Vollrausch« als Straftat (§ 323a StGB)
Zur Legitimation der rechtlichen Missbilligung (abstrakt) gefährlicher Verhaltensweisen und ihrer Sanktionierung
Strafrechtliche Abhandlungen. Neue Folge, Vol. 300
(2021)
Additional Information
Book Details
ISBN

978-3-428-58141-2
978-3-428-18141-4 (print edition)

DOI

https://doi.org/10.3790/978-3-428-58141-2

Edition

1

Language

German

Pages

164

Collections

Subjects
Pricing
Institution

€ 76.00 (incl. local VAT if applicable)

Individual

€ 58.90 (incl. local VAT if applicable)
About The Author
Franziska Walther studierte von 2011 bis 2016 Rechtswissenschaften an der Philipps-Universität Marburg. Seit Dezember 2016 ist sie wissenschaftliche Mitarbeiterin am Institut für Kriminalwissenschaften der Philipps-Universität Marburg, Professur für Strafrecht, Strafprozessrecht und Rechtsphilosophie von Prof. Dr. Dr. h.c. dupl. Georg Freund. Den juristischen Vorbereitungsdienst absolvierte sie von März 2019 bis März 2021 im Bezirk des Oberlandesgerichts Frankfurt/Main. Im Juni 2020 schloss sie ihre Promotion ab.
Franziska Walther studied law at the Philipps University of Marburg from 2011 to 2016. Since December 2016 she has been a research assistant at the Institute of Criminal Sciences at the Philipps University of Marburg, Professorship for Criminal Law, Criminal Procedure Law and Philosophy of Law of Prof. Dr. Dr. h.c. dupl. Georg Freund. She completed her legal traineeship from March 2019 to March 2021 in the district of the Higher Regional Court of Frankfurt/Main. Her doctorate was completed in June 2020.
Abstract
Die Arbeit widmet sich einer besonders umstrittenen Strafvorschrift – dem Vollrauschtatbestand (§ 323a StGB). Dieser erweist sich im Hinblick auf den verfassungsrechtlich verankerten Schuldgrundsatz (»nulla poena sine culpa«) als höchst problematisch. Das Hauptaugenmerk gilt den Legitimationsbedingungen staatlichen Eingriffshandelns. Insofern müssen nicht zuletzt die Anforderungen des verfassungsrechtlichen Verhältnismäßigkeitsgrundsatzes sowohl für die Legitimation von Schuldspruch und Strafe als auch bereits für die Legitimation der Freiheitsbeschränkung der Bürger durch Verhaltensnormen (in Form von Berauschungsverboten) beachtet werden. Insbesondere wird der Frage nachgegangen, unter welchen Bedingungen übermäßiger Alkoholgenuss zu einer strafrechtlichen Verantwortlichkeit führen kann, wenn im Zustand nicht ausschließbarer Schuldunfähigkeit eine »rechtswidrige Tat« begangen wird. »The ›drunken stupor‹ as a criminal offense (§ 323a StGB). On the legitimation of the legal disapproval of (abstract) dangerous behavior and its sanctioning«: The study deals with a particularly controversial criminal provision – the offense of full intoxication (§ 323a StGB). This proves to be highly problematic with regard to the constitutionally enshrined principle of guilt (»nulla poena sine culpa«). Particular attention is devoted to the question as to wich conditions of excessive alcohol consumption can lead to criminal liability if an »unlawfull« act is committed in a state in which criminal incapacity cannot be ruled out.
Table of Contents
Section Title
Page
Action
Price

Vorwort

5

Inhaltsverzeichnis

7

Erster Teil: Einführung in die Problematik und historischer Hintergrund

11

A. Einführung und Problemstellung

11

B. Historischer Hintergrund

14

Zweiter Teil: Grundlagen der Problemlösung

16

A. Wann darf der Staat strafen? – Zur Legitimation von Strafe

16

I. Der Beitrag der Straftheorien zur Legitimation und zum Zweck des Strafens

19

II. Die Funktion von Strafe – Nach der Konzeption einer personalen Straftatlehre

22

1. Die grundlegende Unterscheidung von Verhaltensnormen und Sanktionsnormen

24

a) Verhaltensnormen und ihre Funktion

25

b) Die Schutzfunktion der Sanktionsnorm

26

2. Zusammenfassung

27

B. Staatliche Maßnahmen im Lichte des Verhältnismäßigkeitsgrundsatzes

28

I. Verhältnismäßigkeit der Verhaltensnorm

29

1. Legitimer Zweck

29

2. Geeignetheit

29

3. Erforderlichkeit

30

4. Angemessenheit (Verhältnismäßigkeit i.e.S.)

31

II. Verhältnismäßigkeit der Sanktionsnorm

31

III. Alternativkonzept einer Bewertungseinheit von Verhaltensnorm und entsprechender Sanktionsnorm?

33

IV. Zusammenfassung

36

C. Strafe als rechtlicher Vorwurf fehlerhaften Verhaltens (nebst dessen Folgen) und das Schuldprinzip

37

Dritter Teil: Legitimationsprobleme des § 323a StGB

42

A. Die Legitimation der Verhaltensnormen, auf die § 323a StGB Bezug nimmt

44

I. Anforderungen an eine Verhaltensnorm: Prüfung anhand des Verhältnismäßigkeitsgrundsatzes

45

1. Legitimer Zweck und Geeignetheit

45

a) Die Rauschtat als Anknüpfungspunkt für die Verhaltensnormlegitimation

46

aa) Die Rauschtat – Begriffsbestimmung und ratio-orientierte Anforderungen

46

bb) Zur Unmöglichkeit der Legitimation eines Verbots der Begehung der Rauschtat

52

cc) Zurechnungskonzepte

55

dd) Zusammenfassung der Ergebnisse

56

b) Das Sichberauschen als Anknüpfungspunkt

58

2. Erforderlichkeit

60

3. Angemessenheit

61

a) Zur Auffassung von der Angemessenheit eines pauschalen Berauschungsverbots

61

b) Alkohol und Sozialadäquanz

61

c) Nicht haltbare Beschränkung der Freiheit von Bürgern, die auch im Vollrausch nicht über Gebühr gefährlich sind

63

d) Möglichkeit einer rückwirkenden Missbilligung der Herbeiführung des Vollrauschs nach begangener Rauschtat?

64

e) Zusammenfassung und Ergebnis

64

4. Der Rausch im Sinne des § 323a StGB – §§ 20, 21 StGB als Minimalbedingungen eines tatbestandsmäßigen Rauschs?

66

a) Der Rausch im Sinne des § 323a StGB als Wirkung von Rauschmitteln

66

b) § 20 StGB als Minimalbedingung für einen tatbestandsmäßigen Rausch?

69

c) Der "sichere Bereich des § 21 StGB" als quantitative Bestimmung des Rauschs?

72

II. Der "zu gefährliche Rausch" – Abschließende Bestimmung des Gefährdungspotentials und Konkretisierung der auf dessen Vermeidung bezogenen Verhaltensnormen

74

B. Die Legitimation der Sanktionsnorm des § 323a StGB

76

I. Legitimer Zweck der Sanktionierung wegen Vollrauschs nach § 323a StGB

78

II. Geeignetheit der Sanktionierung wegen Vollrauschs nach § 323a StGB

79

III. Erforderlichkeit der Sanktionierung wegen Vollrauschs nach § 323a StGB

80

IV. Angemessenheit der Sanktionierung wegen Vollrauschs nach § 323a StGB

82

C. Zusammenfassung

85

Vierter Teil: Deliktstypus: Kritische Würdigung vorhandener Deliktszuordnungen und sachgerechte Einordnung

86

A. Deliktstypus und Normzweck – Die im Wesentlichen vertretenen Ansichten zum Charakter des § 323a StGB in Literatur und Rechtsprechung

86

I. Zur Deutung des § 323a StGB als abstraktes Gefährdungsdelikt – Die Rauschtat als sog. objektive Bedingung der Strafbarkeit

87

1. Vereinbarkeit der Konzeption eines abstrakten Gefährdungsdelikts mit den Grundsätzen der Verhaltensnormlegitimation?

90

2. Ablehnung eines abstrakten Gefährdungsdelikts über den Wortlaut des § 323a StGB

93

3. Vergleich mit § 122 OWiG – Ein nicht schlüssiges Gefälle zwischen den angedrohten Rechtsfolgen

94

4. Exkurs: Vereinbarkeit objektiver Strafbarkeitsbedingungen mit dem Schuldprinzip?

97

5. Zusammenfassung der Ergebnisse

98

II. § 323a StGB als Ausnahmevorschrift zu den §§ 20, 21 StGB

99

1. Historie, Wortlaut und systematische sowie auch dogmatische Erwägungen

101

2. Verstoß gegen das Schuldprinzip und die Grundsätze der Verhaltensnormlegitimation

102

3. Zwischenfazit und Bewertung der vorgestellten Ansicht

104

III. § 323a StGB als konkretes Gefährdungsdelikt

105

1. Kritische Einwände im Hinblick auf die Einordnung als konkretes Gefährdungsdelikt

108

a) Anwendbarkeitsbeschränkung – Keine Erfassung sog. Ersttäter

108

b) Überschneidungen zur actio libera in causa?

109

2. Kurze kritische Würdigung und Ergebnis

109

IV. Zwischenfazit und kritische Gesamtwürdigung der vorgestellten Ansichten

110

B. Sachgerechte Deliktseinordnung des § 323a StGB

112

I. § 323a StGB als (fahrlässiges) Erfolgsdelikt – Die zwingende Konsequenz des Schuldprinzips

112

1. § 323a StGB als Erfolgsdelikt – Zur Rauschtat als Verletzungs- oder Gefährdungserfolg

112

2. Verhältnis des § 323a StGB zu § 122 OWiG

113

3. Verhältnis des § 323a StGB zur actio libera in causa – Bleibt noch ein Anwendungsbereich?

115

a) Voraussetzungen fahrlässigen Fehlverhaltens

116

b) Die actio libera in causa im Allgemeinen

117

c) Konkurrenzverhältnis zwischen § 323a StGB und der actio libera in causa – die sinnvolle Ergänzungsfunktion des § 323a StGB

120

4. Erneut: Keine Erfassung von sog. "Ersttätern"?

127

5. Notwendigkeit des hier vertretenen Ansatzes zur Wahrung des Grundsatzes nulla poena sine culpa

129

II. Zusammenfassung und abschließende Deliktszuordnung

129

Fünfter Teil: Konsequenzen für die Strafzumessung, den richtigen Schuldspruch, die Konkurrenzen und Erwägungen de lege ferenda

131

A. Strafzumessung, richtiger Schuldspruch und Konkurrenzen

131

I. Absolute Strafrahmenbegrenzung

131

II. Relative Strafrahmenbegrenzung

132

III. Richtiger Schuldspruch

133

IV. Konkurrenzen

134

B. Erwägungen zu § 323a StGB de lege ferenda

134

I. Gesetzesvorschläge der vergangenen Zeit

135

1. Gesetzesentwurf des Bundesrates von 1999

135

2. Gesetzesantrag des Freistaates Sachsen

136

3. Gesetzesvorschlag von Hennig im Rahmen der Beratungen der "Kommission zur Reform des strafrechtlichen Sanktionensystems"

137

4. Bewertung

137

II. Eigene Gesetzesvorschläge de lege ferenda

139

1. § 323a StGB als Tatbestand des Besonderen Teils

139

2. § 323a StGB als Regelung des Allgemeinen Teils

143

Sechster Teil: Schlussbetrachtung: Fazit und rechtspolitischer Ausblick

146

Literaturverzeichnis

149

Stichwortverzeichnis

161