Economic theory & philosophy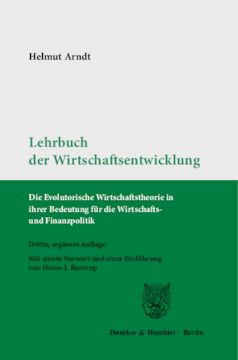 BOOK
Lehrbuch der Wirtschaftsentwicklung
Die Evolutorische Wirtschaftstheorie in ihrer Bedeutung für die Wirtschafts- und Finanzpolitik. Mit einem Vorwort und einer Einführung von Heinz-J. Bontrup
(2021)
Additional Information
Book Details
ISBN

978-3-428-55709-7
978-3-428-15709-9 (print edition)

DOI

https://doi.org/10.3790/978-3-428-55709-7

Edition

3

Edition Statement

3., ergänzte Aufl.

Language

German

Pages

374

Collections

Subjects
Pricing
Institution

€ 499.00 (incl. local VAT if applicable)

Individual

€ 53.90 (incl. local VAT if applicable)
About The Author
Heinz-J. Bontrup, Dipl.-Ökonom, Dipl.-Betriebswirt, Hochschullehrer für Wirtschaftswissenschaft mit dem Schwerpunkt Arbeitsökonomie an der Westfälischen Hochschule von 1996 bis 2019. Hier ist er einer von vier Direktoren des Westfälischen Energieinstituts. Vor seiner Berufung zum Hochschullehrer war er u.a. Personalvorstand (Arbeitsdirektor) bei der Stahlwerke Bochum AG, einer damaligen Thyssen-Tochter. Seit 2018 ist Bontrup Gast-Professor für Plurale Ökonomik an der Universität Siegen und Lehrbeauftragter an der Zeppelin Universität Friedrichshafen. Außerdem ist er Sprecher der Arbeitsgruppe Alternative Wirtschaftspolitik (AWW e.V.). Bontrup wird als wirtschaftswissenschaftlicher Sachverständiger im Bundestag und in verschiedenen Landtagen geladen. Am 21. März 2018 wurde ihm vom Bundespräsidenten das Bundesverdienstkreuz am Bande für seine vielfältige ökonomische und soziale Aufklärungsarbeit gegen den neoliberalen Mainstream verliehen.
Heinz-J. Bontrup, graduate economist, graduate in business administration, university lecturer for economics with a focus on labor economics at the Westphalian University from 1996 to 2019. Here he is one of four directors of the Westphalian Energy Institute. Before his appointment as a university lecturer, he was, among other things, Chief Human Resources Officer (Labor Director) at Stahlwerke Bochum AG, a Thyssen subsidiary at the time. Bontrup has been visiting professor for plural economics at the University of Siegen and lecturer at the Zeppelin University in Friedrichshafen since 2018. He is also the spokesman for the Alternative Economic Policy Working Group (AWW e.V.). Bontrup is invited to the Bundestag and various state parliaments as an economic expert. On March 21, 2018, the Federal President awarded him the Federal Cross of Merit on ribbon for his diverse economic and social education work against the neoliberal mainstream.
Abstract
Mit der Wiederauflage dieses Buches aus dem Jahr 1992 würdigt und ehrt, mit einer umfassenden Einführung, Heinz-J. Bontrup das Lebenswerk des herausragenden deutschen Ökonomen Helmut Arndt zu seinem 110. Geburtstag. Sein umfangreiches Forschungswerk sowohl auf dem Gebiet der Mikro- und Makroökonomik als auch der Wirtschaftspolitik sind heute als Gegenposition zum neoliberalen/neoklassischen Mainstream wichtiger denn je. Arndt wollte die wirtschaftliche Kreislaufbetrachtung durch eine »evolutionäre Wirtschaftstheorie« ergänzen und damit ihre Bedeutung für eine Wirtschafts- und Finanzpolitik aufzeigen. Er hat in seinem Forscherleben immer die zeit- und raumlosen Gleichgewichtsbetrachtungen in der orthodoxen Ökonomie beklagt. Wirtschaft unterliegt realiter dynamischen Prozessen, die auch nicht durch statisch-komparative Modellbetrachtungen abgebildet werden können. »The Evolutionary Economic Theory. In their Importance for Economic and Financial Policy. Textbook of Economic Development Theory. Reprint with a Foreword and a Detailed Introduction by Heinz-J. Bontrup«

Heinz-J. Bontrup and the Duncker & Humblot Verlag pay tribute with a reprint of this book from 1992 the life's work of the outstanding German economist Helmut Arndt on his 110th birthday. In a comprehensive introduction to the book, Bontrup describes the main points of the criticism put forward by Helmut Arndt against neoclassical / neoliberal economic theory.
Table of Contents
Section Title
Page
Action
Price

Vorwort zur dritten Auflage

V

Einführung. Von Heinz-J. Bontrup

VII

I. Helmut Arndt: Ein wissenschaftlich Suchender

VII

II. Helmut Arndt: Der Wettbewerbsforscher

XI

III. Helmut Arndt: Und die Machtfrage

XVII

IV. Helmut Arndt: Und der Mensch in der Wirtschaftswissenschaft

XXII

V. Helmut Arndt: Und die Arbeitsmärkte

XXVI

VI. Helmut Arndt: Und der Staat

XXIX

VII. Helmut Arndt: Und die Gesamtwirtschaft

XXXVII

VIII. Helmut Arndt: Und Umverteilung

XLII

IX. Helmut Arndt: Um die Umweltfrage

XLIV

Zur Person

XLV

Der empirische Befund

1

Inhaltsübersicht

3

Vorwort zur zweiten Auflage

5

Einleitung: Die veränderte Fragestellung

9

1. Buch: Ökonomische Theorie der Entwicklung und Anpassung

17

Erstes Kapitel: Kreislauf, Wachstum und Entwicklung

19

§ 1 Kreislauf und Entwicklung

19

1. Die Entwicklung von Angebot und Nachfrage

19

2. Wirtschaftsordnungen des Kreislaufs oder der Entwicklung

21

§ 2 Sterilität und Kreativität in der Wirtschaft

22

§ 3 Kreislauftheorie und Entwicklungstheorie

24

Übersicht 1: Vergleich zwischen Kreislauf- und Entwicklungstheorie

25

Zweites Kapitel: Die Unterschiede in den Prämissen

26

§ 1 Die unterschiedlichen Prämissen der Neoklassik und der kreativen Theorie

26

§ 2 Kreative Theorie und Schumpeters Theorie der wirtschaftlichen Entwicklung

29

§ 3 Unterschiede zwischen Wachstums- und Entwicklungstheorie

32

§ 4 Wettbewerbsgesellschaft oder Euckens Verkehrswirtschaft?

34

Übersicht 2: Theorie der Verkehrs- und Wettbewerbswirtschaft im Vergleich

38

Drittes Kapitel: Entwicklung von Angebot und Nachfrage

39

Vorbemerkung: Die Problematik

39

1. Titel: Die Entwicklung des Angebots (Grundschema)

42

§ 1 Betriebe und Unternehmen

42

§ 2 Novitätsinvestitionen

42

§ 3 Rationalisierungsinvestitionen

44

§ 4 Entstehung des Mehrwerts infolge der Entwicklung des Angebots

45

§ 5 Ausschaltung des Ertragsgesetzes durch die Unternehmen

48

§ 6 Unterschied zwischen Betriebs- und Unternehmensgrößen

50

§ 7 Ausschluß ökonomischer Wirkungen

52

§ 8 Investitionen als Ergebnis unternehmerischer Entscheidungen

55

Übersicht 3: Investitionen in der sterilen und in der kreativen Wirtschaft

56

2. Titel: Entwicklung der Nachfrage (Grundschema)

57

§ 1 Entwicklung der Haushaltsnachfrage

57

§ 2 Entwicklung der Unternehmensnachfrage

59

§ 3 Ausschaltung der Gossenschen Gesetze und der "Indifferenzkurvenanalyse\" durch die Nachfrageentwicklung

61

3. Titel: Mißverständnisse, welche die Analyse der wirtschaftlichen Entwicklung verhinderten

62

§ 1 Verwechslung der wirtschaftlichen Entwicklung mit technischem Fortschritt

62

§ 2 Verwechslung von Arbeitsteilung und Kreativität

63

§ 3 Verkennung des Schöpferischen in seiner Bedeutung für das Wirtschaftsgeschehen

64

Übersicht 4: Die Entwicklung von Angebot und Nachfrage

66

Viertes Kapitel: Anpassung von Angebot und Nachfrage (Grundschema)

68

§ 1 Voraussetzungen der Anpassung

68

§ 2 Anpassung der Preise und Qualitäten

69

§ 3 Anpassung bei Mangel und Überfluß

70

Fünftes Kapitel: Entwicklungs- und Anpassungselastizität

73

1. Titel: Elastizität als statischer Begriff und als Begriff der Entwicklung und Anpassung

73

2. Titel: Entwicklungselastizität

74

§ 1 Entwicklungselastizität der Unternehmen

74

§ 2 Entwicklungselastizität der Haushalte

76

3. Titel: Anpassungselastizität

77

§ 1 Nachfrageelastizität im Gleichgewicht und in der Entwicklung

77

§ 2 Beeinflussung der Anpassungselastizität durch die Entwicklung

78

Übersicht 5: Die Anpassung von Angebot und Nachfrage (und die Entwicklungselastizität)

80

Sechstes Kapitel: Leistungen der Wirtschafter bei der Entwicklung von Angebot und Nachfrage, ihre Verkennung durch die Neoklassik und ihr Ausschluß im Sozialismus

81

1. Titel: Unternehmerleistungen bei Entwicklung und Anpassung des Angebots

81

§ 1 Warum die Gleichgewichtstheorie keine Unternehmensleistung kennt

81

§ 2 Die unternehmerischen Funktionen

82

§ 3 Ausschluß der Unternehmerleistung im Sozialismus

84

2. Titel: Leistungen der Verbraucher bei Entwicklung und Anpassung der Nachfrage

84

§ 1 Weshalb die Neoklassik die Leistungen der Verbraucher übersieht

84

§ 2 Die volkswirtschaftlichen Leistungen der Verbraucher

85

§ 3 Warum es im Sozialismus keine volkswirtschaftlichen Leistungen der Verbraucher gibt

86

Übersicht 6: Die Leistungen der Unternehmen und Verbraucher

87

2. Buch: Die sich entwickelnde Wettbewerbsgesellschaft

89

Siebentes Kapitel: Wettbewerb: Individuelles Gleichgewicht oder sozialer Prozeß?

91

1. Titel: Der Irrweg der klassischen und neoklassischen Ökonomen

91

2. Titel: Funktionen des Wettbewerbs

95

A. Die \"einfachen\" Wettbewerbsfunktionen

95

B. Die Funktionen des Entwicklungswettbewerbs

96

3. Titel: Voraussetzungen des Wettbewerbs

97

§ 1 Freiheit der Anbieter und Nachfrager

98

§ 2 Gewährung von Incentives

98

§ 3 Die Bedeutung des Privateigentums für den Wettbewerb

100

§ 4 Monopole und Oligopole sind keine Voraussetzung des Wettbewerbs

101

4. Titel: Preis Wettbewerb: Die Bildung von Preisen und Löhnen unter dem Einfluß der Entwicklung von Angebot und Nachfrage

102

§ 1 Die verkannte Problematik

102

§ 2 Preisbildung zwischen Unternehmen und Haushalten

104

§ 3 Preisbildung zwischen anbietenden und nachfragenden Unternehmen

105

§ 4 Lohnbildungsprozeß im Wettbewerb

107

5. Titel: Entwicklungswettbewerb

110

§ 1 Vorbemerkung: Qualitätswettbewerb im allgemeinen

110

§ 2 Novitätswettbewerb im besonderen

112

1. Kreation eines Leistungsmonopols

112

2. Der Nachahmer-Wettbewerb

113

3. Der Untergangs-Wettbewerb

114

§ 3 Rationalisierungswettbewerb

115

6. Titel: Anpassungswettbewerb

117

§ 1 Entknappungswettbewerb

119

§ 2 Verknappungswettbewerb

119

Zusammenfassung

121

7. Titel: Menge und Qualität der Wettbewerber

121

§ 1 Wettbewerbsfähigkeit und Wettbewerbsbereitschaft

122

§ 2 Bedeutung der Zahl für Entwicklung, Anpassung und den Unterschied von formalem und materiellem Wettbewerb

123

§ 3 Wettbewerb in geschlossenen Volkswirtschaften und in der Weltwirtschaft

125

8. Titel: Der Einfluß von Erwartungen auf den Entwicklungs- und Anpassungswettbewerb

127

§ 1 Der Einfluß von Erwartungen im Entwicklungswettbewerb

127

§ 2 Der Einlluß von Erwartungen im Anpassungswettbewerb

128

Übersicht 7: Individuelle Marktformen und sozialer Wettbewerb — ein Kontrast

129

A. Die Lehre von den "Marktformen

129

B. Die Theorie des Wettbewerbs

130

3. Buch: Die Folgen der Entwicklung

133

Achtes Kapitel: Multiplikator- und Akzeleratortheorie

135

Einleitung: Der unterschiedliche Ausgangspunkt

135

1. Titel: Statische Multiplikator- und Akzeleratoranalyse

135

§ 1 Der keynesianische "Investitionsmultiplikator

135

§ 2 Samuelsons Akzelerator-Modell

138

§ 3 Der Multiplikator-Akzelerator-Mechanismus

140

2. Titel: Der Wettbewerbs- oder Entwicklungsmultiplikator

141

§ 1 Die progressive Entwicklung

141

§ 2 Angebots- und Nachfragemultiplikator

143

§ 3 Beschäftigungswirkungen von Staatsausgaben und Entwicklungsinvestitionen

145

§ 4 Wirkungen der Umverteilung auf den Entwicklungsmultiplikator

146

Zusammenfassung

147

Neuntes Kapitel: Theorie der unsteten Entwicklung

148

1. Titel: Unstete Entwicklung oder unstetes Wachstum?

148

§ 1 Die Problematik

148

§ 2 Arten unsteter Entwicklung (Übersicht)

149

2. Titel: Unstete Entwicklung in Wettbewerbsgesellschaften

150

§ 1 Unterentwicklung der Nachfrage

150

§ 2 Qualitative Unterentwicklung des Angebots

150

§ 3 Unterschiedliche Entwicklung von Industrie und Landwirtschaft

152

§ 4 Unterentwicklung des effektiven Bedarfs

153

Anhang: Überentwicklung des potentiellen Bedarfs im Sozialismus

153

Zusammenfassung

155

4. Buch: Wirtschaftliche Macht in einer sich entwickelnden Welt

157

Zehntes Kapitel: Die Verharmlosung der Macht durch die Gleichgewichtstheorie

159

1. Titel: Die verfälschte Problematik

159

2. Titel: Eliminierung der Macht durch Prämissen

161

§ 1 Ausschluß von Machtkämpfen und ruinösen Strategien

161

§ 2 Abstraktion von Umwertungen und Lernprozessen

163

§ 3 Eliminierung der Entwicklung

164

1. Durch die Annahme "gegebener Betriebe

164

2. Durch die Prämisse "gegebener Waren

165

§ 4 Beschränkung auf den "Markt

165

§ 5 Verwechslung von Produktdifferenzierung mit Monopolisierung

167

§ 6 Ausschaltung von List und Betrug

169

§ 7 Verwechslung von Wirtschaftstheorie und "Mengenlehre\" (Jevons)

170

§ 8 Eliminierung negativer Staatseinflüsse

172

3. Titel: Unterschiedliche Arten wirtschaftlicher Macht

174

Zusammenfassung

175

Elftes Kapitel: Kampfstrategien und Aktionsparameter des Monopols

177

1. Titel: Strategien im Kampf um die Macht

178

§ 1 Preisunterbietungen

178

§ 2 Aökonomische Strategien

180

§ 3 Machtkämpfe an Arbeitsmärkten

181

2. Titel: Strategien des Monopols nach seiner Errichtung

182

§ 1 Monopolistische Preis- und Mengenpolitik

182

§ 2 Monopolistische Qualitätspolitik

184

§ 3 Monopolistische Investitionspolitik

184

1. Beeinflussung der Erweiterungsinvestitionen

184

2. Abneigung gegenüber Entwicklungsinvestitionen

185

§ 4 Ausbeutung durch Vermögensumschichtung

186

3. Titel: Quasi-Monopole

187

§ 1 Lähmung der Konkurrenz durch Sperr- und Schubkastenpatente

188

§ 2 Ausschluß der Konkurrenz durch Verflechtung

189

4. Titel: Trennung von Eigentum und Verfügungsmacht

190

Zusammenfassung

191

Anhang: Die Entwicklung "natürlicher Monopole

192

Zwölftes Kapitel: Wettbewerbsentartungen

193

Einleitung: Die Problematik

193

§ 1 Verlust der personellen Wahlfreiheit

193

§ 2 Partnermacht

194

Erster Abschnitt: Ungleiche Machtverteilung zwischen den Sozialpartnern in ihrem Einfluß auf die Entwicklung von Angebot und Nachfrage

195

1. Titel: Nachfragermacht der Arbeitgeber

195

§ 1 Der Tatbestand

195

§ 2 Volkswirtschaftliche Wirkungen der Ausbeutung

196

1. Entartung des Wettbewerbs im Kapitalismus

197

2. Die periodisch wiederkehrenden Krisen

197

3. Verlangsamung der wirtschaftlichen Entwicklung

198

2. Titel: Anbieter macht am Arbeitsmarkt

199

§ 1 Änderung der volkswirtschaftlichen Problematik

199

§ 2 Macht der Gewerkschaften

200

§ 3 Volkswirtschaftliche Folgen

202

Zusammenfassung

204

Zweiter Abschnitt: Ungleiche Machtverteilung an Gütermärkten in ihrem Einfluß auf die Entwicklung von Angebot und Nachfrage

205

1. Titel: Die Problematik

206

1. Einseitige Bindungen

206

2. Absprachen und Boykott als Kampfmittel

207

2. Titel: Anbietermacht und ihre Folgen

208

1. Der Tatbestand

208

2. Folgen für die Entwicklung von Angebot und Nachfrage

208

3. Titel: Nachfragermacht und ihre Wirkungen

209

§ 1 Verdrängungswettbewerb

211

§ 2 Verkennung der Problematik

212

Zusammenfassung

215

5. Buch: Entwicklung und Anpassung im Außenhandel

217

Dreizehntes Kapitel: Die veränderte Fragestellung

219

1. Titel: Außenhandel als Folge und Ursache wirtschaftlicher Entwicklung

221

§ 1 Beschleunigung der Entwicklung von Angebot und Nachfrage durch den Außenhandel

221

§ 2 Vervielfachung des Außenhandels durch die Entwicklung von Angebot und Nachfrage

223

§ 3 Einfluß der wirtschaftlichen Entwicklung auf Handelsströme und Handelspolitik

225

2. Titel: Die "komparativen\" und die absoluten Vorteile in einer Weltwirtschaft, in der sich Angebot und Nachfrage entwickeln

226

§ 1 "Profite\" im Gleichgewicht und in der Entwicklung

226

§ 2 Vorteile des bilateralen Naturaltausches

229

§ 3 Vorteile des freien Warentausches in einer internationalen Wettbewerbsgesellschaft

230

§ 4 Warum in einer internationalen Wettbewerbsgesellschaft kein Land bei jeder Ware teurer ist

231

3. Titel: Der Anpassungsmechanismus von Humein der marktwirtschaftlichen Realität

233

§ 1 Unabhängigkeit der Geldzirkulation vom Außenhandel

235

§ 2 Die Entwicklung von Angebot und Nachfrage ist mit einer gegebenen Geldmenge unvereinbar

236

§ 3 Unterschiedliche Entwicklung von Wohlstand und Produktivität in den Mitgliedstaaten

237

4. Titel: Einflüsse des Außenhandels auf Beschäftigung und Produktivität

238

§ 1 Der "Außenhandelsmultiplikator\" der Gleichgewichtstheorie

238

§ 2 Die Vervielfachung des Mehrwerts durch den Außenhandel (Mehrwertakzelerator)

240

Zusammenfassung

241

6. Buch: Die Bedeutung der wirtschaftlichen Entwicklung für Wirtschafts- und Finanzpolitik

245

Vierzehntes Kapitel: Steuern und Staatsausgaben in einer sich entwickelnden Wirtschaft

247

Einleitung: Problematik

247

Erster Abschnitt: Der Einfluß direkter Steuern auf die Entwicklung von Angebot und Nachfrage

249

1. Titel: Die veränderte Fragestellung

249

§ 1 Der traditionelle Ansatz der Finanzwissenschaft

249

§ 2 Änderung der Problematik in einer sich entwickelnden Wirtschaft

250

2. Titel: Einfluß der Einkommens- und Gewinnbesteuerung auf die Entwicklung von Angebot und Nachfrage

251

§ 1 Beeinflussung der Haushalte durch die Einkommensteuer

251

1. Einfluß der Haushaltsbesteuerung auf die Entwicklung von Konsum- und Spareinkommen

252

2. Einfluß der Verringerung der Konsum- und Spareinkommen auf die Entwicklung von Angebot und Nachfrage

253

§ 2 Der Einfluß der Besteuerung von Unternehmensgewinnen auf die Entwicklungsinvestitionen

254

3. Titel: Einfluß spezieller Verbrauchsteuern auf die wirtschaftliche Entwicklung

256

Zusammenfassung

258

Zweiter Abschnitt: Einfluß von Staatsausgaben auf die Entwicklung von Angebot und Nachfrage

259

§ 1 Die Resultate der komparativen Statik

259

§ 2 Wie Entwicklung von Angebot und Nachfrage die Ergebnisse verändert

260

Zusammenfassung

261

Fünfzehntes Kapitel: Beschäftigungsprobleme in einer sich wandelnden Welt

263

1. Titel: Wechselnde Aktualität der vom Staatgesetzten Rahmenbedingungen

264

§ 1 Zeitbedingtheit der Unterkonsumtions- oder Überproduktionstheorien

264

§ 2 Zeitbedingtheit der monetären Konjunkturtheorien

265

§ 3 Zeitbedingtheit der keynesianischen Theorie

267

2. Titel: Aktualität der Entwicklungsarbeitslosigkeit in Wettbewerbsgesellschaften

268

Vorbemerkung

268

§ 1 Entwicklungsschwankungen als Ursache von Arbeitslosigkeit

269

§ 2 Entwicklungsarbeitslosigkeit als Folge unterschiedlicher Entwicklung von Angebot und Nachfrage

271

Zusammenlassung

277

Nachwort

279

Anhang I: Transformation: komparative Statik oder Evolution?

285

Anhang II: Neoklassische Wirtschaftspolitik in der Marktwirtschaft?

295

Anhang III: Der Wettbewerbsprozeß (Arndt 1949/1952)

297

Schrifttum

299

Begriffsverzeichnis

307

Personenregister

319

Sachregister

324