Privacy law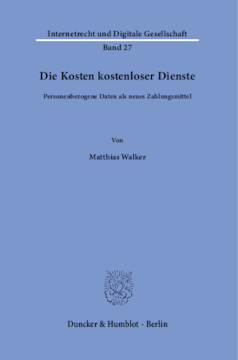 BOOK
Cite BOOK
Style
---
Walker, M. (2021). Die Kosten kostenloser Dienste. Personenbezogene Daten als neues Zahlungsmittel. Duncker & Humblot. https://doi.org/10.3790/978-3-428-58334-8
Walker, Matthias. Die Kosten kostenloser Dienste: Personenbezogene Daten als neues Zahlungsmittel. Duncker & Humblot, 2021. Book. https://doi.org/10.3790/978-3-428-58334-8
Walker, M, (2021): Die Kosten kostenloser Dienste: Personenbezogene Daten als neues Zahlungsmittel, Duncker & Humblot, [online] https://doi.org/10.3790/978-3-428-58334-8
---
Format
---
Die Kosten kostenloser Dienste
Personenbezogene Daten als neues Zahlungsmittel
Internetrecht und Digitale Gesellschaft, Vol. 27
(2021)
Additional Information
Book Details
ISBN

978-3-428-58334-8
978-3-428-18334-0 (print edition)

DOI

https://doi.org/10.3790/978-3-428-58334-8

Edition

1

Language

German

Pages

251

Collections

Subjects
Pricing
Institution

€ 92.00 (incl. local VAT if applicable)

Individual

€ 71.90 (incl. local VAT if applicable)
About The Author
Matthias Walker studierte Rechtswissenschaften an der Humboldt-Universität zu Berlin. Von 2017 bis 2019 war er als Rechtsanwalt in der Medienrechtskanzlei Brehm & v. Moers in Berlin tätig, mit Schwerpunkt auf die Games-Industrie. Neben seiner anwaltlichen Tätigkeit unterrichtete er Recht an der Berlin International, University of Applied Sciences. Seit 2019 ist er in der E-Sports-Industrie tätig, wo er zunächst das globale Datenschutzmanagement der ESL Gaming GmbH in Köln verantwortete und nun seit 2020 das konzernweite Datenschutzmanagement für deren schwedische Muttergesellschaft Modern Times Group leitet. Seine Promotion durch die Humboldt-Universität zu Berlin erfolgte im März 2021.
Matthias Walker studied law at Humboldt-University zu Berlin. From 2017 to 2019, he worked as a lawyer at the media law firm Brehm & v. Moers in Berlin, focusing on the games industry. In addition to his legal practice, he taught law at Berlin International, University of Applied Sciences. Since 2019, he has been working in the e-sports industry, where he was first responsible for the global data protection management of ESL Gaming GmbH in Cologne and now, since 2020, heads the group-wide data protection management for its Swedish parent company Modern Times Group. He was awarded his doctorate by Humboldt-University zu Berlin in March 2021.
Abstract
Im Zuge der Digitalisierung aller Lebensbereiche »bezahlen« Verbraucher für die Inanspruchnahme digitaler Dienste zunehmend mit ihren personenbezogenen Daten. Verbraucher und Unternehmer partizipieren jedoch nicht gleichermaßen an der Wertschöpfung mit personenbezogenen Daten. Während die Schaffung eines absoluten Rechts an Daten zur Beseitigung dieser zuungunsten der Verbraucher bestehenden Diskrepanz derzeit nicht erfolgsversprechend erscheint, rückt durch Erlass der Digitale-Inhalte-Richtlinie der Europäischen Union die vertragsrechtliche Erfassung der Bereitstellung von Inhalten und Diensten gegen personenbezogene Daten in den Fokus. Zwar wurde derartigen Datentransaktionen durch die Richtlinie erstmalig ein rechtlicher Rahmen verliehen, es stellen sich dennoch datenschutz-, verbraucherschutz-, und vertragsrechtliche Folgefragen. Fest steht: Für eine künftig faire und nachhaltige Wertschöpfung mit personenbezogenen Daten, die Verbraucher nicht benachteiligt, wird es weiterer Regeln bedürfen. »The Cost of Free Services. Personal Data as New Means of Payment«

Consumers are increasingly »paying« for digital services with their personal data. However, consumers and entrepreneurs do not participate equally in the value creation with personal data. Matthias Walker examines how this discrepancy in value creation, which is to the disadvantage of consumers, can be countered. Particular focus is placed on the creation of an absolute right to data and the significance of the EU Digital Content Directive.
Table of Contents
Section Title
Page
Action
Price

Vorwort

5

Inhaltsverzeichnis

7

Einleitung

15

Abkürzungsverzeichnis\r

12

Kapitel 1: Die ökonomische Relevanz von Daten

20

A. Abgrenzung zwischen Information und Daten

20

I. Information

21

1. Der Informationsbegriff im Gesetz

21

2. Natur von Information

22

3. Das semiotische Verständnis von Information

24

II. Daten

25

1. Wesensmerkmale von Daten

25

2. Daten als Rechtsobjekte

27

B. Big Data

28

I. Grundlegend anerkannte Merkmale von Big Data

29

1. Volume

29

2. Velocity

30

3. Variety

30

II. Weitere essentielle Merkmale von Big Data

31

1. Veracity

31

2. Value

32

III. Die ökonomische Perspektive von Big Data

33

IV. Big Data in der Praxis

34

C. Personenbezogene Daten als handelbares Gut

36

I. Die Wertschöpfungskette zu Daten – Der data lifecycle

37

II. Datenmärkte und Datenmarktplätze

39

1. Datenmärkte

39

2. Datenmarktplätze

40

III. Akteure auf den Datenmärkten

41

IV. Grundlegende Formen ökonomisch relevanter Datentransaktionen

45

1. Entgeltliche Datentransaktionen

46

2. Akzessorische Datentransaktionen

46

3. Tauschbasierte Datentransaktionen

47

V. Technischer Hintergrund tauschbasierter Datentransaktionen – Webtracking

48

VI. Wertbestimmung personenbezogener Daten

49

D. Ergebnis

52

Kapitel 2: Die Wertschöpfungsdiskrepanz

55

A. Unterlegene Wissens- und Handlungsposition der Betroffenen

57

B. Signifikanz der informationellen Selbstbestimmung

62

I. Ubiquität und Vernetzung

63

II. Anonymisierung

68

C. Fehlende Nachhaltigkeit

69

D. Mögliche Vorteile einer Partizipation des Betroffenen an der Datenverwertung

72

E. Ergebnis

76

Kapitel 3: Die Auflösung der Wertschöpfungsdiskrepanz mittels eines absoluten Rechts?

78

A. Ein absolutes Recht an personenbezogenen Daten de lege lata?

78

I. Absolute und relative Rechte

79

II. Mögliche Quellen eines absoluten Rechts an Daten de lege lata

80

1. Datenschutzrecht

80

2. Eigentum und eigentumsähnliche Rechte

81

a) Anwendbarkeit eigentumsrechtlicher Vorschriften

81

b) Entsprechende Anwendbarkeit eigentumsrechtlicher Vorschriften

85

3. Daten als Früchte und Nutzungen

86

a) § 99 BGB

86

b) § 100 BGB

88

4. Urheberrecht

90

a) Einzeldaten als urheberrechtliche Werke

90

b) Sammel- und Datenbankwerke

94

c) Datenbanken

96

d) Computerprogramme

101

5. Deliktsrecht

103

a) § 823 Abs. 1 BGB

103

b) § 823 Abs. 2 BGB

104

6. Zwischenergebnis

105

B. Ein absolutes Recht an Daten de lege ferenda?

106

I. Gegenstand der Kommerzialisierung

107

II. Immaterialgüter- oder Persönlichkeitsrecht als Ausgangspunkt?

109

1. Meinungsspektrum zur Kommerzialisierung von Personen

109

2. Gegenüberstellung von Immaterialgüterrecht und Persönlichkeitsrecht

111

a) Immaterialgüter und Immaterialgüterrecht

112

b) Persönlichkeitsgüter und Persönlichkeitsrecht

115

3. Anwendung auf personenbezogene Daten

118

a) Immaterialgüterrechtliche Wesensmerkmale personenbezogener Daten

118

b) Ablösung von der Person

119

c) Mischnatur: Das Urheberrecht als Vorbild

122

C. Ablehnung der Konzeption eines absoluten Rechts an personenbezogenen Daten

126

Kapitel 4: Relative Rechte an Daten

130

A. Daten als vertraglicher Leistungsgegenstand im Kontext des Datenschutzrechts

131

B. Daten als rechtsgeschäftlicher Leistungsgegenstand

132

C. Die Digitale-Inhalte-Richtlinie

134

D. Das Konzept eines "Datenschuldrechts"

137

Kapitel 5: Der Bereitstellungsvertrag

139

A. Vertragsschluss

139

I. Dienste mit Registrierungserfordernis

140

II. Dienste ohne Registrierungserfordernis

140

1. Aussagegehalt der DIRL

142

2. Willenserklärung des Unternehmers

142

3. Willenserklärung des Verbrauchers

146

III. Folgen eines fehlenden Vertragsschlusses

150

1. Gesetzliches Schuldverhältnis gemäß § 311 Abs. 2 Nr. 2 BGB

150

2. Gesetzliches Schuldverhältnis gemäß § 311 Abs. 2 Nr. 3 BGB

152

3. Einseitig gestellte AGB

154

B. Hauptleistungspflichten

154

I. Hauptleistungspflicht des Unternehmers

155

II. Hauptleistungspflicht des Verbrauchers

155

1. Bereitstellung personenbezogener Daten

155

2. Einwilligung als Teil der Hauptleistungspflicht des Verbrauchers

156

a) Einwilligung (Art. 6 Abs. 1 UAbs. 1 lit. a DSGVO)

157

b) Wahrung der berechtigten Interessen (Art. 6 Abs. 1 UAbs. 1 lit. f DSGVO)

158

III. Vorliegen eines Synallagmas

161

1. Arten der Verknüpfung von Leistungen

161

2. Fehlende ausdrückliche Vereinbarungen in der Praxis

161

3. Kausale Verknüpfung

162

4. Synallagmatische oder konditionelle Verknüpfung

162

C. Vertragstypus

167

I. Tausch- bzw. Kaufvertrag

168

II. Leihvertrag

170

III. Miet- bzw. Pachtvertrag

170

IV. Dienstvertrag

174

V. Lizenzvertrag

175

1. Bereitstellung digitaler Inhalte gegen Entgelt

175

2. Bereitstellung digitaler Inhalte gegen personenbezogene Daten

176

3. Gegenleistung als ausschlaggebendes Kriterium

178

VI. Gemischter Vertrag

179

1. Rechtliche Einordnung gemischter Verträge

179

2. Bereitstellungsvertrag als Zwittervertrag

180

VII. Entgeltlichkeit

182

D. Wirksamkeit

185

I. Trennungs- und Abstraktionsprinzip

185

1. Trennungsprinzip

185

2. Abstraktionsprinzip

188

II. Beendigung des Bereitstellungsvertrags nach der DIRL

190

III. Sittenwidrigkeit des Bereitstellungsvertrags

190

IV. Entfallen der datenschutzrechtlichen Rechtsgrundlage für die Verarbeitung

193

1. Zeitablauf der Einwilligung

193

2. Freiwilligkeit der Einwilligung, insbesondere Koppelungsverbot

194

a) Der Koppelungstatbestand des Art. 7 Abs. 4 DSGVO

195

b) Rechtsfolgen der unzulässigen Koppelung

197

3. Informiertheit des Verbrauchers

199

4. Widerruf und Widerspruch

201

a) Widerruf der Einwilligung

201

b) Widerspruch gegen die Datenverarbeitung

204

c) Auswirkungen von Widerruf und Widerspruch auf das Verpflichtungsgeschäft

205

E. Durchsetzbarkeit

207

I. Dolo-Agit-Einwand

207

II. Unvollkommene Verbindlichkeit

208

III. Vollstreckungsverbot

210

IV. Regelungsbedarf

213

F. Ergebnis

214

Gesamtergebnis und Ausblick

216

Literaturverzeichnis

221

Personen- und Sachverzeichnis

249