Public international law: responsibility of states & other entities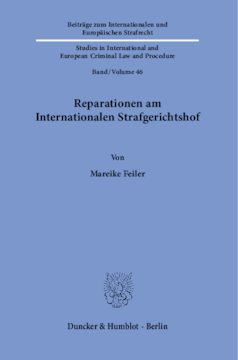 Additional Information
Book Details
ISBN

978-3-428-58306-5
978-3-428-18306-7 (print edition)

DOI

https://doi.org/10.3790/978-3-428-58306-5

Edition

1

Language

German

Pages

216

Collections

Subjects
Pricing
Institution

€ 92.00 (incl. local VAT if applicable)

Individual

€ 71.90 (incl. local VAT if applicable)
About The Author
Mareike Feiler studierte Rechtswissenschaften an der Freien Universität Berlin. Nach ihrem Referendariat in Lübeck, Hamburg und Los Angeles erwarb sie einen Master of International Law and International Relations der University of New South Wales, Sydney. Im Rahmen einer Studie zu Opferbeteiligung am Khmer Rouge Tribunal in Kambodscha (ECCC) forschte sie in Kambodscha und an der Harvard Humanitarian Initiative, bevor sie ihre Dissertation zu Reparationen am Internationalen Strafgerichtshof an der Friedrich-Alexander-Universität Erlangen-Nürnberg begann. Parallel war und ist sie im Presse- und Informationsamt der Bundesregierung tätig, wo sie aktuell Leiterin des Personalreferates ist.
Mareike Feiler studied law at the Free University of Berlin. After her legal clerkship in Lübeck, Hamburg and Los Angeles she went to Sydney for her Master of International Law and International Relations at the University of New South Wales. She co-authored an empirical report on Civil Party Participation at the Extraordinary Chambers in the Courts of Cambodia and was visiting researcher at the Harvard Humanitarian Initivative. She wrote her thesis on Reparations at the International Criminal Court at the Friedrich-Alexander University Erlangen-Nuremberg. Currently she is head of human resources Press- and Information Office of the German Federal Government.
Abstract
Seit der Errichtung des Internationalen Strafgerichtshofs wurde sein Mandat wiederholt mit der Schaffung von Opfergerechtigkeit, »justice for victims«, beschrieben. Maßgeblicher Teil dessen ist die Anordnung von Opferentschädigung gegen die vom IStGH verurteilten Täter. Der Internationale Strafgerichtshof hat nunmehr drei Reparationsentscheidungen gefällt. Es zeigt sich, dass Wiedergutmachung im Bereich der Makrokriminalität nicht trivial ist. Unterschiedliche rechtliche Verständnisse und Ansätze können zu sehr unterschiedlichen Rechtauffassungen führen. Die vorliegende Arbeit beschäftigt sich mit dem Reparationsregime des IStGH. Ausgehend von allgemeinen Gedanken zum Ziel und Zweck des Reparationsregimes, werden die Anspruchsvoraussetzungen des Art. 75 IStGH-Stauts analysiert, in der Konturierung, die die Tatbestandsvoraussetzungen durch die Entscheidungen Lubanga, Katanga und Al Mahdi erhalten haben. »Reparations at the International Criminal Court«: Since the International Criminal Court was founded it has issued three orders for reparations. It has become obvious that reparations in the context of mass crimes are complex. The decisions reveal fundamental different understandings of the law governing the reparations claim at the International Criminal Court. This book analyses the decisions and makes suggestions in the hope for more tangible justice for victims at the International Criminal Court.
Table of Contents
Section Title
Page
Action
Price

Vorwort

5

Inhaltsverzeichnis

7

I. Einleitung

13

II. Die Genese des Rechts der Reparationen bis zur Reparationsstruktur des IStGH

16

1. Staatenberechtigung im Völkerrecht

17

2. Mittelbarer internationaler Schutz – humanitäres Völkerrecht

18

3. Menschenrechte – Staatenverantwortlichkeit zum Schutz des Individuums

20

4. Völkerstrafrecht – der Täter als Völkerrechtssubjekt

25

a) Reparationen in internationalen/-isierten Gerichten

27

aa) Die Stellung der Opfer im System der Ad-hoc-Strafgerichtshöfe für Ruanda und das ehemalige Jugoslawien

27

bb) Die Stellung der Opfer im System der hybriden Gerichte

29

(1) Reparationen an den ECCC

31

(2) Die Bedeutung von Reparationen am ECCC – Ergebnisse empirischer Studien

36

b) Reparationen am IStGH

41

aa) Die Struktur des Reparationsmandats in Art. 75 IStGH-Statut

43

(1) Anordnung von Reparationen

43

(2) Aufstellen von Reparation Principles

45

(3) Verfahren

47

bb) Der Treuhandfond nach Art. 79 Abs. 1 IStGH-Statut

48

(1) Reparationen (Reparations)

48

(2) General Assistance/humanitäres Mandat

49

cc) Entschädigungsgrundsätze vor dem IStGH

50

(1) Der "Do No Harm"-Grundsatz

50

(2) "Dignity, non-discrimination and non-stigmatisation"

51

(3) "Accessibility and consultation with victims: gender-inclusive approach and child victims"

51

5. Fazit

52

III. Zweck von Reparationen im Völkerstrafrecht

53

1. Kein durch Definition festgelegter Zweck

54

2. Reparationen im Völker‍(straf)‌recht – strukturell inadequat?

55

3. Zweck von Reparationen – Ein straftheoretischer Ansatz

60

a) Retributive Gerechtigkeit – Der Vergeltungsgedanke

61

b) Präventionsorientierte Gerechtigkeit – die abschreckende Wirkung von Maßnahmen

63

c) Reparative/Restorative Gerechtigkeit

65

d) Expressive Gerechtigkeit – die kommunikative Kraft von Unwerturteilen

69

e) Transitional Justice – Gerechtigkeit als Teil des gesellschaftlichen Wandels

70

f) Diskussion

73

4. Charakterisierung der Rechtsnatur

74

5. Zweckbestimmung der unterschiedlichen Formen von Reparationen am IStGH

77

a) Wiedergutmachungsarten

78

aa) Restitution

78

bb) Kompensation

79

cc) Rehabilitation

81

dd) Genugtuung

82

ee) Garantie der Nichtwiederholung

83

b) Exkurs – der zweigeteilte Zweckbegriff von de Greiff und Wierda

85

c) Zwischenergebnis

86

d) Kollektive und individuelle Wiedergutmachung

87

e) Diskussion

88

6. Ziel und Zweck des Reparationsregimes am IStGH: Diskussion

89

IV. Gerichtliche Reparationen nach Art. 75 Abs. 2 IStGH-Statut

93

1. Anspruchsvoraussetzungen und Anspruchsinhalt von Art. 75 Abs. 2 IStGH-Statut

93

a) Adressat der Reparationsanordnung

94

aa) Der verurteilte Täter als Adressat

95

bb) Mittellosigkeit als Anordnungshindernis?

98

cc) Diskussion

101

b) Destinatäre der Reparationsanordnung

102

aa) Mittelbare und unmittelbare Opfer

103

bb) Selektivität der Anklage

104

cc) Diskussion

106

c) Der Schadensbegriff des IStGH-Statuts

107

aa) Definition des Schadensbegriffs im IStGH-Statut

108

bb) Inhalt des Schadensbegriffs

109

(1) Materielle Schäden

111

(2) Physische Schäden

112

(3) Psychische Schäden

112

(4) Andere Schäden

114

cc) Diskussion

114

d) Kausalität

114

aa) Kausalitätsstandard am IStGH

116

bb) Diskussion

118

e) Beweisgrad und Beweislast

119

aa) Beweislast

119

bb) Beweisgrad

119

cc) Diskussion

125

f) Anordnungsmodi – Reparationen auf individueller oder kollektiver Basis

126

aa) Möglichkeiten des IStGH

126

bb) Kollektive Reparationen als Anordnungsmodus der Wahl?

129

cc) Die Wahl der Anordnungsmodi in der Praxis

131

dd) Angemessene Reparationsmodi am IStGH – Diskussion

135

g) Reparationsarten am IStGH

136

aa) Reparationsarten in Statut und Praxis des IStGH

136

bb) Diskussion

138

h) Feststellung des Schadens- und Haftungsumfangs

139

aa) Individuelle Feststellung der Entschädigungsberechtigung

139

bb) Individuelle Feststellung der Eligibility in den drei Entscheidungen

140

(1) Lubanga

140

(2) Katanga

143

(3) Al Mahdi

144

(4) Diskussion

145

cc) Berechtigungsprüfung abhängig von den Reparationsmodi?

145

(1) Lubanga

146

(2) Katanga

147

(3) Al Mahdi

148

(4) Diskussion

148

i) Haftungsumfang des Reparationsschuldners

149

aa) Konkrete Schadensfeststellung – die summierte Verantwortlichkeit für einzelne Schäden?

149

(1) Lubanga – Summierte Schätzung durch die Kammer

149

(2) Summierte Verantwortlichkeit in Katanga

150

(3) Al Mahdi

152

(4) Diskussion

152

bb) Berücksichtigung des Tatbeitrags des Reparationsschuldners

153

cc) Diskussion

155

j) Prinzip der Angemessenheit und Verhältnismäßigkeit

156

aa) Doppelte Verhältnismäßigkeit am IStGH

156

bb) Angleichung durch praktische Konkordanz

158

2. Implementierung von Reparationsanordnungen

160

a) Implementierung durch den Gerichtshof – direkte Leistung durch den Schädiger

160

b) Implementierung durch den TFV

161

aa) Besondere Zuständigkeitsfragen im Lubanga-Verfahren

161

bb) Individuelle Feststellung der Reparationsberechtigung

162

cc) Die Herrin der Implementierungsstage

166

dd) Diskussion

168

c) Vollstreckung (Zusammenspiel von TFV und Verurteiltem)

171

aa) Vollstreckung in das Vermögen des Verurteilten

171

bb) Schutzbeschlagnahmung von Vermögen des Verurteilten

175

cc) Vollstreckung des Regressanspruchs des TFV

177

dd) Fazit

178

3. Gesamtdiskussion

180

V. Gesamtbetrachtung und Kriminalpolitische Schlussfolgerungen

186

1. Das Reparationsmandat am IStGH – Wie es zustande kam und wie es sich heute darstellt

186

2. Zweck und Grenzen des Mandats – Wunsch und Realität am IStGH

187

a) Erfolg des Reparationssystems?

187

b) Die zweigeteilte Zweckbestimmung von Reparationen

188

c) Die Rechtsprechung am IStGH – unterschiedliche Aussagen aufgrund unterschiedlicher Reparationsverständnisse?

189

d) Zweck erreicht oder Ziel verfehlt?

192

3. Fortentwicklung des IStGH-Systems auf materieller, prozessualer und struktueller Ebene

193

a) Materriellrechtlicher und prozessualer Vorschlag

193

b) Strukturelle Veränderungen am IStGH oder auch: Individuelle Verantwortlichkeit anstelle von Staatenverantwortlichkeit – Trostpreis für die Opferentschädigung?

195

aa) Schaffung von zivilrechtlichen Reparationskammern – einer Reparations Section

196

bb) Auffangen durch den TFV

197

cc) Der große politische Wurf: eine Claims Commission am IStGH

198

4. Fazit

200

Annex I

202

Literaturverzeichnis

203

Sachwortverzeichnis

214