Competition law / Antitrust law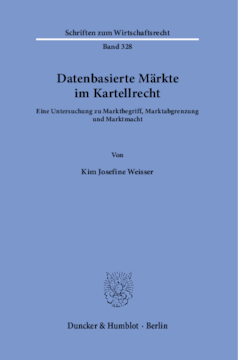 BOOK
Cite BOOK
Style
---
Weisser, K. (2021). Datenbasierte Märkte im Kartellrecht. Eine Untersuchung zu Marktbegriff, Marktabgrenzung und Marktmacht. Duncker & Humblot. https://doi.org/10.3790/978-3-428-58275-4
Weisser, Kim Josefine. Datenbasierte Märkte im Kartellrecht: Eine Untersuchung zu Marktbegriff, Marktabgrenzung und Marktmacht. Duncker & Humblot, 2021. Book. https://doi.org/10.3790/978-3-428-58275-4
Weisser, K, (2021): Datenbasierte Märkte im Kartellrecht: Eine Untersuchung zu Marktbegriff, Marktabgrenzung und Marktmacht, Duncker & Humblot, [online] https://doi.org/10.3790/978-3-428-58275-4
---
Format
---
Datenbasierte Märkte im Kartellrecht
Eine Untersuchung zu Marktbegriff, Marktabgrenzung und Marktmacht
Schriften zum Wirtschaftsrecht, Vol. 328
(2021)
Additional Information
Book Details
ISBN

978-3-428-58275-4
978-3-428-18275-6 (print edition)

DOI

https://doi.org/10.3790/978-3-428-58275-4

Edition

1

Language

German

Pages

303

Collections

Subjects
Pricing
Institution

€ 104.00 (incl. local VAT if applicable)

Individual

€ 79.90 (incl. local VAT if applicable)
About The Author
Kim Josefine Weisser studierte Rechtswissenschaften an der Universität Osnabrück und Université de Strasbourg mit dem Schwerpunkt Deutsches und Europäisches Recht des Wettbewerbs und des Geistigen Eigentums. 2015 absolvierte sie die erste juristische Staatsprüfung. Im Anschluss war sie promotionsbegleitend als wissenschaftliche Mitarbeiterin am Lehrstuhl von Professor Dr. Andreas Fuchs am Institut für Handels- und Wirtschaftsrecht der Universität Osnabrück tätig. Nach dem juristischen Vorbereitungsdienst im Oberlandesgerichtsbezirk Düsseldorf legte sie 2020 die zweite juristische Staatsprüfung ab. Sie berät im Gewerblichen Rechtsschutz und deutschen und europäischen Kartellrecht.
Kim Josefine Weisser studied law at the University of Osnabrueck and Université de Strasbourg, and specialized in German and European competition law and intellectual property law. In 2015 she passed the first state law examination. She then worked as a research assistant at the chair of Professor Dr. Andreas Fuchs at the Institute for Commercial and Business Law at the University of Osnabrueck. After serving her legal clerkship at the Higher Regional Court of Duesseldorf, she passed her second state law examination in 2020. As attorney she advises clients on intellectual property law and German and European antitrust cases.
Abstract
»Data-Based Markets in Competition Law. An Analysis of the Market Concept, Market Definition and Determination of Market Power«: Against the background of economic research on data and its characteristics the thesis questions the market concept, market definition and the determination of market power. In this context, it classifies the changes introduced by the 9th amendment to the ARC and selected adaptations of the 10th amendment to the ARC and takes into account the discussion on data protection and data availability. The focus is on the adequate representation of access to data and its economic use in competition law. Die Arbeit hinterfragt vor dem Hintergrund der ökonomischen Forschung zu Daten und den auf datenbasierten Märkten wirkenden Charakteristika die Kategorien Marktbegriff, Marktabgrenzung und Markt-macht. Sie untersucht die durch den deutschen Gesetzgeber mit der 9. GWB-Novelle eingeführten Anpassungen, adressiert ausgewählte Änderungen durch die 10. GWB-Novelle und wirft einen vergleichenden Blick ins europäische Recht. Dabei steht die kartellrechtlich adäquate Abbildung des Zugriffs auf Daten und deren wirtschaftliche Nutzung – bei der Definition räumlich und sachlich relevanter Märkte, im Zuge der Bestimmung von Marktbeherrschung sowie im Rahmen der Fusionskontrolle – im Vordergrund. Die Arbeit ordnet hierbei auch die Auswirkungen der Datenschutz- und Datenverfügungsdiskussion auf kartellrechtliche Sachverhalte ein. Auslegungshinweise und Verbesserungsvorschläge für künftige Regelungen werden unterbreitet, um die Anwendung des Kartellrechts auf datenbasierten Märkten zu erleichtern.
Table of Contents
Section Title
Page
Action
Price

Danksagung

5

Inhaltsverzeichnis

7

Abkürzungsverzeichnis

15

§ 1 Einführung

17

A. Einführende Überlegungen und wirtschaftliche Ausgangslage

17

B. Beschreibung des Forschungsgegenstandes

18

C. Gang der Untersuchung

19

Kapitel 1: Grundlagen datenbasierter Märkte

21

§ 2 Ökonomische Charakteristika von Daten als Rohstoff

21

A. Einordnung von Daten als Wettbewerbsobjekte

21

I. Definition des Begriffs "Daten"

22

II. Kategorisierung von Daten

23

1. Personenbezogene Daten – Nicht-personenbezogene Daten

23

2. Freiwillige Daten – Beobachtungsdaten – Metadaten

25

B. Abweichende ökonomische Charakteristika von Daten als Wirtschaftsgut

27

I. Die Nicht-Rivalität der Daten

27

II. Die Knappheit der Daten

28

III. Die problematische Bestimmung der Werthaltigkeit von Daten

31

IV. Die Bedeutung von Skalen- und Verbundeffekten

32

V. Die Werterhöhung des einzelnen Datums durch Kombination

34

C. Die Verwendung von Daten

35

I. Die unentgeltliche Hergabe von Daten

36

II. Die Monetisierung durch Werbung

37

III. Die Verbesserung der eigenen Produkte gegenüber den datenbereitstellenden Kunden

39

IV. Die Verbesserung der eigenen Produkte gegenüber dritten Kunden

40

V. Daten als Marktobjekt

40

D. Ergebnis

41

§ 3 Charakteristika von datenbasierten Märkten

42

A. Datenbasierte Märkte und Datenprodukte

42

I. Der datenbasierte Markt

42

II. Typische Geschäftsmodelle im Datenumfeld

44

1. Plattform und Netzwerk

45

a) Definition des Plattformbegriffs

45

aa) Mehrere Nutzerseiten

48

bb) Indirekte Netzwerkeffekte

48

cc) Direkte Interaktion

50

(1) Juristische und ökonomische Abhängigkeit?

51

(2) Gesamtbetrachtung

51

(3) Bewertung des Merkmals "direkte Interaktion"

53

dd) Zwischenergebnis

55

b) Begriff des Netzwerkes

55

c) Mischformen

57

d) Zwischenergebnis

58

2. Big Data und Industrie 4.0

58

a) Definition von Big Data

58

b) Beschreibung des Phänomens Industrie 4.0 und IoT

60

c) Geschäftsmodelle zur Datennutzung im Rahmen von Industrie 4.0 und IoT

60

d) Vorliegen eines datenbasierten Marktes

62

3. Zwischenergebnis

63

III. Ökonomische Charakteristika datenbasierter Märkte

63

1. Daten und Preisgestaltung

63

2. Konzentrationstendenzen und Lock-in-Effekte

65

3. Multi-Homing

67

4. Hohe Marktdynamik aufgrund hoher Innovationsdichte

68

5. Effizienzen durch Skalen- und Verbundeffekte

70

6. Zwischenergebnis

71

B. Wettbewerbspolitische Fragestellungen

72

I. Die Notwendigkeit einer neuen Leistungs- und Marktdefinition

72

II. Die Bestimmung von Marktmacht auf datenbasierten Märkten und die Rolle von Daten

73

III. Die wettbewerbsrechtlichen Auswirkungen des Datenrechts

73

C. Ergebnis

74

Kapitel 2: Marktbestimmung auf datenbasierten Märkten

75

§ 4 Das Vorliegen eines Marktes trotz unentgeltlich erbrachter Leistung

75

A. Kriterien für das Vorliegen eines Marktes

76

I. Der Markt aus wirtschaftswissenschaftlicher Sicht

76

1. Die Funktion des Marktes

76

2. Kriterien für das Vorliegen eines Marktes

76

a) Kriterium: Zusammentreffen von Angebot und Nachfrage

76

b) Kriterium: Preis

77

c) Ergebnis

77

II. Der Markt aus kartellrechtlicher Sicht

78

B. Behandlung unentgeltlich erbrachter Leistung

79

I. Unentgeltliche Leistung

79

II. Behandlung unentgeltlicher Leistung in der nationalen Fallpraxis

81

1. Zweiseitige Märkte und spiegelbildliche Finanzierung

81

2. Einseitige Verhältnisse

84

3. Mangelnde Nachfrage/Vorleistung

85

4. Zwischenergebnis

86

III. Diskussionstand in der Literatur

87

IV. Stellungnahme

90

V. Ergebnis

93

C. Die Bedeutung des § 18 Abs. 2a GWB

93

I. Normziel und Aussagegehalt für den Marktbegriff

93

1. Normziel

93

2. Aussagehalt für den Marktbegriff

94

II. Konstitutive Marktmerkmale

95

1. Unvollständige Legaldefinition

95

a) Die Austauschbeziehung

95

aa) Aufmerksamkeit

96

bb) Daten

97

cc) Zwischenergebnis

99

b) Der Begriff der Unentgeltlichkeit

99

2. Der Erwerbszweck als konstitutives Marktmerkmal

103

a) Mittelbarkeit

104

b) Langfristigkeit

105

3. Marktfunktionen auf unentgeltlichen Märkten

107

4. Hypothetische Datenmärkte?

108

5. Zwischenergebnis

109

III. Ergebnis

110

D. Der Markt trotz unentgeltlicher Leistung im europäischen Recht

111

I. Grundlagen

111

II. Behandlung unentgeltlicher Leistung in der europäischen Fallpraxis

111

III. Kriterien für das Vorliegen eines Marktes auf europarechtlicher Ebene

114

IV. Stellungnahme

115

E. Ergebnis

115

§ 5 Methoden der Marktabgrenzung auf datenbasierten Märkten

116

A. Die Marktabgrenzung

116

I. Ziel der Marktabgrenzung

116

II. Die sachliche Marktabgrenzung als Instrument

117

1. Wettbewerbsrechtliche Relevanz

117

2. Ansätze zur Marktabgrenzung im Rahmen des Marktmachtkonzepts

119

a) Das Bedarfsmarktkonzept

119

b) SSNIP-Test und Kreuz-Preis-Elastizität

121

c) Angebotssubstituierbarkeit

123

d) Gänzlicher Verzicht auf die Marktabgrenzung

124

3. Zwischenergebnis

126

B. Der sachlich relevante Markt

127

I. Adaptionsproblematik in Bezug auf datenbasierte Märkte

127

1. Die datenspezifische Problematik

127

2. Auf der Marktdynamik beruhende Probleme

127

3. Auf der Mehrseitigkeit datenbasierter Märkte beruhende Probleme

129

II. Anwendbarkeit der gängigen Modelle auf datenbasierten Märkten

131

1. Nachfragesubstituierbarkeit

131

a) Bedarfsmarktkonzept/Kriterium der funktionalen Austauschbarkeit

131

b) SSNIP/Kreuz-Preis-Elastizität

132

2. Die Angebotssubstituierbarkeit

134

3. Gänzlicher Verzicht auf die Marktabgrenzung

137

4. Ergebnis

138

III. Deutsche und europäische Abgrenzungspraxis auf datenbasierten Märkten

139

1. Nachfragesubstitution in der Abgrenzungspraxis

139

2. Angebotssubstituierbarkeit in der Abgrenzungspraxis

144

3. Abgrenzung zum Handelsvertreter

145

4. Competitive Bottlenecks

146

5. Zwischenergebnis

147

IV. Bewertung verschiedener Instrumente zur Marktabgrenzung auf datenbasierten Märkten

148

1. Abgrenzungspraxis des BKartA

148

a) Schematisierte Einordnung der Markttätigkeit

148

b) Kritik an der Praxis des BKartA

149

aa) Kategorisierungsunschärfe

149

bb) Berücksichtigung der Netzwerkeffekte

150

cc) Berücksichtigung der unentgeltlichen Seite

151

dd) Sonderkonstellationen

152

(1) Handelsvertreterausnahme

152

(2) Competitive Bottlenecks

154

2. Der modifizierte SSNIP-Test

155

a) Einordnung der Markttätigkeit

155

b) Berücksichtigung der Netzwerkeffekte

156

c) Berücksichtigung der unentgeltlichen Seite

157

d) Sonderkonstellationen

159

e) Kritische Würdigung

159

3. Das zweigliedrige Bedarfsmarktkonzept nach Volmar

161

a) Art der Abgrenzung/Einordnung der Markttätigkeit

161

b) Berücksichtigung der Netzwerkeffekte

162

c) Berücksichtigung der unentgeltlichen Seite

162

d) Sonderkonstellationen

162

e) Kritische Würdigung

163

4. Die Notwendigkeit eines neuen Marktabgrenzungsmodells?

163

a) Notwendigkeit der Berücksichtigung der Netzwerkeffekte im Rahmen der Marktabgrenzung

163

aa) Netzwerkeffekte als indirekter Wettbewerbsdruck

165

bb) Die Berücksichtigung indirekten Wettbewerbsdrucks im Rahmen der Marktabgrenzung

166

b) Anwendung des Bedarfsmarktkonzepts

169

aa) Bedarfsmarktkonzept

169

(1) Mischformen

169

(2) Abgrenzung zum Handelsvertreter

170

(3) Netzwerkeffekte

170

(4) Unentgeltlichkeit

171

bb) Competitive Bottlenecks

171

cc) Angebotsumstellungsflexibilität

173

dd) Ergänzende Berücksichtigung ökonometrischer Modelle

175

c) Zwischenergebnis

177

5. Ergebnis

177

C. Der räumlich relevante Markt

178

I. Darstellung

178

II. Deutsche und europäische Behördenpraxis

179

III. Schlussfolgerungen zur Bestimmung des räumlich relevanten Marktes

183

1. Die Omnipräsenz des Internets

183

2. Wettbewerbsbedingungen

184

3. Räumliche Austauschbarkeit aus Nachfragersicht

186

4. Auswirkungen der Mehrseitigkeit des Marktes

187

D. Ergebnis

188

Kapitel 3: Die Rolle der Daten bei der Bestimmung von Marktmacht

189

§ 6 Der Zugang und die Kombination von Daten als Ausdruck von Marktmacht

189

A. Das Vorliegen von Marktmacht

189

I. Definition von Marktmacht

189

II. Die Bedeutung von Marktmacht im Wettbewerb

192

B. Marktmacht auf datenbasierten Märkten

193

I. Eingeschränkte Aussagekraft der Marktstrukturanalyse

193

II. Ungenauigkeiten bei der Bestimmung von Marktanteilen

195

1. Problemstellung

195

2. Stellungnahme

198

III. Die Berücksichtigung des Wettbewerbsdrucks durch unentgeltliche Angebote

200

1. Der Wettbewerbsdruck durch unentgeltliche Angebote

200

2. Vergleichbarkeit von Marktanteilen entgeltlicher und unentgeltlicher Angebote

200

IV. Besondere Anforderungen an die Feststellung der Marktbeherrschung auf mehrseitigen Märkten?

202

V. Geringe Aussagekraft der Marktanteile auf datenbasierten Märkten

202

VI. Marktzutrittsschranken auf datenbasierten Märkten

204

VII. Die Marktanteilsschwellen der Gruppenfreistellungsverordnungen

206

VIII. Ergebnis

207

C. Der Zugang zu Daten als Marktmachtkriterium gem. § 18 Abs. 3a Nr. 4 GWB

207

I. Zugang zu wettbewerbsrelevanten Daten

208

1. Bedeutung des Kriteriums "Zugang zu Daten"

209

a) Wortlautverständnis

209

b) Systematik

210

c) Sinn und Zweck

211

d) Historische Auslegung

212

e) Zwischenergebnis

213

2. Merkmal der Wettbewerbsrelevanz

213

a) Produkt- und Marktrelevanz

214

b) Duplizierbarkeit/Substituierbarkeit

215

c) Notwendige Skalen- und Verbundeffekte

217

d) Exklusivität des Zugangs?

217

e) Zwischenergebnis

219

f) Berücksichtigung der Kombinations- und Analysemöglichkeiten von Daten

219

II. Ergebnis

221

D. "Datenmacht" auf nicht-mehrseitigen Datenmärkten

221

E. "Datenmacht" marktstarker Unternehmen

222

I. Adressierte Situation

222

II. § 20 Abs. 1 GWB

222

1. Relevanter Markt

223

2. Abhängigkeitslage

224

3. Kleines oder mittleres Unternehmen

226

III. Geplante Anpassungen durch die 10. GWB-Novelle

226

F. Die Marktbeherrschungsvermutungen

227

G. Datenzugang als Kriterium im europäischen Recht

229

I. Unternehmensstrukturanalyse und Marktstrukturanalyse

230

II. Berücksichtigung des Datenvorteils in der bisherigen Rechtsprechung

231

III. Zugang zu Daten als Marktzutrittsschranken

232

IV. "Datenmacht" überlegener Unternehmen

234

H. Endergebnis

235

§ 7 Die Berücksichtigung externen Datenwachstums in der Fusionskontrolle

235

A. Berücksichtigung von Datenbeständen und ihrer Kombination in der materiellen Fusionskontrolle

237

I. Die erhebliche Behinderung wirksamen Wettbewerbs durch externes Datenwachstum

237

II. Erhöhte Wahrscheinlichkeit des Auftretens bestimmter Schadenstheorien

238

1. SIEC-Test

239

2. Schadenstheorien

241

3. Horizontale Zusammenschlüsse

242

a) Einführung

242

b) Die Schaffung einer neuen Ressource

242

c) Zwischenergebnis

245

4. Vertikale Zusammenschlüsse

246

a) Möglichkeit

247

b) Anreiz

248

c) Vertikaler Marktabschottungseffekt

249

5. Konglomerate Zusammenschlüsse

250

a) Möglichkeit

252

b) Anreiz

253

c) Erhebliche Behinderungswirkung

254

6. Ergebnis

254

B. Efficiency Defense

255

I. Einleitung

255

II. Voraussetzungen

256

1. Fusionsspezifität

256

2. Erheblichkeit und Rechtzeitigkeit

257

3. Verbrauchervorteile

258

4. Nachprüfbarkeit/Beweisbarkeit

259

III. Berücksichtigung in der nationalen Fusionskontrolle

260

IV. Ergebnis

262

C. Bedingungen und Auflagen zur Beseitigung wettbewerbsrechtlicher Bedenken aufgrund von "Datenmacht"

262

I. Systeme zur Datenportabilität

264

II. Trennung von Datenbanken oder die Untersagung ihrer Zusammenführung

267

III. Zugangserleichterung zu vorhandenen Daten durch Markteröffnungszusagen

270

IV. Ergebnis

274

Kapitel 4: Datenrechtlicher Ausblick und Ergebnisse

276

§ 8 Ausblick auf datenrechtliche Entwicklungen und ihre Implikationen für den Wettbewerb

276

A. Datenschutz als Wettbewerbsparameter und -hindernis

276

B. Die wettbewerbsrechtlichen Implikationen des verschärften Datenschutzrechts

277

C. Die wettbewerbsrechtlichen Auswirkungen von Datenverfügungsrechten

278

§ 9 Ergebnisse

281

Literaturverzeichnis

285

Verzeichnis der Online-Quellen

297

Stichwortverzeichnis

302