Election law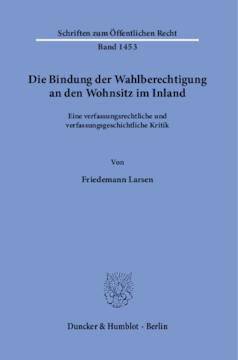 BOOK
Die Bindung der Wahlberechtigung an den Wohnsitz im Inland
Eine verfassungsrechtliche und verfassungsgeschichtliche Kritik
Schriften zum Öffentlichen Recht, Vol. 1453
(2021)
Additional Information
Book Details
ISBN

978-3-428-58149-8
978-3-428-18149-0 (print edition)

DOI

https://doi.org/10.3790/978-3-428-58149-8

Edition

1

Language

German

Pages

415

Collections

Subjects
Pricing
Institution

€ 116.00 (incl. local VAT if applicable)

Individual

€ 89.90 (incl. local VAT if applicable)
About The Author
Friedemann Larsen, 2002-2005 Vorbereitungsdienst (gehobener Verwaltungsdienst) an der Verwaltungsfachhochschule Gotha (Thüringen); 2005 Laufbahnprüfung, Dipl.-Verwaltungswirt (FH); 2005-2010 Studium der Rechtswissenschaften an der FSU Jena, 2010 Erstes Juristisches Staatsexamen; 2010-2012 Referendariat am Landgericht Mühlhausen (Thüringen) und an der DUV Speyer; 2012 Zweites Juristisches Staatsexamen; 2012-2017 Wissenschaftlicher Mitarbeiter und Doktorand am Institut für Öffentliches Recht in Marburg (Prof. Dr. Dr.h.c. H.- D. Horn); 2017-2018 Referent im Juristischen Dienst des Thüringer Landtags; seit 2019 Beamter des höheren Verwaltungsdienstes beim Land Baden-Württemberg.
Friedemann Larsen, 2002-2005 Studies (Public Administration) at University of Applied Sciences in Gotha (Thuringia); 2005 Diploma in Administration; 2005-2010 Legal Studies at University of Jena, 2010 First State Examination (Law); 2010-2012 Legal clerkship at the District Court of Mühlhausen (Thuringia) and the German University for Administration Science in Speyer; 2012 Second State Examination (Law); 2012-2017 Research Assistant and Doctoral Candidate at the Institute for Public Law in Marburg (Prof. Dr. Dr.h.c. H.-D. Horn); 2017-2018 Legal Advisor at the Legal Service Department of the Thuringian Parlament; since 2019 Higher Civil Servant at the Federal State of Baden-Württemberg
Abstract
Das Wahlrecht zum Deutschen Bundestag knüpft neben dem Wahlalter traditionell an die Staatsangehörigkeit und die Ansässigkeit im Bundesgebiet am Wahltag. Gerade letzteres ist vor dem Grundgesetz rechtfertigungsbedürftig. Der Autor identifiziert die historischen Implikationen und setzt sich kritisch mit den in Rechtsprechung und Literatur formulierten Rechtfertigungen auseinander. Keiner der Ansätze überzeugt. Dem egalitären Teilhabeverständnis des Grundgesetzes entsprechend ist vielmehr jeder Staatsbürger prinzipiell auch Wahlbürger, unabhängig vom Ort seines Wohnsitzes bzw. gewöhnlichen Aufenthalts am Wahltag. Jede darüber hinausgehende Anforderung an den Wähler, insbesondere die Forderung nach einem qualifizierten Mindestmaß an politischer Vertrautheit als Wahlzugangsvoraussetzung, widerspricht diesem Verständnis und nimmt zumindest Anleihen an überkommene Wahlrechtsvorstellungen vorausgegangener Epochen, die vor dem Grundgesetz keinen Bestand mehr haben können. »The Bonding of Electoral Eligibility to Residence in Germany. A Critique from a Constitutional and Constitutional History View«

Since the first Federal Electoral Law (1949), the active voters have been demanded to have a place of residence in Germany for at least three months on election day. For Germans residing permanently abroad, this restriction means the deprivation of the substantive right to vote for the German Bundestag. The present paper examines the compatibility of this restriction on voting rights with the german constitution and furthermore sheds light on the historical implications, which were invoked until recently by, among others, the Federal Constitutional Court.
Table of Contents
Section Title
Page
Action
Price

Vorwort

5

Inhaltsverzeichnis

7

Abkürzungsverzeichnis

17

Einführung

21

A. Einführende Bemerkungen

21

B. Präzisierung des Untersuchungsgegenstandes

22

I. Gegenstand der Untersuchung

23

II. Grundpfade in Rechtsprechung und Literatur

25

C. Weitere Begriffsklärungen

26

D. Methodisches Vorgehen und Gang der Untersuchung

29

Erster Teil: Wahlrecht und Inlandsbindung aus verfassungsrechtlicher Sicht

31

1. Kapitel: Ausgestaltung des aktiven und des passiven Wahlrechts in Anbetracht der wahlrechtlichen Inlandsbindung

31

A. Verfassungsrechtliche Grundlagen des Wahlrechts

31

B. Gegenwärtige Ausgestaltung des Wahlrechts durch das Bundeswahlgesetz

34

I. Reichweite und Umfang gesetzgeberischer Ausgestaltung

34

II. Aktives Wahlrecht und Inlandsbezug

35

1. Aktives materielles Wahlrecht

36

a) Regel-Ausnahme-Verhältnis der Inlandsbindung am Wahltag

36

b) Systematik der aktuellen Regelung

37

c) Wahlbeteiligung und prozedurale Auswirkungen der Regel- und Ausnahmetatbestände

38

2. Ausübung des aktiven materiellen Wahlrechts

41

III. Wählbarkeit und Inlandsbezug

42

1. Passives materielles Wahlrecht

42

2. Ausübung des passiven materiellen Wahlrechts

43

C. Zwischenergebnis

43

2. Kapitel: Entwicklung der wahlrechtlichen Sesshaftigkeitsklausel in der Bundesrepublik Deutschland

44

A. Wohnsitzbindung im aktiven Wahlrecht

45

I. Die frühen Wahlgesetze zum ersten und zum zweiten Bundestag

45

1. Historische Begleitumstände nach 1945 und Wahlrechtsverhandlungen im Parlamentarischen Rat

45

2. Wahlgesetz zum ersten Bundestag und zur ersten Bundesversammlung der Bundesrepublik Deutschland vom 15. Juni 1949

47

3. Wahlgesetz zum 2. Bundestag und zur Bundesversammlung vom 8. Juli 1953

50

II. Inlandsbindung im Wahlrecht der "alten" Bundesrepublik

52

1. Bundeswahlgesetz vom 7. Mai 1956

52

2. Siebtes Gesetz zur Änderung des Bundeswahlgesetzes vom 15. März 1985

55

a) Inhalt der Änderungen

55

b) Vorgeschichte

57

c) Erwägungen des Gesetzgebers

58

3. Bewertung

61

III. Inlandsbindung im Wahlrecht nach der Wiedervereinigung

62

1. Vertrag zur Vorbereitung und Durchführung der ersten gesamtdeutschen Wahl des Deutschen Bundestages vom 3. August 1990

62

2. Vierzehntes Gesetz zur Änderung des Bundeswahlgesetzes vom 20. April 1998

64

3. Gesetz zur Änderung des Wahl- und Abgeordnetenrechts vom 17. März 2008

66

IV. Zusammenfassung

68

B. Wohnsitzbindung im passiven Wahlrecht

70

I. Die frühen Wahlgesetze zum 1. und 2. Bundestag

70

II. Wählbarkeit nach Einführung des Bundeswahlgesetzes (1956)

71

1. Gesetzlicher Tatbestand

71

2. Wählbarkeit und Staatsangehörigkeit bei neu Eingebürgerten

72

C. Zwischenergebnis

73

3. Kapitel: Rechtfertigungsansätze in Rechtsprechung und Literatur

74

A. Die Allgemeinheit der Wahl in Rechtsprechung und Literatur

75

I. Konturierung in der Rechtsprechung

75

II. Auffassungen in der Literatur

77

B. Wahlrechtliche Sesshaftigkeitsklauseln als Wahlrechtsbeschränkung

78

C. Der "zwingende Grund" in der Rechtsprechung des Bundesverfassungsgerichts

79

I. Die Formel vom "zwingenden Grund"

81

1. Herkunft und Grundlagen

81

2. "Zwingende" und "legitime" Gründe zur gesetzgeberischen Differenzierung im Wahlrecht

82

3. Zwischenergebnis

85

II. Von der Rechtsprechung anerkannte "zwingende Gründe" für die wahlrechtlichen Sesshaftigkeitsklauseln

86

1. Deutsche Teilung – grundlegend BVerfGE 5, 2 ff.

86

2. Tradition – grundlegend BVerfGE 36, 139 ff. und BVerfGE 58, 202 ff.

87

3. Funktionen der Wahl – Grundlegend BVerfG (Kammer), NJW 1991, S. 689 f.; BVerfGE 132, 39 ff.

88

D. Auffassungen in der Literatur zum "zwingenden Grund"

90

I. Grundlegende Tendenzen

91

II. Diversität innerhalb der grundlegenden Tendenzen

93

1. Rezeption des Traditionsarguments

93

2. Rezeption von Wahlziel und Wahlfunktion

94

3. Weitere Auffassungen zu den zwingenden Gründen

96

4. Auswertung und offene Fragen

98

III. Zusammenfassung

99

E. Zwischenergebnis

100

4. Kapitel: Grundlegende Bewertung und Kritik

101

A. Allgemeinheit der Wahl

101

I. Beschränkung des Wahlrechts auf deutsche Staatsbürger

102

1. Staatsangehöriger und Staatsbürger

103

2. Staatsbürgerschaft und Wohnsitz im Inland

106

3. Zwischenergebnis

108

II. Wohnsitzklauseln als verbotene gruppenspezifische Differenzierung?

109

1. Aussage des Verbots gruppenspezifischer Merkmale im Wahlrecht

109

2. Sesshaftigkeit als verbotenes persönliches Merkmal?

111

III. Zusammenfassung

114

B. Einschränkungen der Allgemeinheit der Wahl

115

I. Differenzierungsbefugnis des Gesetzgebers im Wahlrecht

116

1. Argumentationsfolge in der Rechtsprechung des Bundesverfassungsgerichts

116

2. Rückgriff auf Art. 3 Abs. 1 GG?

119

3. Zwischenergebnis

122

II. Schrankenbestimmung im Wahlrecht

123

1. Gesetzes- oder Regelungsvorbehalt des Art. 38 Abs. 3 GG

123

2. Einheit der Verfassung

127

3. Das Problem der gerichtlichen Kontrolle

130

4. Zwischenergebnis

133

III. Ziele und Funktionen der Wahl als verfassungsunmittelbare Schranken

133

1. Aufgabe und Funktion der Volksvertretung als Subjekt demokratischer Legitimation

135

2. Sicherung des Charakters der Wahl als Integrationsvorgang und Kommunikationsfunktion der Wahl

136

3. Zwischenergebnis

137

IV. Verhältnismäßigkeit

138

1. Hintergrund der Verhältnismäßigkeitsprüfung im Wahlrecht

138

2. Bestimmung der zwingenden Gründe und Verhältnismäßigkeitsprüfung

141

C. Zwischenergebnis

142

5. Kapitel: Verfassungsrechtliche Tragfähigkeit der für die Sesshaftigkeitsklausel als "zwingend" angesehenen Gründe

144

A. Deutsche Teilung

145

B. Tradition

146

I. Bedeutung des Traditionsarguments in der Rechtsprechung des Bundesverfassungsgerichts

147

II. Tradition als verfassungsunmittelbare Schranke?

148

III. Möglicher Einfluss traditioneller Betrachtung auf das heutige Wahlrechtsverständnis

151

C. Funktionen der Wahl

152

I. Integrationsfunktion und Kommunikationsfunktion der Wahl als verfassungsunmittelbare Schranke der Wahlzugangsberechtigung

153

1. Integration durch ständige Wechselwirkung gesellschaftlicher und staatlicher Willensbildungsprozesse

154

2. Funktionen von Wahlen zum Deutschen Bundestag bei der politischen Willensbildung

156

a) "Integrationsfunktion" von Wahlen

156

b) "Kommunikationsfunktion" von Wahlen

160

3. Bewertung

161

4. Zwischenergebnis

163

II. Sesshaftigkeitsklauseln als geeignete und erforderliche Mittel zur Erfüllung der Integrations- und Kommunikationsfunktion der Wahl?

164

1. Geeignetheit

165

2. Erforderlichkeit

165

3. Zwischenergebnis

168

III. Weitere Bedenken gegen die Sesshaftigkeitsklausel

169

IV. Zusammenfassung

172

D. Herstellung eines Verantwortungszusammenhangs

173

I. Verantwortungszusammenhang als verfassungsunmittelbare Schranke der Wahlzugangsberechtigung

175

1. Strukturelle Zuordnung zu den demokratischen Wahlfunktionen

175

2. Anpassungen an Reichweite und Inhalt des Wahlrechts

177

II. Sesshaftigkeitsklauseln als taugliche Mittel zur Herstellung des demokratischen Verantwortungszusammenhangs?

178

1. Geeignetheit

178

2. Schleichende Konturierung eines neuen Prinzips

180

III. Zusammenfassung

182

E. Vertrautheit mit den Verhältnissen

182

I. Vertrautheit als tragende Zweckbestimmung

182

II. Vertrautheit und Demokratieprinzip

185

1. Wahlalter, Art. 38 Abs. 2 GG

185

2. Staatsangehörigkeit, Art. 16 und 116 Abs. 1 GG

187

a) Vertrautheitsbedingungen beim klassischen Erwerb der Staatsangehörigkeit

188

aa) Erwerb durch Einbürgerung (Naturalisation)

189

bb) Erwerb durch Abstammung (ius sanguinis)

191

b) Berücksichtigung neuerer Entwicklung bei Erwerb durch Geburt im Inland (ius soli)

193

c) Schlussfolgerung für das Wahlrecht

194

3. Weitere demokratiebedingte Vertrautheitsanforderungen?

197

a) Wahlalter und Staatsangehörigkeit als hinreichend typisierte Bedingung

197

b) Typisierung als demokratische Maßgebung für Wahlrechtsbeschränkungen

199

c) Passives Wahlrecht und Wohnsitzbindung

201

III. Zusammenfassung

203

F. Weitere "zwingende" Gründe

204

G. Zwischenergebnis

206

6. Kapitel: Umsetzung durch das 21. Gesetz zur Änderung des Wahlrechts vom 27. April 2013

207

A. Das Bundesverfassungsgericht als Ersatzgesetzgeber im Wahlrecht

207

B. Bedenken gegen die Neuregelung

211

I. § 12 Abs. 2 Satz 1 Nr. 1 BWahlG

211

1. Fortzugsfrist

212

2. Mindestaltersgrenze

215

II. § 12 Abs. 2 Satz 1 Nr. 2 BWahlG

216

1. Rechtsstaatlicher Grundsatz der Bestimmtheit

217

2. Unterschiedliche Vertrautheitsanforderungen nach Nr. 2 gegenüber Nr. 1?

222

3. Betroffenheit als eigenständiges Vertrautheitskriterium

223

4. Probleme auf Anwendungsebene

224

III. Zusammenfassung

227

7. Kapitel: Maßgaben für die Ausgestaltung des Wahlverfahrens

228

A. Rein formelles Wohnsitzverständnis

228

B. Antragserfordernis

230

Ergebnisse des Ersten Teils

233

Zweiter Teil: Traditionsargument und historisches Wahlrecht

242

1. Kapitel : Gang der weiteren Untersuchung

242

A. Gründe für eine historische Untersuchung der wahlrechtlichen Inlandsklauseln

242

B. Reichweite der historischen Untersuchung zu den wahlrechtlichen Inlandsklauseln

243

C. Gang der Untersuchung zum historischen Wahlrecht

246

2. Kapitel: Das Wahlrecht im deutschen Frühkonstitutionalismus – eine Bestandsaufnahme

247

A. Historische Hintergründe zu den Anfängen und zur Entwicklung des Wahlrechts im Frühkonstitutionalismus

247

I. Konstitutionelle Anfänge unter Napoleon nach dem Untergang des alten Reiches

248

II. Wiener Kongress und die Frage nach dem Souverän

249

III. Zusammenfassung

253

B. Die Rolle der Landstände im monarchisch konstituierten Verfassungsstaat

253

C. Die frühe Wahlrechtsentwicklung, dargestellt am Wahlrecht der süddeutschen Territorien

257

I. Historisches Wahlrecht in Bayern

258

1. Aktives Wahlrecht

259

2. Passives Wahlrecht

260

3. Wahlrecht und Territorialität

261

II. Historisches Wahlrecht in Baden

262

1. Aktives Wahlrecht

263

2. Passives Wahlrecht

264

3. Wahlrecht und Territorialität

264

III. Historisches Wahlrecht in Württemberg

265

1. Aktives Wahlrecht

266

2. Passives Wahlrecht

267

3. Wahlrecht und Territorialität

268

IV. Zusammenfassung

268

D. Die Wahlrechtsentwicklung im Vormärz bis zur Revolution 1848/1849

269

I. Allgemeine Konfliktlage im Vormärz

269

II. Bedeutung für die Verfassungsentwicklung am Beispiel Kurhessens

272

1. Aktives Wahlrecht

273

2. Passives Wahlrecht

273

3. Wahlrecht und Territorialität

274

E. Zwischenergebnis

275

3. Kapitel: Vorstellungen von Mitbestimmung im Staat der konstitutionellen Monarchie – eine Annäherung

275

A. Politische Teilhabe im Lichte der Freiheitsbewegung im beginnenden 19. Jahrhundert

276

B. Bedingungen politischer Mitwirkung

277

I. Historische Schule und Traditionalisten

278

1. Justus Möser

278

2. August Wilhelm Rehberg

279

3. Bewertung

280

II. Rationalistische Wahlrechtstheorie

281

1. Karl von Rotteck und Immanuel Kant

281

2. Karl August zum Bach

283

3. Johann Friedrich Benzenberg

285

4. Bewertung

285

III. Substrate der Organischen Staatslehre

287

IV. Zusammenfassung

290

C. Zwischenergebnis

291

4. Kapitel: Grundbesitz und Ansässigkeit als Mehrfachbedingung bürgerlicher Freiheit in den konstitutionellen Rechtsordnungen der Einzelstaaten

291

A. Das Stadt- und Bürgerrecht als Bedingung lokaler Mitbestimmung

292

I. Herkunft und Inhalt

293

II. Bindung an Grundbesitz und Wohnort

294

III. Zwischenergebnis

298

B. Berechtigung zum Grundbesitz sowie zur Ausübung von Gewerbe

299

I. Herkunft und Inhalt

300

II. Bindung an Grundbesitz und Wohnort

302

III. Zwischenergebnis

307

C. Die Staatsangehörigkeit als statusbegründender Bezugspunkt zur Ausübung von Rechten

308

I. Herkunft und Inhalt

309

1. Staatsangehörigkeit als Mittel verwaltungsrechtlicher Zuordnung

309

2. Staatsangehörigkeit und Aktivbürgerschaft

310

II. Ausgestaltung des Staatsangehörigkeitsrechts – Überblick

312

1. Süddeutsche Territorien

312

2. Preußen

313

III. Bindung an Grundbesitz und Wohnort

315

D. Zwischenergebnis

316

5. Kapitel: Die Wahlrechtsfrage in der Frankfurter Nationalversammlung und das Wahlgesetz um 1848/1849

317

A. Das Bundeswahlgesetz für die Wahlen zur Frankfurter Nationalversammlung

318

I. Zur Selbstständigkeit als Kriterium des Wahlrechts und der Wählbarkeit zur Frankfurter Nationalversammlung

320

II. Zur Staatsangehörigkeit als Kriterium des Wahlrechts und der Wählbarkeit zur Frankfurter Nationalversammlung

321

B. Zur Allgemeinheit des Wahlrechts in der Reichsverfassung vom 28. März 1849

322

C. Zur Allgemeinheit des Wahlrechts im Reichswahlgesetz vom 12. April 1849

324

I. Aktives Wahlrecht

324

1. Ergebnisse der Beratungen im Verfassungsausschuss

324

2. Ergebnisse der Beratungen im Plenum der Nationalversammlung

326

a) Materielle Wahlberechtigung

326

b) Formelle Wahlausübung

328

aa) Zweckrichtung: Verbot der Mehrfachstimmabgabe

329

bb) Zweckrichtung: Sicherung der Vertrautheit durch Heimatbindung?

330

II. Wählbarkeit

334

1. Ergebnisse der Beratungen im Verfassungsausschuss

334

2. Ergebnisse der Beratungen im Plenum der Nationalversammlung

335

III. Zusammenfassung

337

D. Zwischenergebnis

337

6. Kapitel: Die weitere Wahlrechtsentwicklung im deutschen Raum

338

A. Das Scheitern der Revolution und der Rückfall in die Restauration

338

B. Wahlrecht und Sesshaftigkeit bis zum Ende der Monarchie

340

I. Norddeutscher Bund und Deutsches Reich

340

1. Aktives Wahlrecht unter Geltung des RWahlG 1869

341

2. Passives Wahlrecht unter Geltung des RWahlG 1869

342

3. Wahlrecht und Territorialität

343

II. Wahlrecht und Reichsangehörigkeit vor und nach 1913

343

C. Wahlrecht und Sesshaftigkeit in der Weimarer Zeit

344

I. Historischer Hintergrund

344

II. Weimarer Wahlrecht

345

1. Aktives Wahlrecht

345

2. Passives Wahlrecht

348

3. Wahlrecht und Territorialität

348

D. Unbedenklichkeit der Wohnsitzklauseln aus Sicht der Wahlrechtstheorie des ausgehenden 19. und beginnenden 20. Jahrhunderts

349

I. Rechtsanschauungen zum Wahlrecht

350

1. Wahlrecht als Staatsfunktion

350

2. Wahlrecht als subjektives öffentliches Recht

354

II. Auswirkungen auf das wahlrechtliche Wohnsitzprinzip

356

E. Zusammenfassung

358

7. Kapitel: Schlussfolgerungen für das Bundeswahlrecht

359

A. Erneute Bewertung der Rechtsprechung des Bundesverfassungsgerichts zur traditionellen Inlandsbindung

359

B. Erneute Bewertung der Vertrautheit als eigenständige tatbestandliche Bedingung im materiellen Wahlrecht

361

I. Bezüge zum historischen Wahlrecht vor 1848/1849

362

II. Freiheitlichkeit der Stimmabgabe

366

III. Zwischenergebnis

367

C. Zusammenfassung

368

8. Kapitel: Abschließende Überlegungen

369

A. Der mündige (Staats-)Bürger als Leitbild auch im Wahlrecht

369

B. Harmonisierung des aktiven und des passiven Wahlrechts

374

Ergebnisse des Zweiten Teils

376

Schlussbetrachtung

381

Literaturverzeichnis

384

Sachwortverzeichnis

408