Constitutional & administrative law: general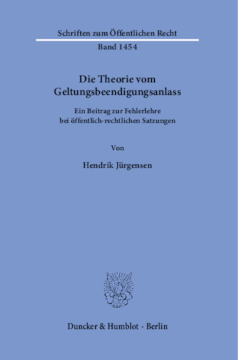 BOOK
Die Theorie vom Geltungsbeendigungsanlass
Ein Beitrag zur Fehlerlehre bei öffentlich-rechtlichen Satzungen
Schriften zum Öffentlichen Recht, Vol. 1454
(2021)
Additional Information
Book Details
ISBN

978-3-428-58164-1
978-3-428-18164-3 (print edition)

DOI

https://doi.org/10.3790/978-3-428-58164-1

Edition

1

Language

German

Pages

225

Collections

Subjects
Pricing
Institution

€ 80.00 (incl. local VAT if applicable)

Individual

€ 62.90 (incl. local VAT if applicable)
About The Author
Hendrik Christian Jürgensen legte nach dem Studium der Rechtswissenschaften an der Christian-Albrechts-Universität zu Kiel 2016 die Erste Juristische Prüfung ab. Anschließend arbeitete er dort als wissenschaftlicher Mitarbeiter am Lehrstuhl für öffentliches Recht von Prof. Dr. Florian Becker, LL.M. (Cambridge). Zeitgleich begann er sein Dissertationsvorhaben mit dem er 2020 von der Rechtswissenschaftlichen Fakultät der Christian-Albrechts-Universität zu Kiel zum Doktor der Rechte promoviert wurde. Seit Februar 2020 ist er Rechtsreferendar beim Schleswig-Holsteinischen Oberlandesgericht.
Hendrik Christian Jürgensen studied law at the Christian-Albrechts-Universität in Kiel. After completing his studies in 2016 he worked as a research assistant at the Chair of Public Law of Prof. Dr. Florian Becker, LL.M: (Cambridge). During the same time, he wrote his dissertation and obtained his doctoral degree at the Faculty of Law at the Christian-Albrechts-Universität in Kiel in 2020. He has been a trainee lawyer at the Higher Regional Court of Schleswig-Holstein since February 2020.
Abstract
Die Arbeit prüft die Berechtigung des Nichtigkeitsdogmas für Satzungen, nach dem ihre Rechtswidrigkeit grundsätzlich den ohne weiteres eintretenden Geltungsverlust bedeutet. Das Nichtigkeitsdogma soll Ausfluss eines Grundsatzes sein, nach dem die deutsche Rechtsordnung durch den ipso-iure eintretenden Geltungsverlust selbst für ihre Widerspruchsfreiheit sorgt. Dies mag in der Theorie eine ob ihrer Klarheit attraktive Annahme sein. In der Praxis standen und stehen ihre Konsequenzen sowohl bei Parlamentsgesetzen als auch bei Satzungen in einem Spannungsverhältnis mit verfassungsrechtlichen Bestimmungen. In der Arbeit wird daher ein alternativer Ansatz entlang des bestehenden rechtlichen Rahmens entwickelt und dem herrschenden Verständnis gegenübergestellt. Die hier vorgeschlagene Theorie vermeidet verfassungsrechtliche Spannungen, indem sie einen grundsätzlich ipso-iure eintretenden Geltungsverlust verneint und die Sanktionsfrage auf der Anwendungsebene der Satzung beantwortet. »The Theory of ›Geltungsbeendigungsanlass‹. A Contribution to the Matter of Illegal Non-Legislative Statutes«

The commonly accepted dogma of the invalidity (Nichtigkeitsdogma) states that illegal non-legislative statutes are invalid ipso iure. The author questions its legitimacy and shows that the dogma results in constitutional law conflicts. The theory as developed by the author suggests that illegal non-legislative statutes are not invalid ipso iure. Instead, their applicability is to be decided upon by the executive, legislative and judicial branches.
Table of Contents
Section Title
Page
Action
Price

Vorwort

5

Inhaltsverzeichnis

7

Einleitung

15

A. Das Nichtigkeitsdogma

15

B. Anlass und Ziel der Untersuchung

16

C. Gang der Untersuchung

20

1. Kapitel: Die Theorie von der Ipso-iure-Nichtigkeit verfassungswidriger formeller Gesetze

22

A. Einführung

22

I. Die Theorie von der Ipso-iure-Nichtigkeit

24

II. Friktionen in der Rechtsprechung des Bundesverfassungsgerichts

27

III. Kritik im Schrifttum

29

IV. Methodisches Vorgehen

29

B. Rechtfertigung der Theorie von der Ipso-iure-Nichtigkeit

31

I. Gesetz

31

1. Grundgesetz

31

a) Art. 100 Abs. 1 GG

31

aa) Begriff der "Gültigkeit"

32

bb) Entscheidungserheblichkeit des formellen Gesetzes

33

cc) Fortwährende Bindung des Gerichts trotz Ipso-iure-Nichtigkeit

34

dd) Anwendungspflicht eines nichtigen Gesetzes bei fehlender Überzeugung des Fachgerichts

36

ee) Anwendungspflicht eines nichtigen Gesetzes bei "falscher" Entscheidung des Bundesverfassungsgerichts

37

ff) Zusammenfassung

37

b) Art. 93 GG

38

c) Art. 1 Abs. 3, 20 Abs. 3 und 79 GG

38

d) Art. 123 Abs. 1 GG

39

e) Art. 31 GG

40

f) Ergebnis

42

2. Bundesverfassungsgerichtsgesetz

42

a) § 78 BVerfGG

43

aa) Semantische Auslegung

43

bb) Systematische Auslegung

44

cc) Genetische Auslegung

47

b) § 79 BVerfGG

48

c) § 31 Abs. 2 BVerfGG

49

d) § 76 BVerfGG

49

e) § 95 Abs. 3 BVerfGG

50

f) Ergebnis

50

3. Relevanz einfachgesetzlicher Regelungen im Übrigen

50

a) Gesetzliche Anordnung der Theorie von der Ipso-iure-Nichtigkeit

51

b) Anordnung der Ipso-iure-Nichtigkeit

51

c) Ergebnis

53

II. Dogmatik

53

1. Begründung anhand dogmatischer Sätze

53

a) Widerspruchsfreiheit der Rechtsordnung und der Stufenbau nach der rechtlichen Bedingtheit

53

aa) Der Stufenbau der Rechtsordnung

55

(1) Herleitung der Ipso-iure-Nichtigkeit aus dem Stufenbau nach der rechtlichen Bedingtheit

55

(2) Kritik seitens der Vertreter der Vernichtbarkeitslehre

56

bb) Stellungnahme

58

b) Unverbrüchlichkeit der Verfassung

60

c) Zusammenfassung

62

2. Vereinbarkeit mit dogmatischen Sätzen

62

a) Unverbrüchlichkeit der Verfassung

62

b) Rechtsstaatsprinzip: Rechtssicherheit und Vertrauensschutz

64

c) Rechtstaatsprinzip: Grundsatz der Gewaltenteilung

65

aa) Der Grundsatz der Gewaltenteilung

66

bb) Das Bundesverfassungsgericht als verfassungswidriger Ersatzgesetzgeber?

67

cc) Abweichende Entscheidungsformeln als deklaratorische Feststellung der Rechtslage?

70

dd) Fazit

71

d) Gewaltmonopol des Staats

71

III. Präjudizien

73

1. Analyse der bundesverfassungsgerichtlichen Rechtsprechung

73

a) Die Unvereinbarerklärung

74

aa) Verhinderung eines rechtlichen "Vakuums"

75

bb) Unzweckmäßigkeit der Nichtigerklärung

77

cc) Gestaltungsfreiheit des Gesetzgebers

77

b) Nichtigerklärung mit Begrenzung der Auswirkungen

79

c) Die Appellentscheidung

80

2. Zulässiger Entscheidungsinhalt nach der Theorie von der Ipso-iure-Nichtigkeit

81

3. Bewertung

82

IV. Allgemeine praktische Argumente

82

V. Zusammenfassung

86

C. Die Vernichtbarkeitslehre

86

I. Die Vernichtbarkeitslehre und ihre Kritik an der überkommenen Fehlerlehre

87

II. Geltungstheoretische Ansätze der Vernichtbarkeitslehre

89

1. These von den alternativen Rechtsgeltungsnormen

90

a) Begriff und Konzeption

90

b) Kritik

92

2. These von der widerlegbaren Geltungsvermutung ordnungsgemäß gesetzter Rechtsnormen

92

a) Begriff und Konzeption

92

b) Kritik

94

3. Lösung: Theorie vom Geltungsbeendigungsanlass?

95

III. Verfassungsrechtliche Bewertung

97

1. Gesetz

97

2. Dogmatik

97

a) Unverbrüchlichkeit der Verfassung

97

b) Rechtssicherheit und Vertrauensschutz

100

c) Grundsatz der Gewaltenteilung

100

d) Gefährdung der Verfassungsgerichtsbarkeit

101

3. Präjudiz

102

IV. Zusammenfassung

102

2. Kapitel: Überprüfung des Nichtigkeitsdogmas bei Satzungen

104

A. Einführung

104

I. Begriff und Dominanz des Nichtigkeitsdogmas

104

II. Kritik und alternative Ansätze

106

III. Ziel und Gang der Untersuchung

109

B. Begriff der Satzung im Kontext untergesetzlicher Rechtsnormen

109

C. Gesetz

111

I. Untersuchungsfeld

111

II. Grundgesetz

111

III. Einfaches Gesetzesrecht

112

1. § 47 VwGO

112

a) Grundsätzliches

112

b) Semantische Auslegung

113

c) Genetische Auslegung

114

d) Teleologische Auslegung

115

e) Zusammenfassung

116

2. §§ 214, 215 BauGB

116

a) Grundsätzliches

116

b) § 214 Abs. 1 S. 1 BauGB

116

c) § 214 Abs. 4 BauGB

118

d) Zusammenfassung

119

IV. Zusammenfassung

119

D. Dogmatik

120

I. Garantie effektiven Rechtsschutzes

120

II. Widerspruchsfreiheit der Rechtsordnung

122

III. Der Stufenbau nach der rechtlichen Bedingtheit

123

IV. Die Unverbrüchlichkeit des Rechts

124

V. Grundrechtsbindung und Eingriffs- und Rechtfertigungssystematik

125

VI. Vertrauensschutz und Rechtssicherheit

126

VII. Zusammenfassung

129

E. Präjudiz

130

I. Bundesverfassungsgericht

130

II. Verwaltungsgerichtsbarkeit

131

III. Bundessozialgericht

133

IV. Zusammenfassung

134

F. Ergebnis

134

3. Kapitel: Determinanten eines alternativen Fehlerfolgenmodells

136

A. Sanktionsbedürftigkeit rechtswidriger Satzungen?

136

I. Für eine Sanktionierung sprechende Gründe

136

1. Rechtsstaatsprinzip

136

2. Grundrechte

137

3. Demokratieprinzip

139

II. Gegen eine Sanktionierung sprechende Gründe

140

1. Rechtsstaatsprinzip

140

2. Grundrechte

140

3. Demokratieprinzip

142

4. Gebot der Effektivität staatlichen Handelns und der Grundsatz der Verwaltungseffizienz

143

5. Der Grundsatz der Normerhaltung

146

III. Zusammenfassung

148

B. Anforderungen an ein alternatives Fehlerfolgenmodell

148

4. Kapitel: Die Theorie vom Geltungsbeendigungsanlass

150

A. Einführung

150

B. Geltung und Geltungsverlust

151

I. Einführung

151

II. Geltung

151

III. Geltung von Satzungen

152

1. Geltung und Wirkungsnormen

153

a) Vorrang positivrechtlicher Ausgestaltung

153

b) Keine oder nur vereinzelte positivrechtliche Bestimmungen

154

2. Geltung und Zulässigkeitsnormen

154

IV. Geltungsverlust durch autoritative Geltungsbeendigung

155

1. Aufhebung durch den Satzungsgeber (horizontale Derogation)

156

2. Aufhebung durch Rechtsverordnung oder formelles Gesetz (vertikale Derogation)

157

3. Aufhebung durch ein Gericht (diagonale Derogation)

158

4. Sanktionsermessen und zeitliche Dimension der Aufhebung

160

5. Gesamt- oder Teilaufhebung

161

a) Die Teilunwirksamerklärung in Rechtsprechung und Schrifttum

161

b) Folgerungen für die autoritative Geltungsbeendigung

162

6. Auswirkung auf die vorhergehende Satzung bzw. das "Altrecht"

163

C. Anwendung und Suspendierung

163

I. Geltung und Anwendung einer Rechtsnorm

164

1. Anwendungsvorrang des Unionsrechts

164

2. Anwendungsvorrang der spezielleren Rechtsnorm

165

3. Die Abweichungsgesetzgebung der Länder, Art. 72 Abs. 3 GG

165

4. Bewertung und Zusammenfassung

166

II. Rechtswidrige Satzungen auf der Anwendungsebene

166

1. Normenkollision bei gleicher Regelungsdichte ("Normanwendungskollision")

167

2. Normenkollision bei ungleicher Regelungsdichte ("Normsetzungskollision")

167

III. Inzidentverwerfungskompetenz

168

D. Rechtswidrige Satzungen und die normvollziehende Verwaltung

169

I. Prinzipale Verwerfung

169

II. Inzidente Verwerfung

169

1. Prüfungskompetenz

170

2. Inzidentverwerfungskompetenz

171

a) Meinungsstand

171

b) Für eine Inzidentverwerfungskompetenz sprechende Argumente

172

aa) Haftungsrisiko der Verwaltung

172

bb) § 76 Abs. 1 Nr. 2 BVerfGG

173

cc) § 36 Abs. 1 BeamtStG, § 63 Abs. 1 BBG

173

c) Gegen eine Inzidentverwerfungskompetenz sprechende Argumente

173

aa) Kompetenzverteilung innerhalb der staatlichen Gewalt

173

bb) Rechtssicherheit und das Transparenzgebot staatlichen Handelns

175

cc) Gesetzmäßigkeit der Verwaltung

176

dd) Befugnis zur prinzipalen Normenkontrolle

177

d) Stellungnahme

177

e) Unionsrechtswidrige Satzungen

181

f) Zusammenfassung

185

III. Entscheidungsmöglichkeiten

185

1. Inzidentverwerfung

186

2. Aussetzung

186

3. Anwendung eigenen Satzungsrechts?

188

4. Ergebnis

188

E. Rechtswidrige Satzungen und die Verwaltungsgerichtsbarkeit

189

I. Prinzipale Verwerfung

189

1. Keine gesetzliche Fehlerfolgenregelung für die Satzung

190

a) Grundsätzliche Zulässigkeit weiterer Entscheidungsinhalte neben der Unwirksamerklärung

190

b) Überblick über mögliche Entscheidungsinhalte

191

c) Berücksichtigung eines Wiederaufgreifens des Verfahrens

192

d) Berücksichtigung potentieller Heilungsmöglichkeiten

193

2. Einfachgesetzliche Anordnung der Ipso-iure-Nichtigkeit

194

II. Inzidente Verwerfung

195

1. Verwerfungskompetenz

195

a) Rechts- und Gesetzesbindung der rechtsprechenden Gewalt

195

b) Kompetenzverteilung zwischen den Gewalten

196

c) Rechtssicherheit und das Transparenzgebot staatlichen Handelns

197

d) Garantie effektiven Rechtsschutzes

197

e) Ergebnis

198

2. Entscheidungsmöglichkeiten

198

a) Keine gesetzliche Fehlerfolgenregelung

198

b) Gesetzliche Anordnung der Ipso-iure-Nichtigkeit

200

F. Rechtswidrige Satzungen und der Satzungsgeber

201

I. Prinzipale Verwerfung

201

II. Inzidente Verwerfung

203

G. Bewertung nach dem Anforderungsprofil

205

5. Kapitel: Fazit und Zusammenfassung

207

Literaturverzeichnis

209

Sachwortverzeichnis

222