Judicial review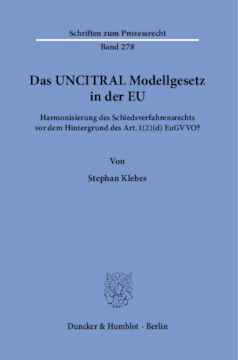 BOOK
Das UNCITRAL Modellgesetz in der EU
Harmonisierung des Schiedsverfahrensrechts vor dem Hintergrund des Art. 1 (2)(d) EuGVVO?
Schriften zum Prozessrecht, Vol. 278
(2021)
Additional Information
Book Details
ISBN

978-3-428-58298-3
978-3-428-18298-5 (print edition)

DOI

https://doi.org/10.3790/978-3-428-58298-3

Edition

1

Language

German

Pages

299

Collections

Subjects
Pricing
Institution

€ 104.00 (incl. local VAT if applicable)

Individual

€ 79.90 (incl. local VAT if applicable)
About The Author
Stephan Klebes studierte Rechtswissenschaften an den Universitäten Mannheim (LL.B. Unternehmensjurist, 2013; erstes Staatsexamen, 2016) und Kapstadt (LL.M., 2017). Die vorliegende Arbeit erstellte er anschließend im Rahmen seiner Promotion an der Universität Osnabrück bei Prof. Dr. Mary-Rose McGuire (2017 bis 2020). Im Jahr 2020 schloss er zudem sein Rechtsreferendariat beim Oberlandesgericht Celle ab. Seit 2021 arbeitet er als Rechtsanwalt in Hamburg.
Stephan Klebes studied law at the Universities of Mannheim (LL.B. in Business Law, 2013, first state examination, 2016) and Cape Town (LL.M., 2017). He subsequently prepared the present thesis as part of his doctoral studies at the University of Osnabrück under Prof. Dr. Mary-Rose McGuire (2017-2020). In 2020, he also completed his legal clerkship at the Higher Regional Court of Celle. He is working as a lawyer in Hamburg.
Abstract
Nach der Überarbeitung der EuGVVO ist die Schnittstelle zwischen Schieds- und staatlichen Gerichtsverfahren in der EU trotz umfassender Diskussionen noch immer nicht zufriedenstellend geregelt. Insbesondere verbleibt die Möglichkeit der Entstehung von Parallelverfahren zwischen den beiden Spruchkörpern. Diesem Problem nähert sich die vorliegende Arbeit, indem zunächst die gegenwärtige Rechtslage analysiert und darauf aufbauend der Versuch unternommen wird, einen eigenständigen Lösungsansatz auf Grundlage des UNCITRAL Modellgesetzes zu entwickeln. Im Zuge dessen werden neben den primärrechtlichen Kompetenzen der EU im Bereich der Schiedsgerichtsbarkeit vordergründig die für das Problem zentralen Regelungsbereiche im Kontext des Modellgesetzes erörtert. Aus dem sich anschließenden Rechtsanwendungsvergleich der Mitgliedstaaten Irland, Deutschland und Frankreich folgt eine Relevanz der Arbeit auch für Praktiker. Abschließend wird ein Rechtsakt der EU vorgeschlagen und begründet. »The UNCITRAL Model Law in the EU. Harmonization of the Law of Arbitration against the Background of Art. 1(2)(d) Brussels Ia-Regulation?«

The interface between arbitration and state court proceedings in the EU still allows the emergence of parallel proceedings. The dissertation analyzes this problem and proposes the enactment of a regulation based on the UNCITRAL Model Law as a solution. In addition to the competences of the EU in this area, the regulatory areas central to the problem are discussed in the context of the Model Law, followed by a comparative analysis of the application of the law in Ireland, Germany and France.
Table of Contents
Section Title
Page
Action
Price

Vorwort

5

Inhaltsverzeichnis

7

Abkürzungsverzeichnis

14

A. Einleitung

19

I. Hintergrund des Vorschlags einer Harmonisierung des Schiedsverfahrensrechts in der EU

19

II. Gang der Untersuchung

22

B. Der Ausschluss der Schiedsgerichtsbarkeit vom Anwendungsbereich der EuGVVO

24

I. Einleitung

24

1. EZPR und Schiedsgerichtsbarkeit

24

2. Entwicklung des EZPR

26

a) EuGVÜ

26

b) EuGVVO a.F.

27

c) EuGVVO

27

d) Lugano-Übereinkommen

28

3. Folge des Ausschlusses einer Materie vom Anwendungsbereich der EuGVVO

29

II. Beteiligung staatlicher Gerichte an Schiedsverfahren

31

1. Überprüfung der Schiedsvereinbarung

31

a) Die Gültigkeit der Schiedsvereinbarung als Vorfrage des Verfahrens

31

b) Die Gültigkeit der Schiedsvereinbarung als Hauptstreitgegenstand

38

2. Prozessführungsverbote zur Unterstützung von Schiedsverfahren

39

a) Einleitung

39

b) Prozessführungsverbote staatlicher Gerichte

41

c) Schiedsgerichtliche Prozessführungsverbote

48

3. Maßnahmen zur Unterstützung des Schiedsverfahrens

51

4. Einstweilige Maßnahmen

52

a) Einleitung

52

b) Anordnung durch staatliche Gerichte

52

c) Anordnung durch Schiedsgerichte

56

5. Aufhebung des Schiedsspruchs

57

6. Anerkennung und Vollstreckung des Schiedsspruchs

57

7. Zwischenergebnis

58

III. Verbleibende Probleme

59

1. Parallelverfahren

59

2. Vollstreckung miteinander unvereinbarer Rechtstitel

60

a) Vollstreckungshindernisse der EuGVVO und des UNÜ

60

b) Vollstreckbarkeit des Schiedsspruchs im Staat des Parallelverfahrens

63

c) Gleichzeitige Existenz miteinander unvereinbarer Rechtstitel, die beide noch nicht vollstreckt wurden

64

d) Früherer Erlass eines der beiden Titel

66

aa) Gerichtsurteil vor Schiedsspruch

66

bb) Schiedsspruch vor Gerichtsurteil

66

e) Nach erfolgter Vollstreckung eines der Titel

66

aa) Vollstreckung im gleichen Staat – Gerichtsurteil vor Schiedsspruch

67

bb) Vollstreckung im gleichen Staat – Schiedsspruch vor Gerichtsurteil

67

cc) Vollstreckung in verschiedenen Mitgliedstaaten – Gerichtsurteil vor Schiedsspruch

72

dd) Vollstreckung in verschiedenen Mitgliedstaaten – Schiedsspruch vor Gerichtsurteil

73

f) Zwischenergebnis

75

3. Race to the courthouse – Race to the arbitral tribunal

78

4. Zwischenergebnis

79

IV. Ergebnis

79

C. Die Rechtsetzungskompetenz der EU im Bereich der Schiedsgerichtsbarkeit

81

I. Fehlende Berücksichtigung in der bisherigen Diskussion

81

1. Einleitung

81

2. Zu Zeiten des EuGVÜ und der EuGVVO a.F.

82

3. Die Reform der EuGVVO a.F.

84

4. Inkrafttreten der EuGVVO

87

5. Stellungnahme

89

II. Europarechtliche Grundlage der vertikalen Kompetenzverteilung, Art. 5 EUV

89

1. Einleitung

89

2. Grundsatz der begrenzten Einzelermächtigung, Art. 5‍(2) EUV

90

3. Subsidiaritätsprinzip, Art. 5‍(3) EUV

92

4. Verhältnismäßigkeitsgrundsatz, Art. 5‍(4) EUV

94

5. Zwischenergebnis

96

III. Art. 81 AEUV als Kompetenzgrundlage eines EU-Schiedsverfahrensrechts

96

1. Einleitung

96

2. Voraussetzungen der Kompetenzausübung

98

3. Kompetenztitel des Art. 81‍(2) AEUV mit Bezug zur Schiedsgerichtsbarkeit

100

a) Einleitung

100

b) Anerkennung und die Vollstreckung gerichtlicher und außergerichtlicher Entscheidungen

101

c) Vereinbarkeit der in den Mitgliedstaaten geltenden Kollisionsnormen und Vorschriften zur Vermeidung von Kompetenzkonflikten

104

d) Effektiver Zugang zum Recht

105

e) Beseitigung von Hindernissen für die reibungslose Abwicklung von Zivilverfahren

106

f) Entwicklung von alternativen Methoden für die Beilegung von Streitigkeiten

107

g) Zwischenergebnis

109

IV. Ergebnis

109

D. Parallelverfahren – relevante Regelungsbereiche und multilateraler Rahmen

111

I. Für die Entstehung von Parallelverfahren relevante Regelungsbereiche des Schiedsverfahrensrechts

111

1. Einleitung

111

2. Gültigkeit der Schiedsvereinbarung

112

a) Das Schiedsvereinbarungsstatut

112

b) Definition und Form der Schiedsvereinbarung

113

3. Zuständigkeitsallokation

113

a) Regelung der Kompetenz-Kompetenz

114

b) Isolierte Überprüfung der Schiedsvereinbarung

115

c) Überprüfung der Schiedsvereinbarung nach Erlass des Schiedsgerichts

116

4. Aufhebung des Schiedsspruchs bei Ungültigkeit der Schiedsvereinbarung

116

II. Für die Entstehung von Parallelverfahren relevante Regelungen in multilateralen Staatsverträgen

117

1. Einleitung

117

2. Für die Entstehung von Parallelverfahren relevante Regelungen des UNÜ

118

a) Gültigkeit der Schiedsvereinbarung

118

aa) Das Schiedsvereinbarungsstatut, Art. II, V‍(1)(a) UNÜ

118

bb) Definition und Form der Schiedsvereinbarung, Art. II‍(1), (2) UNÜ

119

b) Zuständigkeitsallokation

120

c) Aufhebung des Schiedsspruchs bei Ungültigkeit der Schiedsvereinbarung

120

3. Für die Entstehung von Parallelverfahren relevante Regelungen des EuÜ

121

a) Gültigkeit der Schiedsvereinbarung

121

aa) Das Schiedsvereinbarungsstatut, Art. VI‍(2) EuÜ

121

bb) Definition und Form der Schiedsvereinbarung, Art. I‍(2)(a) EuÜ

122

b) Zuständigkeitsallokation, Art. V, VI EuÜ

122

c) Aufhebung des Schiedsspruchs bei Ungültigkeit der Schiedsvereinbarung

123

III. Ergebnis

124

E. Das UNCITRAL Modellgesetz als Grundlage eines Rechtsaktes der EU?

125

I. Einleitung – Das Straßburger Übereinkommen

125

1. Hintergrund

126

2. Inhalt

126

3. Gründe des Scheiterns

129

II. Das UNCITRAL Modellgesetz – Hintergrund und Eignung für einen EU-Rechtsakt

130

1. Hintergrund

130

2. Eignung für einen EU-Rechtsakt

132

III. Das UNCITRAL Modellgesetz – für die Entstehung von Parallelverfahren relevante Vorschriften

133

1. Gültigkeit der Schiedsvereinbarung

134

a) Das Schiedsvereinbarungsstatut

134

aa) Einleitung

134

bb) Regelungsumfang des Schiedsvereinbarungsstatuts

134

b) Das subjektive Schiedsfähigkeitsstatut

137

c) Das objektive Schiedsfähigkeitsstatut

138

d) Das Formstatut

140

e) Definition und Form der Schiedsvereinbarung

141

aa) Einleitung

141

bb) Variante I

142

cc) Variante II

143

2. Zuständigkeitsallokation

145

a) Kompetenz-Kompetenz des Schiedsgerichts

145

b) Isolierte Überprüfung der Schiedsvereinbarung

147

aa) Einleitung

147

bb) Prüfungsmaßstab des Art. 8‍(1) ModG

148

cc) Prüfungsumfang des Art. 8‍(1) ModG

149

c) Überprüfung der Schiedsvereinbarung nach Erlass des Schiedsgerichts

150

aa) Einleitung

150

bb) Rechtliche Qualifikation der Zuständigkeitsentscheidung des Schiedsgerichts als Vorfrage nach Art. 16‍(3) ModG

151

cc) Negative Zuständigkeitsentscheidung des Schiedsgerichts

154

dd) Präklusionswirkung eines unterlassenen Antrags nach Art. 16‍(3) ModG

157

ee) Prüfungsmaßstab des Art. 16‍(3) ModG

158

3. Aufhebung des Schiedsspruchs bei Ungültigkeit der Schiedsvereinbarung

159

IV. Ergebnis

160

F. Die Rezeption des Modellgesetzes in den Mitgliedstaaten der EU

161

I. Das Modellgesetz als Abgrenzungskriterium

161

II. Unterschiede zwischen den Schiedsverfahrensgesetzen der Mitgliedstaaten im Zusammenhang mit der Entstehung von Parallelverfahren

162

1. Modellgesetz-Staaten

163

2. Nicht-Modellgesetz-Staaten

170

3. Darstellung der Bandbreite an Lösungsansätzen

174

G. Rechtsanwendungsvergleich der Mitgliedstaaten Irland, Deutschland und Frankreich

179

I. Vollständige Rezeption des Modellgesetzes – Irland

180

1. Einleitung

180

2. Gültigkeit der Schiedsvereinbarung

181

a) Das Schiedsvereinbarungsstatut

181

b) Definition und Form der Schiedsvereinbarung

183

3. Zuständigkeitsallokation

184

a) Kompetenz-Kompetenz des Schiedsgerichts

185

b) Isolierte Überprüfung der Schiedsvereinbarung

185

c) Überprüfung der Schiedsvereinbarung nach Erlass des Schiedsgerichts

189

4. Aufhebung des Schiedsspruchs bei Ungültigkeit der Schiedsvereinbarung

191

5. Zwischenergebnis

191

II. Teilweise Rezeption des Modellgesetzes – Deutschland

192

1. Einleitung

192

2. Gültigkeit der Schiedsvereinbarung

194

a) Das Schiedsvereinbarungsstatut

194

aa) Einleitung

194

bb) Reichweite des Schiedsvereinbarungsstatuts

194

cc) Bestimmung des Schiedsvereinbarungsstatuts

195

b) Das subjektive Schiedsfähigkeitsstatut

200

c) Das Formstatut

201

aa) Ausländischer Schiedsort

202

bb) Deutscher Schiedsort

204

d) Definition und Form der Schiedsvereinbarung

205

aa) Legaldefinition der Schiedsvereinbarung, § 1029 dZPO

205

bb) Form der Schiedsvereinbarung, § 1031 dZPO

206

3. Zuständigkeitsallokation

209

a) Vorläufige Kompetenz-Kompetenz des Schiedsgerichts

210

b) Isolierte Überprüfung der Schiedsvereinbarung

210

aa) Schiedseinrede, § 1032‍(1) dZPO

211

bb) Zulässigkeitskontrolle, § 1032‍(2) dZPO

212

(1) Verhältnis der Zulässigkeitskontrolle zur Schiedseinrede

213

(2) Gegenstand der Zulässigkeitskontrolle

215

c) Überprüfung der Schiedsvereinbarung nach Erlass des Schiedsgerichts

217

aa) Rechtliche Qualifikation der Entscheidung des Schiedsgerichts nach § 1040‍(3) dZPO

217

bb) Negative Zuständigkeitsentscheidung des Schiedsgerichts

219

cc) Präklusionswirkung eines unterlassenen Antrags nach § 1040‍(3) dZPO

221

4. Aufhebung des Schiedsspruchs bei Ungültigkeit der Schiedsvereinbarung

222

5. Zwischenergebnis

223

III. Keine Rezeption des Modellgesetzes – Frankreich

224

1. Einleitung

224

2. Methodologische Grundlage der Schiedsgerichtsbarkeit nach französischem Recht – Lehre vom transnationalen Schiedsverfahren

225

3. Gültigkeit der Schiedsvereinbarung

228

a) Kollisionsrecht

228

b) Definition und Form der Schiedsvereinbarung

231

4. Zuständigkeitsallokation

233

a) Kompetenz-Kompetenz des Schiedsgerichts

234

b) Isolierte Überprüfung der Schiedsvereinbarung

235

c) Überprüfung der Schiedsvereinbarung nach Erlass des Schiedsgerichts

238

aa) Einleitung

238

bb) Rechtliche Qualifikation der Zwischenentscheidung des Schiedsgerichts

239

cc) Negative Zuständigkeitsentscheidung des Schiedsgerichts

240

dd) Präklusionswirkung eines unterlassenen Antrags nach Art. 1520 NCPC gegen die Zwischenentscheidung des Schiedsgerichts

241

5. Aufhebung des Schiedsspruchs bei Ungültigkeit der Schiedsvereinbarung

241

a) Einleitung

241

b) Vollstreckung im Ausland aufgehobener Schiedssprüche

242

6. Zwischenergebnis

243

IV. Ergebnis

244

H. Lösungsvorschlag zur Vermeidung von Parallelverfahren in der EU

246

I. Einleitung – Meinungsstand zur Harmonisierung des Schiedsverfahrensrechts auf Ebene der EU

246

II. Lösungsvorschlag

249

1. Die geeignete Handlungsform – Verordnung oder Richtlinie?

249

a) Einleitung

249

b) Verordnung, Art. 288‍(2) AEUV

251

aa) Einleitung

251

bb) Möglichkeit einer Begrenzung des räumlichen Anwendungsbereichs

252

c) Richtlinie, Art. 288‍(3) AEUV

253

aa) Einleitung

253

bb) Regelungsdichte

254

cc) Umsetzungspflicht

255

dd) Möglichkeit einer Begrenzung des räumlichen Anwendungsbereichs

256

d) Stellungnahme – Verhältnismäßigkeit der Wahl der geeigneten Handlungsform

256

aa) Einleitung

256

bb) Harmonisierung auch gegenüber Drittstaaten durch Verwendung des Modellgesetzes

257

cc) Direkte Rezeption des Modellgesetzes als Idealfall der Harmonisierung

257

dd) Die Verordnung als verhältnismäßige Handlungsform

258

2. Eine Verordnung zur Umsetzung von Teilen des Modellgesetzes

260

a) Gesetzgebungsvorschlag

260

b) Erläuterung Kapitel I.

263

c) Erläuterung Kapitel II.

265

d) Verknüpfung mit der EuGVVO

267

3. Verhältnismäßigkeit des Vorschlags, Art. 5‍(4) EUV

268

III. Weitere Vorteile eines einheitlichen Schiedsverfahrensrechts auf Grundlage des Modellgesetzes

270

1. Umfassende Vereinheitlichung über die Grenzen der EU hinaus

270

2. Wertungskonsistenz durch EuGH

271

3. Aufbau auf bestehenden multilateralen Staatsverträgen

272

IV. Der richtige Zeitpunkt – die Auswirkungen des Brexit

273

I. Ergebnis und Ausblick

277

I. Ergebnis

277

II. Ausblick

278

Literaturverzeichnis

280

Sachwortverzeichnis

296