Medical & healthcare law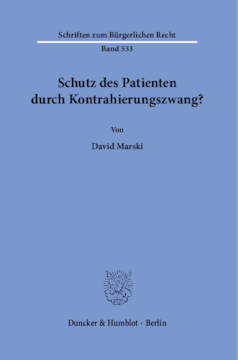 Additional Information
Book Details
ISBN

978-3-428-58381-2
978-3-428-18381-4 (print edition)

DOI

https://doi.org/10.3790/978-3-428-58381-2

Edition

1

Language

German

Pages

356

Collections

Subjects
Pricing
Institution

€ 104.00 (incl. local VAT if applicable)

Individual

€ 79.90 (incl. local VAT if applicable)
About The Author
David Marski studierte Rechtswissenschaften an der Ludwig-Maximilians-Universität in München. Im Anschluss an sein erstes Staatsexamen im Jahre 2018 arbeitete er als wissenschaftlicher Mitarbeiter im Arbeitsrecht bei Gleiss Lutz in Hamburg. Seit 2018 ist er Dozent bei Alpmann Schmidt im Bereich des Zivilrechts und Verfassungsrechts für diverse Standorte in Norddeutschland. Seit 2020 ist er Autor für die Ausbildungszeitschrift RÜ von Alpmann Schmidt. Er arbeitet zudem seit 2020 als freier Mitarbeiter bei einer am Bundesgerichtshof zugelassenen Rechtsanwaltskanzlei. Die Promotion erfolgte im Jahr 2021 bei Prof. Dr. Stephan Lorenz an der Ludwig-Maximilians-Universität in München. Seit 2020 ist er Rechtsreferendar bei dem Oberlandesgericht Celle.
David Marski studied law at Ludwig-Maximilian-University in Munich. After finishing his First State Examination in 2018, he worked as research assistant at Gleiss Lutz in Hamburg in the field of Labor Law. Since 2018, he has been a lecturer at Alpmann Schmidt in the field of Civil Law and Constitutional Law for various locations in Northern Germany. Since 2020, he has been an author for the journal »RÜ«, which is published by Alpmann Schmidt. Since 2020, he also works as freelance collaborator at a law firm, which is licensed to dispute at the Federal High Court of Justice. The thesis was awarded in 2021 under Prof. Stephan Lorenz, Ph.D. at the Ludwig- Maximilians-Universität in Munich. Since 2020, he has been a legal trainee at the Higher Regional Court of Celle.
Abstract
Darf ein Arzt eine Behandlung ablehnen oder kann ein behandlungswilliger potentieller Patient diese einfordern? Klar dürfte sein, dass bei einem Unglücksfall ein Arzt aus diversen rechtlichen Erwägungen eine Behandlung nicht ablehnen darf. Wie sieht es aber aus, wenn ein derartiges zuspitzendes Ereignis nicht vorliegt aber trotzdem ein zwingendes Bedürfnis für eine ärztliche Behandlung besteht, da nur ein Arzt die Fähigkeit oder Fertigkeit zur adäquaten Behandlung hat? Der Arzt kann sich genauso wie jeder andere Akteur im Privatrecht auf die grundrechtlich gewährleistete Privatautonomie und damit auch Vertragsfreiheit berufen. Er kann also selbst entscheiden, ob, mit wem und zu welchen Bedingungen er einen Behandlungsvertrag schließt. Diese Freiheit sollte aber zum Schutz der Patienten in bestimmten Situationen dahingehend eingeschränkt werden, dem Arzt einen Kontrahierungszwang aufzuerlegen. Der Patient erhält damit in engen Grenzen einen einklagbaren Anspruch auf Abgabe einer auf die Herbeiführung des Behandlungsvertrags gerichtete Willenserklärung gegen den Arzt. »Protection of the Patient with Obligation to Contract?«

Whether, with whom and under what conditions a physician may conclude a contract governing medical treatment, he for himself can decide. However, in some situations, this freedom should be restricted in order to protect patients by imposing an obligation to contract on the physician. Thereby and within narrow limits, the patient receives to a certain extent an enforceable right against the physician for the issuance of a declaration of intention regarding the contract governing medical treatment.
Table of Contents
Section Title
Page
Action
Price

Vorwort

9

Inhaltsverzeichnis

13

1. Kapitel: Einleitung

25

§ 1 Problemstellung

25

§ 2 Gang der Untersuchung

28

2. Kapitel: Begriffsbestimmung und Allgemeines zu der Behandlungspflicht und dem Kontrahierungszwang

30

§ 1 Begriffsbestimmung

30

I. Behandlungspflicht

31

II. Kontrahierungszwang

32

III. Unterschiede

33

1. Unterscheidung anhand des rechtlichen Anknüpfungspunktes

33

2. Unterscheidung anhand des betroffenen Rechtsgebietes

34

3. Kontrahierungszwang als ein Aliud gegenüber der Behandlungspflicht

35

§ 2 Zweck und Vorteil des Kontrahierungszwangs

35

I. Ansätze von Medicus

36

II. Eigener Ansatz

36

III. Vorteile des Kontrahierungszwangs gegenüber der Behandlungspflicht

38

1. Vorteile aufseiten des Patienten

39

2. Vorteil aufseiten des Arztes

43

§ 3 Ausformungen des Kontrahierungszwangs

45

I. Echter Kontrahierungszwang

46

1. Spezieller Kontrahierungszwang

46

a) Betreiber von Energieversorgungsnetzen

47

b) Personenbeförderung

47

c) Private Krankenversicherung

47

d) Notare und Rechtsanwälte

48

2. Allgemeiner Kontrahierungszwang

48

a) Dogmatische Begründung

49

aa) Ansatz von Nipperdey sowie BGH, NJW 1990, 761ff.

49

bb) Ansätze von Raiser und Wolf

50

cc) Ansätze von Hackl und Neuner

50

dd) Ansatz von Busche

51

ee) Ansätze von Larenz und Grunewald

51

ff) Stellungnahme

52

b) Tatbestandliche Voraussetzungen

58

aa) Sachlicher Anwendungsbereich

58

bb) Persönlicher Anwendungsbereich

58

c) Normative Beschränkung

60

aa) Leistungsfähigkeit

60

bb) Leistungszumutbarkeit

61

II. Unechter Kontrahierungszwang

61

III. Rechtsgeschäftlicher Kontrahierungszwang

61

IV. Zwischenergebnis

62

§ 4 Rechtsfolgen des Kontrahierungszwangs

62

I. Anspruchsinhalt im weiteren Sinne

62

1. Anspruch auf Leistung des Anbieters

62

2. Anspruch auf Abgabe einer Willenserklärung

63

3. Stellungnahme

63

II. Anspruchsinhalt im engeren Sinne

64

1. Gestaltungsmöglichkeit?

64

a) Uneingeschränkte Gestaltungsmöglichkeit

64

b) Eingeschränkte Gestaltungsmöglichkeit

65

2. Einseitiges Leistungsbestimmungsrecht des Anbieters analog §§ 315 Abs. 1, 3, 316 BGB

65

III. Verfahrensrechtliches

67

1. Klage auf Abgabe der Willenserklärung und/oder Leistung?

68

a) Rechtsprechung und Teile der Lehre

68

b) Kritik

68

c) Zwischenergebnis

70

2. Modalitäten des Klageantrags

71

a) Einmalige Leistung

71

b) Mehrmalige Leistung

72

IV. Möglichkeiten der Loslösung vom Vertrag

73

1. Loslösungsvarianten

73

a) Aufhebungsvertrag gem. § 311 Abs. 1 BGB

74

b) Anfechtung gem. § 142 Abs. 1 BGB

74

c) Anspruch auf Vertragsaufhebung gem. § 249 Abs. 1 BGB

74

d) Rücktritt gem. 346 Abs. 1 BGB

75

e) Kündigung

75

f) Rechtsvernichtender Widerruf

76

2. Einschränkung der Loslösungsmöglichkeit aufgrund des Kontrahierungszwangs?

76

3. Fazit

78

§ 5 Abgrenzung zu anderen Bindungszwängen

79

I. Vertraglich willentlich begründeter Zwang

79

II. Vertragsübernahme kraft Gesetzes

79

III. Vertragsschluss kraft Gesetzes

80

IV. Sittlich bzw. moralische Beweggründe

81

V. Wirtschaftliche Beweggründe

81

VI. Ausübung eines einseitigen gesetzlichen Gestaltungsrechts

82

VII. Diktierter Vertrag

82

3. Kapitel: Schutz des Patienten im Rahmen des Arzt-Patienten-Verhältnisses

83

§ 1 Gesetz zur Verbesserung der Rechte von Patientinnen und Patienten

83

I. Entstehungsgeschichte

83

II. Kodifizierung von Richterrecht

85

III. Zielsetzung der Gesetzgebung

86

IV. Wesentliche Änderungen

87

1. Änderungen des Bürgerlichen Gesetzbuchs

87

a) Behandlungsvertrag

88

b) Informations- und Aufklärungspflichten

89

c) Dokumentation und Einsichtnahme

91

d) Beweislast

93

2. Änderungen des fünften Sozialgesetzbuchs

95

a) Unterstützungspflicht der Krankenkassen bei Behandlungsfehlern eines Arztes

95

b) Recht des Patienten auf zügige Entscheidung der Krankenkassen

97

c) Weitere Änderungen

98

3. Änderung des Krankenhausfinanzierungsgesetzes

99

V. Fazit

99

§ 2 Strafrechtlicher Schutz

102

I. Unterlassene Hilfeleistung gem. § 323c Abs. 1 StGB

103

1. Normzweck und Deliktsnatur

103

2. Tatbestandliche Voraussetzungen

104

a) Unglücksfall

104

aa) Allgemeines

104

bb) Merkmal: "Plötzlichkeit"

105

cc) Sonderfall: Suizidversuch

105

(1) Rechtsprechung

106

(2) Teile der Lehre

106

(a) Kritik von Ranft

107

(b) Kritik von Schmitt

107

(c) Kritik von Eser

107

(d) Kritik von Bottke

108

(e) Kritik von Pawlik

109

(f) Kritik von Duttge

109

(3) Stellungnahme

110

dd) Bewertungsperspektive

111

ee) Maßgeblicher Zeitpunkt

112

b) Erforderlichkeit

112

c) Zumutbarkeit

113

d) Subjektiver Tatbestand und Irrtümer

114

3. Täterschaft und Teilnahme

116

II. Unechte Unterlassungsdelikte gem. § 13 Abs. 1 StGB

116

1. Normzweck und Deliktsnatur

116

2. Tatbestandliche Voraussetzungen

117

a) Abgrenzung Tun und Unterlassen

117

b) Physisch-reale Möglichkeit der Erfolgsverhinderung

119

c) Zumutbarkeit normgemäßen Verhaltens

120

d) Quasikausalität

120

e) Objektive Zurechnung

121

f) Garantenstellung

122

aa) Verfassungsrechtliche Kritik

122

bb) Theorien zur Begründung einer Garantenpflicht

124

(1) Theorie der Rechtspflichtwidrigkeit

124

(2) Funktionenlehre

124

(3) Materiell-formelle Garantenlehre als vermittelnder Ansatz

125

(4) Gefahrschaffungslehre

126

(5) Vertrauenslehre

126

(6) Schünemanns Herrschaftslehre

127

cc) Garantenpflicht des Arztes

128

(1) Durch Vertragsschluss

129

(2) Durch Ingerenz

130

(3) Durch Niederlassung

131

(a) Öffentlich-rechtliche Beziehung zur Allgemeinheit

131

(b) Monopolstellung des Arztes

133

(c) Monopolähnliche Stellung des Arztes

136

(4) Durch Krankenhaus- oder Klinikaufenthalt

136

(a) Hoher Öffentlichkeitsbezug

137

(b) Gefährlichkeitspotential

138

(c) Bewusstlosigkeit des Notfallpatienten

138

(d) Landesgesetzliche Pflicht zur Aufnahme von Patienten

139

(e) Bereits aufgenommene Patienten

140

(5) Ärztlicher Ratschlag

141

(a) Nach dem BGH

141

(b) Stimmen in der Literatur

141

(c) Herrschaft über die partielle Hilflosigkeit

141

(6) Beendigung der Garantenstellung

142

g) Entsprechensklausel gem. § 13 Abs. 1 Hs. 2 StGB

142

h) Subjektiver Tatbestand und Irrtümer

143

3. Täterschaft und Teilnahme

144

III. Fahrlässige Körperverletzung bzw. Tötung gem. §§ 229, 222 StGB

144

1. Tatbestandsmäßigkeit

145

a) Erfolg

145

b) Kausalität

145

c) Sorgfaltspflichtverletzung

146

d) Objektive Zurechnung des Erfolgs

148

2. Rechtswidrigkeit

149

3. Schuld

149

a) Allgemeine Schuldausschließungsgründe und Verbotsirrtum

149

b) Keine besondere Fahrlässigkeitsschuld

150

IV. Fazit

150

§ 3 Sozialrechtlicher Schutz durch das Krankenversicherungsrecht

151

I. Allgemeines zur gesetzlichen Krankenversicherung

153

II. Historische Entwicklung

153

1. Krankenversicherungsgesetz (KVG)

153

2. Reichsversicherungsverordnung (RVO)

156

3. Verfassungsgebot in Art. 161 WRV

156

4. Notverordnung sowie Schaffung der Kassenärztlichen Vereinigungen

157

5. Änderungen während des Dritten Reichs

158

6. Änderungen in der Nachkriegszeit

159

7. Kostendämpfungsgesetze

159

8. Gesundheits-Reformgesetz (GRG)

160

9. Gesundheitsstrukturgesetz (GSG)

161

10. Beitragsentlastungsgesetz (BeitrEntlG)

162

11. Neuordnungsgesetze

162

12. Gesetz zur Stärkung der Solidarität in der gesetzlichen Krankenversicherung (GKV-SolG)

163

13. GKV-Gesundheitsreformgesetz (GKV-GRG)

163

14. Beitragssatzsicherungsgesetz (BSSichG)

164

15. Gesundheitsmodernisierungsgesetz (GMG)

164

16. Gesetz zur Weiterentwicklung der Organisationsstruktur der gesetzlichen Krankenversicherungen (GKV-OrgWG)

167

17. Arzneimittelneuordnungsgesetz (AMNOG)

168

18. GKV-Versorgungsstrukturgesetz (GKV-VStG)

168

19. Heil- und Hilfsmittelversorgungsgesetz (HHVG)

168

III. Zweck der gesetzlichen Krankenversicherung

170

IV. Versicherter Personenkreis

170

1. Versicherungspflicht

171

2. Versicherungsfreiheit

173

a) Versicherungsfreiheit kraft Gesetzes

174

b) Versicherungsfreiheit kraft Befreiung

176

V. Leistungen

176

1. Allgemeines

177

2. Leistung zur Behandlung einer Krankheit

178

a) Anspruch auf Krankenbehandlung gem. §§ 27–43c SGB V

178

b) Anspruch auf Krankengeld gem. §§ 44–51 SGB V

179

VI. Vertragsarztrecht

180

VII. Fazit

182

§ 4 Zivilrechtlicher Schutz

184

I. Ärztliche Geschäftsführung ohne Auftrag

184

1. Regelungszweck der §§ 677ff. BGB

185

2. Voraussetzungen

185

a) Geschäftsführung

185

b) Fremdheit des Geschäfts

186

c) Fremdgeschäftsführungswillen

186

d) Ohne Auftrag oder sonstige Berechtigung

188

e) Berechtigte und unberechtigte GoA

189

3. Arzttypische Sachverhalte

191

II. Vor- oder nachvertragliche Verpflichtung des Arztes

192

1. Vorvertragliche Verpflichtung

193

a) Vertragsverhandlungen gem. § 311 Abs. 2 Nr. 1 BGB

193

b) Anbahnung eines Vertrags gem. § 311 Abs. 2 Nr. 2 BGB

195

c) Ähnliche geschäftliche Kontakte gem. § 311 Abs. 2 Nr. 3 BGB

195

d) Vorvertragliche Bindung aufgrund vertraglicher Abrede

196

2. Nachvertragliche Verpflichtung

196

3. Schutzumfang gem. § 241 Abs. 2 BGB

199

a) Bei vorvertraglicher Verpflichtung

199

b) Bei nachvertraglicher Verpflichtung

201

III. Vertragliche Haftung des Arztes

202

IV. Deliktische Haftung des Arztes

203

1. Verhältnis zur vertraglichen Haftung

204

a) Ähnlichkeiten

204

b) Unterschiede

205

c) Konkurrenz

206

2. Haftung nach § 823 Abs. 1 BGB

206

a) Verletzungshandlung des Arztes

206

b) Rechts‍(guts)‌verletzung des Patienten

207

aa) Körper und Gesundheit

207

bb) Leben

208

cc) Sonstiges Recht

208

c) Haftungsbegründende Kausalität

208

d) Rechtswidrigkeit

209

e) Verschulden des Arztes

209

f) Vorliegen eines Schadens aufseiten des Patienten

210

g) Haftungsausfüllende Kausalität

210

h) Ersatzfähigkeit des Schadens

210

3. Haftung nach § 823 Abs. 2 BGB i.V.m. Schutzgesetz

211

4. Haftung nach § 831 Abs. 1 S. 1 BGB

212

5. Haftung nach § 830 Abs. 1 S. 2 BGB

212

6. Haftung nach § 839 Abs. 1 S. 1 BGB i.V.m. Art. 34 GG

213

§ 5 Fazit

214

4. Kapitel: Bestehen eines Kontrahierungszwangs im Arzt-Patienten-Verhältnis

218

§ 1 Einleitung

218

§ 2 Aus einer bestehenden Behandlungspflicht resultierender spezieller Kontrahierungszwang

218

I. Bestehen von Behandlungspflichten des Arztes

219

1. Nothilfepflicht gem. § 323c Abs. 1 StGB

219

2. Verwirklichung eines unechten Unterlassensdelikts gem. § 13 Abs. 1 StGB

220

3. Geschäftsführung ohne Auftrag gem. §§ 677ff. BGB

220

4. Vorvertragliche Verpflichtung gem. §§ 280 Abs. 1, 241 Abs. 2, 311 Abs. 2 BGB

221

5. Berufsethos gem. § 1 Abs. 1 BÄO und § 1 Abs. 1 S. 1 MBOÄ

222

6. Ärztlicher Behandlungsgrundsatz gem. § 1 Abs. 2 MBOÄ bzw. § 7 Abs. 2 S. 2 MBOÄ

223

7. Ärztliche Approbation gem. § 2a BÄO bzw. § 3 BÄO i.V.m. ÄApprO

225

8. Teilnahme an der vertragsärztlichen Versorgung gem. § 95 Abs. 3 S. 1 SGB V

225

a) Meinungsstand

226

aa) Ansicht des BSG

226

bb) Ansicht von Krieger

226

cc) Ansicht von Schiller und Steinhilper

228

dd) Ansicht von Wimmer

228

ee) Ansicht von Killinger

229

ff) Ansicht von Muschallik

230

b) Stellungnahme

231

9. Aufnahmepflicht eines Krankenhauses nach § 39 Abs. 1 S. 2 SGB V und den landesgesetzlichen Vorschriften

232

10. Behandlungspflicht gem. § 13 Abs. 7 S. 3 BMV-Ärzte

233

11. Notfall i.S.d. § 7 Abs. 2 S. 2 MBOÄ

233

12. Rettungsdienst nach landesrechtlichen Vorschriften

234

13. Beseitigung einer Diskriminierung gem. § 21 Abs. 1 S. 1 AGG

235

14. Beseitigung einer Diskriminierung gem. § 33c S. 1 SGB I

237

15. Zwangsbehandlung im Strafvollzug, insb. gem. § 101 StVollzG

237

16. Fazit

238

II. Umfang der Behandlungspflicht gem. § 95 Abs. 3 S. 1 SGB V sowie Ablehnungsmöglichkeit des Vertragsarztes gem. § 13 Abs. 7 S. 3 BMV-Ä

239

1. Merkmal "begründete Fälle"

240

a) Konkretisierung durch das BSG

240

b) Konkretisierung durch Teile der Lehre

240

aa) Ansätze von Narr

240

bb) Ansätze von Rieger

241

cc) Stellungnahme

241

c) Mangelnde Bestimmtheit analog Art. 20 Abs. 3 GG

244

aa) Grundlegendes zu dem Bestimmtheitsgebot

244

bb) Möglichkeit der analogen Anwendung

246

cc) Unbestimmtheit im konkreten Fall

248

dd) Zwischenergebnis

250

2. Tauglichkeit des Kriteriums "Störung des Vertrauensverhältnis" im Hinblick auf Missbrauchsanfälligkeiten

250

a) Grundlage der Argumentation des BSG

250

aa) Vertrauensstellung im Rahmen des Arzt-Patienten-Verhältnis

251

bb) Gleichstellung von Arzt und Patient?

253

cc) Missbrauchsgefahr durch die Ärzte

255

dd) Zulässige Beeinträchtigung oder unzulässige Störung des Vertrauensverhältnisses?

256

ee) Abstellen auf eine Person?

257

b) Zwischenergebnis

258

3. Fazit

259

III. Vorliegen eines speziellen Kontrahierungszwangs des einzelnen Arztes aufgrund einer bestehenden unmittelbaren Behandlungspflicht

259

1. Aufgrund des Bestehens der Nothilfepflicht gem. § 323c Abs. 1 StGB

260

a) Ausgangspunkt: OLG München, MedR 2006, 478

260

aa) Sachverhalt

260

bb) Entscheidung

261

cc) Schlussfolgerung

261

b) Umkehrschluss aus § 200 StGB-Preußen

263

c) Zwischenergebnis

264

2. Aufgrund der Verwirklichung eines unechten Unterlassensdelikts gem. § 13 Abs. 1 StGB

264

3. Aufgrund einer vorvertraglichen Verpflichtung gem. §§ 280 Abs. 1, 241 Abs. 2, 311 Abs. 2 BGB

265

4. Aufgrund der Teilnahme an der vertragsärztlichen Versorgung gem. § 95 Abs. 3 S. 1 SGB V

266

a) Krankenversicherungsrechtliches Viereck

266

b) Abstraktes Bestehen eines Kontrahierungszwangs innerhalb der Vierecksbeziehung

267

c) Konkretes Bestehen eines Kontrahierungszwangs des Vertragsarztes gegenüber dem Kassenpatienten?

268

aa) Begrenzter bzw. partieller Kontrahierungszwang

268

bb) Kein Kontrahierungszwang des Vertragsarztes gegenüber dem Kassenpatienten

269

cc) Zwischenergebnis

270

5. Aufgrund Diskriminierung des Patienten analog § 21 AGG

271

a) Kontrahierungszwang trotz Ermangelung einer ausdrücklichen Regelung im AGG?

271

b) Dogmatische Anknüpfung des Kontrahierungszwangs im Rahmen des AGG

275

aa) Bislang vertretene Ansätze

275

bb) Kritik

276

cc) Lückenschließung über die analoge Anwendung des § 21 AGG?

278

(1) Planwidrige Regelungslücke

278

(2) Vergleichbare Interessenlage

279

(3) Zwischenergebnis

280

c) Diskriminierung aufgrund eines sog. "Aufnahmestopps"

280

aa) Grundlegendes zum sog. "Aufnahmestopp"

280

bb) Benachteiligung gem. § 3 AGG wegen "Alters"

281

cc) Beweislast

283

(1) Beweislastumkehr gem. § 22 AGG

283

(2) Auskunftsanspruch des abgelehnten Patienten?

284

(3) Durchführung eines sog. Testing-Verfahrens

284

d) Zwischenergebnis

285

6. Fazit

285

§ 3 Bestehen eines allgemeinen Kontrahierungszwangs

286

I. Sachlicher Anwendungsbereich

286

II. Persönliche Anwendungsbereich

286

1. Eigene Willenserklärung

287

2. Dringendes Bedürfnis

287

3. Objektives Interesse an dem konkreten Vertragsschluss

289

III. Normative Beschränkung

291

1. Leistungsfähigkeit des Arztes

292

2. Leistungszumutbarkeit des Arztes

293

IV. Zwischenergebnis

294

§ 4 Fazit

295

5. Kapitel: Notwendigkeit eines speziellen Kontrahierungszwangs im Arzt-Patienten-Verhältnis

297

§ 1 Vorliegen einer Schutzlücke

297

I. Schutzniveau des potentiellen Patienten lückenhaft: Behandlungspflicht alleine nicht ausreichend

298

1. Bisheriges Schutzniveau im Überblick

298

2. Unterscheidung von Patienten und potentiellen Patienten

299

3. Anwendungsfälle des potentiellen Patienten

300

4. Zwischenergebnis

301

II. Allgemeiner Kontrahierungszwang und seine Schwächen

301

1. Geringere Effektivität der Rechtsfortbildung gegenüber der Gesetzesauslegung

301

2. Verstoß gegen die Wesentlichkeitstheorie

304

III. Schlussfolgerung

305

§ 2 Schließung der Schutzlücke

306

I. Regelungsalternativen

306

1. Ärztliches Berufsrecht

307

a) Regelungsansätze

307

aa) Weite Ergänzung durch § 7 Abs. 2 S. 3 MBOÄ n.F.

309

bb) Enge Ergänzung durch § 7 Abs. 2 S. 3 MBOÄ n.F. und § 7a MBOÄ n.F.

309

b) Kritik

310

aa) Hinsichtlich der weiten Ergänzung

310

bb) Hinsichtlich der engen Ergänzung

311

c) Zwischenergebnis

313

2. Krankenversicherungsrecht

314

a) Regelungsansatz

314

b) Kritik

315

aa) Parallel- oder Verweisungsvorschrift in dem VVG

315

bb) Analoge Anwendung des § 95e SGB V n.F. auf den Nicht-Vertragsarzt

316

cc) Zwischenergebnis

317

3. Behandlungsvertragsrecht

318

a) Regelungsansatz

318

b) Kritik

318

4. Zwischenergebnis

319

II. Verfassungsrechtliche Gesichtspunkte

319

1. Eingriff in die Grundrechte des Arztes

319

a) Gewährleistung der Vertragsfreiheit bzw. Privatautonomie als Ausprägung der allgemeinen Handlungsfreiheit gem. Art. 2 Abs. 1 GG

319

b) Gewährleistung der Berufsausübungsfreiheit gem. Art. 12 Abs. 1 GG

321

c) Die allgemeine Handlungsfreiheit als maßgebliches Grundrecht hinsichtlich des Kontrahierungszwangs

322

2. Verfassungsrechtliche Rechtfertigung des Eingriffs

323

a) Einschränkungsmöglichkeit

323

b) Verfassungsrechtliche Konkretisierung der Einschränkungsmöglichkeit

324

aa) Formelle Verfassungsmäßigkeit

324

bb) Materielle Verfassungsmäßigkeit

324

(1) Legitimer Zweck

324

(2) Geeignetheit

325

(3) Erforderlichkeit

325

(4) Angemessenheit

325

(a) Abstrakte Wertigkeit der widerstreitenden Grundrechtspositionen

326

(b) Konkrete Wertigkeit der widerstreitenden Grundrechtspositionen

326

(aa) Abwägung: Gesundheit und Leben vs. Vertragsfreiheit bzw. Privatautonomie

326

(bb) Mögliche Pflichten aufseiten des Patienten schaden nicht

327

(cc) Kein genereller Kontrahierungszwang im Arzt-Patienten-Verhältnis durch § 630i Abs. 1 BGB n.F.

328

(dd) Verweigerungsrecht des an sich verpflichteten Arztes nach § 630i Abs. 2 BGB n.F.

328

(5) Zwischenergebnis

329

cc) Zwischenergebnis

329

c) Zwischenergebnis

329

3. Zwischenergebnis

329

III. Vereinbarkeit mit dem Recht der Europäischen Union und völkerrechtlichen Verträgen

329

6. Kapitel: Zusammenfassung der wesentlichen Ergebnisse und Ausblick

330

Literaturverzeichnis

335

Sachwortregister

355