Criminal procedure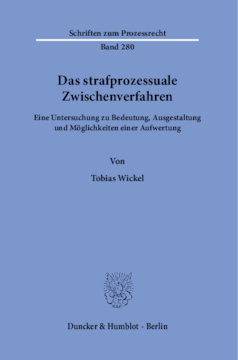 BOOK
Das strafprozessuale Zwischenverfahren
Eine Untersuchung zu Bedeutung, Ausgestaltung und Möglichkeiten einer Aufwertung
Schriften zum Prozessrecht, Vol. 280
(2021)
Additional Information
Book Details
ISBN

978-3-428-58257-0
978-3-428-18257-2 (print edition)

DOI

https://doi.org/10.3790/978-3-428-58257-0

Edition

1

Language

German

Pages

292

Collections

Subjects
Pricing
Institution

€ 104.00 (incl. local VAT if applicable)

Individual

€ 79.90 (incl. local VAT if applicable)
About The Author
Tobias Wickel studierte Rechtswissenschaften an der Ruprecht-Karls-Universität Heidelberg. Nach Abschluss der Ersten Juristischen Prüfung war er akademischer Mitarbeiter an der Universität Mannheim und absolvierte im Anschluss daran den juristischen Vorbereitungsdienst im Bezirk des Oberlandesgerichts Karlsruhe.
Tobias Wickel studied law at the Ruprecht Karls University of Heidelberg. After passing the First Legal State Examination, he worked as a research assistant at the University of Mannheim and subsequently completed his legal traineeship at the Higher Regional Court of Karlsruhe.
Abstract
Die Untersuchung wendet sich dem strafprozessualen Zwischenverfahren (§§ 199–211 StPO) zu, das seit jeher zwei zentralen Kritikpunkten ausgesetzt ist: Zum einen sei es wenig effizient und erfülle die ihm zugedachte Filterfunktion nur eingeschränkt. Zum anderen führe die richterliche Vorbefassung im Rahmen des Zwischenverfahrens dazu, dass sich (Berufs-)Richter jedenfalls unbewusst auf die Schuld des Angeklagten festgelegt hätten und in der Folge das Hauptverfahren nicht mehr unvoreingenommen führen könnten. Ausgehend von einer verfassungsrechtlichen Einordnung des Verfahrensabschnitts werden die beiden vorbezeichneten Kritikpunkte näher beleuchtet und auf ihre Stichhaltigkeit hin überprüft. Basierend hierauf werden verschiedene Möglichkeiten einer Reform des Zwischenverfahrens analysiert und ein eigener Vorschlag zu seiner Aufwertung erarbeitet. »Interlocutory Proceedings. An Examination of Importance, Implementation and Possibilities«: The study deals with interlocutory proceedings in criminal proceedings and examines the question of whether the criticism that interlocutory proceedings are inefficient and lead to prejudice on the part of the (professional) judges deciding in the main trial is valid and to what extent an upgrading of this central procedural stage of criminal proceedings can be achieved.
Table of Contents
Section Title
Page
Action
Price

Vorwort

5

Inhaltsverzeichnis

7

Einleitung und Gang der Untersuchung

17

1. Teil: Grundlagen

20

A. Historische Entwicklung des Zwischenverfahrens seit Inkrafttreten der Reichsstrafprozessordnung

20

I. Reichsstrafprozessordnung von 1877: Voruntersuchung und Eröffnungsverfahren

20

1. Antrag auf gerichtliche Voruntersuchung

21

2. Erhebung der öffentlichen Klage bei dem Tatgericht: Eröffnungsverfahren

22

3. Die Diskussion um die Berufung und ihre Bedeutung für das Zwischenverfahren

23

II. Verordnung über Gerichtsverfassung und Strafrechtspflege von 1924: Abschaffung der Trennung von Eröffnungs- und Tatrichter

25

III. Beseitigung des Zwischenverfahrens 1942 – 1950 und Wiedereinführung

25

IV. StPÄG 1964: Implementierung des staatsanwaltschaftlichen Schlussgehörs und "Zulassung der Anklage" als neuer Inhalt des Eröffnungsbeschlusses

26

V. Abschaffung der gerichtlichen Voruntersuchung und Einschränkung des staatsanwaltschaftlichen Schlussgehörs durch das StrVRG 1974

28

VI. Erörterung des Verfahrensstandes: Absprachen im Zwischenverfahren seit 2009

28

B. Der Ablauf des Zwischenverfahrens und die Verfahrensbeteiligten

30

I. Vorkommen und Verlauf des Zwischenverfahrens nach geltender Rechtslage

30

II. Das Gericht

31

III. Der Angeschuldigte

32

IV. Die Staatsanwaltschaft

32

V. Der Verletzte

33

C. Funktionen des Zwischenverfahrens im strafprozessualen Erkenntnisverfahren

33

I. Negative Kontrollfunktion: Überprüfung der staatsanwaltschaftlichen Verdachtshypothese

33

II. Gewährung rechtlichen Gehörs

35

III. Bestimmung des zuständigen Gerichts

36

IV. Fixierung des Verfahrensgegenstandes

37

1. Festlegung des Prozessstoffs in tatsächlicher Hinsicht

38

2. Würdigung des Prozessstoffs in rechtlicher Hinsicht

39

3. Vorläufiger Charakter der Fixierung des Verfahrensgegenstandes

39

4. Zwischenergebnis

41

V. Das Zwischenverfahren als Gestaltungsplattform für die konsensuale Verfahrenserledigung: Eine Funktion des Zwischenverfahrens?

41

D. Eröffnungs- und Nichteröffnungsbeschluss als Ergebnis des Zwischenverfahrens

41

I. Der Eröffnungsbeschluss

42

1. Form und Inhalt

42

2. Rechtsnatur und Bedeutung des Eröffnungsbeschlusses im System der Strafprozessordnung

44

3. Unanfechtbarkeit des Eröffnungsbeschlusses

45

4. Mängel des Eröffnungsbeschlusses und Heilungsmöglichkeiten

46

II. Der Nichteröffnungsbeschluss

47

1. Form und Inhalt

47

2. Anfechtbarkeit durch die Staatsanwaltschaft

48

3. Die Sperrwirkung der Ablehnung: Positive Schutzfunktion des Zwischenverfahrens

48

E. Zwischenfazit zum ersten Teil

49

2. Teil: Das Zwischenverfahren im Lichte des Verfassungsrechts

50

A. Bestehende verfassungsrechtliche Einordnungen

51

I. Ernst: Richterliche Kontrolle aus dem Rechtsstaatsprinzip

51

II. Michler: Keine verfassungsrechtliche Notwendigkeit

51

III. Heghmanns: Zwingendes Erfordernis aus Art. 19 Abs. 4 GG

52

IV. H. Loritz: Erfordernis aus Art. 19 Abs. 4 GG

53

V. Bedeutung der Ansätze für die Ausgestaltung des Zwischenverfahrens

54

B. Entwicklung eines eigenen Ansatzes

54

I. Ausgangsüberlegung: Das strafprozessuale Hauptverfahren als Grundrechtseingriff

55

1. Das Grundrecht auf Freiheit der Person

55

2. Allgemeines Persönlichkeitsrecht

56

a) "Prozessinterne" Eingriffe

58

b) "Prozessexterne" Eingriffe

59

c) Zwischenfazit

61

3. Zwischenergebnis

62

II. Legitimation

62

1. Tatverdacht als Legitimation der Verfahrensdurchführung?

62

2. Legitimationsversuch mit dem Störermodell nach Krauß

64

3. Die Justizpflicht des Beschuldigten

65

a) Herleitung aus dem Aufopferungsgedanken

65

b) Inhaltliche Konkretisierung

68

4. Ergebnis: Die Legitimation des Hauptverfahrens

70

III. Verfassungsrechtliche Begrenzungen

71

1. Materielle Eingriffsschwelle aus dem Verhältnismäßigkeitsgrundsatz

71

a) Legitimer Zweck und Geeignetheit

73

b) Erforderlichkeit

73

c) Verhältnismäßigkeit im engeren Sinne

74

d) Zwischenergebnis

77

2. Verfahrensmäßige Absicherung durch richterliche Kontrolle

77

a) Richtervorbehalt, Rechtsschutzgarantie und das Zwischenverfahren

78

b) Präventiver Rechtsschutz aus Art. 19 Abs. 4 GG

80

c) Präventiver Richtervorbehalt

82

d) Zwischenergebnis

84

3. Ergebnis

84

C. Ergebnis zum zweiten Teil

85

3. Teil: Die personelle Besetzung im Zwischenverfahren

86

A. Gesetzgeberische und rechtspolitische Entwicklung bis zur heutigen Rechtslage

87

B. Sozialpsychologische und empirische Erkenntnisse

90

I. Psychologische Effekte bei der Aufnahme und Verarbeitung von Informationen

90

1. Die psychisch herausragende Bedeutung der Erstinformation: Der "Primacy-effect"

91

2. Theorie der kognitiven Dissonanz (Festinger)

91

a) Der Inertia- oder Perseveranzeffekt

92

b) Prinzip der selektiven Informationssuche und "confirmation bias"

93

II. Übertragung auf das Zwischenverfahren

93

1. Kenntniserlangung von Anklage und Akten

94

2. Feststellung des hinreichenden Tatverdachts bei Erlass des Eröffnungsbeschlusses

97

3. "Gegengewicht" Hauptverhandlung?

98

III. Empirische Bestätigung: Die "Mannheimer Untersuchungen" von Schünemann

100

IV. Zwischenfazit und weitere Eingrenzung der Untersuchung

102

C. Der Stand von Rechtsprechung und Strafrechtswissenschaft

103

I. Rechtsprechung

103

1. Die Selbstsicht der Richter

103

2. Der Beschluss des BVerfG vom 26.01.1971

104

3. Ausschluss oder Ablehnbarkeit des Eröffnungsrichters?

106

II. Meinungsstand in der Literatur zur Frage der Ablehnbarkeit

107

III. Meinungsstand in der Literatur zur Reformfrage

109

D. Stellungnahme

110

E. Die Vorbefassung des Eröffnungsrichters im Lichte der EMRK

114

I. Rang und Geltung der EMRK und der Rechtsprechung des EGMR in der deutschen Rechtsordnung, insbesondere dem Strafverfahrensrecht

115

II. Die Anforderungen des Art. 6 Abs. 1 S. 1 EMRK an die Unparteilichkeit des Richters und die Auslegung durch den EGMR

116

III. Überblick über den bisherigen Meinungsstand zur Vereinbarkeit der personellen Besetzung mit der EMRK

118

IV. Analyse der Entscheidungen des EGMR zur Vorbefassung

119

1. Hauschildt ./. Dänemark

119

2. Fey ./. Österreich

120

3. Saraiva de Carvalho ./. Portugal

120

4. Castillo Algar ./. Spanien

121

5. Perote Pellon ./. Spanien

122

6. Gomez de Liaño y Botella ./. Spanien

122

7. Binder ./. Deutschland

123

8. Zusammenfassung und Analyse der einschlägigen Entscheidungen

124

V. Übertragung auf das deutsche Zwischenverfahren

125

1. Erlass des Eröffnungsbeschlusses

125

2. Zusätzlicher Erlass eines Haftfortdauerbeschlusses

130

3. Beweiserhebungen nach § 202 S. 1 StPO

131

VI. Exkurs: Das Urteil des schweizerischen Bundesgerichts zur Personenidentität von Tat- und Eröffnungsrichter

132

1. Die Rüge der Beschwerdeführer und das Verfahrensrecht im Kanton Zürich zum Entscheidungszeitpunkt

132

2. Die Argumentation des schweizerischen Bundesgerichts

133

3. Geltende Rechtslage in der Schweiz

134

VII. Fazit

134

F. Ergebnis zum dritten Teil

135

4. Teil: Die Leistungsfähigkeit des Zwischenverfahrens: Mangelnde Kontrollfunktion und "Ineffizienz"

137

A. Vorbemerkungen

137

B. Annäherung auf rechtstatsächlicher Grundlage

139

I. Nichteröffnungsquote an Amts- und Landgerichten

139

II. Freispruchquote

141

1. Zahlenwerte

141

2. Forschungsergebnisse zu den Ursachen für Freisprüche

143

III. Weitere Entscheidungen im Zwischenverfahren

144

1. Rücknahme der Anklage

144

2. Verfahrenseinstellungen

146

3. Verweisung an ein niederrangiges Gericht

146

4. Eröffnung mit Änderungen gemäß § 207 Abs. 2 StPO

148

IV. Datenerhebungen über Aktivitäten der Verfahrensbeteiligten im Zwischenverfahren

148

V. Perspektive der Strafverteidigung

149

VI. Zwischenfazit

151

C. Tauglichkeit des Prüfprogramms der §§ 201–203 StPO: Der "eröffnungsrichterliche Erkenntnisprozess"

152

I. Entscheidungsmaßstab: Der "hinreichende Tatverdacht"

153

1. Retrospektive Komponente: Begehungswahrscheinlichkeit

154

2. Prospektive Komponente: Verurteilungswahrscheinlichkeit

154

3. Wahrscheinlichkeitsgrad

157

4. Strafbarkeit

158

5. Prognoseentscheidung auch bei Verfahrensfragen?

158

6. Fazit

160

II. Entscheidungsgrundlage: Das Beweisrecht des Zwischenverfahrens

161

1. Fehlerquellen im Ermittlungsverfahren und ihre Fortwirkung im Zwischenverfahren

161

a) Rechtstatsächliches zum Ermittlungsverfahren

161

b) Fehlerquellen im Ermittlungsverfahren

162

c) Richterliche Entscheidung auf Aktenbasis: "Zwei-Klassen-Justiz" im Zwischenverfahren?

164

2. Rechtslage bis 1974: Höhere Qualität der Entscheidungsgrundlage durch die gerichtliche Voruntersuchung?

166

3. Ergänzende Beweiserhebungen nach § 202 StPO: Der Aufklärungsumfang im Zwischenverfahren

168

a) Restriktive Auslegung durch die herrschende Meinung

169

b) Extensive Auslegung durch eine Mindermeinung

172

c) Stellungnahme

173

d) Schlussfolgerung bezüglich der Leistungsfähigkeit des Zwischenverfahrens

175

4. Beweisantragsrecht des Angeschuldigten nach § 201 Abs. 1 S. 1 Var. 1 StPO

176

a) Auslegung des § 201 StPO

177

b) Schlussfolgerung bezüglich der Leistungsfähigkeit des Zwischenverfahrens

179

5. Fazit

180

III. Entscheidungsfindung und ihre rechtlichen und außerrechtlichen Rahmenbedingungen

181

1. Vorüberlegungen

181

2. Materielles Strafrecht als zwingende Vorgabe

182

3. Steuerung der Entscheidungsfindung durch Prozessrecht?

182

a) Darlegungs- und Begründungspflichten

183

b) Kontrolle der Entscheidung durch Rechtsbehelfe und Kollegialentscheidungen

184

c) Anfechtbarkeit des Nichteröffnungsbeschlusses

184

d) Beteiligungsrechte des Angeschuldigten: Einwendungen nach § 201 Abs. 1 S. 1 Var. 2 StPO

185

e) Möglichkeit konsensualer Erledigungsformen

187

f) Sicherung durch eigene Durchführung des Hauptverfahrens?

188

g) Zwischenfazit

188

4. Weitere steuernde Faktoren

188

a) Gleiche Arbeitsmethodik von Staatsanwälten und Richtern

189

b) Personalbedarfsberechungssystem

189

c) Zulässigkeit des Umlaufverfahrens

190

d) Formulareröffnungsbeschluss

190

e) Rechtsprechung zur Heilbarkeit fehlerhafter Eröffnungsbeschlüsse

191

5. Schlussfolgerung für die Leistungsfähigkeit des Zwischenverfahrens

192

D. Ergebnis zum vierten Teil

193

5. Teil: Möglichkeiten einer Aufwertung des Zwischenverfahrens und Untersuchung ihrer Tragfähigkeit

195

A. Keine Abschaffung des Zwischenverfahrens

195

B. Antragsgebundene Durchführung: Aufwertung durch "Ressourcenbündelung"

196

I. Konzepte in der Literatur

196

II. Stellungnahme

196

III. Verzichtslösung?

197

IV. Ergebnis

198

C. Änderungen am Prüfungsmaßstab zur Lösung der Voreingenommenheitsproblematik

198

I. Konzepte in der Literatur

199

II. Tendenzen in der Rechtsprechung

199

III. Stellungnahme

200

1. Prinzipielle Möglichkeit einer Abschichtung nach Verdachtsgraden

200

2. Bestehende Ansätze zur Auslegung des Verdachtsgrades "hinreichender Tatverdacht"

201

a) Rechtsprechung und Teile der Literatur

201

b) Rieß: hoher Wahrscheinlichkeitsgrad

202

c) Kühne und Paeffgen: hoher Wahrscheinlichkeitsgrad

203

d) Stuckenberg: gleich hoher Wahrscheinlichkeitsgrad von Verurteilung und Freispruch

203

e) Schneider: gleich hoher Wahrscheinlichkeitsgrad von Verurteilung und Freispruch

204

f) Steinberg: Abgrenzung nach Tatsachenbasis

204

g) Deiters: variable Maßstäbe

204

3. Zusammenfassung und Kritik

205

4. Eigener Ansatz unter Berücksichtigung des bisherigen Untersuchungsertrages

207

a) Vorfrage: Relevante Abwägungskriterien

207

b) Abwägung

208

c) Zwischenergebnis

212

IV. Ergebnis

212

D. Rechtsbehelf gegen den Eröffnungsbeschluss und Begründungspflicht

213

I. Konzepte in der Literatur

213

II. Stellungnahme

214

1. Verbesserung der Filterfunktion

214

2. Lösung des Voreingenommenheitsproblems

216

III. Begründungspflicht des Eröffnungsbeschlusses?

217

IV. Ergebnis

218

E. Das Zwischenverfahren als Plattform für die konsensuale Verfahrensgestaltung

219

I. Überblick: Konsensuale Verfahrensgestaltung im Zwischenverfahren

220

1. Einstellungen nach §§ 153, 153a StPO

220

2. Beschränkung der Strafverfolgung nach §§ 154, 154a StPO

220

3. Das Strafbefehlsverfahren gemäß §§ 407ff. StPO

221

4. Erörterung des Verfahrensstandes gemäß § 202a StPO

222

5. Zwischenfazit und Eingrenzung der Untersuchung

222

II. Erörterung des Verfahrensstandes: "Anbahnungsgespräche" im Zwischenverfahren nach § 202a StPO

223

1. Voraussetzungen von Erörterungen nach § 202a StPO

224

a) Verfahrensbeteiligte

224

b) "Erwägen" der Eröffnung und Ermessen des Gerichts

224

c) Erörterungsgegenstände

225

aa) Erörterungen über Inhalt und Ergebnis des Zwischenverfahrens

225

bb) Erörterungen zur Strukturierung des Hauptverfahrens

226

cc) Erörterungen über eine Verständigung in der Hauptverhandlung

227

2. Rechtstatsächliche Befunde zu Absprachen im Zwischenverfahren

228

a) Absprachen im Zwischenverfahren in Wirtschaftsstrafverfahren (2007)

228

b) Absprachen im Zwischenverfahren (2013)

229

c) Absprachen im Zwischenverfahren (2020)

230

d) Inhalte von Absprachen

231

3. Zwischenfazit: Die "neue" Funktion des Zwischenverfahrens

231

III. Stellungnahme zu der Möglichkeit von Erörterungen nach § 202a StPO im Zwischenverfahren

232

1. Abgrenzung zur Vorbereitung der Hauptverhandlung

232

2. Gefahr des missbräuchlichen Einsatzes "verfahrensfördernder Erörterungen"

233

3. Verschärfung der Problematik der Voreingenommenheit

234

a) Fallbeispiel aus der Praxis

234

b) Meinungsstand zur Befangenheit im Rahmen des § 202a StPO

235

c) Eigener Standpunkt

235

4. Unterlegene Stellung des Angeschuldigten im Zwischenverfahren

238

a) Unzureichende Rechte im Zwischenverfahren

238

b) Fehlgeschlagene Vorgespräche

239

c) Notwendige Verteidigung?

239

5. Fazit und denkbare Lösungsansätze

240

IV. Reformvorschlag: Übergang in das Strafbefehlsverfahren

241

1. Vorschlag

241

2. Stellungnahme

242

V. Ergebnis

242

F. Das Zwischenverfahren zur abschließenden Klärung von Vorfragen mit dem Ziel einer Entlastung der Hauptverhandlung?

243

I. Das Konzept von Gössel: Abschließende Entscheidung über die erforderlichen Beweismittel im Zwischenverfahren

243

1. Vorschlag

243

2. Stellungnahme

244

a) Abkehr vom Amtsermittlungsgrundsatz?

245

b) Verstoß gegen den Nemo-tenetur-Grundsatz?

247

c) Weitere Einwände

248

II. Das Konzept von Wenske: Einwendungsobliegenheit für Verfahrensfragen im Zwischenverfahren

249

1. Vorschlag

249

2. Stellungnahme

251

a) Abkehr vom Amtsermittlungsgrundsatz?

252

b) Weitere Einwände

255

G. Gesamtbewertung mit eigenem Regelungsvorschlag

256

I. Vorüberlegungen auf Basis des Ertrags der Untersuchung

257

1. Ausschluss des Eröffnungsrichters von der Hauptverhandlung

258

2. Verbesserte Steuerung des eröffnungsrichterlichen Entscheidungsvorgangs durch die Pflicht zur Begründung des Eröffnungsbeschlusses

258

3. Ausweitung des Aufklärungsumfangs?

262

4. Berücksichtigung von Erledigungsmöglichkeiten und Unzulässigkeit von Verständigungsanbahnungen

263

5. Folgewirkung: Verstärkte Einbeziehung der Verteidigung

264

II. Regelungsvorschlag

265

III. Verbesserte Rahmenbedingungen und veranlasste Änderungen außerhalb des Zwischenverfahrens

266

Schlussbetrachtung

268

Literaturverzeichnis

272

Sachwortverzeichnis

290