Administrative jurisdiction & public administration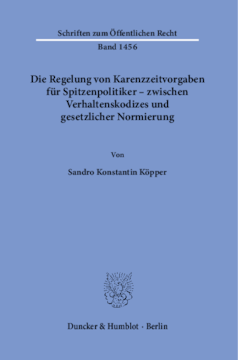 BOOK
Die Regelung von Karenzzeitvorgaben für Spitzenpolitiker – zwischen Verhaltenskodizes und gesetzlicher Normierung
Schriften zum Öffentlichen Recht, Vol. 1456
(2021)
Additional Information
Book Details
ISBN

978-3-428-58328-7
978-3-428-18328-9 (print edition)

DOI

https://doi.org/10.3790/978-3-428-58328-7

Edition

1

Language

German

Pages

237

Collections

Subjects
Pricing
Institution

€ 86.00 (incl. local VAT if applicable)

Individual

€ 67.90 (incl. local VAT if applicable)
About The Author
Sandro Konstantin Köpper studierte in Bonn und Hannover Rechtswissenschaften. Nach Absolvierung der Ersten Juristischen Prüfung im Jahr 2018 war er bis Januar 2021 Doktorand am Lehrstuhl für Öffentliches Recht und Sozialrecht bei Herrn Prof. Dr. Hermann Butzer. Promotionsbegleitend arbeitete er in einer international ausgerichteten Wirtschaftskanzlei im Bereich des Öffentlichen Wirtschaftsrechts. Seit September 2020 ist Sandro Köpper Referendar im Bezirk des Oberlandesgerichts Celle.
Sandro Konstantin Köpper studied law in Bonn and Hanover. After passing the First Legal Examination in 2018, he was a PhD student at the Chair of Public Law and Social Law under Prof. Dr Hermann Butzer until January 2021. During his doctoral studies, he worked in the field of public commercial law at an internationally oriented law firm. Sandro Köpper has been a trainee lawyer at the Higher Regional Court of Celle since September 2020.
Abstract
Nachdem der Gesetzgeber das nachamtliche, berufliche Wirken ehemaliger spitzenpolitischer Amtsträger der Exekutive lange Zeit der individuellen oder kollektiven Selbstregulation überlassen hat, bestimmen seit Ende 2014 vielfach einfachgesetzliche Karenzzeitregelungen den Rahmen für den weiteren Karriereweg »nach dem Amt«.

Der Autor nimmt dies zum Anlass und untersucht die nunmehr bestehenden Karenzzeitvorgaben im Bundesministergesetz sowie im Niedersächsischen Ministergesetz insbesondere unter verfassungsrechtlichen Gesichtspunkten kritisch. Hierbei deckt er Abwägungsdefizite zu Lasten ehemaliger Spitzenpolitiker auf, die seiner Meinung nach im Zuge der häufig auch medial beflügelten Debatte um »Seitenwechsel« nicht hinreichend berücksichtigt worden sind. Die Untersuchung mündet in die Entwicklung eigener Reformansätze, die nach Ansicht des Autors eine grundrechtskonforme Regulation im nachamtlichen Bereich ermöglichen. »The Regulation of Waiting Periods for Leading Politicians. Between Codes of Conduct and Legal Standardisation«: Following a period of no legal regulations on follow-up carrers after leaving public service and a practice of self-regulation thereon, waiting period regulations are dominating career paths for former leading politicians since 2014. The author examines the legal provisions on waiting periods, especially from a constitutional point of view. In this context, he uncovers balancing deficits which, in his opinion, have been neglected in the dispute of the often media-fuelled debate on »switching sides«. The study leads to the development of reform approaches.
Table of Contents
Section Title
Page
Action
Price

Vorwort

5

Inhaltsverzeichnis

7

Abkürzungsverzeichnis

16

1. Kapitel: Einführung

19

A. Problemstellung

19

B. Stand der Forschung

23

C. Thematische Präzisierung

26

I. Präzisierung in personeller Hinsicht

26

II. Präzisierung in sachlicher Hinsicht

28

D. Methode und Gang der Untersuchung

29

2. Kapitel: Empirische Bestandsaufnahme ausgewählter Karenzzeitregelungen (de lege lata)

30

A. Gesetzliche Karenzzeitvorgaben

30

I. Karenzzeitvorgaben auf Bundesebene

30

1. Karenzzeitvorgaben für aktuelle und ehemalige Mitglieder der Bundesregierung nach §§ 6a–6d BMinG

30

a) Anzeigepflicht – § 6a BMinG

31

b) Entscheidung der Bundesregierung – § 6b BMinG

33

aa) Ermächtigungsgrundlage für die Untersagung – § 6b Abs. 1 BMinG

33

(1) Tatbestand

33

(2) Rechtsfolge

34

bb) Dauer der Untersagung – § 6b Abs. 2 BMinG

36

cc) Empfehlung und Veröffentlichung – § 6b Abs. 3 und 4 BMinG

36

c) Das beratende Gremium – § 6c BMinG

37

d) Übergangsgeld – § 6d BMinG

38

2. Karenzzeitvorgaben für aktuelle und ehemalige Parlamentarische Staatssekretäre nach § 7 ParlStG i.V.m. §§ 6a ff. BMinG

38

II. Karenzzeitvorgaben auf Länderebene

38

1. Überblick: Einfachgesetzliche Karenzzeitvorgaben der Länder

38

2. Aktuelles Beispiel: Niedersachsen

40

a) Ausgangslage und Untersuchungsbedarf

40

b) Die damaligen Bestrebungen im Einzelnen

40

aa) Hintergrund

40

bb) Konzeption der Entwürfe

41

B. Selbstregulierung durch Verhaltenskodizes

43

I. Verhaltenskodizes in der Staatsrechtspraxis von Bund, Ländern und der Europäischen Union

43

1. Kodex der Richter am Bundesverfassungsgericht

43

a) Allgemeine Grundsätze

44

b) Konkretisierungen für den nachamtlichen Bereich

44

2. Kodex der Richter am Niedersächsischen Staatsgerichtshof

46

3. Bundesland Niedersachsen: Verhaltenskodex für Landesregierungsmitglieder

46

4. Selbstregulierungsmechanismen auf europäischer Ebene

48

a) Verhaltenskodex für die Mitglieder der Europäischen Kommission

48

aa) Historie und primärrechtliche Einbettung

48

bb) Einzelheiten

50

b) Verhaltenskodex für hochrangige Mitarbeiter der Europäischen Zentralbank

52

II. Rechtliche Qualität von Verhaltenskodizes?

53

1. Rechtliche Qualität von nationalen Selbstregulierungen

53

a) Verhaltenskodex der Niedersächsischen Landesregierung

54

aa) Verhaltenskodex als Kabinettsbeschluss?

54

bb) Weitere rechtliche Kategorisierungs- und Abgrenzungsmöglichkeiten eines gubernativen Verhaltenskodex

57

(1) Abgrenzung zur Rechtsverordnung und Satzung

57

(2) Abgrenzung zur Verwaltungsvorschrift sowie zur adressatenbezogenen Allgemeinverfügung

58

cc) Ergebnis

59

b) Verhaltensleitlinien des Bundesverfassungsgerichts

60

2. Rechtliche Qualität von Selbstregulierungen auf europäischer Ebene – "Soft Law"

61

C. Anwendungsorientierte Analyse

63

I. Anwendungsorientierte Analyse der Regelungen auf Bundesebene – §§ 6a–6d BMinG

63

1. Bedenken gegen die Zuständigkeitszuweisung: Die Bundesregierung als sachgerechter Dreh- und Angelpunkt der Entscheidung?

64

2. Beschränkung der §§ 6a ff. BMinG auf Anzeigepflicht mit Verbotsvorbehalt – Verbot mit Erlaubnisvorbehalt sinnvoller?

66

3. Das "beratende Gremium" in Zweifels- und Grenzfällen

68

4. Sachgerechter und angemessener Ausgleich durch Übergangsgeld?

70

II. Anwendungsorientierte Analyse der Gesetzesentwürfe zur Einführung einer Karenzzeit in Niedersachsen

72

1. (Bestätigter) Entwurf der Landesregierung – § 7a NdsMinG(-E)

72

a) Risiken einer alleinigen Verantwortlichkeit der Landesregierung als Untersagungsorgan

72

b) Anzeigeverpflichtung mit Verbotsvorbehalt als sinnvolles Regelungskonzept

73

c) Sachgerechte Entschädigung durch Übergangsgeld?

74

2. Entwurf der Bündnis 90/Die Grünen-Landtagsfraktion – § 12a NdsMinG-E

74

a) Risiken einer Ausgestaltung als gebundene Vorschrift

74

b) Risiken einer Ausweitung der Untersagungsdauer

75

c) Fehlende Regelung zum Übergangsgeld

76

d) Besondere Detailtiefe der Regelung

77

3. Entwurf der AfD-Landtagsfraktion – § 5a NdsMinG-E

77

III. Ergebnis der anwendungsorientierten Analyse

78

3. Kapitel: Sozialwissenschaftliche, rechtssoziologische und normative Verortung des sog. "Drehtüreffekts"

79

A. Der "Drehtüreffekt" als Grundkonflikt und Triebfeder hinter Karenzzeitregelungen

79

B. Sozialwissenschaftliche Erkenntnislage und rechtssoziologische Würdigung

80

I. Einführung

80

II. Einordnung und Kategorisierung des Drehtüreffekts nach Bamberger

81

1. Beeinflussung der Amtsführung: "Korruptionsverdacht"

82

2. Einfluss auf die Symmetrie privater Interessenvertretung: "Lobbyverdacht"

83

3. Abstrakte Gefahr des "Bösen Anscheins"

84

III. Rechtssoziologische Würdigung und Neugewichtung der bestehenden Erkenntnislage

85

1. Würdigung der Thesen zum "Korruptionsverdacht"

85

a) Das Argument des Bestehens eines "Regulierungsvakuums"

85

b) Das Argument der "kollusiven Sachnähe"

87

aa) Ausgangserwägungen: "Kollusion" als abstrakter, rechtlicher Anknüpfungspunkt

88

bb) Kollusives Handeln als zwingende Begleiterscheinung sachnaher Seitenwechsel?

88

(1) Katalyse nachamtlicher Seitenwechsel durch besondere Sachnähe?

88

(2) Seitenwechsel durch besondere Sachnähe auch "unerlaubt" und damit "kollusiv"?

89

cc) Zwischenergebnis

91

c) Das Argument der weniger nachhaltigeren Pensionsversorgung

92

d) Terminologische Zweifel am Begriff des "Korruptionsverdachts"

94

e) Ergebnis

94

2. Würdigung der Thesen zum "Lobbyverdacht" – private Nutzbarmachung von amtlich erlangtem Wissen

95

a) Bereits keine Asymmetrie mangels tauglicher Vergleichsgruppen

95

b) Einflussnahme durch "Fachkunde" entspricht marktwirtschaftsliberalem Wesen des Lobbyings

97

c) Ergebnis

99

3. Würdigung der Thesen zum "Bösen Anschein"

99

4. Neugewichtung auf Grundlage der vorstehenden Plausibilitätskontrolle

100

C. Normative Einordnung der vorstehenden rechtssoziologischen Erkenntnisse

102

I. Einführung und Untersuchungsmaßstab der normativen Einordnung

102

II. Verfassungsrechtliche sowie einfachgesetzliche Einordnung und Kategorisierung des "Drehtüreffekts"

103

1. Grundlegung: Das Leitbild der Verfassung von einer an Recht und Gesetz orientieren Verwaltung

103

2. Wertungen für (ehemalige) Mitglieder der Bundesregierung – Art. 66 GG

105

a) Regelungsziel und Wirkweisen von Art. 66 GG

105

b) Einzelheiten zur wirtschaftlichen Unvereinbarkeit nach Art. 66 GG

106

c) Übertragung der soziologischen Erkenntnisse – Ausdehnung des Anwendungsbereichs von Art. 66 GG auf den nachamtlichen Bereich?

107

d) Ergebnis

111

3. Wertungen für (ehemalige) Parlamentarische Staatssekretäre – §§ 1 ff. ParlStG

111

4. Wertungen für (ehemalige) Mitglieder einer Landesregierung

112

a) Einzelne Inkompatibilitätsvorschriften für Landesregierungsmitglieder

112

b) Übertragung der soziologischen Erkenntnisse – Ausdehnung des Anwendungsbereichs der landesverfassungsrechtlichen Regelungen auf den nachamtlichen Bereich?

113

c) Exkurs: Regelung von Karenzzeiten in Ländern ohne verfassungsrechtlich verankerte Inkompatibilitäten – Analyse der Rechtslage in Rheinland-Pfalz, Berlin, Hessen und dem Saarland

114

d) Ergebnis

115

5. Exkurs: Relevanz des "Drehtüreffekts" in anderen staatlichen Spitzenpositionen?

116

a) Nachamtliche Distanzforderung für den Bundespräsidenten (a.D.) als repräsentativen Spitzenpolitiker?

116

aa) Ausgangslage

116

bb) Grundsätzliche Wertungen des Art. 55 Abs. 2 GG für das Amt des Bundespräsidenten

117

cc) Übertragung der rechtssoziologischen Erkenntnisse – Ausdehnung des Anwendungsbereichs von Art. 55 Abs. 2 GG auf den nachamtlichen Bereich?

117

(1) Keine unmittelbare Nachwirkung des Art. 55 GG

118

(2) Mittelbare Nachwirkung durch einfachgesetzliche Erweiterung?

118

dd) Ergebnis

121

b) Nachamtliche Distanzforderungen für (ehemaliges) Spitzenpersonal in der Justiz?

121

aa) Ausgangslage

121

bb) Schutz vor gesellschaftlichen Einflüssen als Ausprägung der richterlichen Unabhängigkeit nach Art. 97 Abs. 1 GG

122

cc) Der Gesetzgebungsauftrag aus Art. 98 Abs. 1 GG mit seinen einfachgesetzlichen Konkretisierungen im DRiG und BVerfGG

122

(1) Allgemeine Vorgaben im DRiG für Bundesrichter

123

(2) Spezielle Vorgaben im BVerfGG für Bundesverfassungsrichter

125

dd) Ergebnis

126

D. Ergebnis

127

4. Kapitel: Rechtswissenschaftliche Analyse und Bewertung einfachgesetzlicher Karenzzeitvorgaben

128

A. Überprüfung der Verfassungskonformität der einfachgesetzlichen Karenzzeitvorgaben auf Bundes- und Landesebene

128

I. Verstoß gegen Art. 12 Abs. 1 GG?

129

1. Allgemeine Erwägungen

129

a) Schutzbereichseröffnung

129

aa) Persönlicher Schutzbereich

129

bb) Sachlicher Schutzbereich

130

b) Eingriff

131

aa) Eingriffsqualität

132

(1) Eingriff durch vollständige oder teilweise Untersagung einer beruflichen Tätigkeit

132

(2) Eingriff durch Anzeigeverpflichtung?

133

bb) Prüfungsmaßstab: Punktuelle oder "kumulative" bzw. "additive" Betrachtung?

136

2. Verfassungsrechtliche Rechtfertigung

137

a) Gesetzesvorbehalt: Schranken

137

b) Schranken-Schranken

138

aa) Verstoß gegen das Bestimmtheitsgebot?

138

(1) Zweifel an der Bestimmtheit in inhaltlicher und systematischer Hinsicht

139

(a) Konturlosigkeit und ausufernder Wortlaut des Untersagungstatbestandes

139

(b) Systematische Ungereimtheiten innerhalb des Untersagungstatbestandes

141

(2) Zweifel an der Bestimmtheit in zeitlicher Hinsicht

141

(a) Bemessung der Untersagungsdauer

141

(b) Beginn der Karenzperiode: "Ausscheiden" aus dem Amt

142

(3) Zwischenergebnis und verfassungsrechtliche Konsequenz

144

(a) Argumente gegen eine hinreichende Bestimmtheit

145

(b) Argumente für eine hinreichende Bestimmtheit

147

(c) Gesamtschau

148

bb) Verhältnismäßigkeitsprüfung

149

(1) Legitimer Zweck

149

(a) Regelungsziele

149

(b) Legitimitätsbewertung

149

(aa) Nahziele: Regulierung des "Bösen Anscheins" sowie Vorbeugung der privaten Verwertung von Amtswissen

150

(bb) Fernziel: Gewährleistung eines funktions- und arbeitsfähigen sowie integer handelnden Staatsapparates

151

(cc) Ergebnis

152

(c) Anforderungen der Drei-Stufen-Theorie und Einordnung

153

(2) Geeignetheit

157

(a) Auswirkungen einer fehlenden Sanktionsregelung

157

(aa) Vollzug der Untersagungsverfügung

159

(bb) Vollzug der Anzeigeverpflichtung?

160

(cc) Zwischenergebnis

160

(b) Fehlende Absicherung der Übergangsphase zwischen Anzeige und etwaiger Untersagung

161

(c) § 7a NdsMinG: Keine Einbindung eines beratenden Gremiums

161

(3) Erforderlichkeit

162

(a) Verhaltenskodizes als alternative, gleichermaßen effektive Regelungskonzepte?

162

(aa) Mangelnde Nachwirkung von Selbstverpflichtungen diskontinuierlich besetzter Gremien und Organe

163

(bb) Grundsatz der Rechtsformenstrenge als Grenze nationaler Selbstverpflichtungen

164

(cc) Weitere Ausschlussgründe

165

(dd) Ergebnis

166

(b) Kontakt- und Verhandlungsverbot

166

(c) Zeitliches Sperrsystem mit Abstufungen

167

(aa) Behördliche Ausgangssituation

167

(bb) Abmilderung des behördlichen Prognosedilemmas durch Vorprägung des Untersagungszeitraums?

168

(cc) Ergebnis

170

(4) Angemessenheit

170

(a) Qualität und Schwere des maßgeblichen Eingriffs

170

(aa) Das Berufsverbot als "ultima ratio" hoheitlicher Wirtschaftsregulation

171

(bb) Ökonomische Folgen

171

(α) Eintritt eines erheblichen ökonomischen Verlustpostens

172

(β) Berufliche Isolation als mittelbare Folge von Karenzzeiten

173

(γ) Berufliche Selbstbindung durch Fachexpertise

174

(δ) Ergebnis der ökonomischen Sichtung

174

(cc) Soziologische Folgen

175

(dd) Ergebnis

176

(b) Abstrakte Wertigkeit der angestrebten Rechtsgüter

176

(c) Konkrete Abwägung

179

(aa) Dogmatische Grundlagen der Abwägung

179

(α) Absolute Grenzen von Karenzzeitgesetzen

179

(β) Hinreichende Berücksichtigung des Grundrechtsstatus von Amtsträgern a.D.: Kein nachamtliches "Sonderopfer"

180

(bb) Wechselwirkung aus Unbestimmtheit und anscheinsbedingter Rechtsnatur der Karenzzeitgesetze

183

(cc) Mangelnde gesetzgeberische Differenzierung zwischen "Fachkunde" und "Amtswissen"

187

(dd) Mangelnde Kompensation durch Übergangsgeld

189

(d) Zwischenergebnis

190

(5) Ergebnis

191

cc) Verstoß gegen Rückwirkungsverbot?

191

dd) Ergebnis und Konsequenz – Möglichkeit einer verfassungskonformen Auslegung?

193

3. Gesamtergebnis zu Art. 12 Abs. 1 GG

194

II. Verstoß gegen Art. 2 Abs. 1 GG?

195

III. Verstoß gegen Art. 3 Abs. 1 GG?

196

1. Ungleichbehandlung von ehemaligen Regierungsmitgliedern und ehemaligen Abgeordneten

196

2. Ungleichbehandlung von ehemaligen Regierungsmitgliedern ausgehend von der Rechtsnatur der nachamtlichen Tätigkeit

198

IV. Gesamtergebnis der verfassungsrechtlichen Prüfung

199

B. Rechtsschutzmöglichkeiten – Art. 19 Abs. 4 GG

199

I. Rechtsschutz gegen eine Untersagungsentscheidung?

199

1. Rechtswegeröffnung und Zuständigkeiten

200

a) Rechtsweg zu den Verwaltungsgerichten – nichtverfassungsrechtliche Streitigkeit?

200

b) Zuständigkeiten im Einzelnen

202

2. Allgemeine Sachentscheidungsvoraussetzungen

202

a) Die Wahl der statthaften Klageart: Anfechtungs- oder Verpflichtungsklage?

202

b) Sonstige Zulässigkeitsvoraussetzungen

204

3. Einstweiliger Rechtsschutz

205

4. Umfang der gerichtlichen Überprüfbarkeit der Untersagungsentscheidung: Beurteilungsspielraum und Ermessen

208

II. Rechtsschutz gegen Anzeigeverpflichtung?

211

III. Ergebnis

213

5. Kapitel: Reformvorschläge (de lege ferenda) und Schluss

214

A. Reformansätze

214

I. Obligatorische Reformansätze

214

1. Allgemeine Reformansätze für §§ 6a ff. BMinG und § 7a NdsMinG

214

a) Hinreichende Berücksichtigung der anscheinsbedingten Rechtsnatur der Karenzgesetze durch tatbestandliche Neugestaltung

214

aa) Eingrenzung des Merkmals des sachnahen "Tätigwerdens"

215

bb) Eingrenzung des Merkmals der "Integritätsschädigung"

215

b) Zeitliches Sperrsystem mit Abstufungen auf Rechtsfolgenseite

216

c) Passgenaue Kompensation durch Übergangsgeld

217

2. Normspezifische Reformansätze für § 7a NdsMinG

218

II. Fakultative Reformansätze

219

1. Zeitliche Schärfung und kompetenzielle Erweiterung der Karenzgesetze

219

2. Ausweitung der Anzeigeverpflichtung?

220

3. Veröffentlichung (auch) der Empfehlung?

222

4. Implementierung einer Freiberuflerklausel?

223

B. Ausblick

224

C. Schluss

227

Literaturverzeichnis

230

Sachwortverzeichnis

236