Company & business offences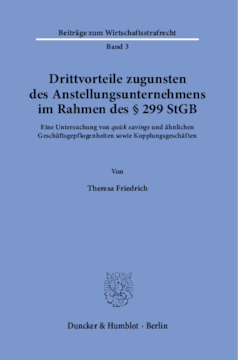 BOOK
Drittvorteile zugunsten des Anstellungsunternehmens im Rahmen des § 299 StGB
Eine Untersuchung von »quick savings« und ähnlichen Geschäftsgepflogenheiten sowie Kopplungsgeschäften
Beiträge zum Wirtschaftsstrafrecht, Vol. 3
(2021)
Additional Information
Book Details
ISBN

978-3-428-58404-8
978-3-428-18404-0 (print edition)

DOI

https://doi.org/10.3790/978-3-428-58404-8

Edition

1

Language

German

Pages

194

Collections

Subjects
Pricing
Institution

€ 80.00 (incl. local VAT if applicable)

Individual

€ 62.90 (incl. local VAT if applicable)
About The Author
Theresa Friedrich studierte Rechtswissenschaften mit dem Schwerpunkt Strafrechtspflege/Strafverteidigung an der Universität Mainz. Anschließend absolvierte sie an der Universität Osnabrück den Masterstudiengang »Wirtschaftsstrafrecht«. Parallel hierzu war sie als wissenschaftliche Mitarbeiterin bei Gleiss Lutz in Frankfurt tätig. Nach dem Referendariat im Bezirk des OLG Frankfurt war Theresa Friedrich promotionsbegleitend als wissenschaftliche Mitarbeiterin am Lehrstuhl von Prof. Volker Erb an der Universität Mainz tätig. Seit 2021 ist Theresa Friedrich als Rechtsanwältin im Bereich Wirtschaftsstrafrecht/Compliance & Investigations bei Gleiss Lutz tätig.
Theresa Friedrich studied law with a focus on criminal law/criminal defense at the University of Mainz. Subsequently, she completed a master's degree in »White Collar Crime/Compliance« at the University of Osnabrück. Parallel to this, she worked as a research assistant at Gleiss Lutz in Frankfurt. After her legal clerkship at the Higher Regional Court of Frankfurt, Theresa Friedrich worked as a research assistant at the chair of Prof. Volker Erb at the University of Mainz. In 2021, Theresa Friedrich joined Gleiss Lutz as an attorney in the area of white-collar crime/compliance&investigations.
Abstract
»Third-party Benefits in Favor of the Employing Company within the Scope of sec. 299 German Criminal Code. An Examination of Quick Savings and Similar Business Practices as well as Tying Agreements«: Due to the broad scope of sec. 299 German Criminal Code, every advantage negotiated for the employer entails the risk of a criminal liability for the employee. This question is of particular practical relevance to so-called quick savings and tying agreements. This paper discusses the arguments put forward in the literature to date and presents its own solution. Another focus of the work is the examination of-party benefits in corporate constellations. Angestellte handeln im Wirtschaftsalltag regelmäßig zugunsten ihres Anstellungsunternehmens. Aufgrund der Weite des Tatbestands des § 299 StGB birgt jeder für den Arbeitgeber ausgehandelte Vorteil für den Angestellten die Gefahr einer Strafbarkeit wegen Bestechlichkeit im geschäftlichen Verkehr. Besondere Praxisrelevanz entwickelt dieses Problem bei sog. Quick Savings und Kopplungsgeschäften. Die vorliegende Arbeit analysiert den geschichtlichen Hintergrund sowie das Rechtsgut der Norm, setzt sich mit den in der Literatur bisher vorgebrachten Argumenten auseinander und stellt eine eigene Lösung vor, um sowohl für Unternehmen als auch die betroffenen Mitarbeiter Rechtssicherheit zu schaffen. Ein weiterer Schwerpunkt der Arbeit liegt in der Untersuchung der Strafbarkeit von Drittvorteilen in Konzernkonstellationen. Hierbei stellt die Arbeit der bisher in der Literatur vertretenen wirtschaftlichen Betrachtungsweise eine gesellschaftsrechtliche Auslegung gegenüber.
Table of Contents
Section Title
Page
Action
Price

Vorwort

7

Inhaltsverzeichnis

9

Kapitel 1: Einleitung und Einführung in das der Arbeit zugrunde liegende Problem

15

A. Einleitung

15

B. Momentaner Regelungsstand

17

C. Folge der ungeklärten Rechtslage

18

D. Praxisrelevante Konstellationen, in denen das Unternehmen Dritter im Sinne des § 299 StGB ist

21

I. Sogenannte quick savings und ähnliche Geschäftsgepflogenheiten

21

II. Sogenannte Kopplungsgeschäfte

22

E. Bedeutung der Frage vor dem Hintergrund der Korruptionsprävention

23

F. Ziel der Arbeit und Gang der Darstellung

26

Kapitel 2: Hintergrund zu § 299 StGB

27

A. § 299 StGB – Der Tatbestand der Bestechlichkeit und Bestechung im geschäftlichen Verkehr

27

I. Überblick über die Wettbewerbsvariante

28

II. Überblick über die Geschäftsherrenvariante

30

B. Entstehungsgeschichte des § 299 StGB

31

I. Vorgängernorm des § 12 UWG a.F.

31

1. Regelungsgehalt und Entstehungsgeschichte des § 12 UWG a.F.

32

2. Diskussion um Drittvorteile im Rahmen des § 12 UWG a.F.

33

II. Der Tatbestand des § 299 StGB

33

1. § 299 StGB in seiner alten Fassung

34

a) Einfügung der Vorschrift in das Strafgesetzbuch und Regelungsgehalt der Norm

34

b) Diskussion um Drittvorteile im Rahmen des § 299 StGB a.F.

35

2. § 299 StGB in seiner aktuellen Fassung

37

a) Die Schaffung der Geschäftsherrenvariante

37

b) Diskussion um Drittvorteile im Rahmen des § 299 StGB in seiner aktuellen Fassung

37

C. Das von § 299 StGB geschützte Rechtsgut

38

I. Das strafrechtliche Rechtsgut

38

II. Das Rechtsgut des § 299 StGB

40

1. Das Rechtsgut der Wettbewerbsvariante nach § 299 Abs. 1 Nr. 1 und Abs. 2 Nr. 1 StGB

40

a) Das Rechtsgut des Wettbewerbs

41

aa) Argumentation

42

bb) Definition des Rechtsguts Wettbewerb

44

cc) Fazit zum Rechtsgut Wettbewerb

48

b) Das Rechtsgut der Mitbewerber

48

aa) Argumentation

48

bb) Definition des Rechtsguts Mitbewerber

51

(1) Schutz der Chancengleichheit als Gleichheit der Wettbewerbsbedingungen

51

(2) Schutz der Vermögensinteressen

53

(3) Zwischenfazit

54

cc) Fazit zum Rechtsgut der Mitbewerber

54

c) Das Rechtsgut der Interessen des Geschäftsherrn

54

aa) Argumentation

56

bb) Definition des Rechtsguts der Interessen des Geschäftsherrn

58

(1) Schutz vor Vernachlässigung der Interessen des Geschäftsherrn zugunsten des Vorteilsgebers

59

(2) Schutz der Vermögensinteressen

60

(3) Zwischenfazit

61

cc) Fazit zum Rechtsgut der Interessen des Geschäftsherrn

61

d) Das Rechtsgut der Kunden/Verbraucher

61

e) Weitere Ansätze zur Definition des Rechtsguts der Wettbewerbsvariante in der Literatur

63

aa) Nichtkäuflichkeit von Entscheidungen

63

bb) Schutz der Übertragbarkeit von Aufgaben, Entscheidungsbefugnissen und Interessenwahrnehmung im wirtschaftlichen Bereich

66

cc) Die Pflichten- und Loyalitätsbeziehung zwischen Täter und Prinzipal im vermögensrechtlichen Bereich und die Chancengleichheit der Mitbewerber

68

dd) Schutz des lauteren Wettbewerbs in Ausprägung der Wahrung der abgeleiteten Vertragsfreiheit des Prinzipals/Schutz der wirtschaftlichen Handlungs- beziehungsweise Wettbewerbsfreiheit des Geschäftsherrn

70

ee) Fazit zu weiteren Ansätzen zur Definition des Rechtsguts der Wettbewerbsvariante in der Literatur

72

f) Zusammenfassung zum Rechtsgut der Wettbewerbsvariante nach § 299 Abs. 1 Nr. 1 und Abs. 2 Nr. 1 StGB

72

2. Das Rechtsgut der Geschäftsherrenvariante nach § 299 Abs. 1 Nr. 2 und Abs. 2 Nr. 2 StGB

73

a) Rechtsgut der Interessen des Geschäftsherrn an der loyalen und unbeeinflussten Erfüllung der Pflichten durch seine Angestellten und Beauftragten im Bereich des Austauschs von Waren und Dienstleistungen

73

aa) Argumentation

74

bb) Definition des Rechtsguts

75

cc) Fazit zum Rechtsgut der Interessen des Geschäftsherrn an der loyalen und unbeeinflussten Erfüllung der Pflichten durch seine Angestellten und Beauftragten im Bereich des Austauschs von Waren und Dienstleistungen

77

b) Rechtsgut der Vermögensinteressen des Geschäftsherrn

77

aa) Argumentation

77

bb) Fazit zum Rechtsgut der Vermögensinteressen des Geschäftsherrn

79

c) Rechtsgut des Wettbewerbs

79

d) Rechtsgut des Schutzes des Wettbewerbs vor abstrakten Gefahren aufgrund von Pflichtverletzungen von Angestellten gegenüber Unternehmen

84

e) Zusammenfassung zum Rechtsgut der Geschäftsherrenvariante nach § 299 Abs. 1 Nr. 2 und Abs. 2 Nr. 2 StGB

85

III. Zusammenfassung zum Rechtsgut des § 299 StGB

85

Kapitel 3: Meinungsstand zur Ausgangsfrage und bisher vorgeschlagene Lösungsansätze im Schrifttum

87

A. Das Unternehmen als Dritter im Sinne des § 299 StGB

87

I. Uneingeschränkte Erfassung des Unternehmens als Dritten und Strafbarkeit des Angestellten in diesen Konstellationen

88

1. Begründung

88

2. Stellungnahme

89

a) Zur Entstehungsgeschichte des § 299 StGB

89

b) Zum Wortlaut des § 299 StGB

89

c) Zur Beeinträchtigung des Rechtsguts des § 299 StGB

91

aa) Verletzung des Rechtsguts des Wettbewerbs in Form des Leistungsprinzips

92

(1) Verletzung des Leistungsprinzips durch wettbewerbs- oder kartellrechtswidrige Vorteile

93

(2) Verletzung des Leistungsprinzips bei (mittelbaren) Vorteilen an den Angestellten selbst

95

(3) Fazit

98

bb) Verletzung des Rechtsguts der Chancengleichheit der Mitbewerber als Gleichheit der Wettbewerbsbedingungen am Markt

98

cc) Verletzung des Rechtsguts des Schutzes des Geschäftsherrn vor Vernachlässigung seiner Interessen zugunsten des Vorteilsgebers

98

dd) Verletzung des Rechtsguts des Schutzes des Geschäftsherrn vor von Dritten beeinflussten und auf sachfremden Motiven beruhenden, für den Geschäftsherrn nachteiligen Handlungen des Angestellten oder Beauftragten

99

ee) Fazit zur Verletzung des Rechtsguts

99

d) Zum Vergleich mit den §§ 331ff. StGB

100

aa) Regelungsgehalt und Rechtsgut der §§ 331ff. StGB

101

bb) Die Anstellungskörperschaft als Dritter im Sinne der §§ 331ff. StGB

101

cc) Übertragbarkeit der Rechtslage hinsichtlich der §§ 331ff. StGB auf § 299 StGB

102

(1) Übertragbarkeit der Rechtslage hinsichtlich der §§ 331ff. StGB auf die Wettbewerbsvariante nach § 299 Abs. 1 Nr. 1 und Abs. 2 Nr. 1 StGB

103

(2) Übertragbarkeit der Rechtslage hinsichtlich der §§ 331ff. StGB auf die Geschäftsherrenvariante nach § 299 Abs. 1 Nr. 2 und Abs. 2 Nr. 2 StGB

105

dd) Fazit zum Vergleich mit den §§ 331ff. StGB

105

e) Zum Widerspruch zur Straflosigkeit des Betriebsinhabers

106

aa) Der Betriebsinhaber als tauglicher Täter des § 299 Abs. 1 StGB

106

bb) Folge für die Frage der Drittvorteile zugunsten des Unternehmens

107

cc) Auflösung des Wertungswiderspruchs durch Einbeziehung des Betriebsinhabers in den Täterkreis de lege ferenda?

109

dd) Ergebnis zur Strafbarkeit des Betriebsinhabers

114

f) Zum Widerspruch zu arbeitsvertraglichen Verpflichtungen des Angestellten

115

g) Fazit zur Stellungnahme

116

3. Fazit zur uneingeschränkten Erfassung des Unternehmens als Dritten und Strafbarkeit des Angestellten in diesen Konstellationen

116

II. Erfassung des Unternehmens als Dritten unter Heranziehung verschiedener Restriktionsansätze

116

1. Zivilrechtsakzessorische Sicht: Anknüpfung an die Vertretungsmacht des Angestellten

116

2. Wettbewerbsrechtsakzessorische Sicht: Anknüpfung an die Wettbewerbswidrigkeit der Zuwendung an das Unternehmen

118

3. Fazit zur Erfassung des Unternehmens als Dritten unter Heranziehung verschiedener Restriktionsansätze

126

III. Erfassung des Unternehmens als Dritten, aber Ablehnung eines Vorteils

127

IV. Erfassung des Unternehmens als Dritten, aber Ablehnung der Unrechtsvereinbarung

128

V. Erfassung des Unternehmens als Dritten, aber Verneinung der Unlauterkeit der Bevorzugung

130

1. Generelle Verneinung der Unlauterkeit

131

2. Verneinung der Unlauterkeit unter Heranziehung des sogenannten "steuerrechtlichen Fremdvergleichs" als Beurteilungsmaßstab

131

3. Stellungnahme

132

VI. Fazit zum Unternehmen als Drittem im Sinne des § 299 StGB

135

B. Das Unternehmen kann nicht Dritter im Sinne des § 299 StGB sein: Teleologische Reduktion des § 299 StGB

135

I. Begründung

136

II. Stellungnahme

138

1. Zur Gefahr für das Rechtsgut

138

2. Zur Pflichtenkollision des Angestellten

138

3. Zur Gleichstellung des Handelns des Angestellten mit dem Handeln des Betriebsinhabers sowie dem Widerspruch zur Straflosigkeit des Betriebsinhabers

139

4. Zur übermäßigen Kriminalisierung der Wirtschaftspraxis

140

5. § 7 HWG als weiteres Argument gegen das Unternehmen als "Dritten"

140

6. Fazit

141

III. Ergebnis

142

C. Übertragbarkeit der gefundenen Lösung auf Kopplungsgeschäfte

142

I. Der "gekoppelte" Vertrag als Vorteil im Sinne des § 299 StGB

142

II. Das Anstellungsunternehmen des Angestellten als (Dritt-)‌Begünstigter des Kopplungsvertrags

144

D. Abschließende Zusammenfassung

145

Kapitel 4: Drittvorteile zugunsten anderer Konzerngesellschaften am Beispiel von Kopplungsgeschäften

147

A. Derzeitiger Meinungsstand im Schrifttum

148

I. Das Anstellungsunternehmen als "Dritter"

148

II. Das den Vertrag abschließende Unternehmen als "Dritter"

149

III. Stellungnahme

149

B. Eigener Vorschlag zur Beurteilung von Drittvorteilen zugunsten anderer Konzerngesellschaften

153

I. Bestimmung des Anstellungsunternehmens im Konzern anhand gesellschaftsrechtlicher Grundsätze und der konkreten arbeitsvertraglichen Regelungen im Einzelfall

153

II. Gesellschaftsrechtliche oder wirtschaftliche Betrachtung?

155

III. Straflosigkeit auch von Drittvorteilen zugunsten anderer Konzerngesellschaften?

156

1. Widerspruch zur Straflosigkeit des Betriebsinhabers

156

2. Verletzung der Rechtsgüter des § 299 StGB

156

3. Ergebnis

161

IV. Zwischenfazit

161

V. Mittelbarer Vorteil des Anstellungsunternehmens

162

VI. Vorliegen einer Unrechtsvereinbarung

165

1. Voraussetzungen für das Vorliegen der Unrechtsvereinbarung nach Rechtsprechung und Literatur

165

2. Stellungnahme

168

3. Fazit

170

VII. Zusammenfassung

170

Kapitel 5: Möglichkeiten zur Entscheidung des Problems in der Praxis

172

A. Gesetzesinterpretation in Form einer teleologischen Reduktion

172

B. Klärung der Frage durch obergerichtliche/‌höchstrichterliche Rechtsprechung

173

C. Gesetzesänderung

175

I. Bisheriger Vorschlag zur Neufassung des § 299 StGB in der Literatur

175

II. Grundsätzlich in Betracht kommende gesetzliche Regelungsarten

176

1. "Tatbestandliche Einschränkung" des § 299 StGB

176

2. Tatbestandsausschlussklausel

177

III. Stellungnahme

178

IV. Eigener Vorschlag zur Neufassung des § 299 StGB

179

Zusammenfassung und Ausblick

180

Literaturverzeichnis

183

Quellenverzeichnis

192

Stichwortverzeichnis

193