Publishing & book trade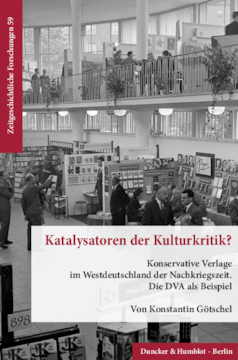 BOOK
Katalysatoren der Kulturkritik?
Konservative Verlage im Westdeutschland der Nachkriegszeit. Die DVA als Beispiel
Zeitgeschichtliche Forschungen, Vol. 59
(2021)
Additional Information
Book Details
ISBN

978-3-428-58357-7
978-3-428-18357-9 (print edition)

DOI

https://doi.org/10.3790/978-3-428-58357-7

Edition

1

Language

German

Pages

429

Collections

Subjects
Pricing
Institution

€ 80.00 (incl. local VAT if applicable)

Individual

€ 62.90 (incl. local VAT if applicable)
About The Author
Konstantin Götschel ist Historiker, Lektor und Publizist. Er hat in Erlangen und München Geschichte und Buchwissenschaft studiert und an der LMU München zur Geschichte des konservativen Verlagsbuchhandels in Westdeutschland promoviert.
Konstantin Götschel is a historian, editor and publicist. He studied history and book studies in Erlangen and Munich and wrote his doctoral dissertation on the history of conservative publishing houses in Western Germany at LMU Munich.
Abstract
Obgleich Zeithistoriker immer wieder den immensen Einfluss von Buchverlagen auf die Diskurse der Nachkriegszeit betonen, wurde ihr Wirken in der zeitgeschichtlichen Forschung bislang selten beachtet. Diesem Desiderat begegnet die Arbeit mit Blick auf den konservativen Verlagsbuchhandel. In akteurszentrierter Perspektive stellt sie die Motivationen, Bedingungen und Beschränkungen verlegerischen Handelns dar und untersucht mit besonderem Fokus auf die Deutsche Verlags-Anstalt, welche Position Verlagen im westdeutschen Nachkriegskonservatismus zukam, welche Rolle sie für seine Wirkungsentfaltung spielten und welchen Einfluss sie mithin auf die Neuorientierungsversuche der Zeit gewannen.

Die Untersuchung ist gleichermaßen Beitrag zur Buchhandelsgeschichte der Nachkriegszeit wie zur Intellectual History des deutschen Konservatismus. Denn Verlage waren Institutionen der Artikulation konservativer Theoreme und Weltsichten. Sie ermöglichten die Wiedergewinnung konservativer Sprechfähigkeit und wurden zu einem wichtigen Träger konservativer ›agency‹. »Catalysts of Cultural Criticism? Conservative Publishing Houses in Postwar Western Germany. The Deutsche Verlags-Anstalt as an Example«: Konstantin Götschel's work, which is as much a contribution to intellectual history as it is to media history, explores motivations, conditions, and constraints of publishing and examines book publishers, especially the Deutsche Verlags-Anstalt, as institutions of the articulation of conservative theorems and world views, that helped conservatives regain their voices and became essential vehicles for their agencies.
Table of Contents
Section Title
Page
Action
Price

Vorwort

5

Inhaltsverzeichnis

7

Abkürzungsverzeichnis

9

A. Einleitung

11

I. Erkenntnisinteressen

15

II. Vorgehen

18

III. Forschungslage

22

IV. Quellen

31

B. Der westdeutsche Buchhandel nach 1945

34

I. Politische und gesellschaftliche Rahmenbedingungen

36

1. Entnazifizierung und Lizenzierung

38

2. Die Bundesrepublik als Kulturnation

46

3. "Restauration" und Aufbruch

55

II. Ökonomische und institutionelle Rahmenbedingungen

59

1. Mangel und massenhafte Nachfrage

61

2. Mark und Markt

66

3. Börsenverein und Börsenplatz

76

C. Konservatismus nach 1945

83

I. Von der Kulturkritik zur Technokratie: Akteure des Konservatismus

86

1. Esoterik und Elitismus

87

2. Preußen und Abendland

94

3. Pragmatismus und Parteinahme

102

II. Sprechverbote und kulturelle Hegemonie: Topoi des Konservatismus

107

1. Nation nach dem Nationalsozialismus

109

2. Ost und West

114

3. Masse und Materialismus

119

D. Die konservative Verlagslandschaft nach 1945 – eine Typologie

124

I. Revisionistische Verlage

129

1. Klosterhaus-Verlag

131

2. Plesse-Verlag/Göttinger Verlagsanstalt

138

II. Antikommunistische und Vertriebenenverlage

145

1. Kiepenheuer & Witsch

149

2. Bogen-Verlag

156

III. Konservative Kulturverlage

162

1. Otto-Reichl-Verlag

165

2. Heliopolis-Verlag

171

IV. Konfessionelle Verlage

178

1. Neues Abendland

182

2. Rufer-Verlag

189

V. Konservative Publikumsverlage

196

1. Klett

199

2. Rowohlt

206

E. Die DVA als konservativer Publikumsverlag

214

I. Die DVA vor 1945

216

1. Die Anfänge des Verlags

218

2. Die DVA im ersten Drittel des 20. Jahrhunderts

224

3. Die DVA im "Dritten Reich"

230

II. Die DVA in der Nachkriegszeit

237

1. Die Treuhänderschaft

238

2. Das Interregnum

245

3. Die Konsolidierung

253

III. Wirkungsabsicht, Selbstverortung und Selbstdarstellung des Verlags

263

1. Ein Spiegel der Deutschen: zum Umgang mit dem Nationalsozialismus

264

2. "Das Gedankengut des Widerstands lebendig erhalten": die Rolle Gotthold Müllers

281

3. "Der führende politische Verlag der Bundesrepublik"

293

IV. Programmbereiche und Autorengruppen

307

1. Geschichte und Geschichtspolitik

308

2. Ost und West

323

3. Kulturkritik und Zeitdiagnostik

337

V. Zum Verhältnis von ökonomischen Zielen und politischer Wirkungsabsicht

353

F. Fazit

362

Quellenverzeichnis

377

Literaturverzeichnis

393

Personenregister

420