Planning law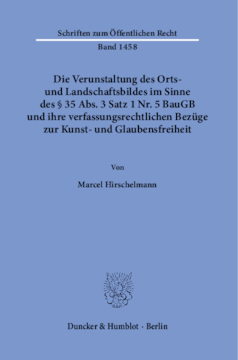 BOOK
Die Verunstaltung des Orts- und Landschaftsbildes im Sinne des § 35 Abs. 3 Satz 1 Nr. 5 BauGB und ihre verfassungsrechtlichen Bezüge zur Kunst- und Glaubensfreiheit
Mit einem Exkurs zur Bedeutung der Glaubensfreiheit im öffentlichen Baurecht
Schriften zum Öffentlichen Recht, Vol. 1458
(2021)
Additional Information
Book Details
ISBN

978-3-428-58363-8
978-3-428-18363-0 (print edition)

DOI

https://doi.org/10.3790/978-3-428-58363-8

Edition

1

Language

German

Pages

504

Collections

Subjects
Pricing
Institution

€ 126.00 (incl. local VAT if applicable)

Individual

€ 98.90 (incl. local VAT if applicable)
About The Author
Marcel Hirschelmann studierte an der Friedrich-Schiller-Universität Jena Rechtswissenschaften. Nach erfolgreichem Abschluss der zweiten juristischen Staatsprüfung im Freistaat Bayern begann er seine Promotion an der Universität Jena. 2020 trat er als Referent in die Verwaltung des Landtages Mecklenburg-Vorpommern ein.
Marcel Hirschelmann studied law at the Friedrich Schiller University Jena. After successfully completing the second state law examination in the Free State of Bavaria, he began his doctorate at the University of Jena. In 2020 he joined the administration of the state parliament of Mecklenburg-Western Pomerania as a consultant.
Abstract
Das Handbuch zu § 35 Abs. 3 S. 1 Nr. 5 BauGB und damit zum Verunstaltungsverbot im Außenbereich behandelt umfassend sämtliche Facetten der Verunstaltung des Orts- und Landschaftsbildes anhand einer kommentarartigen Auswertung der Rechtsprechung und mithilfe der Bildung von Fallgruppen, auch und gerade unter Berücksichtigung verfassungsrechtlicher Vorgaben. Das Verunstaltungsverbot wird in den Kontext der Kunst-, Eigentums- und Glaubensfreiheit eingebettet, bevor die Glaubensfreiheit im Zusammenhang mit der Errichtung von Kultusstätten im öffentlichen Baurecht erörtert wird. Gerade die Überlegungen zur sakralen Baukunst sollen einen Beitrag dazu leisten, die verfassungsrechtliche Dogmatik des öffentlichen Baurechts zu fördern. Das Buch ist für Baurechtler und politische Entscheidungsträger sowie Interessenvertreter gleichermaßen geeignet, da es die Norm nicht nur strukturiert und systematisiert, sondern darüber hinaus für die bauplanungsrechtliche Praxis wichtige Wegweisungen enthält. »The Defacement of the Town- and Landscape in the Sense of Section 35 para. 3 sentence 1 no. 5 BauGB and its Constitutional References to Artistic Freedom and Freedom of Belief – with an Excursus on the Significance of Freedom of Belief in Public Building Law«: The book comprehensively deals with all facets of the defacement of the town- and landscape on the basis of a commentary-like evaluation of the case law and the formation of case groups – also and especially taking into account constitutional requirements. The considerations on sacred architecture are intended to contribute to promoting the constitutional dogmatics of public building law.
Table of Contents
Section Title
Page
Action
Price

Vorwort

7

Inhaltsübersicht

9

Inhaltsverzeichnis

11

Abkürzungsverzeichnis

20

A. Einführung

25

B. Der öffentliche Belang der Verunstaltung des Orts- und Landschaftsbildes im Sinne des § 35 Abs. 3 Satz 1 Nr. 5 BauGB als bauplanungsrechtliches Verunstaltungsverbot

27

I. Das Landschaftsbild

29

II. Das Ortsbild

30

III. Der Begriff der Verunstaltung

32

1. Entstehungsgeschichte

34

2. Definitionsansätze

37

a) Maßgeblichkeit des bauordnungsrechtlichen Verunstaltungsbegriffs

38

b) Mindestmaß an bauästhetischem Ortsbild- und Landschaftsschutz

40

c) Gerichtliche Entscheidungsfindung

43

d) Das BVerwG, die Baugestaltungsverordnung von 1936 und die Begrenzung auf die "negative" Verunstaltungsabwehr

44

e) Die abweichende Gestaltung eines Vorhabens in landschaftsüblicher und funktionsgerechter Bauweise

47

f) Unbeachtliche Beeinträchtigungen

51

3. Der "gebildete Durchschnittsbetrachter" als ästhetischer Beurteilungsmaßstab

53

4. Abgrenzung des Belangs "der natürlichen Eigenart der Landschaft" von dem Belang der "Verunstaltung des Orts- und Landschaftsbildes" (§ 35 Abs. 3 Satz 1 Nr. 5 BauGB)

58

5. Abgrenzung des bauplanungsrechtlichen Verunstaltungsverbots von den bauordnungsrechtlichen Verunstaltungsverboten der Länder

60

a) Das Rechtsgutachten des BVerfG von 1954

60

b) Die grundlegende Abgrenzung des BVerwG zwischen der Ortsbildbeeinträchtigung im Sinne des § 34 Abs. 1 Satz 2 Hs. 2 BauGB und den bauordnungsrechtlichen Verunstaltungsverboten

63

c) Die Übertragung der Entscheidung des BVerwG auf die Abgrenzung zwischen den bauordnungsrechtlichen Verunstaltungsverboten und dem bauplanungsrechtlichen Verunstaltungsverbot

65

d) Planerisch auf der Grundlage des § 9 Abs. 1 BauGB festsetzungsfähige Gestaltungen

66

6. Beurteilungskriterien für das Vorliegen einer Verunstaltung des Orts- und Landschaftsbildes im Sinne des § 35 Abs. 3 Satz 1 Nr. 5 BauGB

69

a) Fehlende Harmonie in der Orts- oder Landschaftsgestaltung und Anpflanzungen

70

b) Beeinträchtigung von Blickachsen

71

c) Kriterien für die Beurteilung einer Verunstaltung des Orts- oder Landschaftsbildes, Bestandsschutz und Erweiterungen

74

d) Die technische Neuartigkeit eines Vorhabens und seine dadurch bedingte optische Gewöhnungsbedürftigkeit

77

e) Besondere Gesichtspunkte bei Windkraftanlagen

78

f) Zusammenfassung

81

7. Besonderheiten zwischen privilegierten (§ 35 Abs. 1 BauGB) und sonstigen Vorhaben (§ 35 Abs. 2 BauGB) in Hinblick auf den Verunstaltungsbegriff

82

a) Das stärkere Durchsetzungsvermögen privilegierter Vorhaben

83

b) Einschränkende Auslegung des Verunstaltungsbegriffs bei privilegierten Vorhaben durch die obergerichtliche Rechtsprechung

86

c) Gleiche Interpretation des Verunstaltungsbegriffs bei privilegierten und sonstigen Vorhaben

87

d) Unterschiede im Abwägungsvorgang

88

e) Zeitlich nur vorübergehende Belastungen des Landschaftsbildes

92

f) Allgemeine Besonderheiten privilegierter Vorhaben in Bezug auf den Verunstaltungsbegriff

94

8. Naturschutzrechtliche Herangehensweise an den Begriff der Verunstaltung des Orts- und Landschaftsbildes im Sinne des § 35 Abs. 3 Satz 1 Nr. 5 BauGB

95

a) Natur- und landschaftsschutzfachlich besonders schützenswerte Gebiete

96

aa) Bauplanungs- und naturschutzrechtliche Zulässigkeitsvoraussetzungen

97

bb) Beeinträchtigung des Naturschutzes und der Landschaftspflege

98

cc) Ausnahmegenehmigungen oder Befreiungen hinsichtlich der Vorgaben einer Landschaftsschutzgebietsverordnung

99

dd) Maßgeblichkeit der Vorgaben der Landschaftsschutzgebietsverordnung

100

b) Nicht förmlich unter Natur- oder Landschaftsschutz gestellte Landschaftsteile

102

aa) Bloße Beeinträchtigungen des Landschaftsbildes

103

bb) Interesse an der Erhaltung eines bestehenden Landschafts- oder Ortsbildes als ungeschriebener öffentlicher Belang?

105

cc) Zusammenfassung

106

9. Zusammenfassung über den bauplanungsrechtlichen Verunstaltungsbegriff

107

IV. Verunstaltung des Landschaftsbildes im Sinne des § 35 Abs. 3 Satz 1 Nr. 5 BauGB

111

1. Wegen ihrer Schönheit oder Funktion besonders schützenswerte Landschaft

113

a) Schönheit der Landschaft

113

b) Abstellen auf die rein tatsächliche Schönheit des Orts- oder Landschaftsbildes

117

c) Einzelfälle besonders schützenswerter Landschaftsbilder

118

d) Exponierte Lage

121

e) Frage nach dem maßstabsbildenden Bereich, der das schützenswerte Landschaftsbild ausmacht

126

f) Standortalternativen

129

g) Verunstaltung aus bestimmten Blickwinkeln

130

h) Menschliche Siedlungstätigkeit und das Landschaftsbild

133

i) Verlust der Schutzwürdigkeit eines Landschaftsbildes aufgrund von baulicher Vorbelastung

134

aa) Bedeutung einer baulichen Vorbelastung für die Schutzwürdigkeit eines Landschaftsbildes

134

bb) Beispiele baulicher Vorbelastungen

136

j) Bedeutung der landschaftsgebundenen Erholung für eine bestimmte Region

141

2. Besonders grober Eingriff in das Landschaftsbild

145

3. Zusammenfassung

147

V. Verunstaltung des Ortsbildes im Sinne des § 35 Abs. 3 Satz 1 Nr. 5 BauGB

151

1. Einfügungsgebot (§ 34 Abs. 1 Satz 1 BauGB), Beeinträchtigung des Ortsbildes (§ 34 Abs. 1 Satz 2 Hs. 2 BauGB), Verunstaltung des Ortsbildes (§ 35 Abs. 3 Satz 1 Nr. 5 BauGB) und bauordnungsrechtliches Verunstaltungsverbot

152

a) Das Verbot der Ortsbildverunstaltung (§ 35 Abs. 3 Satz 1 Nr. 5 BauGB) und das Verbot der Ortsbildbeeinträchtigung (§ 34 Abs. 1 Satz 2 Hs. 2 BauGB)

152

b) Einfügungsgebot (§ 34 Abs. 1 Satz 1 BauGB) und bauordnungsrechtliches Verunstaltungsverbot

157

c) Das Verbot der Ortsbildbeeinträchtigung (§ 34 Abs. 1 Satz 2 Hs. 2 BauGB) und das Einfügungsgebot (§ 34 Abs. 1 Satz 1 BauGB)

158

d) Zusammenfassung

160

2. Rechtsschutz zugunsten der Gemeinde gegen die Zulassung von Vorhaben im Außenbereich und das bauplanungsrechtliche Verunstaltungsverbot (§ 35 Abs. 3 Satz 1 Nr. 5 BauGB)

161

a) Rechtsschutz der Standortgemeinde

162

b) Rechtsschutz außerhalb des Anwendungsbereichs von § 36 Abs. 1 BauGB

167

VI. Besonderheiten bei Windkraftanlagen

174

1. Größe der Windkraftanlage

176

2. Besonders schönes und schützenswertes Landschaftsbild

180

3. Exponierte Lage

182

a) Besonderheiten bei Windkraftanlagen

183

b) Exponierte Lage und Blickfang

186

4. Verunstaltung des Landschaftsbildes und Windenergiekonzentrationszonen

189

5. "Horizontverschmutzung"

192

a) Unberührte Landschaften ohne besonders schutzwürdige Landschaftselemente

193

b) "Horizontrechtsprechung"

196

6. Unberührtheit der Landschaft und Vorbelastung des Landschaftsbildes

199

a) Vorbelastung durch bereits bestehende Windkraftanlagen

199

b) Vorbelastung durch Hochspannungsleitungen

201

c) Vorbelastung durch sonstige bauliche Anlagen

202

7. Zusammenfassung

205

VII. Zusammenfassung über den Belang der Verunstaltung des Orts- und Landschaftsbildes im Sinne des § 35 Abs. 3 Satz 1 Nr. 5 BauGB

208

1. Abgrenzung des bauplanungs- vom bauordnungsrechtlichen Verunstaltungsverbot

208

2. Bauplanungsrechtliches Verunstaltungsverbot und Naturschutzrecht

209

3. Einzelfallentscheidung

210

4. Bauliche Vorbelastungen im Landschaftsbild

212

5. Besonderheiten bei Windkraftanlagen

213

6. Die Verunstaltung des Ortsbildes und das gemeindliche Selbstgestaltungsrecht

215

C. Bauplanungsrechtliches Verunstaltungsverbot und die Grundrechte der Kunst-, Eigentums- und der Glaubensfreiheit

218

I. Bauplanungsrechtliches Verunstaltungsverbot und das Grundrecht der Kunstfreiheit (Art. 5 Abs. 3 Satz 1 GG)

220

1. Sachlicher Schutzbereich der Kunstfreiheit

225

a) Definition der Baukunst

225

b) Werke der Baukunst als privilegierte Vorhaben gem. § 35 Abs. 1 Nr. 4 BauGB?

230

c) Schutzbereichsimmanente Schranke der Kunstfreiheit aufgrund der "Sprayer-Entscheidung" des BVerfG

231

d) Schutzbereichsimmanente Schranke der Kunstfreiheit aufgrund der "Sachgesetzlichkeit" der baukünstlerischen Kunstgattung

233

e) Zwischenergebnis

234

2. Personeller Schutzbereich der Kunstfreiheit

234

3. Eingriff in die Kunstfreiheit

240

4. Verfassungsrechtliche Rechtfertigung des Eingriffs

240

a) Vorbehaltlosigkeit der Kunstfreiheitsgarantie

241

aa) Verfassungsimmanente Schranken

242

bb) Die Eignung von Staatszielbestimmungen als verfassungsimmanente Schranken

243

cc) Grundgesetzliche Kompetenzverteilung als verfassungsimmanente Schranke

245

dd) Abwägung der widerstreitenden Interessen

246

b) Psychisches Wohlbefinden der Bürger als Bestandteil des Grundrechts auf körperliche Unversehrtheit, Art. 2 Abs. 2 Satz 1 Alt. 2 GG

251

aa) Grundrecht auf Stadtgestaltung

251

bb) Körperliche Unversehrtheit im Sinne des Art. 2 Abs. 2 Satz 1 Alt. 2 GG

253

cc) Ästhetische Beeinträchtigungen als Verletzung der körperlichen Unversehrtheit

259

c) Sozialer Frieden in der Gemeinschaft als verfassungsrechtliches Schutzgut

263

d) Eigentum des Nachbarn, Art. 14 Abs. 1 Satz 1 GG

266

e) Staatlicher Kulturauftrag als Verfassungsgut von Rang

269

f) Staatszielbestimmung Umweltschutz = Schutz der natürlichen Lebensgrundlagen, Art. 20a GG

274

aa) Art. 20a GG als verfassungsimmanente Schranke der Kunstfreiheit

274

bb) Auffassung des BVerwG: Optischer Landschaftsschutz als Bestandteil der natürlichen Lebensgrundlagen des Menschen

279

cc) Bauplanungsrechtliches Verunstaltungsverbot dient nicht dem Schutz der natürlichen Lebensgrundlagen

285

dd) Zwischenergebnis

290

ee) Belang der natürlichen Eigenart der Landschaft als verfassungsrechtliche Ausprägung des Schutzgutes der natürlichen Lebensgrundlagen des Menschen

293

ff) Abwägungsentscheidung im jeweiligen Einzelfall unter Berücksichtigung aller relevanter Umstände im Lichte der Kunstfreiheit (Art. 5 Abs. 3 Satz 1 GG)

295

(1) Kunstkonforme Auslegung des Belangs der natürlichen Eigenart der Landschaft (§ 35 Abs. 3 Satz 1 Nr. 5 Alt. 4 BauGB)

299

(2) Für die kunstkonforme Auslegung relevante Gesichtspunkte

302

(3) "Verzahnung" der öffentlichen Belange der natürlichen Eigenart der Landschaft und der Verunstaltung des Orts- und Landschaftsbildes im Zusammenhang mit der Errichtung von Werken der Baukunst im Außenbereich

307

(4) Kunstkonforme Auslegung des Belangs der Verunstaltung des Orts- und Landschaftsbildes (§ 35 Abs. 3 Satz 1 Nr. 5 Alt. 5 BauGB)

308

(5) Ermessen und Kunstfreiheit

316

(6) Fazit der Untersuchung

316

gg) Zwischenergebnis über das Spannungsfeld zwischen dem bauplanungsrechtlichen Verunstaltungsverbot, dem Grundrecht der Kunstfreiheit und dem Umweltstaatsprinzip des Art. 20a GG

317

g) Resümee über die verfassungsrechtliche Einschränkbarkeit des Grundrechts der Kunstfreiheit durch die öffentlichen Belange der natürlichen Eigenart der Landschaft und der Verunstaltung des Orts- und Landschaftsbildes (§ 35 Abs. 3 Satz 1 Nr. 5 BauGB)

322

5. Bestehen eines unmittelbar aus der Kunstfreiheitsgarantie (Art. 5 Abs. 3 Satz 1 GG) abgeleiteten subjektiv öffentlich-rechtlichen Anspruchs auf Erteilung einer Baugenehmigung?

325

6. Bestehen eines auf die Verunstaltungsverbote gestützten Abwehranspruchs des Nachbarn auf Versagung einer nachbarlichen Baugenehmigung?

327

a) Schutz eines Bauwerks vor seiner Umgebung

328

b) Über die Abtragung des Lenin-Denkmals in Berlin, "Christo's Reichstagsverhüllung" und ihre Bedeutung für den Nachbarschutz

331

c) Nachbarschutz durch eine verfassungskonforme Auslegung des bauordnungsrechtlichen Verunstaltungsverbots

334

aa) Geltende Rechtslage zum nachbarschützenden Charakter der Verunstaltungsverbote

335

bb) Ansätze in der Literatur zur Begründung eines nachbarschützenden Charakters der Verunstaltungsverbote

336

cc) Schutz eines Werkes der Baukunst vor seiner Umgebung

338

dd) Umgebungsschutz von Kunstwerken auf Zeit im Stadtraum

340

ee) Kritik an der nachbarschützenden Funktion des bauordnungsrechtlichen Verunstaltungsverbotes und des Grundrechts der Kunstfreiheit

343

d) Übertragung der Erwägungen auf das bauplanungsrechtliche Verunstaltungsverbot

345

7. Zusammenfassung über das Verhältnis zwischen dem Grundrecht der Kunstfreiheit und dem bauplanungsrechtlichen Verunstaltungsverbot

346

II. Bauplanungsrechtliches Verunstaltungsverbot und die Eigentumsfreiheit (Art. 14 Abs. 1 Satz 1 GG)

349

1. Berührungspunkte zwischen der Kunst und der Grundeigentumsnutzung

350

a) Baukunst und nichtkünstlerisches Bauen im verfassungsrechtlichen Sinne

352

b) Gemeinschaftsbezogenheit der Baukunst, Grundrechtskumulationen und Schrankenleihe

354

2. Sozialbindung von Grund und Boden als Inhalts- und Schrankenbestimmung im Sinne des Art. 14 Abs. 1 Satz 2 GG

359

3. Zusammenfassung über das Verhältnis zwischen dem Grundrecht der Eigentumsfreiheit und dem bauplanungsrechtlichen Verunstaltungsverbot

360

III. Bauplanungsrechtliches Verunstaltungsverbot und das Grundrecht der Glaubensfreiheit (Art. 4 Abs. 1 und Abs. 2 GG)

361

1. Sachlicher Schutzbereich der Glaubensfreiheit

364

2. Personeller Schutzbereich der Glaubensfreiheit

370

a) Individuelle Glaubensfreiheit

371

b) Korporative Glaubensfreiheit

372

3. Eingriff in die Glaubensfreiheit

374

4. Verfassungsrechtliche Rechtfertigung des Eingriffs

375

a) Schranken der Glaubensfreiheit

376

aa) Vorbehaltlosigkeit der Glaubensfreiheit

376

bb) Schrankenbestimmung in Art. 140 GG i. V. m. Art. 136 Abs. 1 GG?

377

cc) Schranken in der grundgesetzlichen Wertordnung

381

dd) Die Schrankenfrage mit Blick auf die vorbehaltlos gewährleistete Kunstfreiheit

383

b) Schutz des psychischen Wohlbefindens der Bevölkerung, Art. 2 Abs. 2 Satz 1 Alt. 2 GG

384

c) Schutz der natürlichen Lebensgrundlagen (Art. 20a GG)

385

aa) Die Entscheidung des BVerwG über die Errichtung eines Friedhofs in einem Naturpark und das kirchliche Selbstbestimmungsrecht gem. Art. 140 GG i. V. m. Art. 137 Abs. 3 Satz 1 WRV

386

bb) Übertragung der "Arno-Breker"-Entscheidung des BVerwG auf die Glaubensfreiheit

391

cc) Optisch-ästhetischer Landschaftsschutz als Schutz der natürlichen Lebensgrundlagen, Art. 20a GG?

391

d) Abwägungsentscheidung im jeweiligen Einzelfall unter besonderer Berücksichtigung der Ausstrahlungswirkung des Grundrechts der Glaubensfreiheit

392

aa) Notwendigkeit einer verfassungskonformen Auslegung aufgrund eines Vergleichs mit anderen Kollisionslagen aus dem Verfassungsrecht

393

bb) Einzelfallentscheidungen

395

5. Zusammenfassung über das Verhältnis zwischen dem Grundrecht der Glaubensfreiheit und dem bauplanungsrechtlichen Verunstaltungsverbot

396

IV. Resümee über das Verhältnis zwischen den Grundrechten der Kunst- und Glaubensfreiheit und dem bauplanungsrechtlichen Verunstaltungsverbot

399

D. Die Bedeutung der Glaubensausübungsfreiheit (Art. 4 Abs. 2 GG) für die Errichtung von Kultusstätten

403

I. Die Bedeutung des Gleichbehandlungsgrundsatzes (Art. 3 Abs. 1 GG) für die Errichtung von Kultusstätten

406

II. Die Bedeutung der Glaubensausübungsfreiheit in der Bauleitplanung

408

III. Kultusstätten und die Baugebietstypen der BauNVO

409

IV. Die Bedeutung der Glaubensausübungsfreiheit für die Erteilung von Ausnahmen und Befreiungen von den Festsetzungen eines Bebauungsplans gem. § 31 BauGB

414

1. Die Krypta im Industriegebiet

415

2. Die Ausnahme- und Befreiungsmöglichkeiten von den Festsetzungen eines Bebauungsplans, § 31 BauGB

416

3. § 31 BauGB und die Glaubensfreiheit

419

V. Nachbarschutz und Schutz der Gemeinden gegen die Erteilung einer Baugenehmigung zur Errichtung eines Sakralbaus

424

VI. Sakrale Bauten und das Einfügungsgebot des § 34 Abs. 1 Satz 1 BauGB

429

VII. Sakrale Bauten im Außenbereich, § 35 BauGB

433

1. Glaubens- oder weltanschaulich motivierte Vorhaben im Außenbereich als privilegierte Vorhaben gem. § 35 Abs. 1 BauGB?

435

a) Hofkapellen als einem land- oder forstwirtschaftlichen Betrieb dienende Vorhaben, § 35 Abs. 1 Nr. 1 BauGB

436

b) Privilegierung aufgrund der "besonderen Zweckbestimmung", § 35 Abs. 1 Nr. 4 BauGB

439

aa) Grundsatz

440

bb) Verfassungskonforme Auslegung im Lichte der Glaubensfreiheit in besonders gelagerten Einzelfällen

444

(1) Das Durchsetzungsvermögen privilegierter Vorhaben und die Bedeutung der Glaubensfreiheit

445

(2) Der Standortbezug bei sakralen Vorhaben und seine Bedeutung für die Privilegierung

446

(3) Die "besondere Zweckbestimmung" des § 35 Abs. 1 Nr. 4 BauGB und sakrale Vorhaben in der Rechtsprechung

448

(4) Die Nutzungsänderung einer Almgaststätte und ihre Bedeutung für die Frage nach der Privilegierung sakraler Vorhaben

449

(5) Der "singuläre Charakter" eines sakralen Vorhabens im Außenbereich

450

2. Glaubensfreiheit und öffentliche Belange, § 35 Abs. 3 Satz 1 BauGB

454

a) Widerspruch des Vorhabens zu den Darstellungen eines Flächennutzungsplans, § 35 Abs. 3 Satz 1 Nr. 1 BauGB

454

b) Beeinträchtigung der natürlichen Eigenart der Landschaft, § 35 Abs. 3 Satz 1 Nr. 5 BauGB

457

c) Zulässigkeit einer privaten Kapelle als sonstiges Vorhaben gem. § 35 Abs. 2 BauGB in der Genehmigungspraxis

458

3. Zwischenergebnis über sakrale Kultusstätten im Außenbereich

460

VIII. Resümee über die Bedeutung der Glaubensausübungsfreiheit (Art. 4 Abs. 2 GG) für die Errichtung von Kultusstätten

463

E. Zusammenfassende Darstellung über das bauplanungsrechtliche Verunstaltungsverbot, das verfassungsrechtliche Spannungsverhältnis zwischen diesem und den Grundrechten der Kunst- und der Glaubensfreiheit sowie die Besonderheiten der Errichtung von sakrale

469

I. Zusammenfassende Aussagen über das bauplanungsrechtliche Verunstaltungsverbot

469

II. Das gemeindliche Selbstgestaltungsrecht als Abwehrrecht der Gemeinde

472

III. Das bauplanungsrechtliche Verunstaltungsverbot als gestalterische Bindung baukünstlerischer und sakraler Vorhaben

473

IV. Bauen im Außenbereich und die Glaubensfreiheit

474

F. Resümee

477

G. Thesen

485

Literaturverzeichnis

487

Sachwortverzeichnis

498