Idealism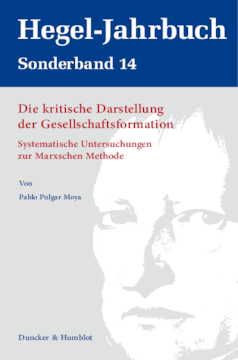 BOOK
Die kritische Darstellung der Gesellschaftsformation
Systematische Untersuchungen zur Marxschen Methode
Hegel-Jahrbuch. Sonderband, Vol. 14
(2021)
Additional Information
Book Details
ISBN

978-3-428-55924-4
978-3-428-15924-6 (print edition)

DOI

https://doi.org/10.3790/978-3-428-55924-4

Edition

1

Language

German

Pages

183

Collections

Subjects
Pricing
Institution

€ 92.00 (incl. local VAT if applicable)

Individual

€ 71.90 (incl. local VAT if applicable)
About The Author
Pablo Pulgar Moya ist Assistenzprofessor für Philosophie an der Universität Silva Henriquez, Chile. Er ist Präsident der ›Iberoamerikanischen Hegel-Gesellschaft‹ (www.estudioshegelianos.cl), Visiting Fellow an der Universität Padua, Italien, und Mitglied der Redaktion von Antitesis. Revista Iberoamericana de Estudios Hegelianos (Autonome Universität Madrid, Spanien).
Pablo Pulgar Moya is Assistant Professor of Philosophy at the Silva Henríquez University, Chile. He is president of the ›Iberoamerican Hegel Society‹ (www.estudioshegelianos.cl), Visiting Fellow at University of Padua, Italy, and member of the Board of Antitesis. Iberoamerican Review of Hegel Studies (Autonomous University of Madrid, Spain).
Abstract
Das Anliegen dieser Arbeit besteht in der systematischen Untersuchung der methodischen Darstellungsweise des gesellschaftlichen Kapitalwesens in Marx' Rekonstruktion der bürgerlichen Gesellschaft. Die Diagnose zeigt, dass die kritische Darstellung der Wertformen auch eine ›kritische Übernahme‹ der kritischen Darstellung der Metaphysik Hegels reproduziert. Marx' Rezeption der Hegelschen Kritik des metaphysischen Dogmatismus fungiert als »Modell« für seine eigene Darstellung des Wertes. Hegels kritische Darstellung des selbstdenkenden Denkens ist aber durchaus eine Säule für den Aufbau der darstellungsorientierten Methode Marx' als Begründung seines metatheoretischen Systems. Die Wiederherstellung der Einheit von Kritik und Darstellung als verkettete Kategorienordnung des eigentümlichen Gegenstandes ist ein Dialog mit den epistemologischen Ansprüchen Hegels, vor allem mit seiner ›großen Logik‹. »The Critical Presentation of the Social Formation. Systematic Research on Marx's Method«: This book focuses on a systematic research of the methodological mode of presentation of social capital in Marx's reconstruction of bourgeois society. It shows that the ›critical presentation‹ of value form also reproduces a critical adoption of the critical presentation of Hegel's metaphysics. Particular attention is paid to Marx's reception of Hegel's critique of metaphysical dogmatism functions as a »model« for his own presentation of value.
Table of Contents
Section Title
Page
Action
Price

Vorwort

5

Inhaltsverzeichnis

7

Abkürzungen

10

Einleitung

11

Kapitel 1: Zur Grundfrage der methodischen Darstellungsweise und Generalstruktur des Kapitals. Erste Elemente der Analyse

23

1.1 Skizze der philosophischen Hintergründe der Marxschen Frühauffassung der politischen Ökonomie

25

1.2 Rekonstruktion der frühen Marxschen Auseinandersetzung mit Hegels Werk

30

Kapitel 2: Erörterung der Auseinandersetzung Marx' mit Hegel: Die Herr-Knecht-Dialektik als grundlegendes Element der Methodenbildung

44

2.1 Das Problem des Bewusstseins in der Marxschen Frühauffassung der Herr-Knecht-Dialektik. Kritischer Überblick

47

2.2 Herrschaftsverhältnisse innerhalb der Entfremdung

60

Kapitel 3: Vergesellschaftungskritik als darstellungstheoretischer Schwerpunkt

68

3.1 Das Gesellschaftliche als Totalität

70

3.1.1 Auflösung des bürgerlichen Gesellschaftsbegriffs und die ökonomische Kategorie der Gesellschaft bei Marx

70

3.1.2 Der Gesellschaftsbegriff im Marxschen Spätwerks

73

3.1.3 Das Gesellschaftliche als Produktionsorganismus. Die bürgerliche Gesellschaft als Summe der menschlichen Relata

79

3.2 Menschen- und Personenbegriff bei Marx. Personenauffassung als notwendiges ökonomisches Element der Gesellschaftsformation

82

3.2.1 Die Rolle des menschlichen Charakters in der gesamten Gesellschaftsformation

84

3.2.1.1 Menschliches Verhältnis der Sachen

84

3.2.1.2 Menschliche Substanz: Menschlichkeit

85

3.2.2 Personifizierung bzw. menschlicher-Charakter-der-Ware im Unterabschnitt über Fetischismus (vgl. MEW 23; MEGA II/5: DK I 1.4)

91

3.2.2.1 Entsachlichung der Waren

93

3.2.2.2 Personifizierung der Waren

96

3.2.3 Die Person im Privateigentum

98

3.2.3.1 Entmenschung des Menschen

98

3.2.3.2 Personifizierung des Menschen

101

3.2.3.3 (Privat-)Eigentum als Verfügungsgewalt

105

3.3 Der Herrschaftsbegriff als wesentliche Bestätigung des gesellschaftlichen Charakters des Menschen

110

Kapitel 4: Darstellungsweise als Kritik. Zur Diskussion um das Paradigma der kritischen Darstellung der Ökonomie

117

4.1 Die Marxsche Problematisierung der Kritik

119

4.1.1 Kritikbegriff bei Marx

120

4.1.2 Entwurf einer Marxschen Übernahme des kritischen Verfahrens seiner Vordenker

122

4.2 Skizze der allgemeinen Methode in der Marxschen Forschung über die Logik Hegels

126

4.2.1 Hegel: Metaphysik und kritische Ontologie

126

4.2.1.1 Kritische Darstellung

126

4.2.1.2 Selbstrealisierung des Begriffes

129

4.2.2 Marx: kritische Entontologisierung

130

4.3 Skizze einer kritischen Darstellung der Wertformen bei Marx

133

4.3.1 Methodische Darstellung in der Werttheorie

133

4.3.2 Notwendigkeit eines Endpunktes der Darstellung

139

Kapitel 5: Reichtumsform der bürgerlichen Gesellschaft als Endpunkt der Darstellung

142

5.1 Notwendigkeit einer systematischen Rückkehr zur Genese der Darstellung

144

5.2 Zur Darstellung des Wertes als allgemeiner Entwicklung des gesellschaftlichen Reichtums

147

5.2.1 Über Reichtum im Allgemeinen

148

5.2.1.1 Beziehung zwischen Gesellschaft und Reichtum

148

5.2.1.2 Präzisierung: Jede Form des Reichtums enthält eine Form von Herrschaft

151

5.2.2 Beziehung zwischen Reichtum und Ware

151

Zusammenfassung und Ausklang

158

Literaturverzeichnis

167

1. Hauptliteratur

167

1.1 Zitierte Werke von Marx und Engels

167

1.2 Zitierte Werke von Hegel

169

2. Sekundärliteratur

170

Sachregister

178

Personenregister

182