Data protection law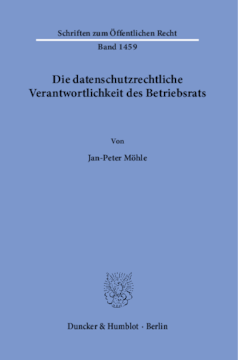 Additional Information
Book Details
ISBN

978-3-428-58375-1
978-3-428-18375-3 (print edition)

DOI

https://doi.org/10.3790/978-3-428-58375-1

Edition

1

Language

German

Pages

311

Collections

Subjects
Pricing
Institution

€ 104.00 (incl. local VAT if applicable)

Individual

€ 79.90 (incl. local VAT if applicable)
About The Author
Studium der Soziologie (2010-2013, B.A.) und der Rechtswissenschaft (2013-2019) an den Universitäten Bielefeld und Neuchâtel/Schweiz. Seit 2014 Mitarbeiter am Lehrstuhl für Öffentliches Recht, Staatslehre und Verfassungsgeschichte (Prof. Dr. Christoph Gusy) an der Universität Bielefeld. Mitarbeit an Gutachten im Datenschutz-, Polizei- und Sicherheitsrecht. Dozent an der Hochschule für Polizei und Verwaltung NRW. Vorübergehend Akademischer Mitarbeiter am Karlsruher Institut für Technologie. Promotion (Dr. jur.) 2021. Seit 2021 Rechtsreferendar am OLG Hamm. Forschungsschwerpunkte im Bereich des Datenschutz- (inkl. arbeitsrechtlicher Bezüge) und Informationsrechts.
Studied sociology (B.A.). Attending law school (2013-2019) at Bielefeld University and University of Neuchâtel/Switzerland. Since 2014, research associate at the chair of Professor Dr. Christoph Gusy at Bielefeld University. Collaboration on expert opinions in data protection-, police- and security law. Lecturer at the University of Applied Sciences for Police and Public Administration in North Rhine-Westphalia. Academic assistant at the Karlsruhe Institute of Technology. Dr. jur. 2021. Since 2021 legal trainee at the Higher Regional Court of Hamm. Research focus on data protection law (with labor law aspects) and privacy law.
Abstract
Die Arbeit befasst sich mit der Stellung des Betriebsrats in der datenschutzrechtlichen Verantwortlichkeitsarchitektur. Im Tatbestand von Art. 4 Nr. 7 1. Hs. DSGVO identifiziert sie den Betriebsrat (europarechtlich) als datenschutzrechtlich Verantwortlichen. Der (mitgliedstaatliche) deutsche Gesetzgeber hatte in der Vergangenheit keine (abweichende) Regelung im Rahmen einer Öffnungsklausel erlassen. Da die Arbeit vor Erlass von § 79a BetrVG entstanden ist, untersucht sie vor allem die europarechtlichen Rahmenbedingungen der Verantwortlichkeitsarchitektur. Auch nach Erlass von § 79a BetrVG bleibt die Frage umstritten und muss konturiert werden. Die Arbeit entwickelt Lösungsansätze für den Umgang mit den Rechtsfolgen der datenschutzrechtlichen Stellung des Betriebsrats. Sie befasst sich vor allem mit Fragen zur allgemeinen Kostentragungspflicht, zum Datenschutzbeauftragten und zum Schadensersatzregime sowie Geldbußenregime. Ihre Lösungsansätze bleiben auch mit § 79a BetrVG aktuell.

Ausgezeichnet mit dem Dissertationspreis der Juristischen Gesellschaft Ostwestfalen-Lippe. »The Responsibility of the Works Council under Data Protection Law«: This work examines the position of the works council in data protection law. In a European interpretation of Art. 4 No. 7 GDPR, it identifies the works council as controller. Member state legislatures could deviate of this under certain conditions. The work is dedicated to the handling of the legal consequences of this control: it examines questions of costs, the designation of data protection officers as well as claims for damages and the imposition of fines.
Table of Contents
Section Title
Page
Action
Price

Vorwort

7

Inhaltsverzeichnis

9

Abkürzungsverzeichnis

17

§ 1 Betriebsräte, Verantwortlichkeit und Datenschutz – Problemstellung und Gang der Untersuchung

23

§ 2 Betriebsräte und datenschutzrechtliche Verantwortlichkeit

26

A. Der Ursprung des Verantwortlichkeitskonzepts im Datenschutzrecht

27

B. Die datenschutzrechtliche Verantwortlichkeit des Betriebsrats im BDSG

28

C. Die datenschutzrechtliche Verantwortlichkeit des Betriebsrats in der DSGVO

30

I. Uneinheitlichkeit in der Rechtsprechung

31

II. Uneinheitliche Meinungen in der Literatur – der Streitstand

32

III. Uneinheitliche Meinungen der Datenschutzaufsichtsbehörden

34

IV. Erste gesetzgeberische Unternehmungen zur Handhabung von Verantwortlichkeit und Betriebsrat

37

V. Die fehlende Abstraktion in der bisherigen Diskussion

39

D. Die dogmatische Herleitung der Einordnung des Betriebsrats in der DSGVO

39

I. Auslegungsmethoden des Europarechts

40

1. Der europäische Methodenkanon

45

a) Begrifflichkeiten in der EuGH-Rechtsprechung

45

b) Begriffliche Systematisierung der Literatur

47

c) Die begrifflich systematisierten Methoden

49

2. Konkretisierung des Methodeninhalts in Rechtsprechung und Literatur

49

a) Europäische Inhalte der Wortlautauslegung

50

b) Europäische Inhalte der systematischen Auslegung

51

c) Europäische Inhalte der historischen Auslegung

54

d) Europäische Inhalte der teleologischen Auslegung

55

e) Methodengewichtung durch den EuGH

56

3. Fazit: Der europäische Methodenkanon

57

II. Angewandte Auslegung: Ist der Betriebsrat gem. Art. 4 Nr. 7 DSGVO datenschutzrechtlich verantwortlich?

58

1. Entscheidet der Betriebsrat als andere Stelle über Zwecke und Mittel der Datenverarbeitung?

59

a) Die Wortlautauslegung

60

aa) Der Verantwortlichkeitsbegriff in der DSGVO

61

bb) Das personelle Element: Der Betriebsrat als "Stelle" in der DSGVO

62

(1) Das Verhältnis der Begriffe Einrichtung und andere Stelle

62

(2) Der Begriff andere Stelle

66

(3) Der Betriebsrat als andere Stelle

68

cc) Das sachliche Element: Der Betriebsrat und die Entscheidung über Zwecke und Mittel der Datenverarbeitung

68

dd) Der Wortlaut von Art. 4 Nr. 7 1. Hs. DSGVO – Der Betriebsrat im datenschutzrechtlichen Verantwortlichkeitskonzept

71

b) Systematische Aspekte der Auslegung

71

aa) Die Systematik von Art. 4 Nr. 7 DSGVO und die datenschutzrechtliche Verantwortlichkeit des Betriebsrats

72

(1) Die Systematik von Art. 4 Nr. 7 DSGVO zwischen Hs. 1 und Hs. 2: Betriebsrätliche Entscheidung trotz gesetzlicher Vorgaben

73

(2) Der Betriebsrat im System von Art. 4 Nr. 7 1. Hs. DSGVO als andere Stelle

77

(3) Insbesondere: Datenschutzrechtliche Verantwortlichkeit ohne Rechtsfähigkeit des Betriebsrats?

78

(a) Elemente der Rechtsfähigkeit

78

(b) Betriebsrat, Rechtsfähigkeit und Vermögensfähigkeit

80

(c) Rechtsfähigkeit, Teilrechtsfähigkeit und datenschutzrechtliche Verantwortlichkeit

82

(d) Die datenschutzrechtliche Teilrechtsfähigkeit des Betriebsrats

83

bb) Aspekte der systematischen Stellung des Verantwortlichkeitskonzepts in der DSGVO für die Frage nach der datenschutzrechtlichen Verantwortlichkeit des Betriebsrats

84

cc) Art. 4 Nr. 7 DSGVO, europäisches Primärrecht und datenschutzrechtliche Verantwortlichkeit des Betriebsrats

87

(1) Regelungsübergriffe aus dem Datenschutzrecht in das Betriebsverfassungsrecht

89

(2) Auslegungsimplikationen europäischer Grundrechte, insbesondere Art. 8 GRCh-EU

89

(3) Primärrechtskonforme Auslegung von Art. 4 Nr. 7 DSGVO und die datenschutzrechtliche Stellung des Betriebsrats

91

dd) Völkerrecht und datenschutzrechtliche Verantwortlichkeit des Betriebsrats

91

ee) Der Betriebsrat und die datenschutzrechtliche Verantwortlichkeit in den EU-Mitgliedstaaten

92

(1) Das Prinzip mitgliedstaatsfreundlicher Auslegung (Art. 4 Abs. 3 Satz 1 EUV)

93

(2) Die datenschutzrechtliche Verantwortlichkeit des Betriebsrats zwischen Grundverordnung und mitgliedstaatlichen Regelungen

96

(3) Ausfüllung des europarechtlichen Rahmens: Mitgliedstaatliche Regelungen im Rahmen von Öffnungsklauseln

99

(a) Art. 88 DSGVO als potenzielle Öffnungsklausel?

100

(b) Art. 4 Nr. 7 2. Hs. DSGVO als potenzielle Öffnungsklausel

102

(c) Anforderungen an eine vom deutschen Gesetzgeber erlassene Verantwortlichkeitsregelung im Rahmen der Öffnungsklausel des Art. 4 Nr. 7 2. Hs. DSGVO

107

(d) Mitgliedstaatliche Regelungsmöglichkeiten im Rahmen der Öffnungsklausel des Art. 4 Nr. 7 2. Hs. DSGVO

110

(4) Mitgliedstaatliche Regelungsmöglichkeiten

111

ff) Ergebnisse der systematischen Auslegung

111

c) Die historische Auslegung

113

aa) Die Entstehungsgeschichte des Verantwortlichkeitskonzepts in der DSGVO

113

(1) Der Gesetzgebungsprozess von Art. 4 Nr. 7 DSGVO

114

(2) Die Erwägungsgründe

117

bb) Die Vorgeschichte des Verantwortlichkeitskonzepts

119

(1) Gesetzliche Begriffsentwicklung in Zeiten vor der DSGVO

120

(a) Der Ursprung des Verantwortlichkeitskonzepts in der DSK 108 des Europarats (1981)

120

(b) Der Hintergrund eines Fehlverständnisses: Die europarechtswidrige Dichotomie der Verantwortlichkeitskonzepte in Bundesdatenschutz­gesetz (1977) und Datenschutzrichtlinie (1995)

123

(aa) Die Gesetzgebungsgeschichte der Datenschutzrichtlinie

123

(bb) Die Auslegung des Art. 2 lit. d DSRL

126

(cc) Das Verantwortlichkeitskonzept im BDSG

126

(c) Folgen des Missverständnisses des europäischen Verantwortlichkeitskonzepts durch den deutschen BDSG-Gesetzgeber

131

(d) Aspekte der Vorgeschichte bei der Frage nach der datenschutzrechtlichen Verantwortlichkeit des Betriebsrats

133

(2) Die EuGH-Rechtsprechung vor der DSGVO

133

cc) Aspekte der historischen Auslegung des Verantwortlichkeitskonzepts in der DSGVO

134

d) Das Telos als Auslegungskriterium

135

aa) Regelungseffektivität: Qualitative und quantitative Aspekte der Verantwortlichkeitsarchitektur

136

bb) Effektiver Datenschutz durch weisungsgeleitete Verantwortlichkeitsarchitektur

137

(1) Weisungen vom Arbeitgeber an das Betriebsratsmitglied?

138

(2) Weisungsarchitektur von Betriebsrat und Betriebsratsmitglied?

138

(3) Weisungsähnliche Vorgaben des Organs Betriebsrat gegenüber seinen Betriebsratsmitgliedern

139

cc) Insbesondere: Die datenschutzrechtliche Unabhängigkeit des Betriebsrats vom Arbeitgeber

139

dd) Teleologische Erwägungen zu Art. 4 Nr. 7 DSGVO

141

e) Der Betriebsrat als andere Stelle und dessen Entscheidung über Zwecke und Mittel der Datenverarbeitung

142

2. Die datenschutzrechtliche Verantwortlichkeit des Betriebsrats im Sinne von Art. 4 Nr. 7 1. Hs. DSGVO

143

III. Dogmatik und Verantwortlichkeit des Betriebsrats nach Art. 4 Nr. 7 1. Hs. DSGVO

143

E. Die DSGVO als Einschnitt im überkommenen Verantwortlichkeitskonzept

144

§ 3 Rechtsfolgen der datenschutzrechtlichen Verantwortlichkeit des Betriebsrats

146

A. Die einzelnen Pflichten des Verantwortlichen

146

B. Übernahme erforderlicher Kosten durch den Arbeitgeber von administrativen Kosten der Betriebsratsarbeit

147

C. Benennung eines Datenschutzbeauftragten

149

I. Kostentragung bei pflichtiger und freiwilliger Benennung

149

II. Doppelnutzung der Infrastruktur durch Betriebsrat und Arbeitgeber zur Kosteneinsparung

155

D. Das Haftungsregime in der DSGVO

159

I. Die fehlende Rechtsfähigkeit als dogmatischer Problem-Ausgangspunkt

160

II. Das Schadensersatzregime der DSGVO (Art. 82 DSGVO)

161

1. Der rechtswissenschaftliche Meinungsstand

162

2. Lösungen zur Kostentragung des Betriebsrats im Schadensersatzregime der DSGVO

164

a) Betriebsrat, Arbeitgeber oder Betriebsratsmitglieder als Ausgleichspflichtige?

165

b) Das allgemeine betriebsverfassungsrechtliche Kostenregime als Lösungsansatz?

167

c) Haftungsverteilungen zwischen Arbeitgeber und Betriebsratsmitgliedern anhand des innerbetrieblichen Schadensausgleichs

168

d) Quotale Haftung nach Verschuldensgraden

172

3. Leitsätze aus dem Recht des innerbetrieblichen Schadensausgleichs zur Regelung der Haftung bei Schadensersatzansprüchen wegen betriebsrätlicher Datenschutzverstöße

173

III. Das Geldbußenregime in der DSGVO

174

1. Der rechtswissenschaftliche Meinungsstand

174

2. Geldbußen gegen den Betriebsrat nach alter datenschutzrechtlicher Rechtslage

175

3. Das neue Geldbußenregime der DSGVO

177

a) Die Praxis der Geldbußenverhängung durch die Datenschutzaufsichtsbehörden

178

b) Kompetenzielle Einwände gegen europarechtlich normierte Geldbußen

179

aa) Strafrechtliche Regelungskompetenzen der Europäischen Union

180

bb) Geldbußen als strafrechtliche Regelung?

180

(1) Geldbußen und europarechtlicher Strafrechtsbegriff

181

(2) Geldbußen und der Strafrechtsbegriff des BVerfG

183

c) Die Verweisungstechnik der DSGVO zur Verhängung von Geldbußen

186

d) Die Lückenhaftigkeit des implementierten Geldbußenregimes in der DSGVO

187

aa) Das "Ob" der Geldbußenverhängung: Europarechtskonformität von Verschuldensprinzip und Opportunitätsprinzip des OWiG im Datenschutzrecht

189

(1) Europarechtskonformität des Schuldprinzips (§ 10 OWiG)

190

(a) Der Verschuldensmaßstab in der DSGVO

191

(b) Das sog. verfassungsrechtlich integrationsfeste Schuldprinzip des BVerfG

192

(c) Die Unanwendbarkeit von § 10 OWiG bei der datenschutzrechtlichen Geldbußenverhängung

195

(2) Europarechtskonformität des Opportunitätsprinzips (§ 47 OWiG)

197

(a) Der rechtswissenschaftliche Streitstand

197

(b) Das in Art. 83 Abs. 1 DSGVO angelegte Regel-Ausnahme-Verhältnis

199

(3) Die Europarechtswidrigkeit von § 10 OWiG und § 47 OWiG

200

bb) Das "Wie" der Geldbußenverhängung: Regelungsstruktur und Europarechtskonformität der Verweislösung auf das Ordnungswidrigkeitsrecht

201

(1) § 130 Abs. 1 Satz 1 OWiG als normativer Anknüpfungspunkt

202

(a) Tatbestand des § 130 Abs. 1 Satz 1 OWiG

202

(aa) Betriebsrat, Betrieb und Betriebsinhaber?

202

(bb) Datenschutzverstoß und Aufsichtspflichtverstoß

203

(cc) Der Betriebsrat und der doppelte Pflichtenverstoß des § 130 OWiG

204

(dd) Der Betriebsrat als Sonderfall in § 130 OWiG

205

(b) Anwendbarkeit und Anwendung von § 130 OWiG im Datenschutzrecht?

206

(aa) § 130 OWiG im Geldbußenregime der DSGVO

207

(bb) Ansichten zur Anwendbarkeit von § 130 OWiG: Die vergessenen DSGVO-Öffnungsklauseln

208

(cc) Art. 84 Abs. 1 Satz 1 DSGVO als Öffnungsklausel für § 130 OWiG

209

(dd) Art. 83 Abs. 8 DSGVO als Öffnungsklausel für § 130 OWiG

211

(ee) § 130 OWiG im BDSG-Gesetzgebungsprozess

215

(ff) Die Praxis der Geldbußenverhängung auf Basis von § 130 OWiG

216

(gg) § 130 OWiG als ungeschriebene Bereichsausnahme in § 41 Abs. 1 BDSG (europarechtskonforme Auslegung)

218

(c) § 130 OWiG als Lösung der Geldbußenverhängung?

219

(2) § 30 OWiG als normativer Anknüpfungspunkt

220

(a) Der Tatbestand von § 30 OWiG

220

(aa) Der Betriebsrat als vertretungsberechtigtes Organ (§ 30 Abs. 1 Nr. 1 OWiG)?

220

(bb) Der Betriebsrat als nicht-rechtsfähiger Verein (§ 30 Abs. 1 Nr. 2 OWiG)?

221

(cc) Der Betriebsrat als rechtsfähige Personengesellschaft (§ 30 Abs. 1 Nr. 3 OWiG)?

223

(dd) Der Betriebsrat und das Unternehmen als rechtsfähige Personengesellschaft (§ 30 Abs. 1 Nr. 3 OWiG)

226

(ee) Der Betriebsrat im Rahmen von § 30 Abs. 1 Nr. 4 und 5 OWiG

226

(ff) Die tatbestandliche Untauglichkeit des § 30 OWiG

227

(b) Anwendbarkeit und Anwendung von § 30 OWiG im Datenschutzrecht?

227

(c) Tatbestandliche Grenzen und Unanwendbarkeit von § 30 OWiG zur Geldbußenverhängung wegen betriebsrätlicher Datenschutzverstöße in der DSGVO

229

(3) § 14 OWiG als normativer Anknüpfungspunkt

229

(a) Tatbestand von § 14 OWiG

229

(aa) Die datenschutzrechtliche Verantwortlichkeit des Betriebsrats als besonderes persönliches Merkmal (§ 14 Abs. 1 Satz 2 OWiG)

229

(bb) Datenschutzrechtlich Verantwortlicher als Tatbeteiligter (§ 14 Abs. 1 Satz 1 OWiG)?

230

(cc) Die tatbestandliche Untauglichkeit des § 14 Abs. 1 OWiG

232

(b) Anwendbarkeit und Anwendung von § 14 OWiG im Datenschutzrecht

232

(c) Tatbestandliche Grenzen und Unanwendbarkeit von § 14 OWiG zur Geldbußenverhängung wegen betriebsrätlicher Datenschutzverstöße in der DSGVO

234

(4) § 9 OWiG als normativer Anknüpfungspunkt

234

(a) Tatbestand von § 9 OWiG

234

(aa) Der Betriebsrat als vertretenes Organ im Sinne von § 9 Abs. 1 OWiG?

235

(bb) Die gesetzliche Vertretungsmacht des Betriebsratsvorsitzenden (§ 9 Abs. 1 Nr. 3 OWiG)?

235

(cc) Der Betriebsratsbeschluss als Indikator gesetzlicher Vertretung?

237

(dd) Ergänzende teleologische Erwägungen: Das Ehrenamt "Betriebsratsmitglied"

237

(ee) Die tatbestandliche Untauglichkeit von § 9 Abs. 1 OWiG

238

(b) Anwendbarkeit und Anwendung von § 9 OWiG im Datenschutzrecht

238

(c) Die tatbestandliche Untauglichkeit und Unanwendbarkeit von § 9 OWiG

239

(5) Lückenhafte Regelungen zum "Wie" der Geldbußenverhängung

239

cc) Die Lückenhaftigkeit des derzeit normierten datenschutzrechtlichen Geldbußenregimes

240

e) Lösungsvorschläge: Geldbußen und der Betriebsrat im Geldbußenregime der DSGVO

241

aa) Die analoge Anwendung der OWiG-Vorschriften zur Ausfüllung der Regelungslücke?

243

bb) Europarechtlich zwingende Vermögensfähigkeit des Betriebsrats durch Anwendung von Art. 83 DSGVO?

244

cc) Leerlaufen der gegen den Betriebsrat verhängten Geldbußen?

248

dd) Staatshaftungsrecht zur Füllung der Regelungslücke?

249

(1) Lassen sich staatshaftungsrechtliche Richtlinienvorgaben auf die DSGVO übertragen?

250

(2) Effektuierung der Geldbußenverhängung durch Sanktionen gegen den deutschen Gesetzgeber?

251

(3) Die Akteurskonstellation und die Ungeeignetheit staatshaftungsrechtlicher Sanktionen

251

(4) Die Anwendung von Art. 83 Abs. 1–6 DSGVO ohne staatshaftungsrechtliche Sanktionen

252

ee) § 40 Abs. 1 BetrVG im Geldbußenrecht der DSGVO

252

ff) Geldbußen gegen die Betriebsratsmitglieder wegen eigenen Verschuldens – der Exzess-Gedanke als Aufrechterhaltung des Betriebsverfassungsrechts?

254

(1) Weisungsstruktur (Art. 29 DSGVO) und Geldbußen gegen den Betriebsrat

255

(2) Weisungsrecht und Exzess der Betriebsratsmitglieder

256

(3) Die Haftung der Betriebsratsmitglieder wegen Exzesses zwischen Schutzbedürfnis und Verschuldensgrad

257

(4) Besondere Problemkonstellationen beim Exzess der Betriebsratsmitglieder

258

(5) Der Exzess-Gedanke als Lösungsmöglichkeit für Geldbußen gegen den Betriebsrat

260

gg) Vielfältige Lösungsmöglichkeiten für Geldbußen wegen betriebsrätlicher Datenschutzverstöße

260

f) Geldbußen in der DSGVO gegen den datenschutzrechtlich verantwortlichen Betriebsrat

262

4. Das Geldbußenregime im Wandel der Rechtsnormen

262

IV. Der Umgang mit den Rechtsfolgen der datenschutzrechtlichen Verantwortlichkeit des Betriebsrats

263

E. Der betriebsverfassungsrechtliche Umgang mit den Rechtsfolgen der datenschutzrechtlichen Verantwortlichkeit

264

§ 4 Resümee: Die datenschutzrechtliche Verantwortlichkeit des Betriebsrats zwischen europäischen Vorgaben und nationalen Regelungsmöglichkeiten

267

§ 5 Annex: Gesetzgeberische Entwicklungen seit Februar 2021

275

Literaturverzeichnis

281

Sachwortverzeichnis

306