Freedom of information law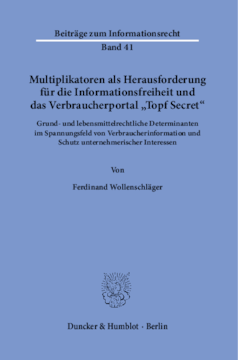 BOOK
Multiplikatoren als Herausforderung für die Informationsfreiheit und das Verbraucherportal »Topf Secret«
Grund- und lebensmittelrechtliche Determinanten im Spannungsfeld von Verbraucherinformation und Schutz unternehmerischer Interessen
Beiträge zum Informationsrecht, Vol. 41
(2021)
Additional Information
Book Details
ISBN

978-3-428-58424-6
978-3-428-18424-8 (print edition)

DOI

https://doi.org/10.3790/978-3-428-58424-6

Edition

1

Language

German

Pages

141

Collections

Subjects
Pricing
Institution

€ 70.00 (incl. local VAT if applicable)

Individual

€ 53.90 (incl. local VAT if applicable)
About The Author
Ferdinand Wollenschläger (*1976); Studium der Rechtswissenschaft an der Ludwig-Maximilians-Universität München und der University of Oxford; Promotion 2007 (»Grundfreiheit ohne Markt«); Habilitation 2010 »Verteilungsverfahren«); seit 2011 Inhaber des Lehrstuhls für Öffentliches Recht, Europarecht und Öffentliches Wirtschaftsrecht an der Universität Augsburg; Lehr- und Forschungstätigkeit im Europa-, Verfassungs- und Verwaltungsrecht; Gastprofessur an der Universität Leiden; Expertentätigkeit u.a. für Bundestag, Bundesregierung, Bundesrat, Landesregierungen, Landtage, EU-Kommission und EU-Parlament.
Ferdinand Wollenschläger (*1976); law studies at Ludwig-Maximilians-University (Munich) and Oxford University; Ph.D. in law (2007; »Grundfreiheit ohne Markt«); Habilitation (2010; »Verteilungsverfahren«); since 2011, professor at the University of Augsburg, Faculty of Law (chair for Public Law, European Law and Public Economic Law); research and teaching on constitutional, administrative and EU law issues; guest professor at the University of Leiden; legal expert for the German Bundestag, Bundesregierung and Bundesrat, Länder governments and parliaments as well as the European Commission and the European Parliament.
Abstract
Der im Verbraucherinformationsgesetz normierte Anspruch eines jeden auf Zugang zu behördlichen Informationen über Verstöße von Unternehmen gegen lebensmittelrechtliche Anforderungen verbessert die Informationsbasis für Konsumentscheidungen der Verbraucherinnen und Verbraucher und erhöht Markt- sowie Verwaltungstransparenz, konfligiert indes mit auch grundrechtlich geschützten unternehmerischen Interessen. In besonderer Schärfe besteht dieses Spannungsverhältnis in Multiplikatoren-Konstellationen, mithin wenn die Informationen nicht (nur) zur eigenen Unterrichtung, sondern zur Weiterverbreitung über Internet-Plattformen begehrt werden. Am Beispiel des Verbraucherportals »Topf Secret« entfaltet die vorliegende Untersuchung den einfach-gesetzlichen, verfassungsrechtlichen und unionsrechtlichen Rahmen für derartige Begehren der Verbraucherinformation und reflektiert allgemein das Phänomen der Informationsfreiheit für Multiplikatoren. »Multipliers as challenge for freedom of information and the consumer portal ›Topf Secret‹«: The claim, stipulated for by the consumer freedom of information act, to access to information held by food safety authorities about infringements of food law standards committed by un-dertakings strengthens consumer information and transparency, but conflicts with fundamen-tal rights, in particular when the information provided is re-used by means of publication on Internet platforms. With reference to the privately run consumer portal »Topf Secret« this book analyses the legal, notably constitutional and EU-law framework for such claims of ac-cess to public sector information and reflects on the phenomenon of freedom of information for multipliers from a general perspective.
Table of Contents
Section Title
Page
Action
Price

Vorwort

5

Inhaltsverzeichnis

7

I. Multiplikatoren als Herausforderung für die Informationsfreiheit und das Verbraucherportal Topf Secret: Einführung und Gang der Untersuchung

11

II. Die Initiative Topf Secret: Funktionsweise der Plattform und Anliegen

15

III. Einfach-gesetzlicher Rahmen: das Verbraucherinformationsgesetz

18

1. Anwendungsbereich und Zweck der Verbraucherinformation

18

2. Antragsberechtigung: jedermann

20

3. Gegenstand und Umfang des Zugangsanspruchs

21

4. Ausschluss- und Beschränkungsgründe, § 3 VIG

24

a) Offenbarung von Betriebs- oder Geschäftsgeheimnissen (§ 3 Satz 1 Nr. 2 lit. c VIG)

24

b) Zugang zu personenbezogenen Daten (§ 3 Satz 1 Nr. 2 lit. a VIG)

25

c) Information während laufender Verfahren (§ 3 Satz 1 Nr. 1 lit. b, Satz 3 VIG)

26

5. Vorgaben für Verfahren, Rechtsschutz und Richtigkeit

26

a) Verfahren

26

b) Rechtsschutz

27

c) Richtigkeit

27

6. Rechtsmissbrauchsklausel, § 4 Abs. 4 VIG

28

7. Parallelität zu § 40 Abs. 1a LFGB

29

8. Verhältnis von VIG-Informationszugangs- und Informationsweiterverwendungsrecht

30

a) Anwendungsbereich des IWG und dessen Verhältnis zum VIG

31

b) Keine Irrelevanz der Weiterverwendung für den Informationszugang

33

aa) Trennungsthese

34

bb) Relevanz der Weiterverwendung für den Informationszugang

35

c) Rechtslage nach dem Gesetz für die Nutzung von Daten des öffentlichen Sektors

37

IV. Verfassungsrechtlicher Rahmen

38

1. Anwendbarkeit der nationalen Grundrechte

38

2. Kein Grundrechtseingriff durch die Handlungen Privater

39

3. Antragsgebundene Verbraucherinformation auf dem Prüfstand der Berufsfreiheit (Art. 12 Abs. 1 GG)

41

a) Schutzbereich

41

b) Eingriff

41

aa) Kein Sonderregime i.S.d. Glykol-Rechtsprechung

42

bb) Eingriffsqualität der antragsgebundenen Informationserteilung

44

(1) Allgemeine Anforderungen

44

(2) Eingriffsqualität der aktiven staatlichen Verbraucherinformation

45

(3) Eingriffsqualität der antragsgebundenen Informationserteilung nach dem VIG

45

(a) Bejahung eines Eingriffs im Urteil des Bundesverwaltungsgerichts vom 29.8.2019

46

(b) Kritik am Fokus der Eingriffsprüfung auf Topf Secret

47

(c) Eingriffsqualität der antragsgebundenen Informationserteilung nach dem VIG

49

(d) Keine Unterbrechung des Zurechnungszusammenhangs aufgrund (informationeller) Zwischenakte Privater

49

c) Rechtfertigung

51

aa) Bestimmtheit der gesetzlichen Grundlage

51

bb) Legitimer Zweck

53

cc) Geeignetheit

54

dd) Erforderlichkeit

55

ee) Angemessenheit

57

(1) Allgemeine Konkretisierungen: Drei-Stufen-Lehre und Bezugspunkt der Prüfung

57

(a) Drei-Stufen-Lehre

57

(b) Bezugspunkt der Prüfung

58

(2) Einschätzungsprärogative des Gesetzgebers

59

(a) Allgemeines

59

(b) Hohe Gewichtung des Zugangsinteresses durch den Gesetzgeber

60

(3) Eingriffsintensität

61

(a) Eingriffsfolgen

62

(b) Belastungsintensität einer Internet-Veröffentlichung

62

(c) Unterschiede aktive Publikumsinformation und antragsgebundene Informationserteilung

64

(aa) Rechtsprechung des Bundesverwaltungsgerichts

64

(bb) Bewertung

65

(cc) Eingriffsschärfung qua staatlichem Steuerungsverlust nach Informationserteilung?

68

(4) Hohes Gewicht und Dringlichkeit der Anliegen der Verbraucherinformation

70

(5) Reduktion der Schutzwürdigkeit durch öffentlichkeitsrelevanten Rechtsverstoß

72

(6) Schutzmechanismen: (Verfahrens-)‌Anforderungen im VIG und zivilrechtlicher Rechtsschutz im Kontext der Informationsweiterverwendung

73

(a) Schutzmechanismen zugunsten des Lebensmittelunternehmens im VIG

73

(b) Mechanismen zur Richtigkeitsgewähr

74

(c) Zivilrechtlicher Rechtsschutz im Kontext der Informationsweiterverwendung

77

(d) Grundsätzliche Irrelevanz (nur) möglicher Rechtsverstöße Privater

78

(7) Abwägung: Angemessenheit der gesetzgeberischen Priorisierung der Verbraucherinformation

78

(a) Bewertung der antragsgebundenen Information in Rechtsprechung und Schrifttum

79

(b) Vertretbarkeit und Rechtfertigungsfähigkeit der gesetzgeberischen Interessenbewertung

80

(c) Position des Bundesverfassungsgerichts zur aktiven staatlichen Verbraucherinformation

83

(d) Anforderungen an die Tatsachengrundlage der Information

84

(e) Keine Bagatellschwelle

86

(f) Befristung

87

(g) Anforderungen an die Informationserteilung

89

(aa) Allgemeines

89

(bb) Hinweis auf Behebung des Verstoßes

89

(cc) Erläuterungen

90

(h) Keine Beschränkung auf Akteneinsicht

91

ff) Differenzierung zwischen gesetzgeberischer Regelung und Anwendung im Einzelfall

91

4. Recht auf informationelle Selbstbestimmung (Art. 2 Abs. 1 i.V.m. Art. 1 Abs. 1 GG)

91

5. Eigentumsgarantie (Art. 14 GG)

92

6. Rechtsschutzgarantie (Art. 19 Abs. 4 GG)

92

V. Unionsrechtlicher Rahmen

94

1. EU-Primärrecht: Unionsgrundrechte und EU-Marktfreiheiten

95

2. Keine Sperrwirkung des Art. 10 VO (EG) Nr. 178/2002 für die schlichte Verbraucherinformation

97

3. Vorgaben der EU-Lebensmittelkontrollverordnung

99

a) Exkurs: Lebensmittel-Kontrollverordnung (EG) Nr. 882/2004

99

b) Lebensmittel-Kontrollverordnung (EU) Nr. 2017/625

101

aa) Anforderungen der Verschwiegenheitspflicht, Art. 8 VO (EU) Nr. 2017/625

101

(1) Grundsätzliche Verschwiegenheitspflicht gemäß Art. 8 Abs. 1 VO (EU) Nr. 2017/625

101

(2) Ausnahme für die Veröffentlichung von Kontrollergebnissen gemäß Art. 8 Abs. 5 VO (EU) Nr. 2017/625

102

(a) Veröffentlichung gemäß Art. 8 Abs. 5 lit. a und b VO (EU) Nr. 2017/625

103

(b) Veröffentlichung bei Erforderlichkeit auf anderweitiger Grundlage

105

bb) Vereinbarkeit mit der Transparenzregelung, Art. 11 VO (EU) Nr. 2017/625

107

cc) Materielle Anforderungen an die Informationserteilung

108

4. Vereinbarkeit mit der Datenschutzgrundverordnung

109

a) Art. 86 DSGVO (Verarbeitung und Zugang der Öffentlichkeit zu amtlichen Dokumenten)

110

b) Allgemeine Anforderungen an die Datenverarbeitung (Art. 5f., 86 DSGVO)

113

aa) Rechtmäßigkeit und Verarbeitung nach Treu und Glauben (Art. 5 Abs. 1 lit. a, Art. 6 DSGVO)

114

bb) Transparenz (Art. 5 Abs. 1 lit. a DSGVO)

118

cc) Zweckbindung (Art. 5 Abs. 1 lit. b DSGVO) und Datenminimierung (Art. 5 Abs. 1 lit. c DSGVO)

119

dd) Richtigkeit (Art. 5 Abs. 1 lit. d DSGVO)

119

ee) Speicherbegrenzung (Art. 5 Abs. 1 lit. e 1. HS DSGVO)

120

ff) Integrität und Vertraulichkeit (Art. 5 Abs. 1 lit. f DSGVO)

120

VI. Schlussbetrachtung: Multiplikatoren als Herausforderung für die Informationsfreiheit

121

VII. Zusammenfassung in Thesen

125

Rechtsprechungsverzeichnis (Auswahl)

129

Literaturverzeichnis

131

Gesetzesmaterialien

137

Sachregister

138