Competition law / Antitrust law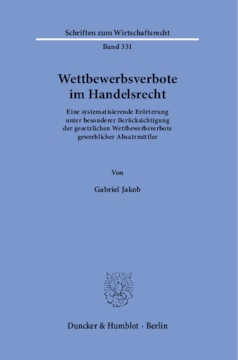 BOOK
Wettbewerbsverbote im Handelsrecht
Eine systematisierende Erörterung unter besonderer Berücksichtigung der gesetzlichen Wettbewerbsverbote gewerblicher Absatzmittler
Schriften zum Wirtschaftsrecht, Vol. 331
(2021)
Additional Information
Book Details
ISBN

978-3-428-58431-4
978-3-428-18431-6 (print edition)

DOI

https://doi.org/10.3790/978-3-428-58431-4

Edition

1

Language

German

Pages

280

Collections

Subjects
Pricing
Institution

€ 92.00 (incl. local VAT if applicable)

Individual

€ 71.90 (incl. local VAT if applicable)
About The Author
Gabriel Jakob studierte Rechtswissenschaften an der Eberhard-Karls-Universität Tübingen und der Albert-Ludwigs-Universität Freiburg mit Schwerpunkt im Handels- und Gesellschaftsrecht. Er verbrachte einen Studienaufenthalt an der Koç-University Istanbul (Türkei) und legte im Sommer 2019 die Erste Juristische Staatsprüfung ab. Seitdem ist er als wissenschaftlicher Mitarbeiter in einer überregionalen Kanzlei tätig. Im Frühjahr 2021 wurde er durch die Universität Freiburg promoviert. Seit April 2021 ist er Rechtsreferendar am Landgericht Freiburg.
Gabriel Jakob studied law at the Eberhard-Karls-University of Tübingen and the Albert-Ludwigs-University of Freiburg with a focus on commercial and corporate law. He spent a study visit at Koç-University Istanbul (Turkey) and passed the first state examination in law in the summer of 2019. Since then, he has been working as a research assistant in a national law firm. In spring 2021, he was awarded his doctorate by the University of Freiburg and started his legal clerkship at the Regional Court of Freiburg.
Abstract
Die Arbeit untersucht Wettbewerbsverbote im Handelsrecht mit einem besonderen Schwerpunkt auf den gesetzlichen Wettbewerbsverboten gewerblicher Absatzmittler. Zentrale These der Arbeit ist, dass neben dem Handlungsgehilfen (§ 60 Abs. 1 HGB) auch Handelsvertreter, Vertragshändler, Franchisenehmer und Kommissionsagenten einem gesetzlichen Wettbewerbsverbot auf Grundlage des § 241 Abs. 2 BGB unterliegen. Zum Schutz der Interessen produzierender Unternehmen ist es dem Autor zufolge absatzmittelnden Gewerbetreibenden bereits kraft Gesetzes verwehrt, eigene oder fremde Konkurrenzprodukte zu vertreiben. Die Arbeit systematisiert die verschiedenen Vertriebsformen und arbeitet so Gemeinsamkeiten und Unterschiede heraus. Umfassend wird das in diesem Zusammenhang bislang kaum beachtete Spannungsverhältnis zwischen Wettbewerbsverboten und Berufsfreiheit des Absatzmittlers (Art. 12 GG) erörtert. Ergänzt wird die Analyse durch eine Vereinbarkeitsprüfung von Wettbewerbsverboten mit dem Kartellrecht. »Non-competition restraints in commercial law. A systematizing debate in due consideration of legal non-compete obligations of commercial sales intermediaries«: The thesis examines the extent to which sales intermediaries are prohibited by law from engaging in competitive activities in order to protect the interests of manufacturing companies. It contains a comprehensive review of judicature and literature concerning individual sales forms and demonstrates that not only salesclerks but also commercial agents, authorized dealers, franchisees and commission agents are subject to statutory prohibition of competition on the basis of Section 241 (2) of the German Civil Code.
Table of Contents
Section Title
Page
Action
Price

Vorwort

7

Inhaltsverzeichnis

9

Abkürzungsverzeichnis

21

1. Teil: Einleitung und Grundlagen

23

§ 1 Einführung

23

§ 2 Forschungsstand und Forschungsziel

25

A. Forschungsstand

25

B. Forschungsziel

27

§ 3 Gang der Untersuchung

28

§ 4 Grundlagen zu Wettbewerbsverboten

29

A. Begriff

29

B. Differenzierungen

29

I. Differenzierung nach der Rechtsgrundlage

29

II. Differenzierung nach der Wirkungszeit

30

C. Wettbewerbsverbote im Handels- und Gesellschaftsrecht

30

2. Teil: Wettbewerbsverbote des Handelsrechts

33

§ 5 Das Wettbewerbsverbot des Handlungsgehilfen

33

A. Das Handlungsgehilfengeschäft

33

I. Die Parteien

34

1. Die Person des Handlungsgehilfen

34

a) Anstellung einer Person

34

b) Anstellung im Handelsgewerbe

34

c) Leistung kaufmännischer Dienste

35

d) Handeln in fremdem Namen und für fremde Rechnung

35

e) Entgeltlichkeit der Dienstleistung

35

2. Der Prinzipal

36

II. Rechtsbeziehung zwischen den Parteien

36

III. Wechselseitige Pflichten

37

1. Pflichten des Handlungsgehilfen

37

a) Dienstleistungspflicht

37

b) Nebenpflichten

38

2. Pflichten des Prinzipals

38

IV. Wirtschaftliche Bedeutung

39

B. Gesetzliches vertragszeitiges Wettbewerbsverbot

39

I. Geltungsgrund und Schutzrichtung

40

1. Interessenkonflikt als Ausgangspunkt

40

2. Rechtsgrundlage

41

II. Geltungsbereich

42

1. Persönlicher Geltungsbereich

42

a) Sonstige Arbeitnehmer

43

aa) Meinungsstand

43

bb) Stellungnahme

43

(1) Möglichkeit der Erstreckung auf alle Arbeitnehmer

44

(2) Notwendigkeit der Erstreckung

44

(3) Rechtsgrundlage

45

b) Arbeitnehmerähnliche Person

46

c) Zwischenergebnis

47

2. Zeitlicher Geltungsbereich

47

3. Räumlicher Geltungsbereich

47

III. Verbotsumfang

49

1. Verbot des Betriebs eines Handelsgewerbes (§ 60 Abs. 1 Var. 1 HGB)

49

a) Historische Einordnung

49

b) Verfassungskonformität des § 60 Abs. 1 Var. 1 HGB

50

c) Verfassungskonforme Auslegung des § 60 Abs. 1 Var. 1 HGB

51

2. Verbot von Geschäften (§ 60 Abs. 1 Var. 2 HGB)

52

3. Einwilligung des Prinzipals

53

IV. Rechtsfolgen bei Verletzung

53

1. Kein Verbotsgesetz im Sinne des § 134 BGB

53

2. Schadensersatzanspruch, § 61 Abs. 1 Var. 1 HGB

54

3. Abschöpfungsrecht, § 61 Abs. 1 Var. 2 HGB

54

4. Kündigung

55

5. Unterlassungsanspruch

55

C. Nachvertragliches Wettbewerbsverbot

55

I. Geltungsgrund und Schutzrichtung

56

II. Geltungsbereich

56

III. Wirksamkeitsvoraussetzungen

57

1. Schriftformgebot und Aushändigungsverpflichtung

57

2. Grundsatz der bezahlten Karenz

58

3. Unverbindlichkeit und Nichtigkeit des Verbotes

58

a) Unverbindlichkeit des Verbots

58

aa) Berechtigtes geschäftliches Interesse des Prinzipals

59

bb) Erschwerung des beruflichen Fortkommens

60

b) Nichtigkeit des Verbotes

60

IV. Rechtsfolgen bei Verletzung

60

1. Rechtsfolgen bei Verletzung durch den Gehilfen

61

2. Rechtsfolgen bei Verletzung durch den Prinzipal

61

D. Kartellrechtliche Überprüfung

62

E. Zusammenfassende Ergebnisse zum Handlungsgehilfen

62

§ 6 Das Wettbewerbsverbot des Handelsvertreters

63

A. Das Handelsvertretergeschäft

64

I. Die Parteien

64

1. Die Person des Handelsvertreters

64

a) Die rechtlichen Merkmale des Handelsvertreters

65

aa) Gewerbetreibender

65

bb) Selbständigkeit

65

cc) Abschluss und Vermittlung von Geschäften

66

dd) Ständige Betrauung

66

ee) Handeln in fremdem Namen und für fremde Rechnung

67

b) Abgrenzung zum Handlungsgehilfen

67

2. Die Person des Unternehmers

67

3. Die Person des Dritten

68

II. Rechtsbeziehung zwischen den Parteien

68

1. Innenverhältnis: Handelsvertretervertrag

68

2. Rechtsbeziehungen im Außenverhältnis

69

III. Wechselseitige Pflichten

69

1. Pflichten des Handelsvertreters

69

a) Vermittlungs-/Abschlusspflicht, § 84 Abs. 1 S. 1 HGB

70

b) Interessenwahrungspflicht, § 86 Abs. 1 Hs. 2 HGB

71

c) Informationspflicht, § 86 Abs. 2 HGB

72

d) Sonstige Pflichten

73

2. Pflichten des Unternehmers

73

IV. Wirtschaftliche Bedeutung

74

B. Gesetzliches vertragszeitiges Wettbewerbsverbot

75

I. Streitstand

75

II. Stellungnahme

77

1. Interessenlage

78

a) Interessen des Geschäftsherrn

78

aa) Einzelne Interessen

78

bb) Verfassungsrechtliche Einordnung der Interessen

80

(1) Recht am eingerichteten und ausgeübten Gewerbebetrieb

81

(2) Zwischenergebnis

82

b) Interessen des Handelsvertreters

82

c) Zwischenergebnis

83

2. Interessenkonflikte

83

a) Interessenkonflikte beim Vertrieb von Konkurrenzprodukten

84

aa) Parallel- und Doppeltätigkeit

84

bb) Anfängliche und nachträgliche Interessenkonflikte

86

cc) Verschuldete und unverschuldete Interessenkonflikte

86

dd) Interessenkonflikte beim Handel für fremde und für eigene Rechnung

87

(1) Konflikt beim Handel für fremde Rechnung

87

(2) Konflikt beim Handel für eigene Rechnung

88

b) Interessenkonflikte beim Vertrieb sonstiger Produkte

89

c) Zwischenergebnis

90

3. Interessenkonfliktlösung

90

a) Rechtsgrundlage

90

aa) Analoge Anwendung des § 60 Abs. 1 HGB/§ 88 Abs. 1 S. 1 AktG

91

(1) Planwidrige Regelungslücke

91

(a) Unbewusste Nichtregelung

91

(b) Nachträgliche Regelungslücke

92

(2) Vergleichbare rechtliche Interessenlage

93

(a) Vergleichbarkeit mit § 60 Abs. 1 HGB

93

(b) Vergleichbarkeit mit § 88 Abs. 1 S. 1 AktG

94

bb) § 86 Abs. 1 Hs. 2 HGB

95

cc) § 241 Abs. 2 BGB

97

dd) Zwischenergebnis

97

b) Konfliktlösung

98

aa) Geeignetheit

98

bb) Erforderlichkeit

98

(1) Offenlegungspflicht

99

(2) Schutz von Geschäfts- und Betriebsgeheimnissen

101

(3) Weiterer gesetzlicher Wettbewerbsschutz

103

(a) Spezialgesetzlicher Schutz

103

(b) Recht des unlauteren Wettbewerbs

103

(4) Geschäftschancenlehre

104

cc) Zwischenergebnis

106

c) Verfassungsmäßigkeit

106

aa) Grundrechtsbeeinträchtigung

107

bb) Rechtfertigung der Beeinträchtigung

107

(1) Gesetzesvorbehalt

107

(2) Grundsatz der Verhältnismäßigkeit

108

(a) Legitimer Zweck

108

(aa) Die Drei-Stufen-Theorie

108

(bb) Zuordnung zu einer Stufe

109

(cc) Vernünftiger Zweck des Allgemeinwohls

110

(dd) Ausreichen des Individualinteresses?

113

(b) Geeignetheit und Erforderlichkeit

115

(c) Angemessenheit

115

cc) Zwischenergebnis

116

d) Umfang

116

aa) Sachlicher Geltungsbereich

116

bb) Räumlicher Geltungsbereich

117

cc) Zeitlicher Geltungsbereich

117

e) Rechtsfolgen bei Verstoß

118

aa) Ansprüche des Unternehmers

118

(1) Kündigung

118

(2) Unterlassungsanspruch

118

(3) Auskunftsanspruch

118

(4) Schadensersatzanspruch

119

bb) Verjährung

119

III. Ergebnis

119

C. Nachvertragliches Wettbewerbsverbot

120

I. Geltungsgrund und Schutzrichtung

120

II. Verfassungsmäßigkeit

121

III. Wirksamkeitsvoraussetzungen

122

IV. Rechtsfolgen

123

1. Rechtsfolgen bei Verletzung durch den Handelsvertreter

123

2. Rechtsfolgen bei Verletzung durch den Unternehmer

123

V. Ergebnis

123

D. Kartellrechtliche Überprüfung

123

I. Anwendbarkeit des Kartellverbots

124

II. Ergebnis

126

E. Gesamtergebnis zum Handelsvertreter

127

§ 7 Das Wettbewerbsverbot des Vertragshändlers

128

A. Das Vertragshändlergeschäft

129

I. Die Parteien

129

1. Die Person des Vertragshändlers

129

a) Die rechtlichen Merkmale des Vertragshändlers

129

aa) Selbständiger Gewerbetreibender

129

bb) Vertrieb von Waren und Produkten

130

cc) Ständige Betrauung

130

dd) Handeln im eigenen Namen und für eigene Rechnung

130

b) Abgrenzungen

131

aa) Abgrenzung zum Handlungsgehilfen

131

bb) Abgrenzung zum Handelsvertreter

131

cc) Abgrenzung zum echten Eigenhändler

132

2. Die Person des Unternehmers

132

3. Die Person des Dritten

133

II. Rechtsbeziehung zwischen den Parteien

133

1. Innenverhältnis: Vertragshändlervertrag

133

2. Rechtsbeziehungen im Außenverhältnis

134

III. Wechselseitige Pflichten

134

1. Pflichten des Vertragshändlers

134

a) Absatzförderpflicht

134

b) Interessenwahrungspflicht

135

c) Informationspflicht

136

d) Sonstige Pflichten

136

2. Pflichten des Unternehmers

137

IV. Wirtschaftliche Bedeutung

137

B. Gesetzliches vertragszeitiges Wettbewerbsverbot

138

I. Streitstand

138

II. Stellungnahme

140

1. Interessenlage

140

a) Interessen des Unternehmers

140

b) Interessen des Vertragshändlers

143

2. Interessenkonflikte

143

a) Interessenkonflikte beim Handel für fremde Rechnung

144

b) Interessenkonflikte beim Handel für eigene Rechnung

145

3. Interessenkonfliktlösung

145

a) Rechtsgrundlage

146

aa) Analoge Anwendung normierter Wettbewerbsverbote

146

(1) § 60 Abs. 1 HGB/§ 88 Abs. 1 S. 1 AktG

146

(2) § 86 Abs. 1 Hs. 2 HGB

146

bb) Herleitung aus dem Alleinvertriebsrecht

147

cc) § 241 Abs. 2 BGB

147

dd) Zwischenergebnis

148

b) Konfliktlösung

148

c) Verfassungsmäßigkeit

149

d) Rechtsfolgen bei Verstoß

150

III. Ergebnis

151

C. Nachvertragliches Wettbewerbsverbot

151

D. Kartellrechtliche Überprüfung

153

I. Anwendbarkeit des Kartellverbotes

153

1. Unternehmenseigenschaft

153

2. Vereinbarung

154

3. Spürbarkeit

155

II. Vertragszeitiges Wettbewerbsverbot

155

III. Nachvertragliches Wettbewerbsverbot

156

IV. Ergebnis

157

E. Gesamtergebnis zum Vertragshändler

158

§ 8 Das Wettbewerbsverbot des Franchisenehmers

158

A. Das Franchisegeschäft

159

I. Die Parteien

159

1. Die Person des Franchisenehmers

159

a) Die rechtlichen Merkmale des Franchisenehmers

160

aa) Selbständiger Gewerbetreibender

160

bb) Vertrieb von Produkten

160

cc) Ständige Betrauung

161

dd) Handeln im eigenen Namen und für eigene Rechnung

161

ee) Nutzung des Franchisekonzepts gegen Zahlung einer Gebühr

161

b) Abgrenzungen

161

aa) Abgrenzung zum Handlungsgehilfen

161

bb) Abgrenzung zum Handelsvertreter

162

cc) Abgrenzung zum Vertragshändler

163

2. Die Person des Franchisegebers

163

3. Die Person des Dritten

163

II. Rechtsbeziehung zwischen den Parteien

164

1. Innenverhältnis: Franchisevertrag

164

2. Rechtsbeziehungen im Außenverhältnis

164

III. Wechselseitige Pflichten

165

1. Pflichten des Franchisenehmers

165

a) Absatzförderpflicht

165

b) Pflicht zur Verwendung des Franchisekonzepts

165

c) Interessenwahrungspflicht

166

d) Pflicht zur Zahlung der Franchisegebühren, § 581 Abs. 1 S. 2 BGB

166

2. Pflichten des Franchisegebers

167

IV. Wirtschaftliche Bedeutung

167

B. Gesetzliches vertragszeitiges Wettbewerbsverbot

168

I. Streitstand

168

II. Stellungnahme

169

1. Interessenlage

169

a) Interessen des Franchisegebers

169

b) Interessen des Franchisenehmers

171

c) Zwischenergebnis

172

2. Interessenkonflikte

172

3. Interessenkonfliktlösung

173

a) Rechtsgrundlage

174

b) Sonstige Übertragung

175

c) Rechtsfolgen bei Verstoß

176

III. Ergebnis

177

C. Nachvertragliches Wettbewerbsverbot

177

D. Kartellrechtliche Überprüfung

178

E. Gesamtergebnis zum Franchisenehmer

179

§ 9 Das Wettbewerbsverbot des Handelsmaklers

180

A. Das Handelsmaklergeschäft

181

I. Die Parteien

181

1. Die Person des Handelsmaklers

181

a) Die rechtlichen Merkmale des Handelsmaklers

181

aa) Selbständiger Gewerbetreibender

181

bb) Vermittlung von Verträgen

182

cc) Vermittlung von Gegenständen des Handelsverkehrs

182

dd) Keine ständige Betrauung

183

ee) Handeln im fremdem Namen und für fremde Rechnung

183

b) Abgrenzungen

184

aa) Abgrenzung zum Handlungsgehilfen

184

bb) Abgrenzung zum Handelsvertreter

184

cc) Abgrenzung zum Vertragshändler und Franchisenehmer

184

dd) Abgrenzung zum Zivilmakler

184

2. Die Person des Auftraggebers

185

3. Die Person des Dritten

185

II. Rechtsbeziehung zwischen den Parteien

185

1. Innenverhältnis: Handelsmaklervertrag

186

2. Rechtsbeziehungen im Außenverhältnis

186

III. Wechselseitige Pflichten

187

1. Pflichten des Handelsmaklers

187

a) Keine Pflicht zum Tätigwerden

187

b) Interessenwahrungspflicht

187

c) Sonstige Pflichten

188

2. Pflichten des Auftraggebers

188

IV. Wirtschaftliche Bedeutung

189

B. Vertragszeitiges Wettbewerbsverbot

189

I. Streitstand

189

II. Stellungnahme

190

1. Interessenlage

191

a) Interessen des Auftraggebers

191

b) Interessen des Handelsmaklers

192

2. Interessenkonflikte

192

a) Parallel- und Doppeltätigkeit

193

b) Interessenkonflikt beim Handel für fremde Rechnung

194

c) Interessenkonflikte beim Handel für eigene Rechnung

195

d) Zwischenergebnis

195

3. Interessenkonfliktlösung

196

a) Rechtsgrundlage

196

aa) Gesetzliche Rechtsgrundlage

196

(1) Analoge Anwendung des § 60 Abs. 1 HGB/§ 88 Abs. 1 S. 1 AktG

196

(2) § 241 Abs. 2 BGB

197

bb) Vertragliche Rechtsgrundlage

198

b) Zwischenergebnis

199

III. Ergebnis

200

C. Nachvertragliches Wettbewerbsverbot

200

D. Gesamtergebnis zum Handelsmakler

201

§ 10 Das Wettbewerbsverbot des Kommissionärs

202

A. Das Kommissionsgeschäft

203

I. Die Parteien

203

1. Die Person des Kommissionärs

203

a) Die rechtlichen Merkmale des Kommissionärs

203

aa) Selbständiger Gewerbetreibender

203

bb) Kauf oder Verkauf von Waren oder Wertpapieren

203

cc) Keine ständige Betrauung

204

dd) Handeln im eigenen Namen und für fremde Rechnung

204

b) Abgrenzungen

205

aa) Abgrenzung zum Handlungsgehilfen

205

bb) Abgrenzung zum Handelsvertreter

205

cc) Abgrenzung zum Vertragshändler und zum Franchisenehmer

206

dd) Abgrenzung zum Handelsmakler

206

2. Die Person des Kommittenten

206

3. Die Person des Dritten

206

II. Rechtsbeziehungen zwischen den Parteien

207

1. Innenverhältnis: Kommissionsvertrag

207

a) Dienst- oder Werkvertragscharakter der Kommission?

207

aa) Meinungsstand

207

bb) Stellungnahme

208

(1) Auslegung nach dem Wortlaut

208

(2) Auslegung nach der Systematik

209

(3) Auslegung nach der Historie

209

(4) Auslegung nach dem Sinn und Zweck

210

b) Zwischenergebnis

210

2. Rechtsbeziehungen im Außenverhältnis

210

III. Wechselseitige Pflichten

211

1. Pflichten des Kommissionärs

211

a) Die Ausführungspflicht, § 384 Abs. 1 Hs. 1 HGB

211

b) Die Interessenwahrungspflicht, § 384 Abs. 1 Hs. 2 Var. 1 HGB

211

c) Die Weisungsbefolgungspflicht, § 384 Abs. 1 Hs. 2 Var. 2 HGB

212

d) Offenlegungs- und Rechenschaftspflicht, § 384 Abs. 2 HGB

213

2. Pflichten des Kommittenten

213

IV. Wirtschaftliche Bedeutung

213

B. Vertragszeitiges Wettbewerbsverbot

215

I. Streitstand

215

II. Stellungnahme

216

1. Interessenlage

216

a) Interessen des Kommittenten

216

b) Interessen des Kommissionärs

218

2. Interessenkonflikte

219

a) Interessenkonflikt beim Handel für fremde Rechnung

219

b) Interessenkonflikt beim Handel für eigene Rechnung

220

3. Interessenkonfliktlösung

220

a) Rechtsgrundlage

220

aa) Gesetzliche Rechtsgrundlage

221

bb) Vertragliche Rechtsgrundlage

222

b) Konfliktlösung

222

aa) Geeignetheit

223

bb) Erforderlichkeit

223

(1) Offenlegungspflicht

224

(2) Prioritätsprinzip

225

(3) Verbot des front running

226

(4) Grundsätzliches Verbot der Doppeltätigkeit

227

(5) Zwischenergebnis

228

c) Vorgaben an ein vertragliches Wettbewerbsverbot

228

III. Ergebnis

230

C. Nachvertragliches Wettbewerbsverbot

231

D. Kartellrechtliche Überprüfung

232

E. Gesamtergebnis zum Kommissionär

233

§ 11 Das Wettbewerbsverbot des Kommissionsagenten

234

A. Das Kommissionsagentengeschäft

235

I. Die Parteien

235

1. Die Person des Kommissionsagenten

235

a) Die rechtlichen Merkmale des Kommissionsagenten

235

aa) Selbständiger Gewerbetreibender

235

bb) Abschluss von Geschäften

235

cc) Ständige Betrauung

236

dd) Handeln im eigenen Namen und für fremde Rechnung

236

b) Abgrenzungen

237

aa) Abgrenzung zum Handlungsgehilfen

237

bb) Abgrenzung zum Handelsvertreter

237

cc) Abgrenzung zum Vertragshändler und zum Franchisenehmer

237

dd) Abgrenzung zum Handelsmakler

237

ee) Abgrenzung zum Kommissionär

238

2. Die Person des Geschäftsherrn

238

3. Die Person des Dritten

238

II. Rechtsbeziehung zwischen den Parteien

238

1. Innenverhältnis: Kommissionsagentenvertrag

238

2. Rechtsbeziehungen im Außenverhältnis

239

III. Wechselseitige Pflichten

239

1. Pflichten des Kommissionsagenten

240

a) Die Abschlusspflicht, § 84 Abs. 1 S. 1 HGB analog

240

b) Die Interessenwahrungspflicht, § 86 Abs. 1 Hs. 2 HGB analog

240

c) Die Weisungsbefolgungspflicht, § 384 Abs. 1 Hs. 2 Var. 2 HGB analog

241

d) Die Informationspflicht, § 86 Abs. 2 HGB analog

241

2. Pflichten des Geschäftsherrn

241

IV. Wirtschaftliche Bedeutung

242

B. Gesetzliches vertragszeitiges Wettbewerbsverbot

243

I. Streitstand

243

II. Stellungnahme

243

1. Interessenlage

244

a) Interessen des Geschäftsherrn

244

b) Interessen des Kommissionsagenten

245

2. Interessenkonflikte

246

3. Interessenkonfliktlösung

247

a) Rechtsgrundlage

247

b) Konfliktlösung

247

c) Verfassungsmäßigkeit

248

d) Rechtsfolgen bei Verstoß

250

III. Ergebnis

250

C. Nachvertragliches Wettbewerbsverbot

251

D. Kartellrechtliche Überprüfung

252

E. Gesamtergebnis zum Kommissionsagenten

253

3. Teil: Gesamtergebnis

254

§ 12 Zusammenfassung der wesentlichen Ergebnisse

254

A. Vertragszeitige Wettbewerbsverbote im Handelsrecht

254

I. Ausgangslage

254

II. Interessenlage

255

III. Interessenkonflikte

255

IV. Interessenkonfliktlösung

256

B. Nachvertragliche Wettbewerbsverbote im Handelsrecht

257

I. Ausgangslage

257

II. Entsprechende Anwendbarkeit des § 90a HGB

258

C. Kartellrechtliche Überprüfung

258

Anhang

260

Literaturverzeichnis

263

Stichwortverzeichnis

277