Law: equity & trusts, foundations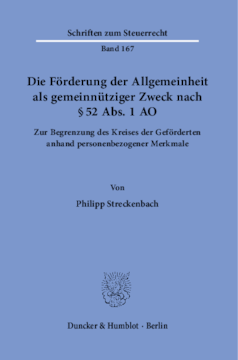 BOOK
Die Förderung der Allgemeinheit als gemeinnütziger Zweck nach § 52 Abs. 1 AO
Zur Begrenzung des Kreises der Geförderten anhand personenbezogener Merkmale
Schriften zum Steuerrecht, Vol. 167
(2021)
Additional Information
Book Details
ISBN

978-3-428-58316-4
978-3-428-18316-6 (print edition)

DOI

https://doi.org/10.3790/978-3-428-58316-4

Edition

1

Language

German

Pages

211

Collections

Subjects
Pricing
Institution

€ 80.00 (incl. local VAT if applicable)

Individual

€ 62.90 (incl. local VAT if applicable)
About The Author
Philipp Streckenbach hat an der Universität Passau Rechtswissenschaften studiert (Erstes Staatsexamen 2015) und im Anschluss daran ein Jahr in Dundee/Schottland verbracht (LLM 2016). Nach dem Referendariat am Landgericht Ulm (Zweites Staatsexamen 2018) mit Stationen in der Deutschen Botschaft Nairobi und der Deutschen Universität für Verwaltungswissenschaften war er zwei Jahre als Rechtsanwalt im Steuerrecht in einer wirtschaftsrechtlichen Kanzlei in Mannheim tätig, parallel dazu promovierte er an der Universität Passau. Seit 2020 arbeitet er in der Bundeszollverwaltung.
Philipp Streckenbach studied law at Passau University in Germany (First State Exam 2015) and at Dundee University in the United Kingdom (LLM 2016). After his legal clerkship, during which he studied at the German University of Administrative Sciences Speyer and worked at the German Embassy in Nairobi, he pursued his doctorate at Passau University and worked as a lawyer specialised in tax law in Mannheim. Since 2020, he works for the German Customs administration.
Abstract
Vereine, Stiftungen und andere Einrichtungen können nur dann gemeinnützig sein, wenn sie die Allgemeinheit fördern. Der Autor widmet sich der Frage, ob ein Verein, eine Stiftung oder eine andere Einrichtung auch dann die Allgemeinheit fördert und damit gemeinnützig im steuerrechtlichen Sinn sein kann, wenn sie nur die Angehörigen eines Geschlechts fördert oder ihre Förderung von einem anderen personenbezogenen Merkmal abhängig macht. Aus der Entstehungsgeschichte der maßgeblichen Normen sowie deren Sinn und Zweck lässt sich ableiten, dass gemeinnützige Einrichtungen einer strengen Gemeinwohlbindung unterliegen, die der staatlichen Bindung an das Gemeinwohl entspricht. Daraus folgt, dass gemeinnützige Einrichtungen ähnlich wie staatliche Organe an Grundrechte gebunden sind und nicht ohne ausreichende Rechtfertigung anhand des Geschlechts oder anhand eines anderen personenbezogenen Merkmals differenzieren dürfen. »The Altruistic Advancement of the General Public as a Public-Benefit Purpose: Limiting the Group of Persons Benefiting from such Advancement Based on Personal Features«

According to German tax law, a corporation may claim tax privileges on account of its serving directly and exclusively public-benefit purposes. In order to claim these tax privileges, the corporation is required to serve the altruistic advancement of the general public. In his work, the author analyses whether corporations may still benefit from tax privileges if they limit the group of persons benefiting from such advancement based on personal features such as gender or nationality.
Table of Contents
Section Title
Page
Action
Price

Vorwort

5

Inhaltsverzeichnis

7

§ 1 Einleitung

13

§ 2 Einführung ins Gemeinnützigkeitsrecht

17

I. Historische Einführung

17

1. Ursprünge des Gemeinnützigkeitsrechts

17

2. Entstehung eines gesetzlich geregelten Gemeinnützigkeitsrechts

19

3. Zusammenfassung

21

II. Wesentliche Voraussetzungen und Anwendungsbereich

21

1. Persönlicher Anwendungsbereich

21

2. Sachliche Voraussetzungen

22

a) Einführung

22

b) Gemeinnützige Zwecke

23

aa) Katalog gemeinnütziger Zwecke, § 52 Abs. 2 Satz 1 AO

23

bb) Kollisionen zwischen gemeinnützigen Zwecken

24

cc) Insbesondere: Religiöse Zwecke

26

c) Ausschließlichkeit

26

d) Unmittelbarkeit

27

e) Selbstlosigkeit

28

f) Anerkennungsverfahren

29

III. Rechtsfolgen und wirtschaftliche Bedeutung der Gemeinnützigkeit

29

1. Steuervergünstigungen und Vermögensbindungen

30

a) Direkte Steuervergünstigungen

30

aa) Gesetzliche Steuerbefreiungen und Steuervergünstigungen

30

bb) Wirtschaftliche Bedeutung der Steuervergünstigungen

32

(1) Finanzierung gemeinnütziger Tätigkeit

32

(2) Einfluss der Gemeinnützigkeit auf Vereine und Stiftungen

33

(3) Einfluss der Gemeinnützigkeit auf Kapitalgesellschaften

35

b) Indirekte Steuervergünstigungen

36

c) Vermögensbindungen

37

2. Sonstige rechtliche Vergünstigungen

38

3. Wirtschaftliche Vorteile

38

4. Bewertung

39

IV. Verlust der Gemeinnützigkeit

41

1. Verstöße gegen das Gemeinnützigkeitsrecht und deren Rechtsfolgen

41

a) Formelle Verstöße

42

b) Materielle Verstöße

43

2. Steuerliche Konsequenzen

45

a) Ertragsteuern

46

b) Umsatzsteuer

47

c) Erbschaft- und Schenkungsteuer

47

d) Spendenhaftung

48

3. Bewertung

48

V. Grundrechtlicher Schutz der Gemeinnützigkeit

49

VI. Zusammenfassung

52

§ 3 § 52 Abs. 1 AO in Rechtsprechung, Literatur und Verwaltung

53

I. Rechtsentwicklung

53

1. § 52 Abs. 1 Satz 1 AO

53

a) Ursprünge in der Rechtsprechung

53

b) Konkretisierungen in Verordnungen und Durchführungsbestimmungen

55

c) Erste gesetzliche Regelung

57

d) Einfluss nationalsozialistischer Ideologie

57

e) Weitergeltung von § 17 StAnpG nach 1945

58

f) Erlass der AO 1977

60

g) Zukünftige Änderungen

60

2. § 52 Abs. 1 Satz 2 AO

61

a) Frühe gesetzliche Regelungen und Rechtsprechung

61

b) Konkretisierungen in Verordnungen und Durchführungsbestimmungen

62

c) Regelung in § 17 StAnpG

63

d) Weitergeltung von § 17 StAnpG nach 1945

64

e) Erlass der AO 1977

64

3. Zusammenfassung und historischer Kontext

64

a) Zusammenfassung

64

b) Historischer Kontext

65

II. Heutiges Verständnis

68

1. § 52 Abs. 1 Satz 1 AO in Rechtsprechung, Literatur und Verwaltung

68

a) Rechtsprechung

68

aa) Gemeinwohlbezug

68

bb) Verfassungsmäßige Ordnung

71

cc) Auffassung der Bevölkerung

72

dd) Bezüge zu anderen Normen

73

b) Literatur

73

aa) Gemeinwohl- oder Zeitgeistbezug

73

bb) Verfassungsmäßige Ordnung

75

cc) Einhaltung der Rechtsordnung

78

dd) Auffassung der Bevölkerung

79

c) Verwaltung

79

2. § 52 Abs. 1 Satz 2 AO in Rechtsprechung, Literatur und Verwaltung

79

a) Rechtsprechung

80

b) Literatur

80

c) Verwaltung

82

d) Ergebnis

82

III. Kritik der gegenwärtigen Auslegung

83

1. Abhängigkeit vom Zeitgeist

83

2. Verweis auf außerrechtliche Kriterien

84

3. Undeutliche Hinweise auf ein bewegliches System

86

4. Entscheidung des Bundesfinanzhofs im Kontext von Art. 3 GG

87

a) Verfassungsrechtliche Vorgaben und deren Umsetzung

88

aa) Art. 3 Abs. 3 GG: Rechtliche Gleichbehandlung

88

bb) Art. 3 Abs. 2 GG: Tatsächliche Gleichstellung

89

b) Prüfung des Bundesfinanzhofs

90

aa) Vergleich mit der Rechtsprechung des Bundesverfassungsgerichts

90

bb) Objektive Wertordnung und mittelbare Drittwirkung

92

cc) Unmittelbare Drittwirkung

96

dd) Ergebnis

98

IV. Zusammenfassung

98

§ 4 Förderung der Allgemeinheit und das Gemeinwohl

100

I. § 52 Abs. 1 Satz 1 AO im Gemeinnützigkeitsrecht

100

II. Steuern als Beitrag zum Gemeinwohl

102

1. Rechtfertigung der Steuererhebung

102

a) Äquivalenz

103

b) Freiheitliche Entfaltung

103

c) Staatsfinanzierung

104

2. Staatszweck Gemeinwohl

104

a) Meta-Verfassung

106

b) Prinzip der Republik

106

c) Demokratieprinzip

108

3. Ergebnis

108

4. Sozialzwecknormen

110

III. Steuervergünstigungen für gemeinnützige Einrichtungen

111

1. Gemeinwohlförderung durch Staatsentlastung

111

2. Steuervergünstigung aus Gründen des Gemeinwohls

113

3. Exkurs: Spendenabzug

115

IV. Gemeinwohlkonflikte

118

1. Inhaltliche Differenzierung

119

2. Nutzenabwägung

120

3. Subsidiaritätsprinzip

121

4. Freiheitsgrundrechte

123

V. Äquivalenz durch das Gemeinnützigkeitsrecht

124

1. Gemeinnützigkeitsrecht als Äquivalenzrecht

124

a) Anforderungen an äquivalente Gemeinwohlförderung

124

b) Kein Widerspruch zu § 52 Abs. 1 Satz 3 AO

126

c) Ergebnis

127

2. Exkurs: Mildtätige und kirchliche Zwecke

129

a) Mildtätige Zwecke

129

b) Kirchliche Zwecke

130

VI. Zusammenfassung

132

§ 5 Gemeinwohl als Tatbestandsmerkmal in § 52 Abs. 1 Satz 1 AO

134

I. Gemeinwohl als Tatbestandsmerkmal

134

1. Politikprogramm, Tatbestandsmerkmal oder Leerformel?

134

2. Grundsatz der Tatbestandsmäßigkeit der Besteuerung

136

II. Vergleichbare Gemeinwohltatbestände

137

1. Gemeinwohl als Verbotstatbestand

138

a) Beispiele

138

aa) § 62 GmbHG

138

bb) § 80 Abs. 2 Satz 1 BGB

139

b) Funktion

141

c) Übertragbarkeit auf § 52 Abs. 1 Satz 1 AO

141

2. Gemeinwohl in Ausnahmeregelungen

142

a) Beispiele

142

aa) § 23 LadSchlG

142

bb) § 15 Abs. 2 ArbZG und § 31 Abs. 2 Nr. 1 BauGB

143

cc) § 11 JVKostG

144

b) Funktion

145

c) Übertragbarkeit auf § 52 Abs. 1 Satz 1 AO

146

aa) Gemeinwohl als Innenverweis

146

bb) Gemeinwohl als Querverweis

148

cc) Gemeinwohl als Verweis nach unten

148

dd) Gemeinwohl als Verweis nach oben

148

III. Zusammenfassung

150

§ 6 Inhalt des Gemeinwohls in § 52 Abs. 1 Satz 1 AO

151

I. Verfassungsrechtliche Konkretisierung des Gemeinwohls

152

II. Prozedurale Gemeinwohlkriterien

155

1. Summe aller Einzelinteressen

155

2. Ergebnis der parlamentarischen Gesetzgebung

157

a) Rein prozedural ermitteltes Gemeinwohl?

158

b) Kein rein prozedural ermitteltes Gemeinwohl

159

c) Schlussfolgerungen für die Auslegung von § 52 Abs. 1 Satz 1 AO

160

III. Materiale Gemeinwohlkriterien

160

1. Die Menschenwürde als höchster Verfassungswert

161

2. Grundrechte

162

a) Freiheitsgrundrechte

162

b) Gleichheitsgrundrechte

163

c) Schlussfolgerungen für die Auslegung von § 52 Abs. 1 Satz 1 AO

164

3. Staatsziele

165

a) Gemeinwohl als Summe aller Staatsziele

165

b) Schlussfolgerungen für die Auslegung von § 52 Abs. 1 Satz 1 AO

166

4. Staatsstrukturprinzipien

167

a) Rechtsstaatlichkeit, Gewaltenteilung, Bundesstaatlichkeit

167

b) Republikprinzip

167

c) Sozialstaatsprinzip

167

d) Schlussfolgerungen für die Auslegung von § 52 Abs. 1 Satz 1 AO

169

IV. Zusammenfassung

169

§ 7 Praktische Anwendung auf problematische Fälle

172

I. Exkurs: Förderung der Allgemeinheit bei Ausschluss von Ausländern

172

1. Wer wird gefördert?

174

2. Einfaches Recht

174

3. Verfassungsrecht

175

II. Förderung der Allgemeinheit bei Diskriminierungen anhand des Geschlechts

177

1. Freimaurerlogen und Schützenbruderschaften

177

a) Wer wird gefördert?

177

b) Einfaches Recht

178

c) Verfassungsrecht

179

2. Männer- oder Frauengesangsverein

180

III. Zusammenfassung

181

§ 8 Schluss

182

I. Zusammenfassung

182

1. Einführung ins Gemeinnützigkeitsrecht

182

2. § 52 Abs. 1 AO in Rechtsprechung, Literatur und Verwaltung

183

3. Förderung der Allgemeinheit und das Gemeinwohl

184

4. Gemeinwohl als Tatbestandsmerkmal

185

5. Inhalt des Gemeinwohls

186

6. Praktische Anwendung auf problematische Fälle

186

II. Ausblick

187

Literaturverzeichnis

188

Sachverzeichnis

210