Juvenile criminal law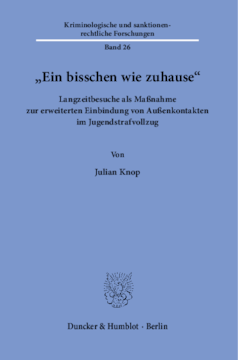 Additional Information
Book Details
ISBN

978-3-428-58315-7
978-3-428-18315-9 (print edition)

DOI

https://doi.org/10.3790/978-3-428-58315-7

Edition

1

Language

German

Pages

337

Collections

Subjects
Pricing
Institution

€ 116.00 (incl. local VAT if applicable)

Individual

€ 89.90 (incl. local VAT if applicable)
About The Author
Julian Knop studierte an der Universität Hamburg Jura (LL.B.) und Internationale Kriminologie (M.A.). Nach dem Studium schloss sich eine Promotion am Fachbereich Rechtswissenschaft der FU Berlin an. Nach der Promotion gründete er im Rahmen des Programms University Startup Factory der FU Berlin die NGO Tatort Zukunft, in der er als Geschäftsführer arbeitete. Aktuell arbeitet er als Wissenschaftlicher Mitarbeiter am Institut für Rehabilitationswissenschaften der Humboldt-Universität zu Berlin im Projekt »Pädagogik im Strafvollzug«. Außerdem ist er als Dozent am Fachbereich Rechtswissenschaft der FU Berlin tätig.
Julian Knop studied Law (LL.B.) and International Criminology (M.A.) at the University of Hamburg. After his studies, he completed a doctorate at the Department of Law at the Free University of Berlin. After completing his doctorate, he founded the NGO Tatort Zukunft as part of the University Startup Factory program at the FU Berlin, where he worked as managing director. Currently, he works as a research assistant at the Institute of Rehabilitation Sciences at the Humboldt University of Berlin in the project »Pedagogy in the Penal System«. He is also a lecturer at the Department of Law at the FU Berlin.
Abstract
Der Autor untersucht die Einbindung von Außenkontakten durch Langzeitbesuche im deutschen Jugendstrafvollzug aus rechtlicher, kriminologischer und empirischer Perspektive. Nach einer einführenden raumsoziologischen und historischen Untersuchung im theoretischen Teil dieser Arbeit wird die Rechtslage des Langzeitbesuchs mit kriminologischen Erkenntnissen in Bezug gesetzt. Daran anschließend werden im empirischen Teil die Ergebnisse der eigenen Untersuchung präsentiert. Hier erfasst Julian Knop durch eine bundesweite Vollerhebung die Möglichkeit von Langzeitbesuch im Jugendstrafvollzug. Außerdem werden die Ergebnisse einer qualitativen Interviewstudie präsentiert, die er in drei Justizvollzugsanstalten durchführte, in denen Langzeitbesuche möglich sind. Insgesamt zeigt diese Arbeit, dass Langzeitbesuche sich bisher nur vereinzelt in die Praxis des Jugendstrafvollzugs übersetzen, obwohl sie mit Blick auf das Vollzugsziel Resozialisierung eine unbedingt zu empfehlende Besuchsform sind. »›A Little Bit Like Home‹. Private Family Visits as a Measure to Integrate Outside Contacts into the Juvenile Prison System«

In this thesis, Julian Knop examines the integration of outside contacts into the German juvenile prison system through private family visits from legal, criminological, and empirical perspectives. After an introductory sociological and historical examination in the theoretical part of this thesis, the author analyzes the legal situation of private family visits is through a criminological lens. Subsequently, he presents the results of a empirical investigation.
Table of Contents
Section Title
Page
Action
Price

Vorwort

5

Inhaltsverzeichnis

7

Abkürzungsverzeichnis

12

Einleitung

15

1. Theoretische Grundlagen zum Langzeitbesuch aus raumsoziologischer und rechtshistorischer Perspektive

19

a) Der Langzeitbesuch als Ereignis im Raum

19

aa) "Heterotoper" Raum

19

bb) "Liminaler" Raum

22

cc) Innen-Raum

24

dd) Zwischenergebnis

25

b) Der Langzeitbesuch als historisches Konstrukt

26

aa) Historische Entwicklung im Erwachsenenstrafvollzug

27

(1) Von der Veröffentlichung der Grundsätze für den Vollzug von Freiheitsstrafen bis zur Einführung des Bundesstrafvollzugsgesetzes (1923–1976)

27

(2) Vom Inkrafttreten des Bundestrafvollzugsgesetzes bis zur Föderalismusreform I (1977–2006)

31

(3) Gegenwärtige Situation im Erwachsenenstrafvollzug

34

bb) Historische Entwicklung im Jugendstrafvollzug

35

(1) Von der Einführung des Separationsprinzips bis zum Abschlussbericht der Jugendstrafvollzugskommission (1871–1980)

35

(2) Vom Abschlussbericht der Kommission zur Erarbeitung eines Jugendstrafvollzugsgesetzes bis zur Föderalismusreform I (1980–2006)

37

(3) Gegenwärtige Situation im Jugendstrafvollzug

41

cc) Zwischenergebnis

42

2. Ein Vergleich der Rechtslage des Langzeitbesuchs mit kriminologischen Erkenntnissen

45

a) Rechtliche Grundlagen des Langzeitbesuchs

45

aa) Landesgesetze zum Jugendstrafvollzug

45

(1) Vollzugsziel, Vollzugsaufgaben und Gestaltungsgrundsätze

45

(a) Ziele und Aufgaben

46

(b) Gestaltungsgrundsätze

49

(2) Sicherheit und Ordnung

51

(3) Regelungen zum Kontakt mit der Außenwelt

53

(a) Grundsatz

54

(b) Regulärer Besuch

54

(c) Langzeitbesuch

59

bb) Bisherige Rechtsprechung zu Langzeitbesuchen

61

cc) Langzeitbesuch aus verfassungsrechtlicher Perspektive

63

dd) Internationale Mindeststandards und Kontrollinstanzen

65

ee) Zwischenergebnis

67

b) Kriminologische Erkenntnisse über die erweiterte Einbindung sozialer Kontakte von Jugendstrafgefangenen

68

aa) Theoretische Einordung der Einbindung sozialer Kontakte durch Langzeitbesuch

69

(1) Soziale Kontakte als theoretisches Konzept

69

(2) Soziale Kontakte und klassische Kriminalitätstheorien

71

(a) Anomietheorien

71

(b) Kontrolltheorien

75

(c) Lerntheorien

78

(d) Biosoziale Kriminalitätstheorie

81

(e) Theorie der reintegrativen Beschämung

83

(f) Labelingtheorien

84

(g) Situative Theorien

85

(h) Integrative und prozessorientierte Theorien

86

(3) Soziale Kontakte und "Desistance"

88

(a) Theorie der "Turning Points"

89

(b) Theorien der kognitiven Transformation

89

(c) Struktur und Individuum im "Desistance"-Prozess

91

(4) Soziale Kontakte und Behandlung

92

(5) Zwischenergebnis

95

bb) Soziale Kontakte vor der Gefangenschaft

96

(1) Das familiäre Umfeld

96

(a) Erziehungsstile

96

(b) Bindungen an die Eltern

99

(c) Beziehungsqualität zwischen Eltern und Nachwuchs

100

(d) Familiärer Hintergrund und Kriminalität

101

(e) Kriminalität innerhalb der Familie

103

(2) Peers

105

(3) Zwischenergebnis

112

cc) Soziale Kontakte während der Gefangenschaft

113

(1) Familie und Freund*innen aus soziologischer und entwicklungspsychologischer Perspektive

113

(2) Deskription des sozialen Umfelds

115

(3) Beziehungsverläufe

123

(4) Einfluss des sozialen Umfelds auf Gefangene und Einfluss der Gefangenschaft auf soziale Umfelder

127

(a) Gefangene

127

(aa) Allgemeine Bedeutung des sozialen Umfelds

127

(bb) Soziale Kontakte und ihr Einfluss auf die psychosoziale Entwicklung von Jugendstrafgefangenen

130

(cc) Einfluss von Peers

133

(dd) Vaterschaft im Gefängnis

136

(ee) Einfluss sozialer Interaktionen während der Gefangenschaft auf die Zeit nach der Entlassung

139

(b) Soziales Umfeld

141

(aa) Allgemeine Einflüsse

141

(bb) Situation von Partner*innen

143

(cc) Situation von Kindern

146

(5) Sonderpunkt: Sexualität im Gefängnis

150

(a) Diskrepanz zwischen "drinnen" und "draußen"

150

(b) Sexualität aus humanwissenschaftlicher Perspektive

151

(c) Stand der Forschung zum Thema Sexualität und Gefangenschaft

153

(aa) Sexualität als Tabu in Strafvollzugsforschung und Strafvollzugspraxis

153

(bb) Theoretische Einordnung

153

(cc) Deskription sexueller Alternativhandlungen

154

(dd) Einfluss des Fehlens frei gestalteter Sexualität auf Gefangene

155

(ee) Spezifische Einflüsse von Sexualität auf Partnerschaften

159

(6) Zwischenergebnis

159

dd) Soziale Kontakte nach der Gefangenschaft

160

(1) Soziale Kontakte nach der Entlassung

161

(a) Deskription des sozialen Umfelds

162

(b) Einfluss des sozialen Umfelds auf Entlassene

163

(2) Einfluss der Entlassung auf das soziale Umfeld

168

(3) Soziale Kontakte und ihre Bedeutung für die Abkehr von Kriminalität

168

(a) Heirat und Partnerschaft als spezielle Wendepunkte

173

(4) Zwischenergebnis

175

ee) Langzeitbesuche und reguläre Besuche im Vergleich

176

(1) Regulärer Besuch

176

(a) Gefangene

176

(b) Angehörige

183

(2) Langzeitbesuch

188

(a) Erfahrungen mit Langzeitbesuchen

188

(b) Deskriptive Studien

192

(aa) Internationale Situation

192

(bb) Situation in Deutschland

194

(c) Einfluss von Langzeitbesuch

197

(aa) Gefangene

197

(bb) Angehörige

203

(cc) Vollzugsmitarbeiter*innen

205

(3) Zwischenergebnis

208

c) Zwischenfazit

209

3. Empirische Untersuchung des Langzeitbesuchs im Jugendstrafvollzug

214

a) Bundesweite Untersuchung der Langzeitbesuchssituation

215

aa) Methodik

215

bb) Auswertung

216

(1) Möglichkeit von Langzeitbesuch

216

(2) Jugendstrafgefangene mit Langzeitbesuch

219

(3) Begründungen hinsichtlich des Fehlens von Langzeitbesuch

220

(4) Vergleich von Rechtslage und Rechtstatsachen

223

(5) Justizvollzugsanstalten mit Langzeitbesuch

223

(6) Auslastung

229

(7) Sexualität

230

cc) Zwischenergebnis

231

b) Vertiefende Untersuchung in den Justizvollzugsanstalten JA Hameln, der JVA Herford und der JVA Wuppertal-Ronsdorf

231

aa) Methodik

231

bb) Auswertung

238

(1) Jugendstrafgefangene

239

(2) Angehörige

253

(3) Vollzugsmitarbeiter*innen

261

cc) Zwischenergebnis

271

Fazit

277

Anhang I: Fragebogen

282

Anhang II: Gesetzentwürfe der Bundesländer und des Bundes zum Justizvollzug

289

Literaturverzeichnis

294

Sachverzeichnis

335