Criminal law: procedure & offences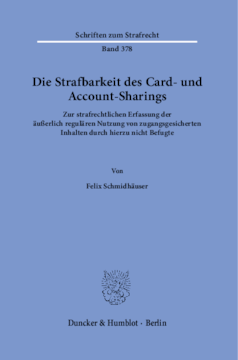 BOOK
Die Strafbarkeit des Card- und Account-Sharings
Zur strafrechtlichen Erfassung der äußerlich regulären Nutzung von zugangsgesicherten Inhalten durch hierzu nicht Befugte
Schriften zum Strafrecht, Vol. 378
(2021)
Additional Information
Book Details
ISBN

978-3-428-58420-8
978-3-428-18420-0 (print edition)

DOI

https://doi.org/10.3790/978-3-428-58420-8

Edition

1

Language

German

Pages

413

Collections

Subjects
Pricing
Institution

€ 126.00 (incl. local VAT if applicable)

Individual

€ 98.90 (incl. local VAT if applicable)
About The Author
Felix Schmidhäuser studierte Rechtswissenschaften an der Eberhard Karls Universität Tübingen mit dem Studienschwerpunkt Internationales Privat- und Verfahrensrecht. Im Anschluss an die Erste juristische Prüfung im Januar 2018 verfasste er im Rahmen seiner Tätigkeit als Akademischer Mitarbeiter am Tübinger Lehrstuhl für Deutsches und Europäisches Strafrecht, Strafprozessrecht sowie Umwelt- und Wirtschaftsstrafrecht von Prof. Dr. Bernd Hecker seine Dissertation. Im Sommersemester 2021 wurde er durch die Juristische Fakultät der Eberhard Karls Universität Tübingen zum Doktor der Rechte promoviert. Seit April 2021 absolviert er den Juristischen Vorbereitungsdienst am Landgericht Tübingen.
Felix Schmidhäuser studied law at the University of Tübingen with a special focus on international private law and private procedural law. After his first state examination in January 2018, he wrote his PhD thesis while working as a research assistant at the Chair of German and European Criminal Law and Criminal Procedure Law as well as Environmental and Economic Criminal Law of Prof. Dr. Bernd Hecker in Tübingen. He received his doctorate in law from the Faculty of Law of the Eberhard Karls University of Tübingen in the summer semester of 2021. Since April of 2021, he took up his postgraduate judicial service traineeship at the district court of Tübingen.
Abstract
Die Arbeit befasst sich mit den in der juristischen Bearbeitung bislang ein Schattendasein führenden Phänomenen des Card- und Account-Sharings. Konkret geht sie dabei der Frage nach, ob die Weitergabe von Zugangsdaten (»Sharing«) durch Abonnenten an zur Nutzung der entsprechenden Leistung nicht berechtigte Dritte beziehungsweise die Verwendung der weitergegebenen Daten durch eben diese eine strafrechtliche Relevanz aufweist. Dazu werden neben der Erörterung der zivilrechtlichen Rechtslage zahlreiche Vorschriften des Kern- und Nebenstrafrechts untersucht, wobei die Arbeit zu dem Ergebnis gelangt, dass eine strafrechtliche Erfassung dieser praxisrelevanten Phänomene zwar erforderlich ist, de lege lata aber nur unzureichend gelingt. Zur Lösung der kriminalpolitisch unbefriedigenden Rechtslage schlägt die Arbeit u. a. einen neu zu schaffenden § 265a Abs. 4 StGB vor, der die Weitergabe der Zugangsdaten als Vorbereitungshandlung zur Tat der nichtberechtigten Dritten unter Strafe stellt. »Criminal Liability of Card- and Account-Sharing. Regarding the Criminal Coverage of the Objectively Regular Usage of Login-Credential-Shielded Contents by Unauthorized Third Persons«: The thesis deals with the criminal liability concerning the sharing of login credentials by subscribers with unauthorized third persons and the utilization of the credentials by these third persons. It comes to the unsatisfying result that the examined phenomenons cannot be covered adequatelly by the current criminal provisions. As a solution, the dissertation i.a. suggests a new § 265a para. 4 StGB, which would criminalize the circulation of login credentials as a preparational offense.
Table of Contents
Section Title
Page
Action
Price

Vorwort

5

Inhaltsverzeichnis

11

Einleitung

27

A. Einführung

27

B. Ziel der Untersuchung

30

C. Gang der Untersuchung

30

Kapitel 1: Tatsächliche und technische Grundlagen

31

A. Beteiligte

31

B. Cardsharing

32

I. Allgemeines

33

II. Regulärer Ablauf beim Empfang von Pay-TV

34

III. Technischer Ablauf beim Cardsharing

35

IV. Erscheinungsformen

37

C. Account-Sharing

38

D. Aktualität der Phänomene, Gegenmaßnahmen und deren Bedeutung

40

E. Abgrenzung zu anderen Phänomenen

43

I. Piratenkarten

43

1. Digital Pirate Smartcards

44

2. Modified Original Smartcards

45

3. Strafbarkeit des Einsatzes von Piratenkarten

46

4. Unterscheidung zum Cardsharing i.e.S.

47

II. P2P/Filesharing/Filehosting/Einstreamen

47

1. Live-Streaming

47

2. On-Demand-Streaming und Filesharing/Filehosting

47

3. Einstreamen

49

4. Unterschied zum Card- und Account-Sharing

49

III. Phishing

50

IV. Pharming

51

V. Skimming

52

VI. Carding

52

VII. Hacking

52

Kapitel 2: Zivilrechtliche Grundlagen

54

A. Das Verhältnis zwischen Anbieter und Sharer

54

I. Vertragsverhältnis

54

II. Rechte und Pflichten aus dem Abonnementvertrag

56

III. Folgen von Pflichtverletzungen

60

1. Entzug der "Sehberechtigung"

60

2. Vertragsstrafe

61

3. Schadensersatzpflicht aus Vertrag

62

a) Tatbestand

62

b) Anspruchsumfang

62

aa) Entgangener Gewinn als Schadensposten

63

bb) Sharergewinn

66

cc) Lizenzanalogie

67

c) Ergebnis

67

IV. Schadensersatz aus Delikt – § 823 Abs. 1 BGB

67

1. Recht am eingerichteten und ausgeübten Gewerbebetrieb

68

2. Urheberrecht

69

3. Daten

69

4. Ergebnis

71

V. Vorsätzlich sittenwidrige Schädigung – § 826 BGB

71

VI. Angemaßte Eigengeschäftsführung – §§ 687 Abs. 2 S. 1, 681 S. 2, 667 BGB

72

VII. Eingriffskondiktion – § 812 Abs. 1 S. 1 Var. 2 BGB

72

1. Keine Einschlägigkeit von § 816 BGB

73

2. Voraussetzungen des § 812 Abs. 1 S. 1 Var. 2 BGB

73

3. Rechtsfolge

75

4. Ergebnis

76

VIII. Sperrung der Sharingwebsite – § 7 Abs. 4 S. 1 TMG analog

76

IX. Ansprüche aus UWG

78

X. Weitere Ansprüche

81

1. Beseitigung und Unterlassung

81

2. Schadensersatz

81

XI. Zusammenfassung

82

B. Das Verhältnis zwischen Anbieter und Nutzer

82

I. Vertragliche Beziehung

82

II. Nichtvertragliche Ansprüche

84

1. Ansprüche auf Beseitigung und Unterlassung

84

2. Ansprüche auf Schadensersatz

85

3. Ansprüche auf Gewinnherausgabe und Lizenzanalogie

85

C. Das Verhältnis zwischen Sharer und Nutzer

86

D. Zusammenfassung zu Kapitel 2

87

Kapitel 3: Strafbarkeit der am Sharing Beteiligten

88

§ 1: Straftaten gegen Vermögenswerte

89

A. Betrug – § 263 StGB

89

I. Nutzer

89

II. Sharer

90

1. Ausdrückliche Täuschung

91

2. Konkludente Täuschung

91

a) Einordnung des Verbots des Sharens als Haupt- oder Nebenleistungspflicht

92

b) Einordnung des Verbots des Sharens als Geschäftsgrundlage

94

3. Täuschung durch Unterlassen

97

III. Ergebnis zu § 263 StGB

98

B. Computerbetrug – § 263a StGB

98

I. Daten

99

1. Allgemeines

99

2. Daten im Prozess des Cardsharings

99

a) Auf der Smartcard enthaltene Berechtigungsdaten

99

b) Das Kontrollwort bildende Daten

100

c) Die ECM bildende Daten

100

d) Vom Anbieter ausgestrahlte Sendeinhalte als Daten

101

3. Daten im Prozess des Account-Sharings

101

a) Benutzerkennung

101

b) Bereitgehaltene und abrufbare Sendeinhalte

102

II. Datenverarbeitungsvorgang

102

1. Cardsharing

103

2. Account-Sharing

104

III. Tathandlung

104

1. § 263a Abs. 1 Var. 1 StGB – Unrichtige Gestaltung eines Programms

105

a) Cardsharing

105

b) Account-Sharing

107

2. § 263a Abs. 1 Var. 2 StGB – Verwendung unrichtiger oder unvollständiger Daten

108

3. § 263a Abs. 1 Var. 3 StGB – Unbefugte Verwendung von Daten

109

a) Datenverwendung im Sinne von § 263a Abs. 1 Var. 3 StGB

109

b) Das Merkmal "unbefugt" im Sinne von § 263a Abs. 1 StGB

111

c) Unbefugte Datenverwendung des Cardsharers

114

aa) Weiterleitung des Kontrollworts als unbefugte Verwendung von Daten

115

bb) Einstecken der Smartcard als unbefugte Datenverwendung

116

cc) Unbefugte Verwendung durch Einstecken und Entschlüsselungsprozess

118

d) Unbefugte Verwendung durch den Account-Sharer

119

e) Unbefugte Verwendung des Nutzers von Sharing-Diensten

120

aa) Problem der kommunikativen Beziehung zum Anbieter beim Cardsharing

121

bb) Unbefugte Datenverwendung durch den Account-Sharing-Nutzer

122

4. § 263a Abs. 1 Var. 4 – Sonst unbefugte Einwirkung auf den Ablauf

123

IV. Beeinflussung des Ergebnisses eines Datenverarbeitungsvorgangs durch unbefugte Verwendung von Daten

124

1. Anzunehmende Beeinflussung des Ergebnisses

124

2. Widerlegung der Argumentation u.a. Planerts

125

V. Vermögensrelevanz der Datenverarbeitungsvorgänge – unmittelbare Vermögensminderung

127

1. Taugliche Vermögensbestandteile

128

a) Anspruch auf Gegenleistung

128

b) Anspruch auf Schadensersatz

128

c) Leistung der Ausstrahlung der Programmdaten

129

d) Urheber- und Nutzungsrecht

130

e) Geschäftsgeheimnis

131

f) Umsatz- und Abonnentenrückgang

131

g) Vermögen der Kunden

132

2. Unmittelbare Vermögensminderung durch Aufspaltung der Sendesignale durch den Nutzer der Cardsharing-Dienste

132

3. Unmittelbare Vermögensminderung durch Entschlüsselung der Kontrollwörter durch den Cardsharer und anschließende Weiterleitung an den Nutzer

133

4. Unmittelbare Vermögensminderung durch Weitergabe der Zugangsdaten durch den Account-Sharer

135

5. Unmittelbare Vermögensminderung durch die Entschlüsselung beziehungsweise Auswahl der Sendeinhalte und deren Wiedergabe beim Card- und Account-Sharing

135

a) Anspruch auf vertragliche Gegenleistung

135

b) Anspruch auf Schadensersatz

136

c) Leistungserbringung ohne Erhalt einer Gegenleistung

136

aa) Gleichbleibende Aufwendungen des Anbieters

136

bb) Entreicherungsschaden durch entgangenes Entgelt

137

(1) Entreicherung aufgrund der Wiedergabe der Sendeinhalte

137

(2) Unmittelbarkeit dieser Entreicherung

139

cc) Entreicherung hinsichtlich des im Nutzungsrecht an den Sendeinhalten verkörperten Vermögenswertes

140

(1) Annahme einer Vermögensminderung über Gedanken der Wertminderung eines Nutzungsrechts

140

(2) Kein Ausschluss der Vermögensminderung wegen eigenverantwortlichen Verhaltens

142

(3) Keine taugliche Minderungsberechnung über die Grundsätze der Lizenzanalogie

144

(4) Keine messbare Vermögensminderung über die Anwendung der Grundsätze der Marktexspektanz

147

6. Unmittelbare Vermögensminderung durch den Login beim Account-Sharing

150

7. Ergebnis

151

VI. Ergebnis zu § 263a StGB

152

C. Vorbereitung eines Computerbetrugs – § 263a Abs. 3 StGB

152

I. Account-Sharing

152

II. Cardsharing

153

D. Erschleichen von Leistungen – § 265a StGB

154

I. Keine Einschlägigkeit von § 265a Abs. 1 Var. 3 und 4 StGB

154

II. Erschleichen einer entgeltlichen Leistung eines Automaten

154

1. Leistungsautomaten im Rahmen des Cardsharings

155

a) Smartcard

155

b) Receiver des Sharers als Smartcard-Server

155

c) Receiver des Nutzers

156

2. Leistungsautomaten im Rahmen des Account-Sharings

157

3. Zwischenergebnis

158

4. Entgeltlichkeit der Leistung der Automaten beim Cardsharing

158

5. Erschleichen der Automatenleistung

159

6. Ergebnis

161

III. Erschleichen der entgeltlichen Leistung eines öffentlichen Zwecken dienenden Telekommunikationsnetzes

161

1. Informationsübermittlung als erschlichene entgeltliche Leistung

163

a) Durch den Sharer

163

b) Durch den Nutzer

164

2. Inhaltszugriff als erschlichene entgeltliche Leistung

164

a) Durch den Sharer

165

b) Durch den Nutzer

165

aa) Entgeltliche Leistung

165

(1) Netzleistung nur Übermittlung

165

(2) Netzleistung auch Genusseinräumung der Inhalte

166

bb) Erschleichen dieser Leistung

169

(1) Passwortschutz als ausreichendes Zugangshindernis

170

(2) Tatbestandliches Erschleichen trotz äußerlich ordnungsgemäßen Handelns

172

(3) Extensive Auslegung der Tathandlung

173

(4) Verwendung der Kontroll- und Zugangsdaten zum Passieren der Zugangskontrolle als Erschleichen

174

(a) Vergleichbarkeit mit den Konstellationen kollusiven Zusammenwirkens bei § 265a Abs. 1 Var. 3, 4 StGB

175

(b) Vergleichbarkeit mit den bei § 263a Abs. 1 Var. 3 StGB diskutierten Fällen des Missbrauchs von Codekarten

176

(c) Gleichlauf mit der Behandlung der unbefugten Datenverwendung bei § 263a StGB

177

IV. Ergebnis

178

V. Beteiligung des Sharers

179

1. Einordnung der Sharerhandlung in den Fällen des Account-Sharings

179

2. Einordnung der Sharerhandlung in den Fällen des Cardsharings

181

3. Ergebnis

182

VI. Rechtsfolgen und Strafverfolgung

182

E. Untreue – § 266 StGB

183

§ 2: Straftaten gegen den Geheimnisbereich

184

A. Ausspähen von Daten – § 202a StGB

184

I. Cardsharing

184

1. Daten

185

2. Sicherung vor unberechtigtem Zugang

186

3. Nicht für den Täter bestimmt

187

a) (Nicht) für den Sharer bestimmte Daten

188

aa) Auf der Smartcard gespeicherte Berechtigungsdaten

188

bb) Kontrollwort

192

cc) Audio-Video-Daten

192

dd) Zwischenergebnis

195

b) (Nicht) für den Nutzer bestimmte Daten

195

aa) Berechtigungsdaten und Kontrollwort

195

bb) Audio-Video-Daten

197

cc) Zwischenergebnis

198

4. Tathandlung: unbefugtes Verschaffen von nicht für den Täter bestimmten Daten unter Überwindung der Zugangssicherung

199

a) Sharer: Verschaffen des Zugangs zu den Audio-Video-Daten unter Überwindung der Zugangssicherung

199

aa) Zugangsverschaffung zu den Audio-Video-Daten

199

bb) Unter Überwindung der Zugangssicherung

201

cc) Zwischenergebnis

201

b) Nutzer: Verschaffen des Zugangs zu den Audio-Video-Daten unter Überwindung der Zugangssicherung

201

aa) Tatsächliche Zugangsverschaffung trotz Ausstrahlung durch den Anbieter

202

bb) Zugangsverschaffung auch bei vom Berechtigten erhaltenen Schlüssel

202

cc) Überwinden einer besonderen Zugangssicherung

203

dd) Unbefugt

206

ee) Zwischenergebnis

207

II. Account-Sharing

207

1. Taugliches Tatobjekt

207

a) Zugangsdaten

207

b) Bereitgehaltene Sendeinhalte-Daten

208

aa) Datenqualität

208

bb) Nicht für den Täter bestimmt

208

cc) Gegen unberechtigten Zugang besonders gesichert

208

2. Tathandlung

209

a) Sharer

209

b) Nutzer

210

3. Ergebnis

211

III. Beteiligung des Sharers

211

IV. Ergebnis zu § 202a StGB

213

V. Rechtsfolgen/Strafverfolgung/Strafantrag

213

B. Vorbereiten des Ausspähens und Abfangens von Daten – § 202c StGB

213

I. Begrifflichkeiten

214

II. Cardsharing

215

1. Tatobjekte

215

a) Berechtigungsdaten

215

b) Kontrollwort

215

c) Cardsharingnetzwerk als Computerprogramm

215

d) Software auf dem Cardsharing-Server

215

e) Software auf dem Nutzer-Receiver

216

2. Tathandlung

216

a) Cardsharer

216

aa) Berechtigungsdaten

216

(1) Kein Tatbestandsausschluss wegen zivilrechtlich erlaubten Verhaltens

218

(2) Kein Ausschluss der Strafbarkeit aufgrund von Einverständnis oder Einwilligung

218

(3) Ausschluss der Strafbarkeit aus teleologischen Erwägungen

219

bb) Kontrollwort

219

cc) Software für den Cardsharing-Server

220

dd) Software für den Receiver des Nutzers

220

ee) Zur Vorbereitung einer Tat nach § 202a StGB

220

b) Nutzer

221

aa) Berechtigungsdaten

221

bb) Kontrollwort

221

cc) Software für den Cardsharing-Server

221

dd) Software für den Receiver des Nutzers

221

ee) Zur Vorbereitung einer Tat nach § 202a StGB

222

III. Account-Sharing

222

1. Zugangsdaten als taugliches Tatobjekt

222

2. Tathandlung im Sinne von § 202c Abs. 1 StGB

223

a) Account-Sharer

223

aa) Eigenbezogene Tathandlungen

223

bb) Drittbezogene Tathandlungen

223

b) Nutzer

224

IV. Täterschaft und Teilnahme

224

V. Ergebnis

225

VI. Rechtsfolgen und Strafverfolgung

225

C. Abfangen von Daten – § 202b StGB

225

D. Datenhehlerei – § 202d StGB

226

E. Verletzung von Geschäftsgeheimnissen – § 23 GeschGehG

227

I. Vorliegen eines Geschäftsgeheimnisses

227

II. Tatbestandserfüllung in den hier interessierenden Konstellationen

229

1. Cardsharing

229

a) Geschäftsgeheimnis

229

aa) Verschlüsselungstechnik der ausgestrahlten Sendeinhalte

229

bb) Verschlüsselt ausgestrahlte Audio-Video-Dateien

230

cc) Auf der Smartcard gespeicherte Berechtigungsdaten

232

dd) Kontrollwort zur Entschlüsselung der verschlüsselten Programminhalte

232

b) Erfüllung einer tatbestandlichen Handlung durch den Sharer

233

aa) Erlangen durch unbefugten Zugang gemäß § 4 Abs. 1 Nr. 1 GeschGehG

234

bb) Erlangen durch unbefugte Aneignung gemäß § 4 Abs. 1 Nr. 1 GeschGehG

236

cc) Erlangen durch unbefugte Kopie gemäß § 4 Abs. 1 Nr. 1 GeschGehG

236

dd) Nutzen oder Offenlegen eines Geschäftsgeheimnisses gemäß §§ 23 Abs. 1 Nr. 2, 4 Abs. 2 Nr. 1 lit. a) GeschGehG

237

ee) § 23 Abs. 2 in Verbindung mit Abs. 1 Nr. 2, 3 GeschGehG

237

ff) Zwischenergebnis

237

c) Erfüllung einer tatbestandlichen Handlung durch den Nutzer

238

aa) Erlangen durch unbefugten Zugang gemäß § 4 Abs. 1 Nr. 1 GeschGehG

238

bb) Erlangen durch unbefugte Aneignung gemäß § 4 Abs. 1 Nr. 1 GeschGehG

238

cc) Erlangen durch unbefugte Kopie gemäß § 4 Abs. 1 Nr. 1 GeschGehG

239

dd) Nutzen oder Offenlegen eines Geschäftsgeheimnisses im Sinne von §§ 23 Abs. 1 Nr. 2, 4 Abs. 2 Nr. 1 lit. a) GeschGehG

239

ee) § 23 Abs. 2 i.V.m. Abs. 1 Nr. 2, 3 GeschGehG

240

d) Ergebnis

240

2. Account-Sharing

240

a) Geschäftsgeheimnis

241

aa) Bereitgehaltene Sendeinhalte

241

bb) Verschlüsselung der jeweiligen Anbieterseite oder des Anbieterservers

241

cc) Zugangsdaten

242

(1) Information

242

(2) Geheime Information

242

(3) Geschäfts- beziehungsweise Unternehmensbezug

243

dd) Ergebnis

246

b) Mögliche Tathandlung des Sharers

246

c) Mögliche Tathandlung des Nutzers

246

III. Ergebnis

247

F. Strafvorschrift des § 42 BDSG

247

I. Strafbarkeit nach § 42 Abs. 1 BDSG

247

II. Strafbarkeit nach § 42 Abs. 2 BDSG

248

§ 3: Straftaten wegen urheberrechtswidrigen Handelns

250

A. Unerlaubte Verwertung urheberrechtlich geschützter Werke – § 106 UrhG

250

I. Schutzobjekt: Werk

250

1. Grundsätzliche Voraussetzungen

251

2. Anwendung im Bereich des Sharings

251

a) Filmwerke

252

b) Sportübertragungen

252

c) Kontrollwort beziehungsweise Zugangs- und Berechtigungsdaten

253

aa) Kontrollwort als Werk in den Fällen des Cardsharings

254

bb) Kontrollwort generierender Algorithmus in den Fällen des Cardsharings

255

cc) Berechtigungs- und Zugangsdaten

255

3. Rechteinhaber

256

II. Tatbestandserfüllung durch den Nutzer

256

1. Tathandlung: Vervielfältigung

256

a) Allgemein

256

b) Technische Fragestellungen – körperliche Fixierung

257

aa) Fernsehsignale – Funksendungen

257

bb) Funktionsweise des Streamings

258

c) Erfüllung der Voraussetzungen des § 16 UrhG

259

2. Tathandlung: Verbreitung

260

3. Tathandlung: öffentliche Wiedergabe

261

4. Gesetzlich zugelassene Fälle

261

a) Privilegierte Nutzung wegen § 53 UrhG

261

aa) Allgemein

262

bb) Vorlage

262

(1) Offensichtlich rechtswidrig hergestellt

263

(2) Offensichtlich rechtswidrig öffentlich zugänglich gemachte Vorlage

263

(a) Vergleich mit den Fällen des Linkings

264

(b) Keine Auslegung des Merkmals im Sinne einer öffentlich wiedergegebenen Vorlage

265

(3) Rechtswidrigkeit der Vervielfältigung wegen Verstoßes gegen § 95a UrhG

267

(a) Normverhältnis

267

(b) Verstoß gegen § 95a UrhG als Ausschluss der Privilegierung nach § 53 UrhG?

268

(c) Verstoß gegen § 95a UrhG lässt Privilegierung nach § 53 Abs. 1 S. 1 UrhG unberührt

269

(d) Zwischenergebnis

271

b) Privilegierte Nutzung nach § 44a UrhG

271

aa) Allgemein

271

bb) Allgemeine Voraussetzungen des § 44a UrhG

272

cc) Keine eigenständige wirtschaftliche Bedeutung

273

dd) Nutzungszwecke nach § 44a Nr. 1 und 2 UrhG

273

(1) Zweck nach § 44a Nr. 1 UrhG

273

(2) Zweck nach § 44a Nr. 2 UrhG

274

(a) Rechtmäßige Nutzung

274

(b) Rechtmäßige Nutzung bei Umgehung einer technischen Schutzmaßnahme

275

5. Zwischenergebnis und eventuelle Versuchsstrafbarkeit

276

III. Tatbestandserfüllung durch den Sharer

277

1. Tathandlung: Vervielfältigung

277

2. Tathandlung: Verbreitung

277

3. Tathandlung: öffentliche Wiedergabe

278

a) Benannte Verwertungsrechte

278

b) Unbenanntes Verwertungsrecht i.S.v. § 15 Abs. 2 UrhG

279

aa) Eröffnung des Anwendungsbereichs der Richtlinie

280

bb) Voraussetzungen der öffentlichen Wiedergabe nach Art. 3 Abs. 1 InfoSoc-RL

281

(1) Handlung der Wiedergabe

281

(2) Öffentlichkeit der Wiedergabe

282

(3) Entwicklung des Merkmals der Öffentlichen Wiedergabe in der Judikatur des EuGH

283

(a) Ausgangsentwicklung

283

(b) Öffentliche Wiedergabe und Linking in der Rechtsprechung des EuGH

284

cc) Übertragung der Judikatur des EuGH auf die hier interessierenden Fälle

286

(1) Fälle des Account-Sharings

286

(2) Fälle des Cardsharings

286

(a) Handlung der Wiedergabe

286

(b) Öffentlichkeit der Wiedergabe

288

(c) Zwischenergebnis

290

(3) Kritik an einer solchen Auslegung der öffentlichen Wiedergabe

290

(4) Übertragbarkeit und Erfordernis eines restriktiven Verständnisses

292

dd) Lockerung der Akzessorietät bei § 106 UrhG in den Fällen harmonisierten Urheberzivilrechts

294

(1) Dogmatische Einordnung des Tatbestandsmerkmals "öffentliche Wiedergabe"

294

(2) Einfluss des Unionsrechts auf das Urheberstrafrecht

296

(a) Richtlinienziel

298

(b) Mittel zur Zielerreichung

298

(aa) Allgemeines zur Mindesttrias und dem Gleichstellungserfordernis

299

(bb) Schutz eines tauglichen Unionsinteresses im konkreten Fall

301

(cc) Erfüllung der Kriterien der Mindesttrias in den hier untersuchten Konstellationen

302

(α) Verpflichtung zur Schaffung strafrechtlicher Sanktionen durch die InfoSoc-RL?

302

(β) (Urheber-)‌Zivilrechtliche Normen und Anforderungen der Richtlinie

307

(dd) Zwischenergebnis

313

ee) Lockerung der strengen Akzessorietät

313

(1) Lockerung der Urheberzivilrechtsakzessorietät aufgrund des Schutzzwecks der Norm

314

(a) Wortlaut der Norm

315

(b) Systematische Auslegung

316

(c) Teleologische Auslegung

317

(2) Verfassungskonforme Auslegung

317

(a) Kein Verstoß gegen das Analogieverbot

318

(b) Verstoß gegen das Bestimmtheitsgebot

318

(c) Ultima ratio-Grundsatz als Grund zur Einschränkung der Akzessorietät

319

(3) Eigenständige strafrechtliche Begriffsbestimmung des Merkmals der öffentlichen Wiedergabe

320

4. Ergebnis zu der Frage der Strafbarkeit des Sharers nach § 106 UrhG

322

IV. Ergebnis

322

B. Unerlaubte Eingriffe in verwandte Schutzrechte – § 108 UrhG

322

I. Strafbarkeit des Nutzers

323

1. Tatobjekt und Tathandlung

323

a) Leistungsschutzrecht der ausübenden Künstler – § 108 Abs. 1 Nr. 4 UrhG

323

b) Leistungsschutzrecht des Sendeunternehmens – § 108 Abs. 1 Nr. 6 UrhG

323

aa) Funksendung

324

bb) Verwertung entgegen § 87 UrhG

325

c) Leistungsschutzrecht des Filmherstellers – § 108 Abs. 1 Nr. 7 UrhG

326

2. Ergebnis für den Nutzer

326

II. Strafbarkeit des Sharers

326

III. Gewerbsmäßige Begehungsweise nach § 108a UrhG

327

C. Unerlaubte Eingriffe in technische Schutzmaßnahmen und zur Rechtewahrnehmung erforderliche Informationen – § 108b UrhG

327

I. Strafbarkeit des Nutzers

328

1. Wirksame technische Maßnahme

328

a) Cardsharing

329

b) Account-Sharing

330

2. Tathandlung: Umgehung

331

a) Empfang des Sendesignals und Weiterleitung der ECM

332

b) Entschlüsselung der Sendeinhalte mit dem Kontrollwort/ Einsatz der Zugangsdaten

332

c) Kein anderes Ergebnis wegen äußerlich ordnungsgemäßen Handelns

332

3. Tatbestandsausschluss bei privatem Handeln

334

4. Ergebnis

335

II. Strafbarkeit des Sharers

335

1. Umgehungshandlung

335

2. Privater Gebrauch und Ergebnis

337

3. Vorbereitungshandlungen durch den Sharer

337

D. Strafvorschrift des § 33 KUG

337

§ 4: Weitere Straftaten, insbesondere aus dem Bereich der Cyberkriminalität

339

A. Strafvorschrift des § 4 ZKDSG

339

I. Strafbarkeit des Nutzers

340

II. Strafbarkeit des Sharers

340

1. Begriffliche Klärungen

340

a) Umgehungsvorrichtung

340

b) Zugangskontrollierte Dienste

341

c) Zugangskontrolldienste

341

2. Tatbestandserfüllung des § 4 ZKDSG in den Fällen des Sharings

341

a) Zugangskontrollierte Dienste und Zugangskontrolldienst als Vorbedingungen

341

aa) Cardsharing

342

bb) Account-Sharing

342

b) Umgehungsvorrichtung in den Fällen des Cardsharings

343

c) Verbotene Handlung gemäß §§ 4, 3 Nr. 1 ZKDSG in den Fällen des Cardsharings

344

d) Tatbestandserfüllung des § 4 ZKDSG durch den Account-Sharer?

345

III. Ergebnis und Rechtsfolgen

346

B. Fälschung beweiserheblicher Daten – § 269 StGB

346

I. Strafbarkeit des Nutzers

347

1. Cardsharing

347

2. Account-Sharing

349

a) Login in Abgrenzung zur Account-Registrierung

349

b) Login als für § 269 StGB relevanter Vorgang

350

aa) Login als hinreichend perpetuierte Gedankenerklärung

350

bb) Beweiserheblichkeit des Login-Vorgangs

351

cc) Andere Bewertung hinsichtlich der Beweiserheblichkeit wegen eindeutiger individueller Zuordnung der Zugangsdaten?

352

dd) Mangelnde Perpetuierung des Logins als Argument fehlender Beweiserheblichkeit

353

c) Keine für § 269 StGB relevante Handlung durch Wahrnehmbarmachung der Inhalte am Bildschirm

355

d) Ergebnis

355

II. Sharer

356

1. Account-Sharing

356

2. Cardsharing

356

C. Fälschung technischer Aufzeichnungen – § 268 StGB

357

D. Datenveränderung – § 303a StGB

358

E. Computersabotage – § 303b StGB

359

F. Störung von Telekommunikationsanlagen – § 317 StGB

359

G. Öffentliche Aufforderung zu Straftaten – § 111 StGB

360

H. Strafvorschrift des § 148 TKG

360

§ 5: Gesamtergebnis und Konkurrenzen zu Kapitel 3

361

A. Gesamtergebnis und Konkurrenzen hinsichtlich des Nutzers

361

B. Gesamtergebnis und Konkurrenzen hinsichtlich des Sharers

361

I. Ergebnis zu den Straftaten

361

II. Konkurrenzen

362

Kapitel 4: Bewertung der gefundenen Ergebnisse und Vorschlag zur Erfassung des Sharings de lege ferenda

364

A. Kriminalpolitisch unbefriedigende Rechtslage de lege lata

364

B. Erforderlichkeit eines das Sharing erfassenden Straftatbestandes de lege ferenda

365

I. Notwendigkeit einer Sharing-Strafnorm de lege ferenda

365

1. Aufgabe und Zweck des Strafrechts als Grenze strafrechtsbezogener Änderungen

365

2. Sharing als strafwürdiges und strafbedürftiges Unrecht

366

a) Nutzerverhalten

366

b) Sharerverhalten

368

c) Zwischenergebnis

371

3. Bewertung der Entwürfe für die §§ 127, 202e StGB und zu § 202a StGB

372

a) § 127 StGB-E – Betreiben krimineller Handelsplattformen im Internet

373

b) § 202e StGB-E – Unbefugte Benutzung informationstechnischer Systeme

375

c) Änderungsvorschlag zu § 202a StGB von Eisele/Nolte

376

d) Bewertung der vorgestellten Entwürfe

378

4. § 4 ZKDSG als ausreichender Schutz?

379

II. Vergleichender Blick insbesondere auf die schweizerische Rechtslage

381

C. Erweiterung des § 265a StGB als vorzugswürdige Lösung

384

I. Normtext

384

II. Begründung und Erläuterung

385

1. Zu § 265a Abs. 1 StGB-E

385

2. Zu § 265a Abs. 4 und 5 StGB-E

386

3. Zu § 265a Abs. 6 StGB-E

388

III. Konkurrenzen zur im Übrigen bestehenden Sharerstrafbarkeit

388

Zusammenfassung der wesentlichen Ergebnisse

390

Literaturverzeichnis

393

Sachwortverzeichnis

410