Insurance law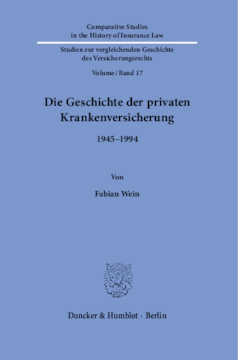 Additional Information
Book Details
ISBN

978-3-428-58388-1
978-3-428-18388-3 (print edition)

DOI

https://doi.org/10.3790/978-3-428-58388-1

Edition

1

Language

German

Pages

235

Collections

Subjects
Pricing
Institution

€ 116.00 (incl. local VAT if applicable)

Individual

€ 89.90 (incl. local VAT if applicable)
About The Author
Fabian Wein studierte Rechtswissenschaften an der Albert-Ludwigs-Universität Freiburg. Von 2015 bis 2018 arbeitete er zunächst als studentische Hilfskraft und von 2019 bis 2020 als wissenschaftlicher Mitarbeiter am Institut für Rechtsgeschichte und geschichtliche Rechtsvergleichung von Prof. Dr. Frank L. Schäfer. Er schrieb in dieser Zeit seine Dissertation über die Entwicklung der Privaten Krankenversicherung zwischen 1945 und 1994. Seine Promotion durch die Juristische Fakultät der Universität Freiburg erfolgte im Jahr 2021.
Fabian Wein studied Law at the Albert-Ludwigs-University in Freiburg (Germany). From 2015 to 2016 he worked as undergraduate assistant and from 2019 to 2020 as research associate in the Institute for Legal History and Historical Comparative Law of Prof. Dr. Frank L. Schäfer. During this time he wrote his Ph.D. thesis about the development of Private Health Insurance between 1945 and 1994. He received his doctorate from the Law Faculty of the University of Freiburg in 2021.
Abstract
Trotz der seit 1945 fortdauernder Debatte über die Rolle der PKV ist ihre Entwicklung bis zur Deregulierung im Jahr 1994 nur punktuell aufgearbeitet. Die gesellschaftliche Rolle der PKV und ihr Verhältnis zur GKV waren stets umstritten. Trotz der hohen Regulierungsdichte konnte sich die PKV auch durch eine Vielzahl an eigenständigen Innovationen behaupten. Insbesondere die Entwicklung der Krankheitskostenvolltarife und die Ausgestaltung der Zusatzversicherungstarife können nachvollzogen werden. Dem nach dem Ende des Wirtschaftswunders rapide zunehmendem Kostendruck konnte die PKV besser als die GKV widerstehen. In der Folge übernahm die PKV verstärkt sozialpolitische Verantwortung und es kam zu einer Annäherung der beiden Systeme. Im Rahmen der fortlaufenden Reformen übertrug der Gesetzgeber Elemente der PKV in die Gesetzliche Krankenversicherung und die PKV entwickelte ihrerseits sozialschützende Elemente jenseits ihrer klassischen, privatrechtlichen Wurzeln. »The History of Private Health Insurance«: This work describes the development of Private Health Insurance from 1945 until the deregulation in 1994. The since 1945 ongoing discussion about the role of Private Health Insurance in German society is contrasted with the ability to adapt to changing circumstances and independently innovate. In this light the numerous changes in the tariffs, especially the development of the full cost tariff, but also oversight and legislation are being analysed.
Table of Contents
Section Title
Page
Action
Price

Danksagung

5

Inhaltsverzeichnis

7

Abkürzungsverzeichnis

11

A. Einleitung

15

I. Die PKV – ein weitgehend unentdecktes historisches Objekt

15

II. Geburt der PKV

17

III. Rechtliche Grundlagen

18

IV. Ausgestaltung der Aufsicht bei Kriegsende

19

B. 1945–1954 – Bewältigung der Kriegsfolgen und Zeit des Wiederaufbaus

22

I. Allgemeine Kriegsfolgen

22

II. Politik der Besatzungsmächte und die Sozialversicherung

23

1. Sowjetische Besatzungszone

24

2. Berlin

25

3. Französische Besatzungszone

26

4. Amerikanische Besatzungszone

27

5. Britische Besatzungszone

28

6. Einheitsversicherung

29

III. Wege in die Unabhängigkeit

32

1. Währungsreform

32

2. Gründung der Bundesrepublik Deutschland

36

IV. Die PKV in der Nachkriegszeit

37

1. Verbandstätigkeit und Zeitschriften

38

2. Liquiditätsengpässe

40

3. Tarife im Jahr 1949

42

a) Leistungen des Versicherers

43

b) Beiträge des Versicherten

47

4. Grundbedingungen Krankheitskosten 1954

48

a) Kündigung und Änderung durch den Versicherer

49

b) Wartezeit und Vorerkrankung

50

5. Tarife im Jahr 1954

53

V. Zusammenfassung

56

C. 1955–1974 – Zeit des Wachstums

58

I. Entwicklung der GKV

60

1. Versuche grundlegender Reform

62

2. Leistungsexpansion

64

a) Erweiterung des Versichertenkreises

65

b) Neuregelung der Lohnfortzahlung

67

c) Ausweitung der gesetzlichen Leistungen

68

d) Reform der Krankenhausfinanzierung

70

e) Technischer Fortschritt in der Medizin

73

3. Zusammenfassung

74

II. PKV im Wirtschaftswunder

75

1. Entwicklung in Bestand und Leistung

76

2. Reform der Gebührenordnung

78

3. Einrichtung der Musterbedingungen

79

4. Entwicklung der Tarife

82

a) Durchsetzung der Allgemeinen Versicherungsbedingungen

82

b) Entwicklung der Wartezeit und Leistungsausschlüsse

83

c) Kündigungsrecht des Versicherers

85

d) Leistungsgestaltung

86

e) Subjektives Risiko

91

5. Zusammenfassung

91

III. Zusammenfassung

93

D. Wirtschaftskrise und Kostendämpfung

95

I. Das Ende des Wirtschaftswunders

95

II. Faktoren der Kostenentwicklung

98

III. Gesetzliche Krankenversicherung in der Krise

100

1. Kostendämpfung durch Einzelmaßnahmen und Globalsteuerung

101

2. Einstieg in die Strukturreform

103

a) Ambulanter Sektor

103

b) Stationärer Bereich

106

3. Ergebnis

109

IV. Entwicklung der PKV

109

1. Versicherungsentwicklung in Zahlen

110

2. Stationäre Kosten und Klinikcard

112

3. Rentner in der PKV

115

4. Konflikte mit den Ersatzkassen

117

a) Kostenerstattung und Beamte in der GKV

118

b) Zusatzversicherung

123

c) Zwischenergebnis

124

5. Gebührenordnung und Ärzteschaft

124

6. Entwicklung der Aufsicht

127

a) Verbraucherschutz, AGB-Gesetz und Rechtsschutz

127

b) Überarbeitung der Musterbedingungen

132

7. Entwicklung der Tarife

133

a) Durchsetzung der Musterbedingungen

134

b) Leistungen der PKV

134

c) Selbstbehalt und subjektives Risiko

137

d) Zusatztarife in der PKV

138

e) Studenten in der PKV

139

f) Die Wiedervereinigung und die PKV

140

8. Ergebnis

143

V. Ergebnis

144

E. Europäisierung und Aufsicht

145

I. Der Binnenmarkt für die Versicherung

146

II. Umsetzung in deutsches Recht

148

III. Ergebnis

151

F. Die Bundesrepublik und die private Krankenversicherung

152

I. Einheitsversicherung oder Säule der Sozialversicherung

152

1. Die Systemfrage

152

2. Die Sozialpolitik im Zeichen des Wachstums

154

3. Die Krise als Bewährungschance

158

II. Steuerung und Innovation in der PKV

162

Anhang

167

I. Allgemeine Versicherungsbedingungen

167

1. Normativbedingungen 1932 und 1933

167

2. Grundbedingungen für die Krankheitskostenversicherung

178

3. Musterbedingungen der Krankheitskostenversicherung 1966

184

4. Überarbeitete Musterbedingungen von 1976

192

II. Abbildungen

200

III. Tabellen

202

Literaturverzeichnis

215

Sachverzeichnis

233