Civil procedure: investigation & specific proceedings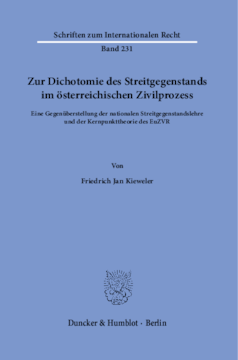 BOOK
Zur Dichotomie des Streitgegenstands im österreichischen Zivilprozess
Eine Gegenüberstellung der nationalen Streitgegenstandslehre und der Kernpunkttheorie des EuZVR
Schriften zum Internationalen Recht, Vol. 231
(2022)
Additional Information
Book Details
ISBN

978-3-428-58337-9
978-3-428-18337-1 (print edition)

DOI

https://doi.org/10.3790/978-3-428-58337-9

Edition

1

Language

German

Pages

394

Collections

Subjects
Pricing
Institution

€ 126.00 (incl. local VAT if applicable)

Individual

€ 98.90 (incl. local VAT if applicable)
About The Author
Friedrich Kieweler studierte Rechtswissenschaften an der Universität Wien (Mag.iur. 2010, Dr.iur. 2020) und Betriebswirtschaft an der Wirtschaftsuniversität Wien (BSc. 2016). Von 2011 bis 2019 war er als Universitätsassistent am Forschungsinstitut für Rechtsentwicklung der Universität Wien tätig. Seit 2019 ist er Rechtsanwaltsanwärter in Wien. Zu seinen Tätigkeitsschwerpunkten zählen Schiedsgerichtsbarkeit, Zivilverfahren und Zwangsvollstreckung sowie Handels- und Vertriebsrecht. Als Einjährig-Freiwilliger absolvierte er eine Infanterie-Offiziersausbildung und ist bis heute als Milizoffizier (Dienstgrad Oberleutnant) beim Österreichischen Bundesheer aktiv.
Friedrich Kieweler studied law at the University of Vienna (Mag.iur. 2010, Dr.iur. 2020) and business administration at the Vienna University of Economics and Business (BSc. 2016). From 2011 till 2019 he worked as a university assistant at the Research Institute of Law Development at the University of Vienna. Since 2019, he has been employed as an associate with renowned Viennese law firms. His practice areas include arbitration, civil litigation and enforcement, as well as commercial and distribution law. As a one-year volunteer, he completed infantry officer training and is still active as a militia officer (rank: First Lieutenant) in the Austrian Armed Forces.
Abstract
Die Kernaufgabe des Streitgegenstands im Zivilprozess besteht in einer Rationalisierungs- und Effizienzfunktion. Kurz: Inwieweit gelingt es dem praktizierten Streitgegenstand zur Zielerreichung beizutragen?

Die nationalen Streitgegenstandstheorien divergieren im Sachverhaltselement. »State of the art« ist die Lebenssachverhalts-Abgrenzung, Faschings »rechtserzeugendem Sachverhalt« fehlt es an ausreichender (prozessualer) Autonomie. Keine Theorie ist jedoch hinsichtlich sämtlicher Verfahrensstadien völlig konsistent. Die Kernpunkttheorie dient demgegenüber rein der Verfahrenskoordinierung. Gegenwärtig ist diese definitiv nicht als »echte« Streitgegenstandstheorie zu qualifizieren. Dazu müsste die Wechselbeziehung zwischen Rechtshängigkeitssperre und Anerkennungs(-versagungs-)recht beseitigt werden. Der vom EuGH in der Rechtssache ›Gothaer Allgemeine Versicherung / Samskip‹ postulierte unionsautonome Rechtskraftbegriff kann zur europäischen »Streitgegenstandsdogmatik« letztlich kaum etwas beitragen. »Austrian Civil Procedure's Dichotomy of a Notion Concerning the Matter in Dispute: a Comparison between the National Matter in Dispute Doctrine and the European Civil Procedure Law's ›Heart of the Two Actions‹-Theory«

In civil proceedings before an Austrian court, both the autonomous notion concerning the matter in dispute of European Civil Procedure Law, the so-called » heart of the two actions«-theory of the ECJ, and the national one may be applicable at the same time. The paper analyses the similarities, but also the differences between those concepts. In particular, the EU autonomous notion of res judicata postulated by the ECJ in ›Gothaer Allgemeine Versicherung vs. Samskip‹ is critically examined.
Table of Contents
Section Title
Page
Action
Price

Vorwort

5

Inhaltsverzeichnis

7

Abkürzungsverzeichnis

10

A. Einleitung

13

I. Themeneinführung

13

II. Forschungsstand

18

III. Forschungsfragen

20

IV. Methodik und Gang der Untersuchung

22

B. Der Streitgegenstand im nationalen Zivilprozessrecht

23

I. Aufgabe und Funktion des Streitgegenstands

23

II. Rechtshistorischer Überblick über die (prozessuale) Individualisierung der Streitsache

24

III. Ausgangspunkt der modernen Streitgegenstandsdiskussion: Individualisierungs- und Substantiierungstheorie – eine Gegenüberstellung

34

IV. Die österr. Auffassung vom Streitgegenstand

41

1. Gesetzliche Grundlage

41

2. Die Auffassung des historischen Gesetzgebers der CPO 1895

44

3. Definitionsvorschläge in der Lit.

45

4. Ältere Lehre vom Streitgegenstand

46

a) Die Ansicht von Karl Maria Müller

48

b) Die Ansicht von Emil Schrutka von Rechtenstamm

52

c) Die Ansicht von Georg Neumann

56

d) Die Ansicht von Georg Petschek

59

e) Die Ansicht von Hans Sperl

64

f) Die Ansicht von Rudolf Pollak

66

g) Die Ansicht von Karl Wolff

73

h) Schlussfolgerungen

78

5. Prozessuale Theorien

81

6. Prozessual zweigliedriger Streitgegenstandsbegriff

81

a) Abgrenzung nach dem "rechtserzeugenden" Sachverhalt

81

b) Abgrenzung nach dem "einheitlichen Lebenssachverhalt"

88

7. Prozessual eingliedriger Streitgegenstandsbegriff

101

8. Prozessual dreigliedriger Streitgegenstandsbegriff

118

9. Besondere Streitgegenstandstheorien

120

a) Allgemeines

120

b) Das meritorische Rechtsschutzziel als Streitgegenstand – die Ansicht von P. Böhm

121

c) Das Interesse als Streitgegenstand (Bub, Althammer)

124

10. Relativer und variabler Streitgegenstandsbegriff

129

11. Streitgegenstandsbegriff‍(e) in der österr. Rechtsprechung

131

a) Die postulierte Abkehr vom aktionenrechtlichen Denken durch den OGH

131

b) Hinwendung zu einem (prozessual) verankerten zweigliedrigen Streitgegenstand

137

c) Bindung an die rechtliche Qualifikation des Klägers – dreigliedrig ma‍teriell-rechtlich bedingter Streitgegenstand

139

d) Anhaltspunkte für eine faktische Abgrenzung nach dem Lebenssachverhalt

140

e) Die Streitgegenstandsbestimmung nach der "Kerntheorie"

147

12. Der Streitgegenstand als feste Größe oder Gegenstand der Parteidisposition?

151

a) Objektivierung des Sachverhalts

152

b) Dispositionsmöglichkeiten über den Klageantrag

159

13. Irrelevanz von Individualisierungs- und Substantiierungstheorie auf Basis "rein" prozessrechtlicher Streitgegenstandstheorien

174

14. Objektive Grenzen der (materiellen) Rechtskraft

178

15. Anspruchskonkurrenz vs. Klagenkonkurrenz

183

16. Identität von Leistungsklage und entgegengesetzter negativer Feststellungsklage?

192

V. Der Streitgegenstandsbegriff im dt. Zivilprozessrecht (§ 253 dZPO)

199

1. Definitionsvorschläge in der Lit.

199

2. Streitgegenstandsdefinition in der Rechtsprechung des BGH

208

VI. Zwischenergebnis

219

C. Zum "Streitgegenstandsbegriff" im EuZVR

222

I. Normgrundlage – die Regelung der Rechtshängigkeit (lis pendens)

222

II. Normzweck der Rechtshängigkeitssperre

224

III. Prioritätsprinzip

226

1. Ausgangssituation – das strikt angewandte Prioritätsprinzip

226

a) Ausschließliche Gerichtsstandsvereinbarungen

229

b) Ausschließliche Zuständigkeit des Zweitgerichts

231

c) Prozessführungsverbote nach dem Common Law (anti-suit injunctions)

236

d) Prozessverschleppung durch Missbrauch der Rechtshängigkeitssperre

243

2. Aufweichung des Prioritätsprinzips durch die Neufassung der EuGVVO?

250

3. Berücksichtigung drittstaatlicher Rechtshängigkeit

257

4. Der maßgebliche Zeitpunkt

263

5. Auf Anerkennungsebene

267

6. Zusammenfassung

274

IV. Autonome Auslegung

275

V. Dogmatik des "Streitgegenstands" im EuZVR

281

1. Die Kernpunkttheorie – ein dogmatisches Konzept?

281

2. Einzelfälle

294

a) Koordinierung von Leistungs- und (negativer) Feststellungsklage

294

b) Teilklagen

302

c) Prozessuale Aufrechnung und sonstige Einwendungen des Beklagten

303

d) Hilfsanträge

307

e) Verhältnis zum einstweiligen Rechtsschutz

311

3. Abgrenzung der Verfahrensidentität von konnexen Verfahren i.S.v. Art. 30 EuGVVO

314

4. Kritik der Lehre am weiten "Streitgegenstandsbegriff"

317

5. Versuch einer Neujustierung der Kernpunkttheorie im Zuge der Reform der EuGVVO

323

6. Vergleich mit der nationalen Streitgegenstandslehre

325

7. Zusammenfassung

328

VI. Unvereinbarkeit von Entscheidungen i.S.d. Anerkennungsversagungsgründe Art. 45 Abs. 1 lit. c und d EuGVVO

330

VII. Verhältnis zwischen Rechtshängigkeit und Rechtskraft – Anhaltspunkte für eine eigenständige Rechtskraftlehre?

338

1. Ausgangspunkt – die EuGH-E in der Rs. Gothaer Allgemeine Versicherung ./. Samskip

338

2. Krit. Beleuchtung aus dogmatischer Perspektive

343

3. Schlussfolgerungen

350

VIII. Zwischenergebnis

351

D. Zusammenfassung der Ergebnisse

353

Quellenverzeichnis

356

I. Literatur

356

II. Judikatur

366

III. Sonstige Quellen

387

Stichwortverzeichnis

389