Taxation & duties law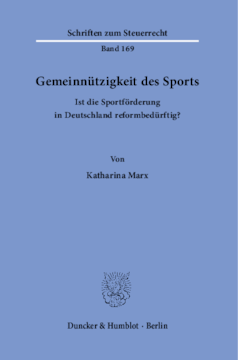 BOOK
Gemeinnützigkeit des Sports
Ist die Sportförderung in Deutschland reformbedürftig?
Schriften zum Steuerrecht, Vol. 169
(2021)
Additional Information
Book Details
ISBN

978-3-428-58490-1
978-3-428-18490-3 (print edition)

DOI

https://doi.org/10.3790/978-3-428-58490-1

Edition

1

Language

German

Pages

241

Collections

Subjects
Pricing
Institution

€ 92.00 (incl. local VAT if applicable)

Individual

€ 71.90 (incl. local VAT if applicable)
About The Author
Katharina Marx arbeitet seit 2016 als Rechtsanwältin in einer internationalen Wirtschaftskanzlei in Frankfurt am Main im Bereich Steuerrecht, mit Schwerpunkt Investmentsteuerrecht und Fonds. Nach dem Studium der Rechtswissenschaften in Trier und Genua und dem Absolvieren des juristischen Vorbereitungsdienstes mit Stationen u.a. in Trier, an der Deutschen Universität für Verwaltungswissenschaften in Speyer und in Frankfurt am Main schloss sie 2021 an der Friedrich-Schiller-Universität Jena ihre Promotion ab.
Katharina Marx has been working as a lawyer in an international law firm in Frankfurt am Main since 2016 in the area of tax law, with a focus on investment tax law and funds. After studying law in Trier and Genoa and completing her legal traineeship with stations, inter alia, in Trier, at the German University of Administrative Sciences in Speyer and in Frankfurt am Main she received her doctorate from the Friedrich Schiller University in Jena in 2021.
Abstract
Die Autorin befasst sich mit der steuerrechtlichen Förderung des Sports, die seit Jahrzehnten Gegenstand intensiver Diskussionen und rechtspolitischer Entwicklungen ist. Im Kern der Überlegungen stehen die Fragestellungen, inwiefern die gemeinnützigkeitsrechtliche Förderung des Sports, auch und gerade vor dem Hintergrund aktueller Berichterstattungen über Fehlverhalten bei Sportvereinen oder -verbänden, dem Grunde nach weiterhin ihre Berechtigung findet oder reformbedürftig ist.

Neben einer Einordnung der steuerrechtlichen Grundsätze und Regelungszusammenhänge der Gemeinnützigkeit des Sports erfolgt eine Analyse sowohl aus rechtshistorischem, dogmatischem als auch rechtspolitischem Blickwinkel. Basierend auf den daraus gewonnenen Erkenntnissen werden zudem neu aufkommende Sportarten wie E-Sport untersucht. Ein weiterer Schwerpunkt der Arbeit liegt auf der Einordnung sportspezifischer Vorschriften wie der 50+1-Regel im gemeinnützigkeitsrechtlichen Kontext. »Non-profit Status of Sports. Is Sports Funding in Germany in Need of Reform?«: The author deals with the advancement of sports under German tax law, which has been the subject of intensive discussions and developments for decades. At the core of the considerations are the questions regarding the extent to which the advancement of sports under German non-profit law continues to be justified or is in need of reform, also and especially against the background of recent reporting on misconduct by sports clubs or associations.
Table of Contents
Section Title
Page
Action
Price

Inhaltsverzeichnis

5

Abkürzungsverzeichnis

11

Teil 1: Fragestellung und Gang der Untersuchung

13

Teil 2: Sport als gemeinnütziger Zweck in der aktuellen Rechtsordnung

15

A. Die Förderung des Sports im heutigen Gemeinnützigkeitsrecht

15

I. Der Begriff der Sportförderung im Gemeinnützigkeitsrecht

15

II. Wirtschaftliche Bedeutung der Gemeinnützigkeit für Sportvereine: Steuervergünstigungen und sonstige steuerliche Vorteile im Überblick

16

III. Meinungsstand zur Gemeinnützigkeit des Sports

18

B. Der Sportbegriff in der Abgabenordnung

19

I. Sport als gemeinnütziger Zweck

19

II. Der Sportbegriff im Sinne des § 52 Abs. 2 Satz 1 Nr. 21 AO

20

III. Zwischenfazit

22

C. Die Subsumtion ausgewählter Sportarten unter den Sportbegriff des § 52 Abs. 2 Satz 1 Nr. 21 AO

23

I. Automobilsport

23

1. Einstufung als Sport im Sinne des § 52 Abs. 2 Satz 1 Nr. 21 AO

24

2. Kritik: unzureichendes Maß körperlicher Ertüchtigung

25

3. Kritik: Zweckkollision

25

4. Zur Einordung

26

II. Flugsport

27

1. Segel- und Motorflugsport

27

2. Ballonfahren

28

3. Modellflug

29

4. Zur Einordnung

29

III. Schach

30

1. Fiktion des Schach als Sport

30

2. Zur Einordnung

31

IV. Bridge, Skat und Go

32

1. Skat, Go und ähnliche Spiele

32

2. Turnierbridge

34

3. Zur Einordnung

35

V. Schießsport

36

1. Allgemeiner Schießsport

36

2. IPSC-Schießen

37

3. Paintball

40

4. Zur Einordnung

42

VI. Tischfußball / Drehstangen-Tischfußball

43

1. Tipp-Kick

43

2. Drehstangen-Tischfußball

44

3. Zur Einordnung

45

VII. Hundesport, Pferderennsport, Reitsport

46

1. Hundesport

46

2. Pferderennsport

47

3. Reitsport

50

4. Zur Einordnung

50

VIII. Minigolf, Kegeln, Bowling, Billard, Darts

50

1. Minigolf

51

2. Kegeln

52

3. Billard

53

4. Darts

54

5. Bowling

54

6. Zur Einordnung

56

IX. Tanzen

56

1. Einstufung des Tanzens als Sport

56

2. Zur Einordnung

59

X. Neuere Sportarten, Trendsportarten

59

1. Yoga

60

2. Trendsportarten

60

3. Zur Einordnung

61

XI. E-Sport

61

1. Begriff des E-Sports

62

2. Entwicklung in der öffentlichen Wahrnehmung

62

3. Zur Einordnung des E-Sports im Gemeinnützigkeitsrecht

64

a) Zur möglichen Erfassung des E-Sport im Rahmen des Sportbegriffs gemäß § 52 Abs. 2 Satz 1 Nr. 21 AO

65

b) Zur Möglichkeit einer anderweitigen Berücksichtigung des E-Sports im Gemeinnützigkeitsrecht

69

aa) Einstufung als gemeinnützig über die Öffnungsklausel nach § 52 Abs. 2 Satz 2 AO

70

bb) Erweiterung des Katalogs des § 52 Abs. 2 Satz 1 AO

71

D. Zwischenfazit

71

Teil 3: Rechtliche Rahmenbedingungen der gemeinnützigkeitsrechtlichen Förderung des Sports

73

A. Anfänge und Entwicklung der Gemeinnützigkeit

73

B. Gemeinnützigkeit des Sports in Deutschland

74

I. Sport im Katalog der gemeinnützigen Zwecke

74

II. Die Aufnahme des Sports in den Katalog gemeinnütziger Zwecke in der Diskussion

77

C. Der verfassungsrechtliche Rahmen des Gemeinnützigkeitsrechts

79

D. Die Substitutionswirkung des Gemeinnützigkeitsrechts

82

I. Daseinsvorsorge

82

II. Pluralistische Gemeinwohlaufgaben

83

III. Bereichernde Wirkung

83

IV. Die Substitutionswirkung der Sportförderung

84

V. Ermessensspielraum

84

E. Zwischenfazit

85

Teil 4: Allgemeine gesetzliche Grundlagen der Feststellung der Gemeinnützigkeit von Vereinen zur Förderung des Sports

87

A. Selbstlose Förderung der Allgemeinheit auf materiellem, geistigem oder sittlichem Gebiet nach der Abgabenordnung

87

I. Gemeinnütziger Zweck, Öffnungsklausel

88

II. Förderung der Allgemeinheit

88

1. Beschränkung der Förderung auf Mitglieder

89

2. Finanzielle Aufnahmebeschränkungen

90

a) Kostspielige Sportarten

90

b) Durchschnittsbeträge der Finanzverwaltung

91

c) Abgrenzung Beitrag – freiwillige Spende

93

3. Frauen- und Männersportvereine

94

III. Selbstlosigkeit

96

1. Abgrenzung eigenwirtschaftlicher Betätigung

97

2. Förderung des bezahlten Sports, § 58 Nr. 8 AO

98

IV. Unmittelbarkeit

99

V. Negativabgrenzungen

100

1. Private Freizeit- und Lebensgestaltung

101

2. Kein Verstoß gegen die Rechtsordnung

102

B. Formelle Satzungsmäßigkeit

104

C. Systematisches Verständnis des § 52 Abs. 1 und 2 AO

105

I. Zur Problemstellung

106

II. Stellungnahme

108

D. Zwischenfazit

110

Teil 5: Besondere Fragen der laufenden gemeinnützigen Tätigkeit und Finanzierung von Vereinen zur Förderung des Sports

113

A. Die vier Vermögenssphären

113

I. Ideeller Bereich

114

II. Vermögensverwaltung

115

1. Auslagerungsmodell

115

a) Vereinsrechtliche Grundlagen des Auslagerungsmodells

116

b) Das Auslagerungsmodell im gemeinnützigkeitsrechtlichen Bereich der Vermögensverwaltung

119

2. Die sogenannte "50+1"-Regelung

121

III. Zweckbetrieb

123

IV. Wirtschaftlicher Geschäftsbetrieb

123

B. Sportliche Veranstaltung

124

I. Begriff der sportlichen Veranstaltung

125

II. Regelungsinhalt, § 67a Abs. 1 AO

126

III. Verzicht auf Anwendung der Zweckbetriebsgrenze, § 67a Abs. 2, 3 AO

128

IV. Sportliche Veranstaltung in der Umsatzsteuer

128

C. Zwischenfazit

131

Teil 6: Legitimation der steuerlichen Begünstigung der Förderung des Sports

133

A. Argumente für die Gemeinnützigkeit des Sports

134

I. Förderung der Gesundheit

134

II. Integrative und sozialisierende Wirkung

136

III. Wertevermittlung

138

IV. Identifikationsfiguren und Völkerverständigung: Rolle des Leistungssports

139

V. Volkswirtschaftliche Bedeutung

140

B. Status quo der Anerkennung als gemeinnützig, Staatszielbestimmung

142

C. Kritik an der Einstufung des Sports als gemeinnütziger Zweck

143

I. Negative Auswirkungen des (Spitzen-)Sports

143

1. Kritik

143

2. Stellungnahme

145

a) Gesundheitsschäden durch sportliche Betätigung

146

b) Phänomen des Spitzensports

147

c) Agonistische Elemente im Sport

149

d) Doping

151

e) Sittliche Verrohung im Umfeld des Sports

154

f) Schlussfolgerung

157

II. Zweckkollisionen / Zielkonflikte

158

1. Kritik

159

a) Zu den Zweckkollisionen im Einzelnen

160

b) Generelle Nachrangigkeit des Sports

161

c) Abwägende Ansicht

162

2. Stellungnahme

162

a) Zur Nachrangigkeit des Sports als verfassungskonforme Auslegung des § 52 Abs. 1 Satz 1 AO

163

b) Zur Vorrangigkeit des Art. 20a GG

165

c) Positive Effekte der Aufrechterhaltung der Förderung des Sports

166

d) Bestehende gesetzliche Vorschriften zur Beschränkung schädlicher Nebenwirkungen des Sports

167

aa) Anti-Doping-Gesetz

167

bb) Bauplanungsrecht

169

cc) Sportanlagenlärmschutzverordnung

171

dd) Sonn- und Feiertagsgesetze der Länder

173

e) Zum Vorschlag einer Lösung von Zweckkollisionen

173

III. Sport als reine Freizeitgestaltung

176

1. Kritik

176

a) Keine steuerliche Begünstigung privater Freizeitbetätigung

177

b) Spendenabzug

179

2. Stellungnahme

180

a) Zur Nähe des Sports zur Freizeitgestaltung

180

b) Zweckkatalog des § 52 Abs. 2 Satz 1 AO – Argumentation des Vergleichsschlusses

183

c) Abzugsfähige Zuwendungen

185

d) Zwischenfazit zur Berücksichtigung der freizeitlichen Elemente des Sports im Gemeinnützigkeitsrecht

188

IV. Fortschreitende Kommerzialisierung

188

1. Kritik

189

2. Stellungnahme

190

V. Wettbewerbsverzerrung

194

1. Kritik

194

2. Stellungnahme

195

a) Legislatorische Rahmenbedingung des Wettbewerbs

196

aa) Besteuerung bestimmter Aktivitäten im Rahmen des wirtschaftlicher Geschäftsbetriebs

196

bb) Wettbewerb im Rahmen des Zweckbetriebs

197

cc) Wettbewerb in Zusammenhang mit sportlichen Veranstaltungen gemeinnütziger Körperschaften (§ 67a AO)

198

dd) Zwischenfazit zur legislatorischen Rahmenbedingung

200

b) Konkrete Wettbewerbssituationen

201

aa) Abgrenzung: Wettbewerb mit Sportverbänden

201

bb) Wettbewerb mit gemeinnützigen Vereinen

202

c) Zur Bewertung der Wettbewerbssituation

203

aa) Beurteilung am Maßstab des Art. 12 GG

203

bb) Beurteilung am Maßstab des Art. 3 GG

205

d) Zusammenfassende Stellungnahme

211

D. Zwischenfazit

211

Teil 7: Ergebnisse und Reformvorschläge

213

Teil 8: Ausblick

222

Literaturverzeichnis

224

Sachverzeichnis

239