Criminal law: procedure & offences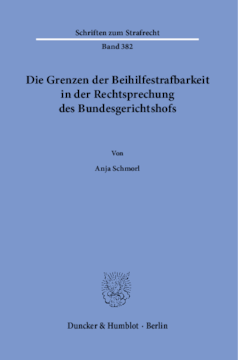 BOOK
Die Grenzen der Beihilfestrafbarkeit in der Rechtsprechung des Bundesgerichtshofs
Schriften zum Strafrecht, Vol. 382
(2022)
Additional Information
Book Details
ISBN

978-3-428-58391-1
978-3-428-18391-3 (print edition)

DOI

https://doi.org/10.3790/978-3-428-58391-1

Edition

1

Language

German

Pages

217

Collections

Subjects
Pricing
Institution

€ 80.00 (incl. local VAT if applicable)

Individual

€ 62.90 (incl. local VAT if applicable)
About The Author
Die Autorin studierte Rechtswissenschaften an der Universität Leipzig mit dem Schwerpunkt Kriminalwissenschaften. Nach ihrem Ersten Staatsexamen im April 2017 begann sie im Mai 2017 ihr Promotionsstudium bei dem Honorarprofessor der Universität Leipzig RiBGH Prof. Dr. Andreas Mosbacher und widmete bis Mai 2018 den weit überwiegenden Teil ihrer Zeit dem Promotionsprojekt. Im Mai 2018 begann sie ihr Referendariat am Landgericht Leipzig mit Stationen bei dem Bundesministerium für Justiz und Verbraucherschutz in Berlin in dem Referat für Strafprozessrecht, dem Rechtsanwalt und Fachanwalt für Strafrecht Michael Stephan in Dresden und der Kanzlei für Strafrecht und Wirtschaftsstrafrecht Ufer Knauer PartmbB in München. Seit Juli 2020 ist sie als Rechtsanwältin bei Ufer Knauer in München tätig.
The author studied law at the University of Leipzig with a focus on criminal science. After her first state examination in April 2017, she began her doctoral studies in May 2017 with the honorary professor of the University of Leipzig, RiBGH Prof. Dr. Andreas Mosbacher, and devoted the vast majority of her time to her doctoral project until May 2018. In May 2018, she began her legal clerkship at the Regional Court of Leipzig with stations at the Federal Ministry of Justice and Consumer Protection in Berlin in the Department for Criminal Procedure Law, the lawyer and specialist lawyer for criminal law Michael Stephan in Dresden and the law firm for criminal law and white collar crime Ufer Knauer PartmbB in Munich. Since July 2020, she has been working as an attorney at law at Ufer Knauer in Munich.
Abstract
Die Arbeit stellt die Grenzen der Beihilfestrafbarkeit in den Entscheidungen des Bundesgerichtshofs dar. Im Zentrum der Arbeit steht eine Auswertung verschiedener Entscheidungen anhand sachverhaltsspezifischer Fallgruppen. Der Auswertung ist eine kurze Darstellung der Grundlagen der Beihilfestrafbarkeit in der Rechtsprechung des Bundesgerichtshofs vorangestellt. Danach erfolgt die fallbezogene Darstellung der Schwerpunkte der Beihilfestrafbarkeit anhand ausgewählter Entscheidungen des Bundesgerichtshofs. Die Fallgruppen beinhalten Entscheidungen zur Beihilfe durch berufsbedingte Handlungen und durch Handlungen in wirtschaftlichen und staatlichen Organisationskomplexen. Im Anschluss an die fallgruppenbezogene Darstellung werden die einzelnen Aspekte soweit möglich verglichen und zueinander in Bezug gesetzt. Aus dieser Auswertung ergeben sich schließlich drei Grenzen der Beihilfestrafbarkeit, wobei eine Grenze fallgruppenbezogen und zwei Grenzen fallgruppenübergreifend auftreten. »The Limitations of Criminal Liability for Aiding in the Jurisdiction of the Federal Court of Justice«: The focus of the work is a case-group-related presentation and evaluation of the limits of the criminal liability for aiding in selected decisions of the Federal Court of Justice. The systematization is preceded by a brief presentation of the fundamentals of the criminal liability for aiding in the jurisdiction of the Federal Court of Justice. Finally, the individual aspects are compared and related to each other as far as possible on the basis of the decisions presented.
Table of Contents
Section Title
Page
Action
Price

Inhaltsverzeichnis

5

Abkürzungsverzeichnis

12

A. Einleitung

15

I. Problemstellung

15

II. Der Gegenstand der Untersuchung

17

III. Methode und Gang der Untersuchung

18

1. Die höchstrichterliche Rechtsprechung als Ausgangspunkt

18

2. Die fallgruppenbezogene Untersuchung

19

3. Die Systematisierung der fallgruppenübergreifenden Einschränkungen

20

B. Grundlagen der Beihilfestrafbarkeit in der Rechtsprechung des Bundesge‍richtshofs

22

I. Strafgrund der Beihilfe

22

1. Grund für Kriminalstrafe

22

2. Strafgrund der Teilnahme

24

a) Die "akzessorische Verursachungstheorie" des Bundesgerichtshofs

24

b) Unterschied zur reinen Verursachungstheorie

25

c) Ausdehnung der Bedeutung des eigenständigen Rechtsgutsangriffs

26

d) Zwischenergebnis

27

3. Strafgrund der Beihilfe

27

II. Beihilfe und Kausalität

27

1. Grundlagen der Kausalität

28

a) Die conditio-sine-qua-non-Theorie als Grundsatz

28

b) Einschränkungen der Äquivalenztheorie

29

2. Ursächlichkeit der Beihilfehandlung nach der Rechtsprechung des Bundesgerichtshofs

30

a) Grenze zwischen versuchter und vollendeter Beihilfe

31

aa) BGH, Urt. v. 3.2.2010 – 2 StR 368/09 (Sichergestellte Betäubungsmittel)

32

bb) BGH, Urt. v. 7.2.2008 – 5 StR 242/07 (Vereinbarung einer Scheinübergabe von Betäubungsmitteln)

32

cc) Auswirkungen der Zurechnungsform

33

dd) Schwierigkeiten der reichsgerichtlichen Rechtsprechung und Weiterentwicklung der Förderungsformel

34

b) Anwendung des Risikoerhöhungsgedankens

34

c) Praktische Auswirkungen der Kritik an der Förderungsformel

35

III. Psychische Beihilfe

36

1. Beihilfe durch technische Rathilfe

36

2. Beihilfe durch Bestärken des Tatentschlusses

38

a) Die Anwesenheit am Tatort und die Abgrenzung zur Beihilfe durch Unterlassen

39

aa) Problematische Entscheidungen des Bundesgerichtshofs

39

bb) Notwendige Voraussetzungen der psychischen Beihilfe durch aktives Tun

40

b) Stabilisierung des Tatentschlusses

43

c) Vorgeleistete Strafvereitelung

44

aa) Auswirkung der Förderung vor Vollendung der Haupttat

44

bb) Auswirkung der Förderung nach Vollendung der Haupttat

45

d) Auswirkungen auf andere Rechtsgebiete

46

IV. Beihilfe und Unterlassen

47

1. Grundlagen der Unterlassungsstrafbarkeit

47

2. Beihilfe durch Unterlassen

48

a) Abgrenzung zwischen Beihilfe und Mittäterschaft bei Begehungsdelikten

48

b) Abgrenzung zur Mittäterschaft im Rahmen der Beihilfe durch Unterlassen

49

aa) Übertragung der Abgrenzungskriterien

49

(1) Annahme von Täterschaft

49

(2) Annahme von Beihilfe

51

(3) Zwischenergebnis

52

bb) Loslösung von Kriterien der Begehungsstrafbarkeit

52

cc) Ergebnis

54

c) Erschwerung des Taterfolges und Kausalität des Unterlassens

54

3. Beihilfe zum Unterlassen

56

a) Möglichkeit der aktiven Teilnahme an einem Unterlassungsdelikt?

56

b) Garantenpflicht als besonderes persönliches Merkmal gemäß § 28 I StGB?

57

4. Zwischenergebnis

58

V. Beihilfe und das Prinzip der Eigenverantwortung

58

1. Grundlage der Straffreiheit

58

2. Grenzen der Straffreiheit

60

3. Auswirkungen auf die fahrlässige Tötung, § 222 StGB

61

VI. Zeitliche Grenzen der Beihilfe

62

1. Beihilfe bis zur Vollendung der Haupttat

63

2. Beihilfe zwischen Vollendung und Beendigung der Tat

65

a) Beteiligung an Betäubungsmitteldelikten

65

b) Beteiligung an Delikten außerhalb des Betäubungsmittelstrafrechts

67

3. Beihilfe nach materieller Beendigung

69

C. Die Grenze der Beihilfestrafbarkeit in einzelnen Fallgruppen in der Rechtspre‍chung des Bundesgerichtshofes

70

I. Allgemeine Typisierung

70

II. Grundsätze des Bundesgerichtshofes

72

III. Berufsbedingte Handlungen

73

1. Rechtsanwälte

73

a) Erteilung von Rechtsrat

73

aa) RG, Urt. v. 17.11.1904 – I 1178/04 (Hilfe zur Gefangenenbefreiung)

73

bb) BGH, Beschl. v. 21.8.1992 – 2 ARs 346/92 (Auskunft zum Parteiverrat)

75

cc) BGH, Beschl. v. 20.9.1999 – 5 StR 729/98 (Erstellung von Broschüren zu den Risiken von Kapitalanlagen)

76

dd) BGH, Beschl. v. 21.12.2016 - 1 StR 112/16 (Verschleierung von Altmetallan- und -verkäufen)

78

ee) BGH, Beschl. v. 26.1.2017 – 1 StR 636/16 (Geltendmachung von unplausiblen Verkehrsunfallschäden)

80

ff) Zusammenfassung zur Beihilfe eines Rechtsanwaltes durch Erteilung eines Rechtsrates

82

b) Sonstige Tätigkeit

83

aa) BGH, Urt. v. 20.8.1953 – 1 StR 88/53 (Benennung eines Zeugen)

83

bb) BGH, Urt. v. 10.2.1982 – 3 StR 398/81 (Anwesenheit bei einem Essen)

83

cc) BGH, Urt. v. 26.10.1998 – 5 StR 746/97 (Mitwirkung an einem Währungstauschgeschäft)

84

dd) BGH, Urt. v. 15.11.2006 – 2 StR 157/06 (Beantragung von unberechtigten Verlängerungen einer Aufenthaltsgenehmigung)

85

c) Zusammenfassung der Fallgruppe der Rechtsanwälte

87

2. Beratung durch Steuerberater

88

a) BGH, Urt. v. 21.8.2014 – 1 StR 13/14 (Steuererklärung bei Honorarsplitting)

88

b) BGH, Beschl. v. 20.12.1995 – 5 StR 412/95 (Anfertigung der Körperschaftssteuererklärung)

89

3. Beratung durch Bankberater

91

4. Sonstige berufliche Tätigkeiten

93

a) BGH, Urt. v. 18.11.1988 – 2 StR 580/88 (Fahrt zur räuberischen Erpressung)

93

b) BGH, Urt. v. 18.4.1996 – 1 StR 14/96 (Sachverständigengutachten über Edelsteine)

93

c) BGH, Urt. v. 18.6.2003 – 5 StR 489/02 (Tipp zur steuerlich günstigen Geldanlage)

94

d) BGH, Beschl. v. 11.12.2008 – 3 StR 21/08 (Lieferung von Diamanten und betrügerischer Weiterverkauf)

96

e) BGH, Urt. v. 22.1.2014 – 5 StR 468/12 (Abbuchung betrügerisch erlangter Forderungen)

96

f) BGH, Urt. v. 19.12.2017 – 1 StR 56/17 (Verkauf von Maschinen zur illegalen Zigarettenherstellung)

97

IV. Tätigkeit in wirtschaftlichen Organisationsstrukturen

98

1. BGH, Urt. v. 23.1.1985 – 3 StR 515/84 (Bürotätigkeit)

99

2. BGH, Urt. v. 13.4.1988 – 3 StR 33/88 (Botengänge)

99

3. BGH, Urt. v. 21.12.2005 – 3 StR 470/04 (Umsetzung von veruntreuenden Gesellschafterbeschlüssen)

100

4. BGH, Urt. v. 9.5.2017 – 1 StR 265/16 (Freigabe von Scheinrechnungen durch den Prokuristen)

102

5. BGH, Urt. v. 15.5.2018 – 1 StR 159/17 (Mitwirkung am steuerunehrlichen Handel mit CO2-Zertifikaten)

103

6. Zusammenfassung der Beihilfestrafbarkeit aufgrund Tätigkeit in wirtschaftlichen Organisationsstrukturen

105

a) Überprüfung der aufgestellten Thesen

105

b) Grund für die Herausbildung des Kriteriums bei der beruflichen Tätigkeit in wirtschaftlichen Organisationsstrukturen

106

c) Auswirkungen der Weisungsgebundenheit

106

V. Beteiligung im Rahmen von staatlicher Systemkriminalität

107

1. Beihilfe durch beruflich veranlasste Tätigkeit in nationalsozialistischen Konzentrationslagern

107

a) Besonderheiten der Beteiligung an staatlich organisierten Massenverbrechen

108

aa) Täter oder Teilnehmer?

108

bb) Mordmerkmale

109

cc) Handeln auf Befehl

111

dd) Beschränkung auf Tätigkeiten in den Konzentrationslagern

112

b) Beihilfe durch das Wachpersonal

112

aa) BGH, Urt. v. 25.11.1964 – 2 StR 71/64 (Wachmänner im Vernichtungslager "Chelmo")

113

bb) BGH, Urt. v. 15.8.1969 – 1 StR 197/68 (Organisation des Transports in Vernichtungslager)

114

cc) BGH, Urt. v. 25.3.1971 – 4 StR 47/69 (Wachmänner im Vernichtungslager "Sobibor")

115

dd) BGH, Beschl. v. 20.9.2016 – 3 StR 49/16 ("Häftlingsgeldverwalter" und Wachmann in Auschwitz)

116

ee) Zusammenfassung

118

c) Ärztliche Tätigkeit in nationalsozialistischen Konzentrationslagern

120

aa) BGH, Urt. v. 20.2.1969 – 2 StR 280/67 (Selektion an der Rampe und Überwachung des Zyklon-B-Einwurfs)

120

(1) Angeklagter Dr. L

120

(2) Angeklagter Dr. F

121

(3) Angeklagter Dr. C

121

bb) Zusammenfassung

122

cc) Beschränkung der ärztlichen Tätigkeit auf die medizinische Versorgung

123

d) Lieferanten

124

aa) Lieferung des Zyklon B

125

bb) Lieferung anderer Waren

125

2. Verbindung zur Teilnahme an Straftaten in Zusammenhang mit dem Grenzregime der DDR

126

a) BGH, Urt. v. 8.3.2001 – 4 StR 453/00 (Generelle Miterstellung der Grenzbefehle)

126

b) BGH, Urt. v. 26.4.2001 – 4 StR 30/01 (Miterstellung der Grenzbefehle zur Verminung des Grenzgebiets)

128

3. Zusammenfassung zur Beihilfe im Rahmen staatlicher Systemkriminalität

128

VI. Beihilfe im Zusammenhang mit terroristischen Anschlägen und Kriegsverbrechen

129

1. BGH, Beschl. v. 8.5.1990 – 3 StR 448/89 (Beschaffung eines Weckers zum Bombenbau)

129

2. BGH, Urt. v. 16.11.2006 – 3 StR 139/06 (Unterstützung des Anschlags auf die Türme des World Trade Centers)

130

3. BGH, Beschl. v. 28.6.2018 – StB 10/18 (Unterstützung einer terroristischen Vereinigung durch eheliche Haushaltstätigkeiten)

134

4. BGH, Urt. v. 20.12.2018 – 3 StR 236/17 (Rädelsführerschaft in einer ausländischen terroristischen Vereinigung)

135

5. Zusammenfassung zur Beihilfe im Zusammenhang mit terroristischen Anschlägen und Kriegsverbrechen

136

D. Analyse und Systematisierung der Grenzen der Beihilfestrafbarkeit

138

I. Die Förderungsformel als Ausgangspunkt

139

1. Eigener und akzessorischer Rechtsgutsangriff des Gehilfen

139

2. Ungeeignetheit der Äquivalenztheorie

141

3. Die Förderung von Handlungen fest zur Tat entschlossener Täter

142

4. Zwischenergebnis

143

II. Die Untauglichkeit des Merkmals der Berufstypik als Einschränkungskriterium

144

III. Systematisierung der Strafbarkeitsgrenzen

145

1. Keine grundsätzliche Begrenzung des objektiven Tatbestandes bei "neutralen" Handlungen

146

2. Der "deliktische Sinnbezug" als Grenze des objektiven Tatbestands

146

a) Begriffsbestimmung und Legitimation

147

b) Systematisierung der Anwendung des deliktischen Sinnbezuges

149

c) Die Ermöglichung einer menschenwürdigen Existenz

150

aa) Verfassungsrechtliche Grundlagen

153

bb) Europarechtlicher Einfluss

154

cc) Der deliktische Sinnbezug bei Vornahme humanitärer Handlungen

154

dd) Umfang der Anwendung des deliktischen Sinnbezugs auf humanitäre Handlungen

156

(1) Generelle Begrenzung der Beihilfestrafbarkeit

156

(2) Begriffsbestimmung der "Förderung menschenwürdiger Existenz"

156

ee) Die Irrelevanz der subjektiven Tatseite

158

ff) Zwischenergebnis

159

d) Die "Ausschließlichkeit" des deliktischen Bezugs

159

e) Die Förderung legaler Handlungen des Haupttäters

162

f) Anwendung des deliktischen Sinnbezuges auf weitere Fallgruppen

163

g) Zusammenfassung

164

3. Die Grenzen des subjektiven Tatbestandes der Beihilfe

164

a) Das kognitive Element

165

aa) Sichere Kenntnis von Haupttat und Förderung

166

bb) Die Ausschließlichkeit des deliktischen Sinnbezugs

166

cc) Keine sichere Kenntnis der Haupttat

167

(1) Anwendungsbereich

168

(a) Ausgangspunkt der Differenzierung

168

(b) Bestehende Ansätze

168

(c) Kombination der Merkmale

170

(d) Zusammenfassung

171

(2) Kenntnis einer hohen Wahrscheinlichkeit der Haupttatbegehung

172

(a) Vorsatz gerichtet auf den deliktischen Sinnbezug der Förderung

172

(b) Legitimation der Voraussetzungen

173

(c) Voraussetzungen der Vorsatzform

174

(d) Einordnung unter die anerkannten Vorsatzformen

176

dd) Umfang des Vorsatzes

176

b) Das voluntative Element

178

aa) Anlassfälle der voluntativen Einschränkung

179

bb) Die Berufsordnungen als Ausgangspunkt der Strafbarkeitseinschränkung

180

(1) Rechtsanwälte

180

(2) Steuerberater

181

(3) Gemeinsamkeiten als Grundlage einer Einschränkung

181

cc) Die Organstellung als Ausgangspunkt der Einschränkung

182

(1) Inhalt der Organstellung

183

(2) Folgen der Organstellung für die Beihilfestrafbarkeit

185

dd) Umfang der Privilegierung

186

(1) Ausübung einer spezifischen Berufstätigkeit

188

(2) Verstoß gegen eine Berufspflicht

189

(a) Berufspflichten

189

(aa) Das Unabhängigkeitsgebot

190

(bb) Die Verschwiegenheitspflicht

191

(cc) Das Sachlichkeitsgebot

191

(b) Willentlicher Verstoß

192

ee) Einordnung der speziellen Rechte des Strafverteidigers

193

ff) Der "Wille" zur Tatförderung

193

gg) Zusammenfassung der Einschränkung für Rechtsanwälte und Steuerberater

195

E. Zusammenfassung

197

Anhang: Veranschaulichung der Grenzen im Tatbestand der Beihilfe

201

Rechtsprechungsverzeichnis

202

Literaturverzeichnis

203

Stichwortverzeichnis

215