Law of torts, damages & compensation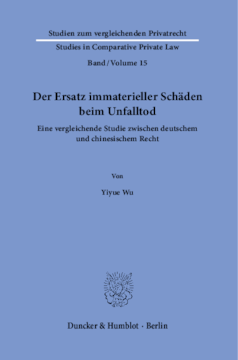 Additional Information
Book Details
ISBN

978-3-428-58430-7
978-3-428-18430-9 (print edition)

DOI

https://doi.org/10.3790/978-3-428-58430-7

Edition

1

Language

German

Pages

155

Collections

Subjects
Pricing
Institution

€ 80.00 (incl. local VAT if applicable)

Individual

€ 62.90 (incl. local VAT if applicable)
About The Author
Yiyue Wu studierte von 2008 bis 2012 Rechtswissenschaften an der China University of Political Science and Law (CUPL) in Beijing, wo er 2011 das juristische Staatsexamen der Volksrepublik China ablegte. Im Anschluss daran begann er dort mit dem Masterstudium, welches er 2016 abschloss. Von 2014 bis 2015 absolvierte er das LL.M.-Studium an der Humboldt-Universität zu Berlin. Im Juni 2021 erfolgte er die Promotion an der Humboldt-Universität zu Berlin. Seit September 2021 ist er Assistent Professor des Chinesisch-Deutschen Instituts für Rechtswissenschaft (CDIR) an der CUPL.
Yiyue Wu studied law at the China University of Political Science and Law (CUPL) in Beijing from 2008 to 2012, where he passed the state law examination of the People's Republic of China in 2011. He then began his master's degree there, which he completed in 2016. From 2014 to 2015 he completed his LL.M. degree at the Humboldt University in Berlin. In June 2021 he received his doctorate at the Humboldt University in Berlin. Since September 2021 he has been assistant professor at the Chinese-German Institute for Law (CDIR) at the CUPL.
Abstract
Weil das deutsche Recht kein Angehörigenschmerzensgeld anerkennt und die Angehörigen des Unfallopfers nur im Wege der Schockschäden Ersatz für eigene erlittene immaterielle Schäden verlangen konnten, bestand eine Schutzlücke für die Angehörigen, was Deutschland in Europa isolierte. Mit der Einführung des Hinterbliebenengeldes in § 844 Abs. 3 BGB wird die Lücke zwar verkleinert, aber nicht vollständig geschlossen.
Im Bereich des Ersatzes der indirekten Kosten durch den unfallbedingten Tod des Opfers besteht ein großer Unterschied zwischen deutschem und chinesischem Recht, weil den Angehörigen des Verstorbenen nach chinesischem Recht das sog. Todesentschädigungsgeld geleistet wird, das sowohl hauptsächlich auf den Ersatz der indirekten Vermögensschäden der Angehörigen als auch auf die Erhöhung des immateriellen Schadensersatzes zielt. Für die Verwirklichung des individuellen Modells des Todesentschädigungsgeldes birgt die neue Entwicklung der künstlichen Intelligenz Potenzial. »Non-Pecuniary Damages in the Event of Accidental Death. A Comparative Study between German and Chinese Law«: In this book, the author has systematically dealt with the question of non-pecuniary damages between China and Germany in the event of accidental deaths. He focuses in particular on compensation for pain and suffering, shock damage, consolation money for the relatives of the deceased in Germany and death compensation and compensation for immaterial damage in the narrower sense in China, and conducts comparative law studies with regard to structure, function and practical application.
Table of Contents
Section Title
Page
Action
Price

Vorwort

5

Inhaltsverzeichnis

7

Abkürzungsverzeichnis

12

Einführung

15

I. Begriff des Ersatzes immaterieller Schäden

15

II. Gang der Darstellung

17

1. Kapitel: Grundlage

19

§ 1 Entwicklung des Ersatzes immaterieller Schäden seit dem Ende des 19. Jahrhunderts

19

I. Schmerzensgeld im Vorfeld des BGB: zwei Urteile des Reichsgerichts aus 1882 als Beispiele

19

1. Eisenwerk Kaiserslautern gegen Wilhelm und Henle

19

2. Steup gegen Kolb

20

3. Gegenüberstellung der zwei Entscheidungen

20

II. Festlegung des Schmerzensgeldes im BGB

21

III. Wandel der Regelungen des Ersatzes immaterieller Schäden im BGB

22

§ 2 Funktionen des Ersatzes immaterieller Schäden

24

I. Ausgleichsfunktion

25

II. Genugtuungsfunktion

25

III. Straf- oder Präventionsfunktion

26

§ 3 Bemessungsfaktoren für die Höhe des Schmerzensgeldes

29

§ 4 Die Besonderheiten beim Unfalltod

30

2. Kapitel: Ansprüche der Unfallopfer

31

§ 5 Ansprüche der Unfallopfer nach deutschem Recht

31

I. Keine immaterielle Beeinträchtigung beim sofortigen Tod

31

II. Tod nach kurzer Überlebenszeit

32

1. Kurze Überlebenszeit ohne Bewusstsein

32

2. Kurze Überlebenszeit mit Bewusstsein

36

III. Todesangst

37

IV. Zwischenergebnis

38

§ 6 Ansprüche der Unfallopfer nach chinesischem Recht

39

I. Rechtslage vor und nach dem 31.12.2020

39

II. Übertragbarkeit bzw. Vererbbarkeit des Anspruchs auf Ersatz immaterieller Schä‍den

40

3. Kapitel: Ansprüche der Angehörigen in Deutschland

43

§ 7 Schockschäden

43

I. Voraussetzungen

44

1. Seelische Erschütterung

45

2. Krankheitswert

46

3. Ein nahestehendes Verhältnis zum Getöteten

47

4. Kein allgemeines Lebensrisiko

48

II. Kritik an Schockschäden

49

1. Über "normales" Maß

49

2. Kreis der Anspruchsberechtigten zu eng

51

3. Beweislast

53

4. Kein spezifischer Anspruch für Angehörigen des Unfallopfers

53

III. Kein Angehörigenschmerzensgeld

54

§ 8 Das Hinterbliebenengeld

57

I. Trauriger Anreiz: Germanwings-Absturz am 24. Mai 2015

57

II. Das Gesetzgebungsverfahren und der Inhalt

57

III. Voraussetzung

59

1. Unerlaubte Handlungen

59

2. Todesfall

59

3. Ein besonderes persönliches Näheverhältnis

60

4. Seelisches Leid

61

IV. Vorteile

62

1. Menschliche Fürsorge des Zivilrechts

62

2. Harmonisierung mit anderen EU-Mitgliedstaaten

63

3. Anpassung an die Entwicklung in der Praxis

63

V. Nachteile

65

1. Beschränkung auf Todesfall

65

2. Ausschluss vertraglicher Haftung

66

3. Höhe des Hinterbliebenengeldes

68

VI. Verhältnis zu Schockschäden

70

1. Die Höhe

70

2. Konkurrenz

70

§ 9 Entschädigung nach Terroranschlägen am Beispiel des Anschlags am Breitscheidplatz in Berlin

72

I. Die aktuelle Rechtslage

73

1. Grundsatz: Entschädigung nach dem Opferentschädigungsgesetz

73

a) Ausschluss in § 1 Abs. 11 OEG a.F.

73

b) Härteausgleich nach dem Opferentschädigungsgesetz

74

2. Entschädigungsanspruch gegen Versicherer

75

a) Gegen Kfz-Haftpflichtversicherer

75

b) Gegen Verkehrsopferhilfe e.V.

76

3. Härteleistungen

77

II. Die künftige Rechtslage

78

4. Kapitel: Der Ersatz immaterieller Schäden beim Unfalltod in China

80

§ 10 Gescheiterte Versuche der Kodifizierung eines Zivilgesetzbuches in der VR China

80

§ 11 Einschlägige Regelungen – nach der Reihenfolge der Zeit

82

I. Allgemeine Grundsätze des Zivilrechts 1986

82

II. Konkretisierung der "anderen Kosten" durch weitere Regelungen

83

1. § 36 der "Maßnahmen zur Behandlung von Verkehrsunfällen" 1991

83

2. § 4 der "Konkreten Bestimmungen für den Schadensersatz bei auslandsbezogener Körperverletzung oder Tod auf See" 1991

84

3. § 32 Abs. 1 Hs. 2 Produktqualitätsgesetz 1993

84

4. § 42 Hs. 1 Verbraucherschutzgesetz 1993

85

5. § 27 Nr. 3 Gesetz über staatliche Entschädigung 1994

85

6. § 44 Abs. 1 Hs. 3 Produktqualitätsgesetz 2000

86

7. Zwischenergebnis

86

III. Justizielle Auslegungen

87

1. Justizielle Auslegung – justizielles normatives Dokument mit chinesischen Merkmalen

88

2. Auslegung für immateriellen Schadensersatz a.F.

90

a) § 7 a.F.

90

b) § 8 a.F.

90

c) § 9 a.F.

90

3. Auslegung der Entschädigung für Personenschäden a.F.

91

a) § 17 a.F.

91

b) § 18 a.F.

92

c) § 29 a.F.

93

IV. Deliktshaftungsgesetz 2009

94

V. Das chinesische ZGB

95

1. Einschlägige Vorschriften in ZGB

95

2. Entsprechende Revisionen der justiziellen Auslegungen

96

a) Revision der Auslegung für immateriellen Schadensersatz

96

b) Revision der Auslegung der Entschädigung für Personenschäden

97

VI. Zusammenfassung der bisherigen Regelungen

97

§ 12 Todesentschädigungsgeld

98

I. Unterschiedliche Theorien über das Todesentschädigungsgeld

98

1. "Verlust-des-Unterhalts"-Theorie und "Verlust-der-Erbschaft"-Theorie

99

a) Hauptpunkte dieser beiden Theorien

99

b) Verkörperung der Theorien in den Gesetzen und justiziellen Auslegungen

100

2. "Aufrechterhalten-eines-bestimmten-materiellen-Lebensstandards"- Theorie

101

3. "Erbrechts"-Theorie

103

4. "Tod-als-Schaden"-Theorie

104

II. Rechtsnatur des Todesentschädigungsgeldes

106

III. Berechnung des Todesentschädigungsgeldes

108

1. Mit oder ohne Lebensunterhalt der vom Verstorbenen unterstützten Person?

108

2. Abzug der fiktiven notwendigen Lebenshaltungskosten des Verstorbenen?

110

3. "Unterschiedlicher Preis für gleiches Leben"?

111

a) Fragestellung

111

b) Probleme mit der Berechnungsmethode bei der Auslegung der Entschädigung für Personenschäden

112

c) Vereinheitlichung der Berechnungsmethode des Todesentschädigungsgeldes für Stadt- und Landbewohner in der Gesetzgebung und Rechtsprechung

117

d) Stellungnahme

119

e) Neue Chance mit der künstlichen Intelligenz?

120

aa) Intelligentes Gericht in China

120

bb) Zweifel an den algorithmenbasierten Systemen

121

cc) Anwendung auf individuelles Modell für Todesentschädigungsgeld

123

§ 13 Ersatz immaterieller Schäden im engeren Sinne

125

I. Einführung

125

II. Eigener Anspruch der Angehörigen auf Ersatz immaterieller Schäden

125

III. Beweislast für die erlittenen immateriellen Schäden

127

IV. Höhe des Ersatzes immaterieller Schäden

128

V. Schockschäden in China

129

1. "LIN-Yunuan"-Fall

129

2. Missverständnisse in der Rechtsprechung

130

3. Die Position der Schockschäden im chinesischen Rechtssystem

131

5. Kapitel: Verteilung des Ersatzes immaterieller Schäden zwischen Angehörigen

132

§ 14 Selbständige Ansprüche der Angehörigen in Deutschland

132

§ 15 Verteilung des Ersatzes immaterieller Schäden in China

133

I. Verteilung des Todesentschädigungsgeldes

134

II. Verteilung des Ersatzes immaterieller Schäden

135

Zusammenfassung

136

Literaturverzeichnis

141

I. Deutsche und englische Literatur

141

II. Chinesische Literatur

147

Sachwortverzeichnis

153