Criminal procedure: law of evidence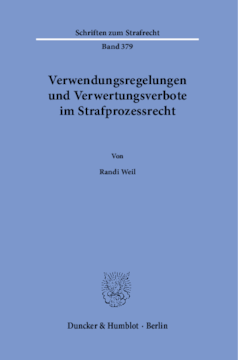 Additional Information
Book Details
ISBN

978-3-428-58374-4
978-3-428-18374-6 (print edition)

DOI

https://doi.org/10.3790/978-3-428-58374-4

Edition

1

Language

German

Pages

274

Collections

Subjects
Pricing
Institution

€ 92.00 (incl. local VAT if applicable)

Individual

€ 71.90 (incl. local VAT if applicable)
About The Author
Randi Weil studierte von 2010 bis 2017 Rechtswissenschaft an der Universität Mannheim und an der Handelshögskolan in Göteborg. 2014 erwarb sie an der Universität Mannheim den Bachelor Unternehmensjurist; 2017 legte sie das erste Juristische Staatsexamen ab. Seit 2014 ist sie dort bei Prof. Dr. Jürgen Wolter (vorm. Lehrstuhl für Strafrecht sowie Institut für Strafprozessrecht und Polizeirecht) als Mitarbeiterin tätig. Das Referendariat absolviert sie seit 2020 im Bezirk des Oberlandesgerichts Karlsruhe. Sie promovierte 2021 bei Prof. Wolter und arbeitete begleitend zur Erstellung der Dissertation zugleich in einer mittelständischen Anwaltskanzlei in Karlsruhe im Bereich des Datenschutzrechts.
Randi Weil studied law at the University of Mannheim and at Handelshögskolan in Gothenburg from 2010 to 2017. In 2014, she graduated with a bachelor's degree in corporate law at the University of Mannheim, and in 2017 she passed the first state law exam. Since 2014, she has been working there with Prof. Dr. Jürgen Wolter (formerly Chair of Criminal Law as well as Institute of Criminal Procedure Law and Police Law) as an associate. She has been completing her legal clerkship in the district of the Karlsruhe Higher Regional Court since 2020. She completed her doctorate under Prof. Wolter in 2021 and, while writing her dissertation, also worked in the field of data protection law at a medium-sized law firm in Karlsruhe.
Abstract
Verwertungsverbote beantworten die Frage, ob sog. Untersuchungsfunde in dem zugrundeliegenden Strafverfahren weiter genutzt werden dürfen oder aus Gründen des Grundrechtsschutzes einer Verwertungssperre unterliegen. Verwendungsregelungen hingegen regeln den Transfer von Informationen von einem Ausgangsverfahren in andere Verfahren; diese Informationen und Daten stellen Zufallsfunde dar. Verwertungsverbote sind nur in wenigen Fällen gesetzlich geregelt; Verwendungsregelungen kennt das Gesetz inzwischen flächendeckend. Beide Formen der weiteren Nutzung von Informationen stellen einen eigenständigen Eingriff in das Recht auf informationelle Selbstbestimmung dar, weshalb es auch im Fall der Verwertung spezieller Verwertungsbefugnisnormen bedarf. Die Arbeit unternimmt es de lege ferenda, die Begriffe der unmittelbaren wie mittelbaren Verwertung und Verwendung zu bestimmen sowie gesetzliche Regelungen für Verwertungsbefugnisse zu schaffen. Parallel werden die bestehenden Verwendungsregelungen im Rahmen eines weiteren Gesetzesvorschlags auf ihre Verfassungsmäßigkeit hin überprüft. »Rules of Use and Prohibitions of Use in Criminal Procedural Law«: The paper examines the difference between the regulations on use regulated in the Code of Criminal Procedure and the mostly non-codified prohibitions on exploitation. It undertakes de lege ferenda to define the concepts of exploitation and use, as well as to create constitutionally required statutory regulations for powers of exploitation. At the same time, the existing utilisation regulations are being reviewed for their constitutionality within the framework of a further legislative proposal.
Table of Contents
Section Title
Page
Action
Price

Vorwort

5

Inhaltsverzeichnis

7

Abkürzungsverzeichnis

13

A. Einführung

17

I. Befunde und Ziele der Untersuchung

17

II. Grundlagen

21

1. Gang der Untersuchung

21

2. Begriffsbestimmungen

23

a) Untersuchungsfunde

23

b) Zufallsfunde

24

c) Verwertung und Verwendung

26

d) Zu Beweiszwecken

27

e) Fernwirkung

29

f) Spurenansätze

31

3. Beweisverwertungsverbotslehre

32

a) Unselbstständige Beweisverwertungsverbote

32

b) Selbstständige Beweisverwertungsverbote

34

4. Lehre von den Verwendungsregelungen

35

B. Stand des Gesetzes, der höchstrichterlichen Rechtsprechung und der Literatur

37

I. Gesetzeslage

37

1. Widersprüchlichkeiten im geltenden Recht

39

a) § 108 StPO

39

b) § 160a Abs. 1 Satz 2 StPO

40

c) § 160a Abs. 2 Satz 3 StPO

41

d) § 81f Abs. 1 Satz 2 StPO

42

e) § 81a Abs. 3 StPO

43

f) Zusammenfassung

43

2. Neues Recht: §§ 161, 479 StPO

44

3. § 100e Abs. 6 StPO als klar gestaltete Vorschrift

46

II. Die Al-Qaida-Rechtsprechung des BGH und BVerfG

47

1. verwertbare personenbezogene Daten innerhalb des § 100e Abs. 6 Nr. 3 StPO

47

2. Das Ausgangsverfahren als Bezugspunkt zur Beurteilung der Verwertbarkeit der Daten innerhalb des § 100e Abs. 6 Nr. 3 StPO

49

3. Der hypothetische Ersatzeingriff als Garantie für die Einhaltung der Voraussetzungen innerhalb des neuen Verfahrens

51

4. Zusammenfassung

54

III. Literatur

57

IV. Konkretisierte Ziele der Untersuchung

59

C. Systematische Abgrenzung der Verwendungsregelungen von den Verwertungsverboten

62

I. Verwendungsregelungen und ihr Bezug zum Datenschutzrecht

62

II. Verwertung von Untersuchungsfunden und Verwendung von Zufallsfunden

64

1. Selbstständiges Beweisverwertungsverbot oder Verwendungsregelung?

65

2. Verwendungsverbot als Verwertungsverbot mit Fernwirkung?

66

3. § 100d Abs. 2 StPO als Verwertungsverbot

70

4. Zwischenergebnis

71

III. Differenzierung zwischen mittelbarer Verwertung von Untersuchungsfunden und mittelbarer Verwendung von Zufallsfunden

74

1. Frühwirkung als Teil der Beweisverwertungsdogmatik?

74

2. Mittelbare Verwertung und Fernwirkung

78

3. Mittelbare Verwendung und Verwendung als Spurenansatz

80

4. Zwischenergebnis

81

IV. Funktion des Merkmals "zu Beweiszwecken"

81

1. "zu Beweiszwecken" innerhalb des § 108 Abs. 2 und Abs. 3 StPO

82

2. "zu Beweiszwecken" innerhalb des § 160a Abs. 2 Satz 3 StPO

84

3. "zu Beweiszwecken" als unmittelbare Verwendung

85

V. Ergebnis

89

D. Die etymologische Abgrenzung von Verwendung und Verwertung

90

I. Verwerten

90

II. Verwenden

90

III. Ergebnis

91

E. Systematik und Gesetzesvorschlag einer Vorschrift zur Begriffsbestimmung

92

I. Systematische Einordnung

92

II. Gesetzesvorschlag

93

III. Begründung

94

F. Erforderlichkeit gesetzlicher Gesamtregelungen

96

I. Recht auf informationelle Selbstbestimmung

97

1. Schutzbereich

97

2. Eingriff und Schranken

99

a) Datenerhebung und -erlangung

101

aa) Rechtmäßige Datenerhebung

101

bb) Rechtswidrige Datenerhebung

101

cc) Erlangung von Zufallsfunden

102

b) Datenverwertung von Untersuchungsfunden

103

aa) Verwertung rechtmäßig erlangter Untersuchungsfunde

104

bb) Verwertung rechtswidrig erlangter Untersuchungsfunde

105

c) Datenverwendung von Zufallsfunden

108

3. Schranken-Schranken

110

a) Zweckbindungsgrundsatz

110

b) Verhältnismäßigkeitsgrundsatz/Übermaßverbot

112

c) Bestimmtheitsgrundsatz

115

d) Verfahrensrechtliche Schutzvorkehrungen

116

II. Verwendungsregelungen als gesetzliche Grundlage

118

1. Verwendungsverbote bei fehlender Voraussetzung oder Nichtregelung der Verwendung

118

2. Folgen eines Verstoßes gegen eine Verwendungsregelung

120

3. Bedarf es unterschiedlicher Rechtfertigungsgrundlagen für die unmittelbare und die mittelbare Verwendung?

122

III. Notwendigkeit gesetzlicher Verwertungsbefugnisnormen

130

1. Kritik an der vorherrschenden Verwertungsverbotsdogmatik

130

2. Vom Verwertungsverbot zur Verwertungsbefugnis

131

3. Folgen eines Verstoßes gegen eine Verwertungsregelung

133

4. Bedarf es unterschiedlicher Rechtfertigungsgrundlagen für die unmittelbare und die mittelbare Verwertung?

133

IV. Ergebnis

134

G. Systematik und Gesetzesvorschlag für Verwertungsregelungen

135

I. Systematische Einordnung

135

II. Gesetzesvorschlag

136

III. Begründung

140

1. § 150 StPO-E

140

a) Die Menschenwürdegarantie als absolute Erhebungs- und Verwertungsgrenze

140

aa) Schutz körperlicher und geistiger Integrität

142

bb) Schutz der freien Selbstbestimmung

142

cc) Schutz des Kernbereichs privater Lebensgestaltung

144

dd) Schutz vor Totalüberwachung

147

ee) Schutz vor Ermittlungen gegen völlig Unbeteiligte

148

ff) Verbot des bewussten oder objektiv willkürlichen Handelns durch Strafverfolgungsorgane, namentlich wenn grundrechtliche Sicherungen planmäßig oder systematisch außer Acht gelassen werden

149

b) Reichweite des Menschenwürdeschutzes

150

aa) Zustimmung

150

bb) Hypothetischer Ermittlungsverlauf

153

cc) Verletzungen durch Privatpersonen

155

dd) Fernwirkung

157

c) Ergebnis

159

2. § 150a StPO-E

159

a) Erhebliche Grundrechtsverletzungen

160

aa) Verstoß gegen das Recht auf ein faires Verfahren und das Recht auf rechtliches Gehör

160

bb) Verstoß gegen den Gesetzesvorbehalt

163

cc) Verstoß gegen Voraussetzungen, die die Verhältnismäßigkeit der Maßnahme absichern

164

dd) Zwischenergebnis

165

b) Reichweite der Verwertungsbefugnis

165

aa) Zustimmung

165

bb) Hypothetischer Ermittlungsverlauf

165

cc) Verletzungen durch Privatpersonen

167

dd) Fernwirkung

168

3. § 150b StPO-E

168

a) Geringfügige Grundrechtsverletzungen

168

b) Reichweite der Verwertungsbefugnis

170

aa) Zustimmung

170

bb) Hypothetischer Ermittlungsverlauf

170

cc) Verletzungen durch Privatpersonen

171

dd) Fernwirkung

171

H. Verwendungsregelungen innerhalb der StPO

172

I. Problematiken der bestehenden Verwendungsregelungen

172

1. Sinnhaftigkeit der Differenzierung innerhalb der Verwendungsregelungen in "unverwertbare" und "verwertbare" Daten des Ausgangsverfahrens

173

a) Unterscheidung der Verwendung echter und unechter Zufallsfunde

175

b) Unterscheidung in rechtmäßige und rechtswidrige Zufallsfunde und ihre Verwendung

178

aa) Rechtmäßige oder rechtswidrige Zufallsfunde

178

(1) gezielt gesuchte Zufallsfunde

179

(2) Zufallsfunde aus legendierten Polizeikontrollen

180

bb) Rechtmäßigkeit der Zufallsfunde als Voraussetzung der Verwendungsregelungen?

181

cc) Verwendung rechtswidriger Zufallsfunde

186

(1) Grundrechtseingriff durch die Verwendung rechtswidriger Zufallsfunde

186

(2) Aktuelle Verwendungsregelungen als Ermächtigungsgrundlage

188

(3) Sollten rechtswidrige Zufallsfunde verwendbar sein?

189

(a) Verwendung rechtswidriger Zufallsfunde zum Zwecke der Strafverfolgung

190

(b) Verwendung rechtswidriger Zufallsfunde zum Zwecke der Gefahrenabwehr

192

(aa) Verwendung rechtswidriger Zufallsfunde, deren Erlangung auf einer Menschenwürdeverletzung basiert

193

(bb) Verwendung rechtswidriger Zufallsfunde, deren Erlangung auf einer erheblichen Grundrechtsverletzung basiert

199

(cc) Verwendung rechtswidriger Zufallsfunde, deren Erlangung auf einer geringfügigen Grundrechtsverletzung basiert

201

dd) Verwendung rechtmäßiger Zufallsfunde

202

c) Ergebnis

202

2. Hypothetischer Ersatzeingriff

203

a) Wortlaut des Gesetzes

204

b) Sinn und Zweck des hypothetischen Ersatzeingriffs

205

c) Hypothetischer Ersatzeingriff bei fehlender Ermächtigungsgrundlage im neuen Verfahren?

211

d) Ergebnis

212

II. Die neuen Verwendungsregelungen der StPO

212

1. Datenverwendung gefahrenabwehrrechtlich erlangter Daten innerhalb eines Strafverfahrens

213

a) § 161 Abs. 3 StPO

213

aa) Verwendung rechtswidriger Zufallsfunde zum Zwecke der Strafverfolgung

213

bb) Hypothetischer Ersatzeingriff und die Verwendung zu Beweiszwecken

215

b) § 100e Abs. 6 Nr. 3 StPO

217

2. Datenverwendung strafverfahrensrechtlich erlangter Daten zur Gefahrenabwehr

218

a) § 479 Abs. 2 Satz 2 Nr. 1 und Nr. 2 StPO

219

aa) Konkret-individueller hypothetischer Ersatzeingriff

219

bb) Generalisierender hypothetischer Ersatzeingriff

220

cc) Beschränkung der Verwendung auf verwertbare Daten

222

dd) § 479 Abs. 2 Satz 3 StPO

224

b) § 479 Abs. 3 StPO

224

aa) Fehlender hypothetischer Ersatzeingriff

225

bb) §§ 479 Abs. 3 Nr. 1 und 100e Abs. 6 Nr. 2 Satz 1 StPO

226

(1) Verwertbarkeit als Voraussetzung der §§ 479 Abs. 3 Nr. 1 und 100e Abs. 6 Nr. 2 Satz 1 StPO?

227

(2) Unterscheidung zwischen rechtmäßigen und rechtswidrigen Daten anstatt Differenzierung zwischen "verwertbar" und "unverwertbar"?

230

(3) Verwendung personenbezogener Daten aus dem Kernbereich zur allgemeinen Gefahrenabwehr?

231

(a) Unmittelbare Lebensgefahr

231

(b) Art. 13 Abs. 4 GG als Grenze der Verwendung von Daten aus Wohnraumüberwachungsmaßnahmen zur Gefahrenabwehr

233

cc) §§ 479 Abs. 3 Nr. 2 und 100e Abs. 6 Nr. 2 Satz 2 StPO

234

dd) §§ 479 Abs. 3 Satz 1 Nr. 3 und 101a Abs. 4 Nr. 2 StPO

235

3. Datenverwendung strafverfahrensrechtlich erlangter Daten innerhalb eines anderen Strafverfahrens

237

a) § 479 Abs. 2 Satz 1 StPO i. V. m. § 161 Abs. 3 StPO

238

b) § 100e Abs. 6 Nr. 1 StPO

239

I. Verwendungsregelungen de lege ferenda

243

I. Systematische Einordnung

243

II. Gesetzesvorschlag

244

J. Die wesentlichen Ergebnisse der Untersuchung

247

Literaturverzeichnis

253

Stichwortverzeichnis

271