Constitution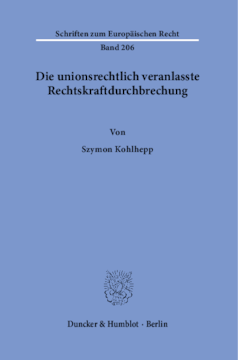 Additional Information
Book Details
ISBN

978-3-428-58465-9
978-3-428-18465-1 (print edition)

DOI

https://doi.org/10.3790/978-3-428-58465-9

Edition

1

Language

German

Pages

345

Collections

Subjects
Pricing
Institution

€ 104.00 (incl. local VAT if applicable)

Individual

€ 79.90 (incl. local VAT if applicable)
About The Author
Der Autor ist Rechtsreferendar am Brandenburgischen Oberlandesgericht. Er studierte von 2011 bis 2016 an der Europa-Universität-Viadrina in Frankfurt (Oder) Rechtswissenschaften. Dieses Studium schloss er mit dem Staatsexamen und einem LL.B. ab. Im Anschluss daran promovierte er als wissenschaftlicher Mitarbeiter am Jean-Monet-Lehrstuhl für öffentliches Recht, insbesondere Europarecht bei Prof. Matthias Pechstein an der Europa-Universität-Viadrina in Frankfurt (Oder). Sein Referendariat absolvierte der Autor mit Stationen am Landgericht Neuruppin, der Staatsanwaltschaft Neuruppin, im Bundesministerium für Wirtschaft und Energie sowie bei der Kanzlei Blomstein in Berlin. Aktuell absolviert er seine Wahlstation bei der Kanzlei Freshfields Bruckhaus Deringer LLP in Brüssel.
The author is a legal trainee at the Brandenburg Higher Regional Court. He studied law at the European University Viadrina in Frankfurt (Oder) from 2011 to 2016. He completed these studies with the State Examination and an LL.B. He then obtained his doctorate as a research assistant at the Jean Monet Chair of Public Law, in particular European Law, under Prof. Matthias Pechstein at the Europa-Universität-Viadrina in Frankfurt (Oder). The author carried out his legal training at the Neuruppin Regional Court, the Neuruppin Public Prosecutor's Office, the Federal Ministry for Economic Affairs and Energy and the law firm Blomstein in Berlin. He is currently completing his elective internship at the law firm Freshfields Bruckhaus Deringer LLP in Brussels.
Abstract
Die Arbeit untersucht die Bedeutung der Rechtskraft im Kontext des Unionsrechts. Insbesondere wird der Frage nachgegangen, wann es die einheitliche Durchsetzung des Unionsrecht gebietet, die Rechtskraft zu durchbrechen. Hierzu werden zunächst die Rolle der Rechtskraft im Unionsprozessrecht sowie die darin vorgesehenen Möglichkeiten ihrer Durchbrechung untersucht. Im Anschluss wird das Verhältnis des Unionsrechts zur Rechtskraft nationaler Gerichtsentscheidungen beleuchtet. Dabei wird die Judikatur der Unionsgerichte zu diesem Themenkomplex vollumfänglich ausgewertet. Die unionsrechtlich veranlasste Rechtskraftdurchbrechung wird anhand ihrer Erscheinungsformen kategorisiert und die Kriterien, deren Vorliegen eine Rechtskraftdurchbrechung nach sich ziehen, werden aufgezeigt. Im letzten Abschnitt werden Überlegungen anhand der herausgearbeiteten Kriterien angestellt, in welchen Rechtsgebieten die unionsrechtlich veranlasste Rechtskraftdurchbrechung gegebenenfalls zukünftig auftreten könnte. »Breach of Res Judicata under Union Law«: Res judicata is necessary to give final effect to court decisions. For this reason, res judicata is also indispensable for Union law. Nevertheless, it can also be an obstacle to the uniform enforcement of Union law. Especially when Member State courts misapply Union law, the question arises whether the court decision can continue to stand. This thesis deals with the clarification of the question under which conditions the uniform enforcement of Union law is to be given priority over res judicata.
Table of Contents
Section Title
Page
Action
Price

Vorwort

5

Inhaltsverzeichnis

7

Abkürzungsverzeichnis

15

A. Einleitung

19

B. Neueste Entwicklung in der Rechtsprechung des EuGH als Ausgangspunkt dieser Untersuchung

20

C. Zielsetzung und Fortgang der Untersuchung

21

Erstes Kapitel: Die Bedeutung der Rechtskraft im Unionsrecht

24

A. Zur allgemeinen Bedeutung der Rechtskraft

24

I. Existenz und normative Verankerung der Rechtskraft \nim primären Unionsrecht

25

1. EUV und AEUV

26

a) Art. 2 Satz 1 EUV

26

b) Art. 19 EUV

29

c) Art. 260 Abs. 1 AEUV

30

d) Art. 264 AEUV

32

e) Art. 266 AEUV

33

f) Zwischenergebnis

34

2. Grundrechte-Charta

34

a) Art. 50 GRCh

34

b) Art. 47 GRCh

35

aa) Rückschlüsse auf die Rechtskraft durch Art. 47 GRCh

35

bb) Ergänzender Rückgriff auf Art. 6 Abs. 1 EMRK

37

cc) Schlussfolgerungen für die normative Verankerung der Rechtskraft im Unionsrecht

38

c) Zwischenergebnis

39

3. Bewertung der primärrechtlichen Ausgangslage

40

II. Positivrechtliche Verankerung der Rechtskraft im abgeleiteten Unionsrecht

42

1. EuGH-VerfO und EuG-VerfO

43

a) Außerordentliche Rechtsbehelfe

43

b) Übertragung einer Entscheidung auf den Einzelrichter

44

c) Regelungen zu den Entscheidungswirkungen von EuGH und EuG

45

aa) Normative Verankerung der Rechtskraft in Art. 91 EuGH-VerfO?

45

bb) Normative Verankerung der Rechtskraft in Art. 121 EuG-VerfO?

49

2. Zwischenergebnis

50

III. Ungeschriebene Verankerung der unionsrechtlichen Rechtskraft als allgemeiner Rechtsgrundsatz

51

1. Anerkennung des Prinzips der Rechtskraft als allgemeiner Rechtsgrundsatz

51

2. Folgen für die Rechtskraft im Unionsrecht

52

B. Funktion der unionsrechtlichen Rechtskraft

54

I. Zielsetzungen der unionsrechtlichen Rechtskraft

54

1. Absicherung der Endgültigkeit unionsgerichtlicher Verfahren

54

2. Eintritt des Rechtsfriedens und der Beständigkeit rechtlicher Beziehungen

55

3. Sicherstellung einer geordneten Rechtspflege

57

4. Vorherrschend objektiver Charakter der Zielrichtung der Rechtskraft im Unionsrecht

58

II. Wirkungsdimensionen der unionsrechtlichen Rechtskraft

60

1. Negative Wirkungsdimension

60

a) Grundsätzliche Wirkungsweise

60

b) Abgeschwächte negative Wirkungsdimension von Entscheidungen im Vorabentscheidungsverfahren

62

aa) Grundsätzlich verbleibende Vorlagemöglichkeit im Vorabentscheidungsverfahren

63

(1) von Auslegungsfragen

63

(2) bei Ungültigkeitserklärungen

66

bb) Auswirkungen auf die Zielsetzungen der unionsrechtlichen Rechtskraft

67

2. Positive Wirkungsdimension

69

a) Spezifisch erweiterte Ausprägung der Rechtskraft im Vertragsverletzungsverfahren

71

aa) Rechtskraftbindung innerstaatlicher Stellen und Organe

72

bb) Bindungswirkung gegenüber verfahrensunbeteiligten Mitgliedstaaten

73

cc) Auswirkungen auf den Einzelnen

74

b) Mögliche Grundlagenfunktion im Rahmen der Haftungsbegründung des unionsrechtlichen Staatshaftungsanspruchs

75

c) Bindungswirkung von Entscheidungen des Vorabentscheidungsverfahrens

77

aa) Bindung innerstaatlicher Gerichte

77

(1) an Auslegungsentscheidungen des EuGH

77

bbb) an Ungültigkeitserklärungen des EuGH

81

bb) Wirkungen auf den Einzelnen

83

C. Grenzen der Rechtskraft

84

I. Der Streitgegenstand als objektive Grenze der Rechtskraft

84

II. Subjektive Grenzen der Rechtskraft

87

D. Reichweite der Rechtskraft

88

E. Mittel der Rechtskraftdurchbrechung unionsgerichtlicher Entscheidungen

90

I. Das Rechtsmittelverfahren der Unionsgerichtsbarkeit

90

II. Die Überprüfung von Entscheidungen des EuG durch den Ersten Generalanwalt

93

1. Art. 62b Abs. 1 EuGH-Satzung

94

2. Art. 62b Abs. 2 EuGH-Satzung

95

3. Dogmatische Betrachtung

97

4. Systematische Argumentation

97

III. Die Wiederaufnahme des Verfahrens

98

IV. Der Drittwiderspruch

101

V. Existenz ungeschriebener Möglichkeiten der Rechtskraftdurchbrechung?

103

1. Zuständigkeitsüberschreitung durch die unionale Judikative

103

a) Anerkennung einer ungeschriebenen Möglichkeit der Rechtskraftdurchbrechung?

104

b) Möglichkeit der Unwirksamkeitserklärung unionsgerichtlicher Entscheidungen

105

c) Aus der Unwirksamkeitserklärung unionsgerichtlicher Entscheidungen resultierende Folgen für die Rechtskraft

106

2. Verletzung von Grundrechten durch die Unionsgerichte

107

a) Verletzung der EMRK

108

b) Verletzung der Grundrechte-Charta

111

aa) Verletzungen durch das EuG

111

bb) Verletzungen durch den EuGH

111

(1) Überprüfungszuständigkeit

113

(2) Eingegrenzter Berechtigtenkreis

114

VI. Die Urteilsauslegung

115

VII. Urteilsberichtigung und Urteilsergänzung

116

VIII. Zwischenergebnis

117

F. Zusammenfassung

119

Zweites Kapitel: Zum Spannungsverhältnis zwischen \rder Rechtskraft nationaler Gerichtsentscheidungen und dem Gebot der praktischen Wirksamkeit \rdes Unionsrechts

124

A. Das Verhältnis des Unionsrechts zu nationalem Recht

127

B. Das Verhältnis des Unionsrechts zur Rechtskraft nationaler Gerichtsentscheidungen

129

I. Grundsätzliche Anerkennung und Achtung der innerstaatlichen Rechtskraft

129

II. Akzeptanz durch die mitgliedstaatliche Verfahrensautonomie

131

III. Modifizierung und Aufweichung der mitgliedstaatlichen Verfahrensautonomie

133

1. Der Äquivalenzgrundsatz

133

2. Das Effektivitätsprinzip

134

3. Grundsätzliche Akzeptanz nationaler Präklusionsvorschriften des Gerichtsverfahrens

136

a) Rechtssache Van Schijndel

137

b) Rechtssache Peterbroeck

139

c) Zwischenergebnis

139

4. Erste Grundposition gegenüber innerstaatlichen Rechtskraftregelungen

143

5. Konsequenzen für das Prinzip der Rechtskraft in den Mitgliedstaaten

146

C. Indirekte Rechtskraftdurchbrechung

148

I. Differenzierung auftretender Kollisionslagen zwischen Unionsrecht und nationalem Recht

148

II. Spezifizierung der indirekten Rechtskraftdurchbrechung

150

1. Unterschiedliche Subformen der indirekten Rechtskraftdurchbrechung

150

a) Innerstaatlich entwickelte Rechtskraftdurchbrechung

150

b) Unionsrechtlich bewirkte Rechtskraftdurchbrechung

151

D. Erscheinungsformen der innerstaatlich entwickelten Rechtskraftdurchbrechung

152

I. Pflicht zur vollumfänglichen Ausschöpfung der nationalen Verfahrensautonomie

152

1. Rechtssache Kommission/Slowakische Republik "Frucona"

152

2. Rechtssache Impresa Pizzarotti

154

II. Unionsrechtskonforme Auslegung innerstaatlicher Vorschriften mit Rechtskraftbezug

155

1. Begrenzende Auslegung innerstaatlicher Rechtskraftvorschriften

157

a) Reduktion der Rechtskrafterstreckung

157

b) Reduktion des Streitgegenstands auf tatsächlich erörterte Wirksamkeitshindernisse des Unionsrechts

159

2. Erweiterte Auslegung die Rechtskraft durchbrechender Mittel des nationalen Verfahrensrechts

162

a) Slowakische Zivilprozessordnung

163

b) Deutsche Zivilprozessordnung

163

c) Klarstellung im Vorlagebeschluss zur Rechtssache Klausner Holz Niedersachsen

167

E. Niederschlag der unionsrechtlich bewirkten Rechtskraftdurchbrechung in der Rechtsprechung des EuGH

168

I. Relevanz der Kühne & Heitz-Kriterien für eine unionsrechtlich zwingende Rechtskraftdurchbrechung

168

1. Wesensverschiedenheit von Bestandskraft und Rechtskraft

169

2. Erschwerung der Rechtskraftdurchbrechung

171

II. Einwirkung auf die nationale Rechtskraft durch den Äquivalenzgrundsatz

173

1. Allgemeine Anwendung auf innerstaatliche Rechtskraftvorschriften

174

2. Anwendung auf verfahrensautonome Rechtsbehelfe der Rechtskraftdurchbrechung innerstaatlicher Gerichtsentscheidungen

175

a) Rechtssache Impresa Pizzarotti

175

b) Rechtssache Târșia

176

3. Anwendung auf verfahrensautonome Instrumente der Wiederaufnahme des Verfahrens aufgrund der Verletzung der EMRK

179

a) Rechtssache XC/Generalprokuratur

179

b) Konsequenzen für die deutsche Rechtsordnung

182

4. Anwendung auf verfassungsrechtliche Rechtsbehelfe und die Rechtskraft durchbrechende Normen

183

5. Spezifische Ausprägung des Äquivalenzgrundsatzes im Rahmen der Vollstreckung rechtskräftiger Schiedssprüche

187

a) Verletzung des unionsrechtlichen Kartellrechts

187

aa) Rechtssache Eco Swiss

188

bb) Rechtssache Renault/Maxicar

189

cc) Bedeutung des Merkmals eines offensichtlichen Verstoßes

190

dd) Zwischenergebnis

191

b) Verletzung von Art. 6 Abs. 1 der Verbraucherrichtlinie 93/13/EWG

192

aa) Rechtssache Mostaza Claro

193

bb) Rechtssache Asturcom Telecomunicaciones

193

cc) Zwischenergebnis

194

c) Kritik an der Methodik des EuGH

195

aa) Fehlende Zuständigkeit des EuGH

195

bb) Kritikwürdige Vergleichsgruppenbildung

197

cc) Kritik an der Methodik

198

d) Bewertung der Ausdehnung des nationalen ordre public

199

III. Einfluss des Effektivitätsgrundsatzes auf die innerstaatliche Rechtskraft

200

1. Grundsätzlich fehlender Einfluss auf innerstaatliche Rechtskraftprinzipien

201

2. Anwendung auf Ausschluss- und Präklusionsfristen

202

3. Keine Pflicht zum Einfügen unionsrechtsspezifischer Rechtsbehelfe der Rechtskraftdurchbrechung

204

4. Anwendung auf die gegenständliche und zeitliche Reichweite der nationalen Rechtskraft

206

a) Konkrete Anwendung des Effektivitätsgrundsatzes

206

b) Einordnung in den Kontext der unionsrechtlich bewirkten Rechtskraftdurchbrechung

208

IV. Die Rechtssache Lucchini als Präzedenzfall für die Rechtskraftdurchbrechung am Maßstab des Effektivitätsgrundsatzes

210

1. Sachverhalt

210

2. Undurchsichtige methodische Vorgehensweise des EuGH

211

3. Erörterung der auftretenden Kollision

213

4. Verschleierter Rückgriff auf den Effektivitätsgrundsatz

215

V. Bestimmung der maßgeblichen Kriterien für die unionsrechtlich bewirkte Rechtskraftdurchbrechung durch den Effektivitätsgrundsatz

216

1. Fehlende Zuständigkeit des entscheidenden innerstaatlichen Gerichts

217

a) Generelle Rechtskraftdurchbrechung bei fehlender Zuständigkeit innerstaatlicher Gerichte?

219

b) Punktuelle Rechtskraftdurchbrechung bei der Untergrabung der ausschließlichen Entscheidungszuständigkeit der Kommission im Beihilfenrecht

220

aa) Unerheblichkeit eines vorausgehenden Negativbeschlusses der Kommission

222

bb) Fehlende Relevanz einer vorsätzlichen Verletzung des Beihilfenrechts

225

2. Offenkundigkeit des Verstoßes

226

a) Unschärfe des Begriffs "offenkundiger Verstoß"

227

b) Überprüfung der Eignung des Kriteriums "offenkundiger Verstoß" anhand der Rechtsprechung des EuGH

229

c) Differierende Beeinträchtigung innerstaatlicher Rechtskraftprinzipien

232

3. Verstoß gegen die Vorlagepflicht nach Art. 267 Abs. 3 AEUV

233

4. Grad der Harmonisierung der betroffenen Rechtsmaterie

235

F. Bewertung der Rechtskraftdurchbrechung durch den Effektivitätsgrundsatz bei der Verletzung des Beihilfenrechts

239

I. Konsequentes Einfügen in den Kontext der EuGH-Rechtsprechung zur Durchsetzung des Beihilfenrechts

239

II. Praktische Notwendigkeit der Rechtskraftdurchbrechung zur effektiven Durchsetzung des Beihilfenrechts

242

1. Kollusives Zusammenwirken

242

2. Feststellungsklagen

245

III. Rechtskraftdurchbrechung anhand des Effektivitätsgrundsatzes nur ultima-ratio zur Durchsetzung des Beihilfenrechts

246

G. Bedeutung des unionsrechtlichen Staatshaftungsanspruchs für judikatives Unrecht im Kontext der Rechtskraftdurchbrechung

247

I. Schwächung nationaler Rechtskraftprinzipien durch die Anerkennung des unionsrechtlichen Staatshaftungsanspruchs für judikatives Unrecht?

248

1. Lückenhafte Argumentation des EuGH

249

2. Infragestellung der materiellen Richtigkeit der gerichtlichen Ausgangsentscheidung und Beeinträchtigung der materiellen Rechtskraft

251

3. Beeinträchtigung der Rechtskraftziele

253

II. Schutz vor übermäßiger Schwächung der Rechtskraft über das Tatbestandsmerkmal des offenkundigen Verstoßes

255

III. Gründe für die Haftungsprivilegierung mitgliedstaatlicher Gerichte

259

IV. Anwendung auf steuerrechtliche Fallkonstellationen

261

V. Anwendung auf beihilfenrechtliche Fallkonstellationen

263

VI. Zwischenergebnis

265

H. Zusammenfassung

266

Drittes Kapitel: Möglichkeiten zur Ausdehnung der unionsrechtlich gebotenen Rechtskraftdurchbrechung und ihre Auswirkung auf mitgliedstaatliche Rechtsordnungen

274

A. Grenzen der unionsrechtlich intendierten Rechtskraftdurchbrechung

275

I. Aus dem Unionsrecht resultierende Grenzen

276

II. Aus dem Grundgesetz resultierende Grenzen

277

III. Die Grenzen des unionsrechtlichen Staatshaftungsanspruchs bei judikativem Unrecht

282

B. Ausweitung der unionsrechtlich zwingenden Rechtskraftdurchbrechung auf weitere Rechtsgebiete des Unionsrechts

284

I. Verletzung von Grundfreiheiten

284

II. Verstoß gegen Unionsgrundrechte

285

III. Verstoß gegen die unionsrechtliche Freizügigkeit aus Art. 21 AEUV

286

IV. Kartellverbot Art. 101 AEUV und Missbrauch einer marktbeherrschenden Stellung Art. 102 AEUV

288

1. Vergleichbarkeit der Entscheidungskompetenzen

289

2. Vergleichbare Gefährdungslage

293

3. Konsequenzen

294

V. Fusionskontrollrecht

296

VI. Zwischenergebnis

298

C. Anforderungen an mitgliedstaatliche Verfahrensordnungen

299

I. Pflicht zur Erweiterung nationaler Verfahrensordnungen?

300

1. Art. 260 Abs. 1 Hs. 2 AEUV

302

a) Pflicht zur innerstaatlichen Rechtskraftdurchbrechung aufgrund eines festgestellten Vertragsverstoßes?

303

b) Praktische Notwendigkeit zum Bereithalten verfahrensautonomer Mittel der Rechtskraftdurchbrechung?

306

c) Zwischenergebnis

309

2. Art. 19 Abs. 1 UAbs. 2 EUV in Verbindung mit Art. 47 Abs. 1 GRCh

309

II. Lösungen in den Verfahrensordnungen anderer Mitgliedstaaten

313

III. Zweckmäßige Modifikationen der deutschen Verfahrensordnung

314

1. Vom EuGH festgestellte Vorlagepflichtverletzung

315

2. Kollision mit dem Beihilfenrecht

318

3. Untergrabung alleiniger Entscheidungszuständigkeiten von Unionsorganen

320

D. Vorschlag eines neuen Rechtsbehelfs der Rechtskraftdurchbrechung in der deutschen Prozessordnung

320

E. Ausblick

322

Viertes Kapitel: Zusammenfassung der wesentlichen Ergebnisse dieser Untersuchung

324

Literaturverzeichnis

328

Stichwortverzeichnis

343