Computer crime, cybercrime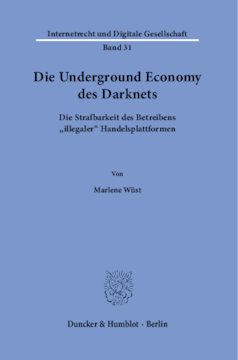 Additional Information
Book Details
ISBN

978-3-428-58380-5
978-3-428-18380-7 (print edition)

DOI

https://doi.org/10.3790/978-3-428-58380-5

Edition

1

Language

German

Pages

278

Collections

Subjects
Pricing
Institution

€ 104.00 (incl. local VAT if applicable)

Individual

€ 79.90 (incl. local VAT if applicable)
About The Author
Marlene Wüst studierte Rechtswissenschaften an der Friedrich-Alexander-Universität Erlangen-Nürnberg mit dem Schwerpunkt Strafrecht. Danach war sie als wissenschaftliche Mitarbeiterin am Lehrstuhl für Strafrecht, Strafprozessrecht, Internationales Strafrecht und Völkerrecht von Professor Dr. Christoph Safferling, LL.M. (LSE) tätig. Der Schwerpunkt ihrer Tätigkeit lag in den Bereichen »Völkerstrafrecht« und »Cybercrime«.
Marlene Wüst studied law at Friedrich-Alexander-University Erlangen-Nürnberg with a focus on criminal law. After her studies, she became a research assistant to the chair of criminal law, criminal procedural law, international criminal law and public international law (chair holder: Professor Dr. Christoph Safferling, LL.M. (LSE)). Her two main research focuses were international criminal law and cybercrime.
Abstract
Wie machen sich Betreiber:innen von Plattformen, die dem Handel mit illegalen Gütern und Dienstleistungen dienen, strafbar? Bedarf es zur Bekämpfung der Underground Economy im Darknet einer neuen Strafnorm?

Diesen Fragen geht die vorliegende Arbeit nach. Aufbauend auf einer eingehenden Untersuchung einzelner Handelsplattformen wird eine rechtliche Bewertung der Strafbarkeit ›de lege lata‹ durchgeführt. Die ausführliche Analyse verdeutlicht, dass die bestehenden Strafgesetze den Betrieb »illegaler« Handelsplattformen im Darknet weitgehend erfassen und keine erheblichen Strafbarkeitslücken bestehen, die die Einführung eines neuen Straftatbestands rechtfertigen können. Eine abschließende Betrachtung der vorgebrachten Gesetzentwürfe zeigt überdies, dass der geplante Straftatbestand nicht nur nicht notwendig ist, sondern zu einer bedenklichen Vorverlagerung der Strafbarkeit führt und im Widerspruch zu Regelungen des Telemedienrechts und Europarechts steht. »Darknet and Underground Economy. The Criminal Liability for Operating ›Illegal‹ Trading Platforms«: Is a new law needed for the fight against the underground economy of the darknet? The thesis deals with this question by first analyzing the structure and working mode of such platforms. On this basis, a legal analysis regarding the criminal liability for operating trading platforms for illicit goods and services is conducted. It concludes, that the existing laws capture the operation of platforms of the underground economy well enough to make a new law redundant and the negative consequences of such law disproportionate.
Table of Contents
Section Title
Page
Action
Price

Vowort

7

Inhaltsübersicht

9

Inhaltsverzeichnis

11

Abbildungsverzeichnis

21

Kapitel 1: Einführung

23

A. Skizzierung der Forschungsfrage

23

B. Gang der Untersuchung

26

Kapitel 2: Das Phänomen der Underground Economy im Darknet

28

A. Terminus: Darknet

28

I. Funktionsweise des Tor-Browsers

30

II. Funktionsweise der Hidden Services

31

B. Underground Economy

32

C. Methodik, Quellen und Ziel

33

D. Verschiedene Geschäftsmodelle

34

I. Marktplätze

34

1. Allgemeines zu Aufbau und Funktionsweise von Darknet-Marktplätzen

34

2. Einzelheiten zu Aufbau und Funktionsweise

36

a) Dream Market

36

aa) Aufbau

37

bb) Handhabbarkeit – Leitfaden des Betreibers

40

cc) Weitere Besonderheiten

40

b) Wallstreet Market

41

aa) Aufbau

41

bb) Anreize für Nutzer

46

cc) Konfigurationsmöglichkeiten und Hilfestellungen

48

dd) Weitere Besonderheiten

50

c) Weitere beschlagnahmte Marktplätze

50

aa) Alpha Bay

50

bb) Hansa

52

d) Rolle der Betreiberin

52

II. Vendorshops

53

III. Foren

53

1. Deutschland im Deep Web (DiDW)

54

a) Registrierung

54

b) Kommunikation

55

c) Aufbau

55

d) Treuhänderfunktion

58

e) Suchfunktion

59

f) Spenden

59

2. The Hub

60

3. Dread

62

4. Fazit

65

IV. Dezentrale Handelsplattformen

66

V. Zusammenfassung

66

Kapitel 3: Strafbarkeit de lege lata

67

A. Marktplätze

67

I. "Betrieb eines Darknet-Marktplatzes"

67

II. Auswirkung der Verantwortlichkeitsregelungen des TMG

68

1. Einordnung des Betreibers

69

2. Voraussetzungen des Haftungsprivilegs nach §§ 7 Abs. 2, 10 TMG

72

3. Auswirkungen der Haftungsprivilegien auf das Strafrecht

73

a) Eigene Ansicht: Bloße Beschränkung der Unterlassungsstrafbarkeit

74

b) Aktuelle Rechtsprechung und generelle Nichtanwendung des Haftungsprivilegs

75

c) Zusammenfassung

76

III. Bildung einer kriminellen Vereinigung, §§ 129 Abs. 1, 2, 129b Abs. 1 StGB, § 30b BtMG

76

1. Das Betreiberteam als kriminelle Vereinigung

76

a) Organisationsstruktur

77

b) Übergeordnetes Interesse

78

c) Zweck

79

d) Tathandlung: Gründung oder Beteiligung als Mitglied

82

e) Inländische oder ausländische Vereinigung

82

f) Zusammenfassung

85

2. Kriminelle Vereinigung zwischen Betreiberin und Nutzer

85

IV. Mittäterschaft, § 25 Abs. 2 StGB

86

1. Mittäterschaft zwischen Betreiber und Nutzerinnen

86

a) Gemeinsamer Tatentschluss zu gemeinschaftlicher Begehung einzelner Delikte

87

b) Weitere Kriterien zur Abgrenzung der Mittäterschaft von der Teilnahme

87

2. Mittäterschaft innerhalb des Betreiberteams

89

V. Spezielle Straftatbestände einzelner Deliktsbereiche

90

1. Drogenhandel – BtMG, NpSG, GÜG, AMG

90

a) Täterschaftliches Handeltreiben, § 29 Abs. 1 S. 1 Nr. 1 BtMG

91

aa) Tathandlung: Handeltreiben

91

(1) Bereitstellen der Infrastruktur

91

Exkurs: Tathandlung Bereitstellen der Infrastruktur

92

(2) Treuhandtätigkeit

93

Exkurs: Treuhandtätigkeit

93

(3) Einschränkung der Definition durch die Rechtsprechung und Kritik

94

(4) Zusammenfassung

95

bb) Vorsatz

96

cc) Gewerbsmäßigkeit im Sinne des § 29 Abs. 3 S. 2 Nr. 1 BtMG

97

dd) Qualifikationen

99

(1) § 29a Abs. 1 Nr. 2 BtMG: Handeltreiben mit nicht geringer Menge

99

(2) § 30 Abs. 1 Nr. 1 BtMG: Bandenmäßige Begehung

99

(3) § 30a Abs. 1 BtMG: Nicht geringe Menge und Bandendelikt

101

ee) Zusammenfassung

101

b) Werben, § 29 Abs. 1 S. 1 Nr. 8 BtMG

101

c) Verschaffen oder Gewähren einer Gelegenheit, § 29 Abs. 1 S. 1 Nr. 10 Var. 1, 2 BtMG

102

aa) Gelegenheit

102

(1) Bezugspunkt der Gelegenheit: Unbefugter Erwerb oder unbefugte Abgabe

103

(2) Vergleichbarkeit mit BayObLGSt 1991, 85?

104

(3) Bereitstellen der Infrastruktur als typische Förderungshandlung

105

bb) Tathandlung: Verschaffen oder Gewähren

106

cc) Vorsatz

107

dd) Gewerbsmäßigkeit

107

ee) Zusammenfassung

107

d) Öffentliche oder eigennützige Mitteilung einer Gelegenheit, § 29 Abs. 1 S. 1 Nr. 10 Var. 3, 4 BtMG

108

aa) Marktplatz als Gelegenheit

108

bb) Angebote der Verkäufer als Gelegenheit

108

e) Täterschaftliches Handeltreiben nach dem NpSG

109

f) Täterschaftliches Handeltreiben nach dem GÜG

109

g) Verstöße gegen das AMG

110

h) Zusammenfassung

111

2. Waffenhandel – WaffG, KrWaffKontrG, SprengG

112

a) Täterschaftliches Handeltreiben nach dem WaffG

112

aa) Handeltreiben mit vollautomatischen Schusswaffen und Vorderschaftrepetierflinten, § 51 Abs. 1 Var. 10, Abs. 2 S. 2 WaffG

112

bb) Handeltreiben mit ehemaligen Kriegswaffen und Brandsätzen, § 52 Abs. 1 Nr. 1 Var. 10, Abs. 5 S. 2 WaffG

115

cc) Gewerbsmäßiges Handeltreiben mit erlaubnispflichtigen Schusswaffen und erlaubnispflichtiger Munition, § 52 Abs. 1 Nr. 2c WaffG

115

dd) Handeltreiben mit verbotenen Waffen, § 52 Abs. 3 Nr. 1 WaffG

116

b) Täterschaftliches Handeln nach dem KrWaffKontrG

116

aa) Handeltreiben

116

bb) Fördern des Handels, des Erwerbs oder des Überlassens

117

cc) Vermittlung von Auslandgeschäften

117

c) Vermittlungstätigkeiten nach dem AWG

117

d) Verkehr betreiben nach dem SprengG

118

e) Zusammenfassung

119

3. Datenhandel

119

4. Handel mit gefälschten oder nicht lizenzierten Gütern

120

5. Handel mit pornographischem Material, §§ 184 ff. StGB

121

a) Öffentliches Zugänglichmachen

122

b) Bewerben

123

c) Besitz

124

d) Zusammenfassung

125

6. Handel mit Cybercrime-Produkten und -Dienstleistungen

125

VI. Geldwäsche, § 261 StGB

125

1. Rechtswidrige Vortat

125

2. Bitcoins und Moneroj als taugliches Tatobjekt

126

3. Herrühren

127

4. Tathandlung: Entgegennahme der Bitcoins bzw. Moneroj

127

5. Tathandlung: Transfer der Bitcoins bzw. Moneroj an den Verkäufer

128

6. Besonders schwerer Fall nach § 261 Abs. 4 StGB

131

7. Strafausschließungsgrund gemäß § 261 Abs. 9 S. 2 StGB

131

8. Zusammenfassung

132

VII. Anstiftung, § 26 StGB

132

1. Bereitstellen der Infrastruktur

133

2. Besondere Hervorhebung einzelner Produkte

134

3. Einsatz eines "Kunden werben Kunden"-Systems

134

4. Einsatz von Prämiensystemen

135

5. Zusammenfassung

135

VIII. Beihilfe, § 27 Abs. 1 StGB

136

1. Objektive Voraussetzungen

136

a) Hilfeleisten

138

b) Sonderfall der neutralen Beihilfe

139

c) Nachweis der konkreten Haupttat

140

2. Subjektive Voraussetzungen

142

a) Vorsatz bezüglich der Haupttat

143

b) Vorsatz bezüglich der Hilfeleistung

145

3. Zusammenfassung

145

IX. Öffentliche Aufforderung zu Straftaten, § 111 Abs. 1 Var. 1, Abs. 2 StGB

146

1. Tathandlung: Auffordern

146

2. Bereitstellen der Infrastruktur

147

3. Besondere Hervorhebung einzelner Produkte

147

4. Einsatz eines "Kunden werben Kunden"-Systems

149

5. Einsatz von Prämiensystemen

150

6. Zusammenfassung

150

X. Fahrlässigkeitsdelikte

151

1. Vorsätzliche Tötung oder Verletzung Dritter durch Marktplatznutzer

151

a) Kausalität

151

b) Objektive Sorgfaltspflichtverletzung

152

c) Objektive Vorhersehbarkeit

154

d) Objektive Zurechnung des Erfolgs

156

aa) Pflichtwidrigkeitszusammenhang bzw. objektive Vermeidbarkeit

156

bb) Dazwischentreten und Mitverantwortung Dritter

156

e) Subjektive Fahrlässigkeit

157

f) Zusammenfassung

157

2. Selbsttötungen/-verletzungen durch Marktplatznutzerinnen

158

a) Voraussetzungen der Kausalität, objektive Sorgfaltspflichtverletzung und objektive Vorhersehbarkeit

158

b) Ausschluss aufgrund des Prinzips der Eigenverantwortlichkeit

159

Exkurs: Eigenverantwortlichkeit bei Irrtum über den Inhalt der Substanz

160

c) Zusammenfassung

162

XI. Fazit Marktplätze

162

B. Foren

162

I. Verschiedene Konstellationen

163

1. Konstellation 1: Marktplatzsektion innerhalb des Forums

163

2. Konstellation 2: Vertragsanbahnung durch Werbe- und Kontaktanzeigen in vom Betreiber geschaffenen Bereichen

163

3. Konstellation 3: Vertragsanbahnung ohne Initiative der Betreiberin

164

a) Abgrenzung zwischen aktivem Tun und Unterlassen

164

b) Garantenpflicht

165

aa) Garantenpflicht aus Gesetz

166

bb) Garantenpflicht aus Ingerenz

166

cc) Garantenpflicht aus Herrschaft über Gefahrenquelle

167

dd) Reichweite der Handlungspflicht

168

c) Zusammenfassung

169

II. Auswirkung der Verantwortlichkeitsregelungen des TMG

170

1. Einordnung der Betreiberin

170

2. Voraussetzungen des Haftungsprivilegs nach §§ 7 Abs. 2, 10 TMG

171

3. Auswirkungen des Haftungsprivilegs auf das Strafrecht

172

4. Zusammenfassung

172

III. Bildung einer kriminellen Vereinigung, §§ 129 Abs. 1, 2, 129b Abs. 1 StGB, § 30b BtMG

173

IV. Mittäterschaft, § 25 Abs. 2 StGB

174

1. Mittäterschaft zwischen Betreiber und Nutzerinnen

174

2. Mittäterschaft innerhalb des Betreiberteams

175

V. Spezielle Straftatbestände einzelner Deliktsbereiche

175

1. Drogenhandel – BtMG, NpSG, GÜG, AMG

175

a) Konstellation 1: Marktplatzsektion innerhalb des Forums

175

b) Konstellation 2: Vertragsanbahnung durch Werbe- und Kontaktanzeigen in vom Betreiber geschaffenen Bereichen

176

c) Konstellation 3: Vertragsanbahnung ohne Initiative des Betreibers

178

d) Zusammenfassung

178

2. Waffenhandel – WaffG, KrWaffKontrG, AWG und SprengG

178

a) Konstellation 1: Marktplatzsektion innerhalb des Forums

178

b) Konstellationen 2 und 3: keine Marktplatzsektion, aber Vertragsanbahnung durch Werbe- und Kontaktanzeigen

179

aa) Strafbarkeit nach dem WaffG

179

bb) Strafbarkeit nach dem KrWaffKontrG

179

(1) Handeltreiben

180

(2) Fördern

180

(3) Vermittlung von Auslandsgeschäften

181

cc) Strafbarkeit nach dem AWG

182

dd) Strafbarkeit nach dem SprengG

182

c) Zusammenfassung

183

3. Datenhandel

183

4. Handel mit gefälschten oder nicht lizenzierten Gütern

183

5. Handel mit pornographischem Material, §§ 184 ff. StGB

183

a) Konstellation 1: Marktplatzsektion innerhalb des Forums

184

b) Konstellation 2: Vertragsanbahnung durch Werbe- und Kontaktanzeigen in vom Betreiber geschaffenen Bereichen

184

c) Konstellation 3: Vertragsanbahnung ohne Initiative der Betreiberin

185

d) Zusammenfassung

185

6. Handel mit Cybercrime-Produkten und -Dienstleistungen

185

VI. Geldwäsche, § 261 StGB

185

VII. Anstiftung, § 26 StGB

186

VIII. Beihilfe, § 27 Abs. 1 StGB

186

1. Konstellation 1: Marktplatzsektion innerhalb des Forums

186

2. Konstellation 2: Vertragsanbahnung durch Werbe- und Kontaktanzeigen in vom Betreiber geschaffenen Bereichen

188

3. Konstellation 3: Vertragsanbahnung ohne Initiative der Betreiberin

188

IX. Öffentliche Aufforderung zu Straftaten, § 111 Abs. 1 Var. 1, Abs. 2 StGB

190

X. Fahrlässigkeitsdelikte

190

1. Konstellation 1: Marktplatzsektion innerhalb des Forums

191

2. Konstellation 2: Vertragsanbahnung durch Werbe- und Kontaktanzeigen in von Betreiberin geschaffenen Bereichen

191

3. Konstellation 3: Vertragsanbahnung ohne Initiative des Betreibers

193

XI. Fazit Foren

195

C. Strafanwendungsrecht

195

I. Grundlegendes zur Anwendbarkeit deutschen Strafrechts

195

1. Ubiquitätsprinzip, §§ 3, 9 StGB

196

a) Ansichten der Literatur zum Erfolgsort bei abstrakten Gefährdungsdelikten

196

b) Entwicklung der Rechtsprechung zum Erfolgsort bei abstrakten Gefährdungsdelikten

197

c) Zusammenfassung

198

2. Weltrechtsprinzip, § 6 StGB

198

3. Personalitätsprinzip, § 7 Abs. 1, 2 Nr. 1 StGB

198

4. Stellvertretende Strafrechtspflege, § 7 Abs. 2 Nr. 2 StGB

199

II. Betreiberin in Deutschland

199

III. Server in Deutschland

200

IV. Nutzer in Deutschland

200

1. Strafbarkeit des Betreibers als Täter

201

a) Öffentliche Aufforderung zu Straftaten, § 111 StGB

201

b) Bildung einer kriminellen Vereinigung, §§ 129, 129b StGB, § 30b BtMG

201

c) Geldwäsche, § 261 StGB

202

d) Drogenhandel

203

e) Waffenhandel

205

f) Handel mit pornographischem Material, §§ 184 ff. StGB

206

g) Fahrlässige Tötung oder Verletzung, §§ 222, 229 StGB

206

2. Strafbarkeit des Betreibers als Teilnehmer

207

V. Betreiberin deutsche Staatsangehörige

207

VI. Einschränkung deutschen Strafrechts aufgrund von § 3 Abs. 2 TMG?

207

VII. Zusammenfassung

209

D. Zusammenfassung: Strafbarkeit de lege lata

210

I. Marktplätze

210

II. Foren

213

1. Konstellation 1: Marktplatzsektion innerhalb des Forums

213

2. Konstellation 2: Vertragsanbahnung durch Werbe- und Kontaktanzeigen in vom Betreiber geschaffenen Bereichen

213

3. Konstellation 3: Vertragsanbahnung ohne Initiative der Betreiberin

214

III. Strafanwendungsrecht

215

Kapitel 4: Überlegungen de lege ferenda

217

A. Gesetzgebungsgeschichte

217

B. Vergleich beider Entwürfe

219

C. Auslegung und Begründung des Entwurfs

220

D. Bewertung

222

I. Mangelnde Bestimmtheit

222

II. Mangelnde Verhältnismäßigkeit

223

III. Vorverlagerung der Strafbarkeit

226

IV. Widerspruch zu den Verantwortlichkeitsregeln des TMG

228

V. Angeführte Strafbarkeitslücken

228

1. Beihilfe

229

2. Bandenmäßige Begehung

231

3. Bildung einer kriminellen Vereinigung, § 129 StGB

232

4. Zusammenfassung

233

VI. Ergebnisse der eigenen ausführlichen Untersuchung

233

1. Tatsächliches Bestehen nennenswerter Strafbarkeitslücken?

234

2. Beseitigung der Strafbarkeitslücken durch § 126a StGB-E?

235

3. Rechtfertigung der Schaffung einer neuen Norm

236

E. Jüngste Entwicklungen: § 127 StGB-E

237

I. Umformulierung der Tathandlung

238

II. Abgrenzungskriterium der Zweckausrichtung

239

III. Äußerungen zur E-Commerce-RL

240

IV. Einfügung eines Straftatenkatalogs

241

V. Erweiterung des § 5 StGB

242

VI. Strafprozessuale Befugnisse

242

VII. Weitere Änderungen und Anmerkungen

243

VIII. Zusammenfassung

244

F. Empfehlung

245

Kapitel 5: Zusammenfassung

248

A. Das Phänomen der Underground Economy

248

B. Strafbarkeit de lege lata

249

I. Darknet-Marktplätze

249

II. Foren

252

1. Konstellation 1: Marktplatzsektion innerhalb des Forums

252

2. Konstellation 2: Vertragsanbahnung durch Werbe- und Kontaktanzeigen in vom Betreiber geschaffenen Bereichen

253

3. Konstellation 3: Vertragsanbahnung ohne Initiative des Betreibers

254

III. Strafanwendungsrecht

255

C. Strafbarkeit de lege ferenda

255

Literaturverzeichnis

259

Sachverzeichnis

276