Employment contracts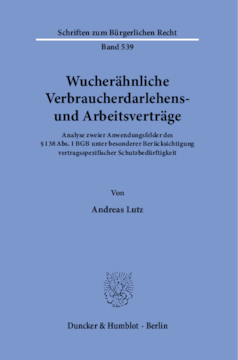 BOOK
Wucherähnliche Verbraucherdarlehens- und Arbeitsverträge
Analyse zweier Anwendungsfelder des § 138 Abs. 1 BGB unter besonderer Berücksichtigung vertragsspezifischer Schutzbedürftigkeit
Schriften zum Bürgerlichen Recht, Vol. 539
(2021)
Additional Information
Book Details
ISBN

978-3-428-58419-2
978-3-428-18419-4 (print edition)

DOI

https://doi.org/10.3790/978-3-428-58419-2

Edition

1

Language

German

Pages

278

Collections

Subjects
Pricing
Institution

€ 104.00 (incl. local VAT if applicable)

Individual

€ 79.90 (incl. local VAT if applicable)
About The Author
Andreas Lutz studierte Rechtswissenschaft an der Johannes Gutenberg-Universität Mainz und legte im Jahr 2015 das erste Staatsexamen ab. Es folgte ein einjähriges LL.M.-Studium am Trinity College Dublin, Irland. Ab 2016 war er Referendar am Landgericht Mainz mit weiteren Stationen unter anderem am Arbeitsgericht Mainz und bei einer Wirtschaftskanzlei in Kapstadt, Südafrika. Das zweite Staatsexamen absolvierte er Ende 2018. Ab Anfang 2019 war Andreas Lutz externer Doktorand bei Prof. Dr. Jürgen Oechsler an der Universität Mainz und wurde im Mai 2021 promoviert. Seit April 2019 ist er als Rechtsanwalt in Frankfurt am Main tätig.
Andreas Lutz studied law at the Johannes Gutenberg University Mainz and completed the First Legal State Examination in 2015. Afterwards, he obtained a Master of Laws (LL.M.) degree from Trinity College Dublin, Ireland, in 2016. His subsequent Legal Traineeship at the District Court in Mainz included stages at the Labour Court in Mainz and at a commercial law firm in Cape Town, South Africa. The Second Legal State Examination followed in late 2018. From early 2019 on, Andreas Lutz was an external doctoral candidate under Prof. Dr. Jürgen Oechsler at the University of Mainz until he was awarded a Ph.D. (Dr. iur.) in May 2021. Since April 2019 he has worked as a lawyer in Frankfurt am Main.
Abstract
Maßgebliches privatrechtliches Instrument zur Äquivalenzkontrolle bei Austauschverträgen ist § 138 BGB. Wucher gemäß § 138 Abs. 2 BGB lässt sich jedoch nur selten beweisen. Das Reichsgericht, und ihm folgend der Bundesgerichtshof, griffen deshalb bereits früh auf das wucherähnliche Rechtsgeschäft als Fallgruppe des § 138 Abs. 1 BGB zurück. Insbesondere die Rechtsprechung zu Verbraucherdarlehensverträgen prägte das heutige Verständnis der Wucherähnlichkeit. Diese dogmatische Grundsteinlegung kann für die deutlich jüngere Diskussion um wucherähnliche Arbeitsverträge fruchtbar gemacht werden.

Wucherähnliche Verbraucherdarlehens- und Arbeitsverträge setzen mindestens ein Merkmal neben dem auffälligen Missverhältnis zwischen Leistung und Gegenleistung voraus. Entgegen der herrschenden Auffassung ist dies nicht die verwerfliche Gesinnung des Übervorteilenden, sondern die vertragsspezifische Schutzbedürftigkeit des Übervorteilten. Diese ist für jeden Vertragstypus gesondert zu ermitteln. »Usury-Like Consumer Loan and Employment Contracts. Analysis of two Application Fields of Sec. 138 (1) BGB with Particular Regard to Contract-Specific Vulnerability«: Usury pursuant to Sec. 138 (2) of the German Civil Code (BGB) can rarely be proven. The case law on loan contracts therefore formed the usury-like transaction as a case group of Sec. 138 (1) BGB. The author analyses this dogmatic foundation and its transfer to usury-like employment contracts by the Federal Labour Court (BAG). Contrary to the predominant opinion, the decisive unwritten prerequisite of usury-likeness is the contract-specific vulner-ability of the overreached party.
Table of Contents
Section Title
Page
Action
Price

Geleitwort

5

Vorwort

7

Inhaltsverzeichnis

9

§ 1 Einführung und Grundlagen

15

A. Gegenstand und Gang der Untersuchung

15

B. Historische Einführung

17

I. Das kanonische Wucherverbot

17

1. Kodifizierung des Wucherverbots

18

2. Begründung des Wucherverbots

19

3. Konflikt mit dem weltlichen Recht und Umgehung des Verbots

25

4. Zusammenfassung

28

II. Die laesio enormis

29

1. Die laesio enormis im römischen Recht

29

a) C.4.44.2 und C.4.44.8

30

b) Auslegung der Konstitutionen

32

c) Motive für die Einführung der laesio enormis

33

d) Praktische und theoretische Wirksamkeit

34

2. Exkurs: Römische Zinshöchstsätze und laesio enormissima

35

3. Zusammenfassung

36

III. Zusammenfassung

36

C. Grundlagen zu § 138 Abs. 1 BGB

37

I. Funktion des § 138 BGB

37

1. Äquivalenzstörungen aus Sicht des historischen Gesetzgebers

38

2. Allgemeine Funktion des § 138 Abs. 1 BGB

39

II. Die guten Sitten

42

1. Anstandsformel

42

2. (Keine) Berücksichtigung außerrechtlicher Wertungen

43

III. Verhältnis des § 138 Abs. 1 BGB zu Abs. 2

45

IV. Zusammenfassung

46

§ 2 Wucherähnliche Verbraucherdarlehensverträge

48

A. Rechtsprechungsentwicklung

50

I. Bemessungsgrundlagen

50

1. Beurteilungszeitpunkt und Marktvergleich

50

2. Der Vertragszins

51

3. Der Marktzins

52

II. Das auffällige Missverhältnis

54

1. Grundregel: 100 Prozent relative oder 12 Prozentpunkte absolute Überschreitung

54

2. Modifikationen bei Vorliegen besonderer Situationen

57

3. Zusammenfassung

59

III. Weitere objektive Umstände

59

1. Beurteilungsgrundlage

60

2. Die Leitentscheidung des BGH

60

3. Sonstige belastende Vertragsbedingungen

62

4. Gewichtung der sonstigen Vertragsbedingungen

63

IV. Das subjektive Element und seine Vermutung

64

1. Erfordernis und Inhalt eines subjektiven Elements

64

2. Widerlegliche Vermutung des subjektiven Elements

67

3. Zwischenergebnis

69

4. Wandel der Rechts- und Sozialmoral

70

V. Rechtsfolgen bei Nichtigkeit des Darlehensvertrages

71

1. Herausgabeanspruch des Darlehensgebers hinsichtlich der Valuta

71

2. Kein Anspruch des Darlehensgebers auf Zinsen oder sonstigen Nutzungsersatz

75

3. Bereicherungsrechtliche Ansprüche des Darlehensnehmers sowie Verjährung

76

VI. Zusammenfassung

77

B. Rezeption in der Literatur

78

I. Erforderlichkeit eines subjektiven Elements

79

1. Die Kritik an der Rechtsprechung

79

2. Stellungnahme

82

II. Berücksichtigung der Schutzbedürftigkeit des Verbraucher-Darlehensnehmers

83

1. Die Richtigkeitsgewähr des Vertrages

84

2. Die Rechtsprechung des Bundesverfassungsgerichts zu Ungleichgewichtslagen

85

3. Die Schutzbedürftigkeit des Verbraucher-Darlehensnehmers

86

a) Das Verbraucherschutzargument

86

aa) Gründe für eine besondere Schutzbedürftigkeit von Verbrauchern

86

bb) Rollenmodell versus vertragsspezifische Schutzbedürftigkeit

89

cc) Stellungnahme

90

b) Vertragsspezifische Gefahren des Verbraucherdarlehens

91

aa) Wirtschaftliche Faktoren

92

bb) Psychologische Faktoren

95

cc) Zusammenfassung

96

III. Tatbestandsdefinition wucherähnlicher Verbraucherdarlehensverträge

97

1. Das auffällige Missverhältnis

97

2. Die vertragsspezifische Schutzbedürftigkeit des Darlehensnehmers

98

3. Die Kausaliät

100

4. Die Kenntnis oder leichtfertige Unkenntnis

101

5. Formulierungsvorschlag zur Tatbestandsdefinition

104

IV. Zinsfreiheit des wucherähnlichen Darlehens?

106

1. Telos des § 817 S. 2 BGB

107

a) Strafe

107

b) Generalprävention

108

c) Rechtsschutzverweigerung

110

d) Stellungnahme

111

2. Zinsfreiheit des Darlehens?

113

a) Meinungsstand

113

b) Stellungnahme

116

3. Zusammenfassung

118

V. Zusammenfassung

118

C. Zusammenfassung

118

§ 3 Wucherähnliche Arbeitsverträge

121

A. Rechtsprechungsentwicklung

121

I. Bemessungsgrundlagen

123

1. Der Beurteilungszeitpunkt

123

2. Der vereinbarte Lohn

125

3. Der Marktlohn

127

a) Erste Fallgruppe: Übliche Vergütung entspricht dem Tariflohn

127

aa) Bestimmung des Marktlohnes

127

bb) Verfassungsmäßigkeit der Orientierung an Tarifverträgen

130

b) Zweite Fallgruppe: Übliche Vergütung wird nicht durch Tarifvertrag definiert

132

c) Zusammenfassung

136

II. Das auffällige Missverhältnis

137

III. Weitere objektive Umstände

139

1. Allgemeines

139

2. Die absolute Höhe der vereinbarten Vergütung

141

3. Angestellte Rechtsanwälte

144

4. An Privatschulen angestellte Lehrkräfte

146

5. Zusammenfassung

147

6. Exkurs: Angemessene Vergütung Auszubildender gemäß § 17 BBiG

148

IV. Das subjektive Element und seine Vermutung

154

1. Inhalt des subjektiven Elements

155

2. Vermutung der verwerflichen Gesinnung

156

a) Ansatz des BAG

156

b) Berücksichtigung der Störung der Vertragsparität?

159

c) Exkurs: Sittenwidrigkeit tarifvertraglicher Vergütungsregelungen

162

V. Rechtsfolgen wucherähnlicher Entgeltabreden in Arbeitsverträgen

166

VI. Zusammenfassung

167

B. Rezeption in der Literatur

169

I. Verhältnis zum Mindestlohngesetz

170

1. Ausgangspunkte des Mindestlohngesetzes und der Sittenwidrigkeitskontrolle

170

2. Rechtsfolge einer Unterschreitung des Mindestlohnes

172

3. Verhältnis des Mindestlohngesetzes zur Sittenwidrigkeitskontrolle

174

4. Zusammenfassung

176

II. Beurteilungszeitpunkt der Sittenwidrigkeitskontrolle

176

1. Beurteilungszeitpunkt

177

a) Überwiegende Auffassung: Streitgegenständlicher Zeitraum

177

b) Gegenansicht: Zeitpunkt des Vertragsschlusses

178

c) Stellungnahme unter Berücksichtigung von Vertragsänderungen

179

2. Anpassungsmöglichkeiten bei Vergütungsabreden

181

a) Ergänzende Vertragsauslegung

181

b) § 313 BGB: Störung der Geschäftsgrundlage

182

c) § 826 BGB: Sittenwidrige vorsätzliche Schädigung

183

d) § 242 BGB i.V.m. § 612 Abs. 2 BGB analog: Treuwidrigkeit

184

e) Stellungnahme: Enge Auslegung der Treuwidrigkeit gemäß § 242 BGB

185

aa) Das Problem der automatischen Lohnanpassung

185

bb) Lösung über eine Obliegenheit des Arbeitnehmers zur Forderung einer Anpassung

186

III. Tatbestandsdefinition wucherähnlicher Arbeitsverträge

189

1. Das auffällige Missverhältnis

189

a) Keine Kompetenzüberschreitung durch festen Grenzwert

189

b) Auffälliges Missverhältnis bei weniger als zwei Dritteln der üblichen Vergütung

190

c) Bestimmung der üblichen Vergütung

192

aa) Prägung des Marktwertes der Arbeitsleistung durch einen Tarifvertrag

192

(1) Anforderungen an die Üblichkeit des Tariflohnes

192

(2) Darlegungs- und Beweislast hinsichtlich der Üblichkeit des Tariflohnes

194

(3) Praktische Umsetzung der Darlegung unter Berücksichtigung der Datenlage

194

(4) Übliche Vergütung höher als Tariflohn

200

(5) Zusammenfassung

201

bb) Bestimmung des Marktlohnes ohne Tarifvertrag

202

(1) Einführung

202

(2) Datenlage

203

(a) Beispielhaft: Nordrhein-Westfalen

204

(b) Andere Bundesländer

205

(c) Weitere Erhebungen

207

(d) Ausblick: Änderung des Verdienststatistikgesetzes

208

(e) Interaktiver Gehaltsvergleich des Statistischen Bundesamtes

210

(f) Zusammenfassung

212

(3) Bestimmung der Anforderungen an die Vortragslast des klagenden Arbeitnehmers unter Berücksichtigung von § 287 Abs. 2, 1 ZPO

213

(4) Vorgehen bei der Darlegung der üblichen Vergütung im Einzelfall

216

(a) Primär: Verwendung hinreichend präziser Landesstatistiken

216

(b) Derzeit keine Berücksichtigung des Interaktiven Gehaltsvergleiches

218

(c) Sekundär: Berechnung des Marktlohnes anhand der Bundesstatistik

220

(aa) Berechnungsweise

221

(bb) Rechenbeispiel

222

(cc) Zugrundeliegende Prämissen der Berechnung und Schätzabschläge

222

(dd) Einschränkungen der Anwendbarkeit des Modells

223

(ee) De lege ferenda: Anpassung des Verdienststatistikgesetzes

224

(5) Zusammenfassung

225

d) Zusammenfassung

226

2. Berücksichtigung der Schutzbedürftigkeit des Arbeitnehmers

226

a) Vertragsspezifische Schutzbedürftigkeit des Arbeitnehmers

227

aa) Existenzielle Abhängigkeit von Erwerbseinkommen

227

bb) Besonderheiten des Anbietens von Arbeitskraft

228

cc) Weitere Gründe

229

b) Feststellung und Berücksichtigung der vertragsspezifischen Schutzbedürftigkeit des Arbeitnehmers

230

3. Die Kausalität

231

4. Das subjektive Element und seine Vermutung

231

a) Das subjektive Element

231

b) Vermutung des subjektiven Elements

232

aa) Literatur

232

bb) Stellungnahme

233

(1) Vermutung bei üblichem Tariflohn

233

(2) Vermutung ohne üblichen Tariflohn

235

(3) Zusammenfassung

236

5. Formulierungsvorschlag zur Tatbestandsdefinition

236

6. Verbleibende Schutzlücken der Äquivalenzkontrolle bei Arbeitsverträgen

237

IV. Rechtsfolgen der Wucherähnlichkeit von Arbeitsverträgen

239

1. § 612 Abs. 2 BGB statt §§ 812ff. BGB

239

2. § 612 Abs. 2 BGB: Anpassung auf übliche Vergütung

241

3. Schadensersatz

242

4. Keine Anwendbarkeit tarifvertraglicher Ausschlussfristen

242

5. Zusammenfassung

243

V. Zusammenfassung

243

C. Zusammenfassung

245

§ 4 Vergleichende und zusammenfassende Thesen

247

Literaturverzeichnis

255

Sachwortverzeichnis

276