Public procurement, services & supplies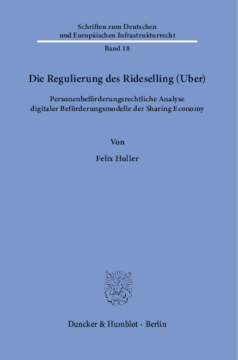 Additional Information
Book Details
ISBN

978-3-428-58407-9
978-3-428-18407-1 (print edition)

DOI

https://doi.org/10.3790/978-3-428-58407-9

Edition

1

Language

German

Pages

659

Collections

Subjects
Pricing
Institution

€ 150.00 (incl. local VAT if applicable)

Individual

€ 116.90 (incl. local VAT if applicable)
About The Author
Felix Huller studierte Rechtswissenschaften mit wirtschaftswissenschaftlicher Zusatzausbildung an der Universität Bayreuth. Rechtsreferendariat mit Stationen in Würzburg und München, im Jahr 2016 Zweite Juristische Staatsprüfung. Bis 2019 Tätigkeit als Wissenschaftlicher Mitarbeiter am Lehrstuhl für Öffentliches Recht und Europarecht von Prof. Dr. Markus Ludwigs an der Universität Würzburg. Anschließend Richter am Verwaltungsgericht Würzburg mit Schwerpunkten im Öffentlichen Wirtschafts- und Verkehrsrecht. Im Frühjahr 2021 Promotion mit einer personenbeförderungsrechtlichen Arbeit. Seit August 2021 Referent in der Bayerischen Staatskanzlei.
Felix Huller studied law with additional degree in economics at the University of Bayreuth. Legal internship stages in Würzburg and Munich, second state law examination in 2016. Until 2019, research assistant at the Chair of Public Law and European Law of Prof. Dr. Markus Ludwigs at the University of Würzburg. Subsequently, judge at the Administrative Court of Würzburg with a focus on public commercial law and traffic law. In 2021, PhD with a thesis on passenger transportation law. Since August 2021 adviser in the Bavarian State Chancellery.
Abstract
Appbasierte Vermittlungen von taxiähnlichen Beförderungen konfligieren mit dem Personenbeförderungsrecht und waren Gegenstand gerichtlicher Untersagungen. Die Untersuchung beleuchtet vor diesem Hintergrund die Regulierung des Rideselling (Uber) als Ausprägung der Sharing Economy. Die Prüfung zeigt, dass das Personenbeförderungsgesetz (PBefG) gegenüber den digitalen Beförderungsmodellen des Rideselling, Ridesharing und Ridepooling zwar offener ist, als es in der Debatte bisweilen anklingt, jedoch einer vollständigen Hebung des Effizienz-potentials der Plattformen entgegensteht. Insoweit gilt es, Optionen einer möglichen künftigen Regulierung des Rideselling zu eruieren. Der methodische Rahmen für die genuin rechtliche Bewertung der Legislativvorschläge wird zuvor in einem Grundlagenkapitel entwickelt. Abschließend widmet sich die Arbeit der aktuellen Reform durch das Gesetz zur Modernisierung des Personenbeförderungsrechts vom 16. April 2021.

Die Arbeit wurde ausgezeichnet mit dem Promotionspreis der Juristischen Fakultät der Julius-Maximilians-Universität Würzburg des Jahres 2021. »The Regulation of Rideselling. Passenger Transportation Law Analysis of Digital Transportation Models of the Sharing Economy«: App-based intermediation of taxi-like transportation conflicts with passenger transportation law and has been subject of court prohibitions. In this context, the study examines the Regulation of Rideselling (Uber) as an example of the Sharing Economy. The examination shows that the PBefG is more receptive to digital models of transportation than the debate sometimes suggests, but that it still prevents the platforms from fully exploiting their potential for efficiency.
Table of Contents
Section Title
Page
Action
Price

Vorwort

5

Inhaltsübersicht

7

Inhaltsverzeichnis

11

Abkürzungsverzeichnis

21

Einleitung

29

Kapitel 1: Grundlagen des Rideselling

37

§ 1 Sharing Economy

37

A. Wesen

38

I. Ursprünge

39

1. Weitzman (1984)

39

2. Benkler (2004) und Lessig (2008)

40

3. Botsman/Rogers (2010) und Gansky (2010)

41

4. Rifkin (2014)

44

II. Typologie

45

1. Gegenstand

46

a) Weites Verständnis

47

b) Fünf Hauptbereiche (EU-Kommission)

47

2. Art

49

3. Parteien

50

a) Business-to-Consumer (B2C)

51

b) Peer-to-Peer (P2P)

52

4. Kommerzialisierung

53

III. Begriff

54

B. Genese

55

I. Aufstieg

56

II. Triebkräfte

57

1. Digitale Technologien

57

2. Vertrauen

59

a) Rating-Systeme

60

b) Direkte Interventionen

63

3. Effizienz

64

4. Sozialkapital

66

III. Kontroversen

67

1. Ökologie und Nachhaltigkeit

69

2. Innovation und Wettbewerb

71

C. Ergebnis

73

§ 2 Beförderungsmodell des Rideselling

75

A. Digitale Personenbeförderungsmodelle

77

I. Rideselling

78

1. Verkehrsspezifika

79

2. Akteure

79

3. Kommerzialität

82

4. Ergebnis

83

II. Ridepooling

83

1. Verkehrsspezifika

84

2. Akteure

85

3. Kommerzialität

86

4. Ergebnis

86

III. Ridesharing

86

1. Verkehrsspezifika

87

2. Akteure

87

3. Kommerzialität

87

4. Ergebnis

88

IV. Zusammenfassung

88

B. Technische Bausteine der digitalen Vermittlung

89

I. Matching

90

II. Surge Pricing

92

III. Rating-Systeme

94

C. Rideselling, -pooling und -sharing als Dienste der Sharing Economy

96

D. Wettbewerbsverhältnis zum Taxenverkehr

98

I. Der Taxenverkehr als geschützte Verkehrsform

99

II. Rideselling und Taxenverkehr als Substitutionsgüter

102

III. Funktionale Annäherung von Warte-, Wink- und Bestellmarkt

102

IV. Beförderungsentgelte als maßgebliches Differenzierungskriterium

104

V. Tatsächliche Entwicklungen

105

E. Verkehrsökologische Implikationen

106

§ 3 Uber als Archetyp des Rideselling

109

A. Hintergrund und Tätigkeit in Deutschland

110

B. Geschäftsmodelle

111

I. UberBlack

112

II. UberX

114

III. UberPop

116

C. Zusammenfassung und Ausblick

119

Kapitel 2: Grundlagen der Regulierung

122

§ 1 Begriff der Regulierung

122

A. Politikwissenschaft

123

B. Wirtschaftswissenschaft

127

I. Normative Theorie

129

II. Praktische Implikationen

132

C. Rechtswissenschaft

134

I. Rechtsbegriff

135

II. Schlüsselbegriff

137

1. Steuerungsbezogene Regulierung

138

a) Bezugnahme auf die Neue Verwaltungsrechtswissenschaft

139

b) Steuerungsbezogener Regulierungsansatz

141

2. Marktbezogene Regulierung

144

D. Zwischenergebnis

150

§ 2 Regulierung und Gesetzgebungslehre

152

A. Teilbereiche der Gesetzgebungslehre

153

I. Gesetzgebungstechnik

154

II. Gesetzgebungsmethodik

157

1. Teilelemente

158

2. Gesetzesfolgenabschätzung

160

3. Möglichkeiten und Grenzen

162

B. Rationalität und Gesetzgebung

165

I. Zweck- und Wertrationalität

166

II. Fachrationalitäten und politische Rationalität

169

III. Rechtswissenschaftliche Rationalität

173

1. Rationalitätsanforderungen

173

2. Rationalität als Grundforderung des Rechtsstaats?

177

C. Zwischenergebnis

182

§ 3 Regulierung und Rechtsdogmatik

184

A. Regulierung als Teil der Verwaltungsrechtswissenschaft

186

I. Erkenntnisziel

188

II. Erkenntnismethode

191

B. Grundprämissen der Rechtsdogmatik

195

I. Rechtsanwendungsperspektive

195

II. Rechtserzeugungskompetenz

197

III. Binnendifferenzierung

200

C. Klassische Rechtsdogmatik

202

I. Funktion

202

II. Maßstäbe

205

D. Regulative Rechtsdogmatik

211

I. Funktion

212

II. Maßstäbe

216

E. Rechtsetzung und Interdisziplinarität

221

I. Abstinenz-Modell

224

II. Konvergenz-Modell

226

III. Divergenz-Modell

227

F. Zwischenergebnis

229

§ 4 Bausteine einer "Regulatory Choice"

231

A. Modell einer "Regulatory Choice"

232

I. Stufe 1: Regulierungsimpulse

233

1. Regulierungspflichten und Regulierungsdirektiven

234

2. Verfassungsrechtliche Regulierungsimpulse

236

a) Gesetzgebungsaufträge

236

b) Staatszielbestimmungen

237

c) Grundrechte

238

d) Staatsaufgaben

243

e) Entscheidungen des BVerfG

248

3. Unionsrechtliche Regulierungsimpulse

251

II. Stufe 2: Staatlich-hoheitliche Regulierung vs. Selbstregulierung

254

1. Staatlich-hoheitliche Regulierung

254

2. Regulierte Selbstregulierung

258

3. Gesellschaftliche Selbstregulierung

265

III. Stufe 3: Auswahlsituationen im Falle staatlicher Regulierung

269

1. Zentral oder dezentral

270

2. Direkt oder indirekt

274

3. Rigide oder flexibel

277

IV. Zwischenergebnis

281

B. Konkrete Anwendung

282

I. Analyse des Regulierungsimpulses

282

II. Analyse des gegenwärtigen Rechtsrahmens

282

III. Regulierungsoptionen de lege ferenda

283

Kapitel 3: Personenbeförderungsrechtliche Analyse des Rideselling

284

§ 1 Sachlicher Geltungsbereich des PBefG

285

A. Gegenwärtige Rechtslage

285

I. Eröffnung des sachlichen Anwendungsbereichs

285

1. Personenbeförderung

285

2. Straßenbahnen, Oberleitungsomnibusse, Kraftfahrzeuge

287

3. Entgeltlich oder geschäftsmäßig

287

II. Ausnahmen

288

1. Unentgeltlichkeit

289

2. Betriebskosten der Fahrt

290

a) Anwendbarkeit

290

b) Betriebskosten

291

c) Gesamtentgelt

293

d) Konsequenz

293

3. Entgeltfreie Beförderungen

294

III. Zusammenfassung und Bewertung

295

B. Regulierungsoptionen

297

I. Fixiertes Höchstentgelt

297

II. Kommerzielles Ridesharing

299

C. Ergebnis

300

§ 2 Sicherheitsrechtliche Anforderungen

301

A. Regulierungsimpulse

302

I. Schutzpflicht für Leben und körperliche Unversehrtheit

302

II. Ökonomische Rechtfertigung

304

B. Gegenwärtige Rechtslage

307

I. Unternehmerbezogene Anforderungen

307

1. Genehmigungspflicht und Genehmigungsfähigkeit

308

2. Sicherheitsrechtliche Genehmigungsvoraussetzungen

309

a) Sicherheit und Leistungsfähigkeit

310

b) Unzuverlässigkeit

311

c) Fachliche Eignung

312

d) Betriebssitz oder Niederlassung im Inland

313

3. Genehmigungsadressat

313

a) Kriterium des Vertragspartners (h. M.)

316

b) Rideselling-Plattformen als Unternehmer?

317

c) Kritische Würdigung I: Keine Doppelgenehmigung

320

(1) Wortlaut

321

(2) Systematik

322

(3) Sinn und Zweck

325

d) Kritische Würdigung II: Keine Genehmigungspflicht der Plattformen

328

(1) Keine Genehmigungsfähigkeit des Rideselling

328

(2) Verstoß gegen Art. 12 Abs. 1 GG

331

e) Genehmigungspflicht der faktisch befördernden Organisationseinheit

335

f) Zwischenergebnis

338

II. Fahrerbezogene Anforderungen

338

1. Fahrerlaubnis zur Fahrgastbeförderung

339

2. Voraussetzungen der Fahrerlaubnis zur Fahrgastbeförderung

339

a) Eignung des Fahrers zur gewerblichen Personenbeförderung

340

b) Ortskundeprüfung

341

3. Einhaltung fahrerbezogener Anforderungen im Rideselling

342

III. Fahrzeugbezogene Anforderungen

344

IV. Vereinbarkeit mit Unions- und Verfassungsrecht

345

C. Regulierungsoptionen

348

I. Gefahrenabwehrrechtliche Inpflichtnahme digitaler Vermittlungsplattformen

348

1. Reformoptionen

349

a) Genehmigungspflicht als Verkehrsunternehmer

349

b) Genehmigungspflicht als Vermittler

350

c) Auferlegung von Kontrollpflichten

351

2. Bewertung

352

a) Kein Verstoß gegen Unionsrecht

352

b) Schutzpflicht für Leben und Gesundheit vs. Berufsfreiheit

353

II. Deregulierung sicherheitsrechtlicher Anforderungen

357

1. Reformoptionen

358

2. Bewertung

359

D. Ergebnis

362

§ 3 Verkehrswirtschaftliche Anforderungen

364

A. Regulierungsimpulse

367

I. (Rechts-)historische Entwicklungslinien

367

1. Droschkenverkehr

368

2. Intermodaler ÖPNV

374

3. PBefG von 1934

377

4. ÖPNVund Daseinsvorsorge

380

II. Verfassungsrechtliche Regulierungsimpulse

382

1. Daseinsvorsorge

383

2. Schutz der Existenz- und Funktionsfähigkeit des Taxenverkehrs

385

a) Taxi-Beschluss des BVerfG

386

b) Genese des § 49 Abs. 4 PBefG

389

c) Fehlende Anknüpfung an verfassungsrechtliche Maßstäbe

392

3. Mobilitätsverantwortung

393

a) Mobilität als Bedürfnis

394

b) Verkehr als Instrument

395

c) "Grundrecht auf Mobilität"?

396

d) Mobilität als Grundrechtsvoraussetzung

398

e) Sozialstaatliche Verankerung der Mobilitätsverantwortung

400

f) Versorgungsfunktion des ÖPNV

403

g) Schutz des Taxengewerbes vs. Deregulierung des § 49 Abs. 4 PBefG

406

4. Zwischenergebnis

409

III. Ökonomische Rechtfertigung der Regulierung

410

1. Taxen

411

a) Objektive Zulassungsbeschränkung

411

b) Tarifbindung

414

c) Betriebs- und Beförderungspflicht

417

2. Mietwagen

419

IV. Ergebnis

422

B. Gegenwärtige Rechtslage

423

I. Personenbeförderungsrechtliche (Un-)Zulässigkeit des Rideselling

424

1. Numerus Clausus der Verkehrsarten/-formen

425

2. Gelegenheitsverkehr

427

3. Verkehr mit Taxen

428

a) Auftragsannahme

429

b) Beförderungspflicht

432

c) Tarifbindung

433

d) Keine Anmietung "im ganzen"

434

e) Zusammenfassung und Bewertung

435

4. Verkehr mit Mietwagen

435

a) Begriffsbestimmung

436

(1) Bestimmung über Zweck, Ziel und Ablauf der Fahrt

436

(2) Anmietung "im ganzen"

437

(3) Zwischenergebnis

437

b) Auftragseingangsgebot

438

(1) Rechtliche Voraussetzungen

439

(2) Unzulässigkeit der Vermittlungssysteme Ubers

441

c) Rückkehrpflicht

445

(1) Grundsatz: Pflicht zur unverzüglichen Rückkehr

446

(2) Ausnahme: Fernmündliche Weiterleitung des Auftrags "während der Fahrt"

447

(3) Zulässigkeit der automatisierten Weiterleitung

449

(4) Unzulässigkeit der Vermittlungsmodelle Ubers

453

d) Aufzeichnungspflicht

454

e) Verwechslungsverbote

456

f) Zulässigkeit des Surge Pricing sowie der Rating-Systeme im Mietwagenverkehr

458

g) Vorschlag für eine rechtskonforme Ausgestaltung digitaler Vermittlungssysteme

459

(1) Auftragsdisposition über den Betriebssitz

459

(2) Geotracking zur Überwachung der Rückkehrpflicht

461

(3) EDV-gestützte Aufzeichnung

462

h) Zusammenfassung und Bewertung

463

5. Atypischer Verkehr und Erprobung neuer Verkehrsarten

464

6. Zwischenergebnis

467

II. Vereinbarkeit mit Unionsrecht

468

1. Beförderungsdienstleistung

469

2. Vermittlungsdienstleistung

470

a) Richtlinie über den elektronischen Geschäftsverkehr (RL 2000/31/EG)

470

(1) Dienste der Informationsgesellschaft

472

(2) Einordnung sog. gemischter Dienste (EuGH)

472

(3) Nichtanwendung der RL 2000/31/EG auf das Rideselling

477

b) Dienstleistungsrichtlinie (RL 2006/123/EG) und Dienstleistungsfreiheit (Art. 56 AEUV)

480

3. Zwischenergebnis

483

III. Vereinbarkeit mit Verfassungsrecht

483

1. Berufsfreiheit

484

a) Schutzbereich

485

b) Eingriff

486

c) Rechtfertigung

487

(1) Legitimer Zweck

488

(2) Geeignetheit

490

(3) Erforderlichkeit

493

(4) Angemessenheit

497

2. Allgemeiner Gleichheitssatz

501

IV. Ergebnis

505

C. Regulierungsoptionen

507

I. Verstärkter Schutz des Taxengewerbes

508

1. Reformoptionen

509

a) Aufzeichnungs- und Sperrpflicht für Vermittlungsplattformen

509

b) Vermittlungsspezifische Genehmigungspflicht für Plattformen

510

2. Bewertung

512

a) Unionsrechtliche Einordnung

513

b) Kein Verstoß gegen Grundrechte

514

c) Sicherstellung individueller Mobilitätsbedürfnisse

515

d) Schutz vor Konkurrenz?

516

e) Erfolgschancengleichheit

517

3. Ergebnis

519

II. Reform des Auftragseingangsgebots

520

1. Reformoptionen

520

2. Bewertung

521

a) Berufsfreiheit

521

b) Sicherstellung individueller Mobilitätsbedürfnisse

524

3. Ergebnis

524

III. Abschaffung der Rückkehrpflicht

524

1. Reformoptionen

525

a) Ersatzlose Abschaffung der Rückkehrpflicht

526

b) Einführung neuer Schutzinstrumente

526

c) Abschaffung der Rückkehrpflicht und Deregulierung des Taxenverkehrs

527

d) Gleichstellung von Taxen- und Mietwagenverkehr

528

2. Bewertung

529

a) Staatliche Mobilitätsverantwortung

529

(1) Sicherstellung individueller Mobilitätsbedürfnisse

529

(2) Sicherstellung linienmäßig erbrachter Verkehrsleistungen

533

b) Berufsfreiheit

534

c) Erfolgschancengleichheit

535

d) Umwelt- und Gesundheitsschutz

537

(1) Verkehrsbedingte Umwelt- und Gesundheitsbelastungen

538

(2) Verfassungsrechtlicher Hintergrund

539

(3) Unions- und völkerrechtliche Hintergründe

542

(4) Verkehrsökologische Implikationen

545

3. Ergebnis

548

IV. Zulassung des Ridepooling im Mietwagenverkehr

550

1. Reformoptionen

550

2. Bewertung

552

a) Staatliche Mobilitätsverantwortung

552

b) Umwelt- und Gesundheitsschutz

554

D. Ergebnis

555

Fazit

558

Epilog: Die Regulierung digitaler Beförderungsmodelle der Sharing Economy nach dem Gesetz zur Modernisierung des Personenbeförderungsrechts vom 16. April 2021

565

§ 1 Sachlicher Geltungsbereich des PBefG

566

A. Einbeziehung der (digitalen) Vermittlung

567

B. Höchstentgelt für die genehmigungsfreie Mitnahme im Ridesharing

569

§ 2 Klimaschutz und Nachhaltigkeit

570

§ 3 Bereitstellung von Mobilitätsdaten

571

§ 4 Sicherheitsrechtliche Anforderungen

574

A. Genehmigungspflicht der "kontrollierenden" Vermittlung

575

I. Bisherige Rechtslage

575

II. Künftige Rechtslage

576

B. Abschaffung der Ortskundeprüfung

579

C. Einführung eines Fachkundenachweises

580

§ 5 Verkehrswirtschaftliche Anforderungen

580

A. Freigabe des Ridepooling

581

I. Linienbedarfsverkehr

582

II. Gebündelter Bedarfsverkehr

583

B. Reform des Taxenverkehrs

589

C. Reform des Mietwagenverkehrs

589

I. Entfall der Fernmündlichkeit

590

II. Fortbestehen des Auftragseingangsgebots

591

III. Modifizierung der Aufzeichnungspflicht

591

IV. Übertragung der örtlichen Regelungen für den gebündelten Bedarfsverkehr

592

V. Mindestentgelt und Modifizierung der Rückkehrpflicht

593

VI. Kennzeichnungspflicht

594

§ 6 Bewertung

594

Literaturverzeichnis

599

Sachwortverzeichnis

650